Kobold Bruiser Simpsons Style
---
Hello to all art lovers!
Today I want to share with you my latest creation as a digital artist. I'm Lorentm and I'm excited to participate once again in the art contest that Splinterlands makes every week. This time, I decided to challenge my skills and create a fan art of the character "Kobold Bruiser" as you know in the style of The Simpsons. Let me tell you that it was quite a challenge, but it was worth it!
"Kobold Bruiser" is a fascinating character, a boxing gloved fighter who possesses incredible strength and determination. I was inspired by the passion and intensity of boxers to recreate this image. I imagined the character triumphing in the Splinterlands fighting tournament, raising the championship belt high and leaving an indelible mark on history.
To capture the full essence of this epic moment, I decided to place the character in a boxing scenario. A vibrant ring with the ropes taut and a sea of bright lights in the background. I wanted to convey the energy and excitement felt in a major boxing match, where every punch counts and the crowd is going wild.
By adapting the style of The Simpsons, I was able to give this fan art a fun and lighthearted feel. The bright colors and sharp lines characteristic of the series fit perfectly with the personality of the "Kobold Bruiser". Plus, the unique aesthetic of The Simpsons puts an interesting twist on the world of Splinterlands, merging two universes into one.
Creating this artwork allows me to explore new horizons and challenge myself as an artist. It was a thrilling experience to imagine this character winning the tournament and feel all the intensity of the moment through my art. I hope that my interpretation of the "Kobold Bruiser" conveys to you that same passion and excitement that I feel every time I immerse myself in the world of Splinterlands.
I would like to thank Splinterlands for providing this opportunity for artists like me to showcase our talent and passion. I would also like to encourage all artists and art fans to explore new ideas and challenge the limits of their creativity. Art is a unique form of expression that allows us to bring our imagination to life and share emotions with the world.
I hope you enjoy my fan art and wish me luck in the contest! And remember, never stop creating and dreaming big!
¡Hola a todos los amantes del arte!
Hoy quiero compartir con ustedes mi última creación como artista digital. Soy Lorentm y estoy emocionada de participar una vez más en el concurso de arte que realiza Splinterlands cada semana. Esta vez, decidí desafiar mis habilidades y crear un fan art del personaje "Kobold Bruiser" como ya saben al estilo de Los Simpsons. ¡Déjenme decirles que fue todo un reto, pero valió la pena!
"Kobold Bruiser" es un personaje fascinante, un luchador con guantes de boxeo que posee una fuerza y determinación increíbles. Me inspiré en la pasión y la intensidad de los boxeadores para recrear esta imagen. Me imaginé al personaje triunfando en el torneo de lucha de Splinterlands, levantando en alto el cinturón de campeón y dejando una huella imborrable en la historia.
Para capturar toda la esencia de este momento épico, decidí situar al personaje en un escenario de boxeo. Un ring vibrante con las cuerdas tensas y un mar de luces brillantes en el fondo. Quería transmitir la energía y la emoción que se siente en una pelea de boxeo importante, donde cada golpe cuenta y el público está enloquecido.
Al adaptar el estilo de Los Simpsons, pude darle a este fan art un toque divertido y alegre. Los colores brillantes y las líneas definidas característicos de la serie encajaron perfectamente con la personalidad del "Kobold Bruiser". Además, la estética única de Los Simpsons le da un giro interesante al mundo de Splinterlands, fusionando dos universos en uno solo.
Crear esta obra de arte me permite explorar nuevos horizontes y desafiarme a mí misma como artista. Fue una experiencia emocionante imaginar a este personaje ganando el torneo y sentir toda la intensidad del momento a través de mi arte. Espero que mi interpretación del "Kobold Bruiser" les transmita esa misma pasión y emoción que siento cada vez que me sumerjo en el mundo de Splinterlands.
Me gustaría agradecer a Splinterlands por brindar esta oportunidad a artistas como yo para mostrar nuestro talento y pasión. También quiero animar a todos los artistas y fanáticos del arte a explorar nuevas ideas y desafiar los límites de su creatividad. El arte es una forma de expresión única que nos permite dar vida a nuestra imaginación y compartir emociones con el mundo.
¡Espero que disfruten de mi fan art y que me deseen suerte en el concurso! Y recuerden, ¡nunca dejen de crear y soñar en grande!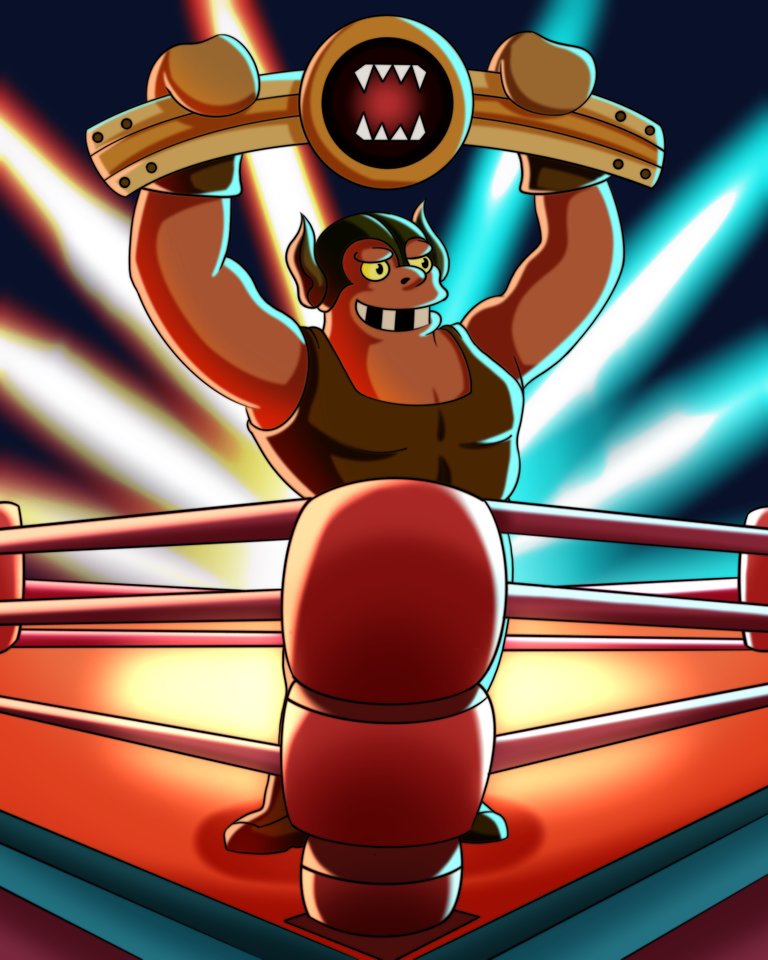 Like most races in the Burning Lands, Kobolds enjoy competitive sports. In special caves called wrestlehuts, Kobold Wrestlers meet regularly to spar with one another and practice their techniques. For these Kobolds, size doesn't matter; they are happy to wrestle with monsters five or six times bigger than them if the challenge arises, and they are likely to win. Although they enjoy the sport, Kobolds never gamble.
Como a la mayoría de las razas de las Tierras Ardientes, a los kobolds les gustan los deportes de competición. En unas cuevas especiales llamadas chozas de lucha, los luchadores kobolds se reúnen regularmente para practicar sus técnicas. Para estos kobolds, el tamaño no importa; son felices luchando con monstruos cinco o seis veces más grandes que ellos si surge el desafío, y es probable que ganen. Aunque disfrutan con el deporte, los kobolds nunca apuestan.
---
Process / Proceso
Before starting any project, it is important to have a clear idea of what you want to achieve. I immersed myself in the world of Splinterlands and carefully studied the character "Kobold Bruiser". I looked at his characteristics, his personality and his role in the game. I was also inspired by real boxers and the excitement of boxing matches.
I started by hand sketching different poses and scenarios for the character. I wanted to capture his fighting essence and convey his victory in the Splinterlands tournament. Once I had a clear idea of the composition, I moved on to the next step.
I did the outlining to shape the character and the boxing ring stage. This is where I began to incorporate the distinctive Simpsons style, making sure to maintain the proportions and recognizable features of "Kobold Bruiser".
Once the character and setting were mapped out, it was time to add color and shading. I opted for vibrant, bold colors to capture the energy of the fight. I used shading tools to give depth and dimension to the character and the environment, creating realistic lights and shadows.
At this stage, I focused on the final details. I added lights to different parts of the character and the ring, making sure they matched the lighting of the stage. At this stage I create a new layer for the glows, and with the help of the selection tool I add the lighting in each part of the drawing.
Once I completed the illustration, I made an exhaustive revision. I checked every detail, made sure that the colors were in harmony and that the composition was balanced. I made adjustments where necessary to improve the overall quality of the work.
Each step of this process required time, patience and dedication. It was an exciting challenge to combine the style of The Simpsons with the world of Splinterlands and capture the essence of the "Kobold Bruiser". I hope my work conveys the passion and excitement.
Antes de comenzar cualquier proyecto, es importante tener una idea clara de lo que quieres lograr. Me sumergí en el mundo de Splinterlands y estudié detenidamente al personaje "Kobold Bruiser". Observé sus características, su personalidad y su papel en el juego. También me inspiré en los boxeadores reales y en la emoción de los combates de boxeo.
Comencé haciendo bocetos a mano de diferentes poses y escenarios para el personaje. Quería capturar su esencia luchadora y transmitir su victoria en el torneo de Splinterlands. Una vez que tuve una idea clara de la composición, pasé al siguiente paso.
Realice el delineado para dar forma al personaje y al escenario del ring de boxeo. Aquí es donde comencé a incorporar el estilo distintivo de Los Simpsons, asegurándome de mantener las proporciones y características reconocibles de "Kobold Bruiser".
Una vez que el personaje y el escenario estuvieron trazados, llegó el momento de añadir color y sombreado. Opté por colores vibrantes y llamativos para captar la energía de la pelea. Utilicé herramientas de sombreado para darle profundidad y dimensión al personaje y al entorno, creando luces y sombras realistas.
En esta etapa, me enfoqué en los detalles finales. Añadí luces en diferentes partes del personaje y del ring, asegurándome de que estuvieran acordé a la iluminación del escenario. En esta etapa creo una capa nueva para los brillos, y con ayuda de la herramienta selección voy agregando la iluminación en cada parte del dibujo.
Una vez que completé la ilustración, realicé una revisión exhaustiva. Revisé cada detalle, comprobé que los colores estuvieran en armonía y que la composición fuera equilibrada. Hice ajustes donde fuera necesario para mejorar la calidad general de la obra.
Cada paso de este proceso requirió tiempo, paciencia y dedicación. Fue un desafío emocionante combinar el estilo de Los Simpsons con el mundo de Splinterlands y capturar la esencia del "Kobold Bruiser". Espero que mi trabajo transmita la pasión y la emoción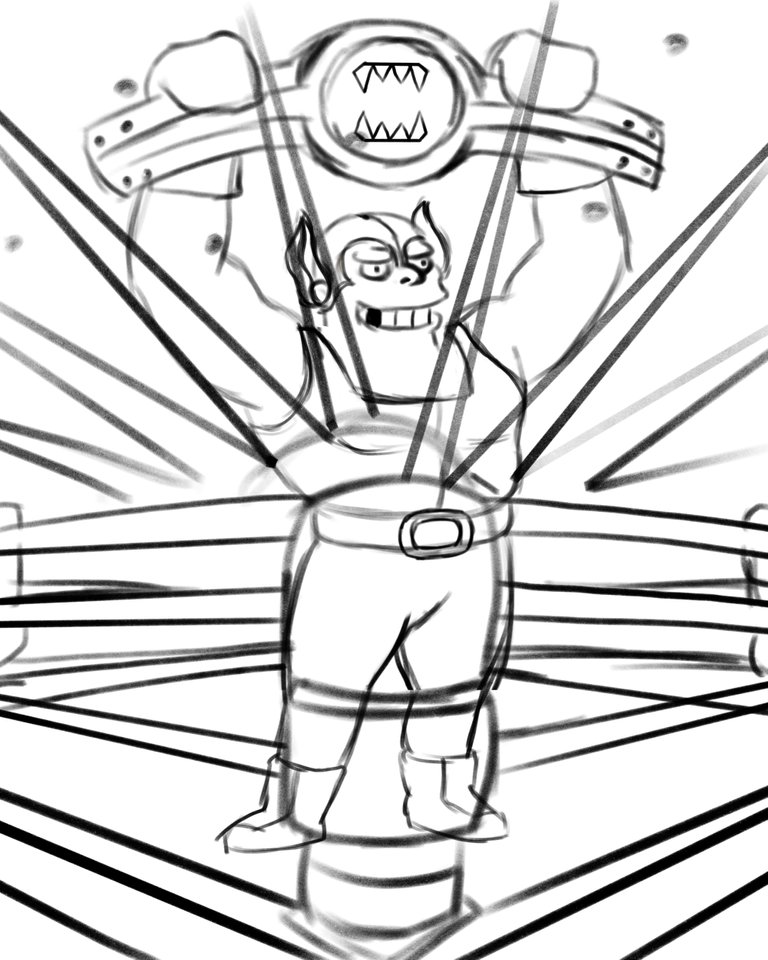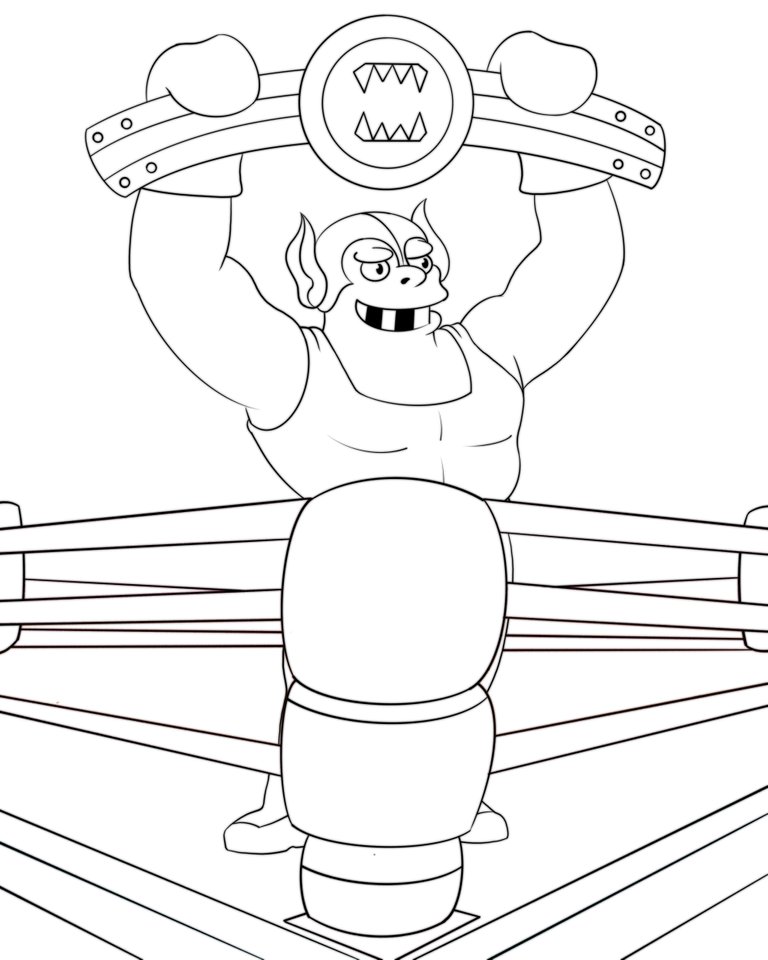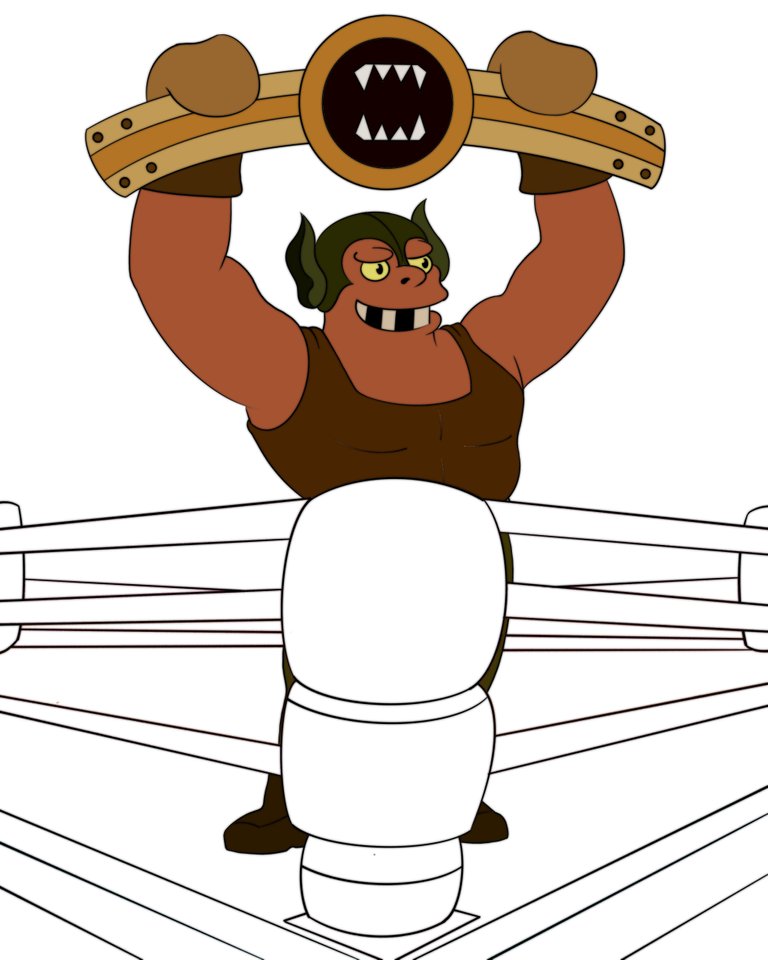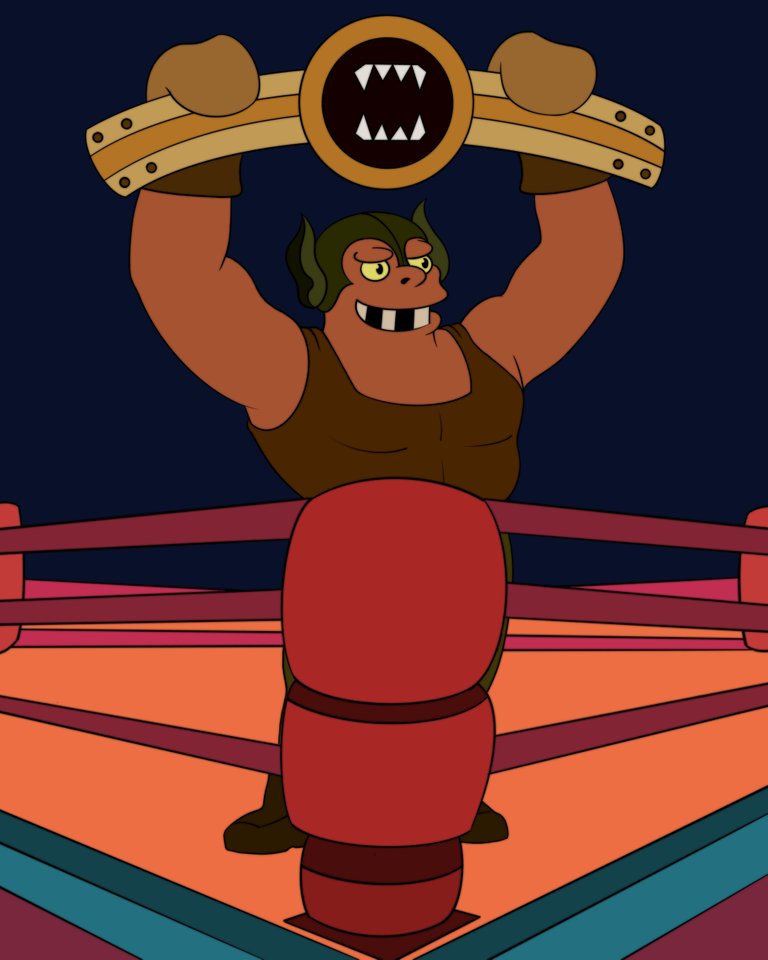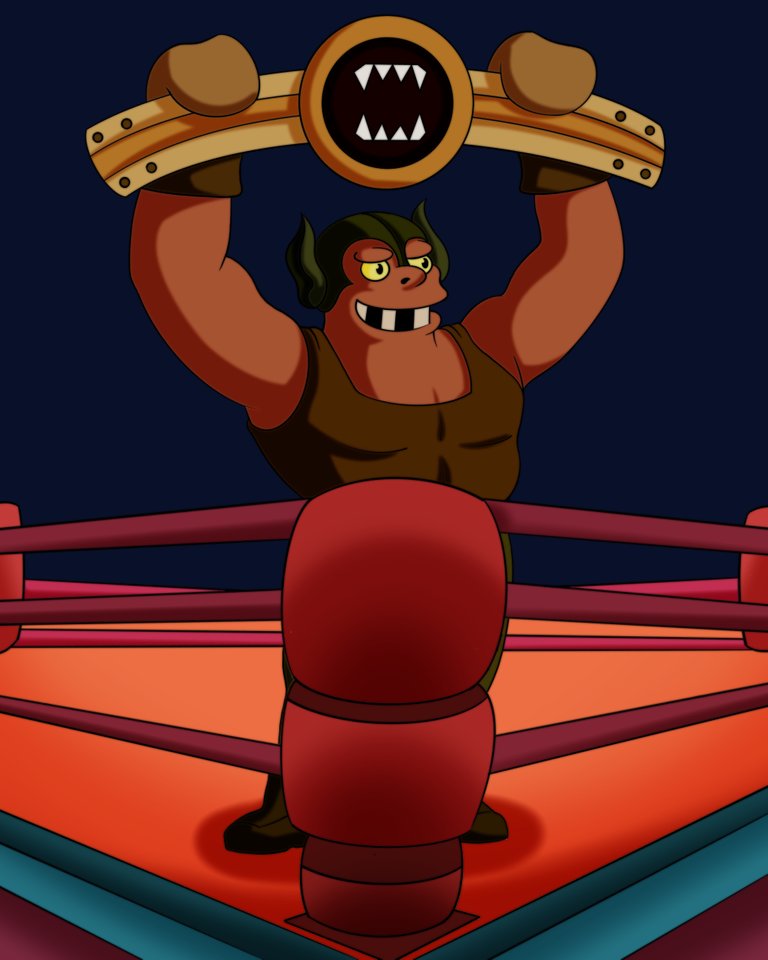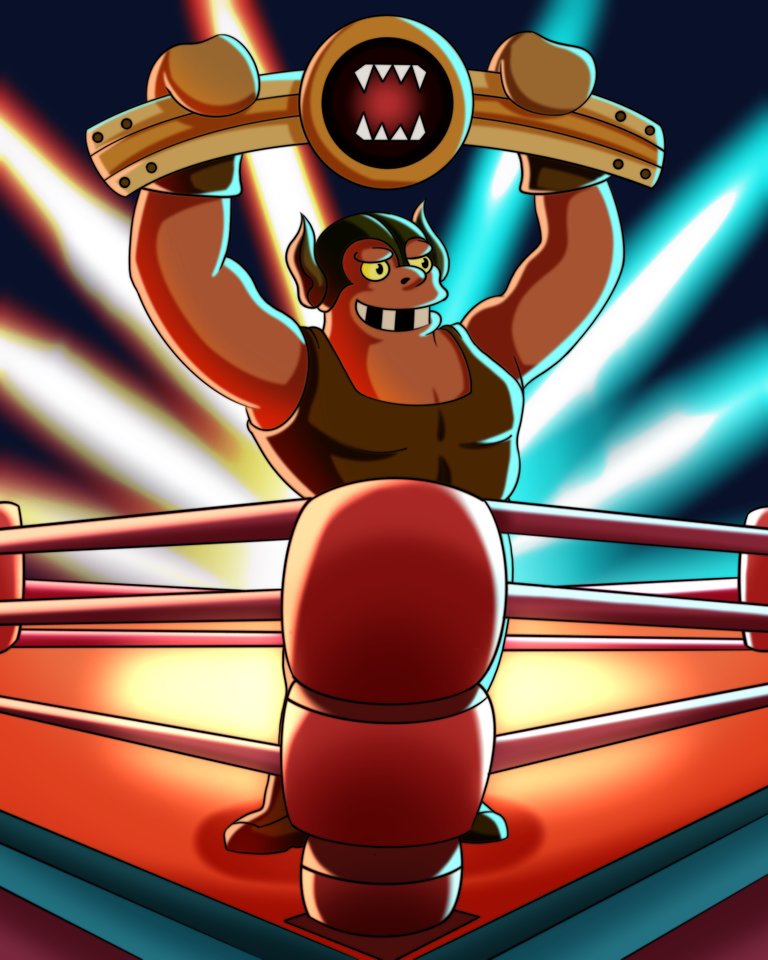 ---
Layer Technique Breakdown
---
Materials / Materiales
The tools I used for the drawing were the following:
Android tablet.
Capacitive pen (Stylus).
Ibis Paint X program.
Brushes: Pencil, Airbrush, Fuzzy, Marker.
Las herramientas que use para el dibujo fueron las siguientes:

Tableta Android.
Lápiz Capacitivo (Stylus).
Programa Ibis Paint X.
Pinceles: Lapiz, Aerografo, Difumino, Rotulador.
Reference / Referencia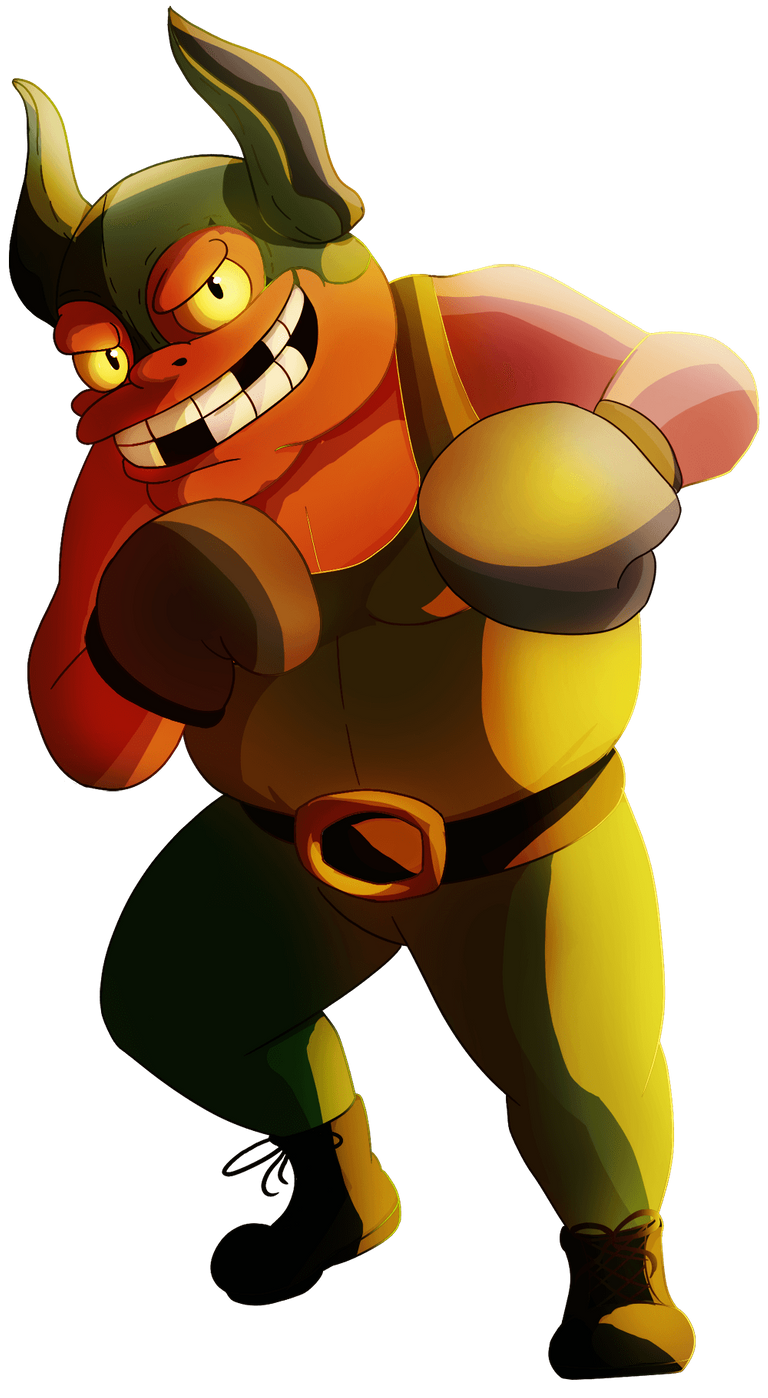 Reference link / Link de referencia
---
Thanks for reading and getting here, see you in the next post.
Gracias por leer y llegar hasta aqui, nos vemos en el siguiente post.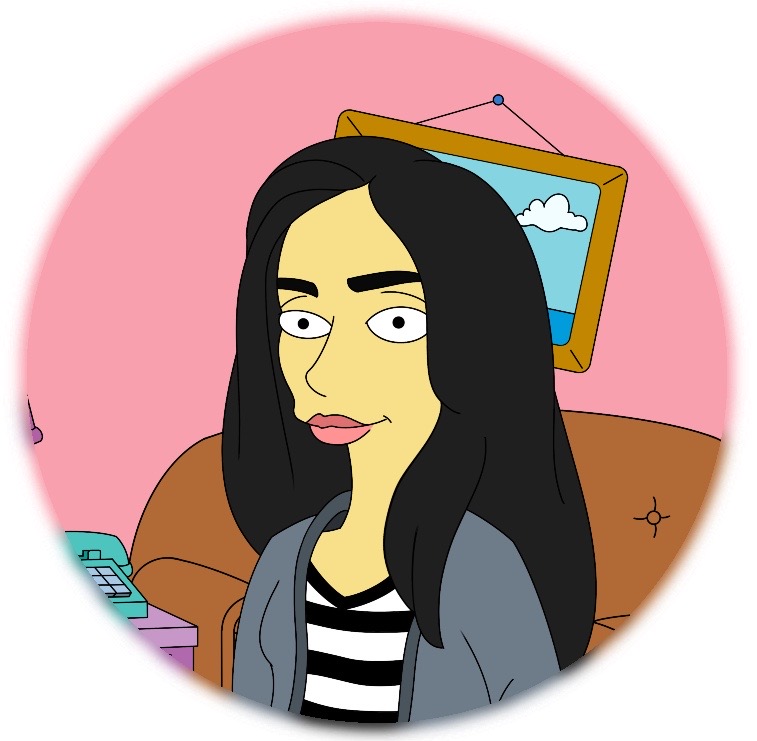 Discipline is the power of all professionalism.
La disciplina es el poder de todo profesionalismo.*
---
---
---