Mischievous Mermaid Simpsons Style
---
Hi everyone, I'm Lorentm, today I want to share with you my experience in creating a fan art of the character "Mischievous Mermaid" in the Simpsons style. This card is part of the water units in the Splinterlands game.
For those unfamiliar with the game, Splinterlands is a blockchain-based collectible card game. Players collect and fight with cards of different elements and abilities, and the water element is one of the options for building your deck.
For my participation in the "Social Media" section of Splinterlands, I decided to make a fan art of Mischievous Mermaid, a character I love. She is a green colored mermaid, with purple hair and fins, and is a powerful card in the game.
In my fan art, I depicted her enjoying a sunset on a quiet beach while sipping a refreshing lemonade. Inspired by the Simpsons style, I added some of the characters' characteristics, such as the big eyes and crescent-shaped nose.
Creating this fan art took me a few hours of work, but I enjoyed every minute of it. It was a challenge for me to create a Simpsons-style Splinterlands character, but the end result left me very satisfied.
All in all, I loved participating in the Splinterlands "Social Media" section and being able to create a Simpsons-style Mischievous Mermaid fan art. I hope you liked my work as much as I liked creating it. If you haven't played Splinterlands yet, I highly recommend it, there are so many cards and characters to discover and enjoy!
Hola a todos, soy Lorentm, hoy quiero compartir con ustedes mi experiencia en la creación de un fan art del personaje "Mischievous Mermaid" al estilo de los Simpsons. Esta carta forma parte de las unidades de agua en el juego de Splinterlands.
Para aquellos que no estén familiarizados con el juego, Splinterlands es un juego de cartas coleccionables basado en blockchain. Los jugadores coleccionan y luchan con cartas de diferentes elementos y habilidades, y el elemento agua es una de las opciones para armar tu mazo.
Para mi participación en la sección "Social Media" de Splinterlands, decidí hacer un fan art de Mischievous Mermaid, un personaje que me encanta. Ella es una sirena de color verde, con cabello y aletas de color morado, y es una carta poderosa en el juego.
En mi fan art, la representé disfrutando de un atardecer en una tranquila playa mientras toma una refrescante limonada. Inspirada en el estilo de los Simpsons, agregué algunas de las características de los personajes, como los ojos grandes y la nariz en forma de media luna.
La creación de este fan art me llevó algunas horas de trabajo, pero disfruté cada minuto. Fue un desafío para mí crear un personaje de Splinterlands al estilo de los Simpsons, pero el resultado final me dejó muy satisfecha.
En resumen, me encantó participar en la sección "Social Media" de Splinterlands y poder crear un fan art de Mischievous Mermaid al estilo de los Simpsons. Espero que les haya gustado mi trabajo tanto como a mí me gustó crearlo. Si aún no han jugado Splinterlands, se los recomiendo. ¡Hay muchas cartas y personajes por descubrir y disfrutar!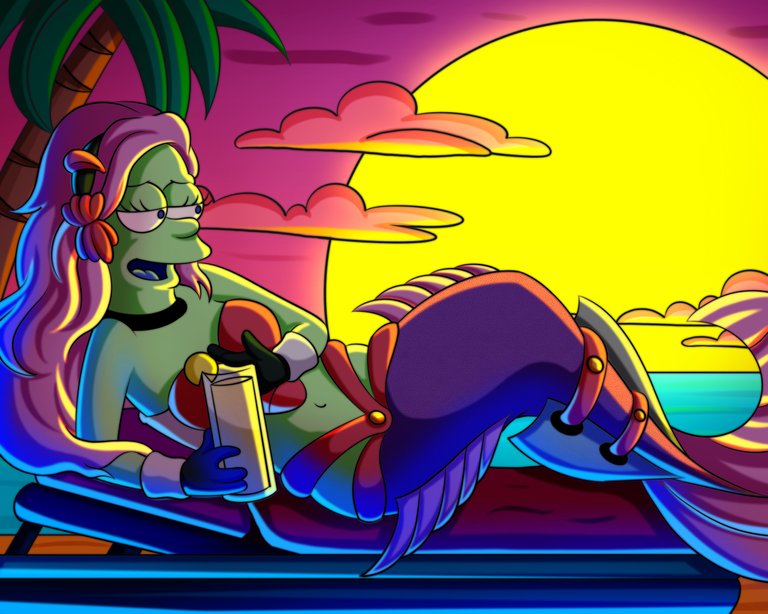 The female mages of the ΛZMΛRÉ Merfolk take great pleasure in the destruction their magic creates. Mermaids can often be found swimming gleefully around the edge of the Dark Water, destroying the homes of innocent Crustaceans with their plasmatic waves and laughing as they go.
Las magas de los Merfolk de ΛZMΛRÉ disfrutan con la destrucción que provoca su magia. A menudo se puede encontrar a las Sirenas nadando alegremente por la orilla del Agua Oscura, destruyendo los hogares de inocentes Crustáceos con sus ondas plasmáticas y riendo mientras lo hacen.
---
Process / Proceso
Before starting any drawing, I always like to have a clear idea of what I want to do. In this case, I knew I wanted to depict Mischievous Mermaid sunbathing on a beach. I started by doing some freehand sketches to get a clear idea of the composition and pose of the character.
Once I had the sketch I liked, I started tracing the basic lines of Mischievous Mermaid, using a separate layer for each element of the drawing (hair, body, fins, lemonade, etc.).
Once I finished drawing the lines, I started adding the colors. I chose a bright, vibrant color palette to give the drawing a cheerful, summery look. I also added some textures to the elements of the drawing, such as the tail, to give it a more dynamic look.
Finally, I added some finishing touches to give life to the drawing. I added some shadows and lights to give depth to the beach and the water, and I also added some small details, like the clouds in the background and waves in the sea.
And that's how my digital drawing of Mischievous Mermaid in Simpsons style was created! I hope you enjoyed learning about my creation process.
Antes de comenzar cualquier dibujo, siempre me gusta tener una idea clara de lo que quiero hacer. En este caso, sabía que quería representar a Mischievous Mermaid tomando el sol en una playa. Comencé haciendo algunos bocetos a mano alzada para tener una idea clara de la composición y la pose del personaje.
Una vez que tenía el boceto que me gustaba, comencé a trazar las líneas básicas de Mischievous Mermaid, utilizando una capa separada para cada elemento del dibujo (cabello, cuerpo, aletas, limonada, etc.).
Una vez que terminé de trazar las líneas, comencé a agregar los colores. Elegí una paleta de colores brillantes y vibrantes para darle un aspecto alegre y veraniego al dibujo. Además, agregué algunas texturas a los elementos del dibujo, como la cola, para darle un aspecto más dinámico.
Por último, agregué algunos detalles finales para darle vida al dibujo. Agregué algunas sombras y luces para dar profundidad a la playa y al agua, y también agregué algunos detalles pequeños, como las nubes del fondo y olas en el mar.
¡Y así es como se creó mi dibujo digital de Mischievous Mermaid al estilo de los Simpsons! Espero que te haya gustado conocer mi proceso de creación.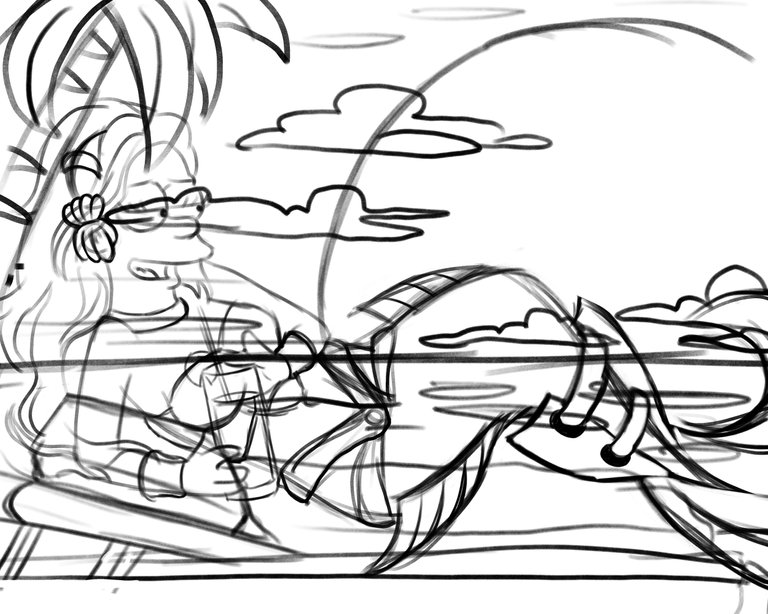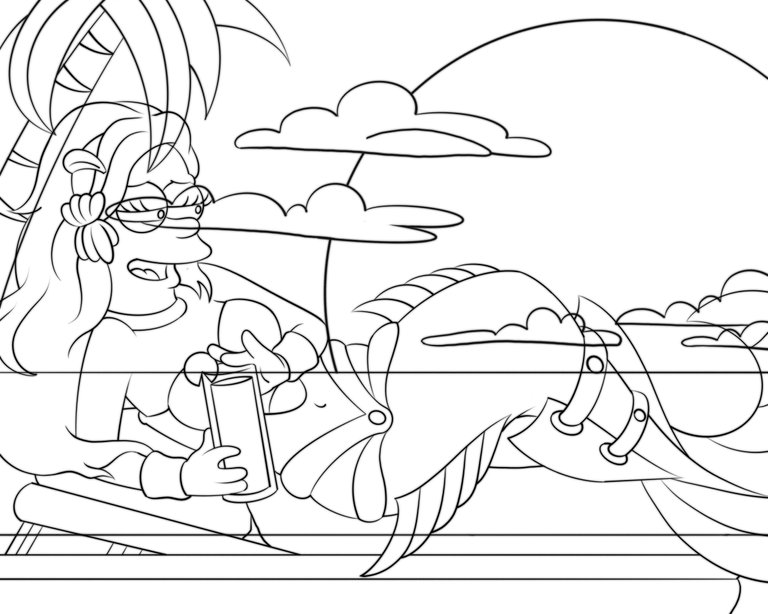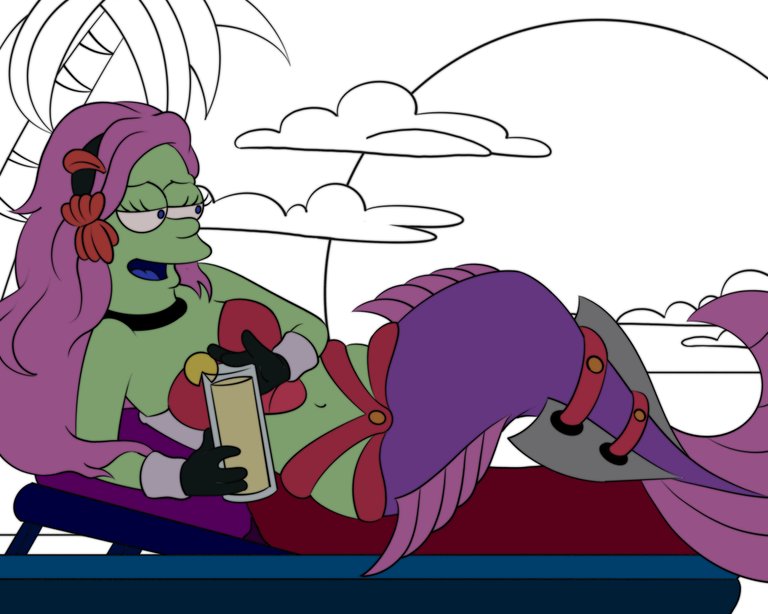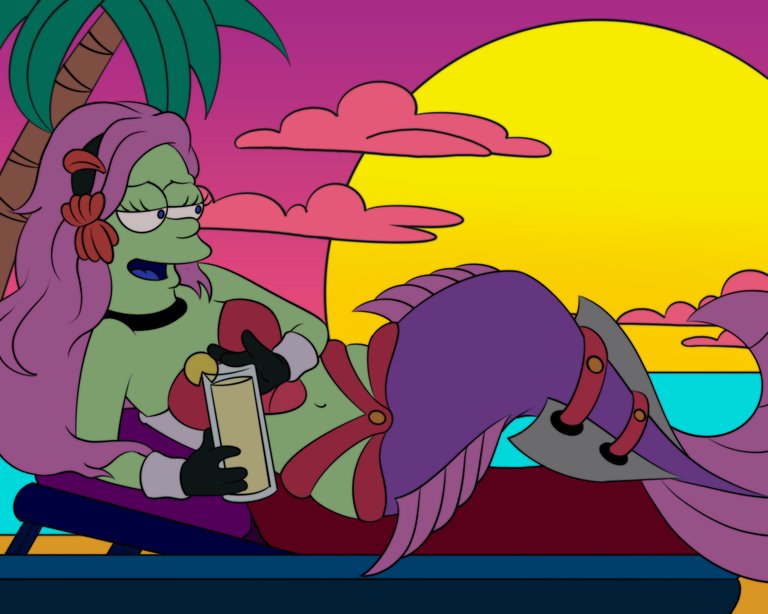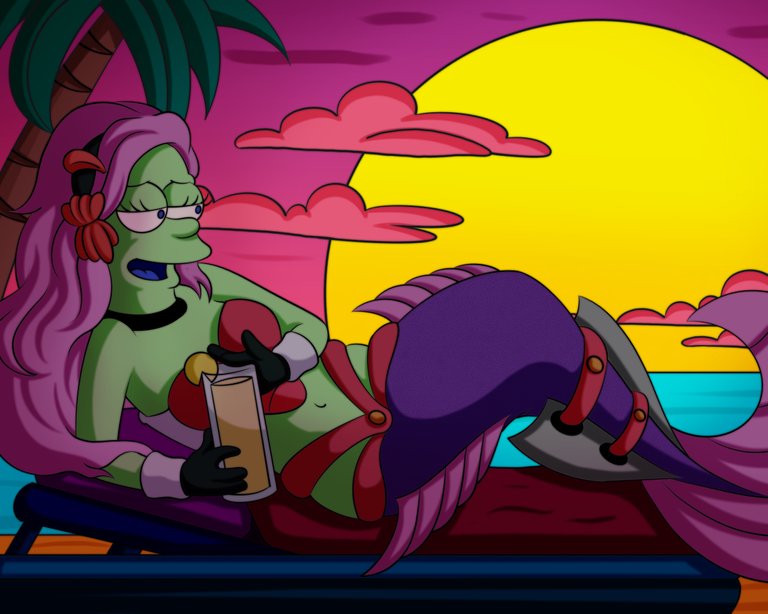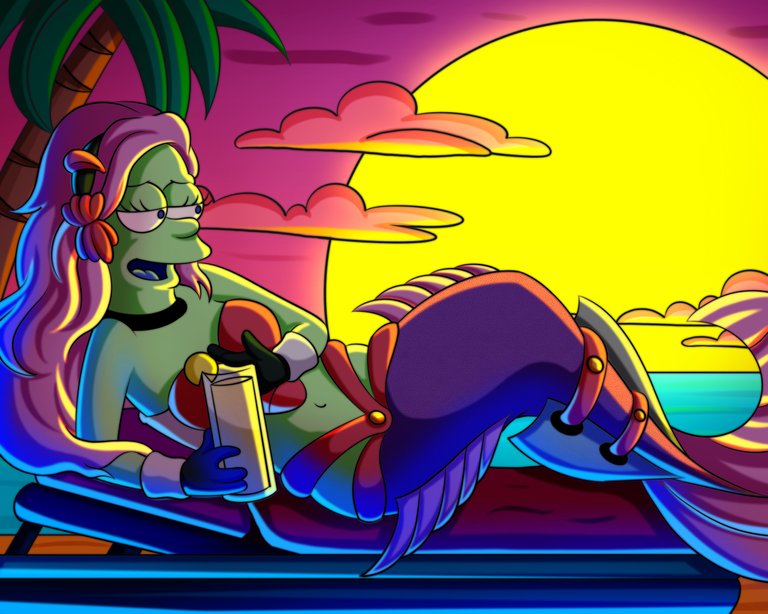 ---
Layer Technique Breakdown
---
Materials / Materiales
The tools I used for the drawing were the following:
Android tablet.
Capacitive pen (Stylus).
Ibis Paint X program.
Brushes: Pencil, Airbrush, Fuzzy, Marker.
Las herramientas que use para el dibujo fueron las siguientes:

Tableta Android.
Lápiz Capacitivo (Stylus).
Programa Ibis Paint X.
Pinceles: Lapiz, Aerografo, Difumino, Rotulador.
Reference / Referencia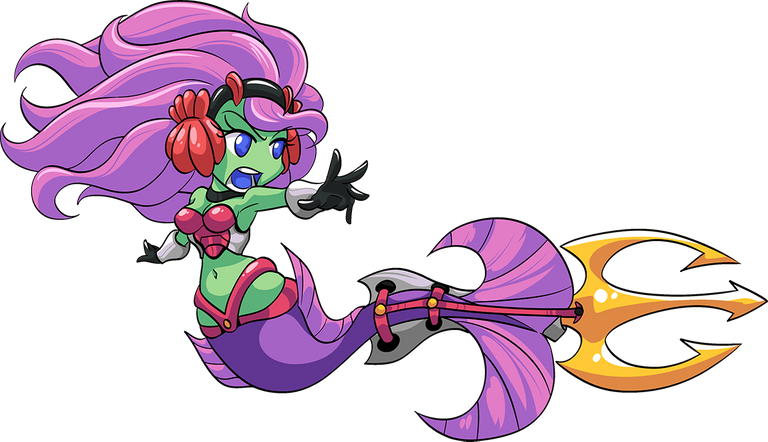 Reference link / Link de referencia
---
Thanks for reading and getting here, see you in the next post.
Gracias por leer y llegar hasta aqui, nos vemos en el siguiente post.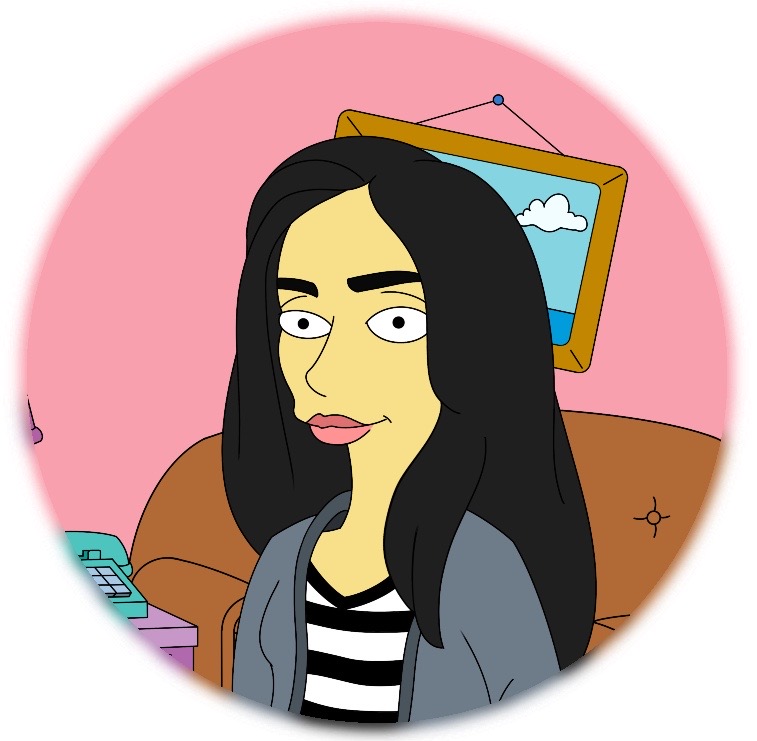 Discipline is the power of all professionalism.
La disciplina es el poder de todo profesionalismo.*
---
---
---