[ESP/ENG] Regreso a clases, día mas esperado por mi hijo//Back to school, the most awaited day for my son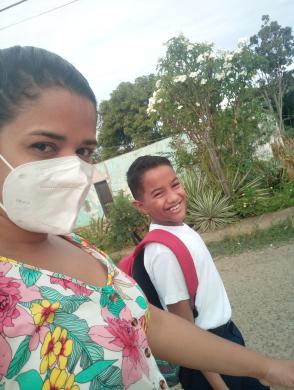 Amo su sonrisa de felicidad😍
I love her happy smile😍
AUTOR:@loryzur
Hola ,saludos mis queridos amigos hoy quiero contarles la emoción de mi hijo por su regreso a clases, aunque ya las clases habían comenzado el 25 de Octubre el no tuvo la oportunidad de ingresar esa fecha 😥 porque no tenia su uniforme completo, pero Gracias a Dios y a la plataforma #HIVE y su gran Apoyo pude completar para que mi hijo hoy asistiera a su segunda casa de estudio..🥰
Hello, greetings my dear friends, today I want to tell you about the excitement of my son for his return to classes, although classes had already started on October 25, he did not have the opportunity to enter that date 😥 because he did not have his full uniform, but Thanks to God and the #HIVE platform and your great support I was able to complete so that my son attended his second home study today.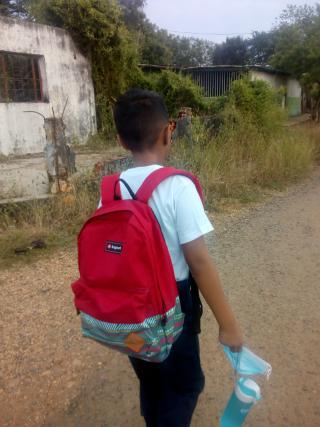 Camino a la escuela
On the way to school
AUTOR:@loryzur
Camino a la escuela conversamos mucho, donde le explicaba como debía cuidarse y cumplir con las reglas de Bioseguridad que exigen en la escuela y que debía cumplirlas por el cuidado de el y del que lo rodeaba, pero estaba tan ansioso que solo pensaba en llegar a la escuela, aunque no quedaba muy lejos solo a 1kilometro de nuestra casa.
On the way to school we talked a lot, where I explained to him how he should take care of himself and comply with the Biosafety rules that are required at school and that he should comply with them for the care of himself and those around him, but he was so anxious that he only thought about getting to the school, although it was not very far, only 1 km from our house.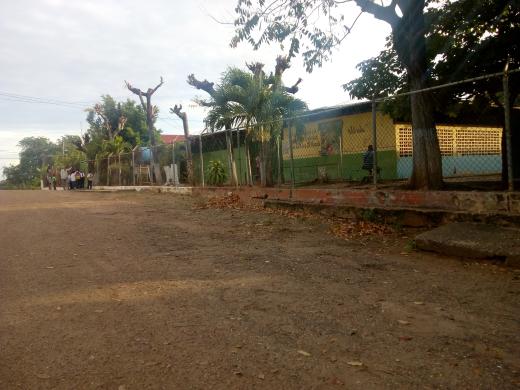 Escuela
School
AUTOR:@loryzur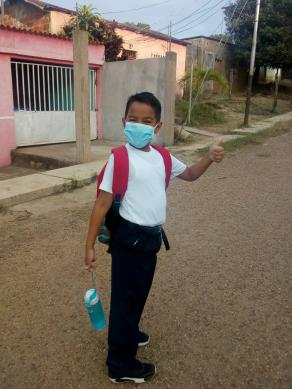 AUTOR:@loryzur
A punto de llegar a la escuela me dice: Mama tómame una foto, ya que estoy casi en la sima de ser Grande😥😍, esta creciendo muy rápido y no me doy cuenta jaajaja 😂
About to get to school he says to me: Mom, take a picture of me, since I'm almost at the bottom of being Big😥😍, it's growing very fast and I don't realize it haahaha 😂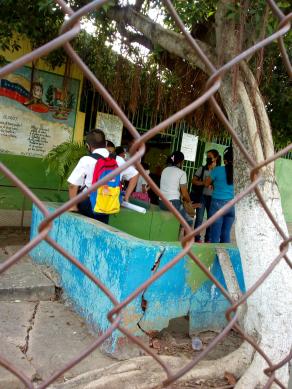 AUTOR:@loryzur
Debido a la pandemia, la matricula de niños es muy baja; no asisten mucho o simplemente pasan por la misma situación que yo las que les mencione al inicio es triste pero real, acá en Venezuela la economía solo nos permite medio comer , nos da una tristeza😥 saber que no le podemos brindar una educación libre ejemplar a nuestros hijos por la mala ignorancia de Venezuela.
Due to the pandemic, the enrollment of children is very low; The ones I mentioned at the beginning do not attend much or simply go through the same situation that I mentioned to them at the beginning is sad but real, here in Venezuela the economy only allows us half a meal, it makes us sad to know that we cannot provide an exemplary free education to our children because of the bad ignorance of Venezuela.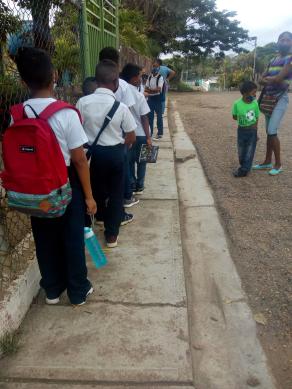 AUTOR:@loryzur
Como pueden observar la cantidad de niños que solo asistieron en toda la escuela, aunque los maestros tienen a los niños divididos por grupo de solo 10 por día para evitar la aglomeración..
As you can see the number of children who only attended in the whole school, although the teachers have the children divided by group of only 10 per day to avoid the crowding..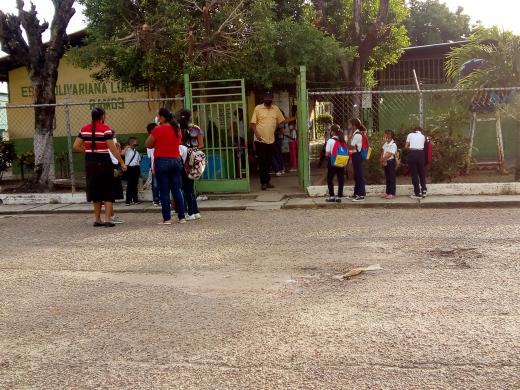 AUTOR:@loryzur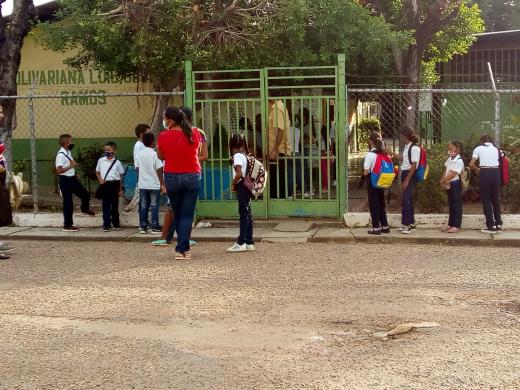 AUTOR:@loryzur
Se que todos los niños no tienen esa bonita e iniciativa de ir a la escuela por problemas económicos, pero como quitarle ese derecho de libertad y aprendizaje, a unos seres que están empezando a ver la LUZ DEL SOL.
I know that all children do not have that beautiful initiative to go to school due to financial problems, but how to take away that right to freedom and learning from some beings who are beginning to see the LIGHT OF THE SUN
NOTA: NO ELIMINEMOS ESAS SONRISAS,AL CONTRARIO SIGAMOS DIBUJANDOLA EN MAS ROSTROS.🥰😍
NOTE: WE DO NOT ELIMINATE THOSE SMILES, ON THE CONTRARY WE CONTINUE DRAWING IT ON MORE FACES 🥰😍
Espero les guste. Gracias por leer y visitar mi post , se despide de ustedes @loryzur Deseándoles un excelente día.
I hope you like it. Thanks for reading and visiting my post, says goodbye to you @loryzur Wishing you an excellent day.
Contenido original de mi @loryzur
Fecha de captura: 23/11/2021. 📸Captura: Teléfono Alcatel tetra 🌍Ubicación: Llanos Centrales de Venezuela 🕰️Tiempo: 07:30 am hora venezolana
Si en realidad te gusto lo que vez🤗 mira📷 y lee📖. 😊🤗🙏📣
✨Gracias por visitarme, apoyarme y leer mi post.✨
😊Nos vemos en mi Blog
Original content from my @loryzur
Capture date: 11/23/2021. 📸Capture: Alcatel tetra phone 🌍Location: Central Plains of Venezuela 🕰️Time: 07:30 pm Venezuelan time
If you really liked what you see🤗 look📷 and read📖. 😊🤗🙏📣
✨Thank you for visiting me, supporting me and reading my post.✨
See you on my Blog
Observación: Todas las fotografías son de mi autoría, tomadas con la cámara de mi teléfono celular Alcatel Tetra
---
---