Coastal Entry: Splinterlands Art Contest Week 231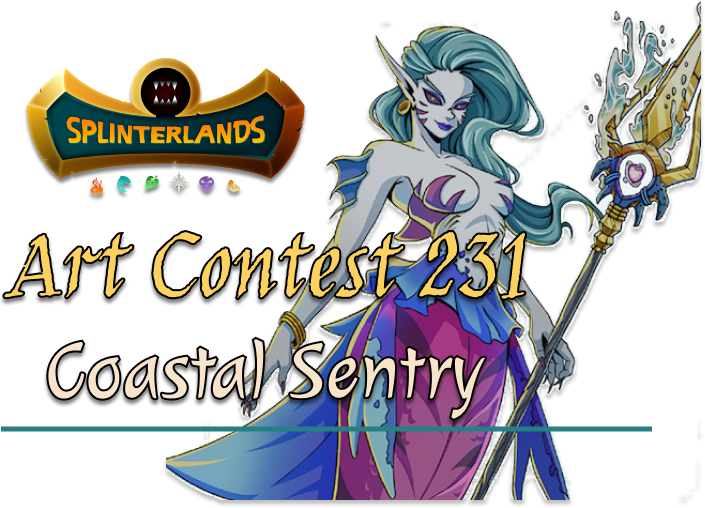 What is Good Splinterlands!
This is for the Art contest, I chose to create a Water Splinter, Melee Unit, that is one of the new reward card in Splinterland, Coastal Sentry, I chose as my model since it is new, and I like how dark her eyes are.
My Art Process
I used a phone drawing app called Sketchbook and did a lot of layers for this one,
I started with a blank 1280x1280 canvas, initially I used a Pink market to draw how my model would look like, as seen below, I wanted to include an anime-chibi-ish feel, after sketching the model, I put up a blue radial Paint fill as its background.
| Sketch | Stencil | Gradient Background |
| --- | --- | --- |
| | | |
---
After I got my line art, proceeded with the skin tone, give details to the hair, I made the hair longer just like the original image, and put a cover on her breast, after a while I made her eyes as black as it is, and used a glow brush tool to make her eyes glowy red.
| Hair details | Face detail | End result |
| --- | --- | --- |
| | | |
---
Put further details on the tails giving it base color pink, blue and blue green, before puting the details using Camo brush tool covering her whole tail making it look like scale. The Hair details is a combination of three different shade of light green to give it shadow and 3D effect, I also drew the earrings and bracelet, and for the tail, I wanted it to look silhouette-ish, After I was done with the details I proceed to cast shadows using Dream brush tool at 70% opacity and bleding option: Multiply, and for the finishing touch I used a Dotted Brush tool to give it a bubble effect with blending option: Glow.
| Tail Details | Hair Details | Shadow |
| --- | --- | --- |
| | | |
Final Piece: Coastal Sentry
To give it more character and feels I decrease the lightness of the the the background and this is my Coastal Sentry! Cheers!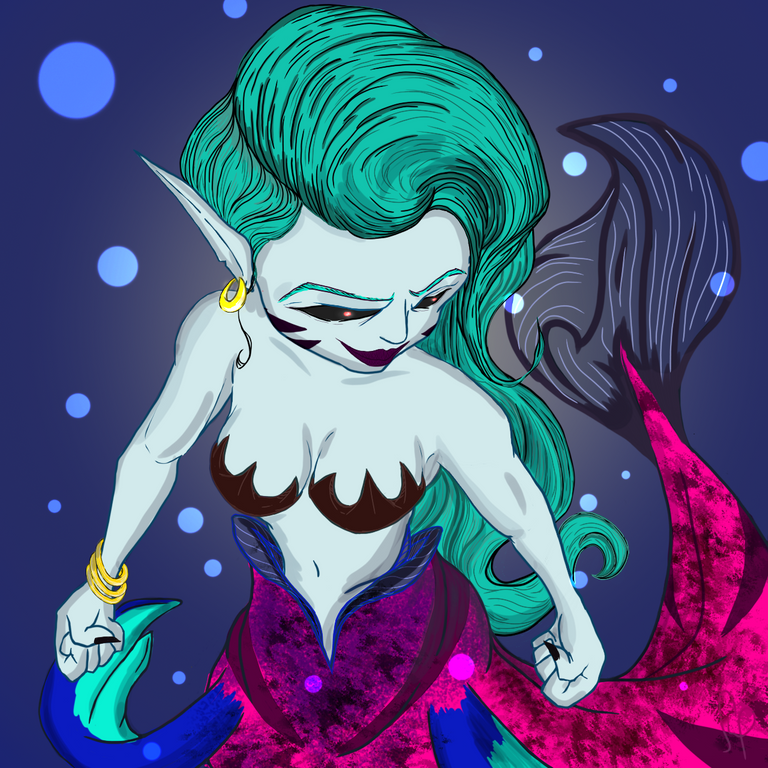 Coastal Sentry A New Splinterlands Reward Card
Play and Earn!
Splinterlands

CryptoBrewMaster

Dcity

HK

Risingstar

Q25.VIP

Card game battle
Brew your own beer
Create your City
Farm your Weed
Become a musician
Play Casino with real money
(Philippines only)
---
---