[Esp/Eng] NOTAS RÁPIDAS DEL MUNDO DEL FÚTBOL ¡ALERTA POR BENZEMA! -- United furioso dará castigo a CR7 -- / FAST NOTES FROM THE WORLD OF FOOTBALL ALERT FOR BENZEMA! -- Furious United will punish CR7.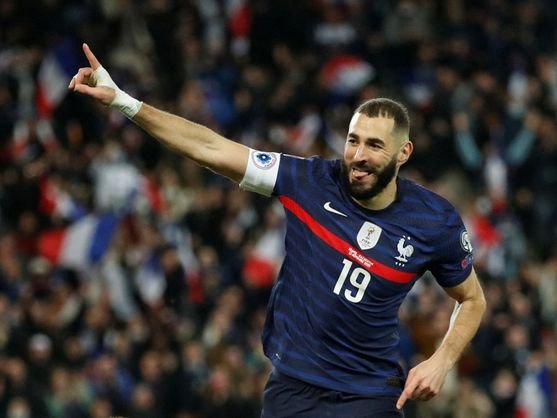 Imagen obtenida a traves de El Confidencial
Image obtained through El Confidencial
Benzema Preocupa / Benzema worries.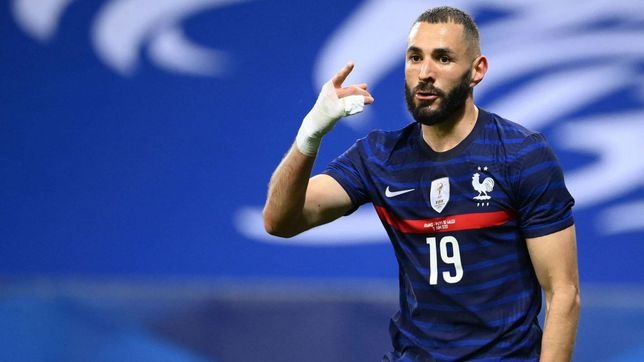 Imagen obtenida a traves de Diario AS
Image obtained through Diario AS
El delantero del Real Madrid y la selección francesa enciende las alarmas, ya que sigue entrenando al margen del resto de sus compañeros de selección, y por lo que parece, este no llegara a medirse en el primer partido de Francia contra Australia el próximo martes 22. El jugador comento hace unos días que no se siente al 100% debido al desgaste muscular que arrastra desde hace algunas semanas, pero que está haciendo todo lo posible para recuperarse y jugar el mundial, y el diario L'equipe asegura que si podrá lograrlo. Esperemos que el delantero francés si logre recuperarse a tiempo, y podamos verle jugar a un gran nivel durante el mundial para guiar a Francia hacia su posible segundo mundial consecutivo
The Real Madrid striker and the French team set off alarm bells, as he continues to train apart from the rest of his teammates, and it seems that he will not be measured in France's first game against Australia next Tuesday the 22nd The player commented a few days ago that he does not feel 100% due to muscle wasting that he has been carrying for a few weeks, but that he is doing everything possible to recover and play in the World Cup, and the newspaper L'equipe assures that he will be able to achieve it . Let's hope that the French forward can recover in time, and we can see him play at a high level during the World Cup to guide France to its possible second consecutive World Cup.
Vinicius y Rodrygo Tenian Miedo antes del mundial / Vinicius and Rodrygo were afraid before the World Cup.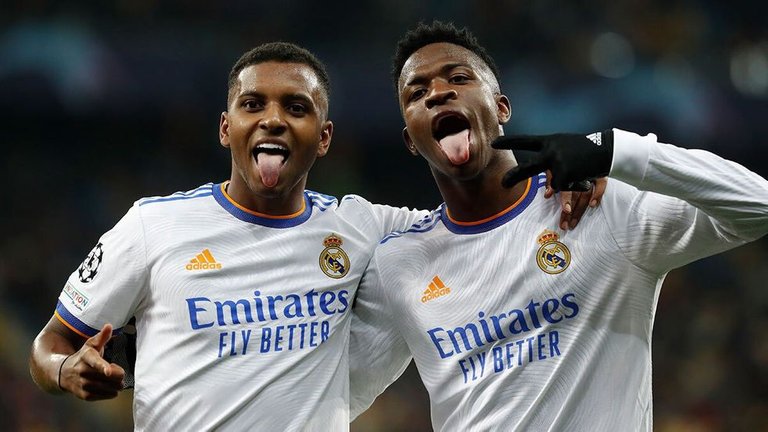 Imagen obtenida a traves de El Pais
Image obtained through El Pais
El jugador brasileño Vinicius confeso en una entrevista para que él y Rodrygo sintieron mucho miedo antes del mundial, ya que le pegaron con todo durante los últimos duelos que disputo con el Real Madrid. También afirmo que las imágenes de jugadores como Neymar, Cristiano o Benzema, les ayudaron como ejemplo de jugadores que aguantaron a sus rivales persiguiéndolos para así salir adelante.
Sus palabras fueron "Rodrygo y yo sufrimos mucho en los últimos partidos. Nos temiamos lo peor: lesionarnos y perdernos el mundial. Lo que pasa en el campo se queda en el campo, pero algunos fueron demasiado lejos. Puedes entrar fuerte, pero algunos fueron sucios en sus entradas. Cuando empiezas a ser un jugador importante, los rivales te marcan con mas fuerza y tienes que aprender a lidiar con ello"
Afortunadamente ningún jugador resulto lesionado y podremos disfrutar de su juego en el mundial, en el cual de la mano de otras grandes estrellas, intentaran ganar otro el sexto titulo de campeones del mundo para Brasil.
The Brazilian player Vinicius confessed in an interview that he and Rodrygo felt very afraid before the World Cup, since they hit him with everything during the last duels he played with Real Madrid. He also affirmed that the images of players like Neymar, Cristiano or Benzema helped them as an example of players who put up with their rivals, chasing them in order to get ahead.
His words were "Rodrygo and I suffered a lot in the last games. We feared the worst: getting injured and missing the World Cup. What happens on the field stays on the field, but some went too far. You can come in strong, but some were dirty in their tackles. When you start to be an important player, the rivals mark you with more force and you have to learn to deal with it."
Fortunately, no player was injured and we will be able to enjoy his game in the World Cup, in which, together with other great stars, they will try to win another sixth title of world champions for Brazil.
Castigo del United a CR7 / United punish CR7.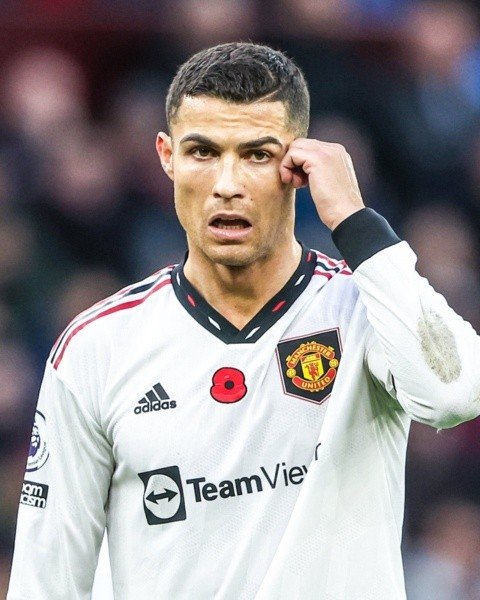 Imagen obtenida a traves de Pasión fútbol
Image obtained through Pasión fútbol
Luego de que Cristiano Ronaldo lanzara la entrevista completa, en la que expreso todo su desconforme con el United, el club se pronuncio de forma fria lanzando un comunicado en sus redes sociales
"Esta mañana, el club comenzó a dar sus primeros pasos en respuesta a la reciente nota que el futbolista brindo a los medios. La institución no hará mas comentarios hasta que este proceso llegue a su fin."
Medios como Metro o ESPN afirman que dentro del club existe un enorme enojo y decepción por las declaraciones de Cristiano, el cual va mas allá de lo que se ha podido notar en las respuestas de Ten Hag y otro compañeros. Y se afirma que es muy probable que antes de que termine el mundial, conoceremos del castigo que impondrá el Manchester United al jugador.
After Cristiano Ronaldo launched the full interview, in which he expressed all his dissatisfaction with United, the club spoke coldly, launching a statement on their social networks
"This morning, the club began to take its first steps in response to the recent note that the footballer provided to the media. The institution will not make any further comments until this process comes to an end."
Media such as Metro or ESPN affirm that within the club there is enormous anger and disappointment at Cristiano's statements, which goes beyond what could be seen in the responses of Ten Hag and other colleagues. And it is stated that it is very likely that before the World Cup ends, we will learn of the punishment that Manchester United will impose on the player.
Díganme lectores de @Fulldeportes ¿Que opinan de estas noticias rápidas? ¿Creen que Benzema se recupere a tiempo para darlo todo por su selección en el mundial? ¿Como creen que les vaya a Vini y Rodry con Brasil? ¿De que Team son, Cristiano Ronaldo o United?
Tell me @Fulldeportes readers, what do you think of these quick news? Do you think Benzema will recover in time to give everything for his team in the World Cup? How do you think Vini and Rodry will fare with Brazil? What team are you from, Cristiano Ronaldo or United?
---
---