[ESP/ENG] Variantes de flexiones parte 1 / Push-up variations part 1.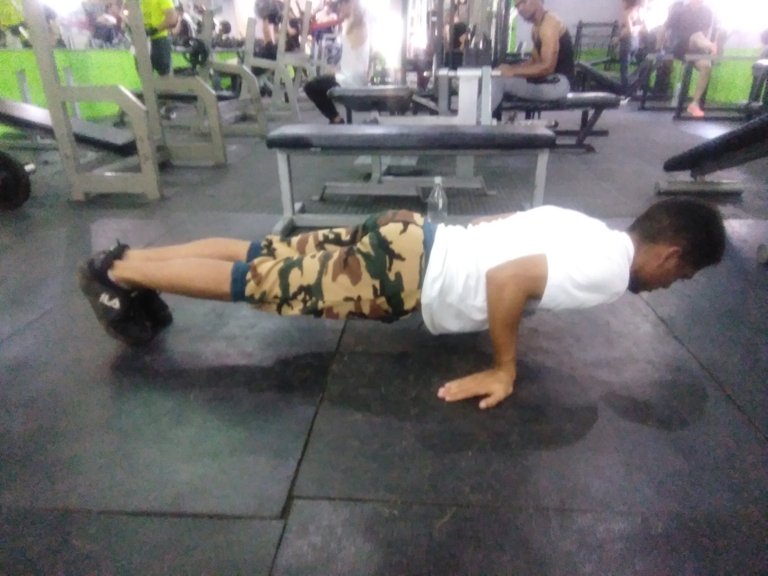 Hola @Fulldeportes les envío un saludo muy especial para todas las personas que hacen vida en esta comunidad, espero que estén muy bien el día de hoy. Se acerca el fin de semana y quiero traerles esta publicación (que no es una rutina de entrenamiento como tal), para que la tengan a mano en sus próximas rutinas de entrenamiento de pecho y tríceps.
Se trata de las diferentes variantes que tiene el famoso ejercicio para trabajar pecho, tríceps y hombros. "Las flexiones" las cuales puedes incluir sin problema en cualquiera de tus rutinas con su respectiva variable que trabaje algunos de estos músculos.
Como pueden apreciar en las fotos, he cambiado temporalmente mi lugar de entrenamiento. Decidí sorprender al musculo y entrenar una hipertrofia con peso extra. Por lo tanto las siguientes rutinas de entrenamiento que publique serán realizadas desde este gimnasio.
Hi @Fulldeportes I send a very special greeting to all the people who make life in this community, I hope you are very well today. The weekend is approaching and I want to bring you this post (which is not a training routine as such), so that you have it at hand in your next chest and triceps training routines.
It's about the different variations that the famous exercise has to work chest, triceps and shoulders. "The push-ups" which you can include without problem in any of your routines with their respective variable that works some of these muscles.
As you can see in the pictures, I have temporarily changed my training place. I decided to surprise the muscle and train hypertrophy with extra weight. Therefore the following training routines that I will publish will be performed from this gym.
Considero que lo más recomendable es dividir esta publicación en 2 partes, debido a que son muchas variables y no quisiera saturar su lectura. Por esta razón publicare la primera parte hoy, y la segunda en los próximos días.
En otras publicaciones ya he explicado cómo se ejecutan algunas de las variantes del ejercicio que mostrare hoy, pero lo volveré a hacer debido a que los nuevos lectores probablemente necesiten saber la correcta ejecución de los movimientos.
I consider that the most advisable is to divide this publication in 2 parts, because there are many variables and I do not want to saturate your reading. For this reason I will publish the first part today, and the second one in the next days.
In other publications I have already explained how to execute some of the variations of the exercise that I will show today, but I will do it again because new readers will probably need to know the correct execution of the movements.
Flexiones Normales / Normal Push-Ups
Consiste en posicionar nuestras palmas en el piso con los brazos rectos, estos deben estar al mismo nivel que nuestros hombros. Al momento de flexionar debemos bajar hasta que nuestro pecho rose el piso, manteniendo la espalda, cadera y piernas rectas. Se debe evitar ver hacia adelante para no causar tensión en la zona del cuello, perjudicial para quienes sufren de la cervical.
It consists of placing our palms on the floor with our arms straight, these should be at the same level as our shoulders. At the moment of bending we must lower until our chest rises to the floor, keeping our back, hips and legs straight. We should avoid looking forward so as not to cause tension in the neck area, which is harmful for those who suffer from cervical pain.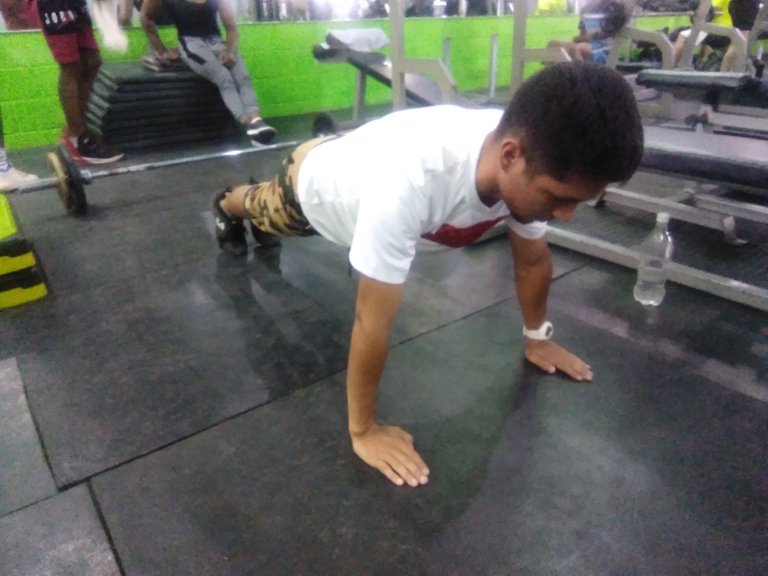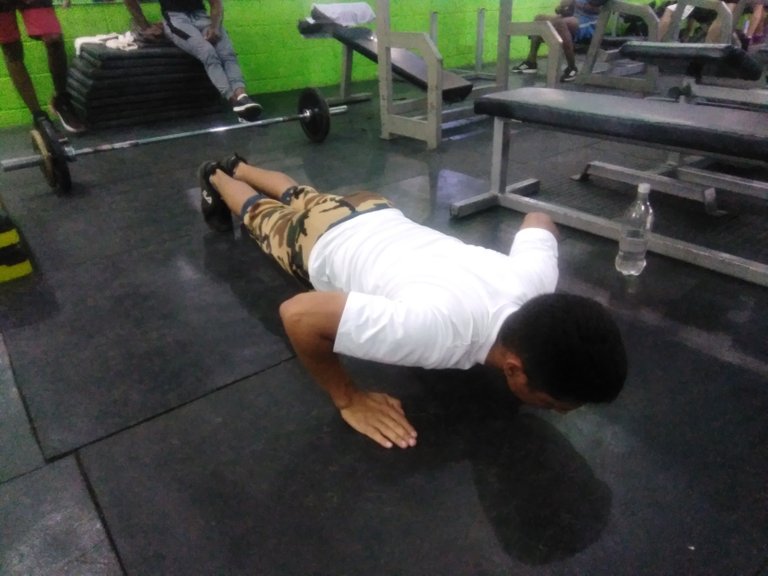 Flexiones Abiertas / Open Push-Ups
Es similar a la anterior, cambiando en que debemos de separar más nuestros brazos para tener mayor apertura en el ejercicio. Se deben respetar igual la posición del cuerpo y la profundidad con la que se debe ejecutar el ejercicio.
It is similar to the previous one, changing in that we must separate our arms more in order to have a greater opening in the exercise. The position of the body and the depth with which the exercise must be executed must be respected.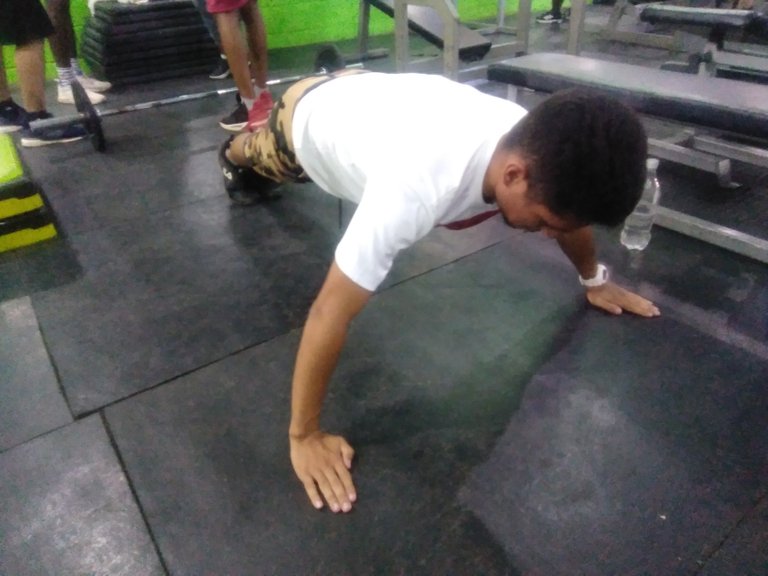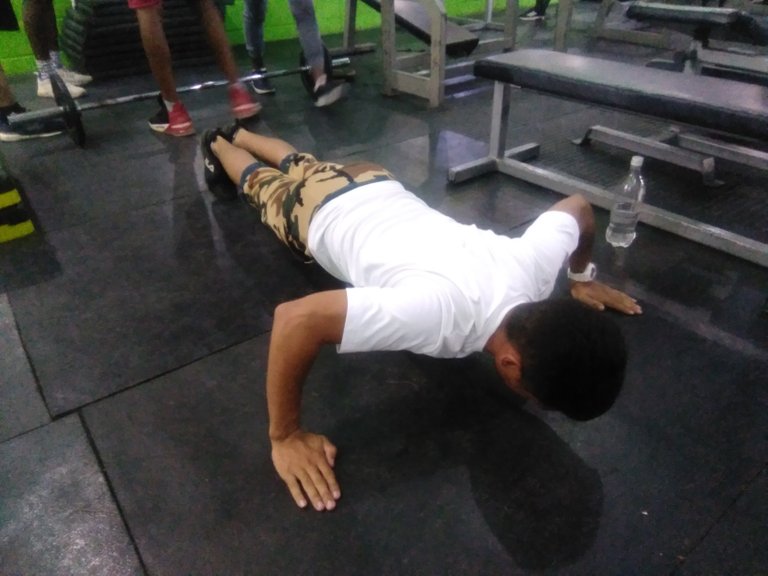 Flexiones Cerradas / Closed Push-Ups
En esta variable juntaremos nuestras palmas en el piso con los brazos totalmente rectos y firmes, y procederemos a bajar con los codos un poco hacia detrás, manteniendo la postura erecta y la mirada hacia abajo. Esta variable trabaja un poco más nuestros tríceps en comparación con otras.
In this variable we will put our palms together on the floor with our arms totally straight and firm, and proceed to lower with our elbows slightly behind us, keeping our posture erect and our gaze downward. This variable works our triceps a little more compared to others.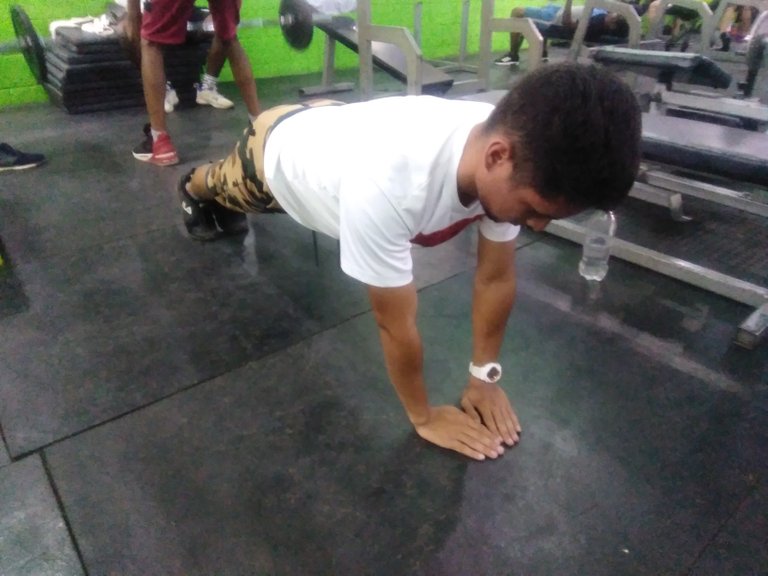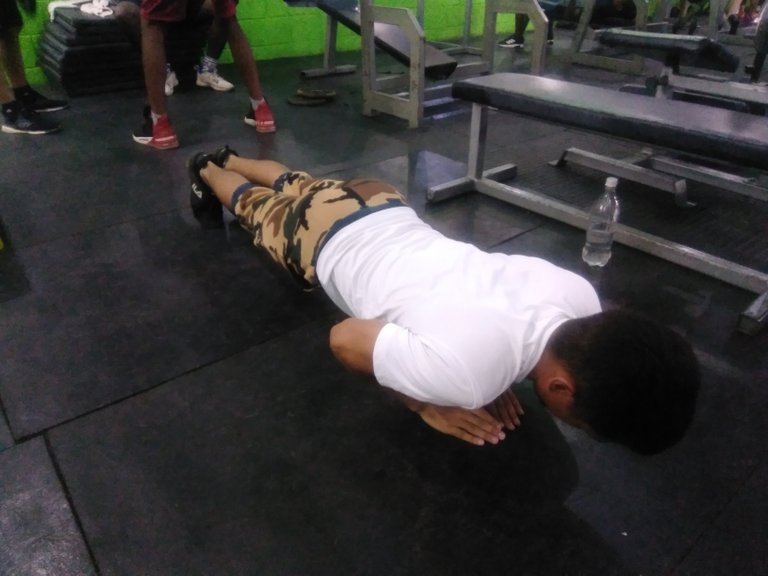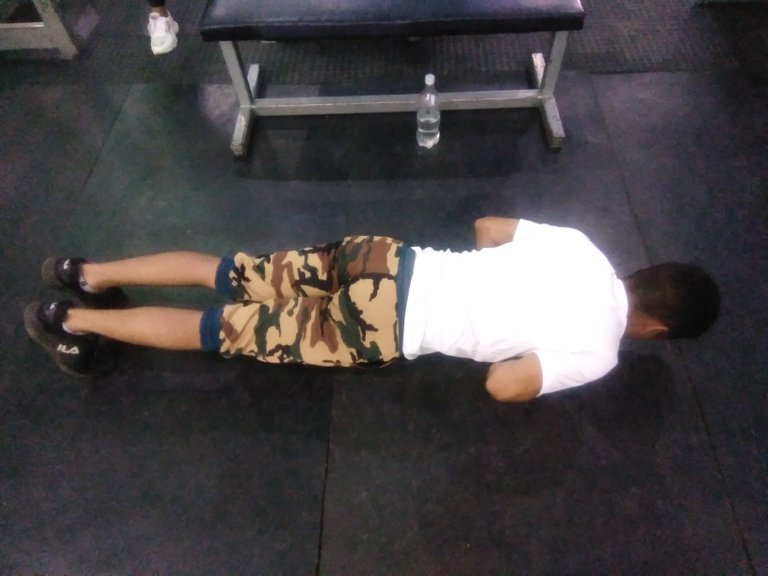 Flexiones Diamantes / Diamond Push-Ups
Es muy parecida a la anterior, de hecho muchos piensan que son lo mismo. Pues la respuesta es que son similares, pero no las mismas. Mientras que las cerradas trabajan mayormente la zona trasera o interna del tríceps, la diamantes se enfocan en la parte del costado. Esto lo notamos ya que por el pequeño cambio de posición de nuestras manos, naturalmente abrimos un poco más los codos, lo que hace que la presión del ejercicio se desvié en el musculo un poco hacia la parte externa del tríceps.
It is very similar to the previous one, in fact many people think that they are the same. Well, the answer is that they are similar, but not the same. While the closed ones work mostly the back or internal area of the triceps, the diamond ones focus on the side. We notice this because the small change of position of our hands, we naturally open a little more elbows, which makes the pressure of the exercise is diverted in the muscle a little to the outside of the triceps.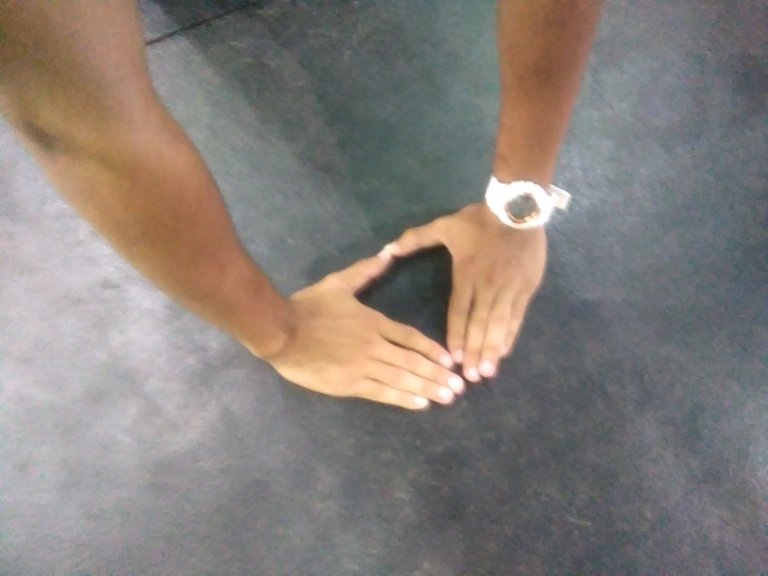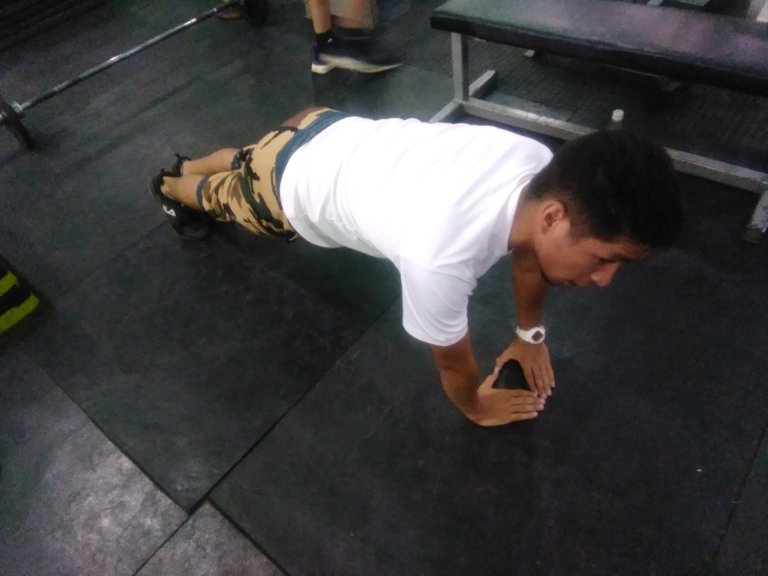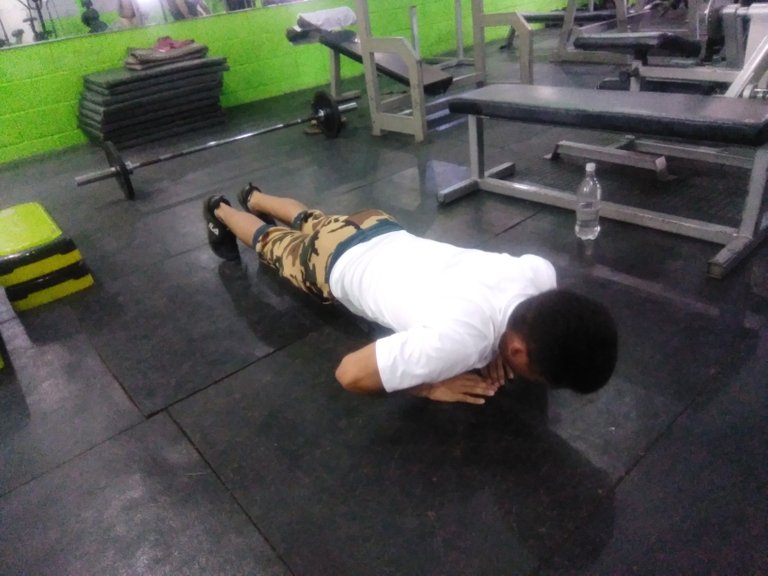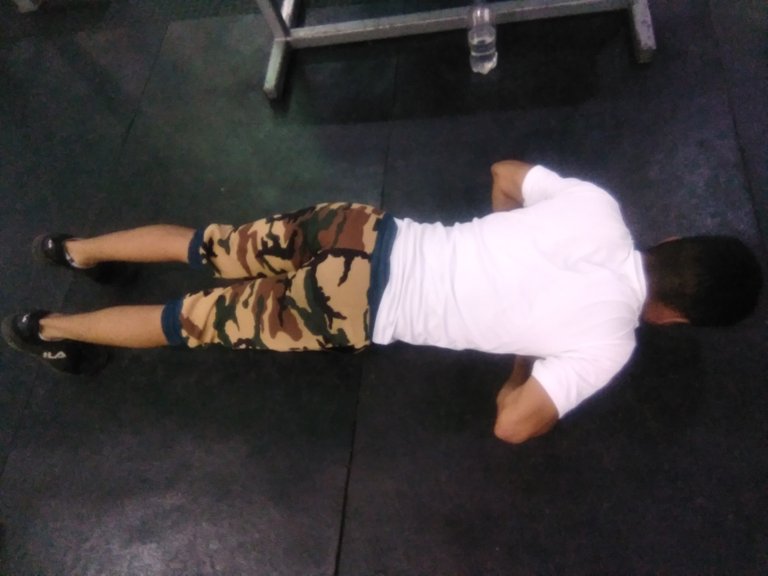 Flexiones para hombros / Shoulder push-ups
Estas consisten en elevar nuestros pies en alguna superficie estable como una pared, de manera que quedemos de cabeza, seguido de esto debemos flexionar nuestros codos hasta que nuestra cabeza toque el piso y subir nuevamente. Este ejercicio es un poco difícil para quienes aún no tienen mucha resistencia, si se te dificulta, puedes hacerlo con un banquito.
These consist of raising our feet on a stable surface such as a wall, so that we are upside down, followed by bending our elbows until our head touches the floor and go up again. This exercise is a little difficult for those who still do not have much resistance, if you find it difficult, you can do it with a bench.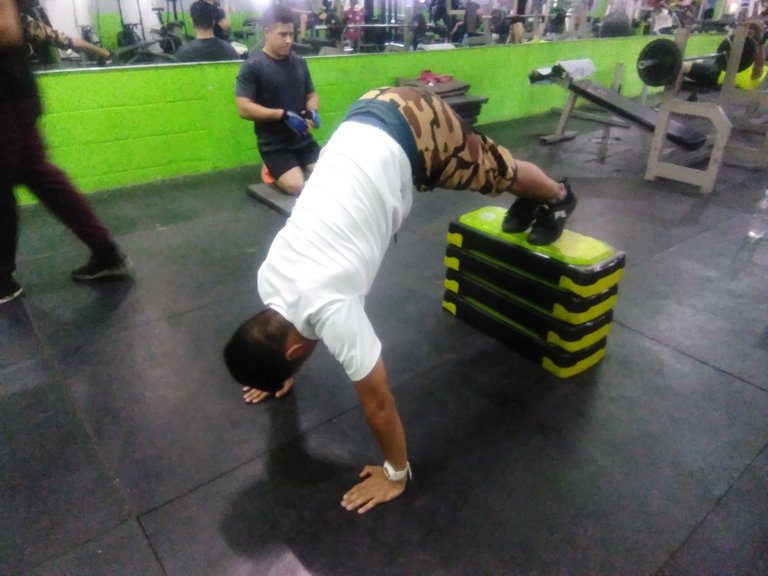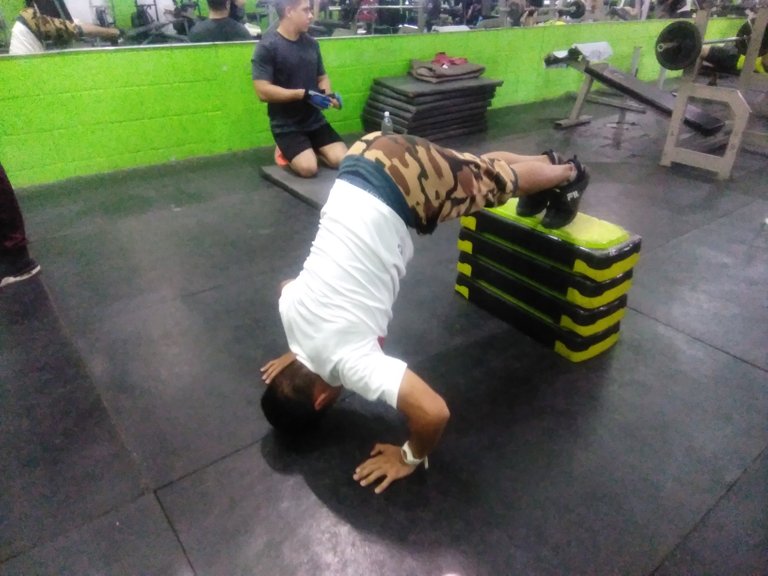 Flexiones supinas / supine push-ups
Consiste en cambiar de dirección nuestras palmas, ya no apuntaran al frente, sino más bien hacia atrás. Bajaremos flexionando nuestros brazos hasta llegar a los 90°. Si consideras poder hacerlo hasta el fondo, puedes hacerlo.
It consists of changing the direction of our palms, no longer pointing forward, but rather backward. We will go down flexing our arms until we reach 90°. If you think you can do it all the way down, you can do it.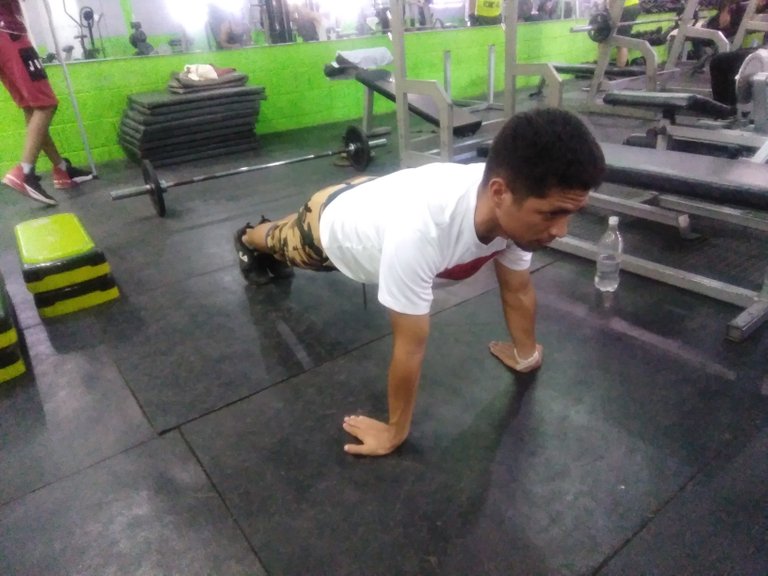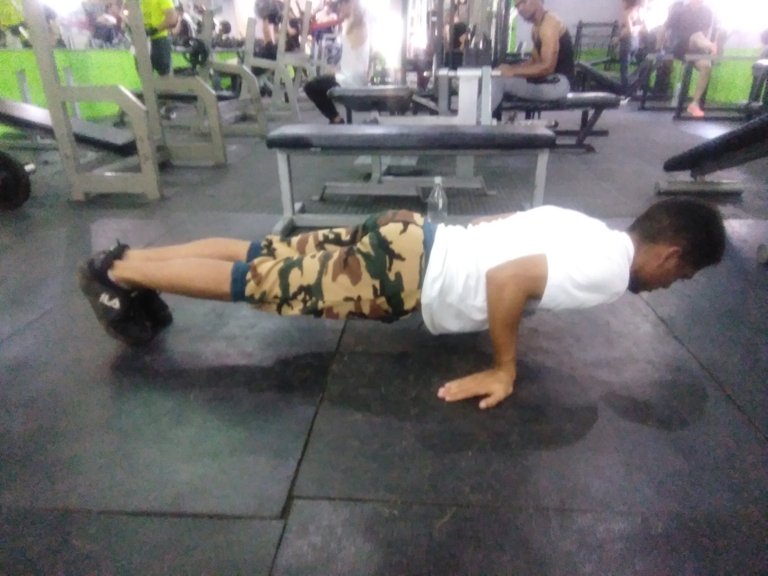 Estas fueron algunas de las diferentes variables de flexiones que realizo durante mis rutinas de entrenamiento. Espero que les sean de utilidad al momento de entrenar. Mucho éxito y bendiciones para todas las personas que hacen vida en esta comunidad. Me encantaría saber que opinan y si conocen de alguna que falto, estaré gustoso de saber cuál. Nos vemos en la segunda parte.
El contenido de esta publicación es propio, las fotos fueron tomadas en casa hacia mi persona por mi compañero de entrenamiento Carlos Raul, con mi teléfono Alcatel 1.
These were some of the different push-up variables that I perform during my training routines. I hope you find them useful when training. Much success and blessings to all the people who make life in this community. I would love to know what you think and if you know of any that I am missing, I will be glad to know which one. See you in the second part.
The content of this publication is my own, the photos were taken at home by my training partner Carlos Raul, with my Alcatel 1 phone.
---
---