[PT-BR] Ótimas Mudanças nas Guild Brawls!
---

[ENG] Great Guild Brawl Update!
Hello everyone!
This is a video in Portuguese in which I talk about the new Guild Brawl update that was announced a few days ago on this post by the Splinterlands devs.

All the changes done made the Brawls more accessible to new players: now the new Riftwatchers cards can be used in lots of Frays that were restricted to Chaos Legion only, and there's now almost no need use the old Alpha/Beta cards as those restricted Frays can now be played using Promo and Reward cards.
This update is just superb, as it makes the Brawls cheaper to be played and, thus, more competitive and entertaining. Players aren't restricted by their budget anymore, and can play competitively with their new (and cheaper) cards!
Thanks for watching and reading, and until the next video!

[PT-BR] Ótimas Mudanças nas Guild Brawls!
Fala galera, beleza?
Nesse vídeo, eu vou falar sobre as novas mudanças que estão vindo para as Guild Brawls que foram recentemente anunciadas nesse post dos desenvolvedores do Splinterlands.

Todas as mudanças propostas tornam as Brawls mais acessíveis para os novos jogadores: agora as cartas de Riftwatchers podem ser usadas em várias Frays que, antes, eram limitadas apenas para a expansão de Chaos Legion; e agora as antigas cartas de Alpha e Beta não são mais obrigatórias em algumas Frays, que agora podem ser jogadas com cartas Promo e Reward.
Esse update é perfeito e vai no sentido do que eu sempre digo: o Splinterlands tem que ser um jogo mais interessante e divertido de ser jogado. Essas mudanças fazem com que o jogo seja menos restritivo em termos monetários, fazendo com que o gameplay seja mais competitivo e mais acessível por meio da utilização de cartas novas e mais baratas!
Valeu galera, e até o proximo vídeo!

If you enjoyed the post, feel free to follow me as I'm routinely writing about Gaming, Investment, Fitness and Writing, and posting about other random fun subjects like Travel, Photography and Metal Detecting!
If you want to play fun NFT Games, I do strongly recommend Splinterlands, RisingStar, Rabona and dCrops. Send me a message if you need help starting out!
And, if you're feeling lucky, go to HiveSlotGames and win money by playing on the 🍀Roulette🍀, 🃏BlackJack🃏, 🎲Dices🎲 and 🎰Slots🎰!

Unless stated otherwise, all images are created and owned by me, or from the game depicted on this post.
This is definitely NOT financial, legal or investment advice. You wouldn't get your financial advice from a squirrel, would you? Cryptocurrencies are very volatile, so don't invest what you can't afford to lose.
Also, believe it or not, I'm not actually a squirrel! This handsome rodent in my profile picture is a character from 'Conker: Live & Reloaded'. Here's Real Life me!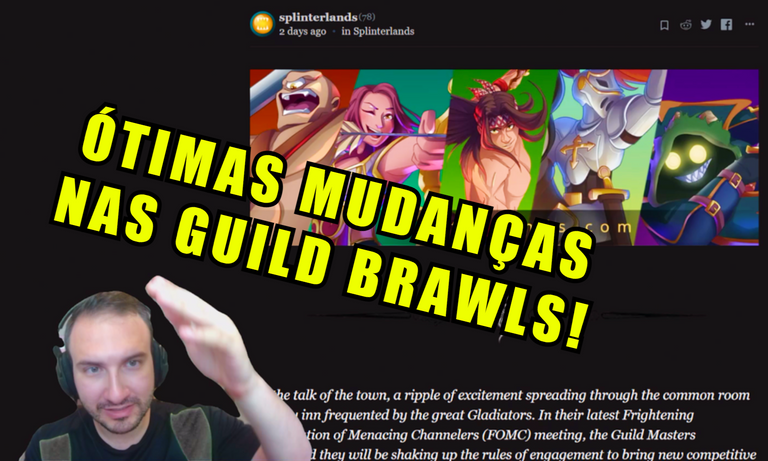 ---
▶️ 3Speak
---
---