[PT-BR] Vale a Pena usar Bots no Splinterlands?
---

[ENG] Is it worth to use Bots on Splinterlands?
Hello everyone!
This is a video in Portuguese in which I talk about the usage of bots on Splinterlands, and I'll try to answer the infamous question: Is it worth to use Bots on Splinterlands?

The truth is that, liking it or not, the game rules allow bots and automated tools that do everything for the player: play the matches, collect rewards, even rent cards accordingly to the daily quest focus.
A savvy player has to analyze the cost of using bots (the monthly subscription itself, the eventual revenue share / fees charged on the rewards, the gameplay that's worse when compared to a human player) and compare it to the advantages of using this kind of tool (stability and constancy of playing everyday and spending the capture rate, saving time). Through this analysis, the player can conclude if using bots is worth (or not) for himself. For example, a player that's busy in the real life and isn't able to play the game regularly may benefit from having a bot that can play everyday and bring home some profits, instead of just wasting the capture rate on 100%.
Thanks for watching and reading, and until the next video!

[PT-BR] Vale a Pena usar Bots no Splinterlands?
Fala galera, beleza?
Nesse vídeo, eu vou falar um pouco sobre os bots existentes no Splinterlands, e vou tentar responder à famosa pergunta: vale a pena usar Bots no Splinterlands?

A verdade é que, independente de você concordar ou não com a existência dos bots no jogo, as regras do jogo permitem a utilização de ferramentas automatizadas que, basicamente, fazem tudo pelo jogador: jogam as partidas, coletam as recompensas, até mesmo alugam cartas de acordo com a quest diária.
O jogador inteligente deve analisar o custo dos bots (preço da mensalidade, taxas cobradas sobre as recompensas diárias, nível de jogo inferior ao de um jogador humano) e comparar com as vantagens de utilizar essas ferramentas (constância de jogar todos os dias, economia de tempo). É através dessa análise que o jogador vai avaliar se, naquele momento, faz sentido (ou não) utilizar algum bot. Por exemplo, um jogador que está com pouco tempo para jogar e passa vários dias sem entrar no jogo pode se beneficiar ao ter um bot que jogue todo dia, garantindo o lucro diário.
Valeu galera, e até o proximo vídeo!

If you enjoyed the post, feel free to follow me as I'm routinely writing about Gaming, Investment, Fitness and Writing, and posting about other random fun subjects like Travel, Photography and Metal Detecting!
If you want to play fun NFT Games, I do strongly recommend Splinterlands, RisingStar, Rabona and dCrops. Send me a message if you need help starting out!
And, if you're feeling lucky, go to HiveSlotGames and win money by playing on the 🍀Roulette🍀, 🃏BlackJack🃏, 🎲Dices🎲 and 🎰Slots🎰!

Unless stated otherwise, all images are created and owned by me, or from the game depicted on this post.
This is definitely NOT financial, legal or investment advice. You wouldn't get your financial advice from a squirrel, would you? Cryptocurrencies are very volatile, so don't invest what you can't afford to lose.
Also, believe it or not, I'm not actually a squirrel! This handsome rodent in my profile picture is a character from 'Conker: Live & Reloaded'. Here's Real Life me!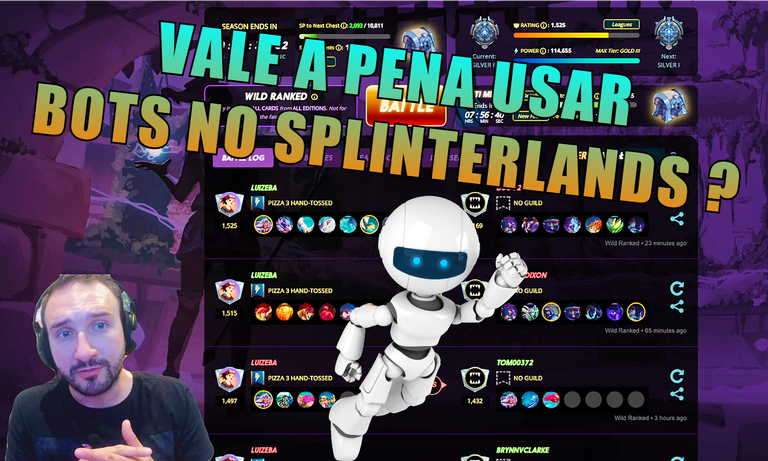 ---
▶️ 3Speak
---
---