You will be happier if you get rid of unnecessary items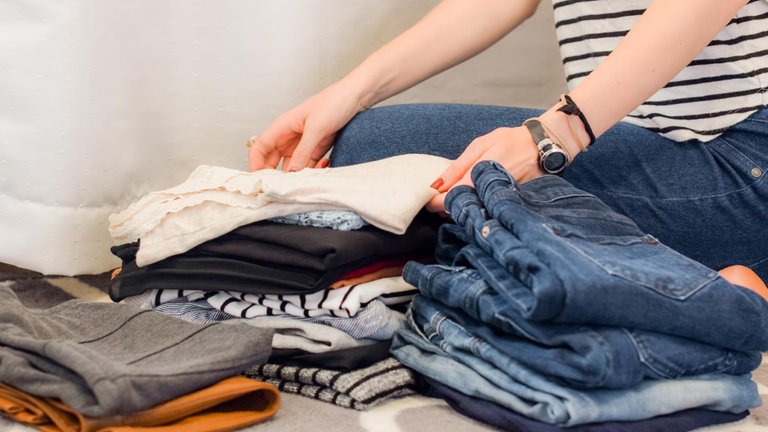 image source by Unsplash
Hi dear friends. I haven't written on Hive Blog platform for two weeks. On this occasion, I would like to share an informative article for all of you. So, yesterday I met my college friend. She invited me to stop by her house. When I entered her house, I saw a lot of things scattered about. Gosh!, is she comfortable looking at scattered things like this?
So, my friend said that he often shopped for goods through online applications. He likes to buy discounted items at cheap prices even though he doesn't need them. OMG! I don't know what was on her mind. In this day and age, buying goods online does look profitable because many discount offers are given every month. Fashion trends on social media also make people interested in making impulse purchases.
Things like that are not only experienced by my friend. Maybe my friends here are like that too. Buying unneeded items just because there is a big discount. Purchases of goods without planning like this will make the house and room full of goods. In this case, we need to spend a little time and effort to make sure the things we have are clean and usable. It will be a problem if the items we have are too piled up. The wardrobe will not be enough to accommodate the clothes we have, accessories will be lying everywhere, and books on the shelves will be scattered and towering (especially never read).
If it's like that, you have to spend a lot of time and energy cleaning it. When you are tired all day working in the office or studying on campus, then you come home and see your things strewn everywhere. You will get tired and stressed and have other negative feelings. You will also be lazy to clean it, and don't even want to touch it. That's why you have to do activities to reduce the number of items in your home or room. Getting rid of items that are no longer useful in our lives will make the house or room cleaner and more pleasing to the eye.
If you are used to getting rid of things that are no longer useful in life, your consumptive nature will decrease. Because you will realize the importance of the things you already have. You can donate or sell items that you no longer need. Plus, the habit of getting rid of things you don't need will set you free from the trend. To be free from trends (especially fashion) is to be able to be yourself. Too often following trends will take away one's individual attitude. When you are free from trends, you will be able to create your style. That's cooler right?
From a psychological point of view, cleaning and tidying the house will make mental health better. Someone who sees his house is no longer messy and full of piles of goods will reduce stress, anxiety, and other negative emotions. That way we will feel happier. Stay grateful and feel enough, we will not be trapped by the current trend promoted by social media and also big discounts. That is happiness that starts with ourselves. Thank you.
---
---