The Ultimate Guide To Mount Bromo 7,641 ft Above The Sea : Sunrise From Penanjakan Hill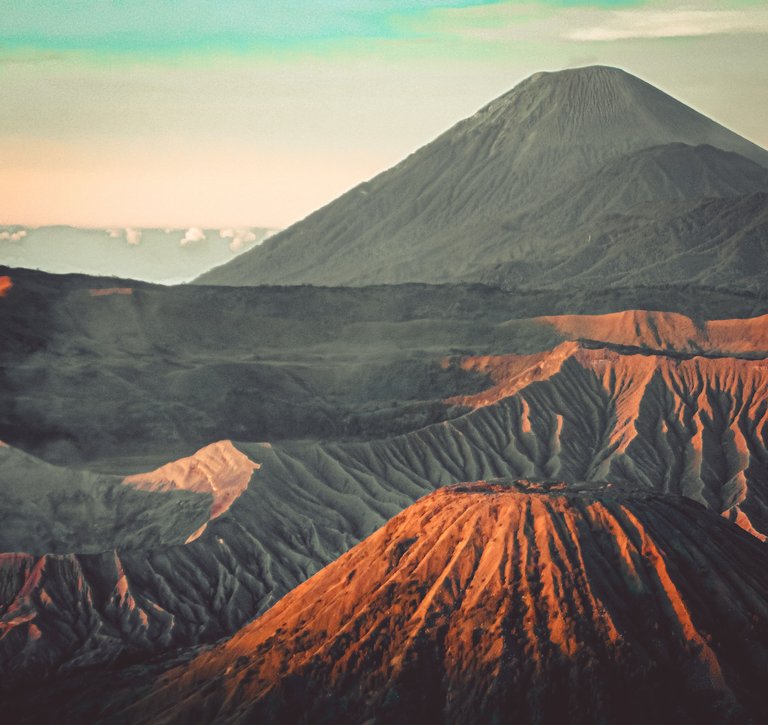 Your trip to Indonesia won't be completed without visiting this mesmerizing active volcano, Mount Bromo. Not only known for its amazing sunrise view, this mountain has a sea of sand in the country. Easy access and its beginner friendly hike, this alpine-like mountain bewitches whoever steps its feet in the area.
There are a few ways to do this Mount Bromo trip from doing it through an open trip, solo, and DIY. If you have a reasonable budget and enjoy convenience, a DIY trip like I did was fun and totally recommended. However, if you enjoy doing it through tours, there are many available online tours that you can join for just under 40$. I have been to this place twice and found out some easiest and reasonable way to do Mount Bromo. I am going to share the details especially on the easiest road to reach the place and where to find the jeep that will take you to mount bromo.
What to See in Mount Bromo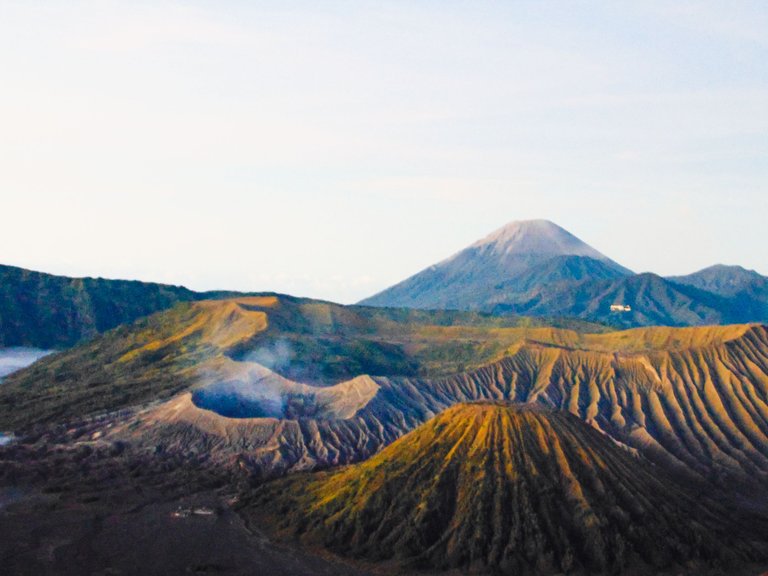 Mount Bromo is one of many active volcanoes in Indonesia. However, its location surrounded by other volcanic mountains and its landscape that's alpine-like (locals said it's similar to New zealand and parts of switzerland) made it more attractive to visit. The sunrise is a must-to-do for those who made their way to east-java before visiting Ijen blue flame.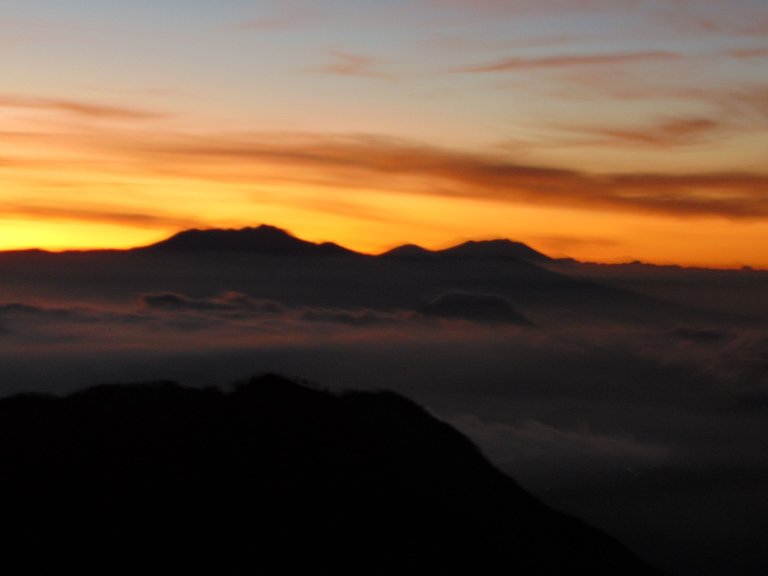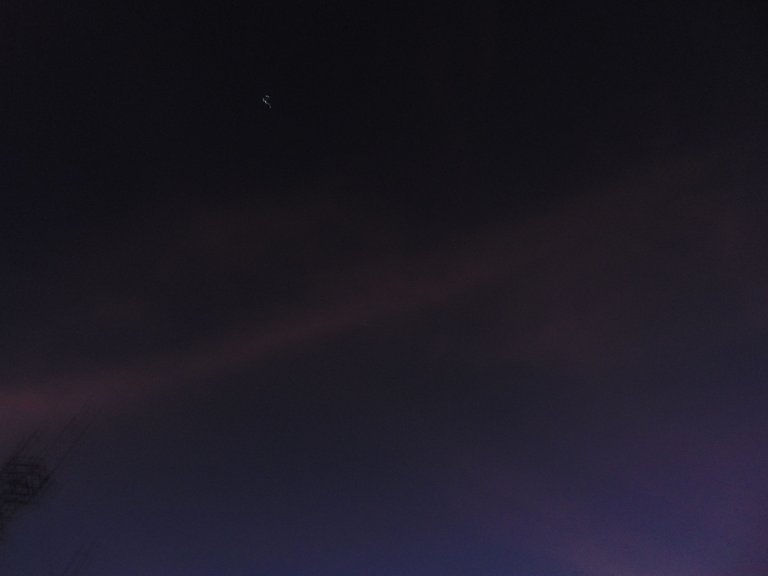 Not only the breathtaking landscape and sunrise view, this mountain is home to one of Indonesia's sub-ethnic tribes called " Suku Tengger" which is known for their unique festival called " Yadnya Kasada". The tribe also hosts their hindu temple near the entrance of Mt Bromo crater which also made it one of the most beautiful homes of gods and goddesses in Indonesia. All in all, the beautiful landscape and its rich cultural root are what made this place alluring to visit.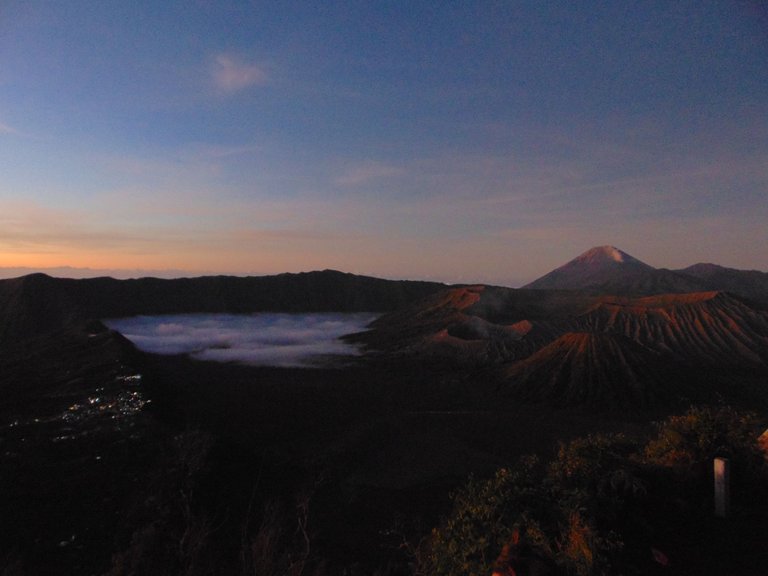 ---
Where is Mt Bromo located
Mount Bromo stretches through several regencies in east-java which made this national park area have a few entrances. Some people visited this mountain through Malang and some, through probolinggo.
Based on my experience and others I've met, probolinggo is the easiest entrance as the road is easier and also much easier to reach if you are from Bali.
If you are going from Bali, you can take a flight to Surabaya, then rent a car for 24 hours usually around 60$ all inclusive then going to probolinggo. Ideally you have to go from Surabaya at around 12 or even 11 PM as the journey will take another 2 hours. Then, you can find the jeep drivers at the gas station at curahwangi, sukapura where they were already lining up and offering you their service. They offer two options : the first option 2 sites (One of the hills + Mt Bromo ) and the second one, 4 sites (one of the viewing points, Mt bromo, whispering sea of sand, Teletubbies hill). It might seem sketchy to have deals at gas stations but according to my dad, it's actually one of the safest places to park the car as the area is guarded 24/7. We tried via another place, a bit further but it wasn't that safe nor has a nice public toilet.
You can try to haggle a bit but don't expect too much of a discount. After you agree on the price, you will start the journey using the jeep with a designated and skilled driver. Do not forget to take a picture of the jeep and the license plate because it will make it easier for you to find it among dozens of jeeps with identical colors.
We got onto the jeep with Mr Mul who was a friendly and skilled driver. We chose the 4 sites option as I haven't been to Teletubbies mountain and the sea of sands. I did my research online and apparently we got it way cheaper than the online prices. Visiting during weekdays has its advantages over weekends too. Mr Mul told us that the viewing points will be less packed and the jeep could park quite nearby the stairs. Our jeep driver was quite chatty and told me many things about the mountain and its people.
These days to visit mount bromo you can either book it online via or pay it offline. For extra convenience, I would suggest paying it online so you don't have to deal with it later but if you don't want to do KYC, paying it offline works as well. There are two types of entrance fees, for a national citizen, a person would spend around 4$ , however for foreigners, expect to spend 20$ just for the entrance fees.
Penanjakan Hill Sunrise Point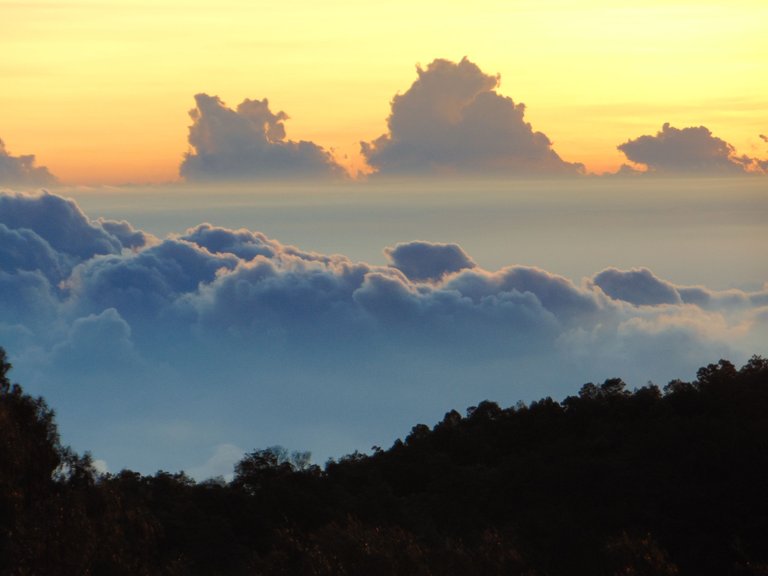 We passed through rough patchy sands and steep roads to reach penanjakan hill and it was pitch black. The jeep drivers sort of had their own imaginary map to reach the place in the dark. It was quite thrilling as I glanced at my watch and it was around 2:30 AM. In the past, we had some horror sights but that day thankfully we didn't see anything out of the ordinary that day.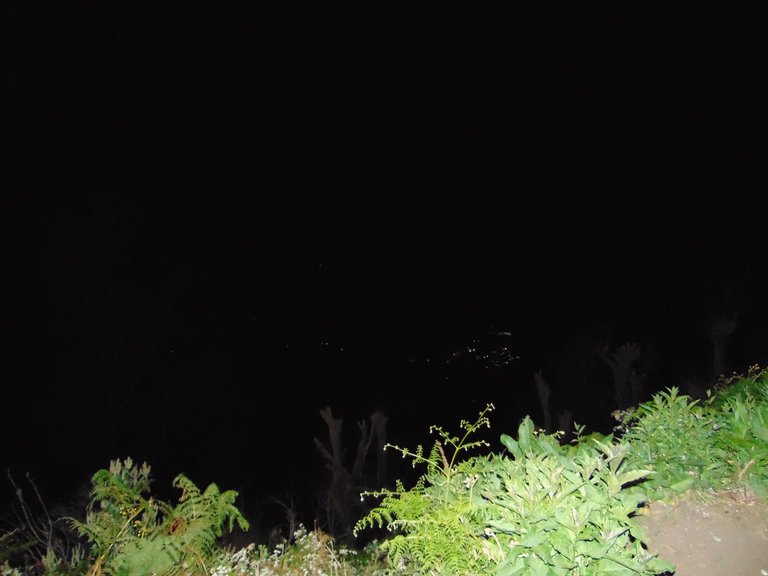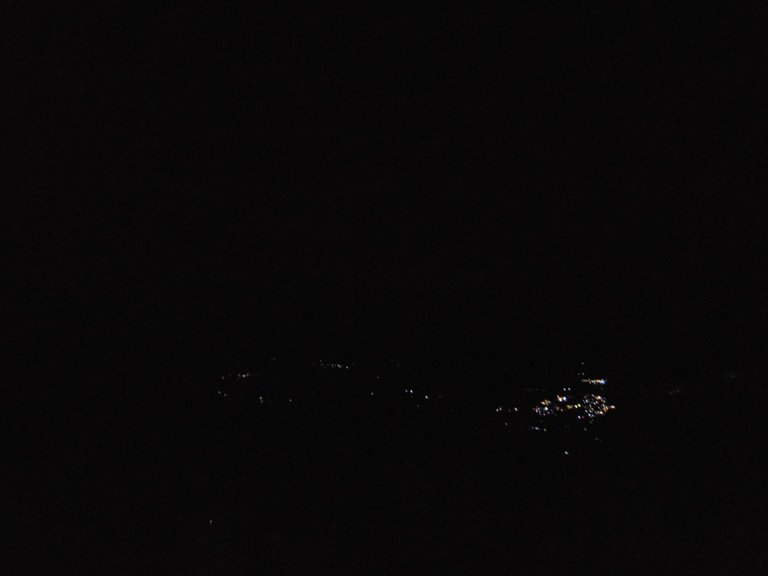 It took about 40 minutes for the driver to get us through Penanjakan hill. We arrived pretty early and there were still only a few visitors. As soon as we got out of the jeep, we hiked a bit to the viewing point and my mom was nauseous. She was shivering because it was extremely cold. However, to me, it was just like a regular cold. The temperature during midnight is around 9C with the wind blowing hard. So, it's best to wear something more warm when visiting the place. Also, you can also just wear a hoodie and it will be fine. But it all depends on if you are accustomed to bitter cold or used to living in a sunny tropical paradise.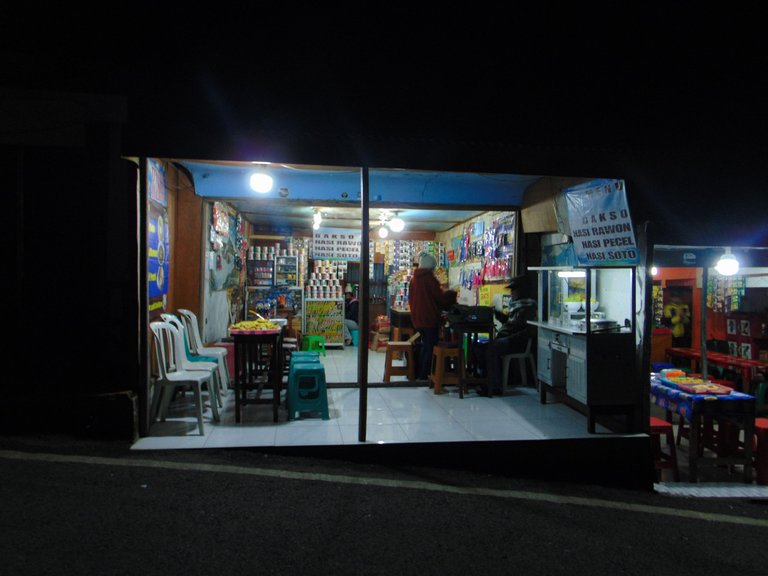 Before going up to the main viewing, we stopped at the local warung to get hot tea and cup noodles. It is so warm and an energy boost before going up where the wind was blowing really hard. We arrived a little too early and just enjoyed the tea. During our hike up, there were many locals offering thicker jackets, gloves, and scarfs. So, if you feel a little colder you can rent these jackets but again, it's best to be prepared early on.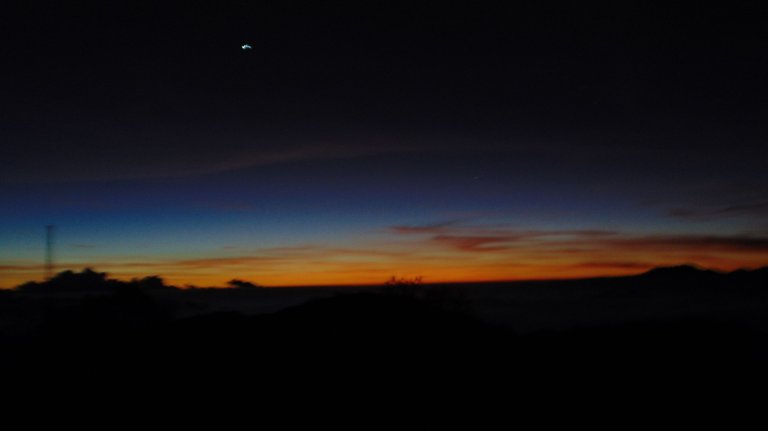 ---
Sunrise in mount bromo is happening around 5 to 5:30 AM and the best view to see it all is to stand nearby the safety rail to get the best picture of the mountain. Be warned that it can get quite cold if you are not used to it. My fingers were icy and it was almost difficult to capture the shots without having to wear the gloves now and then. Honestly, mount bromo is on the west side from penanjakan hill which makes the sunrise actually come out from Mt Arjuna than Mt Bromo.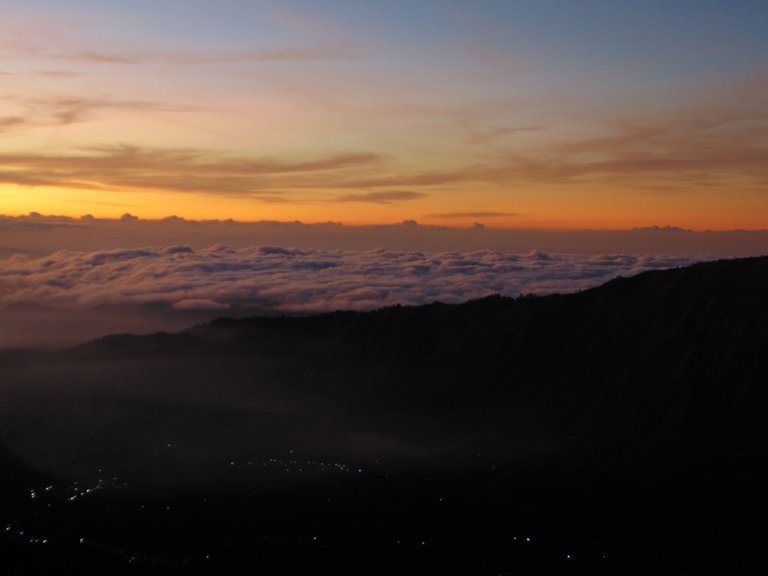 In this viewing point, you can see shades of colors before the sunset and also do stargazing before the sunrise comes up. The clouds were also icing on the cake that made this place really breath-taking. As the sun slowly rises, you can see Mt Bromo and its crater from this viewing point. The place was already packed by then and it's almost difficult to get a clear shot of everything but you can also wait until others leave the area which is around 6:00 AM to get that clear shot of Mt Bromo and nearby.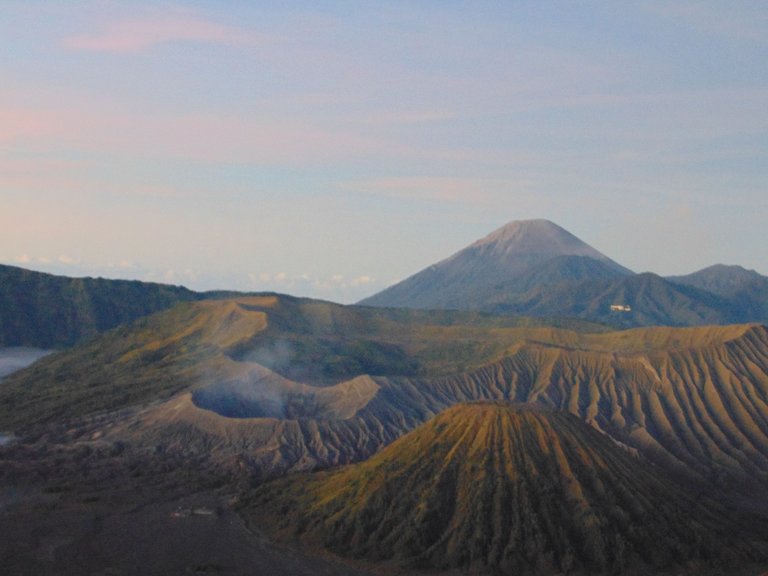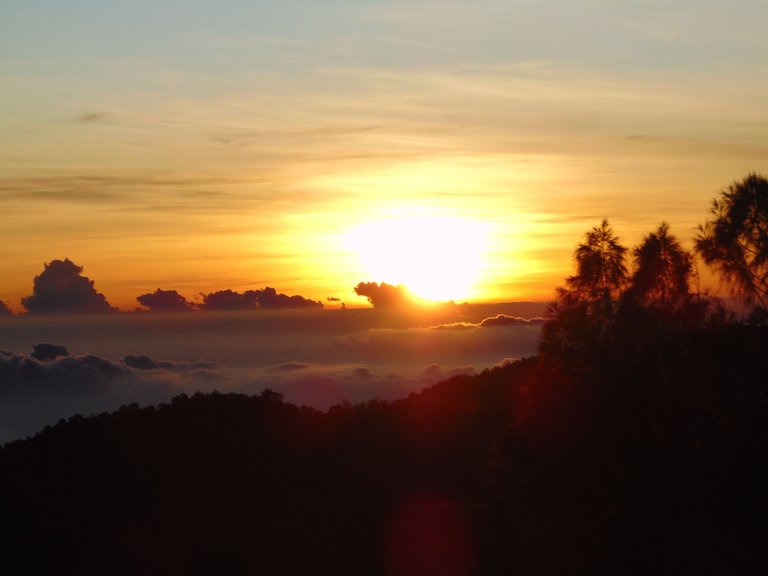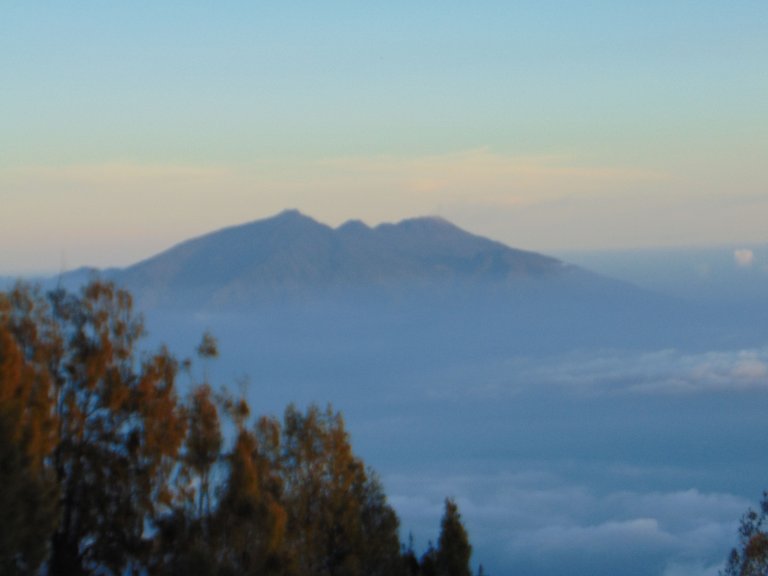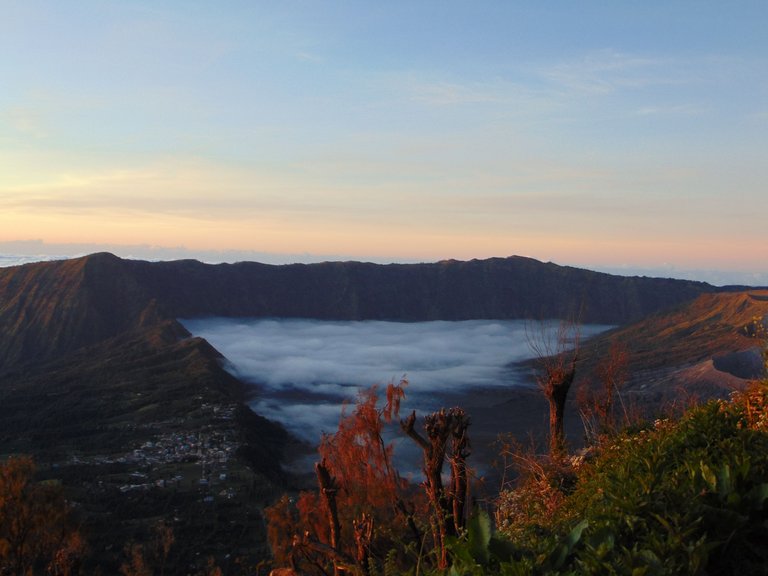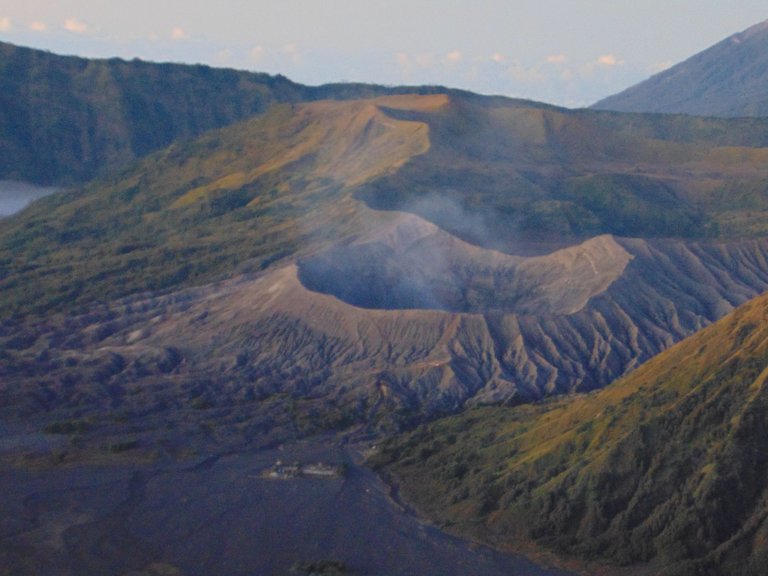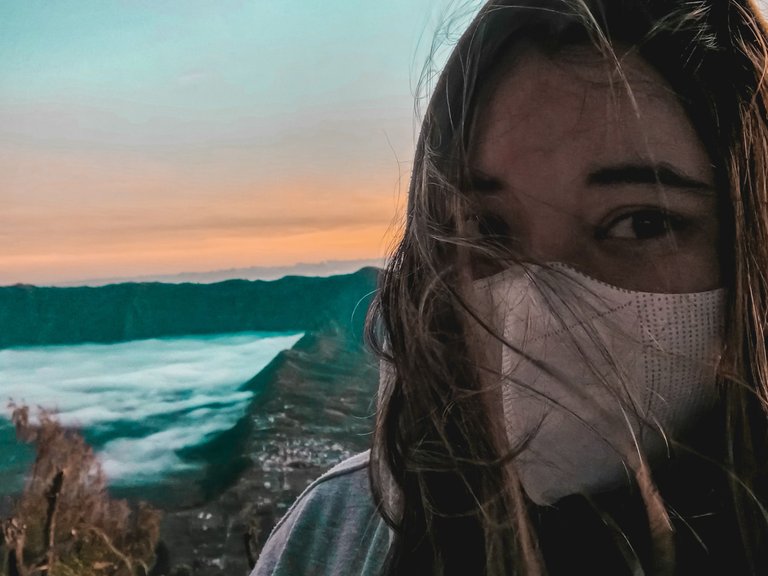 A selfie after the sunrise. Sleep deprived and the wind was strong & my hair was everywhere!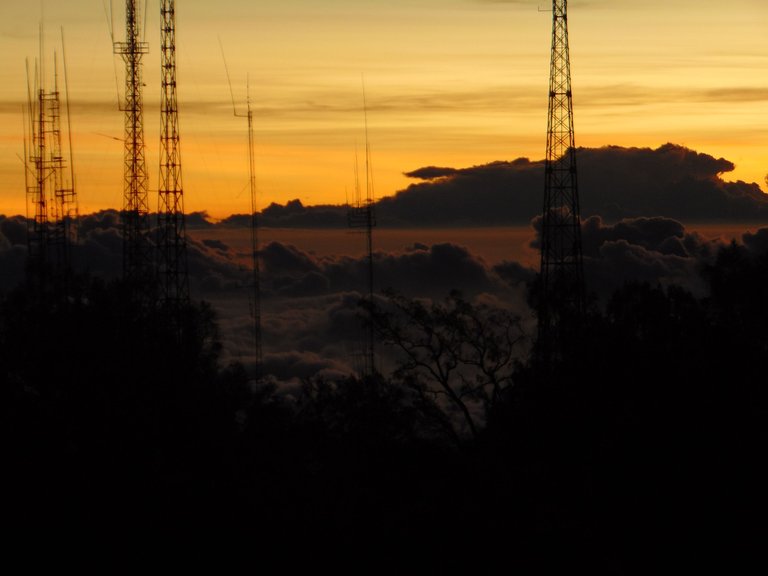 ---
After we were done with the sunrise and taking amazing pictures of Mt Bromo, we got down to our jeep and went to the next destination, Mt Batok and Mt Bromo
---
Mt Batok A Pose With The Jeep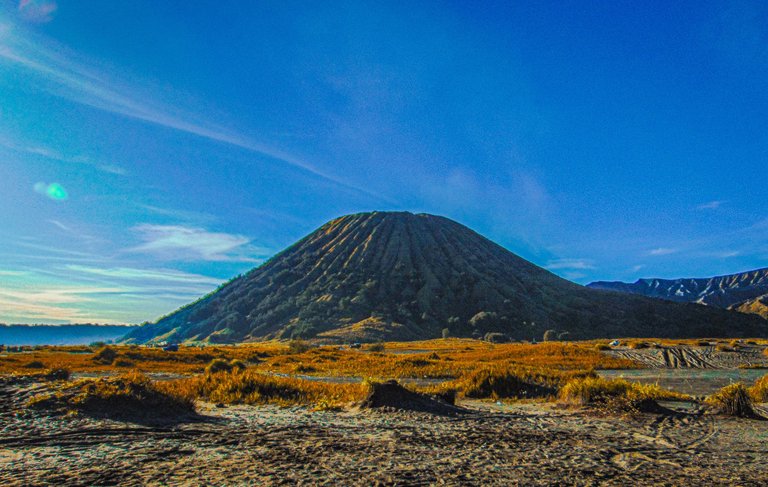 Before getting to Mt Bromo crater, the jeep driver will take us to mt batok stopping point where we can take pictures with the jeep. It is a very popular thing to do while having an adventure over this national park. This volcano mountain has its name from the shape of a coconut-shell, as in Javanese batok means " coconut shell". By now, if you feel a little hungry, there's a must-try food around Mt Bromo crater called "cilok".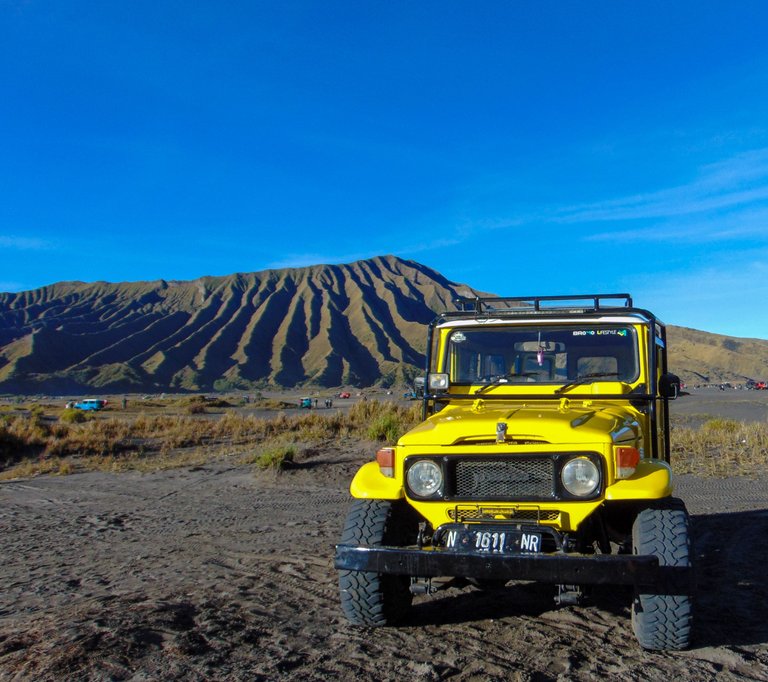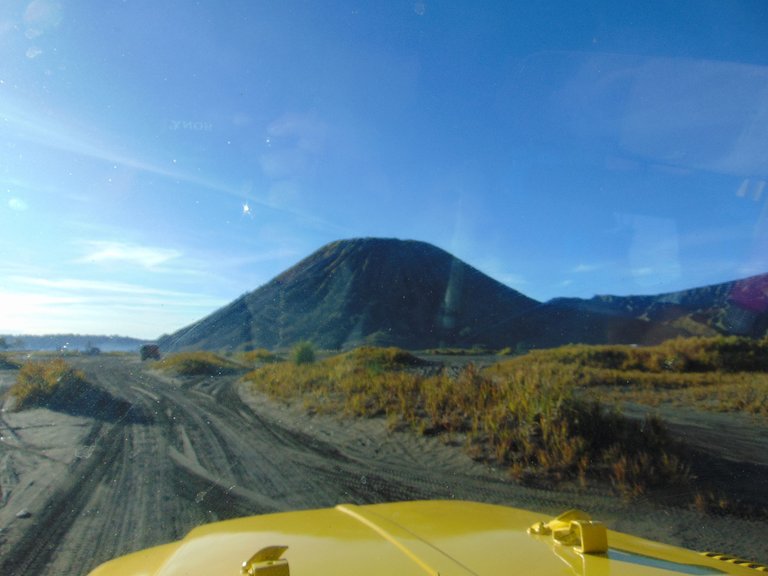 on the way to mount batok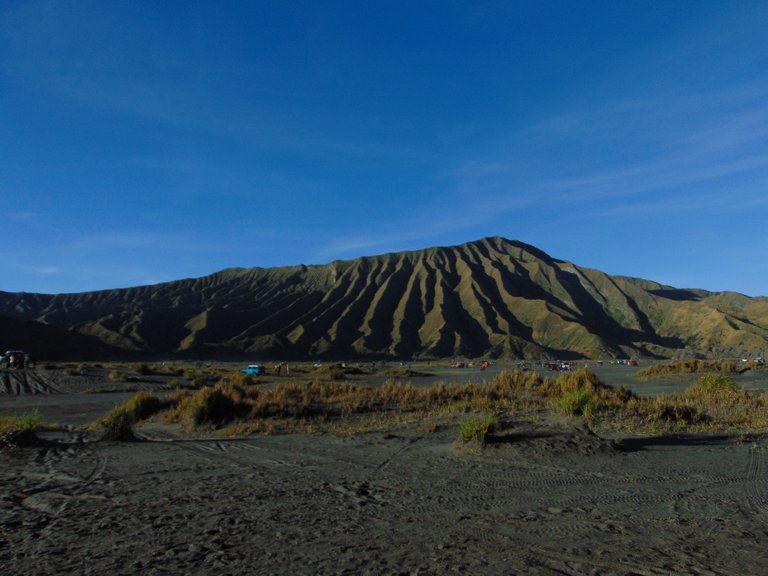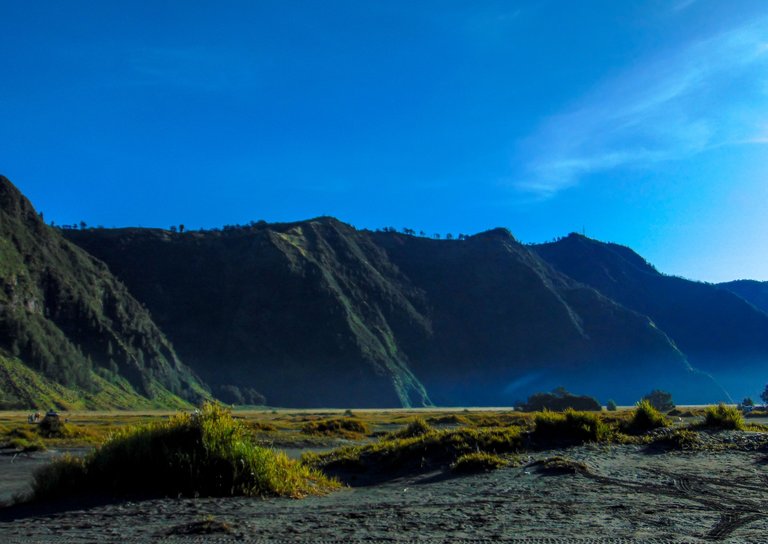 ---
Mt Bromo Crater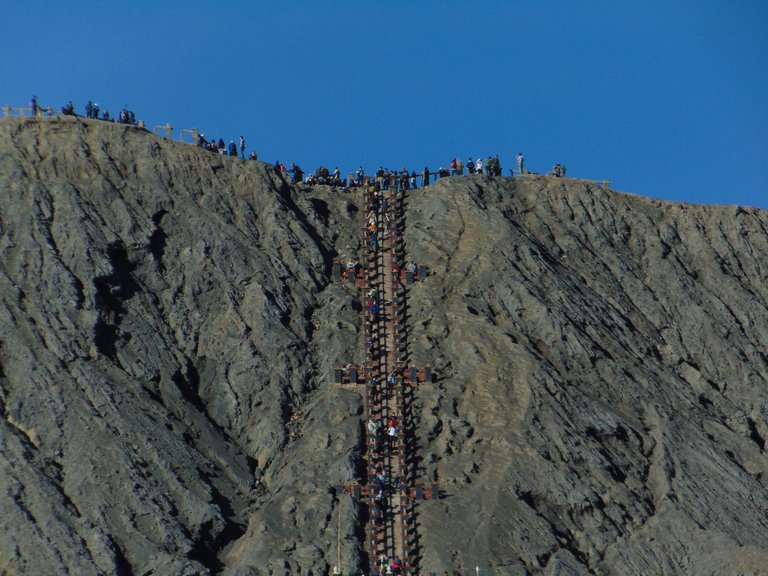 If you are an adventurous soul, hiking the crater would be a fun thing to do. But you can also just stroll around to capture the dramatic view of the hills and the area surrounding the crater.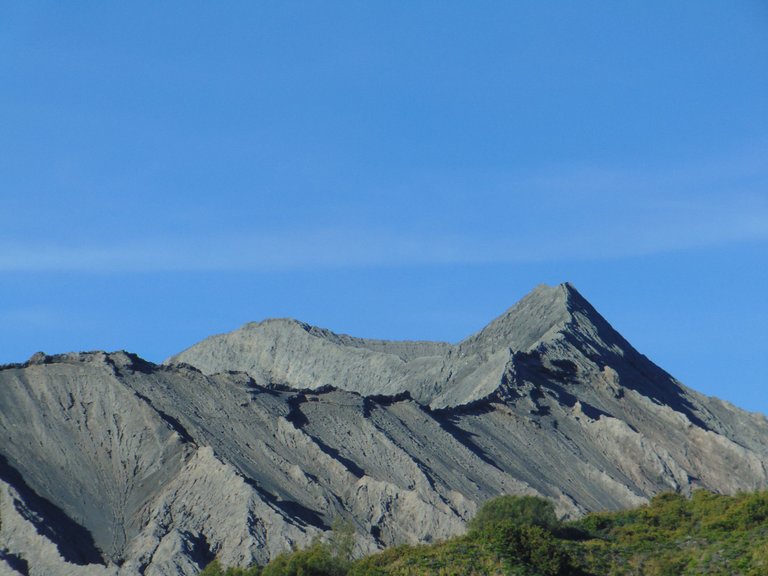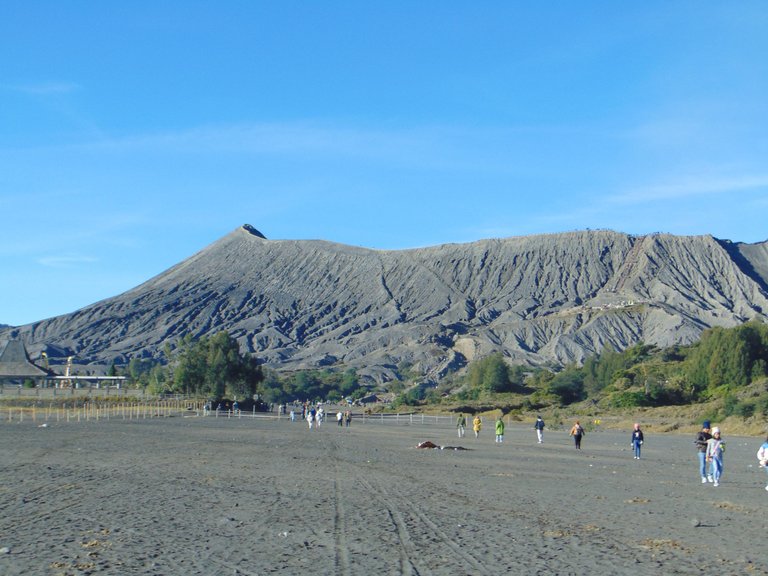 This place is known for its horse-riding activity that will take you to the crater. As of today they cost around 20$ which for some, it's not worth it. But, if you have some money to spare and hate walking, that could be an option to hike.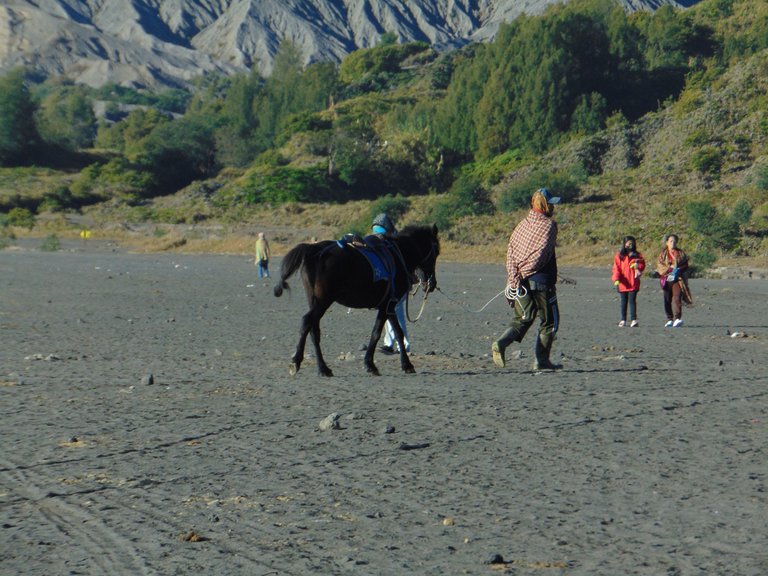 Since I was starving, I decided to find "cilok" , a meat-ball-like snack from tapioca scratch typically served with peanut sauce. There is also Bakso, an actual meatball served with savory hot soup that's filling for breakfast. These two are something must-try when visiting Mt bromo.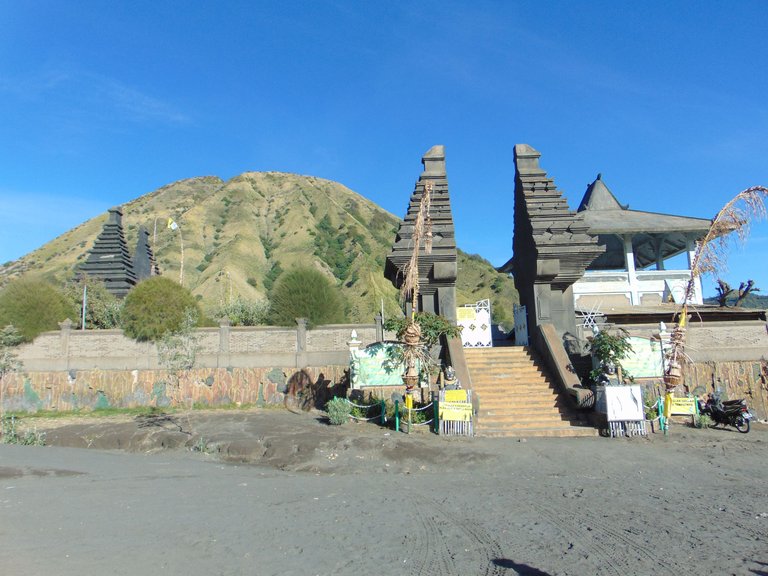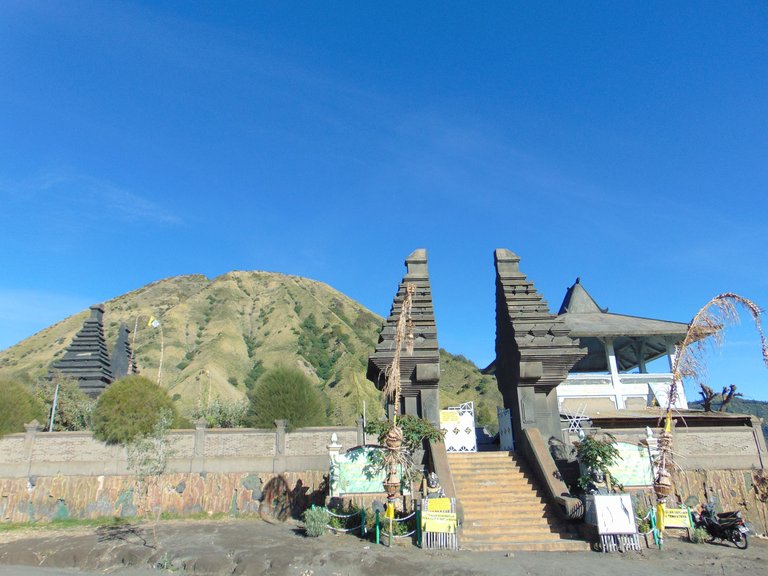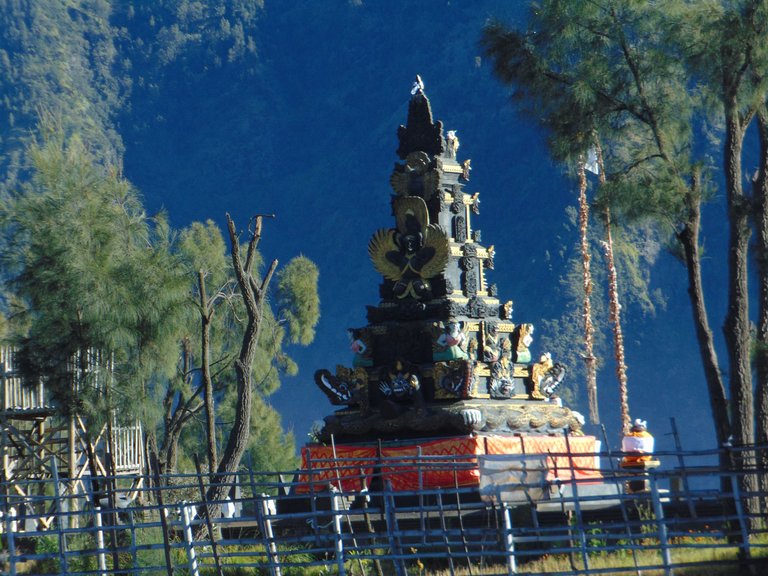 Then, just a few meters away from the crater, you can walk to see the main temple of Suku Tengger which sits beautifully surrounded by mount batok. This area usually will be the last tour if you only have 2 sites options but if you take the 4th site, there are two more places to visit with more mesmerizing views.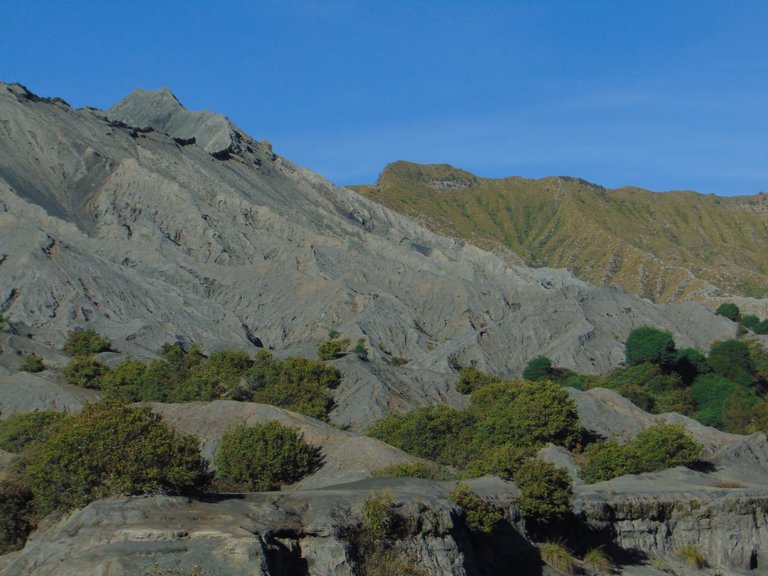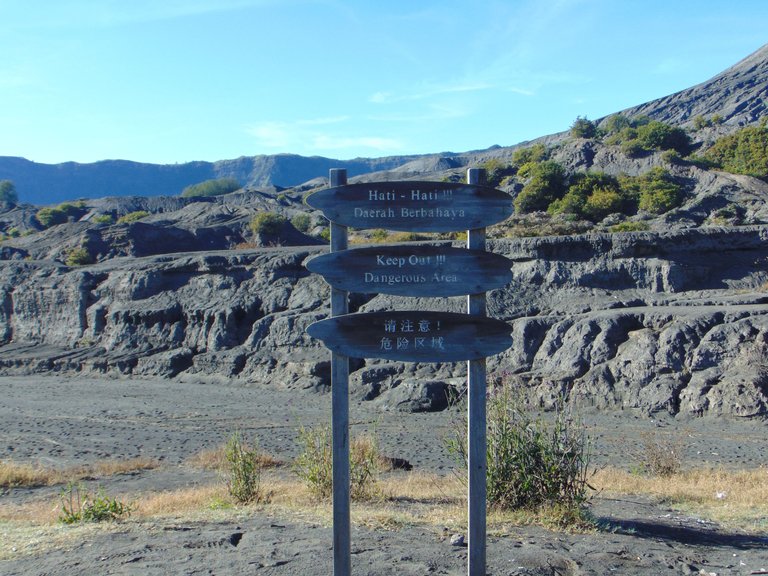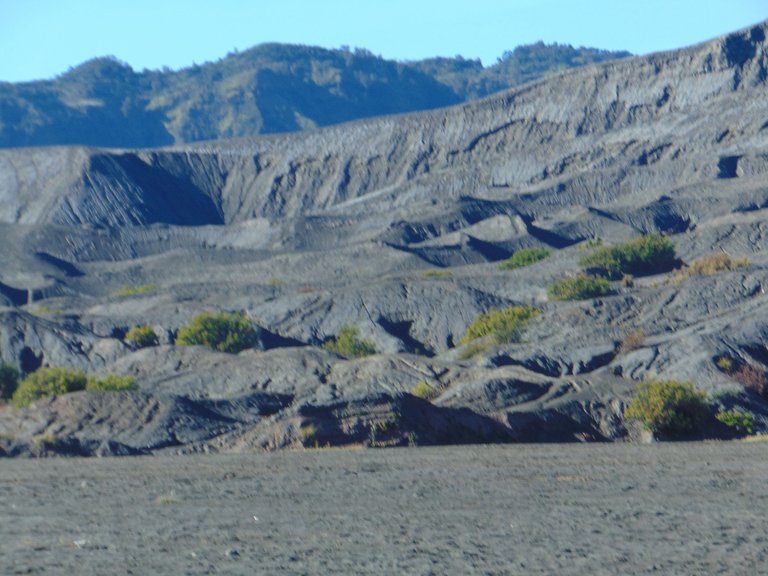 I was already exhausted but kept my enthusiasm because the sea of sands awaited. Stay tuned for my next trip exploring the sea of sands which locals says it is whispering.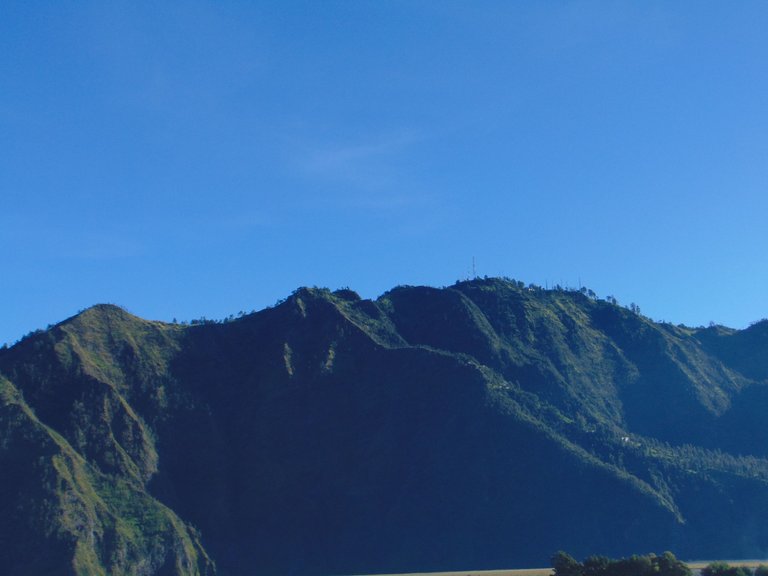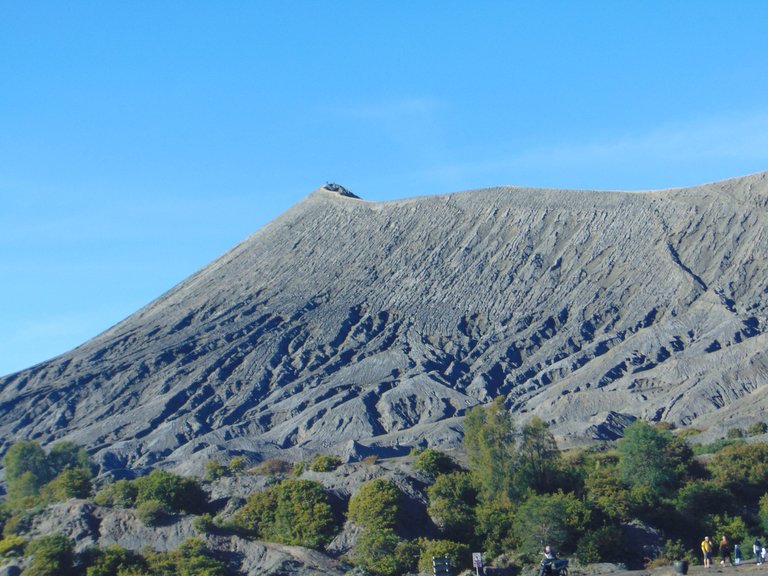 Misc tips
If you need to go to the loo, it costs about 5000 IDR which is quite expensive compared to many tourist places.

Make sure to come before 4 AM otherwise you won't get a place to stand and the jeep will be far away. You will have to ride the motorbike again, another extra cost.

Wear a hoodie, jacket, warm attire before going to the mountain

Make sure that you are not sick and fit enough to have fun and adventure in the area


Don't hesitate to upvote for more content like this !

---
Mac is a jack of all trades. A typical introvert in love with literature, books, technology and philosophy. She is also so into nootropics, productivity, minimalist lifestyle, cybersecurity, and languages. Other than that, she is passionate about cooking and traveling. In her free time, she enjoys learning various things. If you like her content, don't hesitate to upvote, leave a comment or a feedback. A re-blog is also appreciated.
---
---