A journey in the Sella Kataragama temple, which has a rich history and cultural value.

Hello my loving Hivers,
Greetings from Sri Lanka. Last weekend I had the opportunity to travel with friends to some beautiful places. Among them, Sella Kataragama Temple is a place of worship for Sinhalese as well as Tamil devotees with an ancient history. Sella Kataragama Temple is located at a distance of 12 km from Kataragama city. Drinking water in this area has a slightly salty taste, so water should be brought or purchased. There is no doubt about it as there are parking facilities around the temple. A reasonable amount is charged for that. There are many street stalls selling various goods on both sides of the road. Sweets, toys, groceries, etc. are sold for children and adults.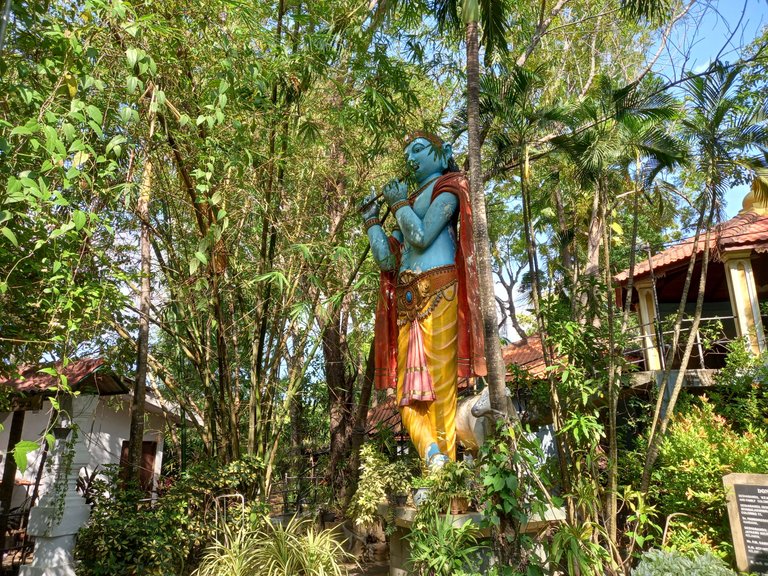 At the entrance to the Sella Kataragama temple, you will find women selling flowers. These flowers are sold to worship the Buddha. Innocent villagers sell these fragrant flowers for their livelihood. It takes a lot of effort to break them. There is a sad story behind their livelihood. Growing flowers in this dry climate is not an easy task. The flowers are properly arranged in a green bundle and sold. These women also collect merit by giving flowers to the devotees who come to worship the Buddha.
---
---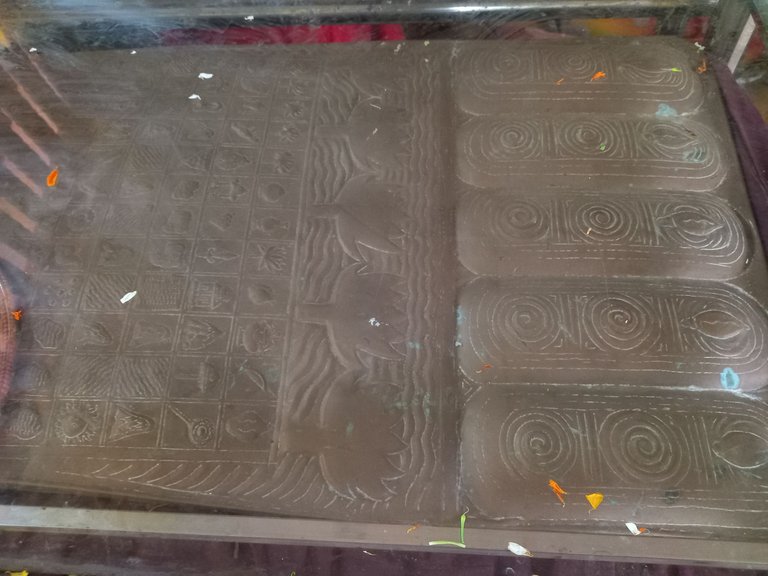 My four friends and I bought 5 bunches of flowers from the women for 500 rupees and entered the temple grounds and first offered flowers to our religious teacher Buddha and recited verses. It is a traditional custom from the past. We are committed to protecting it and passing it on to future generations. In fact, cultural rituals should be maintained to show the identity of a country.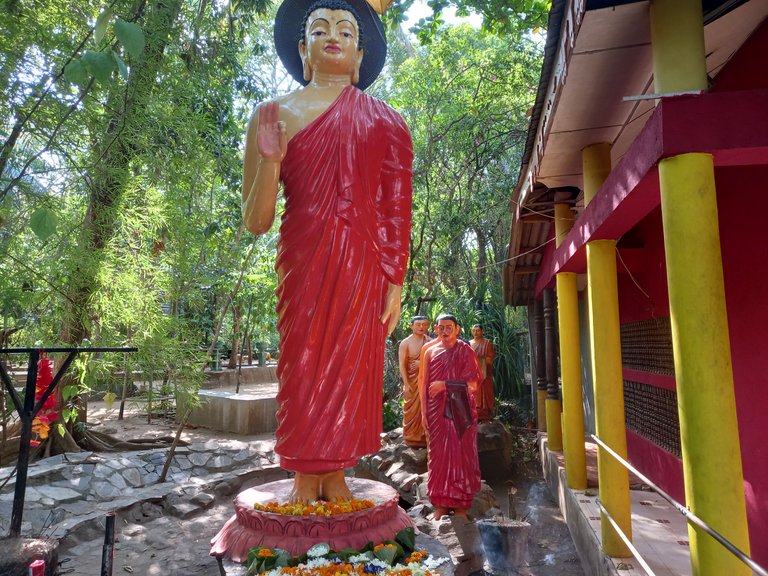 After that, one can see the statues depicting the Mihindu Rahats and other monks who brought Buddhism to Sri Lanka (from India). It is mentioned in the Buddhist history that Poson Poya introduced Buddhism to the king one day during the reign of King Devanampiyatissa, who reigned in Sri Lanka at that time. It is said that this incident occurred while traveling through the forest to hunt a deer.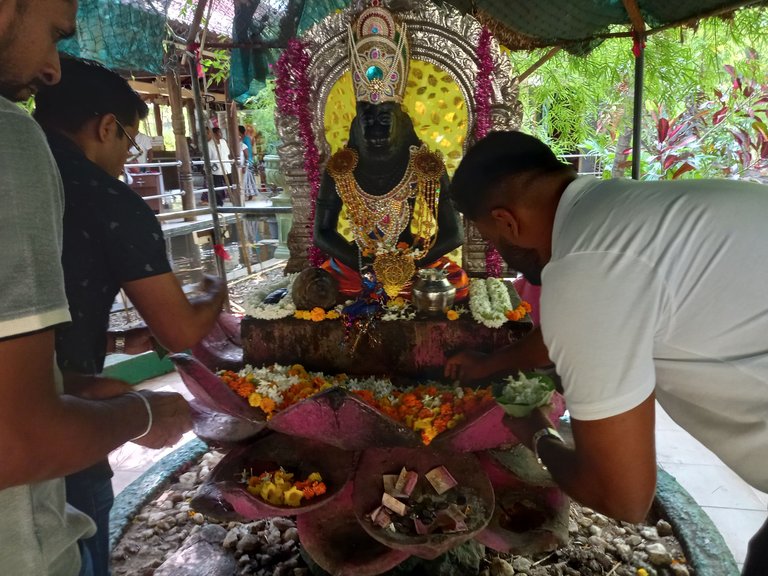 According to ancient legends, prince Skanda, known as Kataragama God, came to Sri Lanka from India and married Valli Amma, who lived among the Kataragama old people of Sri Lanka. Elderly villagers living in Sella Kataragama also confirmed the same opinion. There, God Kataragama approaches Valli Amma dressed as a helpless old man, then rescues Valli Amma from an elephant that came before Valli Amma by showing his usual form again. Then Valli Amma, caught by that effect, expressed her wish to Kataragama God or Skanda Kumaru. God Gana, the younger brother of God Kataragama, came from that elephant. It is said that the land where it happened and the wedding ground where prince Skanda and Valli Amma got married is Sella Kataragama.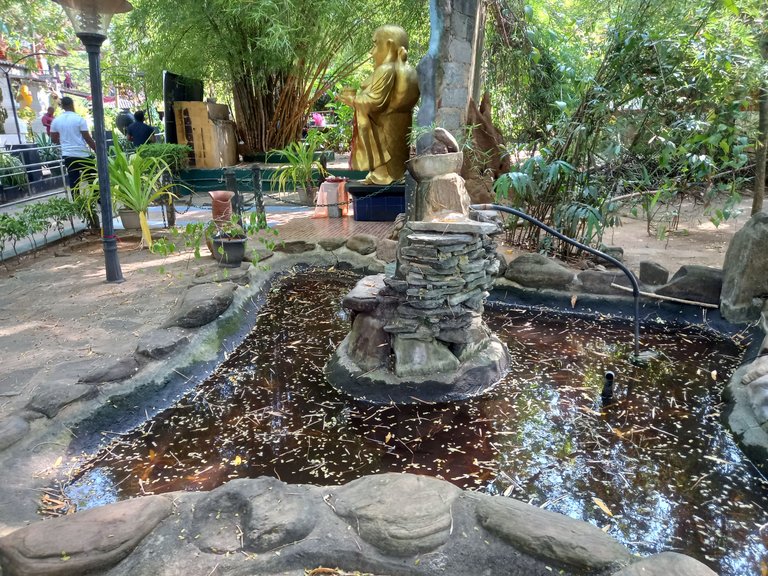 A statue close to the feng shui tradition was carved in gold in the temple floor. I did not have much knowledge about it.
We went to Sella Kataragama, which has a harsh tropical climate, to worship and extract more value. Sella Kataragama is an area near Kataragama, belonging to Uva Province, with a harsh environment. Kataragama, with its colons of lizards, is so hot that it feels like a desert at times. After worshiping, we go to Sella Kataragama to get God's blessing for us, our work, and our business places.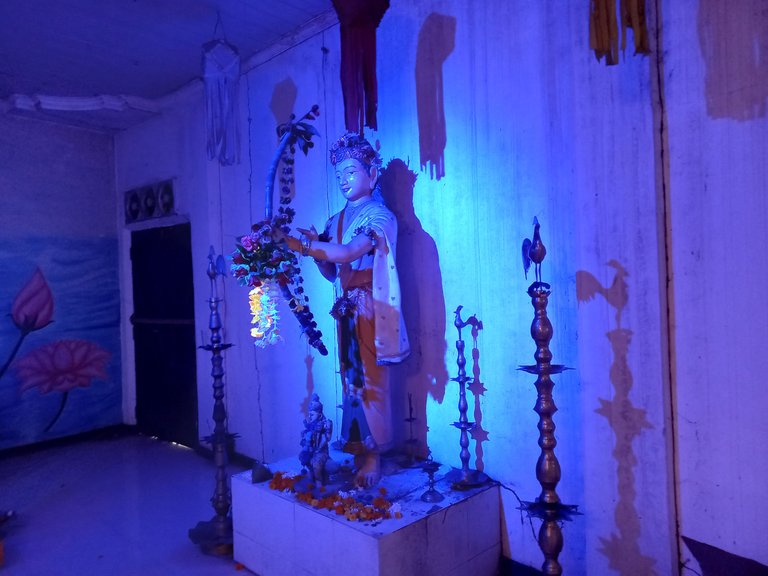 I didn't know much about the three sculptures in the above three photos. I did not meet an informed person to ask about it. In particular, it should be said that taking photos of the above three sculptures is not allowed. Anyway, I stayed there for a while and took the opportunity to show my followers. Even if it shows a similar nature to the deities in a church, it can be considered as belonging to the traditional Hindu culture.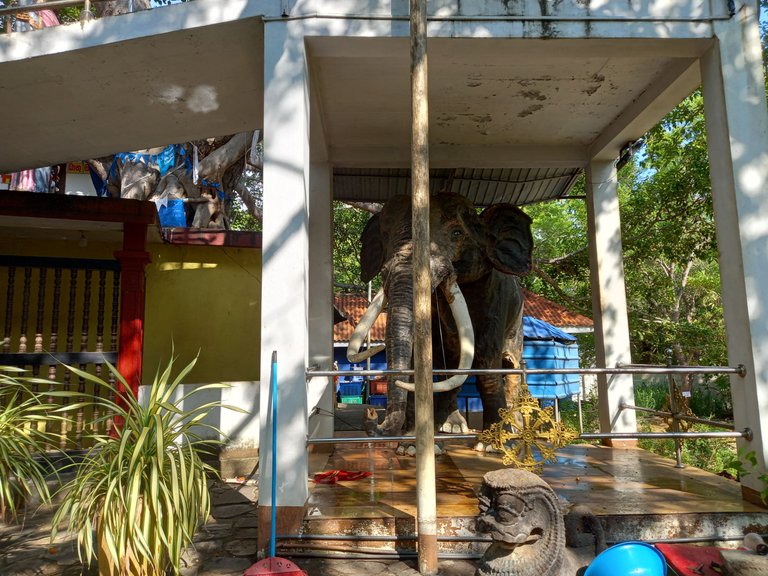 ---
---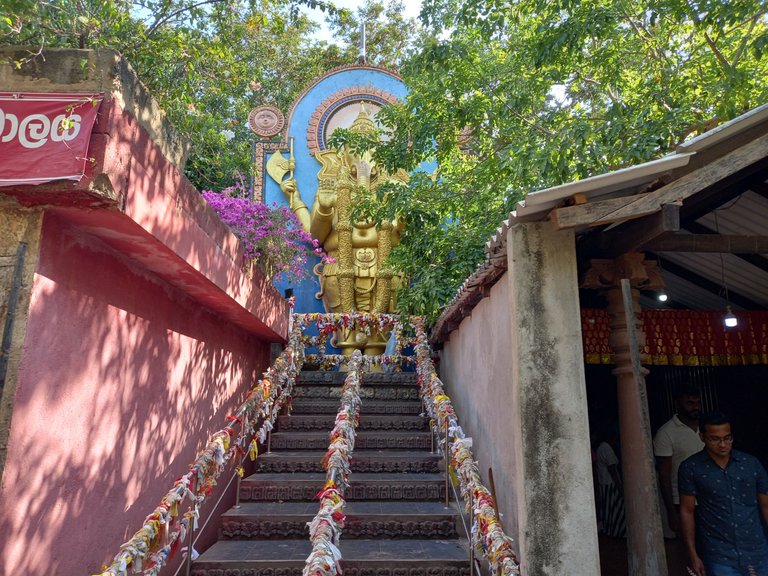 There is a belief that Lord Gana resides in the Sella Kataragama temple. It is for this reason that children and adults who are studying come to Sella Kataragama from all over the island to seek the blessings of Lord of wisdom.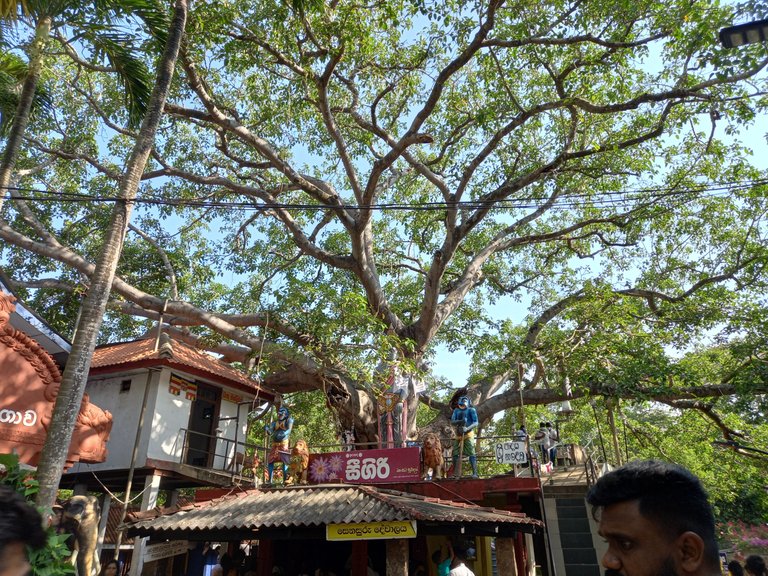 A Bo tree can be seen in almost any temple in Sri Lanka. Many are over 100 years old. We Buddhists give so much value to the Bo tree because it provided shade to the Buddha to attain enlightenment. Therefore, flowers are offered to the Bo tree as well as to the Buddha. This bo tree located in Sella Kataragama also has an ancient history, which can be seen in the way the branches have spread out and grown.
The front garden of the Sella Kataragama temple grounds is maintained by planting ornamental plants and vines. With a dry climate, the coolness and shade provided by trees and vines bring great relief to the ground of these temples. Even though it is a low water area, the trees are continuously supplied with water, several ponds are made and ornamental fish also live.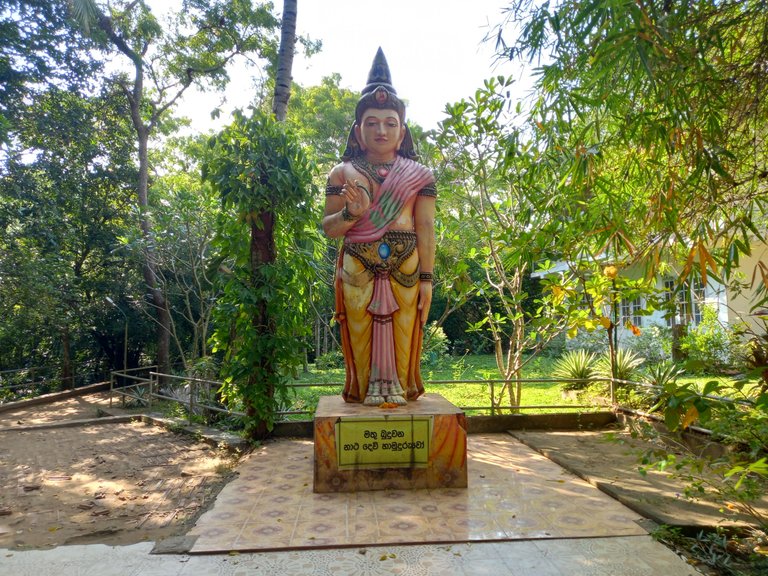 In the statue photographed above, we can see Lord Natha who will attain enlightenment in the future. It is mentioned in Sinhala language. I can easily imagine that it was a recently made promise.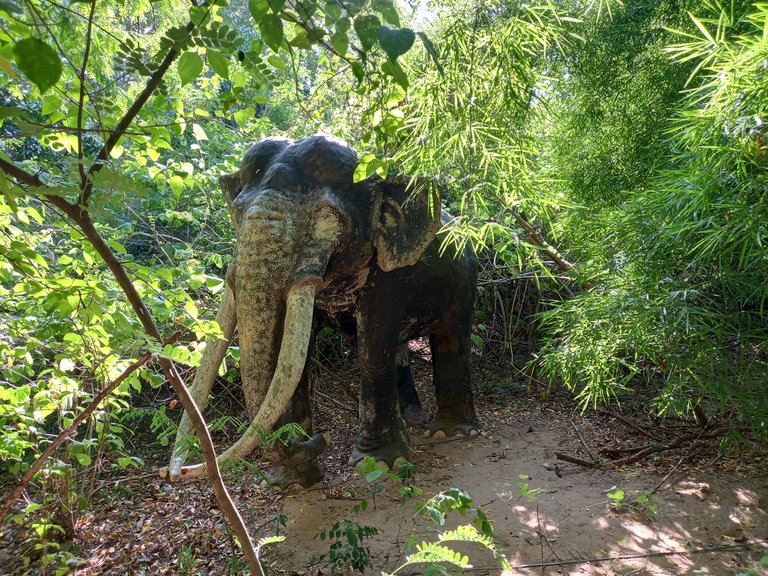 The back area of the temple grounds is also an area with trees, stones and rocks that provide relief to the mind. It can be known from the sayings that Buddhism has given a lot of space for big elephants. Nowadays, elephants are also used for Buddhist processions.
A large idol of Lord Shiva, who is revered by Hindus, is built on top of a pond. This also shows the unity of Buddhist and Hindu people at that time. Local as well as foreign citizens visit here regardless of caste. There may have been a representation of a horse because it may have been the main vehicle of a god.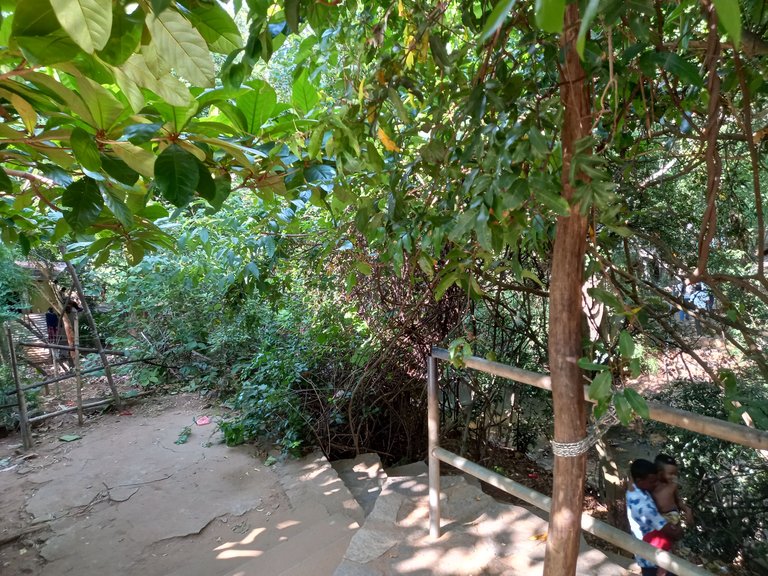 ---
---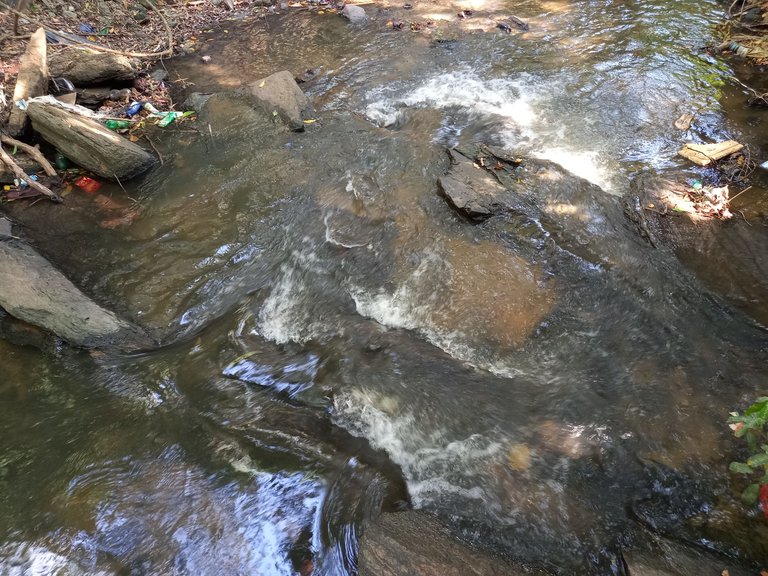 Some people were resting at the stream. The coolness you feel when you kiss the wind blowing from the trees is beyond words. How precious is it to be able to keep your feet in a cool stream despite the harsh weather?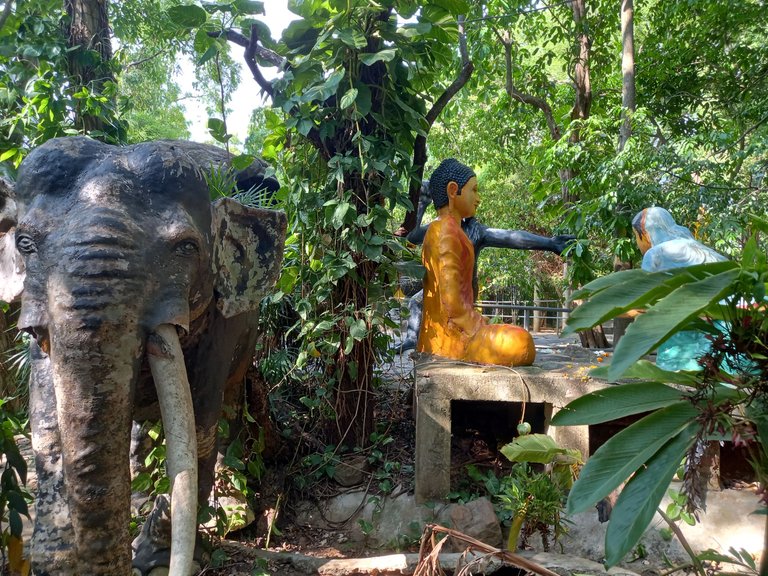 ---
---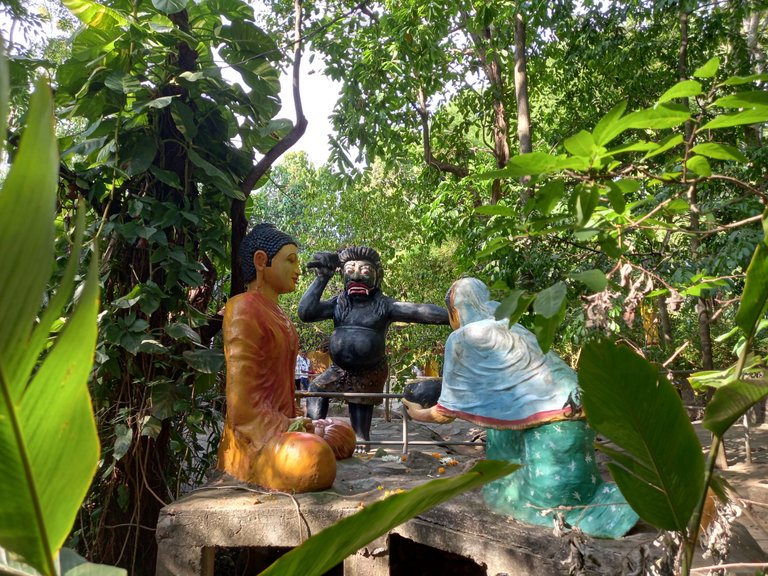 The sculptures in the two photos above show a woman offering food to the Buddha, while the demon Kala is pointing a weapon at the Buddha in a fierce gesture. A large elephant stands behind the Buddha to protect him, but in the end only the Buddha tames the above demon. It is mentioned in historical stories.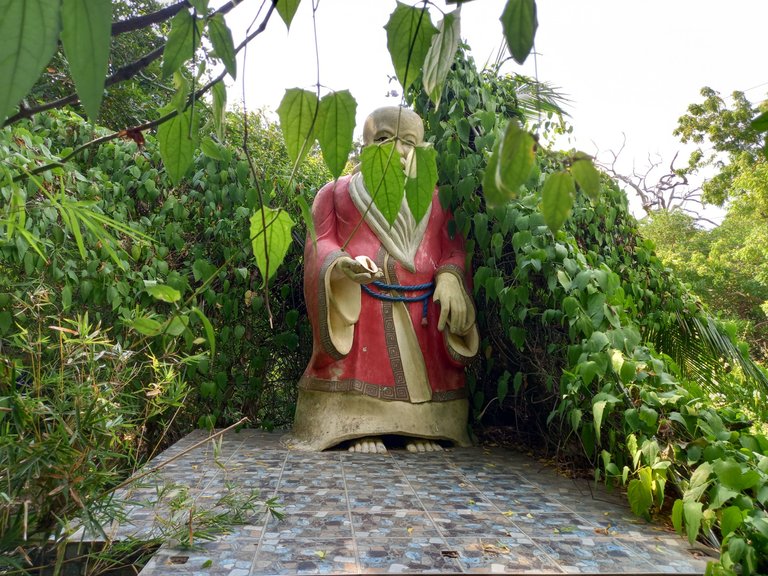 A sculpture similar to Chinese or Korean Buddhist culture could be seen again. It was also built recently. I was curious as to why such sculptures were built. Sometimes it can also be to increase the cultural relations between the respective countries.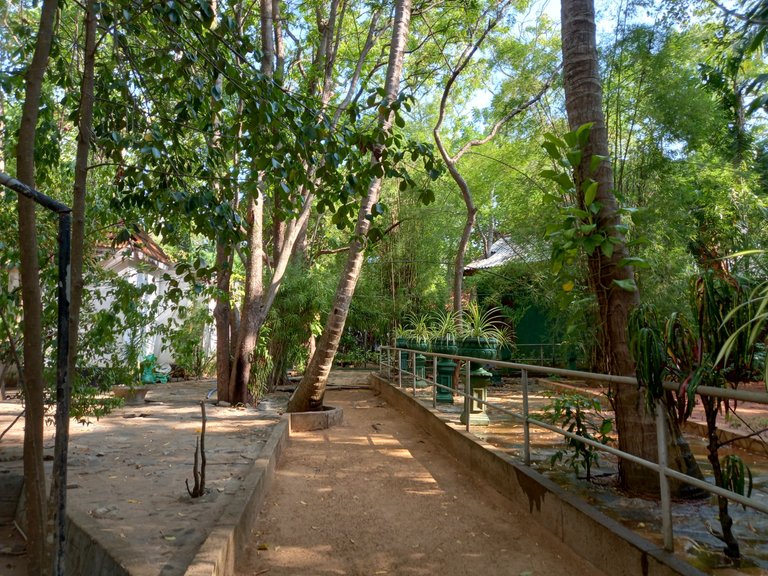 Tha park of the Sella Kataragama temple nicely maintained and well arranged by the temple's workers. They are trying to keep garden very clean. I appreciate their effor because everyone like to spend time well cleared park.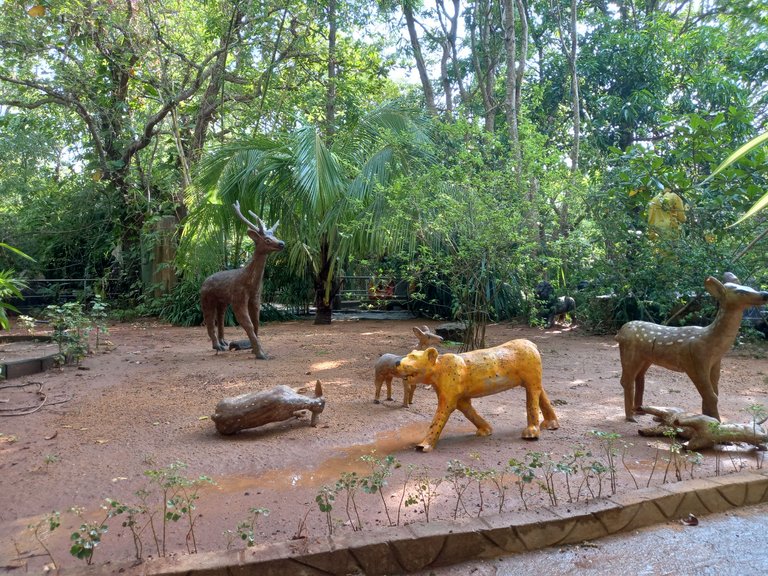 Deer were related to Sri Lanka Buddhist culture. But not related leopard or tiger. I don't understand the reason behind of tiger's statue. However I could spend really nice time in Sell Kataragama. Hope to visit there later when I'll be free.



Source
---
---