I'M A MESS|| BY ED SHEERAN|| A GUITAR (COVER) !

---
I'M A MESS|| BY ED SHEERAN|| A GUITAR COVER!
Hello! Fantabulous people! It's been quite a while! How y'all doing.
As for me am doing okay. And am excited to be back on here to continue sharing lovely music with you guys.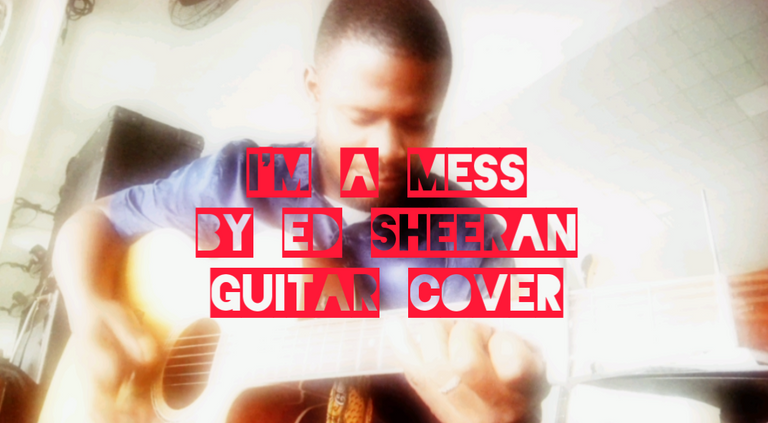 Yes! So today, I have the pleasure of presenting to you, The Guitar version of a beautiful song by the popular sing-song writer and guitarist known as Ed Sheeran!
For those who know Ed Sheeran, you are aware of his guitar abilities and spectacular strumming patterns that lights up his sound!
Well, I tried a little bit to mimic that pattern although I did not really get it the way he does it, but I believe practice makes perfect! I'll keep getting better at it. So below, you can find the lyrics of the song.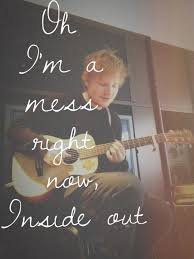 source
LYRICS
"I'm A Mess"
Oh I'm a mess right now
Inside out
Searching for a sweet surrender
But this is not the end
I can't work it out
How going through the motions
Going through us
And oh I've known it for the longest time
And all of my hopes
All of my own words
Are all over written on the signs
But you're on my road
Walking me home
See the flames inside my eyes
It burns so bright I wanna' feel your love
Easy baby maybe I'm a liar
But for tonight I wanna' fall in love
Put your faith in my stomach
I messed up this time
Late last night
Drinking to suppress devotion
With fingers intertwined
I can't shake this feeling now
We're going through the motions
Hoping you'd stop
And ohhh I've only caused you pain
I know but all of my words will always below
Of all the love you spoke
When you're on my road
Walking me home
See the flames inside my eyes
It burns so bright I wanna' feel your love
Easy baby maybe I'm a liar
But for tonight I wanna' fall in love
Put your faith in my stomach
And for how long, I love, my lover
For how long I love my lover
And now, now, for how long, long I love my lover
Now, now, for how long, long I love my lover
Now now, for how long, long I love my lover (and I feel loved)
Now now, for how long, long I love my lover
I feel it all over now, now and I feel loved
Now now, for how long, long I love my lover
Feel it all over now, now, and I feel loved
Now now, for how long, long I love my lover
Feel it all over now, now, and I feel loved
Now, now, for how long, long I love my lover
Feel it all over now, now, and I feel loved
Now, now, for how long I love my lover
Feel it all over now, now, and I feel loved
Now now, for how long, long I love my lover
Now now, for how long, long I love my lover
Muchas gracias!!

**ACKNOWLEDGEMENTS**
Special thanks to all who have encouraged and supported me through various means!
And to my friends out here and to all the Hive music community. @ernest6402, @chosenfingers, @ijohnsen, @davidbolu34,@starstrings01 @zeetunes, @olami99, @toubie, ,@vheekthorjay @draysax, @anissignature, @nickzy you guyz are the best!! 


---

▶️ [3Speak](https://3speak.tv/watch?v=magicfingerz/dqzcejye)

---
---