PUKUCONCURSO :LA VOZ CANTANTE SEMANA #32| YOU RAISE ME UP BY JOSH GROBAN| (COVER)

---
LA VOZ CANTANTE SEMANA #32| YOU RAISE ME UP BY JOSH GROBAN| (COVER)
---
Hello PUKUMUNDO family! I hope you are doing well? This is the 32nd week in our awesome contest and I am glad to be participating after a while.
This week I am inspired by recent events to choose a very uplifting pop rock music known as You raise me up by Josh Groban.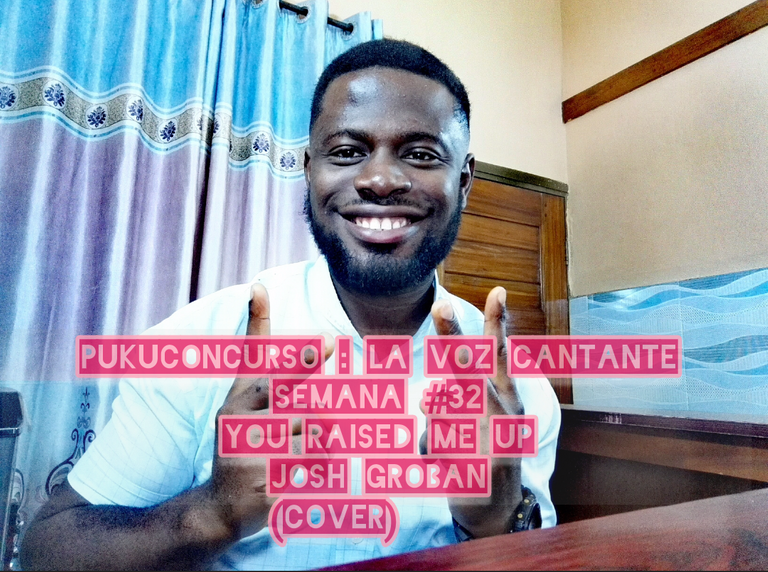 ¡Hola familia PUKUMUNDO! ¿Espero que lo estás haciendo bien? Esta es la semana 32 en nuestro increíble concurso y me alegro de participar después de un tiempo.
Esta semana me inspiré en eventos recientes para elegir una música pop rock muy edificante conocida como You raise me up de Josh Groban.
This song adresses and motivates anyone passing through difficult moments to be trusting and reliant on the fact that he/she will be raised up by God. Even when they are down, when troubles and burdens hit their lives.
I have listened to different versions to this song, and most versions modulated the song to a different key which is what I did.
Esta canción se dirige y motiva a cualquiera que esté pasando por momentos difíciles a confiar y depender del hecho de que él/ella será resucitado por Dios. Incluso cuando están deprimidos, cuando los problemas y las cargas golpean sus vidas.
Escuché diferentes versiones de esta canción, y la mayoría de las versiones modularon la canción a una clave diferente, que es lo que hice.
---
Below is the youtube link to the Original song

---
Song Lyrics
When I am down and, oh my soul, so weary
When troubles come and my heart burdened be
Then, I am still and wait here in the silence
Until you come and sit awhile with me
You raise me up, so I can stand on mountains
You raise me up, to walk on stormy seas
I am strong, when I am on your shoulders
You raise me up... To more than I can be
You raise me up, so I can stand on mountains
You raise me up, to walk on stormy seas
I am strong, when I am on your shoulders
You raise me up... To more than I can be
You raise me up, so I can stand on mountains
You raise me up, to walk on stormy seas
I am strong, when I am on your shoulders
You raise me up... To more than I can be
You raise me up, so I can stand on mountains
You raise me up, to walk on stormy seas
I am strong, when I am on your shoulders
You raise me up... To more than I can be
You raise me up... To more than I can be
source
---
THANKS FOR YOUR PRESENCE 💖
---
▶️ 3Speak
---
---