Scientists claim to have designed a decentralized electricity backed stablecoin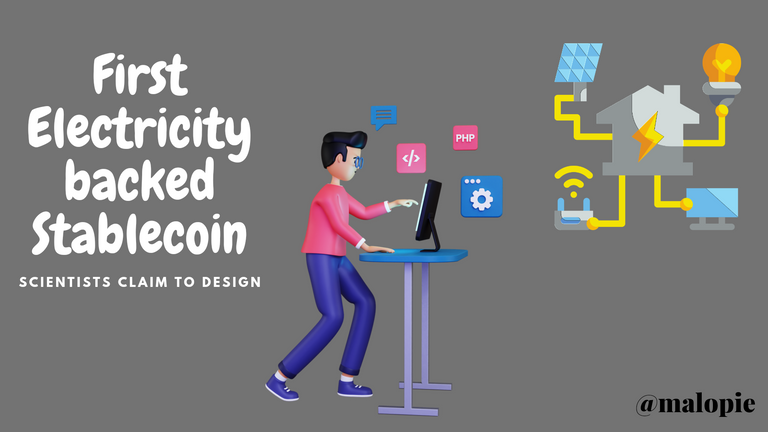 Nothing is exactly impossible to build when you can imagine it right? This is personally what I believe and as per my personal track record, 80% of the time, this is validated. In a world of innovations, who says there's a limit to what can be built? Well, there's exactly no limit when one brings tokenisation into the picture, the power of crypto backed developments are frankly amazing.
The Stablecoin War Continues…
Though many people may have missed the idea behind this, these days, it tends to be the killing set up, and it seems to be one pushing for more developments. There will frankly be more stablecoins developed as time goes on, and the choice of backings or call it assets peg would expand accordingly. Following the fall of UST and a couple other stablecoins, many lessons of bad debt management have been taught, so with this, there's a rather bigger space created for developments.
It is in this note that many companies or call it institutions will be set up to deploy different strategies on best running stablecoin assets. The world economy is slowly but steadily moving past the fiat era, this is like a new beginning where many financial tools integration will take place, it's actually a beauty to behold, the world around tech will amass greatness, this is the system with better accountability and transparency, the fresh economy will be built upon this networks, this is why decentralisation is a topic today, and frankly speaking, it's very achievable.
What is E-Stablecoin and how does it work?
Like any other asset with the stablecoin tag, it's a currency designed to track the price of another asset usually called the collateralized asset to earn itself a relatively stable price. Considering the volatile nature of cryptocurrencies, stablecoins became a necessity as the industry expands, and as such, today, we have numerous cryptocurrencies with different designs and so, different assets or modes of attaining stability.
Many stablecoins are known to be backed by fiat or cryptocurrencies, but as claimed by scientists, a stablecoin pegged to the price of electricity may have just been designed.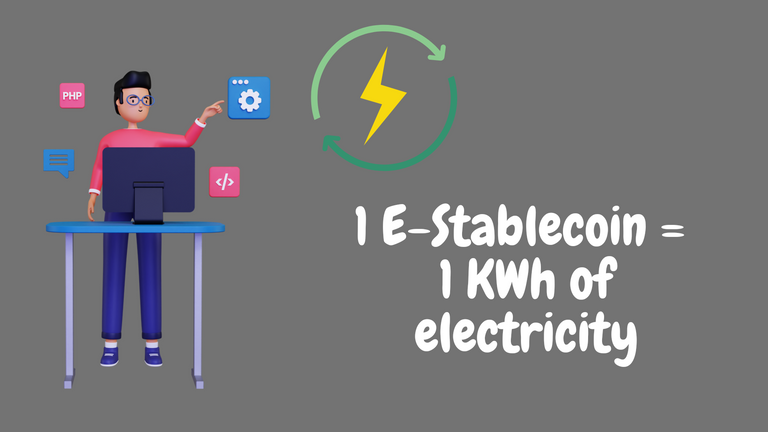 Down to the fundamentals, E-Stablecoin stands for electricity stablecoin, Which according to cointelegraph, researchers at the federally funded Lawrence Livermore National Laboratory in California have combined statistical mechanics and information theory to design a class of stablecoin dubbed the Electricity Stablecoin (E-Stablecoin) that would transmit energy as a form of information.
The idea behind E-Stablecoin is that users will be able to mint it through the input of 1 KWh of electricity, plus a fee. Now you may wonder how exactly this would work, well, according to my rough research, User A connects a Szilard engine to a large thermal mass at a single temperature. User A extracts thermal energy and converts it into one KWh of electricity (along with "waste data" which is stored locally via reversible computing). User A uses the extracted electricity locally to perform daily tasks.
For the price of one E-Stablecoin token plus a fee, User A outsources his "waste data" erasure process to a decentralized data storage cloud. In this exchange a smart contract is said to destroy the E-Stablecoin token(s) that User A paid for this service. The decentralized data storage cloud is housed across a network of privately owned and operated (decentralized and anonymous) reversible computers. These private owners of these reversible computers are incentivized to share their storage space with the E-Stablecoin network in exchange for fees. The specific fee due to each contributor of data storage space is computed and dispersed automatically by a smart contract.
Now, User B ( who represents any user of the E-Stablecoin network contributing storage space) can expend his own electricity (locally) to erase the "waste data" outsourced to his privately owned hard drive. For this service User B is awarded one E-Stablecoin token plus a fee. This transaction is automatically mediated by a smart contract. The smart contract creates new E-Stablecoin token(s) to pay to User B for his services rendered.
The fee structure is said to be regulated with a transparent, automated smart contract based on an estimate of the percentage of D that is currently empty, this is better explained via source
Mind you, there's a lot of reading to do there. However, regardless of how long the article may be, the amazing thing about this lies in its functionality. Does it actually work is the question, and as seen in the embedded article, there are already many points of failures being examined to ensure the deployment of the best designs…
Why Electricity tho?
This is a question anyone would want to ask. Well, following my research, electricity has a rather stable price and approximately 2% increase rate in demand annually, the team of scientists believe it's a solid physical asset with a proven track record of price appreciation over the years, and as such, it is viewed as a fit asset class to design a stablecoin peg.
I personally think it's unique, and if it works, then even more awesome. The markets are not limited, and as such, fresh workable innovations are always accepted. Well, there you have it, apparently, we can all anticipate an electricity backed stablecoin…
Posted Using LeoFinance Beta
---
---