Why Algorithm Stablecoins Are One Of The Best Crypto Developments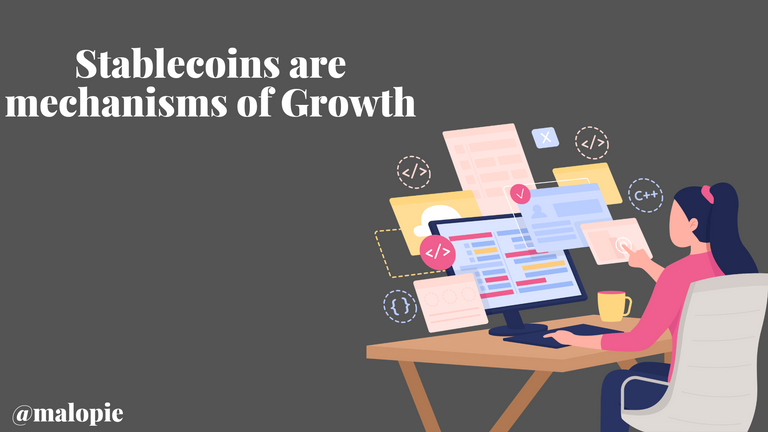 The Mirroring Technology
The crypto space has managed to build what I call a "mirroring technology", this is frankly because of how much value it attracts from the base structure. In a nutshell, stablecoins are growth mechanisms, regardless of the shortcomings that may have been observed in the past, there's far more benefits to these structures being built…
When people look at cryptocurrency markets, all they see is buyers and sellers, this, without realising "mirror" effects therein. Now what do I mean?
Before we talk about stablecoins, let's look at crypto as a whole. With crypto, we're looking at a free market with participants with different motives and reasons to be in the market, this is practically why it's a huge success on a basic level. Crypto markets follow simple elementary principles, this is the effects of "demand and supply". That said, in-between this element is a "mirror effect", this is frankly defining what brings people to the market to either buy or sell.
This mirror effect is solely independent, and that creates the room for rapid market fluctuations, depending on the season and what major participants feel about the project…
So in a nutshell, there's a " real backing"
Stablecoins and USD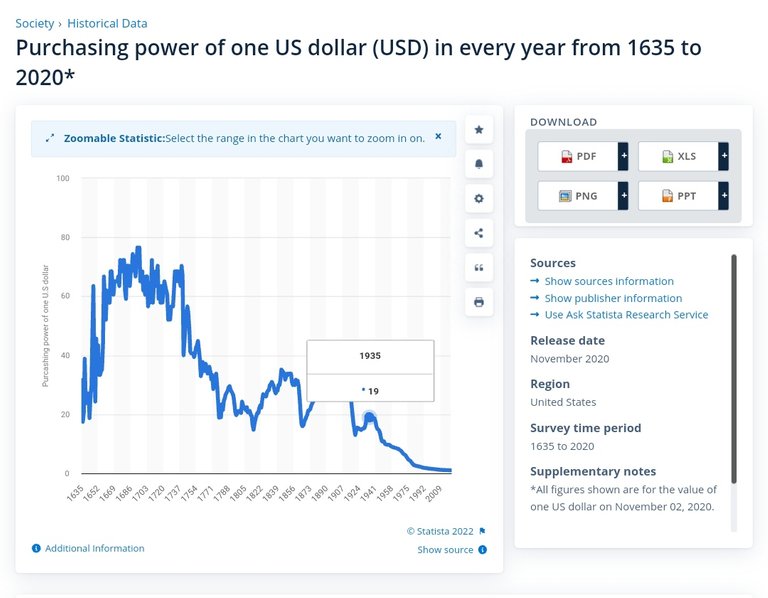 The above chart shows the moving trend of the dollar(USD) buying power, and as we can see above, it has depreciated overtime.
Now, people make the mistake of likening algorithm stablecoins to the USD, this is understandable as though it maintains a value of 1$. However, algorithm stablecoins are "mirror technologies" compared to the dollar.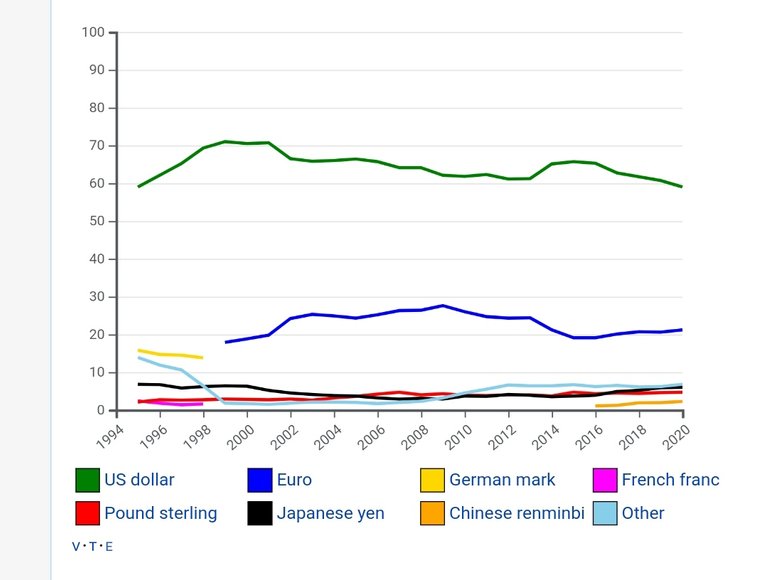 Here's an interesting chart tracking foreign exchange reserves. As of 2021, the USD accounted for 58.81% of the reported FX reserves. This is a huge ground that one expects it to be the most appreciative, instead, it's buying power dumps consistently leaving its holders in an inflated economy.
How is Algorithm Stablecoins economy different?
Now, imagine HBD was held as a reserve currency in over 58% of all running DEFI projects, what would that mean for HIVE? exactly!
Algorithm stablecoins are built to attract value over its utility. Unlike the devaluing fiat economy, this algos mirror projects developments, creating value for the entire network as it scales. The wide usage of HBD means a pretty sweet hive price, considering the base structures which are HIVE-->HBD and HIVE<--HBD.
This effect cannot be observed in a fiat economy because it's for starters a manipulation framework, that regardless of how much demand it attracts, the value that flows in doesn't exactly profit the network. Crypto is a stand out innovation that's going to change the world around financial operations, Algo stablecoins are frankly not dead, just needs more developments upon these already built blocks…
Posted Using LeoFinance Beta
---
---