ADELADE BRIGHTWING - A beautiful angel who loves Chaos


Hi everyone!
See how fast the time passes by, as we have already come near another Splinterlands season end with only 1 day and 23 hours left for this season to end. The war for the leaderboard in every tier, especially From gold on words has already started as numerous players are now trying with their best to reach their favourable spot in the leaderboard before the time runs out. I generally start later when it comes to perform for leaderboard but in recent times the strategy wouldn't work because of high competition. So, I think it's best to start from today, having two days in hand so that I can stay stress free. 😅 I will compete in Diamond leaderboard and hope it not to be a blood bath like Champion tier, but who knows!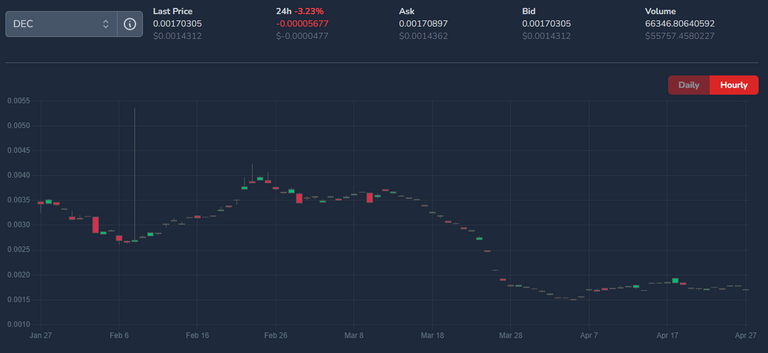 Now, let's take a quick peek at the Splinterlands token prices at hive-engine. The in-game token DEC is still losing it's value and It's currently being traded for $0.00143 per unit with a -3.23% rise change in last 24 hours. The SPS governance token has also following the downtrend and Currently being traded at.111 $ per unit with a -0.41% change in last 24 hours SPT on the other hand lost a concerning -10.11% value in last 24 hours and currently being traded for $0.00165 per unit. Vouchers after reaching its recent high 2$ after the announcement of validator note license sale, again lost value and currently being traded for only $1.6799 per unit now.
ADELADE BRIGHTWING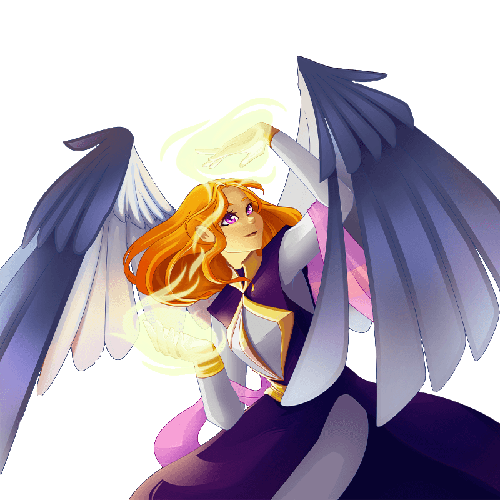 So now, let us move towards our main theme of this post as today, I will showcase another awesome Chaos monster, ADELADE BRIGHTWING with you all! Brightwing Is a legendary type card that belongs to The life unit and it costs seven Mana to be used in the battlefield. It's attack type is magic and believe me when I said this monster is full of positive possibilities. Let us now see more into this monster's Stats and abilities tier wise To find out more.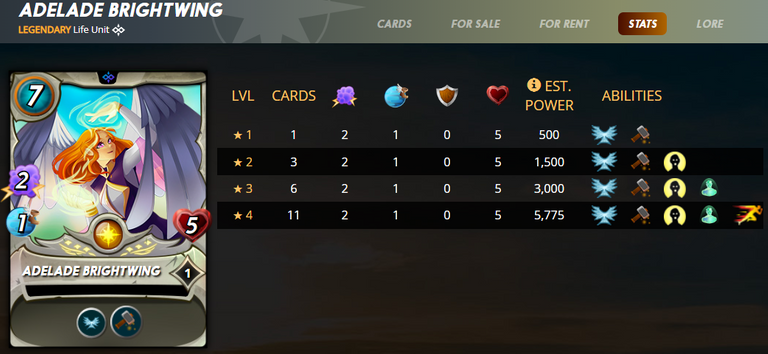 Bronze
At level one, this card possesses two magic attack at one speed with five health and it also gets two abilities - flying and repair in its initial level. While it will repair the broken armour of your friendly monsters in the battle, it will also have a good chance to evade enemy attacks who are non flyer.
Silver
At level 2, this monster gets 2 magic attack at 1 speed with 5 health and also gets another ability - Resurrection. With the help of this ability, the Brightwing will resurrect the first friendly monster (but not itself) that gets died the battle.
Gold
At level 3, it gets 2 magic attack at 1 speed with 5 health and also gets another ability - Immune. With the immune ability, it will not not catch any type of negative status effects from opponent's summoner or monsters.
Diamond/Champion
At level 4, this monster receives another ability Swift, while having same attack, speed and health stat as of it's previous levels. The Swift ability will simply increase speed of all your friendly monsters by 1. And speed is very important aspect not to neglect 🥸
Important points about ADELADE BRIGHT:
I have started loving this monster particularly for it's Repair + Swift ability combo. Repair is a great ability that helps your shielded monsters to regain it's shield when damaged with the repair ability. Not only it will protect your front defence but also the backline monsters when they lose their armour. The Swift ability on the other hand increases the speed of all friendly monsters so you will now launch attacks faster and also gets chance to evading more enemy melee and range attacks.
Flying + Immunity combo ability is another great point to use this monster in battle. Thou even with 1 speed at max level, the flying ability wouldn't work that great, the Immunity ability will remove all the negative effects from it so it will hold only positive abilities and hence only gets powerful from its base.
Resurrection is another awesome ability that comes with this monster and will help you in certain matches, especially in Fog War matches, where you may want to resurrect your front defence once again.
However, the attack, speed and health of ADELADE is relatively low than other monsters respecting it's high 7 mana cost. The 2 magic attack, 1 speed and 5 health remains same from it's initial to max level. So you have to keep it safe from enemy attacks and the longer, the better.
Market Stat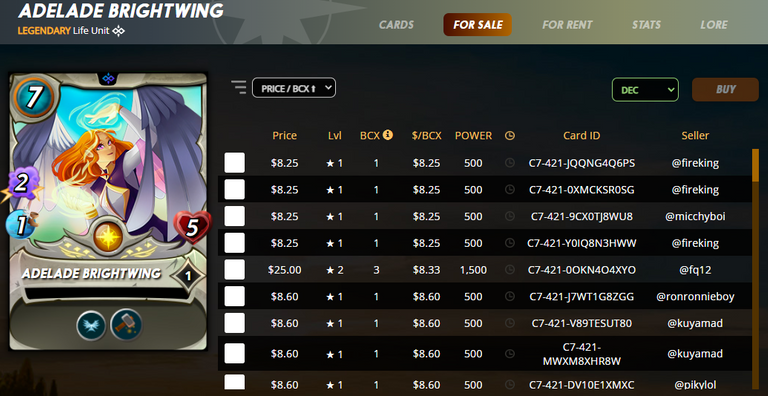 ADELADE Brightwing is currently being sold in the splinterlands market starting from only 8.25$ per unit and will cost you about 5,718.5 DEC onwards. There are also some high level cards available at low price if anyone's interested.

Battle Line-up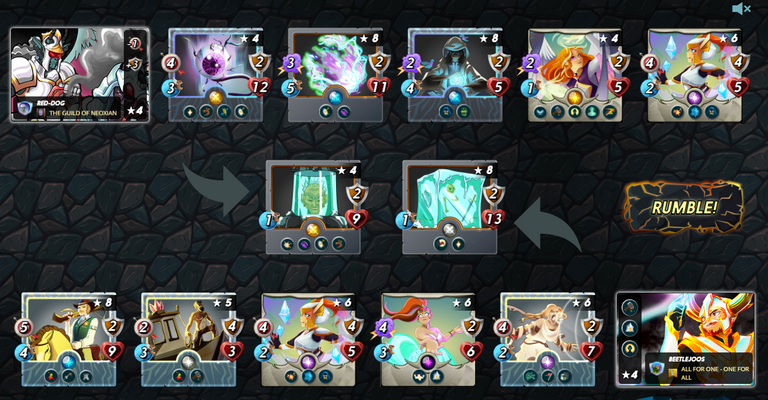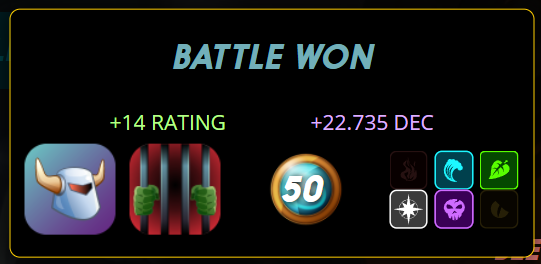 mana Cap: 50
Splinters allowed: Water, Earth, Life and Death.
Ruleset:
Armoured Up - Every monster in this battle will get +2 armour in this match.

Keep your Distance - No melee monster can be used in this battle will get +2 armour in this match.
LORD ARIANTHUS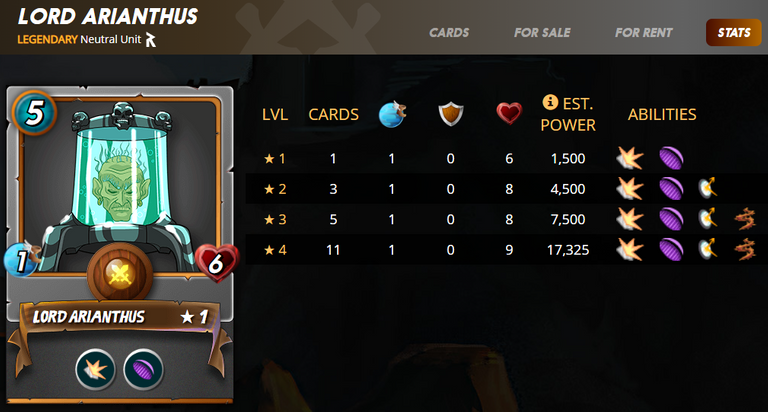 I chose the Lord Arihanthus at the front position of my lineup mainly because of it's anti magic abilities because I am guessing that my opponent may use multiple magic attackers upon me. I am using a level 4 in here and it has no attack with 1 speed and 9 health along with 4 abilities - Void, Magic Reflect, Thorns and Shield ability. The void + magic reflect combo will perform great against magic throwers while the shield + thorns ability will help me against melee and range attacks.
CORNEALUS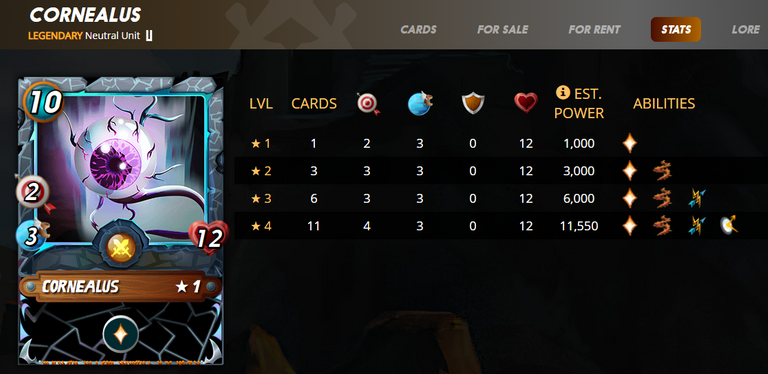 I chose the Cornealus at the second place of my lineup with the mindset of increasing my defensive stance at the front. I am using a level 4 in here and it has 4 range attack at 3 speed with 12 health along with 4 abilities - Thorns, Magic reflect, Return Fire Healing. Because of it's high health + healing ability, enemy cards will find it hard to kill it down while it will be busy damaging them back.
PRISMATIC ENERGY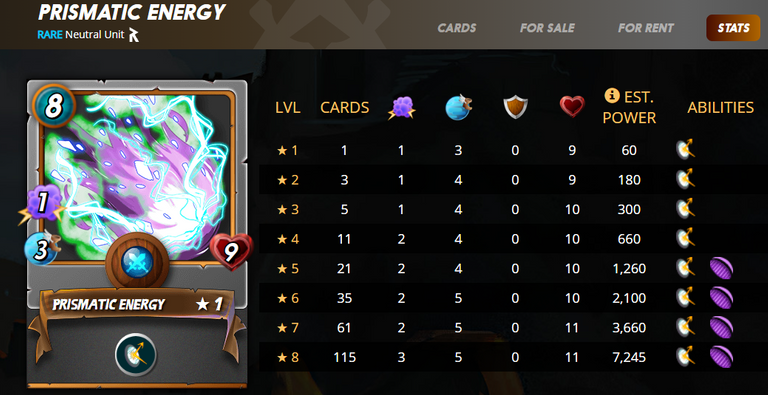 I chose the prismatic energy at the third place of my line of mainly because of its void + magic reflect ability combo, which will be great against magic throwers. You can see that I am focusing on building my defence at front, especially to counter magic monsters. I am using a level eight in here and it has 3 magic attack at 5 speed with 11 health along with those two abilities that I mentioned above.
ELVEN MYSTIC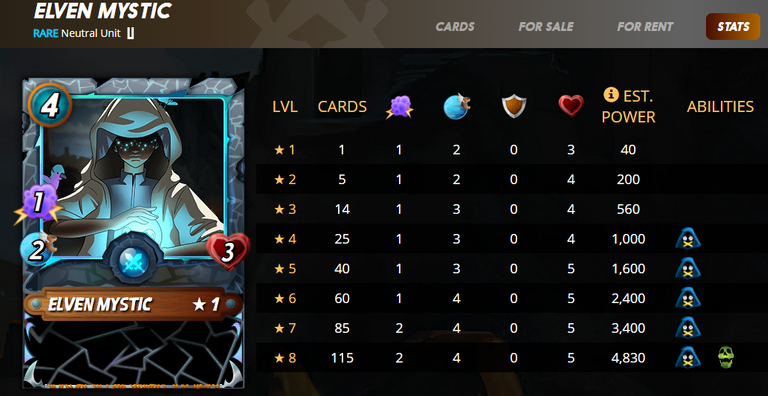 At the fourth position, I choose the Elven mystic card, mainly because of its silence ability with decent magic attack. I am using a level 8 in here and it has 2 Magic attack at 4 speed with 5 health along with two abilities - silence and affliction. while the silence ability will decrease all enemy magic thrower's attack by 1, on the other hand the Affliction ability if applied, will make the enemy card on email to get healed .
ADELADE BRIGHTWING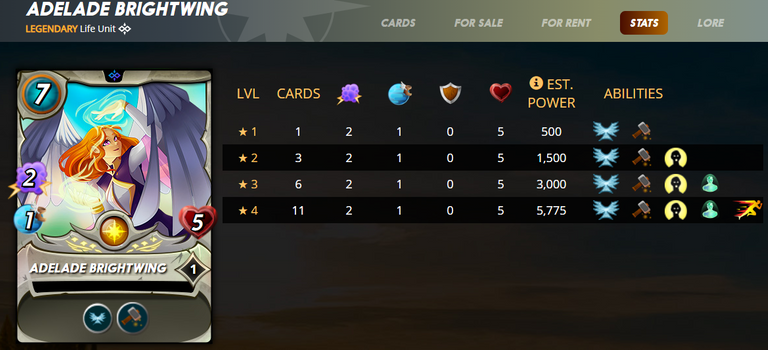 At fifth position, I chose our main theme Card ADELADE BRIGHTWING mainly because of it's repair, swift and Resurrect ability. I am Using a level four in here and it has two Magic attack at one speed with five health along with five abilities - flying, repair, resurrection, immunity and swift. I have enough defences for magic but the repair ability will help me against melee and range attacks as well. The swift ability on top of that will increase all my monster's speed by 1.
PRISMOLOGIST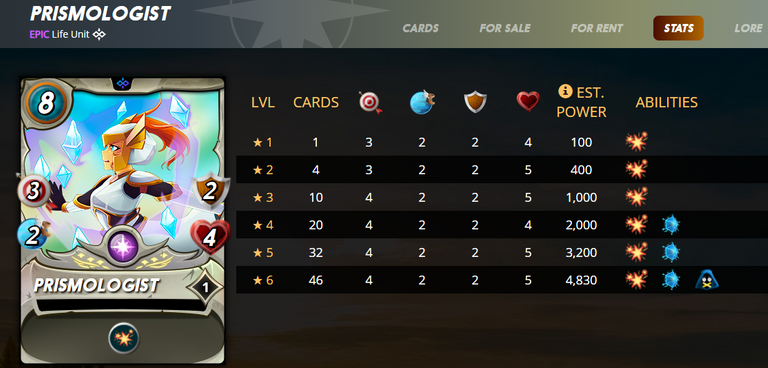 I choose the Prismologist at the last position of my lineup mainly because of its blast attack with silence and force field ability. I really starting to like this card because of its silence ability to weaken the enemy magic monsters and also for the forcefield ability that will block sand worm's deadly sneak attack, if my opponent uses it. I am using a level six in here and it has four range attack at two speed with two armour and five health along with three abilities - blast, forcefield and silence.
---
---
Match Result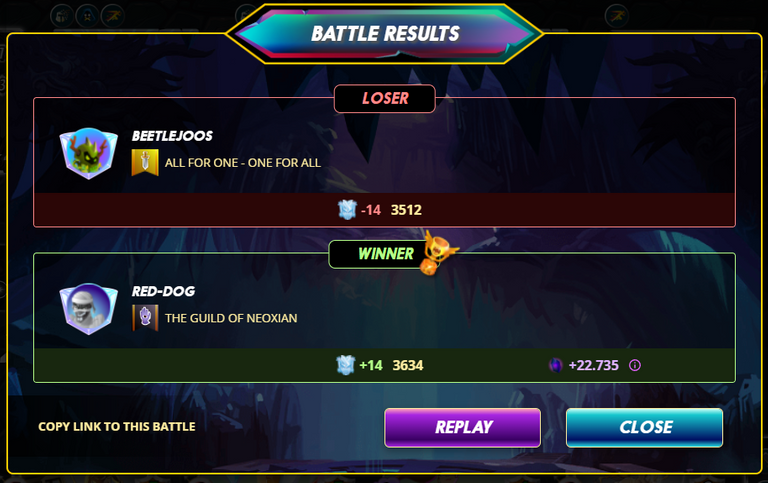 It was a large 50 mana limit match this time but fire and Dragon Summoners were missing from the ruleset. so, I decided to go with the Life legendary summoner Peakrider this time to protect my cards with +3 armour each and also reduce all enemy range attacks by 1. As my summoner took good care of range attacks, I focused on creating my front defence to counter magic attacks as well. As the Water and Death splinter have so many magic cards and this is a non-melee match (because of the Keep your Distance ruleset), The attacks will be either magic or range so I was making sure both attacks get neutralised well.
However, as the match lineups got revealed, I found out that my opponent has also chosen Life Splinter but he chose the Chainsus summoner instead. He chose Cube at his front, followed by Evangelist, Djinn Renova, Prismologist, Lone Boatman and Silvershield Sheriff at the end of the lineup. The Sheriff will provide extra armour all his friendly monsters while the renova with extra health. The cube will provide great defence at front with its Scavenger + Healing combo while the Sheriff and and Boatman will launch sniper attacks upon my Cornealus. Now, let's see how the Adelade performs as battle goes on..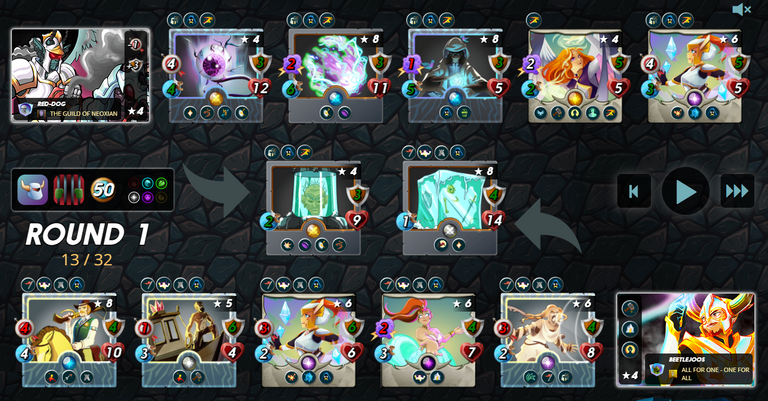 I took a good decision choosing the Peakrider cause the opponent is using four range monsters against me. so, each of them has now -1 Range attack. But, I also got weaken as the opponent's prismologist reduced my prismatic and Elven's magic attack by one. The Adelade however didn't got affected of it, as she holds the immunity ability. The Adelade increased all of my friendly monster's speed by 1. As the first round started and it went to my Adelade's turn, she repaired back 2 armour on my Cornealus and damaged the Cube with 2. No monster died in first round, but my Arihanthus and Cornealus were wounded and so did the opponent's Cube and Renova.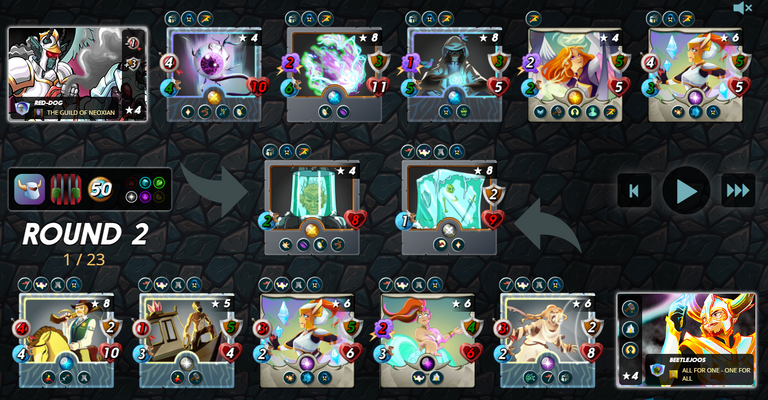 As the second round started, my Adelade did a great job killing down the wounded Cube which was left with inly 2 health after my Prismologist's high range attack. However, the cube got resurrected back by the enemy Chainsus summoner. My Adelade also repaired and gifted the Arihanthus with 2 armour, which along with Shield ability suddenly made my Lord a bit tougher.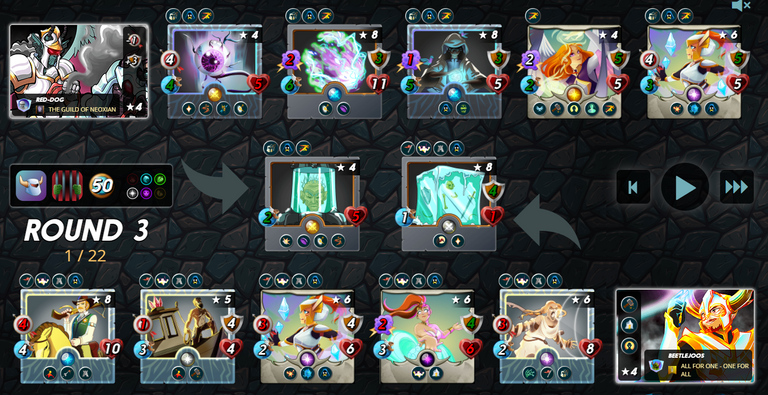 As the third round started, the cube went down the first by the prisma's quick magic attack. Thus, the Evangelist came at front and got disabled to attack. When it came to my Adelade's turn, she again gifted my Lord with 2 repaired armour. At this point, the extra armour was urgently needed as my Lord was left with only 4 health. She also attacked the Evangelist and left it only 1 health remaining and the round ended there.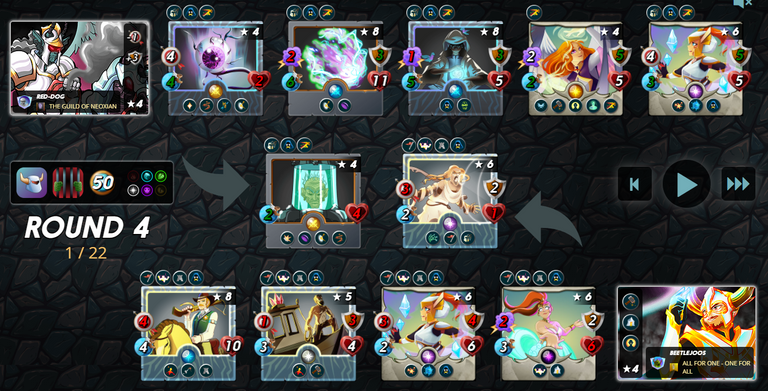 At fourth round, the wounded Evangelist got down by Prisma's fast magic attack and my friendly monsters got back their 2 armour each, which was taken away by the Evangelist's Rust ability. The Djinn Renova came at the front place. And surprisingly, my Adelade got the golden chance to beat it down when her turn's came, as the Renova then was having only 1 health. The Adelade also repaired back 2 armour fulfilling her duty, but this time upon the Cornealus.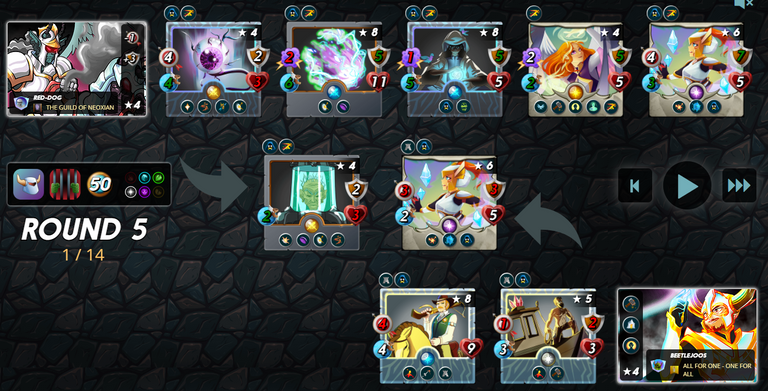 At round 5, the enemy Prismologist came at front and like Evangelist, she as a range card got disabled to attack and soon got taken down by my Prismologist. Wow!! We just saw a Prismo Vs. Prismo here! Anyways, next the boatman then came at front and got wounded down to 1 health thanks to my Adelade. Adelade didn't forget to repair this time as well and gifted the Cornealus with 2.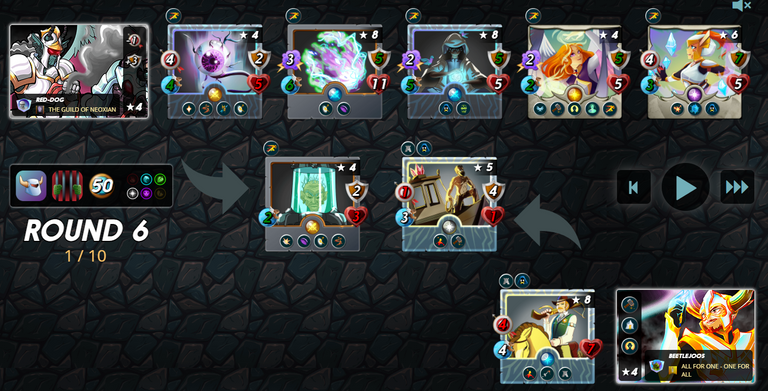 As the sixth round started, the wounded boatman got killed down by my prisma and the Sheriff came at front , being the last enemy monster alive. But as it's a range monster too so it can't attack anymore. However, the sheriff got taken care by my attackers and got down next round by the prisma.
As you can see in the match, the Adelade constantly helping my Lord Arihanthus and Cornealus by repairing their broken armours and that's why they stayed alive till the last. My cornealus was countering both the enemy sniper attacks while my Lord and defending those sharp range attacks from prismo and Evan and getting wounded by the Renova's magic attack. She also damaged the enemy cards well by her 2 magic attack every round and because of the Immune ability, the magic didn't get reduced by enemy prismo's silence ability. So overall, I would say it's a pretty good monster, especially in certain matches when you need the Repair ability. The resurrection ability haven't got used in this match as none of my monster got dead, but it will certainly help you in other matches by revising back your first dead monster. So if you aren't holding this monster still, you may consider again 😜.
Hope you liked reading my post. Be sure to visit again!
Stay well and keep playing Splinterlands.
Want to start playing splinterlands? Click here
Posted Using LeoFinance Beta
---
---