COUNTESS SINASH - the Legendary Fire Lady with amazing combo of abilities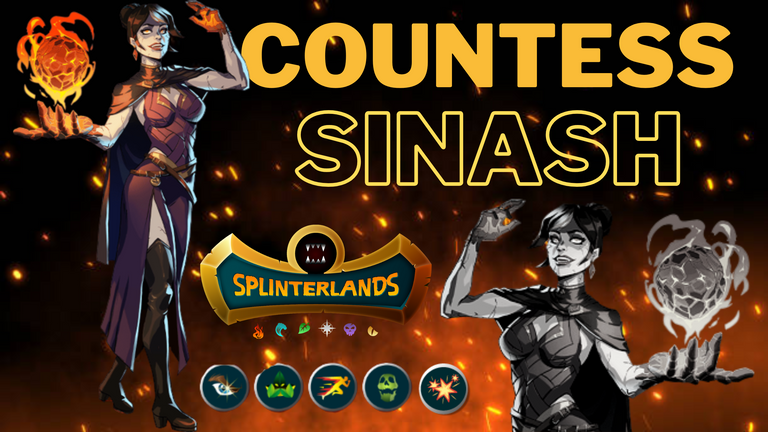 What's up my fellow splinterlands players!
I hope all of you are having an awesome day with your friends and family and also enjoying the game in meantime. Well, the last season has ended just recently and ai hope by now, all of you have collected your season rewards. Another season has already begun and as if right now, we have only 12 days and 15 hours in hand until this current season timer ends.
I skipped playing the last season as well but today, I stopped all the modern format cards from the from renting and start playing. As per rule, I again started playing from the novice tier with 0 trophy count and by now, I have crossed only Bronze II so far. I hope I play well and tier up to Champ III at least before the season end and I will also try to collect as many daily focus and season points as possible to collect more and more chests. I am also thinking to rent out sone important cards and see how that affects my overall performance once I reach in Diamond tier.
---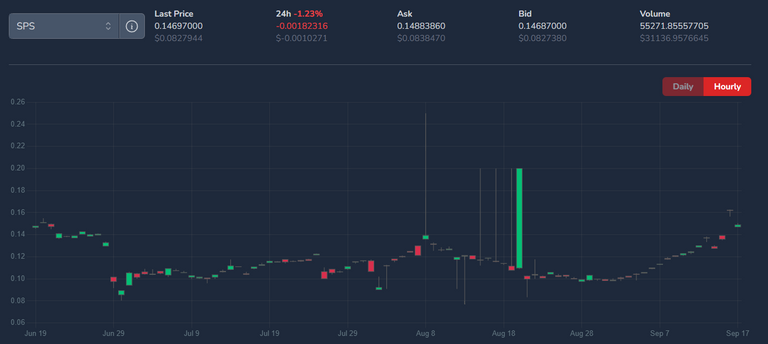 ---
Now, taking a quick look at the current splinterlands market, the SPS first of all has seen a good growth because of the amazing Riftwatchers pack sale and currently with a -1.23% price change, it is now being sold for 0.0827$ per unit. On the other hand, DEC is also facing a stable growth since last couple of days and I am pretty positive that before the pre-sale of the upcoming Tower Defence Game, it will catch a nice uptrend. Currently it's being sold for 0.00074$ per unit with a 2.6% growth in price within last 24 hours. Vouchers however has lost 5% value since last day and currently being traded for 0.67$ per unit while Riftwatchers packs on Hive-Engine is being sold for a yummy 3.59$ per Rift token if anyone is interested!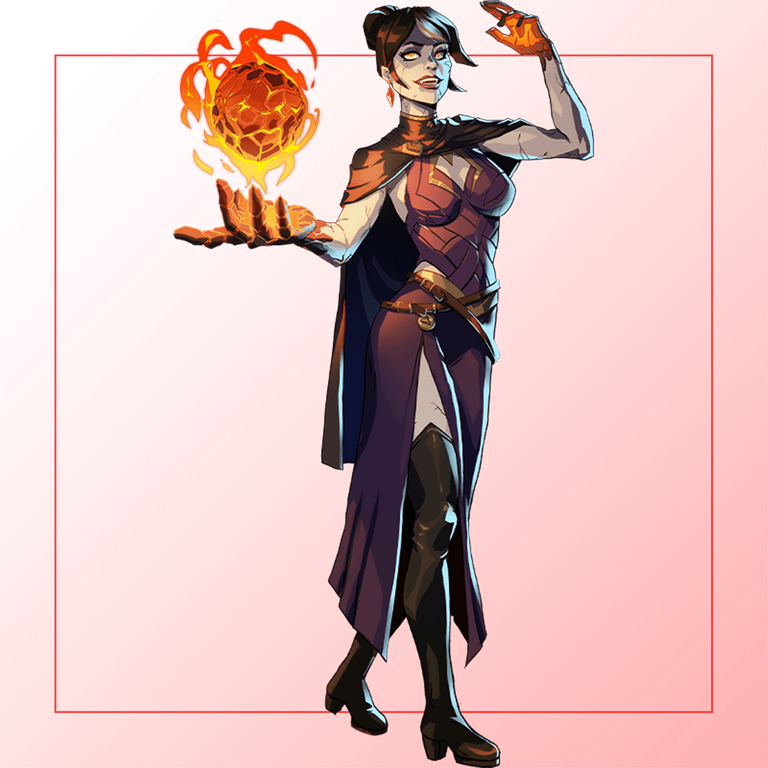 COUNTESS SINASH
Now, let me jump into the main theme of this post as today, I am going to showcase the amazing Legendary card COUNTESS SINASH with you all. This newly launched reward card has got a spiky popularity very fast because if her usefulness in big mana limit matches. I also liked the combo of abilities along with high attack and decent speed & health very much and bought a max level from market. As I am trying to tier up fast towards the highest league, this monster is helping me amazingly in large mana matches, especially the 99 mana one to score a win and move up. So today, I thought to select this one as my monster challenge post.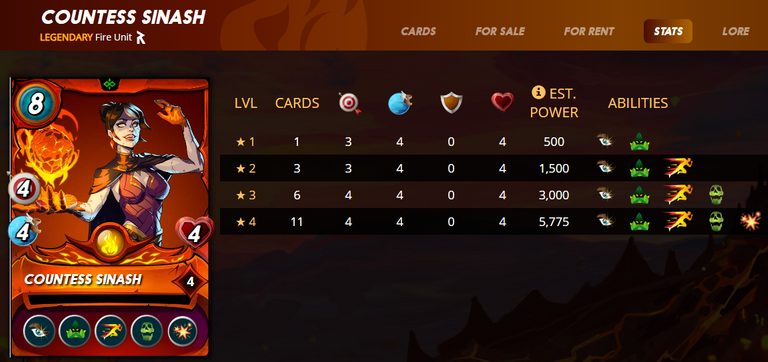 COUNTESS SINASH
It's a Legendary Monster from Reward edition belongs to Fire element. This ranged monster needs 8 mana to join any battle and even it is blessed with Opportunity and Camouflage ability since it's beginning stage hence works great in bronze tier.
BRONZE
On this starting stage of upgradation, this Monster has 3 Ranged attack at 4 speed and 4 health along with Opportunity and Camouflage ability.
SILVER
This monster needs 3 legendary cards to reach into this stage of upgradation. On this stage, this monster increases another ability of Swiftness ability along with 3 ranged attack at 4 speed and 4 health.
GOLD
This legendary monster needs 6 cards to reach into this stage. On this Stage, this monster increases power from 3 to 4 ranged attack with 4 speed and 4 health along with the Opportunity, Camouflage, Swiftness and Affliction ability.
CHAMPION
On This maximum stage of upgradation, this monster increases/equips another ability of Blast along with those Opportunity, Camouflage, Swiftness and Affliction ability. Blast certainly increases it's overall damage power to a higher level.
IMPORTANT POINTS ABOUT COUNTESS SINASH
This legendary monster is a Giant ranged lady monster which costs 8 mana to be use in battles. So, it's a very useful option when you are free to choose cards without mana headache.
This legendary monster has 5 abilities within itself in it's max level. Because of it's ability combo, it becomes an all rounder supporting cast in your lineup.
Opportunity :- Monster with the opportunity ability may attack from any position and will target the enemy Monster with the Lowest health.
Camouflage :- This monster cannot be targeted for attacks unless it's in the first position.
Swiftness :- All friendly monster have Increased Speed.
Affliction :- When a monster with Affliction ability hits a target, it has a chance of applying Affliction on the target causing it to be unable to be healed.
Blast :- Does additional damage to monsters adjacent to the target Monster.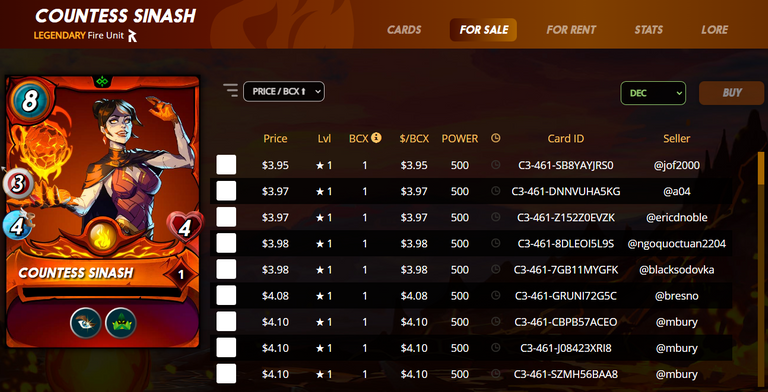 MARKET STATS
It is a Legendary Monster from reward edition so the price of it per bcx is around $3.95 and for the maximum level of this monster, you have to pay around $45 - $50 only. On the other side, the Gold foil cards price is around $50 for level 2 monster and $299 for Maximum monster.
Battle Line-up
---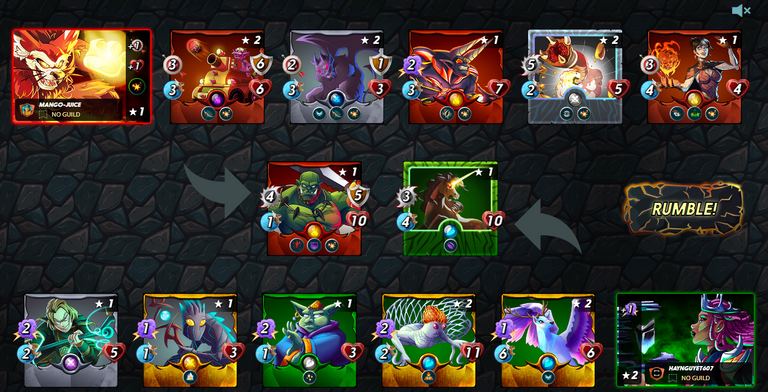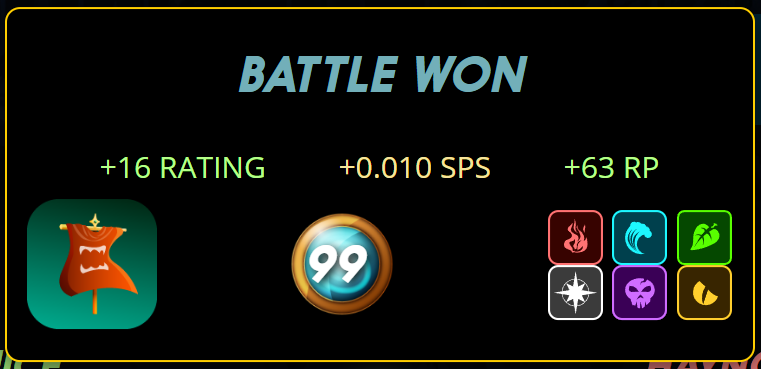 ---
mana Cap: 99
Splinters allowed: Fire, Water. Earth, Life, Death and Dragon.
Ruleset:
Standard - No modifications will be added in this battle.
---
---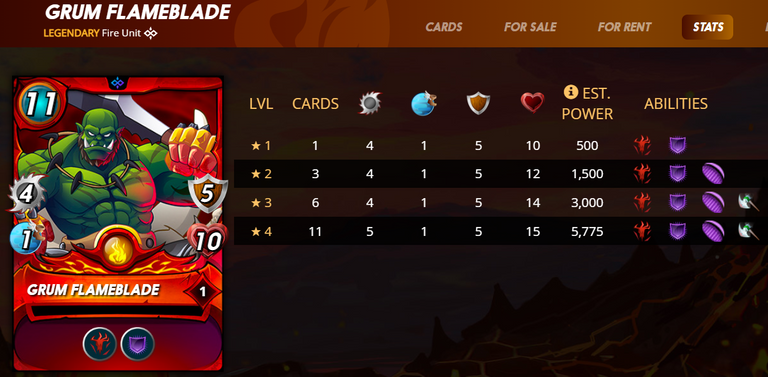 GRUM FLAMEBLADE
On the very first position of my lineup. I placed this Giant Defensive monster that protects the front very well in high mana matches. This monster has 4 melee attack at 1 speed with 5 shield and 10 health along with Bloodlust and Void Armour ability. This monster needs 11 mana to join any battle.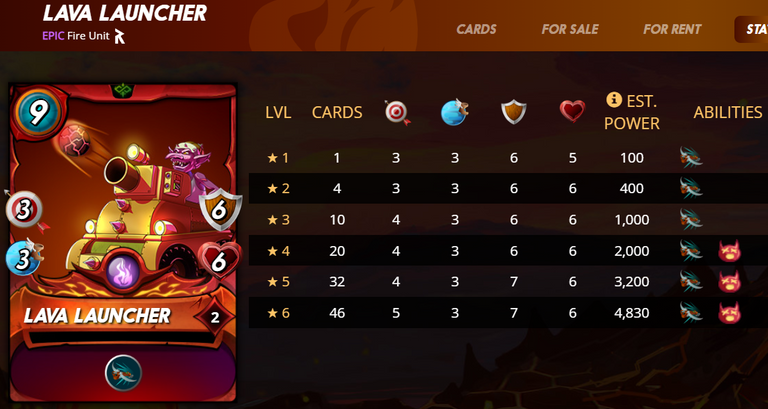 LAVA LAUNCHER
on the second place, I placed this Ranged Monster which has 3 Ranged attack at 3 speed with 6 shield and 6 health along with Close Range ability. This monster needs 9 mana to join the battlefield and can attack from the front position as well.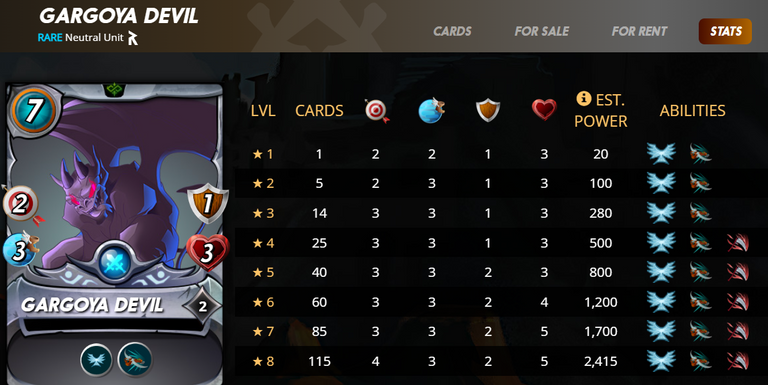 GARGOYA DEVIL
I placed another Ranged Monster with Close Range ability On the third position which has 2 ranged attack at 3 speed with 1 shield and 3 health along with Flying and Close Range ability.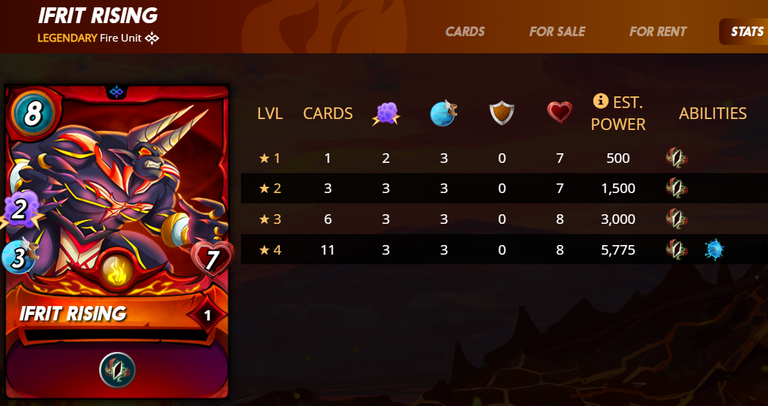 IFRIT RISING
On the fourth position, I placed this Giant Magical monster which attacks every other round but brings devastating damage. This monster has 2 magic attack 3 speed and 7 health along with Recharge ability. This monster needs 8 mana to join any battle.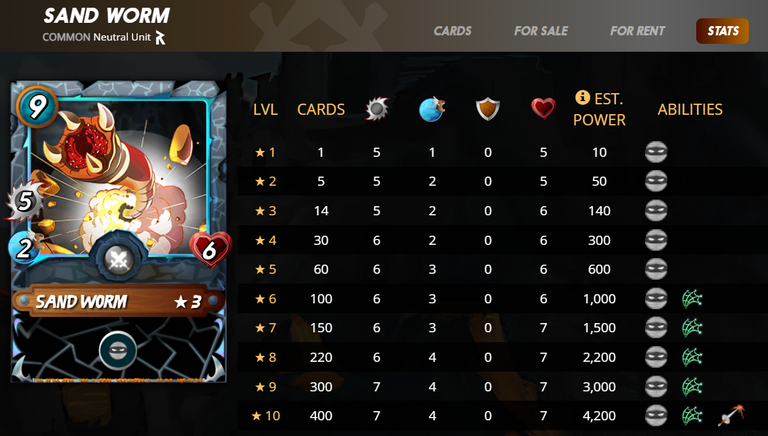 SAND WORM
At the later Fifth place, I placed this Melee sneaker sand worm monster and it has 5 Melee attack at 2 speed and 5 health along with Sneak ability. This monster needs 9 mana to join any battle and is a perfect answer for rear attackers.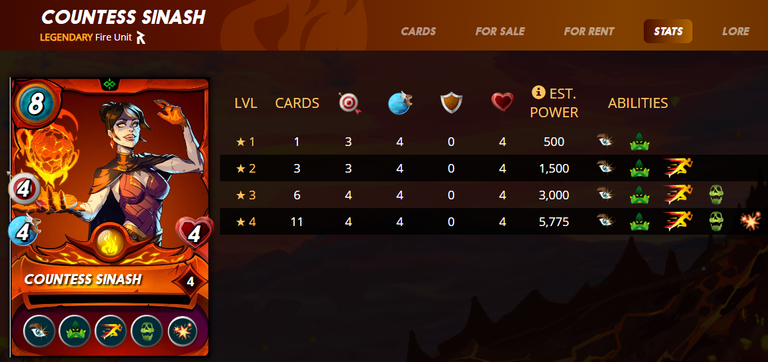 COUNTESS SINASH
On the last position of my lineup, I placed my main Monster the Sinash and I have used a level 1 legendary monster on this battle which has 3 range attack at 4 speed with 4 health along with 2 active abilities - Camouflage and opportunity.
BATTLE BEGINS
---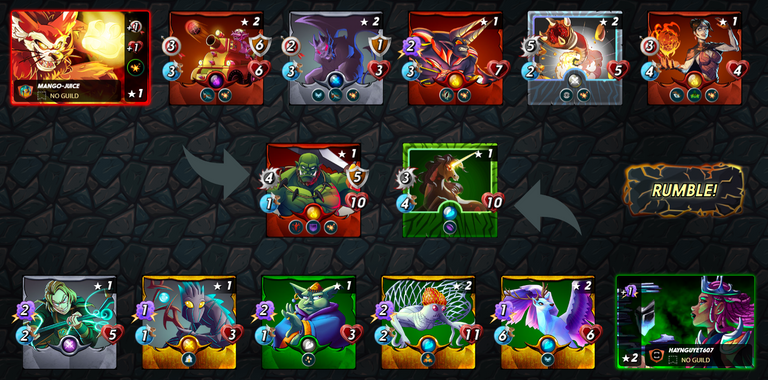 ROUND 1
On the very first round and after both side monsters got their all abilities and disabilities, the enemy monster Regal peryton attacked first and damaged my Grim monster and after that, my main Monster Sinash damaged the enemy Mycelic magic monster and damaged Regal and Goblin psychic monster as well. Next, the enemy monster Unicorn destroyed my Giant Defensive monster Grim's Shield followed by My Living Lava ranged monster which damaged enemy Mycelic slipspawn monster and also destroyed Goblin psychic along with Regal peryton. After that, my Gargoya Devil destroyed enemy Mycelic slipspawn monster and Regal peryton also damaged enemy Spirit Hoarder monster. After that enemy Magi of Chaos damaged my Girm Flameblade. Then, my Sand worm destroyed enemy Magi of Chaos and Spirit Hoarder monster. At the end of this round, my Grim monster damaged enemy Unicorn Mustang Monster.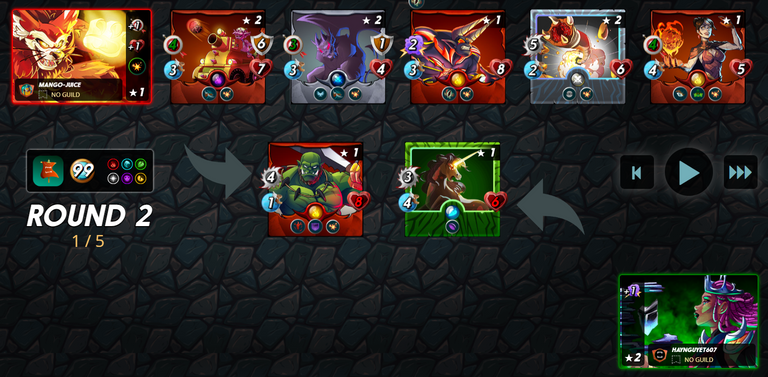 ROUND 2
Well, some of the enemy monsters were low level and my lineup quickly overpowered them with only one enemy monster left for the second round. On this round, at first my main Monster Countess Sinash damaged the enemy Unicorn Mustang. After that, the enemy Unicorn Mustang and also damaged my Grim Defender monster, followed by my Ifrit monster which destroyed enemy Unicorn Mustang Monster and the round ended here.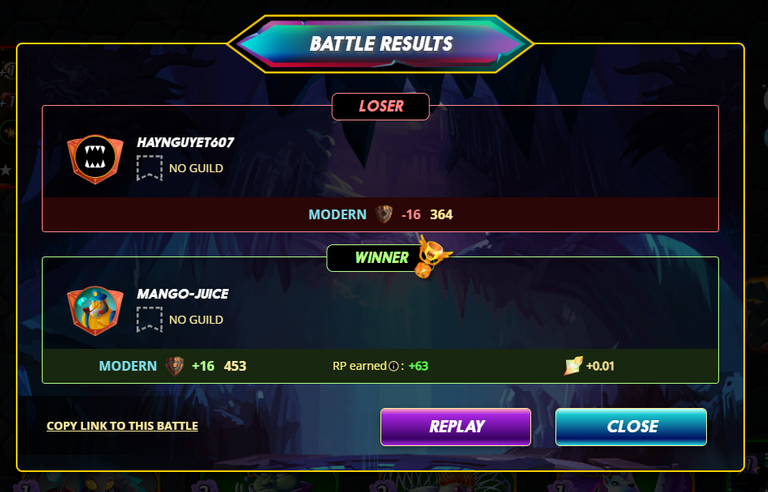 As the Sinash has the camouflage ability, it can not be targeted by enemy monsters until it is in the first position. So I used her in the the last position so that she can stick with me till the last. I am quite sure that monster will be more powerful in high level tiers as well and I will continue using her in these over powered high mana limit matches to test her even more. What about you? Do you also like this monster as your battle companion or you choose others over it? Let me know in the comments below and I will be seeing you all in my next post.
---
---
Wish you all good luck on all of your future Splinterlands matches.
Thanks for visiting my post. Please come again!
Stay well and keep playing Splinterlands.
Want to start playing splinterlands? Click here
Posted Using LeoFinance Beta
---
---