Leoverse: Leofinance projects on Hive and other blockchains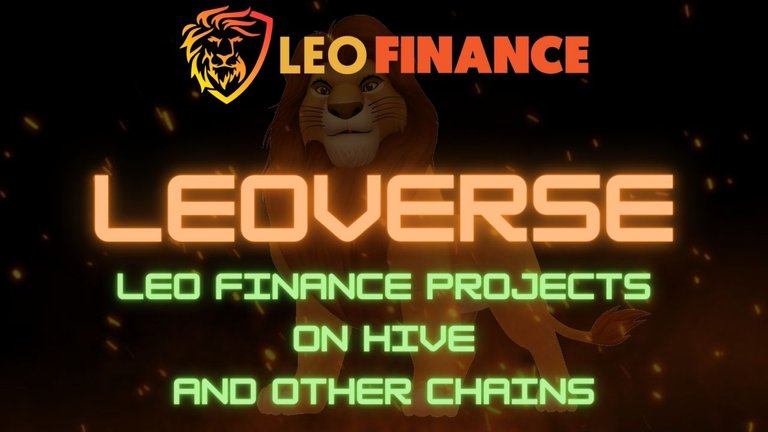 Hello readers,
If you are a Hive user for a while, you must be a user of leofinance also or at least you have heard of it while browsing through hive posts. LeoFinance is widely known, both within and beyond the Hive ecosystem as a vibrant community and blog niche on this blockchain that focuses primarily on finance, cryptocurrencies and other money related topics. However, if you think that leofinance is only another front-end UI or tribe or community about money-related topics, allow me to break your myth as there's so much more to explore in the wide universe of LeoFinance than what meets the eye. No, Leofinance is not limited to only a home for long-form content social media or a financial blog website. In this article, I will explore the diverse range of tools and applications that make up the LeoVerse or LeoFinance ecosystem.
Different LeoFinance projects on the Hive-Chain
LeoFinance as a Frontend Platform
LeoFinance provides its users with a fast and fluid cutting-edge Web3 social media platform that is built on the decentralized Hive blockchain, allowing users to engage in long-form blogging and now with their latest launch of threads, they have taken a gigantic step in the word of micro-content creation as well. Content creators or authors on this platform have the freedom and opportunity to enable monetization on themselves with their contributions through publishing both long-form and short-form content and also by engaging with others' content through voting and commenting. Though initially, the platform was heavily focused on finance, investments, crypto and similar money-related niches, now with the introduction of their latest product LeoThreads, the platform has shifted to a more generalized user interface (UI). Soon after the launch, microblogging on this platform secured center stage and people are really loving and engaging with the new UI that was rolled out earlier this month.
The primary goals of LeoThreads are to become a social media for all and to expand the active user base, Leofinance provides its new users with a seamless signing-up experience to the Hive blockchain. To achieve this, they have created an easy method for the creation of new Hive accounts by using existing traditional Web 2.0 sign-up methods such as using Twitter or email.
---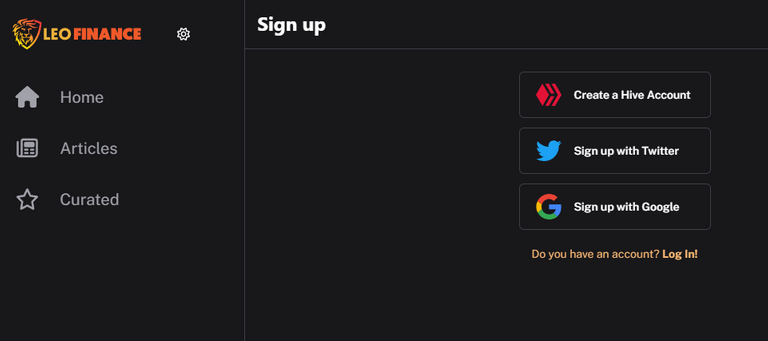 ---
Leo Finance is a popular front-end UI already among all others that exists in the hive ecosystem and thou most of the users use peakd.com or ecency.com to interact with the chain, Leofinance is also not far and in fact, it ranks as the 6th top frontend in terms of the no of active users per month. Despite the long ongoing bear market, Leo Finance has managed to maintain its user base by proving real value to them and with their recently launched LeoThreads, I have a strong feeling that they may have even come to the top 3 in the near future!
---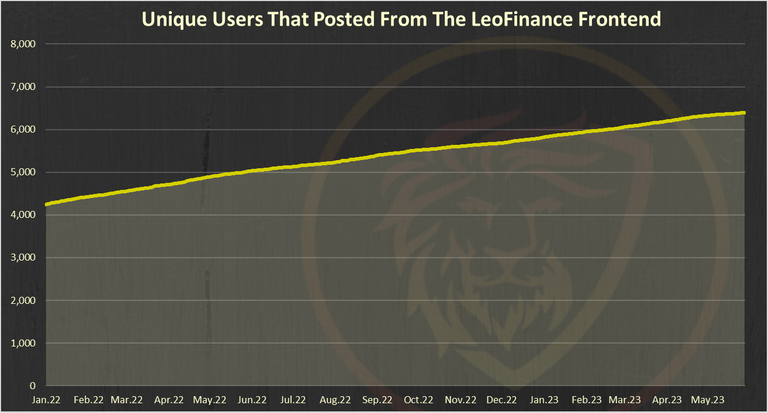 ---
According to @leo.stats Weekly Stats from 05/22/2023 to 05/28/2023 timeframe, around 6,300 + unique accounts have been posted on LeoFinance in that particular week and the graph clearly shows a gradual growth over time and I personally think that this number is likely to increase even higher as the Threads gets more popular.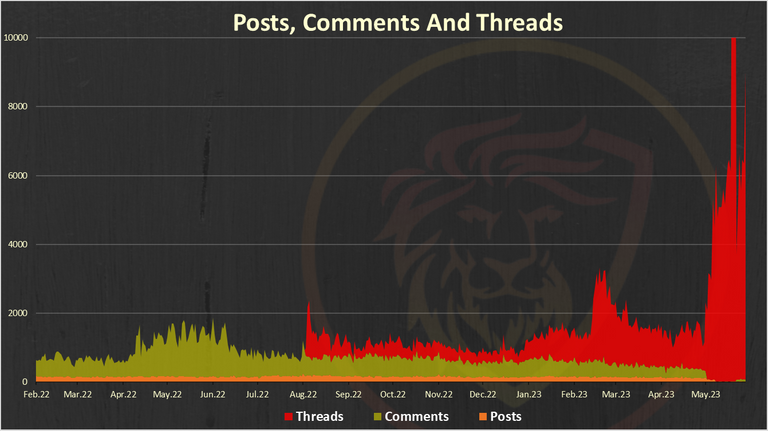 Let's look at another chart here provided by the same @leo.stats which shows the no of Posts, Comments and Threads published on Leo UI and it is amazing to experience the huge spike in engagement that happened after the launch of threads and their brand new UI where the red color represents the no of total threads published. The data also shows a total of 42k threads being published in the last week, averaging 6k per day which is phenomenal considering that the project just got launched.
---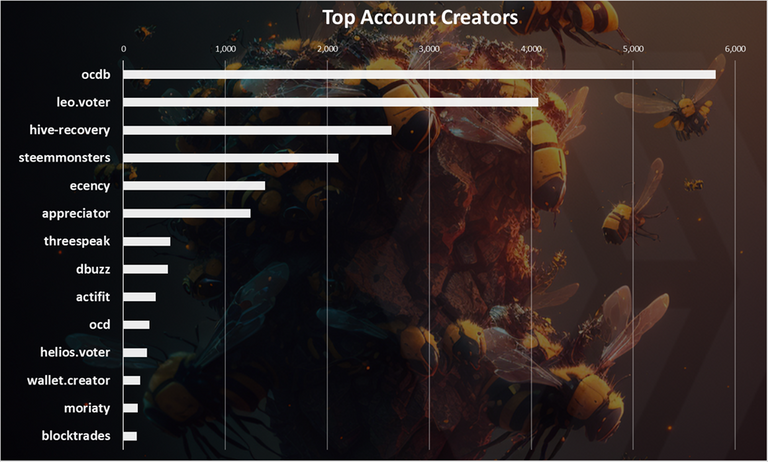 Now looking above at another chart by @dalz which projects the top Accounts Creators for 2023, the @leo.voter is in 2nd position just after ocdb as top hive ACC creators which clearly indicates how many new users it is onboarding on hive and since the year started, that have created over 4000 new accounts.
---
LEO Token
LEO is the core layer 2 token of LeoFinance and it also serves as the primary reward token on the platform's interface. Users have the ability to stake their liquid LEO tokens to acquire Leo Power, which enables them to earn a share of the rewards pool through curation rewards when they engage with LeoFinance-related content and vote for them. The Leo Power can also be delegated to other curation accounts or leased on LeoFi for passive income. To expand their earning potential, users can pair LEO with other Layer 2 assets on the Diesel Pool and thus gaining rewards in various tokens.
In addition to staking and providing liquidity on the blockchain, the LEO token can be wrapped and pooled with MATIC on Polycub (WLEO-MATIC) to earn farming rewards and can also be paired with BNB on Cub Finance (bLEO-BNB) or with ETH on Uniswap (wLEO-ETH). These options offer users a variety of opportunities to earn rewards and participate in different platforms or chains while using LEO.
Currently, Leo has a total of 15.5M circulating supply and 68% of the current supply is in staked state.

---
LeoFinance, a thriving Hive Community
If you probably don't know, we can also access all the community or tribe pages on only via their own front-end but also through various general platforms such as Peakd.com, Ecency.com or Hive.blog, including the Leofinace community. Here is the link of Leofinance community that you can access by using Peakd and do all the things like publishing posts or reading others and engaging via voting, commenting or reblogging them. You can also get some important stats like total subscribers (16,815 currently), Active Users, Interactions, pending rewards etc and can use the sorting button located just below the header to browse posts through recent, hot, trending or upcoming payouts.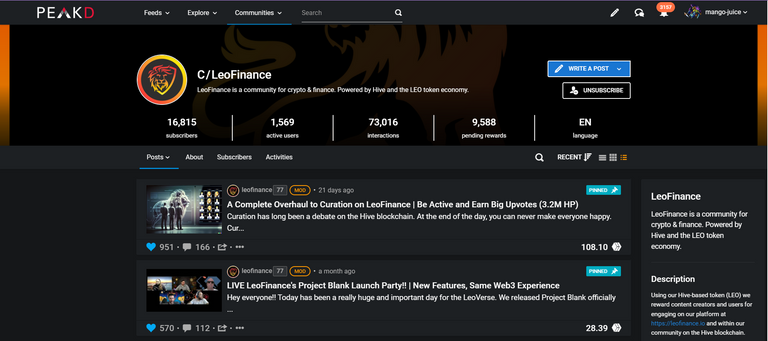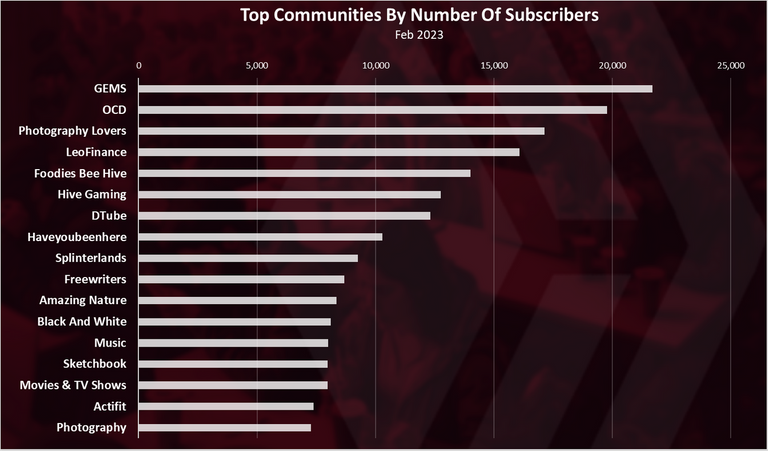 According to Dalz's other stat report that was published on February 2023, he showed us that the LeoFinance community ranked 4th among all other communities with over 15,000 no of subscribers. It also secured the 3rd place in total staked Hive Power by all users in leofinance which is another interesting way to rank communities based on their influence power in the hive. Moreover, Lerofinance also has secured significant ranks in other stats too as - 2nd in the number of total posts published which indicates how much active this community is and also ranked 5th in terms of Active Authors in this community.
---
Leodex: A Decentralized Exchange from Leofinance
Another great contribution from team Leofinance to the Hive chain is the LeoDex. Leodex is a decentralized exchange built by the Leo team on the Hive blockchain as a hive-engine alternative where users can trade all the Layer 2 tokens and assets and can also perform Hive to Swap.hive swap and vice versa as per their needs.
The Leodex exchange application provides various tabs which I will be introducing below.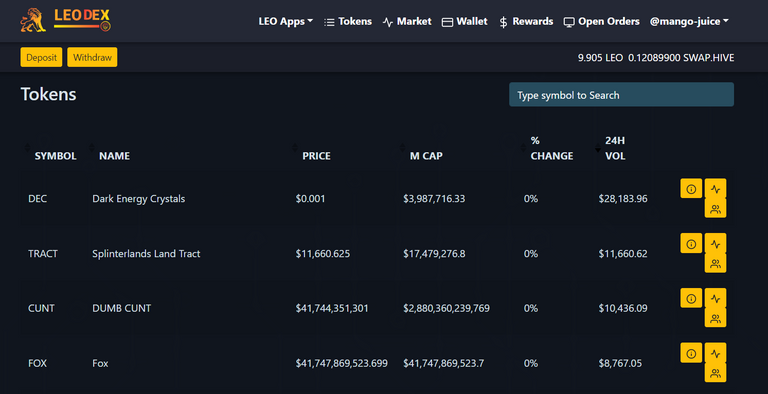 Tokens - It features all the Hive Engine tokens sorted with default to their total trading column within the last 24 hours. It has all the important columns like market cap, price, 24-hour change in % and trading volume and you can sort them using any of these parameters. You can also locate 3 yellow buttons just at the end of every token which represent their Token info page, Token market and Token Richlist respectively.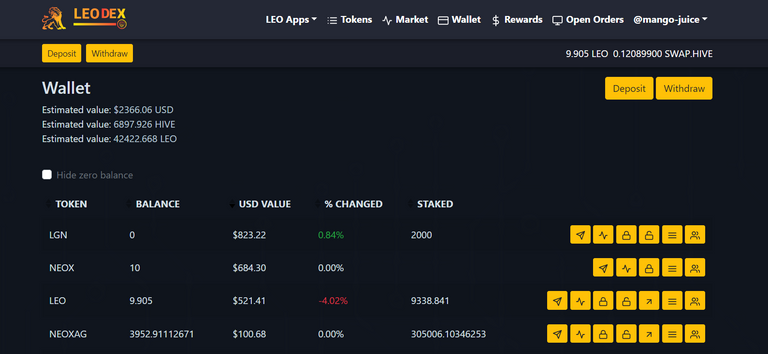 Wallet - The wallet tab provides the current information on the user's total account balance including all the layer 2 tokens they possess (including liquid and staked). It provided you the estimated value in USD, hive and Leo as can be seen in the upper left corner. It also enables the owner to do operations such as token transfers, access to the respective token's market, staking and unstaking, delegation and undelegation, token history and rich lists.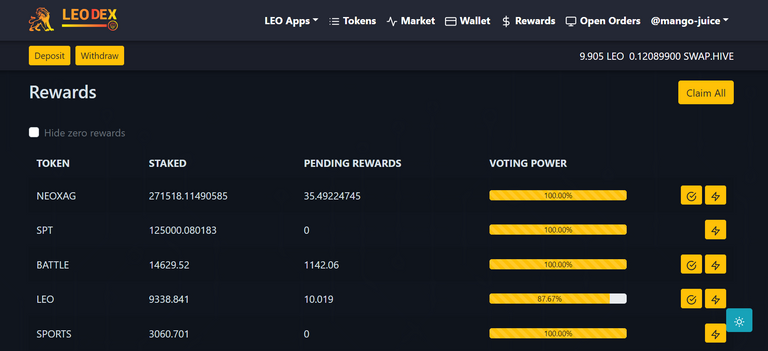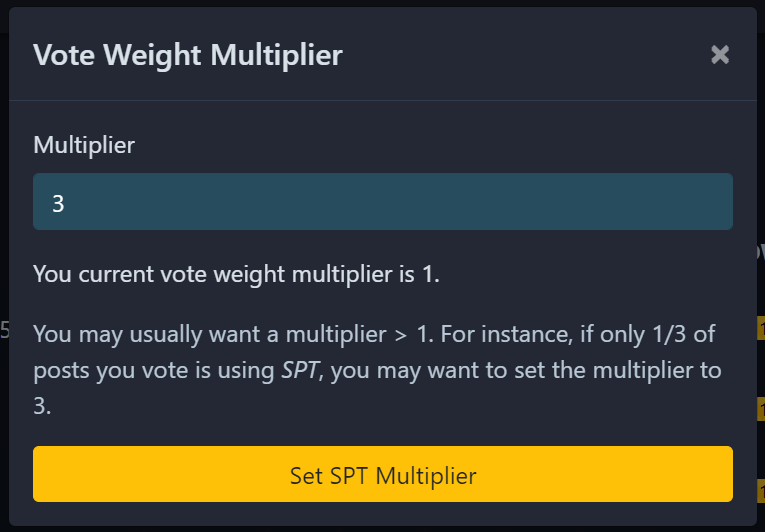 Rewards - This particular tab menu displays the owner's different staked tokens and their pending rewards and voting power. It allows the owner to set the voting multiplier for every Layer 2 token he possesses, which I think is really helpful when engaging and curating posts in various tribes. Increasing the multiplier beyond 1 prevents the account owner's Hive Power from depleting quickly and helps him to utilize his layer 2 token curation more efficiently.
---
---
HiveStats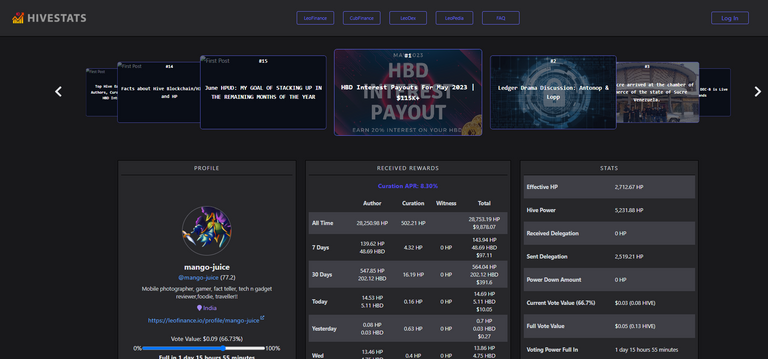 Leofinance has introduced an all-inclusive account tracker and a remarkable application built on the Hive blockchain. This tool empowers users to effortlessly view, monitor and analyze the stats and progress of their own accounts or any other Hive accounts. With this app, you can gain insights into your wallet holdings, earning histories, Layer 2 assets (Hive-Engine), and voting power (mana), including vote value. It also provides information on author and curation rewards, user reputation, delegations (both incoming and outgoing), power-downs, Resource Credits, number of posts (including comments and replies), followers, following, curation APR, pending rewards on both Layer 1 and Layer 2, account transactions, and much more. This tool also offers an account's earnings of the last 7-day and 30-day timeframe with details such as HBD interest earned, witness rewards, curation and author rewards, presented in both dollar and Hive Power amounts. Visual representations in the form of graphical charts enhance the user experience.
---
LeoFi: Decentralized Leasing Platform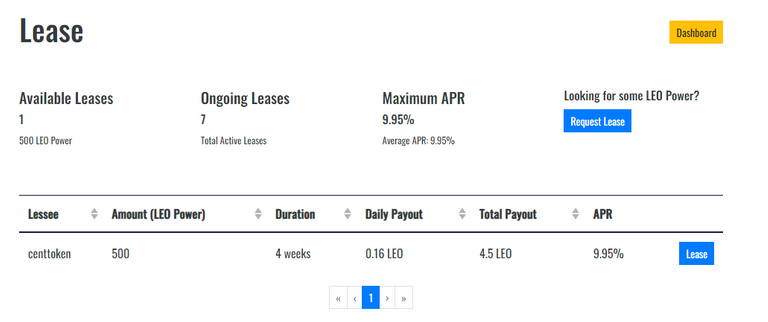 LeoFi is a decentralized leasing platform developed by the same LeoFinance and here users can lease their Leo Power or lend from others from the already listed deals which helps them earn passive income or increase Leo power through this process.
---
LeoPedia: Informational Resource Application
---

If you are looking for a library to educate yourself about crypto, Team Leo has covered that need of yours already by creating the Leopedia, which is an open library for crypto education with tons of resources for free. It is an informational app hub purposely made to provide valuable resources and intel to the Leo community which covers a wide range of topics - including crypto, blockchains, economics and security etc.
---
---
Multi-Token Bridge (MTB or LeoBridges)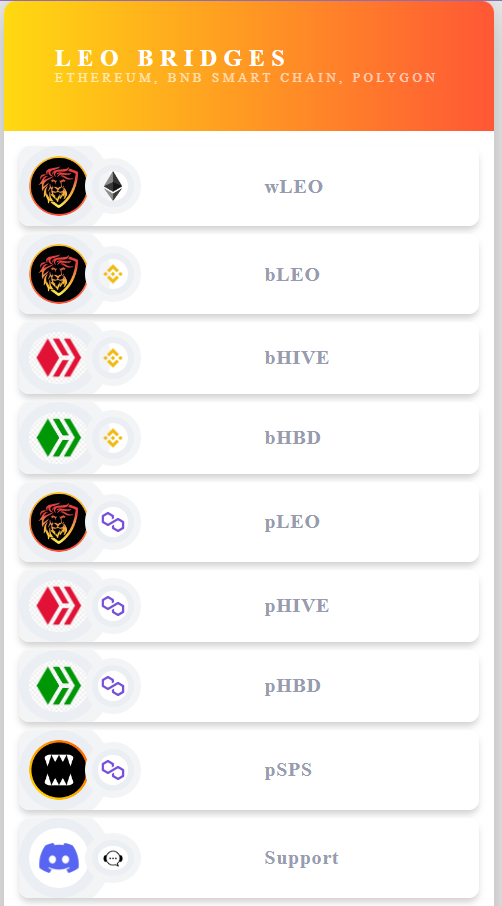 The Multi-Token Bridge is an important tool from leofinance that utilizes decentralized smart contracts to enable permissionless swapping and transfer of assets between Hive and other blockchains such as Polygon and Binance Smart Chain (BSC). Users use these bridges as gateways to transfer their tokens to and from Hive to other respecting chains while being sure of the security that it provides them.
---
DeFi (Decentralized Finance) Apps on Other Chains
Cub Finance: A Binance Smart Chain Staking Platform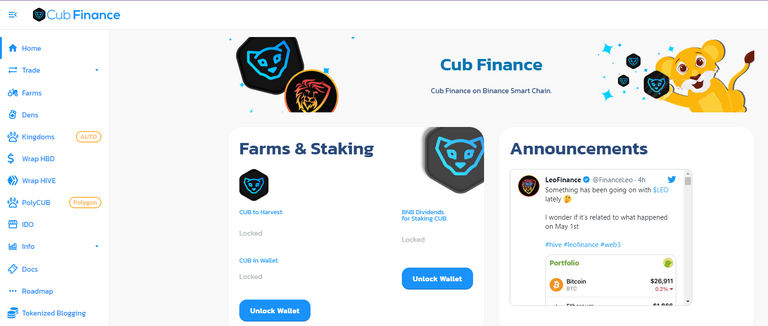 Cub Finance is a staking platform built on the Binance Smart Chain by Leo team which allows its users to pool certain Hive assets like LEO (bLEO), HIVE (bHIVE) and HBD (bHBD) with other network assets like BUSD. Users can farm CUB by staking these assets in different farming pools that are active there.
---
PolyCUB: Farming and Staking on Polygon
---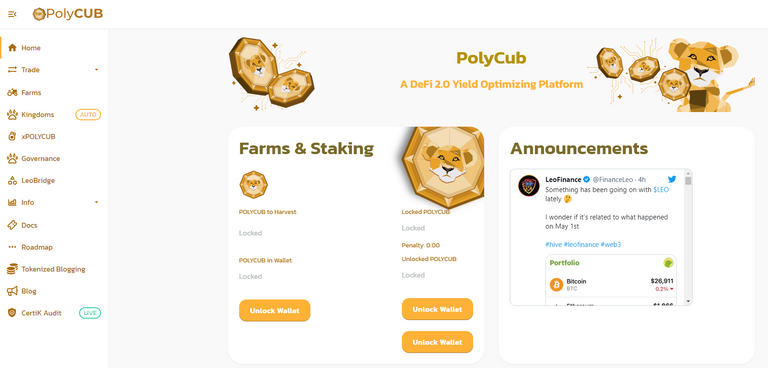 PolyCUB is another popular staking and farming platform within the Leo Finance ecosystem which they have built on the Polygon network. It enables the users to stake LEO (pLEO), HIVE (pHIVE), HBD (pHBD) and SPS (pSPS) to farm and earn POLYCUB, which is the primary token of this farm.
---
---
Conclusion
LeoFinance and it's extended LeoVerse offers more than just creating content now as it is building its own universe and expanding continuously. It provides a range of useful tools and applications on the Hive blockchain and other chains as well and already gifted us with a lot of useful websites, tools and earning mechanisms like Leodex, LeoPedia, LeoFi, LeoFinance Frontend, Hivestat, Polycub, CubFinance and a fully working Multi-Token Bridge for connecting with different chains. The new user interface is also focusing on LeoThreads on a big scale to promote short posts on Hive which is attracting a lot of traffic. LEO as the main token of the Leo ecosystem is also gaining popularity as it has multiple and valuable use cases for staking, delegating and investing in pools. LeoVerse keeps growing to make it easier for people to attract towards Hive and they certainly know how to do it better. I am also becoming more and more of a Leo fan and hope after reading this post, you have also learned well about their projects and vision. Let me know if you liked reading my post in the comments below and I will be seeing you all in my next post.
---
Posted Using LeoFinance Alpha
---
---