My top 2 favorite magic soul bound cards in Splinterlands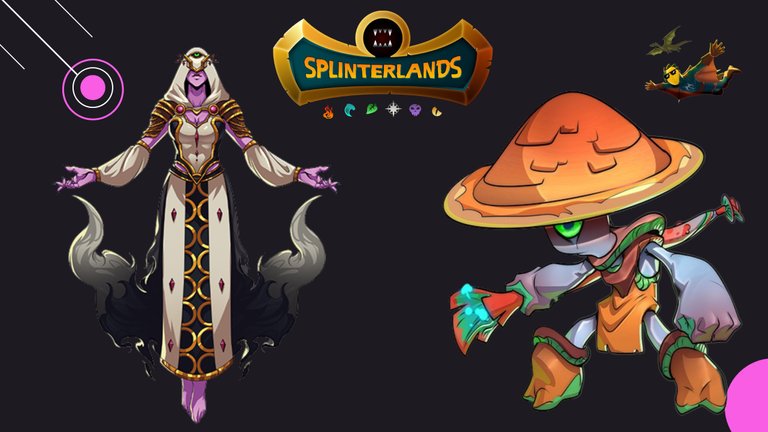 Greetings my fellow Splinterlands warriors!
I hope all of you are spending an awesome day with your family and friends. Well, yesterday we witnessed the 111th ranked season coming to an end in Splinterlands and hopefully by now, I guess most of you have collected your season reward chests and also started playing for this current one. For me, the last season didn't go very well as I couldn't secure a place in the top 3 in the Diamond leaderboard and instead, I only was able to enter the top 20 before the end time and got rewarded with 20k Dec for this time. As for season rewards, I was lucky enough to collect over 100 season reward chests but this time as well, no gold foil legendaries or even epics for me, but I did grind some gold foil Rares this time and so overall, I am happy with the pull. Now, without further ado, Let me share my season rewards below ..
This time I played a bit extra on the last day in order to push myself up to the top 3 positions in the Diamond leaderboard and even bought around 25 energy points to play extra, but I failed to reach there. However, I collected a total of 109 season chests in the process which I think is the maximum number of season chests I collected as far as I remember. However, as the season timer went 0 I waited a bit to open the season chests faster this time and as soon as the claim page appeared, I clicked it right away within seconds and opened all of those 109 chests at once!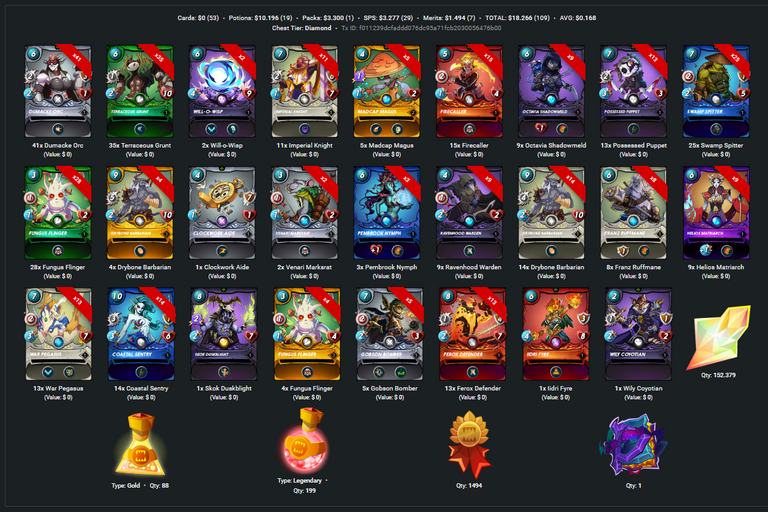 As I saw them being pulled one after another, I started to get sad seeing not even one of them has produced a 3-digit SPS or a good gold foil for me. Now, I certainly know that getting that much SPS from a single reward chest is almost impossible these days but I still couldn't control myself to wish for an amazing reward. But anyways, the smile finally got on my face when I saw I have pulled some gold foils this time and also a chaos legion pack from those reward chests. The best I got this time is 5 x gold foil rare Madcap Magus from a single chest and this card is a popular one right now for its scattershot magic attacks. I also received 4 x gold foil common Drybone Barbarians which is another one of my favorite soul-bound cards and 4 x gold foil common Fungus Flinger which Is definitely a well-known card to you all and is widely used in battles nowadays. These bunch of gold foil cards of course took my pain away for not topping the leaderboard along with the single chaos pack that I mentioned above. I got a total of 53 cards from the season rewards and leaving those gold foils, I got 1 legendary, and 4 epics and all the rest cards were rare and common types. As for SPS, I got a total of 152.38 SPS from all those chests and also a total of 19 potions and only 7 merits which is a rare case this time cause normally I use to get tons of them from season rewards.
---
Now, let's move on to the final part of this post as today, I am going to show my top 2 magic card choices from the new Soul bound edition and why they are very important ones to have in this post.
MADCAP MAGUS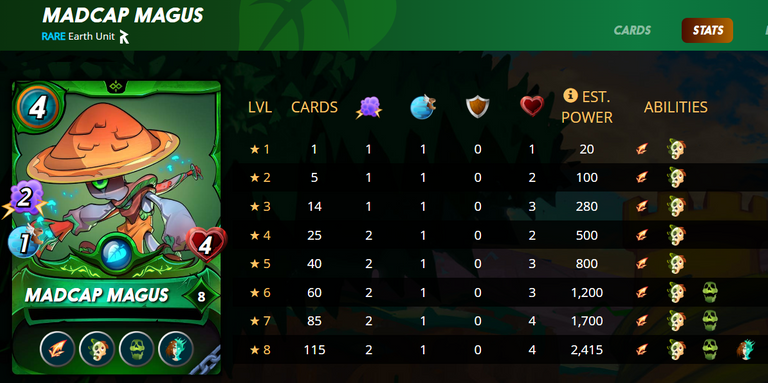 As for my first choice, I would select the Madcap in my list mainly because of its unpredictable magic throwing that has the potential to suddenly change the dynamics of an ongoing match. This card belongs to the Earth splinter and it costs only 4 mana to be used in battles, so you can easily choose this monster from mini to medium mana limit matches. This card is so popular and widely used throughout all the leagues mainly because of its set of abilities- Scattershot and Life Leech that it gets from its initial level. After upgrading the gold foil version, now I have a level 6 golf foil Madcap which possesses 2 magic attacks at 1 speed with 3 health along with 3 abilities - Scattershot, Life Leech and Affliction. I have used scattershot monsters many times before but they were range monsters but believe me when I say scattershot works way better with magic attacks. If you already have this card and used it in battles, then you already know its importance in battles.
IZIAR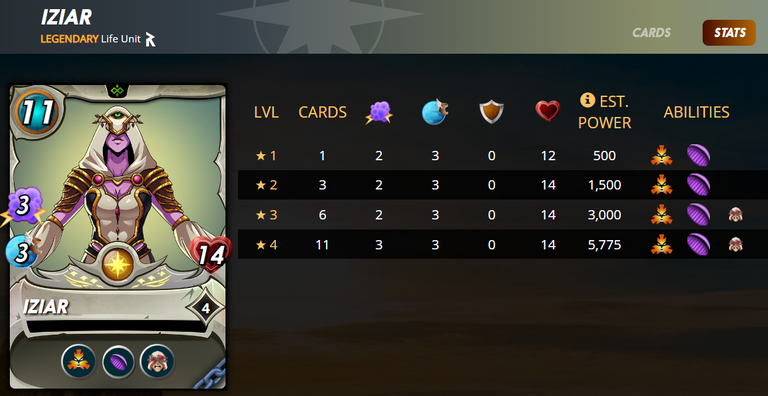 The second magic card that I would like to give priority and the second position must be the IZIAR because though I have this card only upgraded to level 2 still now, I am already using this card in Diamond League and getting good results. Having a tank card with a decent magic attack always helps over a non-attacker and upon that, it also is well protected against magic attacks because of its void ability so it's very useful when you know your opponent will use multiple magic cards against you. It is a legendary type card that belongs to the Life splinter and it costs a huge 11 mana to be used in battles. But the mana cost is worthwhile if you look at its stats and abilities league-wise. I am only having a level 2 right now and at this level, it possesses 2 magic attacks at 3 speed with 14 health along with Taunt and Void ability. So yea, you can taunt all the enemy attacks upon it while saving your other friendly monsters for a longer time so that they can continue killing the enemy cards one by one.
---
---
I hope you liked my top 2 choices of magic cards from the recent soul-bound reward card set. Is your choice the same as me or do you prefer other soul-bound magic cards over them and if yes, which ones are they? Let me know in the comments below and I will be seeing you all in my next post!
---
---

Wish you all good luck on all of your future Splinterlands matches.
Thanks for visiting my post. Please come again!
Stay well and keep playing Splinterlands.
Want to start playing Splinterlands? Click here
Posted using Splintertalk
---
---