Reached Diamond I today | My recent Splinterlands activities and packs opening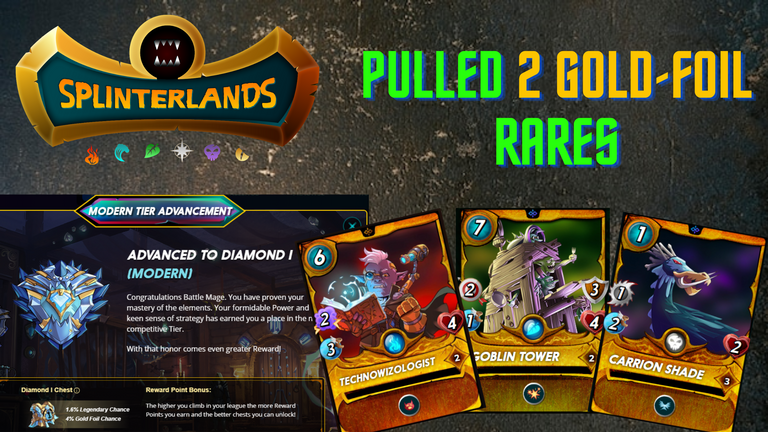 Hello my fellow Splinter Warriors!
I hope all of you are doing well in your life and also enjoying the game in your free time. Well, the time is going bad for us crypto enthusiasts because while already surviving the ongoing downtrend, the recent FTX collapse incident has shocked the entire crypto community and worked as a nail in the coffin which took down the whole market down further. Right now, almost all of the top 50 crypto coins are brutally red with bitcoin being down to 15.6k $ and ETH for only 1087$ and our hive is also heavily affected and being sold for only 0.33$ right now. Looks like this winter will be longer than expected and we possible have to wait for a year or even more to see them floating at their ATH price again. But until then, my plan is to increase my assets as more as possible. There are only about 1 and a half months left for my marriage and thou it's big life event and cost full as well, I have secured almost the full amount required. So, after covering for it, my plan is go all diamond hands and make a good stake of Hive Power and Splinterlands assets.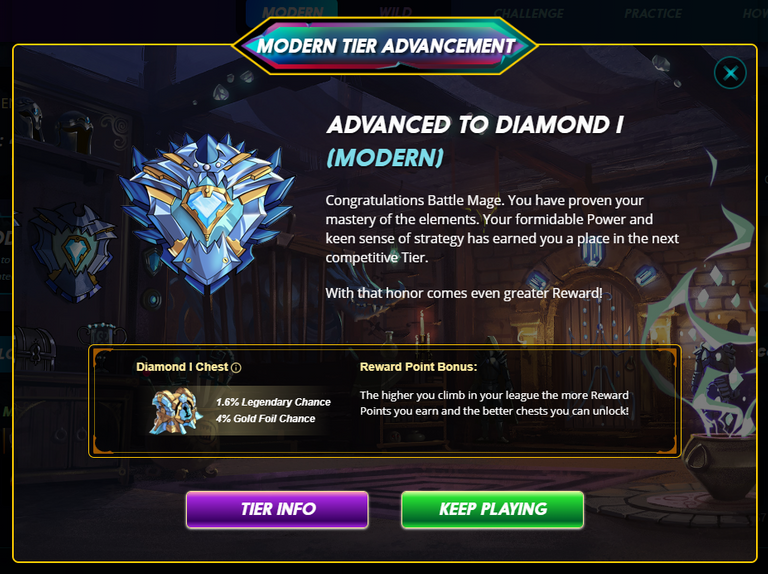 Now, talking about Splinterlands, I missed playing splinterlands ranked matches for almost 2 long days as I wad away from my home for a relative meet-up. But When I came back and finally opened my account on pc today, I saw that my ECR was already being wasted at 100%. For a moment I really felt angry on myself for not playing more before leaving. But as I I had plenty of time in my hand and was still in Diamond II, I decided to push myself upto Diamond I today, no matter what it costs. So a long battle starts and I played a long streak of ranked battles back to back with only one goal of wining as much as possible. Thou I did a weak start as first, but after playing a couple of matches, I started making more 2-4 win streaks and pushed those hard 100s slowly. But during the last 50 trophies, I again started loosing brutally against strong Diamond and even Champ players sometime. But luckily, I got 2 good wins against high trophy players and sneaked in into the Diamond top by securing 3415 trophies as you can from the above screenshot. It was the Impair rule today as my daily Focus mission and thou I haven't focused even a little on the ruleset, playing for hours and taking my ECR from 100% down to almost 50% have already made me won a whooping amount of 16 focus trophies which will be unlocked tomorrow morning. I also collected a total of 79.705 SPS from ranked win rewards and also increased my season chest count to 17. With still more than 8 days in hand for this season to end, I guess if I reach Champ soon, I may secure a good amount of season chests like last time.. but let's see how that goes.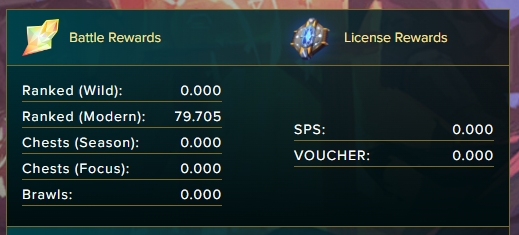 If you look at the current splinterlands tokens market in Hive-Engine, there's a bloodbath going on for almost all of them and seeing at packs, the Chaos Legions have lost it's value down to a new a low are currently being sold for only 1.75$. J already had 6 chaos packs which I received from rewards chests and I also had some swap.hive in H-E. So, I went and bought another 4 chaos packs and opened all of them at once. Let me share the outcome at Below.
Let's open some packs!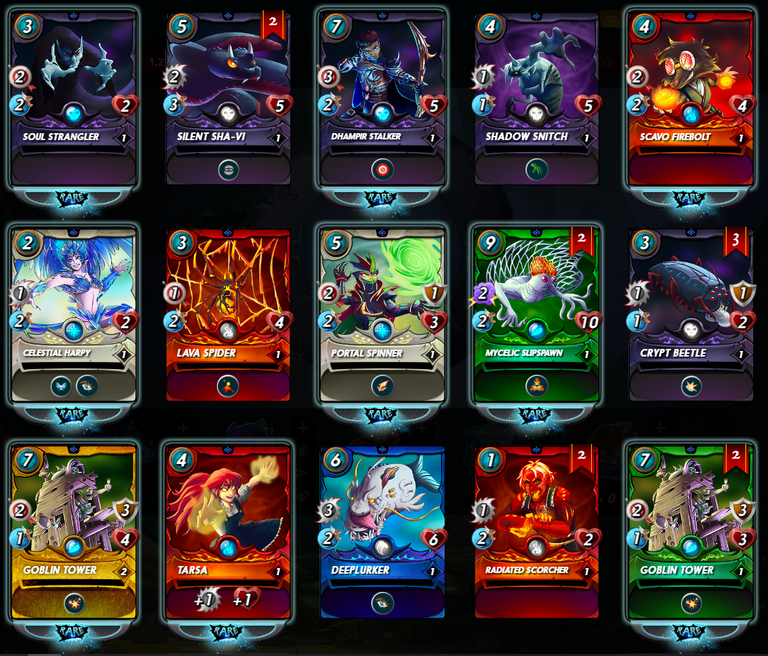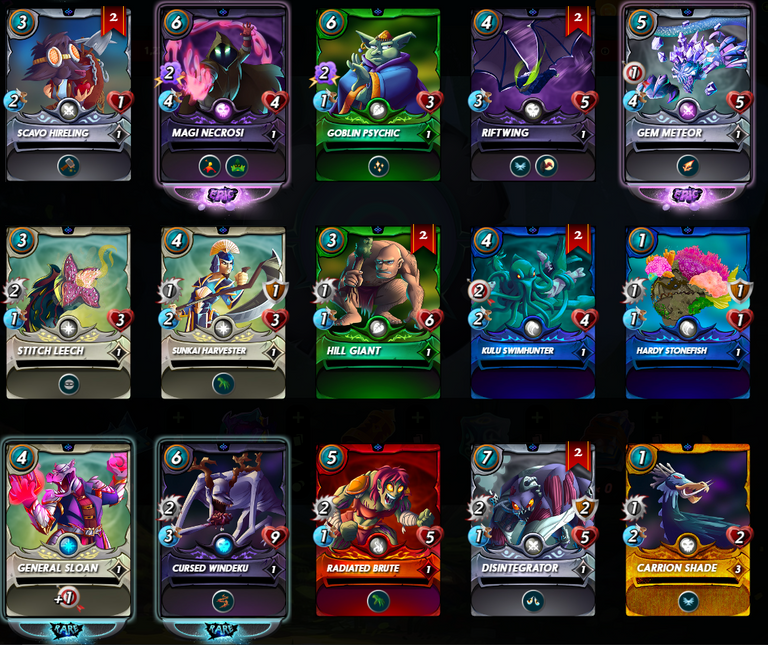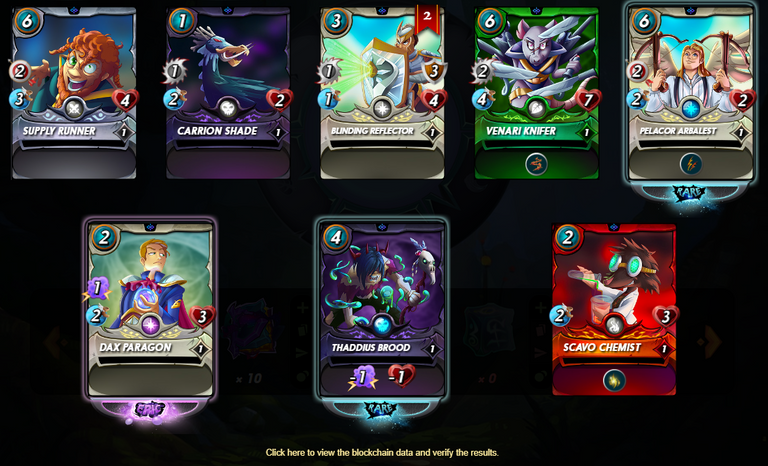 As you can see, I got 1 rare and 1 common gold foil cards and 3 epics along with some good rares and commons from this 10 packs opening and I am quite happy with the outcomes. As of peakmonsters data, the total market valuation of all these cards are 9.77$ which is almost half of the value of 10 chaos packs on HE which is about 17.50$. But as chaos are selling for dirt cheap right now, I will just use these cards for rent them for now. Now, I still had some swap.hive left in my acc so I decided to buy and open my first Riftwatchers packs today. So, I sold some other assets and collected some more hive and bought one rift pack from Hive-Engine for around 13.4 hive. I transferred the pack to the in-game and opened it right away. And below is what I received.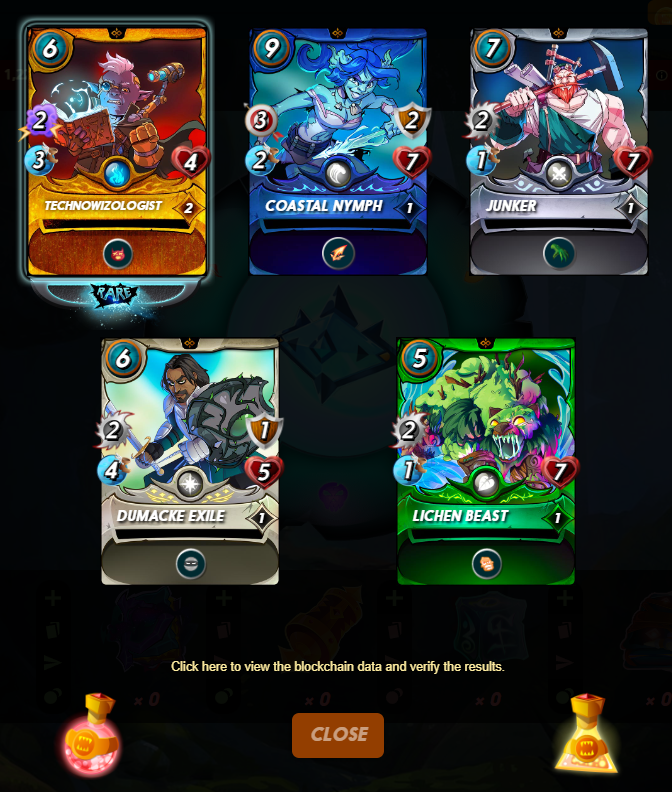 Yes, I got lucky with the gold foil this time as well and pulled a gold foil rare card from just 1 Rift pack! It was a rare magic attacker from Fire realm, the TECHNOWIZOLOGIST and the cost of this gold foil is currently 3.50$ as of lowest listed. So, this single card has almost covered the price of the entire pack and these 5 will also go for renting as well.
I hope you liked reading my splinterlands activity and packs opening post. Let me know your feeling about this downtrend and your plan in the comments below and I will be seeing you all in my next post.
---
---
Wish you all good luck on all of your future Splinterlands matches.
Thanks for visiting my post. Please come again!
Stay well and keep playing Splinterlands.
Want to start playing splinterlands? Click here
---
---
Posted using Splintertalk
---
---