Splinterlands shopping! Cause the monstermarket.io new update is so awesome!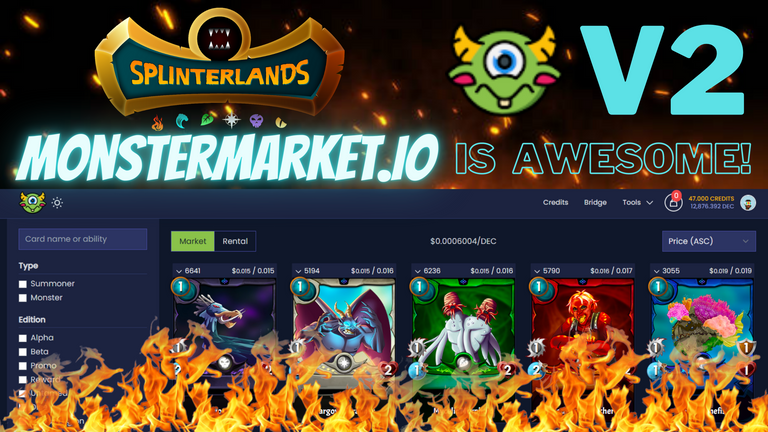 Good morning Splinter lovers!
I hope all of you are having an awesome day and also enjoying this beautiful game in meantime. Well, The time seems passing fast as we have already spend a couple of days in this current season and only 10 days left for it to end. I already loaded my modern format cards back from renting and delegated them to red-dog to start playing again.

I started from Silver III at the starting of this season and by now, I have reached Diamond II tier so far. But, my ECR is in pathetic condition now and eagerly asking for some rest. So, I stopped playing from last night and now it's being recharged back to 28%. I have decided to skip today's Focus Mission and continue recharge it until it reaches 60-70% at least. With some more effort, I will soon reach the Champ III. I also bought cards from the modern format to make my er k stronger because I know the competition level in Champ tier. I used the monstermarket.io website to buy the cards as usual to get the instant 3% cash back which I will be covering later in this post.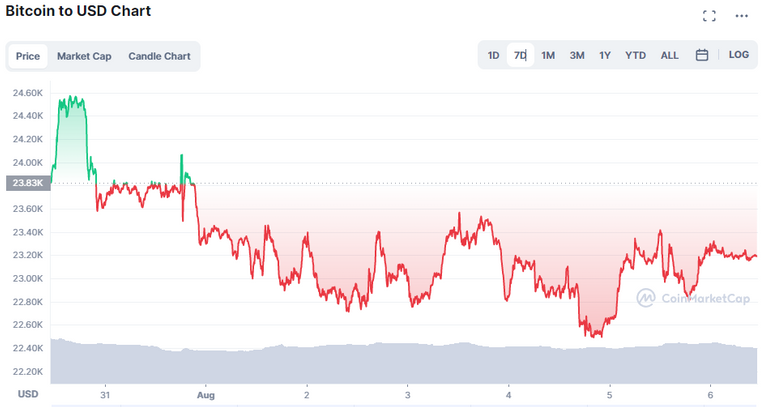 Now, let us first take a quick peak at the current crypto market to get the current prices and the overall scenario. The main dominator BTC is currently being sold for 23,196$ and it seems it's got a stable position around 23k after hitting 24k+ a week ago. The ETH on the other way is also maintaining it's position around 1.7k$ with a negligible change in price compared to last week. If the support here stays for some time, we may see a good uptrend in the future, but let's see how it goes.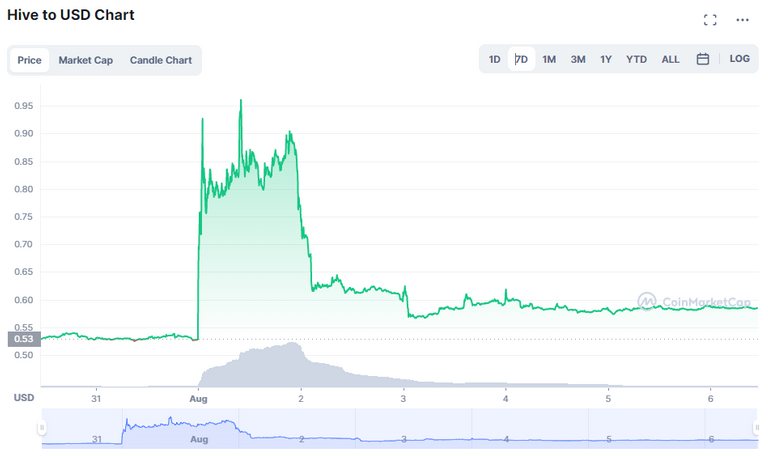 Now, taking a look at our Hive token, it is being traded currently for 0.58$ after hitting the recent high of 0.85$ at the beginning of this month. I am kinda surprised to see how stable it's price after the dip. As reflected in the graph, it's almost behaving like a stable coin and no such selling pressure gives a position vibe to expect a possible future uptrend.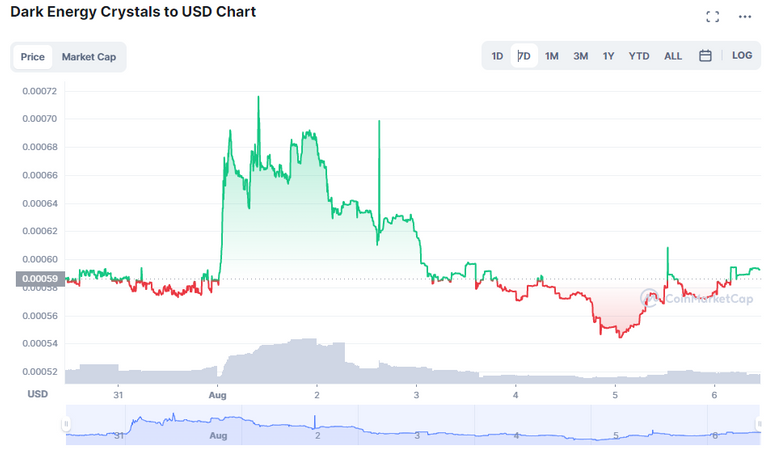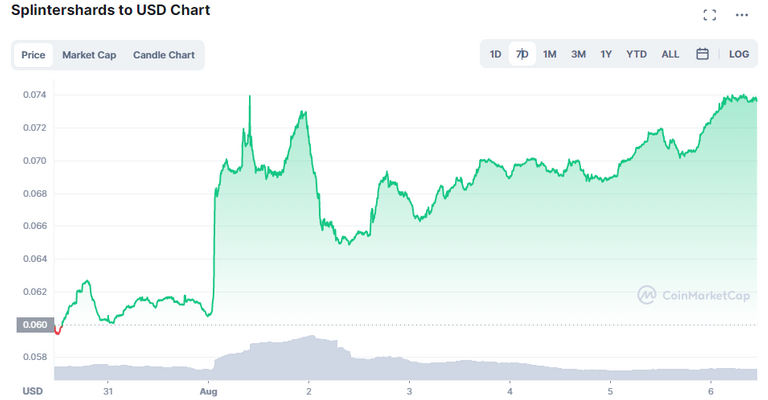 Well, now let us take the splinterlands alley to see how it's various tokens are performing. The main in-game token DEC is currently being sold for 0.00059$ per unit with a +3.67% price change in last 24 hours. But, soon DEC is be replaced as the tanked reward with SPS in near future so let's see how it affects it's price. On the other hand, the Splintershards aka SPS is also making higher highs since last week as you can see from the graph. The airdropped has stopped and already it's pumped from 0.049$ per unit to here since then as many has expected. I am very positive about the future of SPS and also holding 56,000+ SPS currently into my in-game staked wallet. I am also thinking to provide liquidity into one of those lucrative pools that splinterlands just started.
As I told that I am going to play with modern format from now on and also want to compete in Champion tier, I am going to need a stronger deck as I already lack many untamed and dice cards which prices were gone to moon now. So, I am not taking any chances and buying every new cards from chaos and rewards. I have already had a max chaos base deck and over time, I also bought all the airdrop cards one by one. Only the legendary summoner was left behind so with my latest Splinterlands shopping, I bought a max level GRANDMASTER RATHE! I was keeping an eye and saw a max level got listed for 20.909$ per bcx price. It costed me around 230$ and I used the monstermarket.io website to buy the card and got instant 3% cashback in dec into my Hive-Engine account as shared in the screenshots.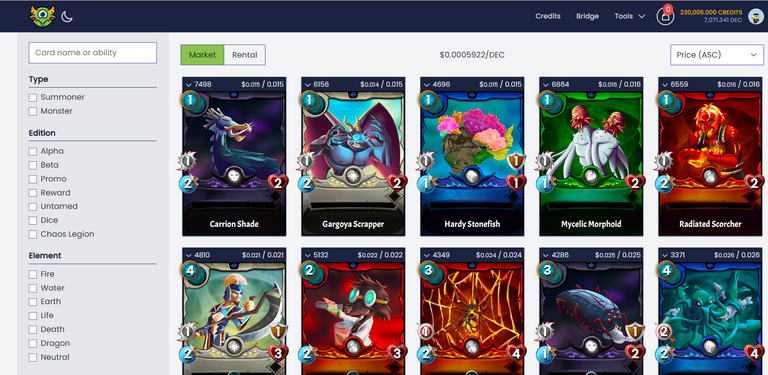 The monstermarket.io recently updated their website with a brand new UI which really looks a lot cooler than it's previous one. But not only the UI, with this B2 update, they have also improved the mechanism of many things which overall increases the user experience and time taken.
This 3rd party website is founded and running by @reqzuliqbal and @zaku and also recognised by the official splinterlands. This project is running successfully a long time and with the new update, The new engine behind the website is completely re coded from scratch to become faster and efficient. They also added rental market but it doesn't have cash back. The search and sorting option using card and abilities are now faster and also looks cool. The tools are more improved which include Cost Estimator, Analyze Openings and Analyze Rewards. They are also very active in Discord in case needed.
Official Discord Link: Click Here
How to search & buy a card in monstermarket.io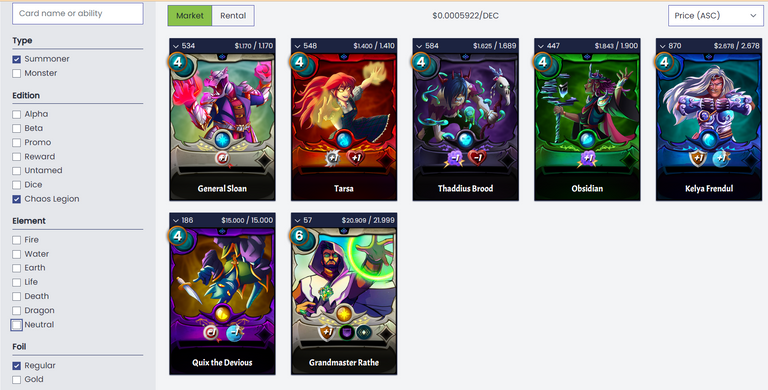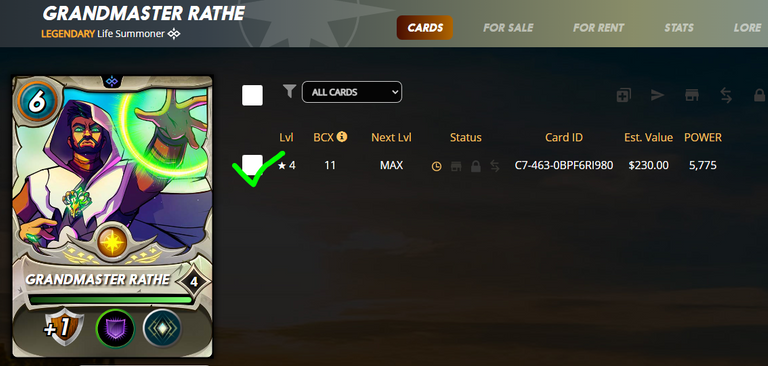 In here, you can buy any splinterlands cards that is already listed in the official splinterlands web page using DEC and credits as currency and after some seconds of purchase, you will get the dec as cash-back into you Hive-Engine account. Isn't that cool and a little more reason to buy cards? I have shown the process to buy a card as a series of screenshots above for you to understand it properly, in case you are new to this website and is interested.
Tide Biter

Blood Maker

VAMPIRIC BLOSSOM

Ever-Hungry Skull

Kulu Swimhunter

Vampire Bat

Revealer

Jared Scar

---
However, After purchasing the Legendary max Summoner GRANDMASTER RATHE, I also bought some other of those new reward cards as I showed in the screenshots above. Most of them are max levels or multiple high levels so that I can use them right away into the battlefield. Right now, I have inly that legendary fire new reward card left to buy and all rest is complete from chaos and last 2 reward sets launched. I really got them for cheap rate as pf the down market, some cards were even only costed me 3-4$ for max levels so there's no better deal than this. Let me now save some more dec.
I hope you liked reading my post. Let me know if you are already using monstermarket for a long time now or heard for the first time. i will be seeing you all in my next post.
---
---
Wish you all good luck on all of your future Splinterlands matches.
Thanks for visiting my post. Please do visit again!
Stay well and keep playing Splinterlands.
Want to start playing splinterlands? Click here
Posted Using LeoFinance Beta
---
---