Onboarding via Twitter: Get 'GetTheFocus' on HIVE

I searched for the release date of the second 'South Park: Post Pandemic' special and PreSearch linked me to this cute website: www.thefocus.news -> https://www.thefocus.news/tv/south-park-post-covid-part-2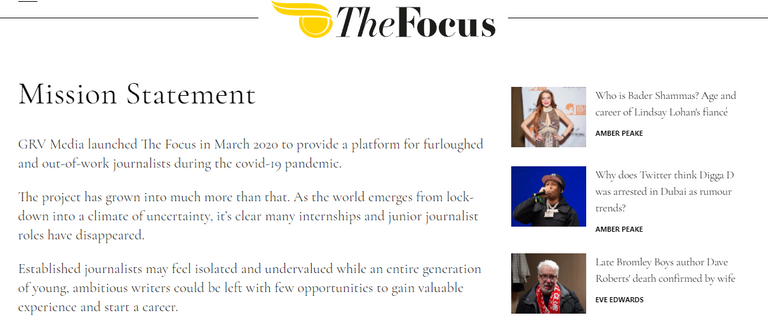 I basically found what I was looking for and even more :)
Check their Mission Statement:
Mission Statement
GRV Media launched The Focus in March 2020 to provide a platform for furloughed and out-of-work journalists during the covid-19 pandemic.
The project has grown into much more than that. As the world emerges from lock-down into a climate of uncertainty, it's clear many internships and junior journalist roles have disappeared.
Established journalists may feel isolated and undervalued while an entire generation of young, ambitious writers could be left with few opportunities to gain valuable experience and start a career.
So I thought, why not check their Twitter?
https://twitter.com/GetTheFocus
And they get 0 Comments per Post and they do post a lot! I think their team is very small, maybe 2 Hands full of people, and they work nearly for free on that Project while doing other stuff as main jobs. That's nice for us since we can get their attention there and HIVE can make their lives a lot easier. We here at the forefront of the web3 could use some good creators and they might want to earn some rewards.
---
Here we go, attack mode ON!
https://twitter.com/RealManniMan/status/1465155814700859402?s=20
Feel free to join in if you want.
Cheers
---
---