[ESP/ENG] 💕Getting to know new places to shop💕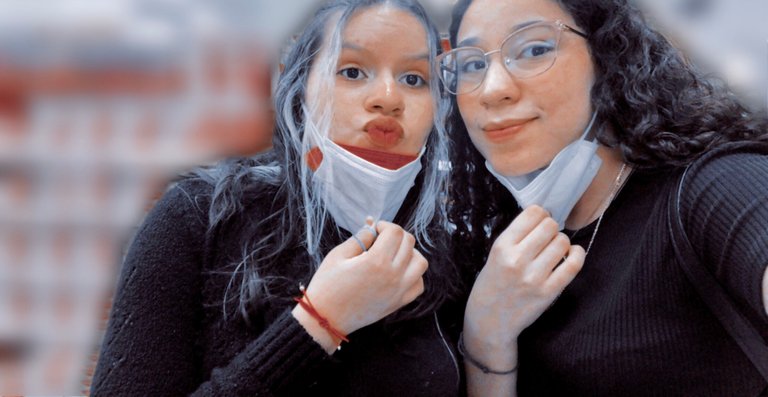 ---
🛣¡Hola, Comunidad de Hive!🛣
🛣¡Hello, Hive Community!🛣
---
Spanish
Entre el viaje de emociones de la operación de mi abuelo y hacerme camino en una nueva ciudad cuando en la que viví toda mi vida aún me perdía jajajaja, claramente ha sido muy difícil, pero como persona masoquista y típico de cáncer, amo los retos🤡. Cabe resaltar que la tasa de peligro de robos, muerte y que un día termines secuestrada son más altas que en mi ciudad natal Cumaná, pues a mí lo que más me preocupa es el calor y el sol JAJAJJAAJJAJA, además las zonas más concurridas quedan súper lejos y todo es un poco extraño, sin contar cómo te mira, trata o dice la gente, ADEMÁS ES MUY CARO, vivir aquí es mucho más costoso que en cumaná, lo que allá cuesta 1$-2$ aquí cuesta el triple y para una persona que en muchos cosas monetariamente es independiente, se sufre, se sufre mucho JAJAJAJA.
Conseguir trabajo también es sumamente complicado, aún sigo esperando que me llame en alguno en los que metí curriculum y no hay tanto movimiento de gente, todo lo contrario a cumaná, casi no hay vida nocturna (Tampoco es que esto me moleste, porque no soy la persona que más sale y menos de noche, pero es una característica más de acá), no hay centros comerciales y lo más parecido por la diversidad de tiendas que tiene en el mismo lugar es "Traki", su mayor movimiento es en cafeterías ya que es las distracciones aparte de lo mencionado.
English
Between the emotional journey of my grandfather's operation and making my way in a new city when the one I lived in all my life I was still lost hahahaha, clearly it has been very difficult, but as a masochistic person and typical of cancer, I love challenges🤡. It is worth noting that the danger rate of robbery, death and that one day you end up kidnapped are higher than in my hometown Cumaná, because to me what worries me most is the heat and the sun HAHAHAHAHAHAHAHAHAHAHAHAHAHAHA, also the most crowded areas are super far away and everything is a little strange, not to mention how people look at you, treat you or say, PLUS IT IS VERY EXPENSIVE, living here is much more expensive than in Cumana, what costs 1$-2$ here costs three times as much and for a person who in many things is monetarily independent, you suffer, you suffer a lot HAHAHAHAHAHAHAHAHA.
Getting a job is also extremely complicated, I'm still waiting for a call in one of those where I put my resume and there is not much movement of people, the opposite of Cumana, there is almost no nightlife (not that this bothers me, because I'm not the person who goes out more and less at night, but it is a characteristic of here), there are no shopping malls and the closest thing for the diversity of stores in the same place is "Traki", its biggest movement is in cafes as it is the distractions apart from the above mentioned.
---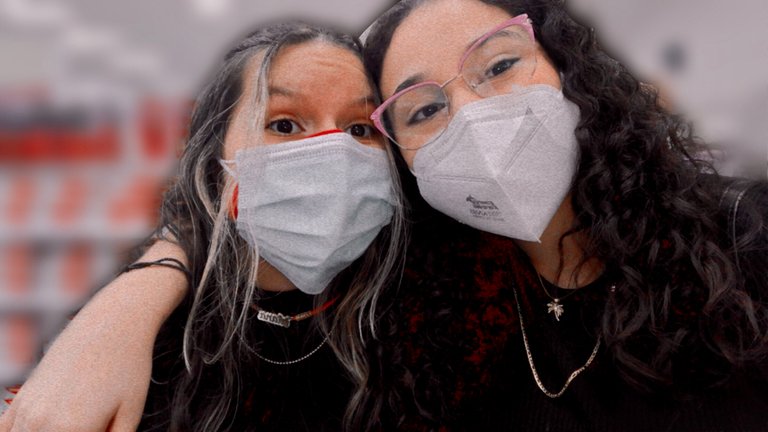 ---
Tienen buenas tiendas de donas, muy buenos cafés y jugos, lugares tranquilos y lindos atardeceres, es un lugar tranquilo, la verdad no me desagrada, sólo la distancia d esas cosas, el pésimo transporte público mucho más que en otras ciudades que solo Te lleva a caminar a todas partes para poder llegar, lugares bastante abandonados y peligrosos, así que todo es nuevo y diferente para mí.
Para poder ir adaptándome y aprendiendo, los días en donde se hacen las diligencias, pues me van nombrando los lugares, enseñándole por dónde meterme, por dónde caminar, algunas cosas importantes, puntos de referencia, historias de acá (MUCHAS DAN MIEDO) y pare de contar, he conocido algunas cafeterías, farmacias y tiendas, he averiguados de Gimnasios cercanos para poder asistir en lo que todo se calme y me adapte mejor, institutos de cursos y más.
La experiencia es ruda, ya que no es una ciudad fácil, pero no me imagino la mudanza a lugares mucho más concurridos y repletos de gente JAJAJAJA, aunque no he podido recorrer muchos lugares, este post lo quise hacer porque buscando nuevas Pijamas para mi abuelo que le sirvieran para la operación, estuvimos dando vueltas en traki y aproveché de recopilar fotos para contarles JAJAJAJA.
También conocí un lugar nuevo que es sumamente parecido a Farmatodo, el cual se llama Génesis y es muy confortable, sus precios no son del todo económicos pero tampoco exorbitantes, es muuuy y la atención hasta ahora es bastante cálidas, en productos de skincare habían precios muy parecidos a Farmatodo y hasta más económicos, la verdad quedé enamorada del lugar y dejé mi curriculum porque sin dudas me gustaría tener un tiempo trabajando allí.
Pero para no perderme tanto y dejar temas inconclusos, primero les hablaré de mí paseada de 1hr en traki, fuimos directamente a las pijamas y me enamoré de todas o la gran mayoría, incluso quiero unos pantalones de pijamada de ahí pero aún no me podía dar ese descontrol monetario JAJAJAJA, escogimos lo de mi abuelo y mi prima y yo nos perdimos unos minutos de mis tíos para ir a la sección femenina que es todo un piso aparte😍, nos enamoramos de todo, pero nuestros corazones quedaron en la sección deportiva, queremos comenzar el gym y ver esa ropa nos dejó 😍😍😍. Después de intentar controlarme por unos minutos, no pude y cedí bajo el encanto de un jogger gris que luego me enteré que también compró mi mejor amiga hace un tiempo y una camisa Gris Deportiva que estaba sencilla y hermosa😍😍😍.
They have good donut stores, very good cafes and juices, quiet places and beautiful sunsets, it is a quiet place, I really do not dislike it, only the distance to those things, the lousy public transportation much more than in other cities that only takes you to walk everywhere to get there, quite abandoned and dangerous places, so everything is new and different for me.
To be able to adapt and learn, the days where the errands are done, they are naming me the places, showing me where to go, where to walk, some important things, landmarks, stories of here (MANY FEAR) and stop counting, I have known some cafes, pharmacies and stores, I have found out about nearby gyms to attend when everything calms down and I adapt better, institutes of courses and more.
The experience is hard, as it is not an easy city, but I can't imagine moving to much more crowded and crowded places HAHAHAHAHAHAHAHAHAHAHAHAHAHAHAHA, although I have not been able to visit many places, I wanted to do this post because I was looking for new pajamas for my grandfather that would be useful for the operation, we were walking around in traki and I took the opportunity to collect photos to tell you HAHAHAHAHAHAHAHAHAHAHAHAHAHA.
I also met a new place that is very similar to Farmatodo, which is called Genesis and is very comfortable, their prices are not quite cheap but not exorbitant, is very and the attention so far is quite warm, in skincare products had prices very similar to Farmatodo and even cheaper, the truth was in love with the place and I left my resume because no doubt I would like to have a time working there.
But not to get lost so much and leave unfinished topics, first I will tell you about my 1hr walk in traki, we went directly to the pajamas and I fell in love with all or most of them, I even want some pajama pants from there but I still could not give me that monetary control HAHAHAHAHAHAHA, we picked my grandpa's and my cousin and I missed a few minutes from my uncles to go to the women's section which is a whole floor apart😍, we fell in love with everything but our hearts were left in the sports section, we want to start the gym and seeing those clothes left us 😍😍😍😍😍. After trying to control myself for a few minutes, I couldn't and gave in under the charm of a grey jogger that I later found out my best friend also bought a while ago and a Sporty Grey shirt that was simple and beautiful😍😍😍😍😍.
---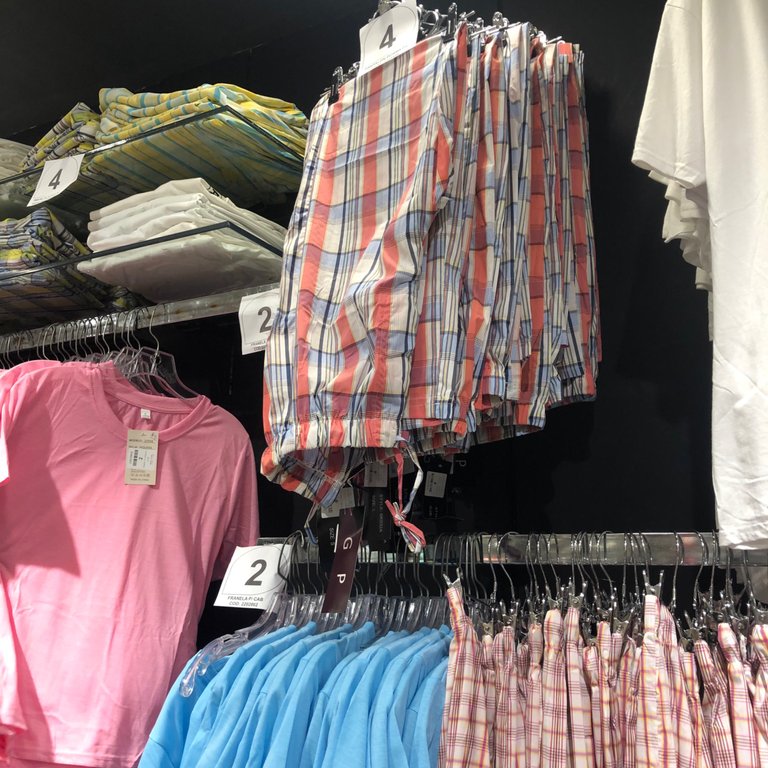 ---
Ahora, en génesis, el otro lugar que les hablé que conocí, ya he ido unas 2 veces por compras de comida, la primera vez mi tío nos complació con un helado y nosotras muy felices 😂😂, también compramos unas salsas para perros calientes y queso, pero la segunda vez que fuimos las compras si fueron mucho más grandes, y nosotras manejábamos el carrito, muy contentas, grabamos TikTok en los pasillos, dejamos nuestros corazones en el corredor de skincare y maquillaje, además de pasar mil veces por la nevera de helados esperando correr con la misma suerte de la primera vez, pero no fue así JAJAJAJA…
El lugar estaba bastante cómodo y frío, fui muy feliz, aunque tenía una mano mala JAJAJAJA podrán ver en la foto, pues igual iba como niña chiquita emocionada con mi carrito, revisando precios y mentalizándolos para poder compararlos con otros lugares cuando fuese, así iba creando referencias, además apenada con los vigilantes que nos vieron bailar TikTok en el pasillo🤡😂😂.
Now, in genesis, the other place I told you about that I met, I have already gone about 2 times for food shopping, the first time my uncle pleased us with an ice cream and we were very happy 😂😂, we also bought some hot dog sauces and cheese, but the second time we went the purchases were much bigger, and we were driving the cart, very happy, we recorded TikTok in the aisles, we left our hearts in the skincare and makeup corridor, besides passing a thousand times by the ice cream fridge hoping to have the same luck as the first time, but it wasn't like that HAHAHAHAHAHA....
---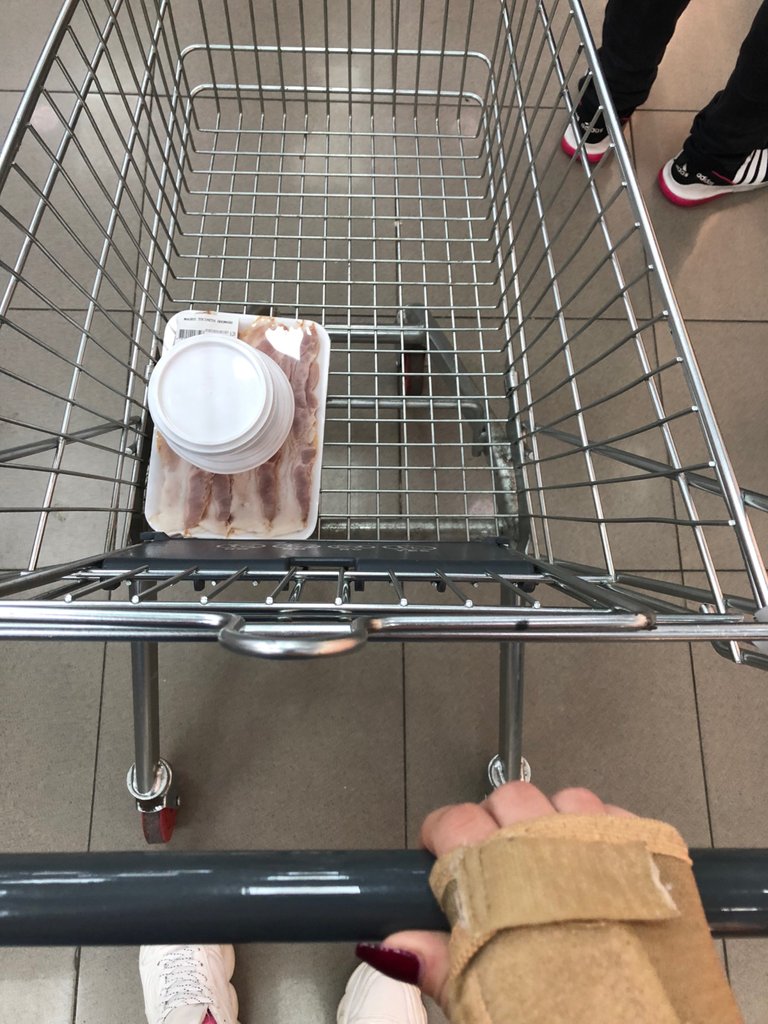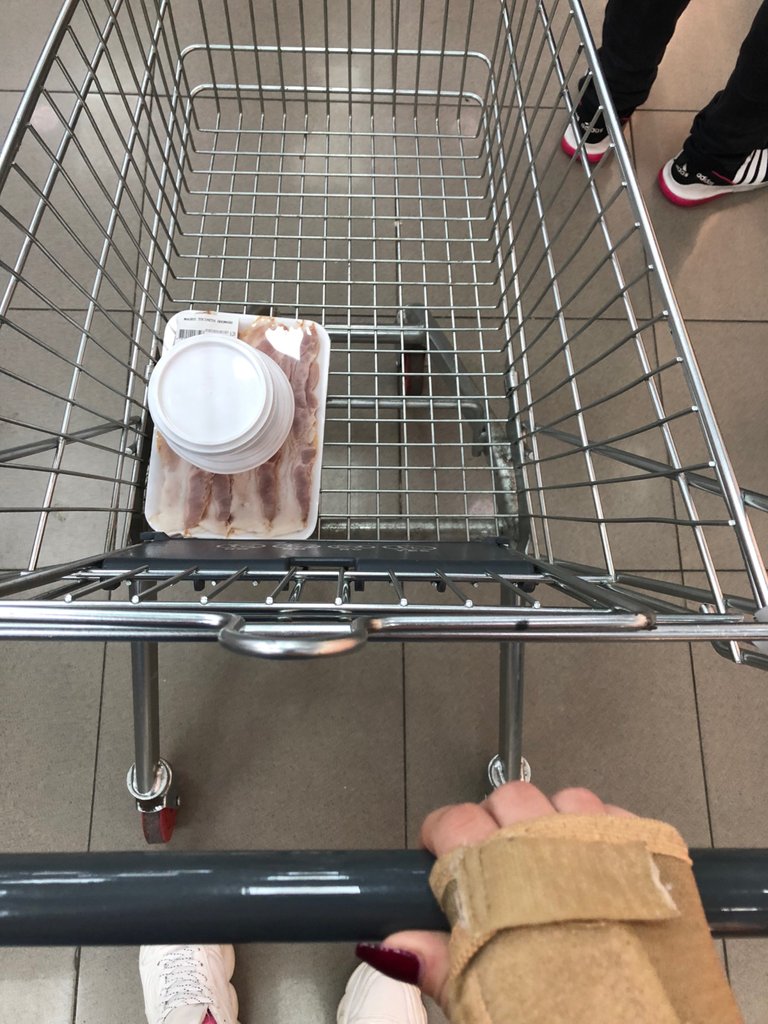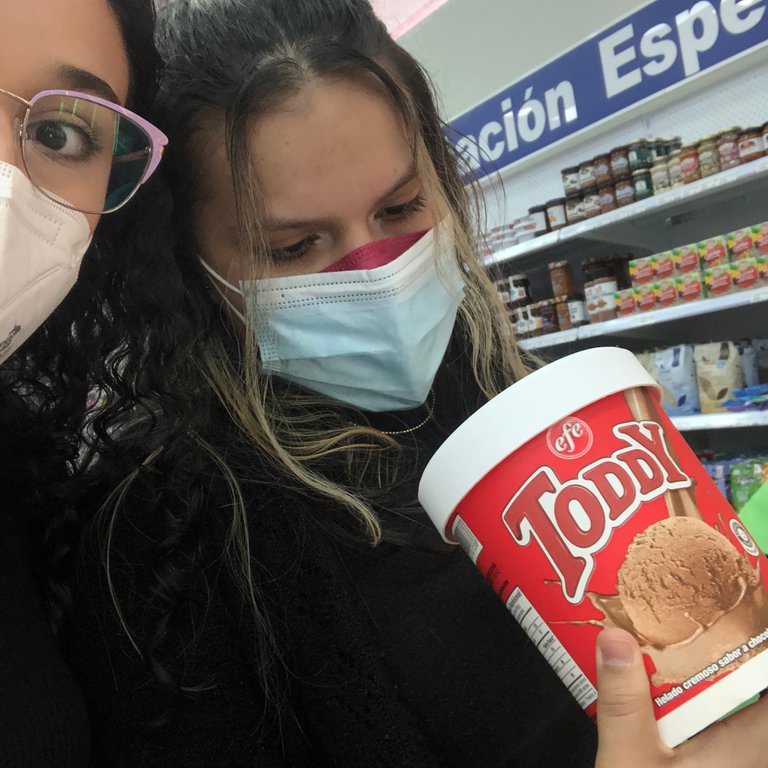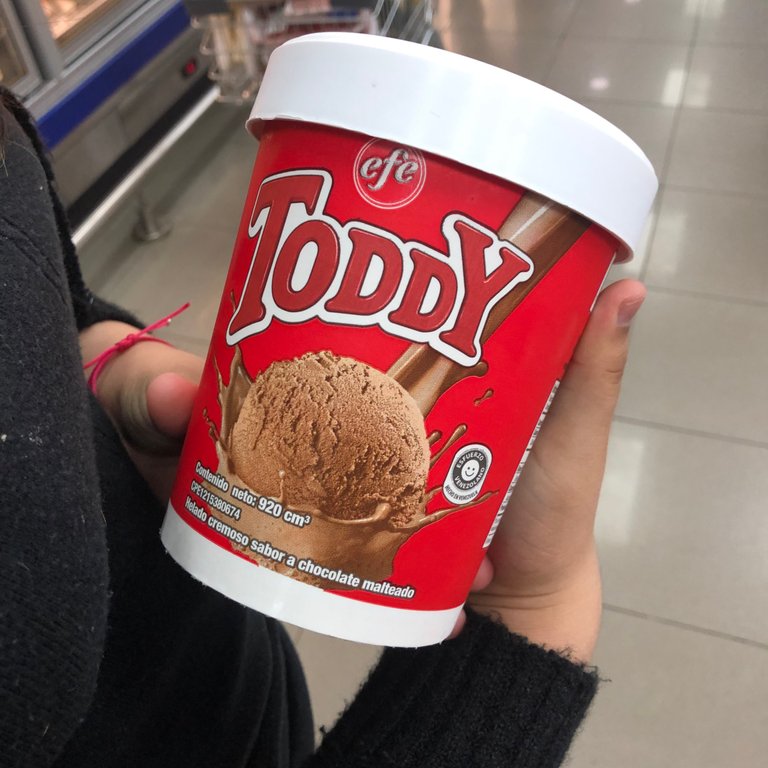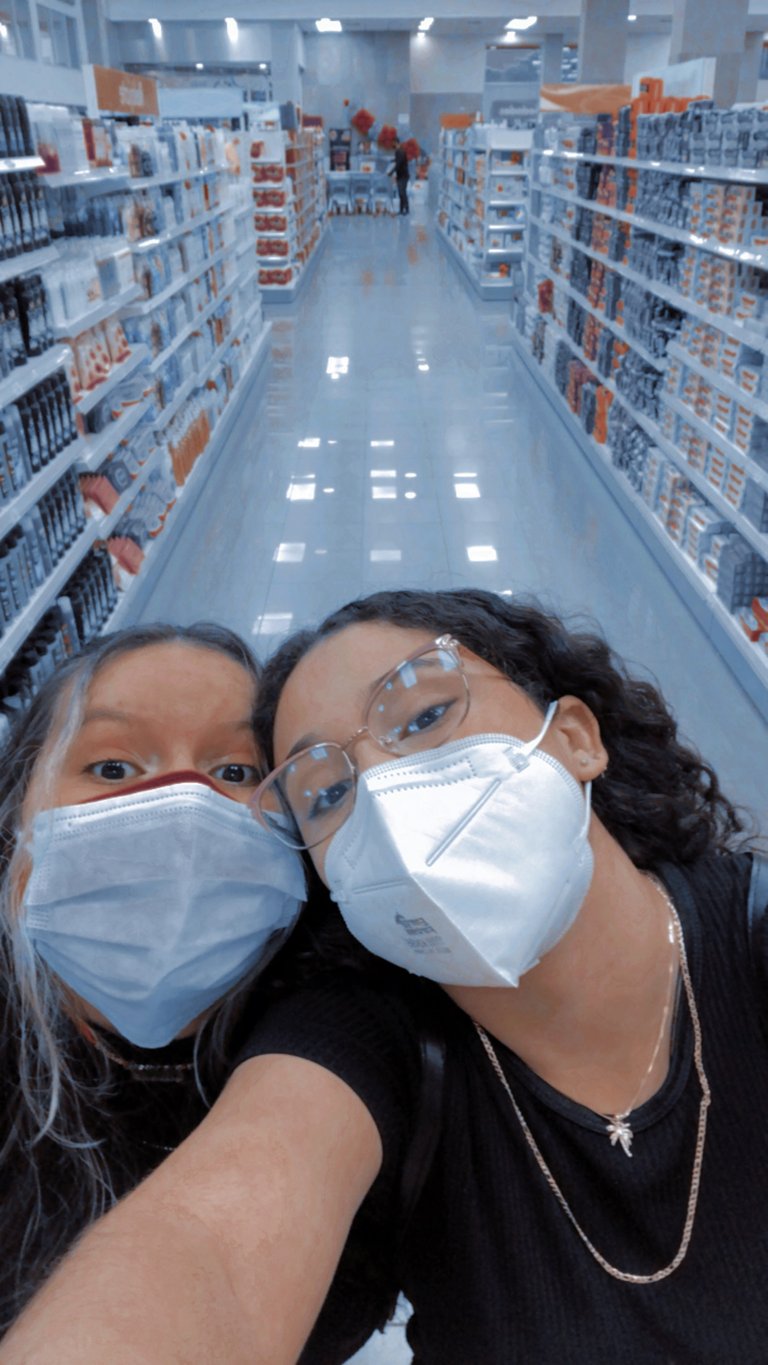 ---
En fin, este viaje por completo ha sido una aventura, bastante cansada y agotadora en lo que va de tiempo pero espero vaya mejorando y evolucionando de forma positiva, para la familia, la vida profesional, financiera, estabilidad, todo lo que ayude a mejorar como persona y mejorar el futuro que quiero lograr. Gracias por leerme otro día más, por reír tanto como yo de mis payasadas y con todo y una mano mala sigo escribiendo JAJAJAJA (Siempre el masoquismo) saludos grandes y nos estaremos leyendo con más⚡️🤍.
Anyway, this journey has been an adventure, quite tiring and exhausting so far but I hope it will improve and evolve in a positive way, for the family, professional life, financial, stability, everything that helps to improve as a person and improve the future I want to achieve. Thanks for reading me another day, for laughing as much as I do at my antics and with everything and a bad hand I keep writing HAHAHAHAHAHAHA (Always the masochism) big greetings and we'll be reading each other with more⚡️🤍.
---

---
---