[ESP/ENG] 🙏🏻Walk to see the virgin in the valley🙏🏻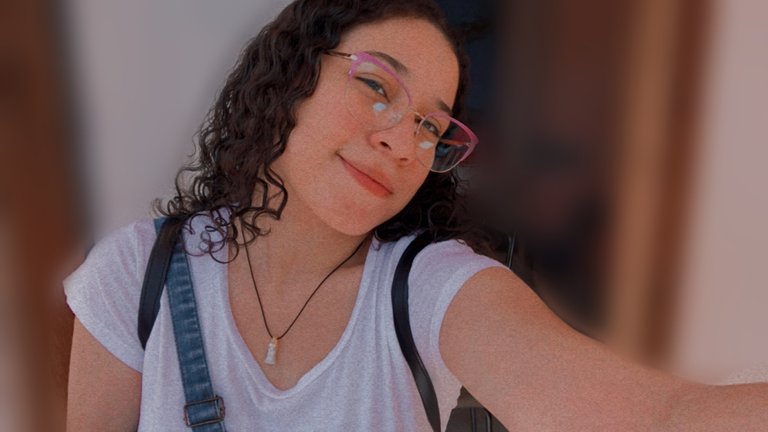 ---
🌊¡Hola, Comunidad de Hive!🌊
🌊¡Hello, Hive Community!🌊
---
Spanish
Hiverssss, este post gritará por todas partes un lugar muy hermoso y cómodo, muchos tienen la oportunidad de visitarlo constante, algunos otros anual y otros pocos ni lo conocen, yo actualmente soy un término medio, aunque he osado por todos jajajajajajajajjajaja. Muchos sabrán qué lugar es, con el título de este post😍.
Sabían que tenía súper tiempo sin salir de casa, así que quedé en compartirles cada que hiciera algo diferente, lo que no me esperaba y sé que ustedes tampoco, era terminar saliendo del estado, así que sí, justo eso pasó ajajjajaajjajaa.
Explícate un poco antes, mis abuelos hace más de 8 años, estaban Tan encantados con la isla de Margarita, que junto a un compadre, compraron un terreno en dicho lugar, Margarita es una isla de Venezuela muy conocida y encantadora, sobre todo por "El Valle" en donde cada 8 de septiembre celebran a la virgen Del Valle, tienen unas costumbres muy hermosas y su amor a la virgen es fascinante❤️. Mis abuelos, compraron un terreno junto con su compadre y construyeron ambas casas desde 0, cada quien su espacio con sus gustos, desde que la casa estaba en construcción yo iba demasiado constante con mis abuelos a ver todo, era una pequeña de apenas 10 años o un poco más, luego de la casa estar terminada por completo, íbamos cada fin de semana a pasar días tranquilos y felices allá, yo era la garrapata de mis abuelos así que iba con ellos fielmente cada fin ajjajajajajajajajja. Después de la pandemia la constancia se fue perdiendo a tal punto de que mis abuelos decidieron alquilar la casa y pues ahora, venderla, están las propuestas y las ganas de mis abuelos en venderla, pero aún no hacen nada oficial🥺 (Me pone muy triste pero no tengo vela en ese entierro). Hace 3 días exactamente, de sorpresa me dijeron que me habían comprado pasaje para viajar con ellos este fin, admito que las cosas fuera de una planificación aunque sea mínima de un día me estresan en exceso, pero no podía decir nada, ya los pasajes estaban, así que empaqué y el día viernes estaba en la lancha con mis abuelos a eso de 9:30am❤️.
English
Hiverssss, this post will scream everywhere a very beautiful and comfortable place, many have the opportunity to visit it constantly, some others annual and a few others do not even know it, I am currently a middle ground, although I have dared by all jajajajajajajajajajajajajajajajajajajajaja. Many will know what place it is, with the title of this post😍.
You knew I had super time without leaving the house, so I agreed to share with you every time I did something different, what I didn't expect and I know you didn't either, was to end up leaving the state, so yes, just that happened hahahahahahahahahahahahahahahahahaha.
Explain a little before, my grandparents more than 8 years ago, they were so enchanted with the island of Margarita, that together with a compadre, they bought a land in that place, Margarita is an island of Venezuela very well known and charming, especially for "El Valle" where every September 8 they celebrate the virgin Del Valle, they have some very beautiful customs and their love for the virgin is fascinating❤️. My grandparents, bought a land along with his compadre and built both houses from 0, each one their space with their tastes, since the house was under construction I was going too constant with my grandparents to see everything, I was a little girl of just 10 years or a little more, after the house was completely finished, we went every weekend to spend quiet and happy days there, I was the tick of my grandparents so I went with them faithfully every weekend ajjajajajajajajajajajajajajajajajja. After the pandemic the constancy was lost to the point that my grandparents decided to rent the house and now, sell it, there are proposals and the desire of my grandparents to sell it, but still do not do anything official🥺 (It makes me very sad but I have no candle in that funeral). Exactly 3 days ago, by surprise they told me that they had bought me a ticket to travel with them this weekend, I admit that things out of a planning even a minimum of one day stress me excessively, but I could not say anything, the tickets were already there, so I packed and on Friday I was on the boat with my grandparents at about 9:30am❤️.
---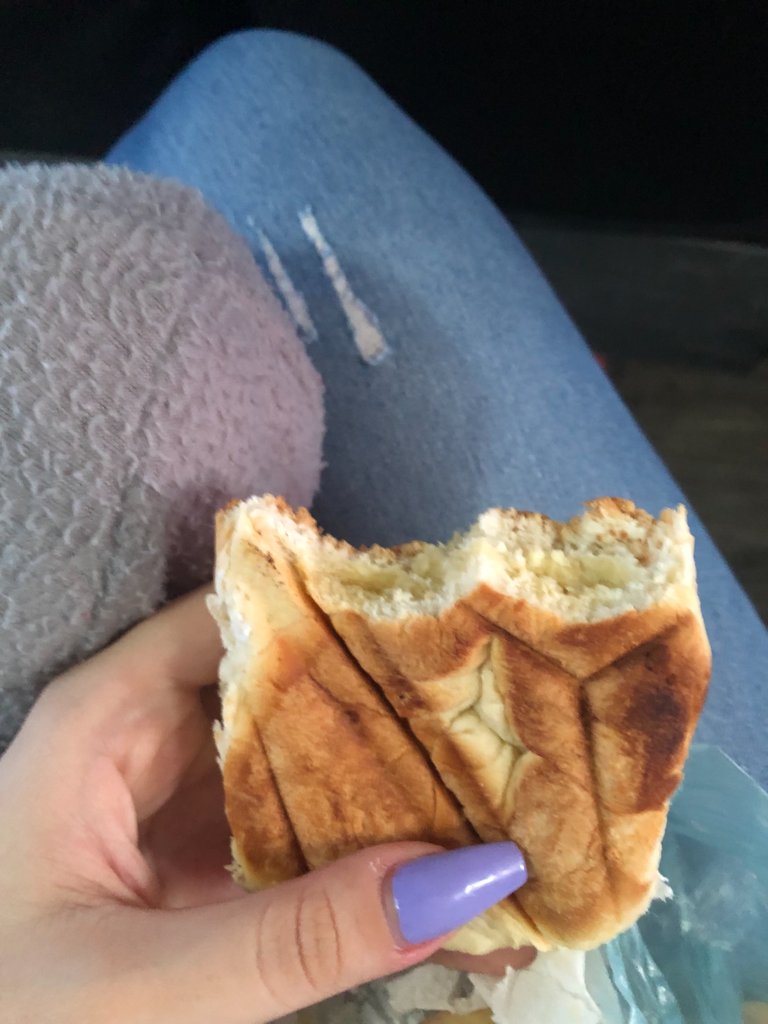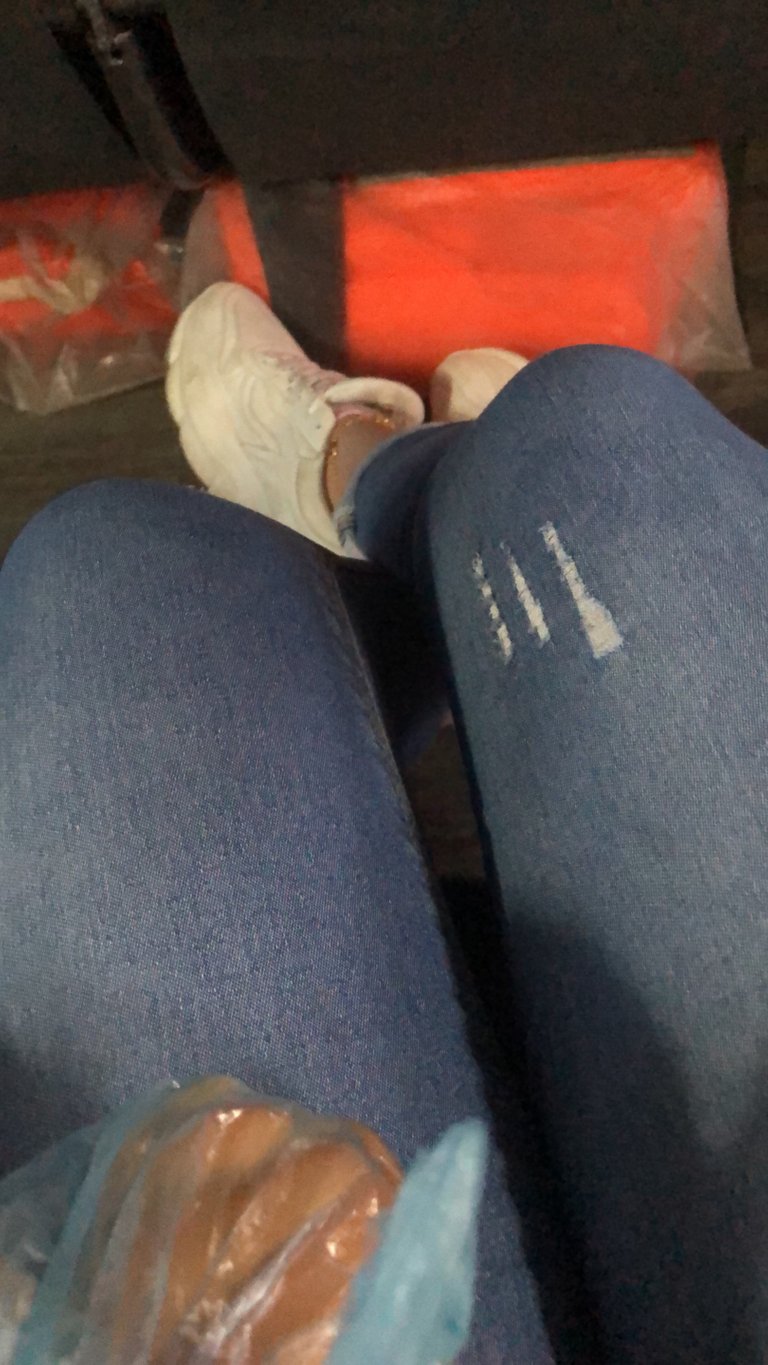 ---
La lancha se tardó 2:30 hrs en llegar a la isla, yo comí, escuché música un rato y como no había dormido nada, terminé tomando una siesta mientras llegábamos, apenas tocamos tierra a eso de 12pm, tomamos un bus a Porlamar, de allí tomamos uno al valle y visitamos la iglesia y a la virgen, estuve muy emocionada, creo que era lo que más me entusiasmaba del viaje, salí luego a los kioskos Del Valle, buscando una virgencita en collar que quería para mí y unos detallitos, fuera de la iglesia y en el bus, no pude sacar el teléfono por cuestiones de seguridad, pero dentro pudimos tomarle fotos a la Virgen, de verdad fue hermoso, le dejamos unas flores y nos dispusimos a retirarnos, para ese momento eran más de las 2:30pm, así que tomamos un bus nuevamente a porlamar, luego uno a Juan Griego y luego otro a Pedro Gonzales que es donde mi abuelo tiene su casa, cabe destacar que llegamos exhaustos, comimos y queríamos dormir, pero bajamos a reunirnos con la gente que tenía yo particularmente casi más de 4 años sin ver y era hora de reencontrarnos🥺.
The boat took 2: 30 hrs to reach the island, I ate, listened to music for a while and as I had not slept at all, I ended up taking a nap while we arrived, as soon as we touched land at about 12pm, we took a bus to Porlamar, from there we took one to the valley and visited the church and the virgin, I was very excited, I think it was what I was most excited about the trip, Then I went out to the kiosks in Del Valle, looking for a little virgin in a necklace that I wanted for me and some small gifts, outside the church and in the bus, I could not take out the phone for security reasons, but inside we could take pictures of the Virgin, it was really beautiful, we left her some flowers and we were ready to leave, by that time it was after 2:30 pm, so we took a bus to Porlamar, we took a picture of the Virgin and we went back to the church and we went to the bus to Porlamar: 30pm, so we took a bus again to Porlamar, then one to Juan Griego and then another to Pedro Gonzales which is where my grandfather has his house, it should be noted that we arrived exhausted, we ate and wanted to sleep, but we went down to meet with people that I had particularly almost more than 4 years without seeing and it was time to meet again🥺.
---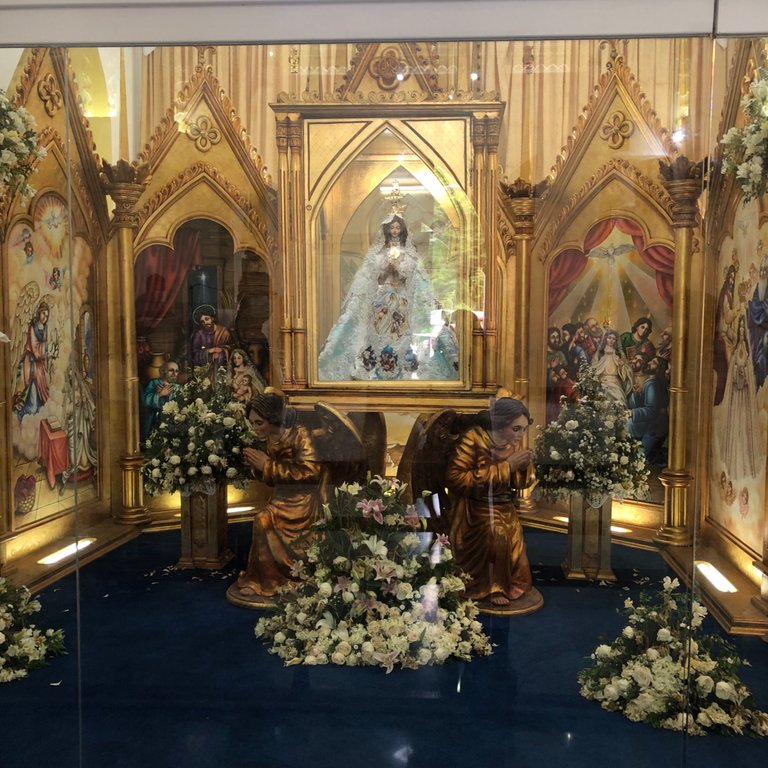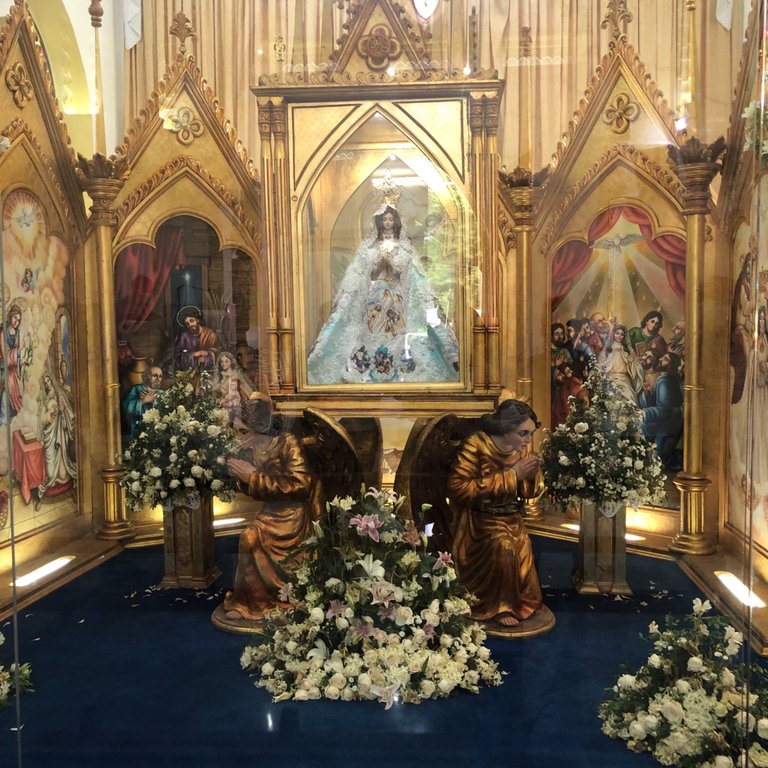 ---
Después de las reuniones, charlas y comidas, caí muerta hasta el otro día, donde me despegaron con unas deliciosas empanadas, muy feliz estaba jajajajajjaaj. Como viaje con mis abuelos, no salieron ni me dejaron salir sola a la playa o algún centro comercial, así que no pude pasear, pase loq je fue el día sábado en la casa con ellos y con unos amigos de allí, hablando, riendo y caminando, nada fuera de lo común.
Lo más divertido fue hacer unas galletas, pero más tardamos haciéndolas en el cuarto que mi amiga comiéndolas, así que de eso no tengo buenas fotos como podrán observar🤡.
Al día siguiente nos dispusimos a irnos, desde las 10 am en el proceso de los buses, 3, para ser exacta, llegamos al terminal a eso de 2:30 olmos, desde las 10am que salimos 🤡 y no osamos más de 30min confirmando pasajes y montándonos en la lancha, estaba muy estresada y molesta, así que comí y pase el viaje en el mood de mi peluche sin dormir jajajaja.
La verdad fue un viaje hermoso por el simple hecho de ir al valle y ver a la
Virgen, no quería venirme😂😂🤭.
After the meetings, talks and meals, I fell dead until the next day, where they took me off with some delicious empanadas, I was very happy hahahahahahahahahahahah. As I was traveling with my grandparents, they didn't go out or let me go alone to the beach or any mall, so I couldn't go for a walk, I spent Saturday at home with them and some friends from there, talking, laughing and walking, nothing out of the ordinary.
The most fun was making some cookies, but it took us longer making them in the room than my friend eating them, so I don't have good pictures of that as you can see🤡.
The next day we were ready to go, since 10am in the process of the buses, 3, to be exact, we arrived at the terminal at about 2:30 elms, since 10am we left 🤡 and we did not dare more than 30min confirming tickets and getting on the boat, I was very stressed and upset, so I ate and spent the trip in the mood of my teddy without sleeping hahahahaha.
The truth was a beautiful trip for the simple fact of going to the valley and seeing the Virgin.
Virgin, I didn't want to come😂😂🤭.
---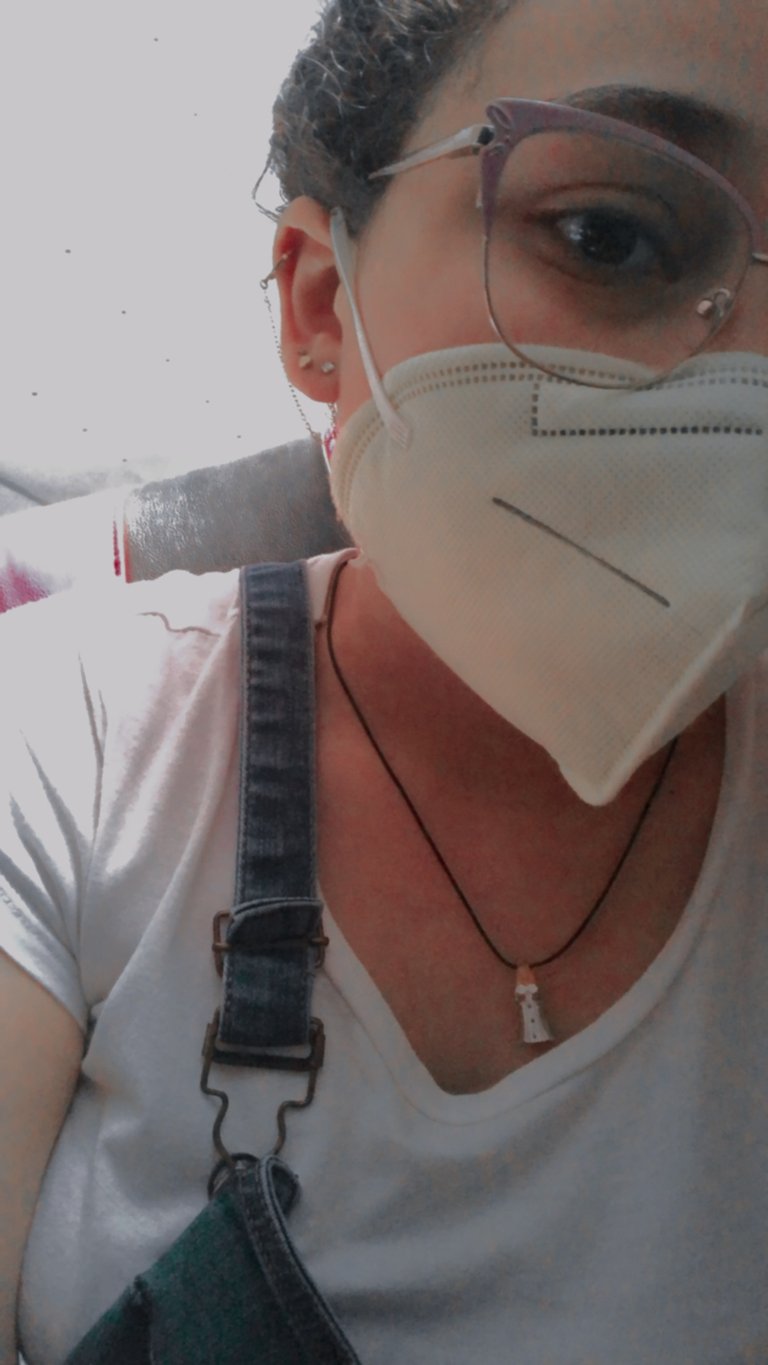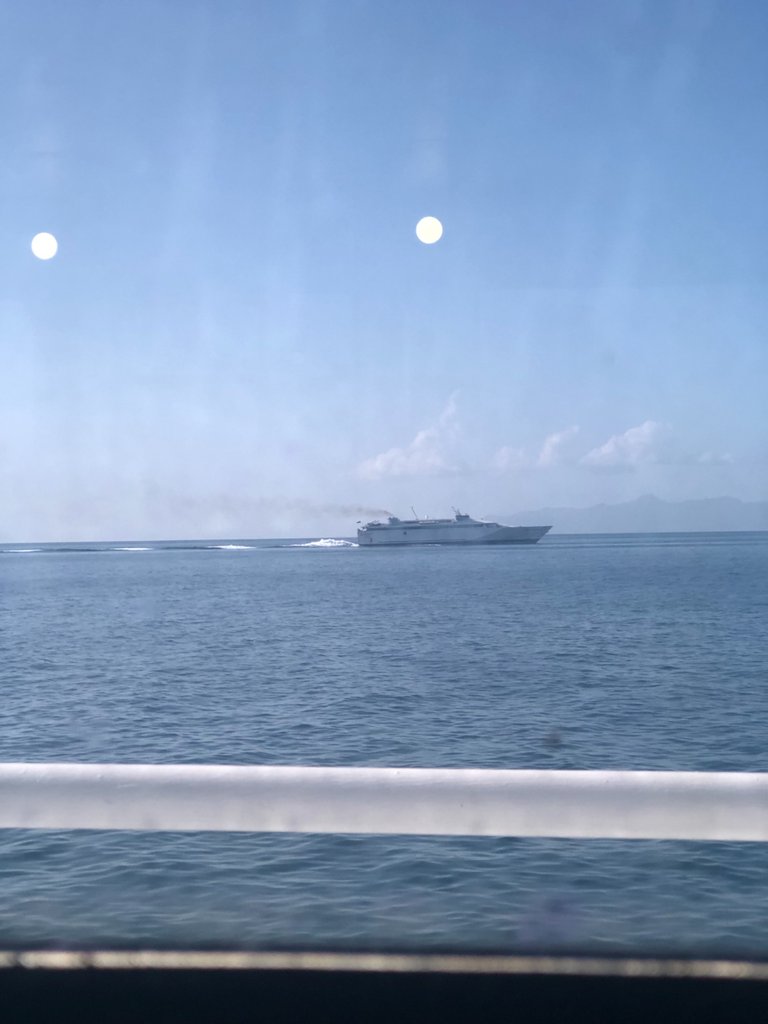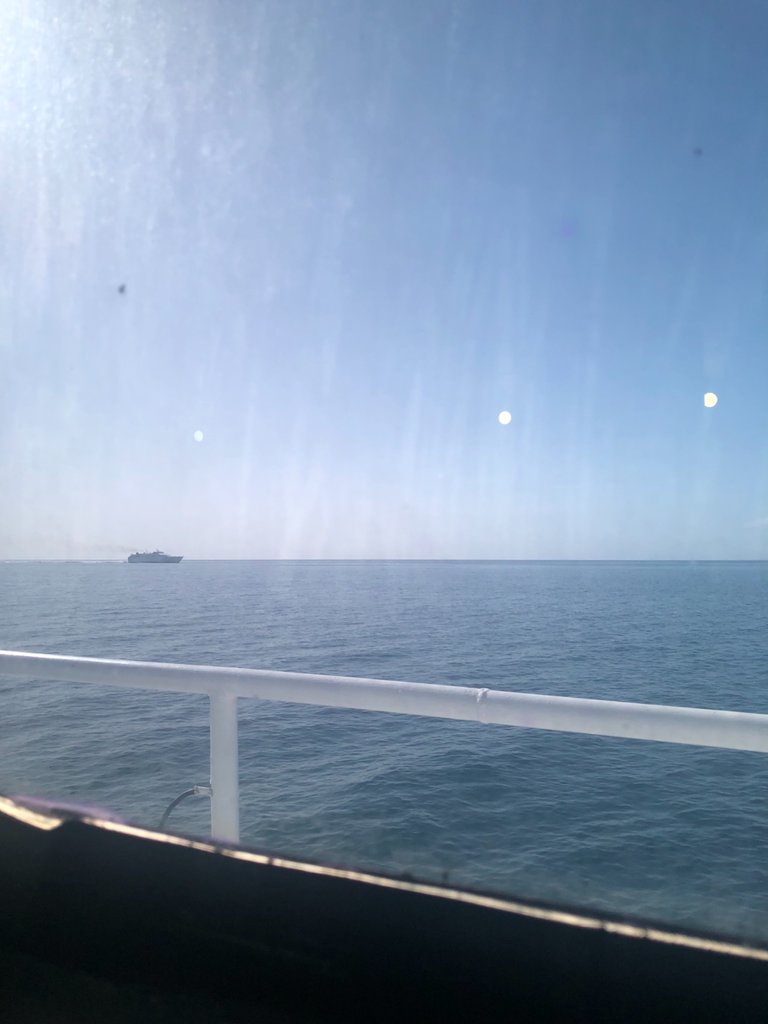 ---
Gracias por leerme hiversss, espero también me comenten aquellos que han ido o han viajado recientemente a este hermoso lugar, saludos gigantes y nos estaremos leyendo pronto con más…⚡️❤️.
Thanks for reading me hiversss, I hope you also comment me those who have gone or have recently traveled to this beautiful place, greetings giants and we will be reading each other soon with more...⚡️❤️.
---

---
---