A Night at the Blue Lake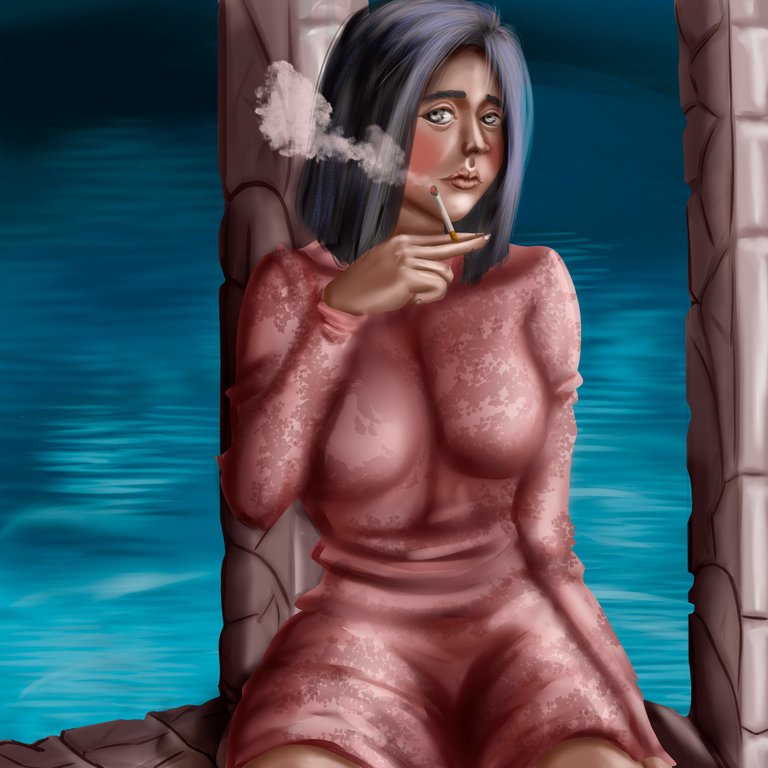 Very good evening to all those who read me here, happy start of the week and I hope you have had a great weekend, today I come very fresh and with full recharged batteries to share with you a new illustration for my artistic blog; in this work today I tried to capture something quite simple, without much particular theme or style, but something free where I could let my hand a little loose and let the ink and colors run in a more harmonized way. The character I decided to create is a pretty girl whom I named Caroll, who is sitting or resting on a kind of balcony or terrace, with the only company of a cigarette in her hand; with her eyes slightly downcast which denotes sadness or regret, while the cold night covers with its mantle the whole scene:
Muy buenas noches tengan todos los que por aquí me leen, feliz inicio de semana y espero que hayan pasado un excelente fin de semana, el día de hoy vengo muy fresco y con las baterías full recargadas para compartirles una nueva ilustración para mi blog artístico; en esta obra del día de hoy lo que trate fue de plasmar algo bastante sencillo, sin tanta temática o estilo particular, sino algo libre donde pudiera soltar un poco la mano y dejar correr la tinta y los colores de una manera mas armonizada. El personaje que decidí crear es una linda chica a la cual le puse como nombre Caroll, la cual se encuentra sentada o reposada en una especie de balcón o terraza, con la única compañía de un cigarrillo en su mano; con su mirada levemente decaída la cual denota tristeza o pesar, mientas la fría noche cubre con su manto toda la escena:
PROCESS / PROCESO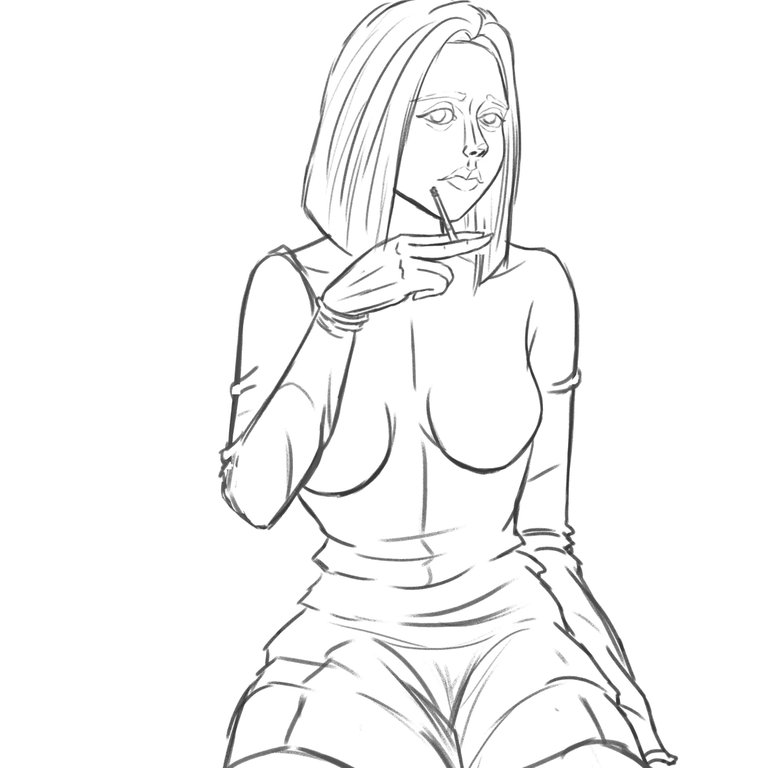 I have more and more experience and I feel much more comfortable drawing this kind of characters, since I focus more and more on giving a good appearance and essence to the characters, which after all are the center of any illustration; in this case I gave Caroll an appearance as if she was a young woman of about 25 years old approximately, with short hair and a long full dress. The colors chosen to give shape to this work were very old shades of my color palette and that I had not used for a long time; for example, for the skin I used a very salmon tone to give a more pink and feminine appearance to the character.
Cada vez tomo más experiencia y mi siento mucho más cómodo dibujando este tipo de personajes, ya que me enfoco mas que todo en darle una buena apariencia y esencia a los personajes, que a fin de cuentas son el centro de cualquier ilustración; en este caso le di a Caroll una apariencia como se ella fuera una joven mujer de unos 25 años aproximadamente, con un cabello corto y un largo vestido enterizo. Los colores elegidos para irle dando forma a esta obra fueron tonalidades muy antiguas de mi paleta de colores y que hace mucho tiempo no utilizaba; por ejemplo para la piel use un tono bastante Salmon para darle una apariencia mas rosada y femenina al personaje.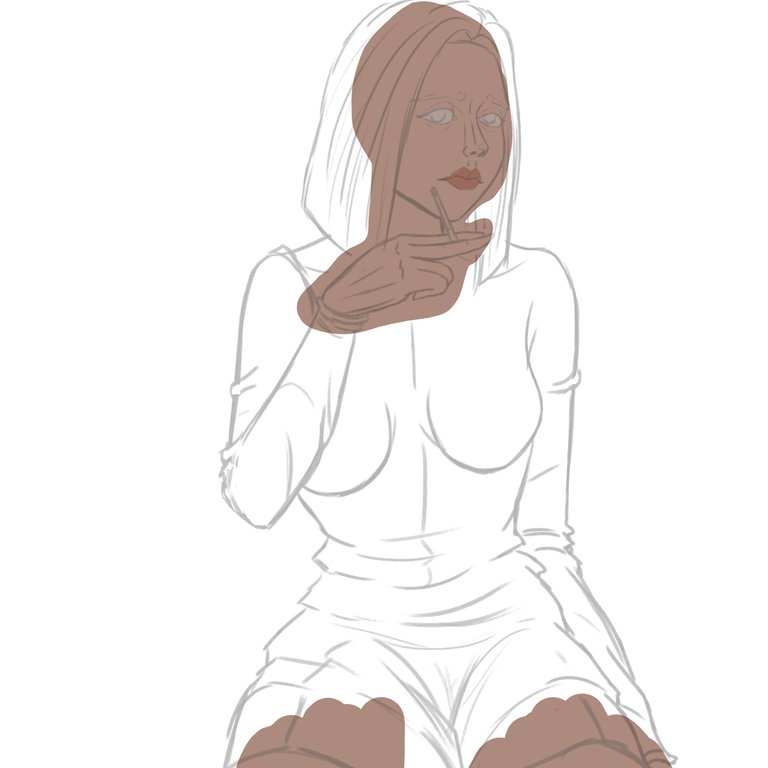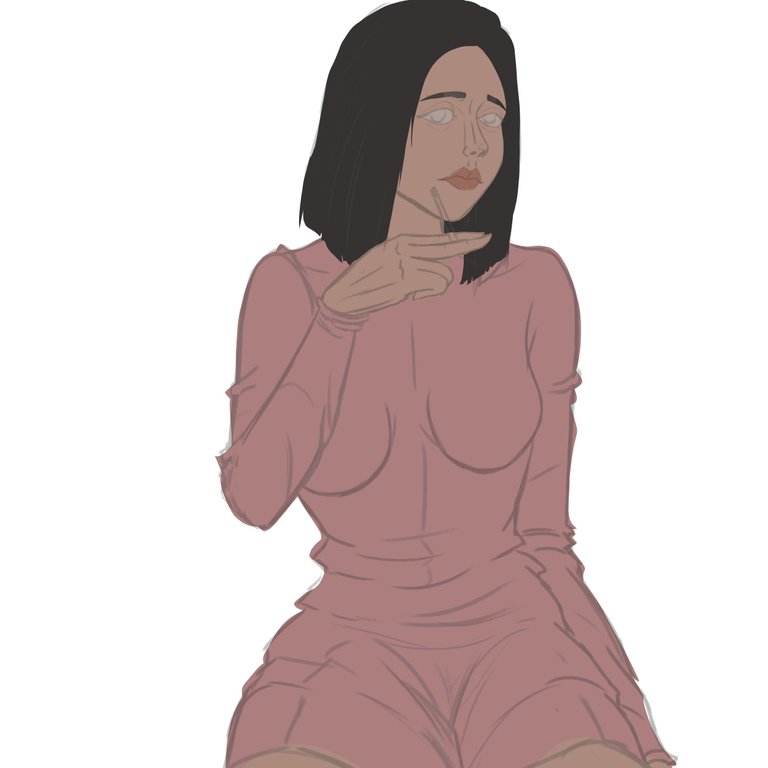 In many drawings it is common to start the texturing and shaping of the skin with airbrushes and brushes of that style, but in particular I prefer to use a watercolor brush with slightly irregular edges to get better defined shadows and shines; in addition to the intense colors I chose for the texture of the skin I also took advantage of the properties of the watercolor brush to blend and at the same time blurring the strokes and make the skin look a little more natural before adding blush. For the eyes I have the habit of using light and warm tones like blues and greens in my drawings, but in this case I opted for something different and used a gray color very similar to the hair and little by little I gave shape and shine to the iris and the eyeball.
En muchos dibujos es común empezar el texturizado y la forma de la piel con aerógrafo y pinceles de ese estilo, pero en lo particular yo prefiero usar un pincel de acuarela con bordes levemente irregulares para conseguir unas sombras y brillos mejor definidos; además de los colores intensos que elegí para la textura de la piel también aproveche las propiedades del pincel acuarella para ir mezclando y a la vez difuminando los trazos y que la piel se viera un poco mas natural antes de añadir rubor. Para los ojos tengo la costumbre de usar tonos claros y cálidos como azules y verdes en mis dibujos, pero en este caso opte por algo diferente y use un color gris muy similar al del pelo y poco a poco le fui dando forma y brillos al iris y al globo ocular.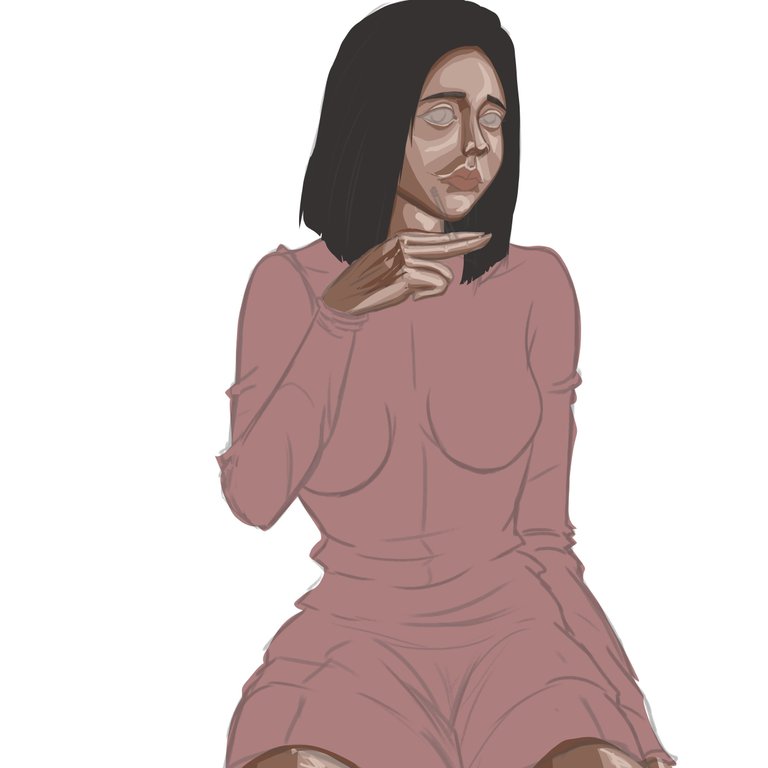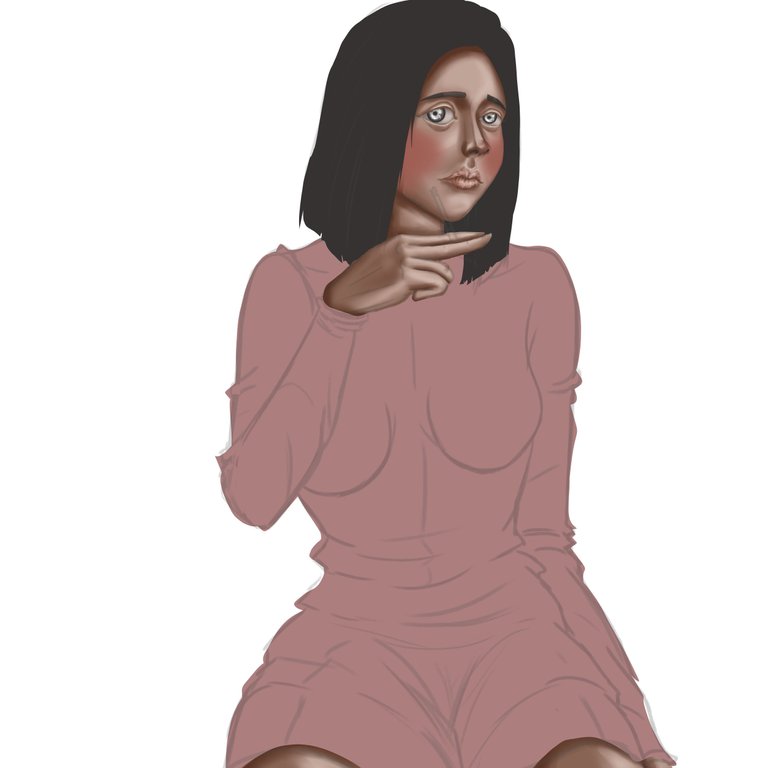 For Caroll's clothes I decided to make a dress as I already told you, and for this I based entirely on pink tones to get a more feminine look for the character; at first I used more medium colors of pink and with the watercolor brush I was giving them shape, but then in new layers I used much more intense tones and especially brushes a little more irregular along with a flat brush to establish the texture of the small wrinkles that have the dresses. As an extra touch for the dress I also added some textures like tree leaves that I really liked, after finishing the dress I moved on to painting the hair; as I already had a dark gray base color in the hair I just worked in gray scale to darker shades, and as a final touch I decided to add some electric blue in the form of light strands to give an even more unique touch to the hair.
Para la ropa de Caroll decidí hacer un vestido como ya les dije, y para esto me base enteramente en tonalidades rosadas para conseguir una apariencia mas femenina para el personaje; en principio use colores mas medios de rosa y con el pincel acuarela les fui dando forma, pero luego en nuevas capas use tonos muchos más intensos y sobre todo pinceles un poco mas irregulares junto con un pincel plano para establecer la textura de las pequeñas arrugas que tienen los vestidos. Como toque extra para el vestido añadí también ciertas texturas como de hojas de árbol que me gustaron mucho, después de terminar el vestido me pasé al pintado del cabello; como en el pelo ya tenia un base de color gris oscuro solo trabaja en escalla de grises hacia tonalidades un poco mas oscuras, y como toque final decidí añadir un poco de azul eléctrico en forma de leves mechones para darle un toque aún más único al pelo.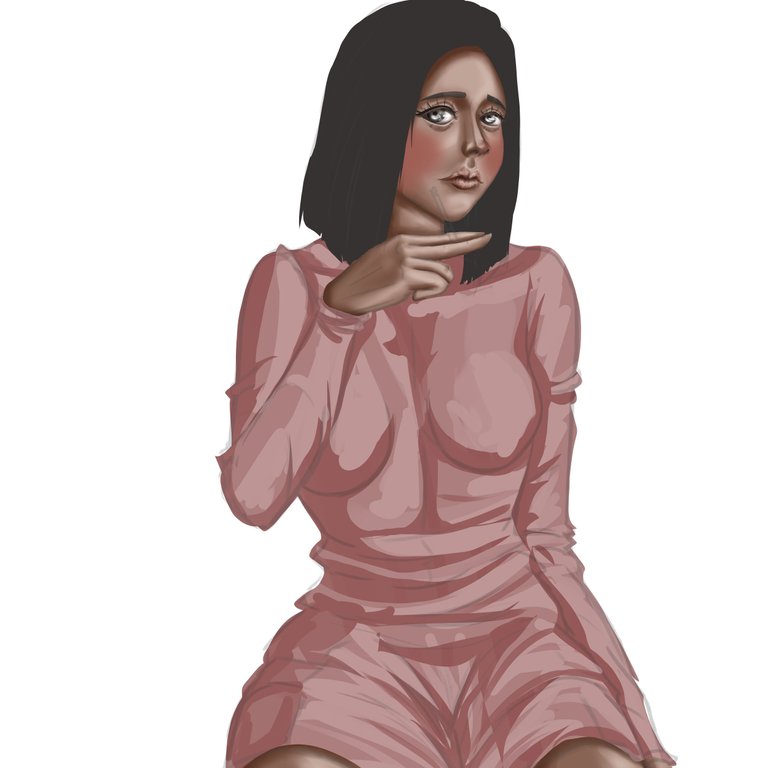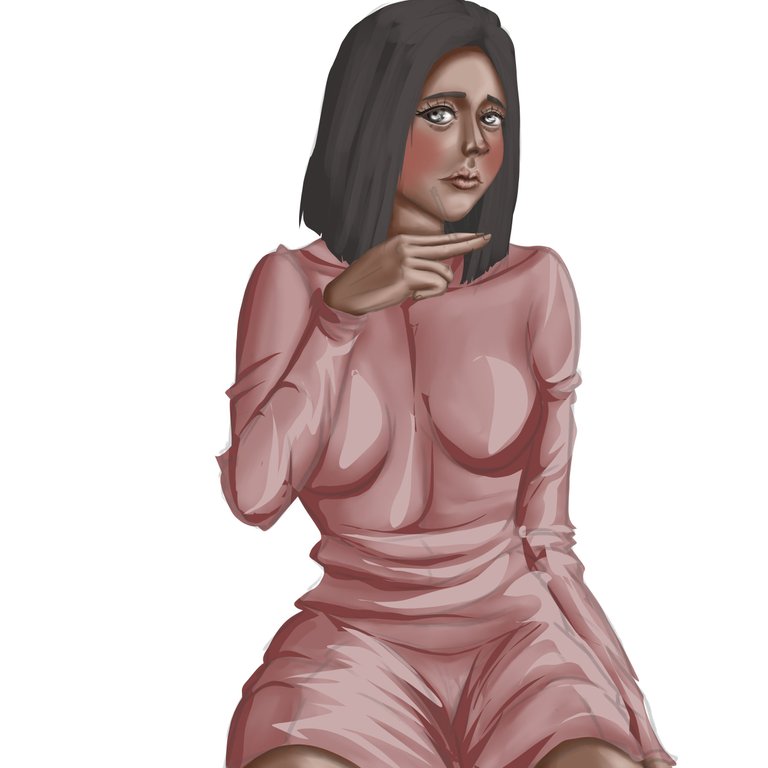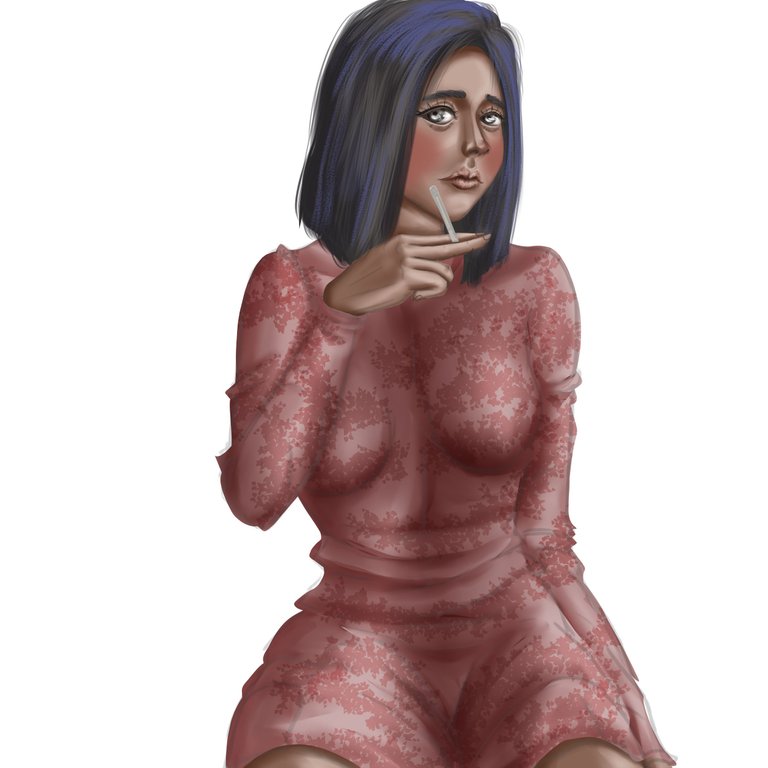 For the final part I only dedicated myself to give color and shape to the cigarette in Carroll's hand with brushes of worn texture, I also created what would be the slight trail of smoke emanating from the cigarette and I also painted a little red on the tip to give even more the idea that the cigarette is lit. Finally I created what would be the balcony where Caroll would be sitting and this I did with shades very close to gray and little by little I was shaping the bricks as if they were bricks of an old castle or something like that; for what would be the farthest part of the Barckground I decided to create a small blue lake, with a little turquoise blue I created the water of the lake and with the help of a brush (Krita) I could create a small very clear lines to simulate the slight waves that produce the water even in calm.
Para la parte final solo me dedique a darle color y forma al cigarrillo en la mano de Carroll con pinceles de textura desgastada, también cree lo que seria la leve estela de humo que emana del cigarrillo y también pinte un poco de rojo en la punta para dar todavía más la idea que el cigarrillo este encendido. Por ultimo cree lo que seria el balco donde estaría sentada Caroll y esto lo hice con tonalidades muy cercanas al gris y poco a poco le fui dando forma a los ladrillos como si se trataran de ladrillos de un castillo antiguo o algo por el estilo; para lo que sería la parte más lejana del Barckground decidí crear un pequeño lago azul, con un poco de azul turquesa fui creando el agua del lago y con ayuda de un pincel de (Krita) pude crear una pequeñas líneas muy clara para simular las leves ondas que producen el agua aun en calma.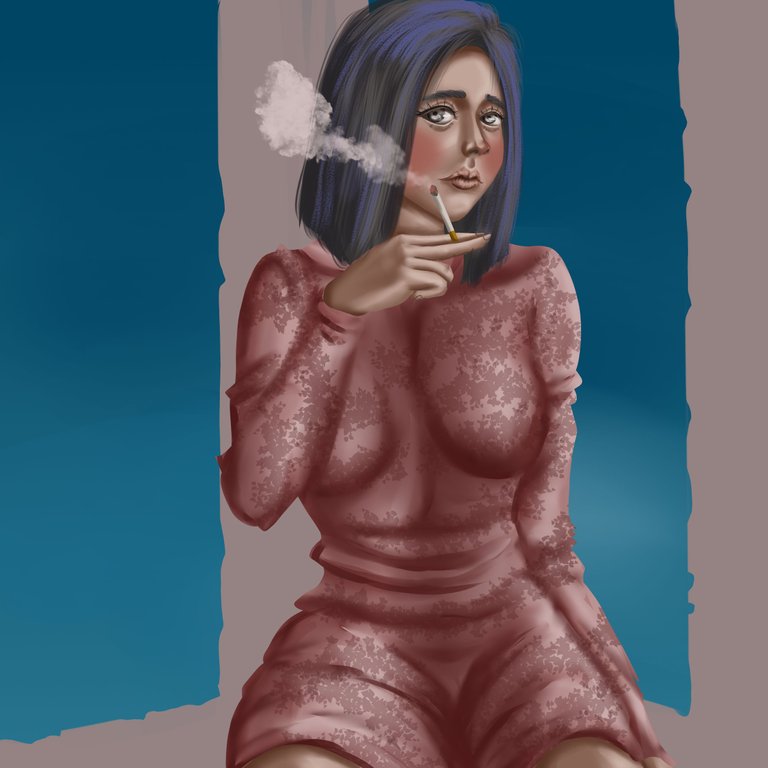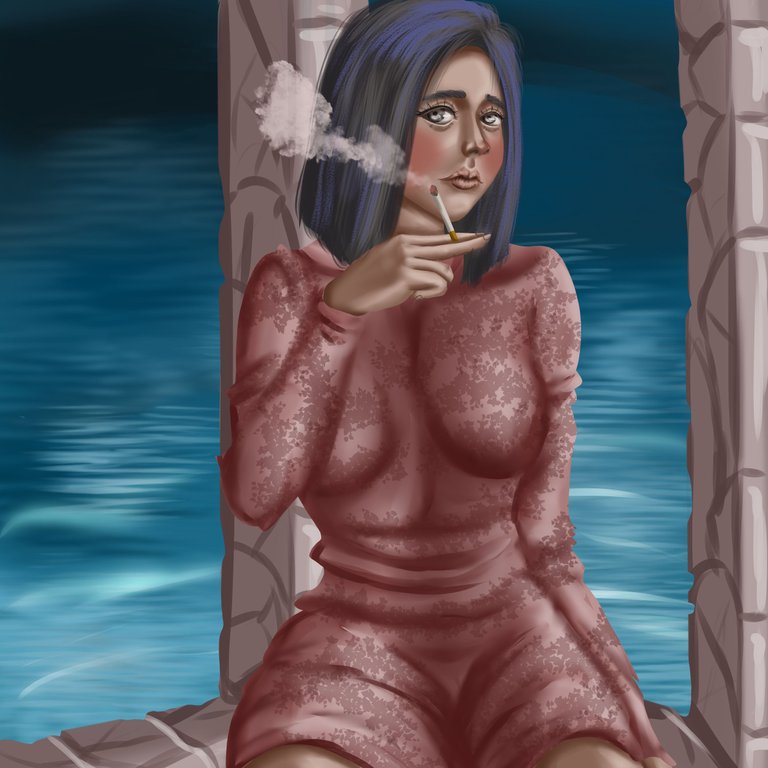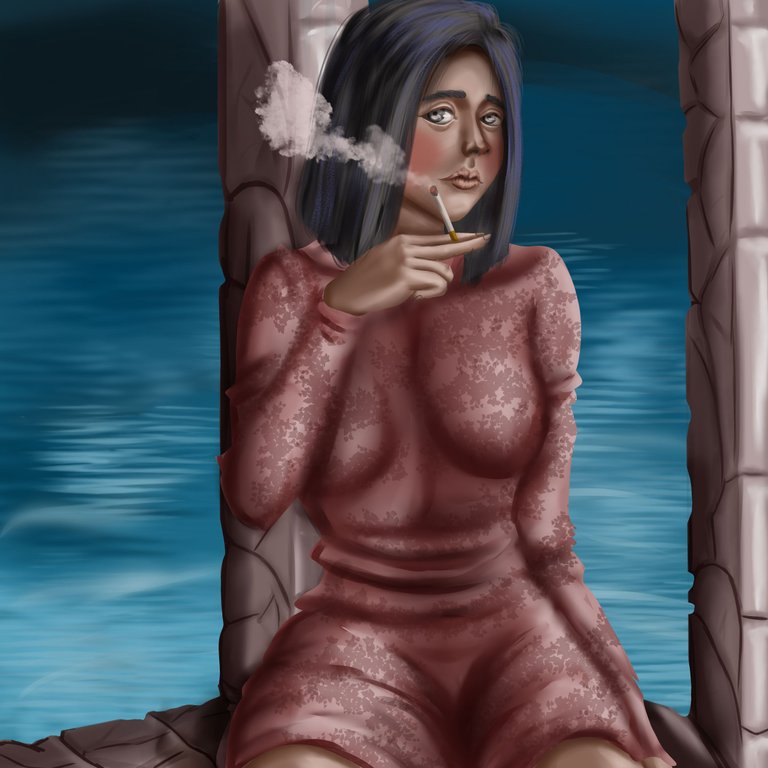 MATERIALS / MATERIALES
Sai Paint Tool Program
Huion inspiroy h610 v2 tablet
Programa Paint Tool Sai
Tableta Huion inspiroy h610 v2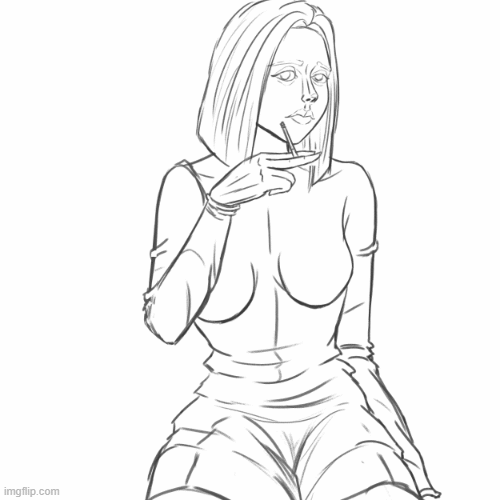 Well my dearest people this has been all for today, thank you very much for coming here and for watching the process of my drawing that I hope you have loved it as much as I did; I send you a big greeting and I will see you very soon in a next post...see you soon!
Bueno mi queridísima gente esto ha sido todo por el día de hoy, muchas gracias por haber llegado hasta aquí y por ver el proceso de mi dibujo que espero les haya encantado tanto como a mi hacerla; les mando un gran saludo y nos veremos muy pronto en un próximo post...hasta luego!.
---
---