Carmen, Queen Of Diamonds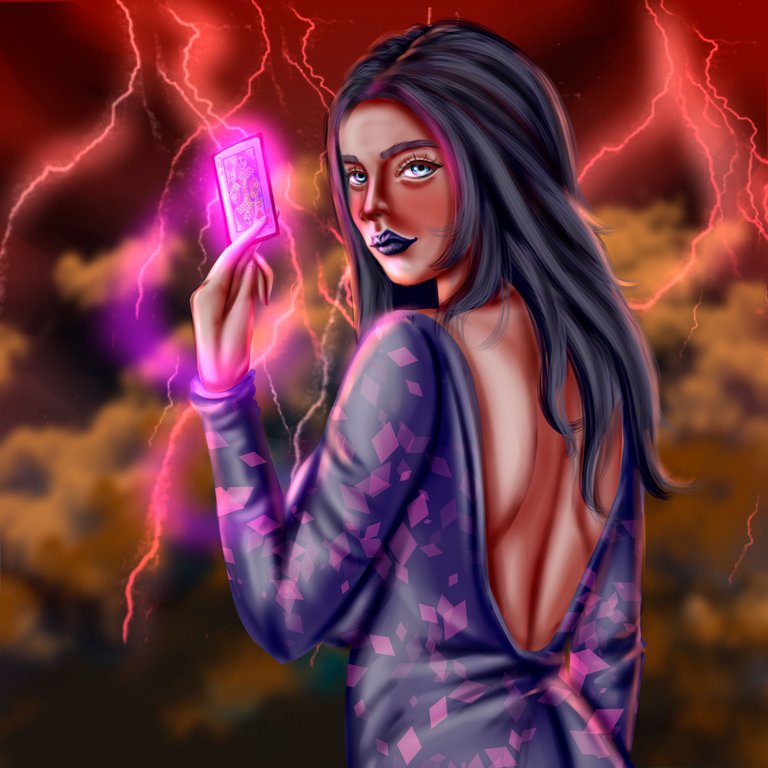 Hello my people, happy Wednesday to all of you who are here reading me and welcome back to my art blog; today I want to bring you a work with a magical theme and it is about the Queen of Diamonds. For days I had wanted to create something related to this, until I finally got down to work and decided to paint Carmen, which is a woman who has great gifts in the art of magic; she is known as the Queen of Diamonds because she uses the card of the (Queen of Diamonds) as a weapon, which throws with great force and power to her enemies with the help of her powers of telekinesis:
Hola mi gente, feliz miércoles para todos los que se encuentran por aquí leyéndome y sean bienvenidos otra vez a mi blog de arte; hoy les quiero traer una obra con temática mágica y se trata de la Reina de Diamantes. Desde hace días tenía ganas de crear algo relacionado con esto, hasta que finalmente me puse manos a la obra y decidí pintar a Carmen, la cual es una mujer que posee grandes dotes en el arte de la magia; se le conoce como la Reina de Diamantes pues utiliza la carta de la (Reina de Diamante) como arma, la cual arroja con gran fuerza y potencia a sus enemigos con ayuda de sus poderes de telequinesis:
PROCESS / PROCESO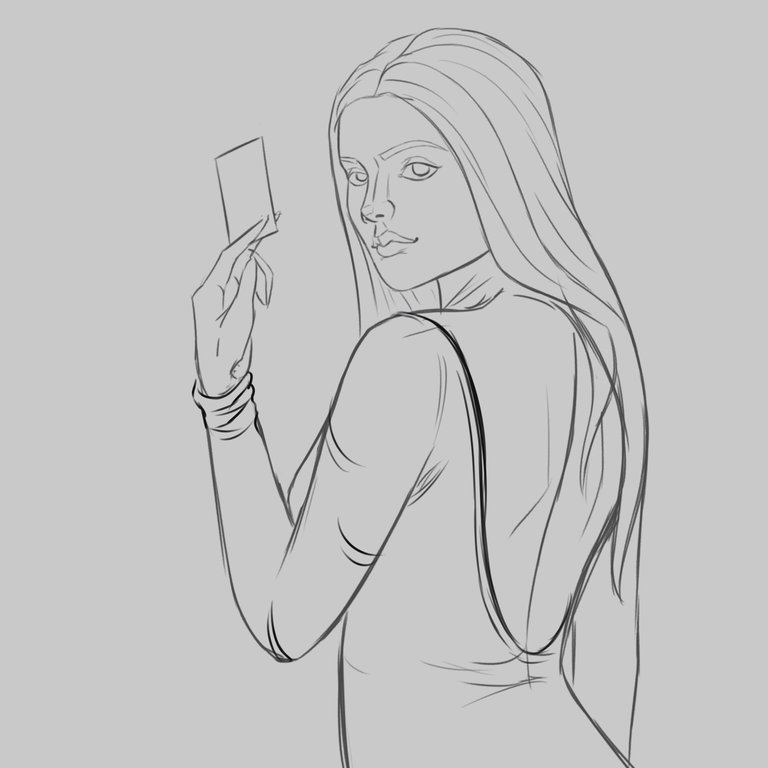 The first thing I had to do to start my drawing was to try to involve Carmen's character with the Queen of Diamonds card, so I decided to paint her in a pose as if she was turning to throw the card with her powers: I drew Carmen as a slightly mature woman of about 35-40 years old. To begin to give shape to my character I applied the colors each one in a separate layer, the skin for example was the first and I used a very pink tone as a base; for the clothes I used a soft purple base because later I wanted to create several details and so I had a good margin.
Lo primero que tenía que hacer para iniciar mi dibujo era tratar de involucrar al personaje de Carmen con la carta de la Reina de Diamantes, por ello decidí pintarla en una pose como si se encontrara volteándose para lanzar la carta con sus poderes: dibujé a Carmen como una mujer un poco madura de unos 35-40 años de edad. Para comenzar a darle forma a mi personaje fui aplicando los colores cada uno en una capa aparte, la piel por ejemplo fue lo primero y use un tono muy rosado como base; para la ropa use una base de purpura suave pues mas adelante quería crear varios detalles y así tenía buen margen.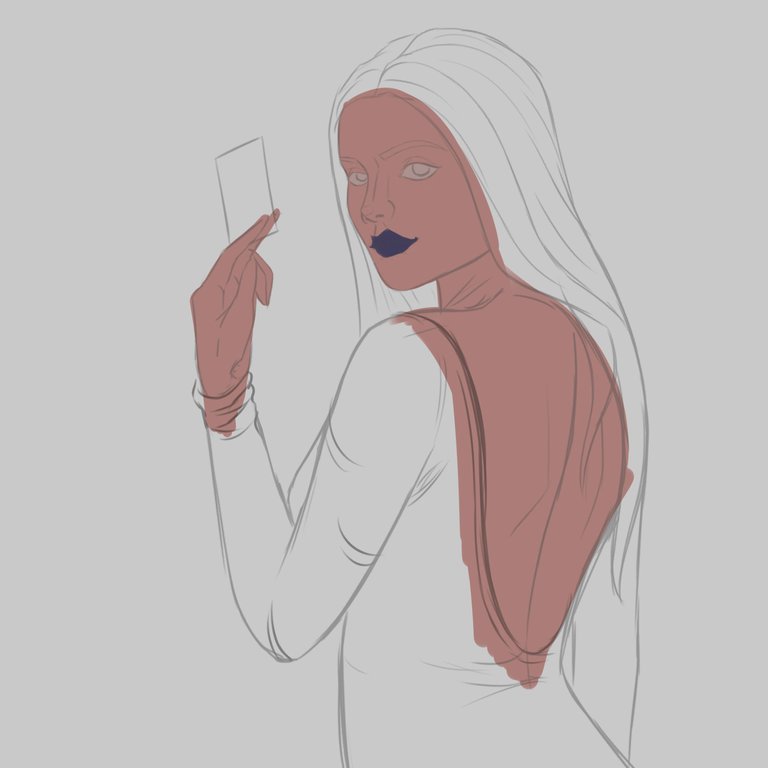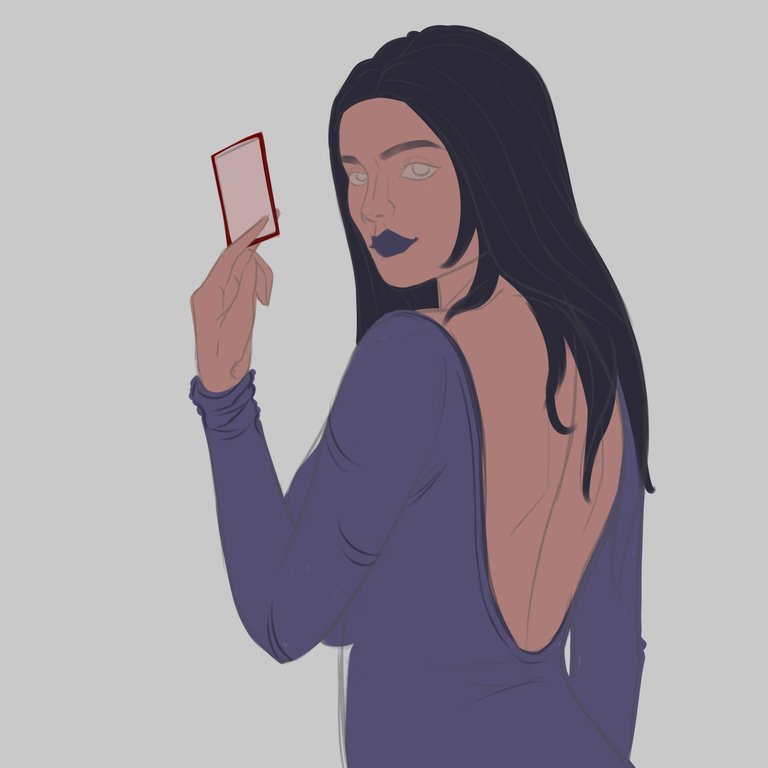 The construction of the skin is often somewhat complicated and time consuming, especially in female characters because they are looking for a very subtle softness; but for these cases I like to use the watercolor brush and the airbrush lightly mixed together. First I used the airbrush and over it the watercolor strokes so that they were blending evenly, after that a little blush on cheeks gives that feminine touch very realistic; for the eyes I used tones close to the skin and not white, this because the pure white tones make the eyes look very strange, then for lips and iris I went for much darker and colder tones like purples and blues.
La construcción de la piel muchas veces es algo complicada y tardada, sobre todo en personaje femeninos pues en ellos se buscar una suavidad muy sutil; pero para estos casos me gusta usar muchísimo el pincel de acuarela y el aerógrafo ligeramente mezclados entre sí. Primero usaba el aerógrafo y sobre el los trazos con acuarela para que se fueran mezclando uniformemente, después de ello un poco de rubor en mejillas le da ese toque femenil muy realista; para los ojos use tonos cercanos al de la piel y no blancos, esto pues los tonos blancos puros hacen que los ojos se vean muy extraños, después para labios y el iris si me fui para tonos mucho más oscuros y fríos como morados y azules.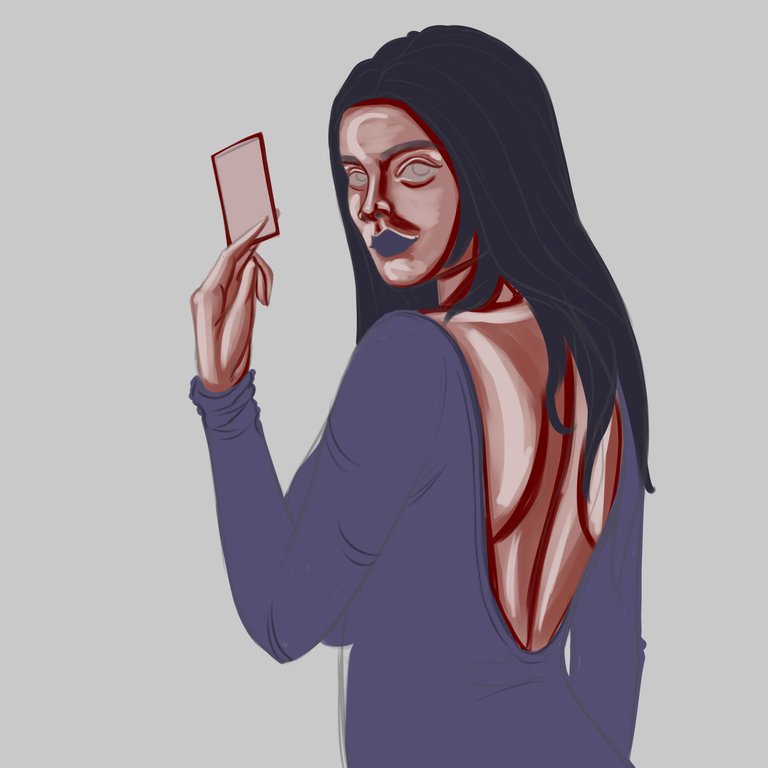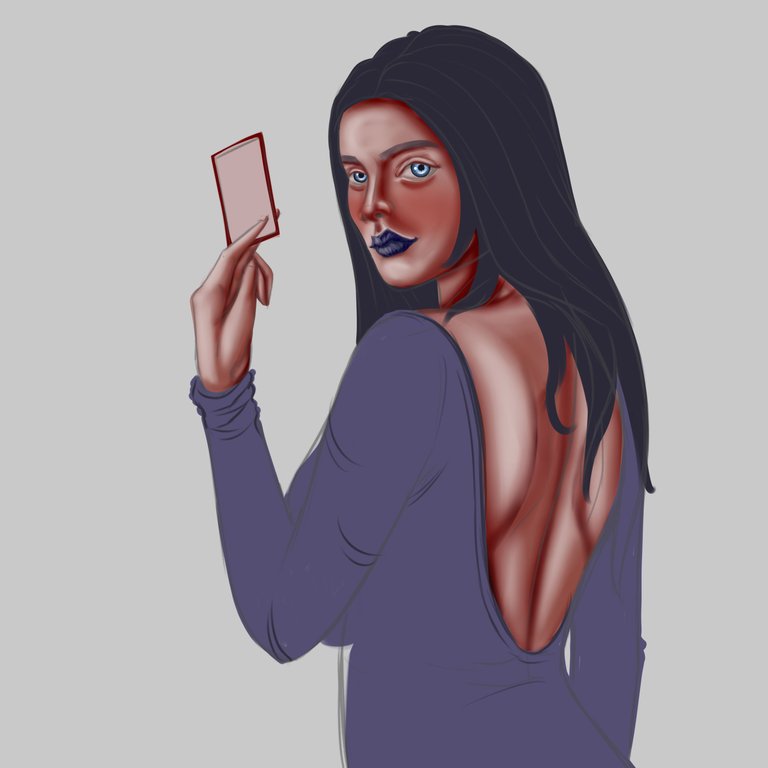 The painting of the dress was not so complicated, but it was a little late because I wanted to give a lot of texture and details that I really like for this type of clothing, I started by softening a little the base of the dress with the airbrush; then with watercolor and a flat tip brush I was creating lines and long-thin strokes to shape some wrinkles or folds that gave realism to the dress. Another final touch I decided to add a diamond pattern to the dress to complement the theme of the character; after the clothes I moved on to the hair, here I didn't get too complicated and decided to lighten the hair just a little when painting the strands of hair.
El pintado del vestido no fue tan complicado, pero si fue un poco tardado pues quise darle mucha textura y detalles que me gustan mucho para este tipo de ropa, comencé suavizando un poco la base del vestido con el aerógrafo; después con acuarela y un pincel de punta plana fui creando líneas y trazos largos-delgados para dar forma a algunas arrugas o pliegues que dieran realismo al vestido. Otro toque final que decidí agregar un patrón de diamantes al vestido para que tuviera un complemento con la temática del personaje; luego de la ropa pase al cabello, aquí no me complique demasiado y decidí aclarar solo un poco el pelo a la hora de pintar los mechones de pelo.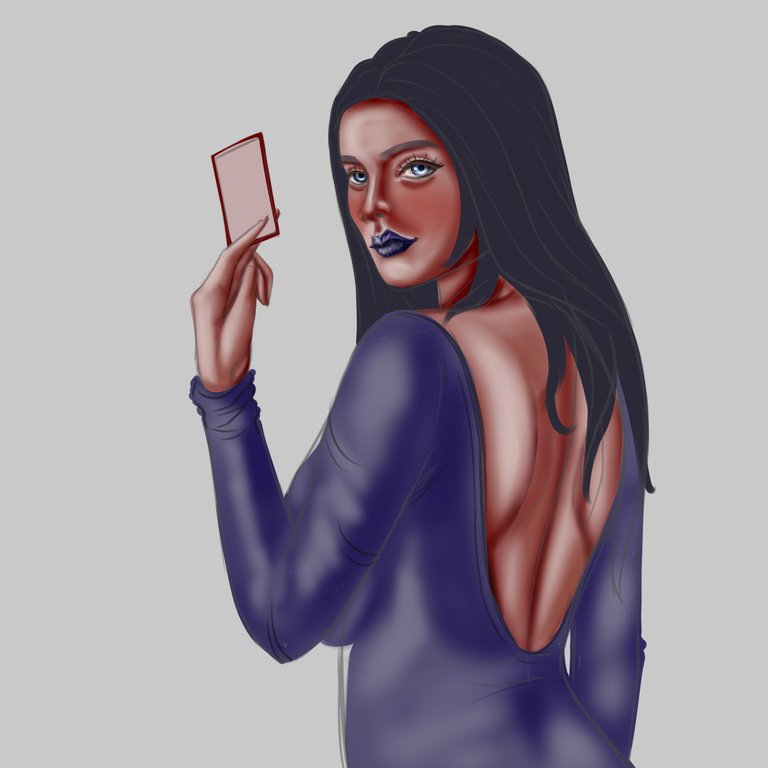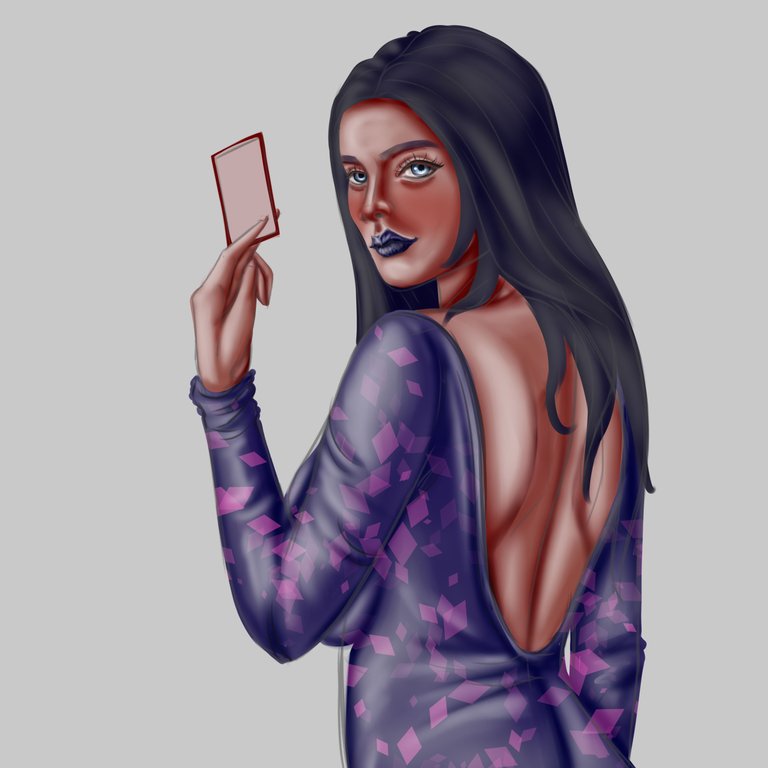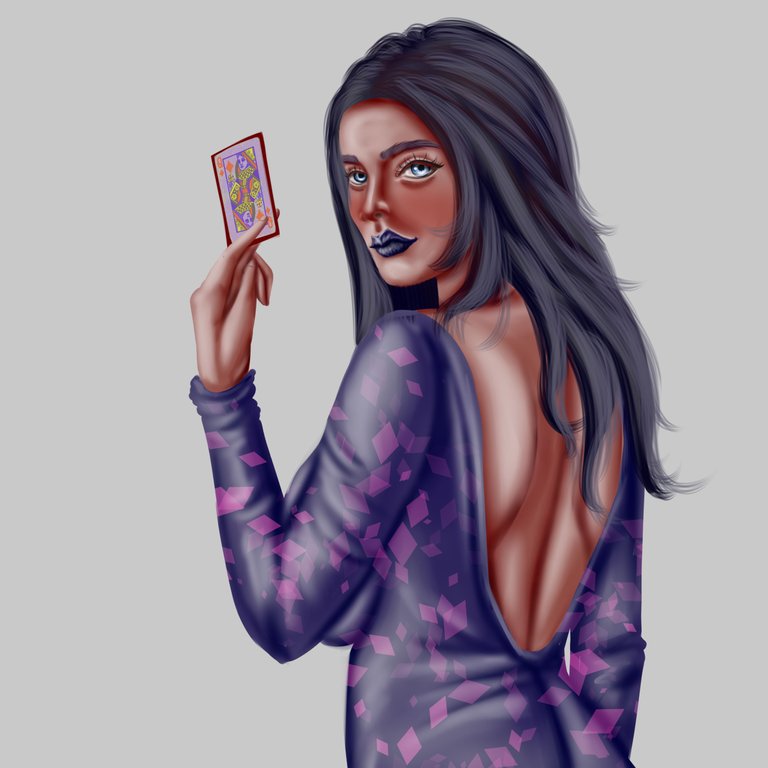 For the last part I gave shape to the letter of the Queen of Diamonds with a small and fine brush, I used many opaque tones except in the edges of the letter where I created a scarlet red stripe; once the letter was finished I decided to go to the background and with the help of some brushes of rough texture I painted a kind of thick fog in a dark yellowish color. In addition to the mist I also painted some lightning falling from the high part behind Carmen to give it a more gloomy touch; and for the last thing I had to do was to create a kind of purple magic aura around the arm where she holds the letter.
Ya para la última parte le di forma a la carta de la reina de Diamantes con un pincel pequeño y fino, use muchos tonos opacos menos en la parte de los bordes de la carta donde cree una franja roja escarlata; terminado la carta decidí pasarme de una vez al fondo y con ayuda de algunos pinceles de textura rugosa fui pintado una especie de neblina espesa en color amarillento oscuro. Adicional a la neblina también pinte algunos relámpagos cayendo desde la parte alta detrás de Carmen para darle un toque mas tétrico; ya para lo último lo único que me quedaba por hacer era crear una especie de aura mágica purpura alrededor del brazo donde sostiene la carta.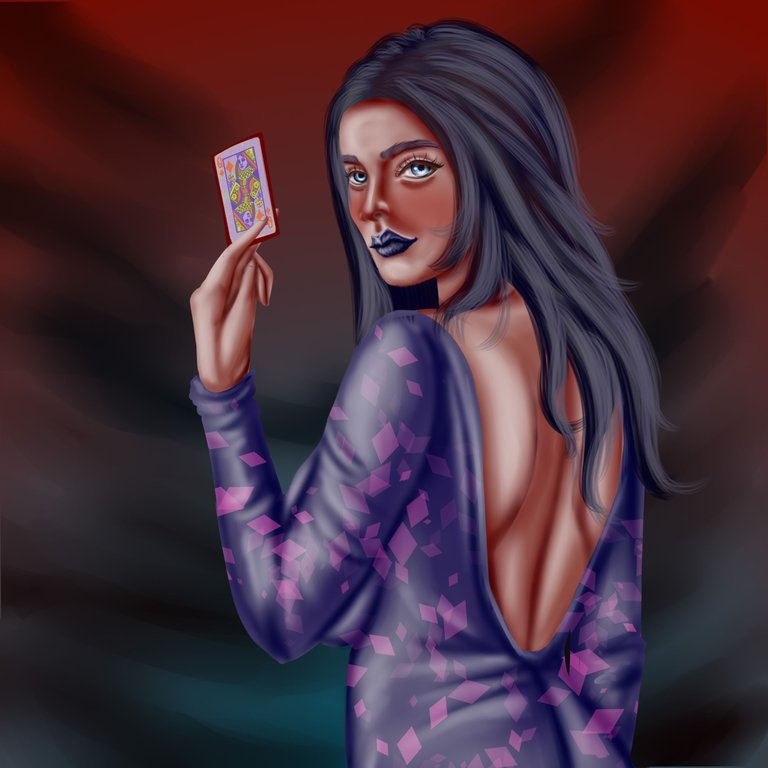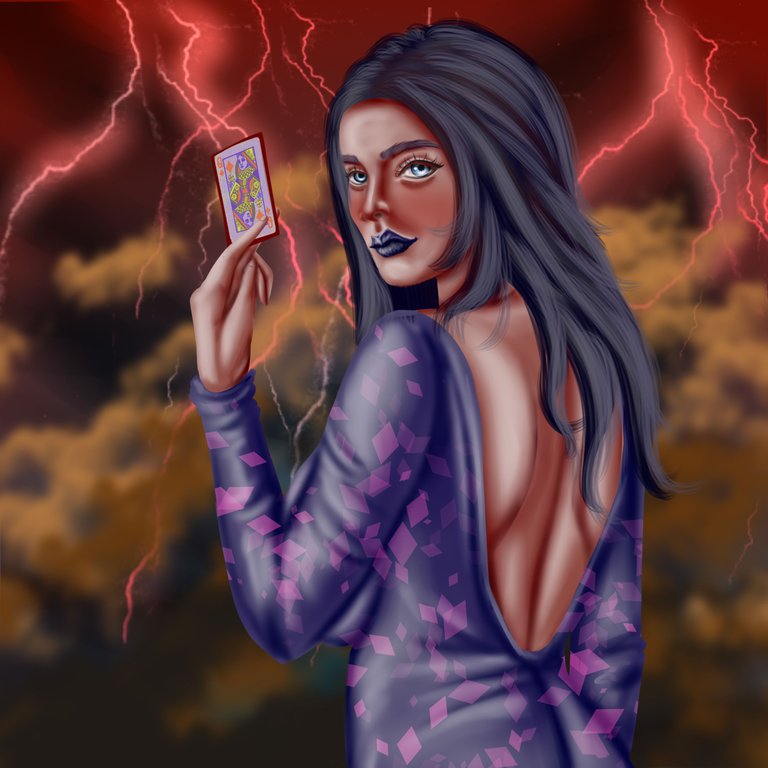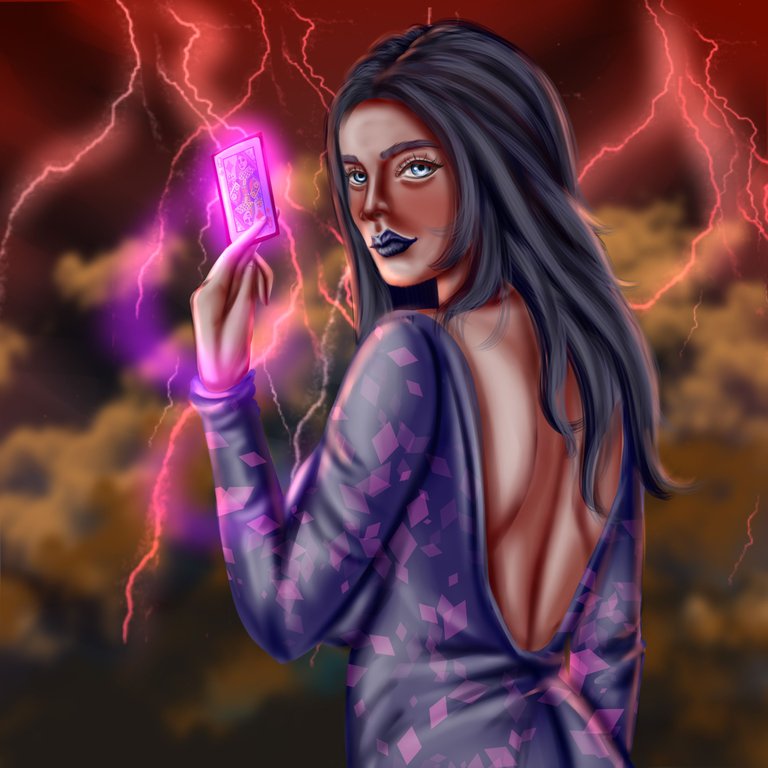 MATERIALS / MATERIALES
Sai Paint Tool Program
Huion inspiroy h610 v2 tablet
Programa Paint Tool Sai
Tableta Huion inspiroy h610 v2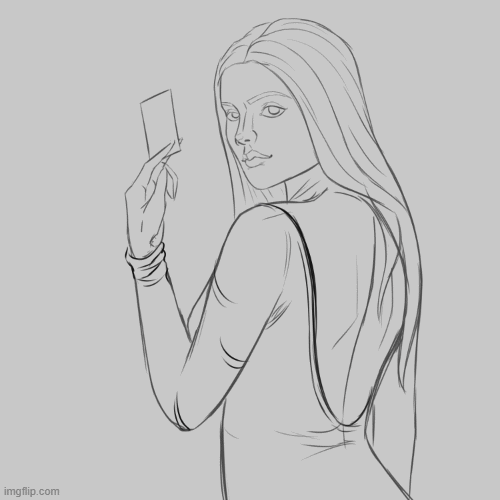 Well guys and girls, this has been all for this post, I hope you liked my work and as always I invite you to the comments box where I always read them; I send you a big hug and I'll see you in a next drawing.
Buenos chicos y chicas, esto ha sido todo por este post, espero que les gustara mucho mi obra y como siempre los invito a la caja de comentarios donde siempre los leo; les mando un fuerte abrazo y nos veremos en un próximo dibujo.
---
---