Francyne, The Tranquility before the Storm.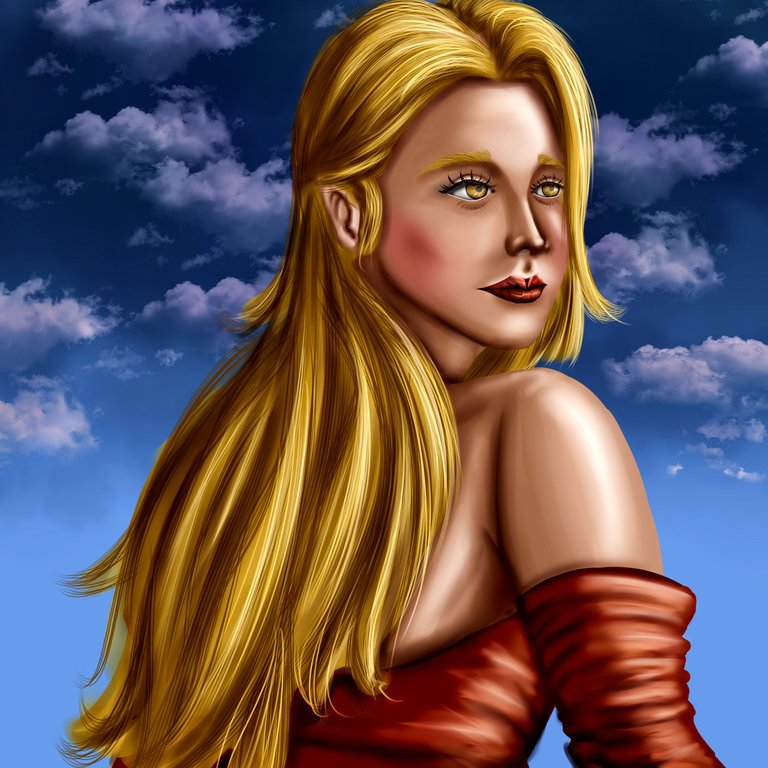 Happy Wednesday my people, I hope you are very very well and welcome to a new drawing post, today I want to introduce you to Francyne, The Tranquility before the Storm; this is a work for which I wanted to practice a lot with the creation of stormy and almost rainy sky scenarios. For this I decided to create as a base a female character that would give a little more sense and delicacy to my work and therefore I decided to create Francyne, I knew this would be somewhat complicated because I was going to use new brushes, but still I put my best effort and I got down to work; I hope you like it:
Feliz miércoles mi gente, espero que estén muy muy bien y sean bienvenidos a un nuevo post de dibujo, hoy les quiero presentar a Francyne, La Tranquilidad antes de la Tormenta; esta es una obra para la cual quise practicar mucho con la creación de escenarios de cielo algo tormentosos y casi lluviosos. Para esto decidí crear como base a un personaje femenino que le diera un poco más de sentido y delicadeza a mi obra y por ello decidí crear a Francyne, esto sabie que seria algo complicado pues iba a utilizar nuevos pinceles, pero aun así puse mi mayor esfuerzo y me puse manos a la obra; espero les guste:
PROCESS / PROCESO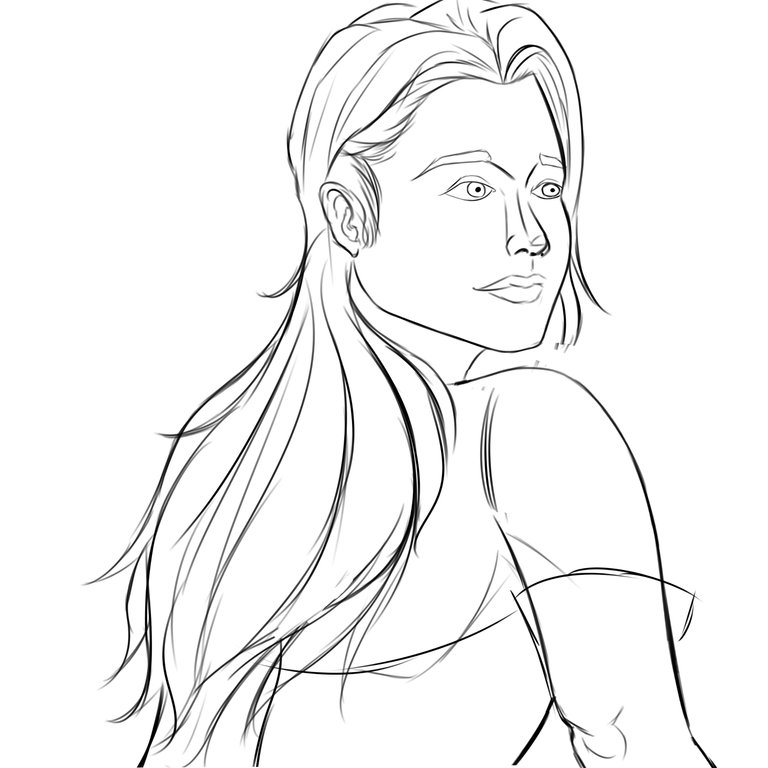 To create Francyne I was trying many poses, first I drew her frontally as a self-portrait, with the intention that the cloudy and stormy sky would contrast in the background; then I moved to a half-side pose and finally I decided for this pose in which she is almost on her back, but with her face completely visible looking almost to the front of the canvas. I completed the line-art by better defining Francyne's whole silhouette with thin and fine strokes and painted the shape of a low-cut dress.
Para crear a Francyne estuve probando muchas poses, primero la dibuje de manera frontal como un autorretrato, con la intensión de que el cielo nubloso y tormentoso se contrastara en la parte del fondo; luego pase a una pose de medio lado y finalmente me decidí por esta pose en la que se encuentra casi de espaldas, pero con su rostro completamente visible mirando hacia casi la parte frontal del lienzo. Complete el line-art definiendo mejor toda la silueta de Francyne con trazos delgados y finos y pintado la forma como de un vestido algo escotado.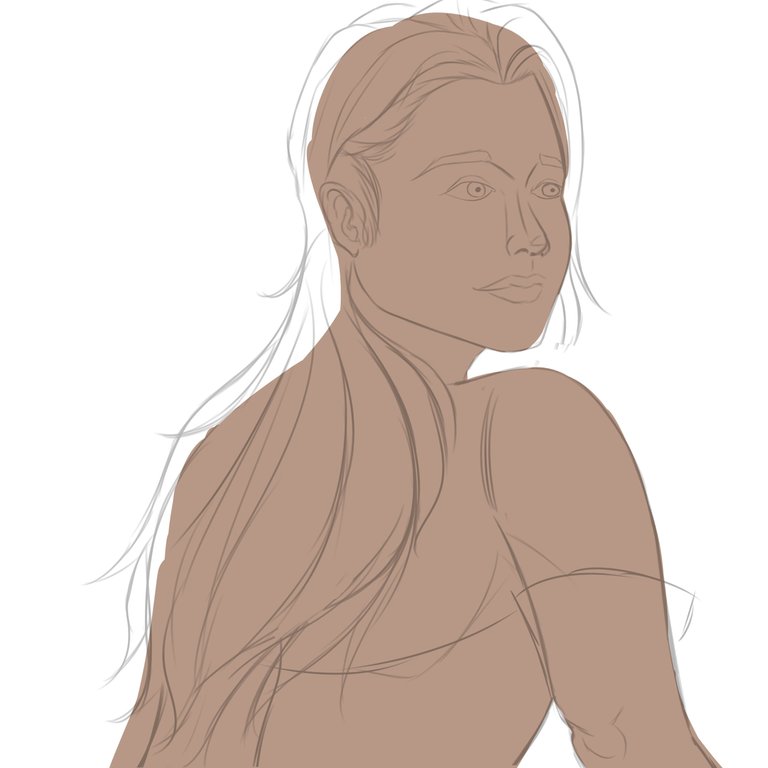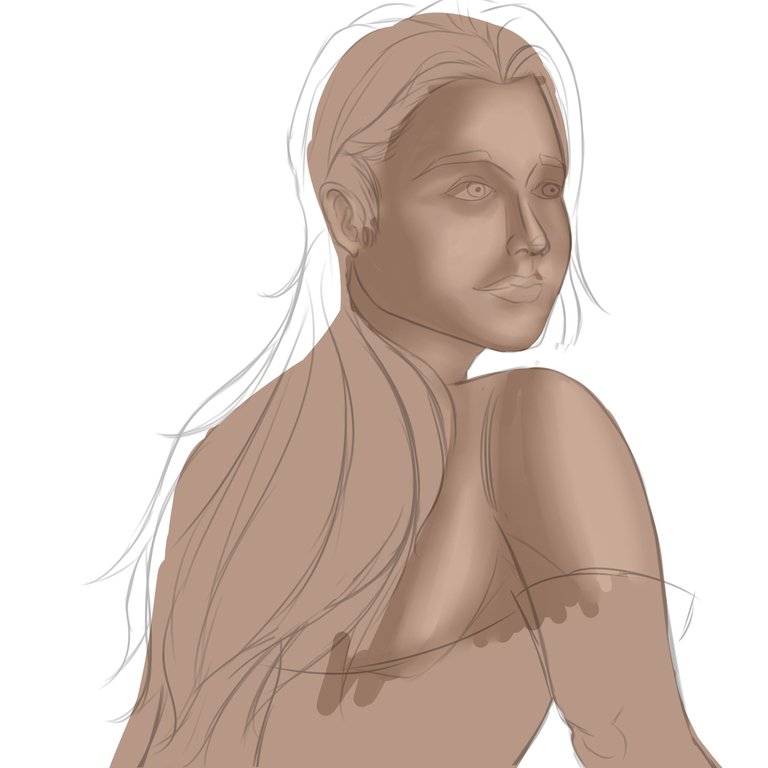 The painting of the eyes was a bit delayed, because normally it is a section which always costs me a little bit to give enough realism that I would like; but this time I think I managed to improve and get a good painting. First I was testing the light brown tones with mixtures of yellows and reds, it was a process that I had to repeat several times since by a small accident I unplugged my PC XD, and unfortunately I lost the whole process of painting the face; but well I immediately resumed everything and luckily I could achieve a result super similar to the original.
El pintado de los ojos fue algo demorado, pues normalmente es un apartado el cual siempre me cuesta un poco darle el suficiente realismo que desearía; pero en esta ocasión crea que logre mejorar y conseguir un buen pintado. Primero estuve probando los tonos marrón claros con mezclas de amarillos y rojos, fue un proceso que tuve que repetir varias veces ya que por un pequeño accidente desconecte del tomacorriente mi Pc XD, y desafortunadamente perdí todo el proceso de pintado del rosto; pero bueno retome inmediatamente todo y por suerte pude lograr un resultado super similar al original.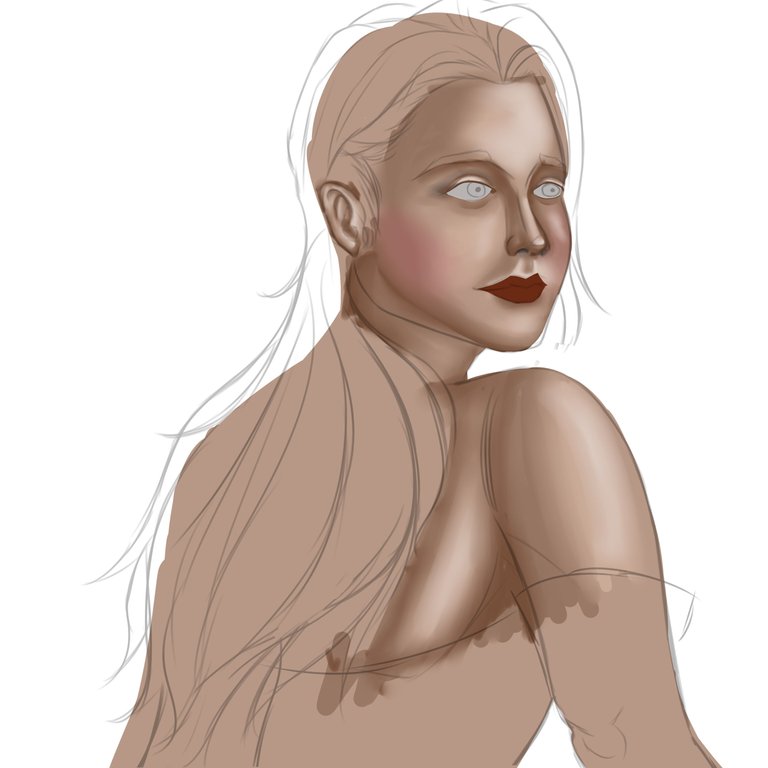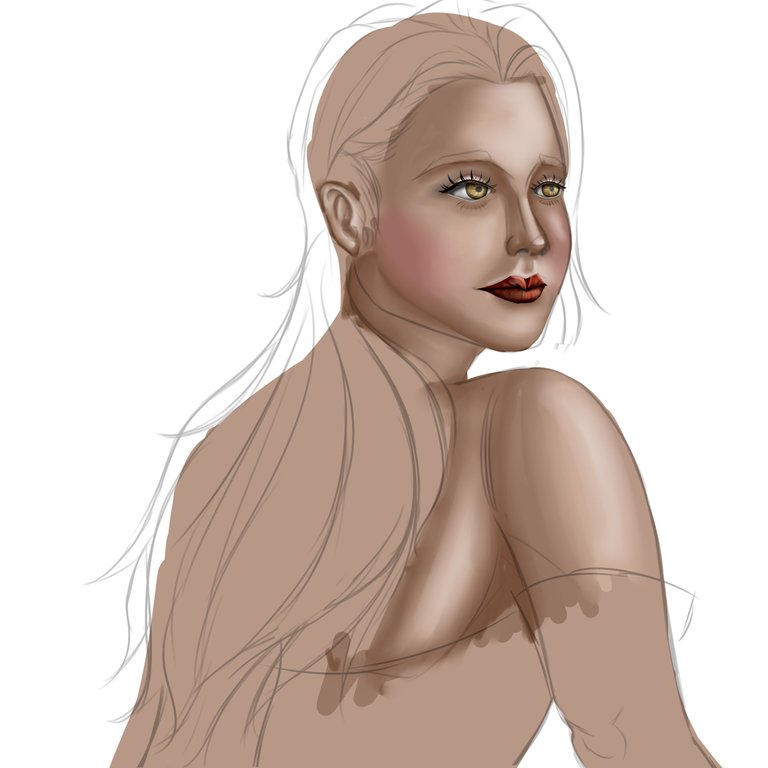 The next step in the process of creating my drawing was the painting of Francyne's dress, I had the first idea of creating a low-cut dress and I kept in that line and created a slightly elegant dress; with some scattering brushes and in white color I managed to create a shiny texture. After finishing the dress I continued with the hair, for this I decided to use a yellow tone for the hair as I thought it complemented much better with the skin tone, especially with the texture of the dress.
El siguiente paso en el proceso de creación de mi dibujo fue el del pintado de la vestimenta de Francyne, tenia la primera idea de crear un vestido escotado y me mantuve en esa línea y cree un vestido ligeramente elegante; con unos pinceles de dispersión y en color blanco logre crear una textura brillante. Luego de terminar el vestido continúe con el cabello, para esto me anime a usar un tono amarillo para el pelo ya que me pareció que complementaria mucho mejor con la tonalidad de la piel sobretodo con la textura del vestido.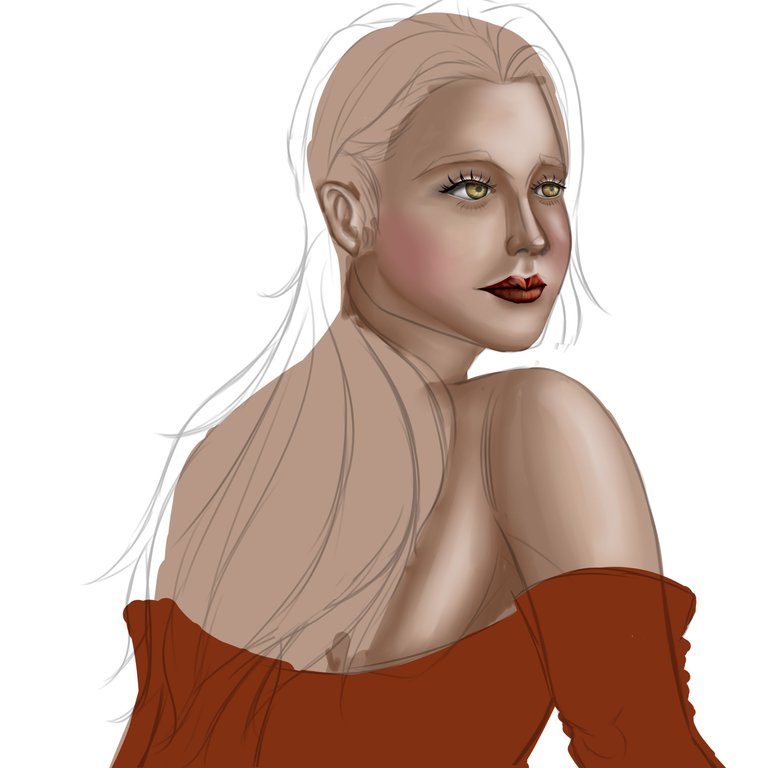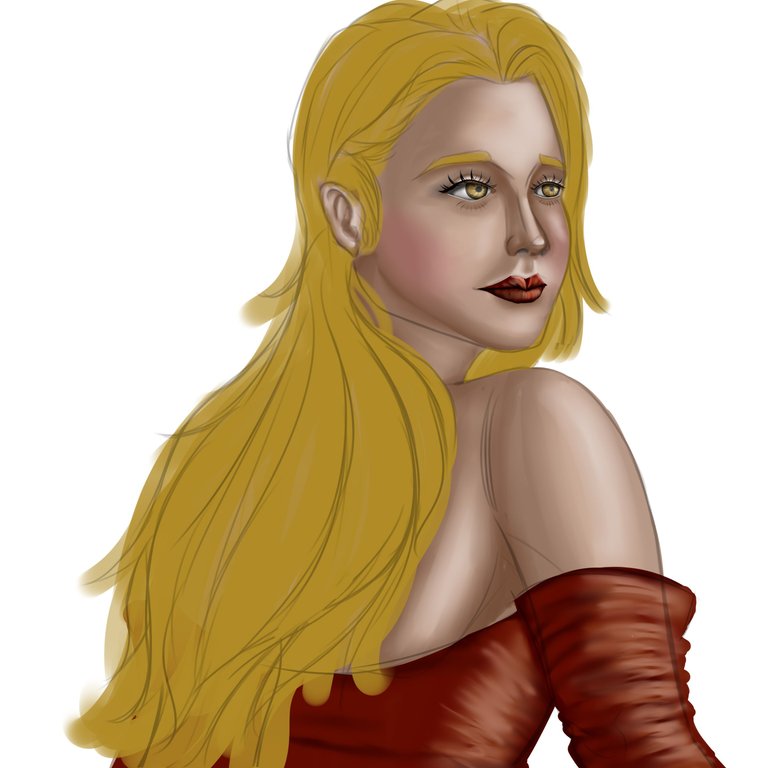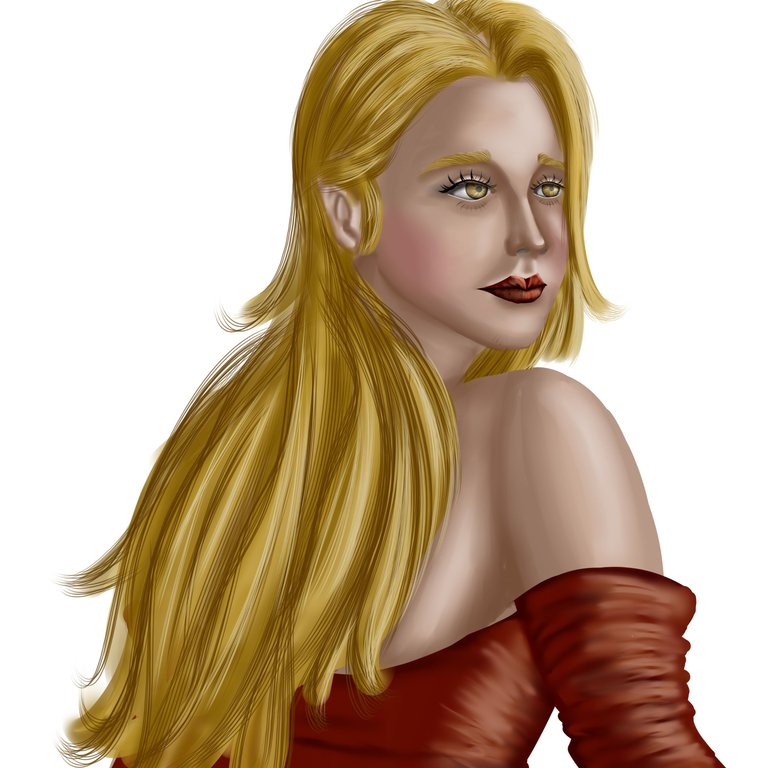 Finally I got to the last part of my drawing and it was precisely where I would use the new brushes I had just downloaded, basically I wanted to paint a kind of stormy sky with some dark clouds; as if a tremendous thunderstorm was about to fall. For this I used a lot of blue colors, then applied some layer modes to darken the sky and the clouds; I also used another final layer mode to highlight Francyne even more.
Finalmente llegue a la ultima parte del mi dibujo y era precisamente en la que emplearía los pinceles nuevos que acababa de descargar, básicamente quería pintar una especie de cielo tormentoso con algunas nubes algo oscuras; como si estuviera a punto de caer una tremenda tormenta eléctrica. Para esto use muchos colores azules, luego aplique algunos modos de capa para oscurecer el cielo y las nubes; también use otro modo de capa final para resaltar a Francyne aún más.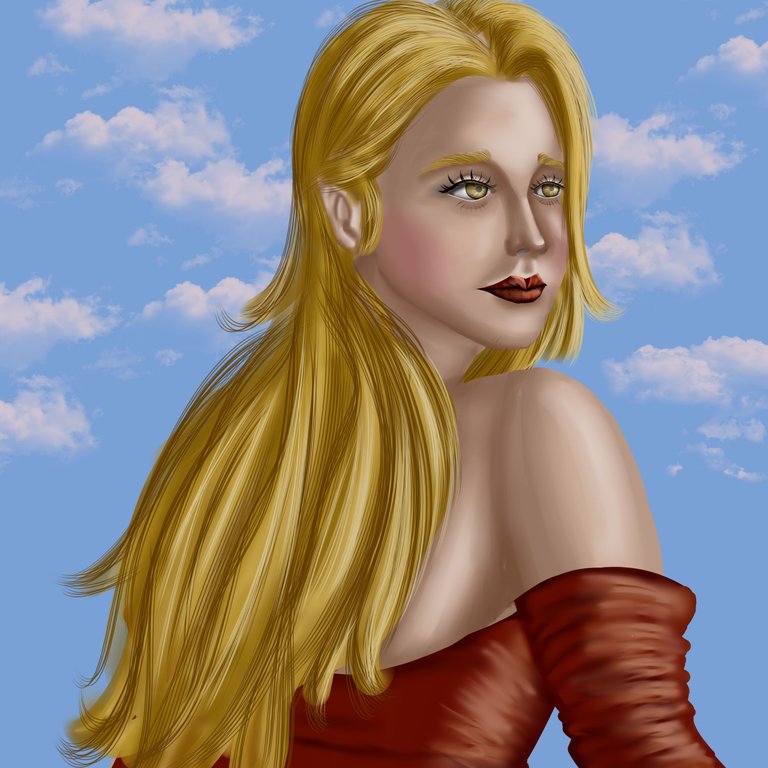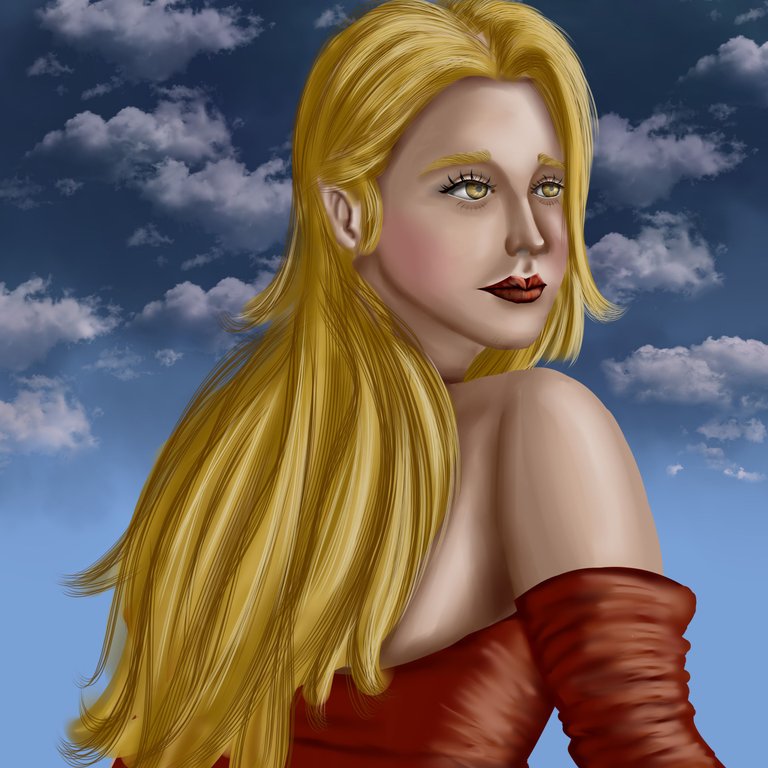 MATERIALS / MATERIALES
Sai Paint Tool Program
Huion inspiroy h610 v2 tablet
Programa Paint Tool Sai
Tableta Huion inspiroy h610 v2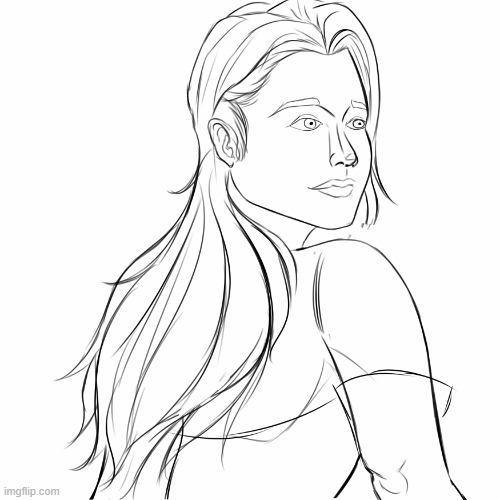 Well guys and girls, this has been all for today, I really hope you loved my drawing today and if so I'll be waiting for you in the comments box as always; I send you a big greeting my people and I'll see you in a next post.
Bueno chicos y chicas, esto ha sido todo por hoy, espero realmente que les encantara mi dibujo de hoy y si fue así los espero por la caja de comentarios como siempre; les mando un gran saludo mi gente y nos veremos en un próximo post.
---
---