Kara, Drawing Her in My Own Style / #DTIYS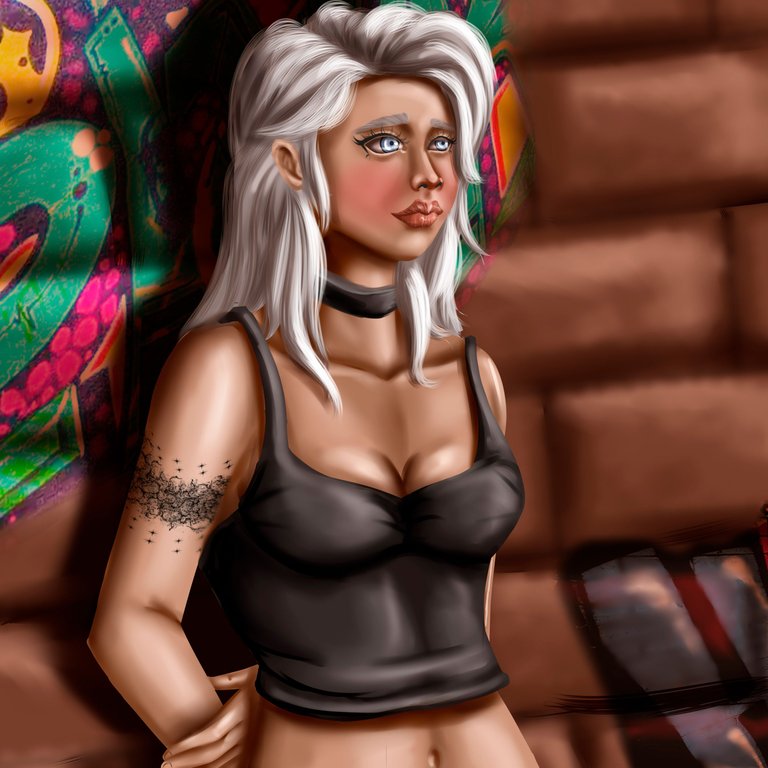 Happy Wednesday to all of you who are here and welcome to a new drawing, today I bring you something very special because it is a drawing of a small entry that I made for a dynamic organized by one of my favorite artists and one of those who has helped me to improve in digital illustration since I started about 3 or 4 years ago; This is the youtuber you can find on Instagram and YouTube with his username Samdoesarts and which is dedicated to digital art with a style a little more focused perhaps to semi-realistic cartoon with strokes not so blurred or polished, but also transmit every detail of his characters to perfection. On this occasion and to commemorate having reached 1 million subscribers on YouTube he organized his own dynamic #dtiys which is to make a drawing in his own style on 2 of his characters (Kara and Tessa); my intention was to make a drawing of each one, but due to time and work issues I could not and I only managed to make a drawing of Kara, and well here I come to share the process and I hope you like it a lot:
Feliz miércoles para todos los que por aquí se encuentras y sean bienvenidos a un nuevo dibujo, el día de hoy les traigo algo muy especial ya que se trata de un dibujo de una pequeña entrada que realice para una dinámica organizada por uno de mis artistas favorito y uno de los que mas me ha ayudado a mejorar en la ilustración digital desde que inicie hace unos 3 o 4 años atrás; se trata del youtuber al cual podrán encontrar en Instagram y YouTube con su username Samdoesarts y el cual se dedica al arte digital con un estilo un poco mas enfocado quizá al dibujo animado semi-realista con trazos no tan difuminados o pulidos, pero que igualmente transmiten cada detalle de sus personajes a la perfección. En esta ocasión y para conmemorar haber llegado a 1 millón de suscriptores en YouTube organizo su propia dinámica #dtiys que trata de realizar un dibujo a estilo propio sobre 2 personajes suyos como son (Kara y Tessa); mi intención era hacer un dibujo de cada una, pero por cuestiones de tiempo y trabajo no pude y solo logré hacer un dibujo de Kara, y bueno aquí les vengo a compartir el proceso y espero les guste mucho:
Reference Image
PROCESS / PROCESO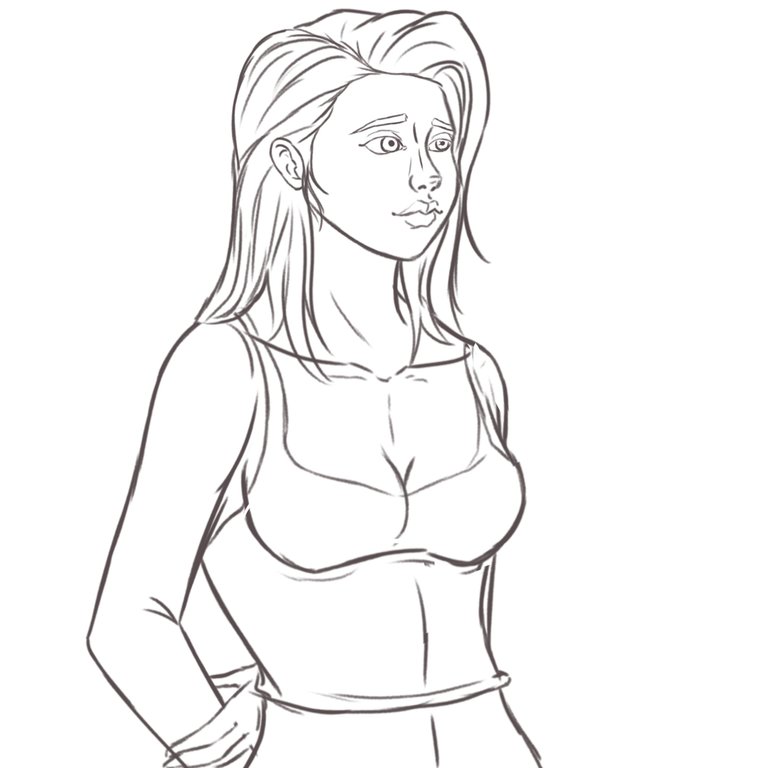 The basic idea of this dynamic was to make one of the 2 characters in my own style, with the freedom to change or add some detail, but in the end it was noticeable that it was the same character; one of the main reasons why I chose Kara and not Tessa is because some time ago when I first saw this character of Sam I decided to start a small pencil sketch in my notebook, which sadly I never took forward or even finished hahaha, but still the idea remained in my mind. I decided to make in this case (Kara) as if she was in a kind of wall lying down while looking fixedly and carefully towards the sky as if a nice memory or thought had just crossed her mind.
La idea básica de esta dinámica era la de hacer a estilo propio a alguno de los 2 personajes, con la libertad de cambiar o agregar algún detalle, pero que al final se notara que se trataba del mismo personaje; una de las razones principales por las que elegía a Kara y no a Tessa es porque hace tiempo atrás cuando vi por primera vez este personaje de Sam decidí empezar un pequeño boceto a lápiz en mi libreta, el cual triste nunca saque adelante ni termine siquiera jajajaja, pero aun así quedo la idea en mi mente. Decidí hacer en este caso a (Kara) como si se encontrara en una especie de pared recostada mientras mira fija y detenidamente hacia el cielo como si un lindo recuerdo o pensamiento acabara de atravesar por su mente.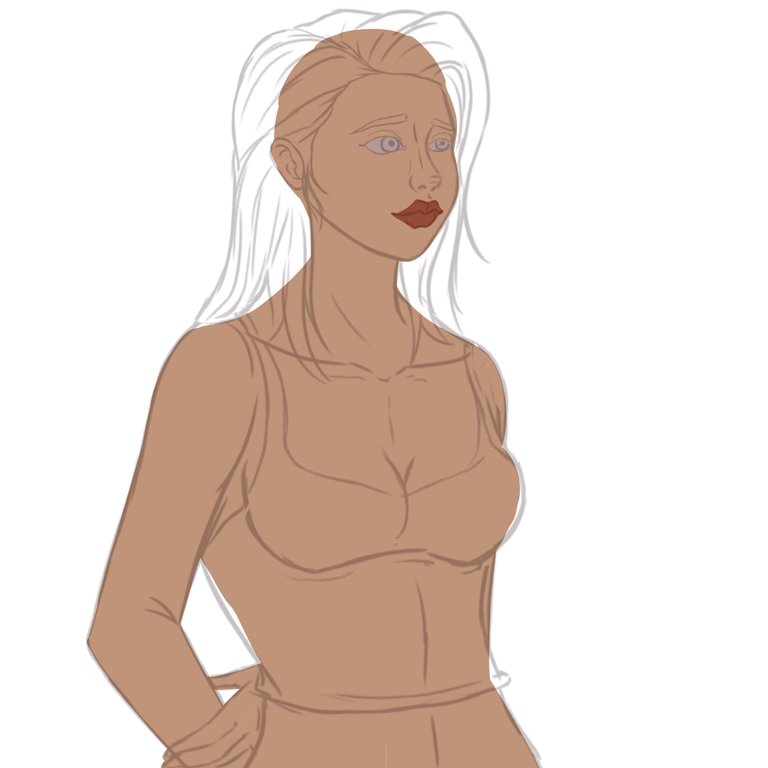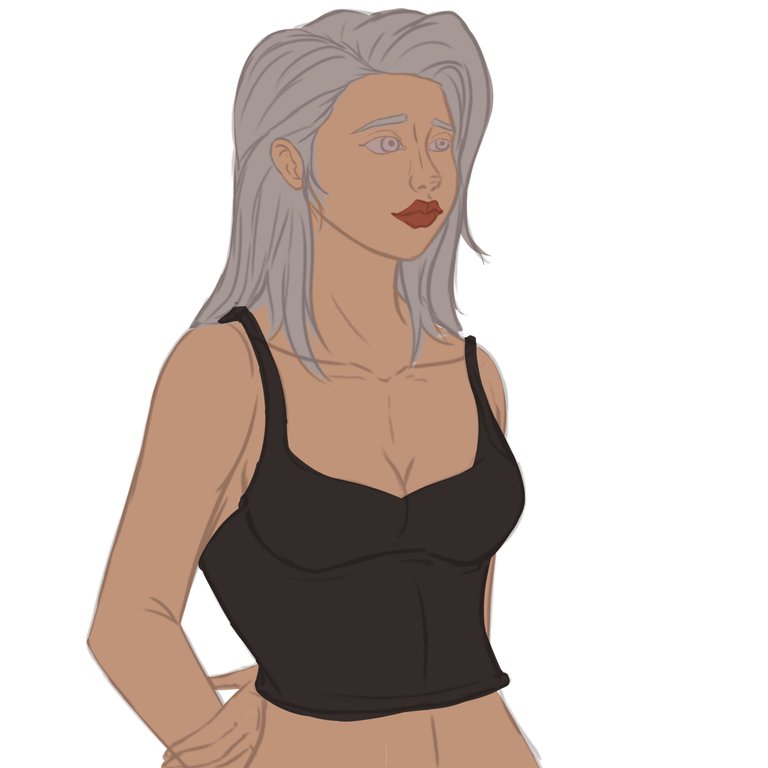 The painting of Kara if I decided to do it a little more to my style, Kara is white skin and based on that I worked, I dedicated myself to give color to skin with fairly light tones and with the volume and shadows I did something similar; despite keeping her skin quite clear I still decided to give a more caramelized or tanned touch to the skin, because the idea was that my essence of drawing was also reflected in it. For the eyes first I dedicated myself to give some shape to the sclera of the eye with some gray and white strokes at low opacity in a rounded shape; then with great patience was slightly texturing the inner iris of the eye with a lot of light blue color and the lips with a little salmo color; also with airbrush I gave a little more warmth to the face with some blush on the cheeks and nose.
El pintado de Kara si decidí hacerlo un poco mas a mi estilo, Kara es de piel blanca y en base a eso trabaje, me dedique a darle color a piel con tonos bastante claros y con el volumen y las sombras hice algo similar; a pesar de mantener su piel bastante clara aun así decidí darle un toque mas caramelizado o bronceado a la piel, pues la idea era que mi esencia de dibujo también se viera plasmada en ella. Para los ojos primero me dediqué a darle algo de forma a la esclerótica del ojo con algunos trazos grises y blancos a baja opacidad en forma redondeada; después con gran paciencia fue texturizando levemente el iris interno del ojo con mucho color azul celeste y los labios con un poco de color salmo; también con aerógrafo le di un poco mas de calidez al rostro con algo de rubor en las mejillas y nariz.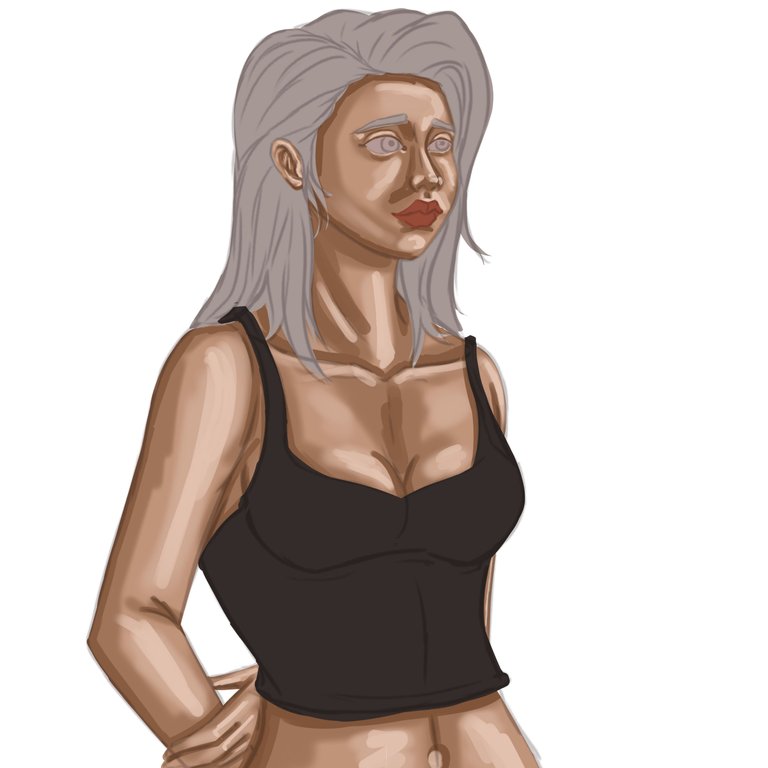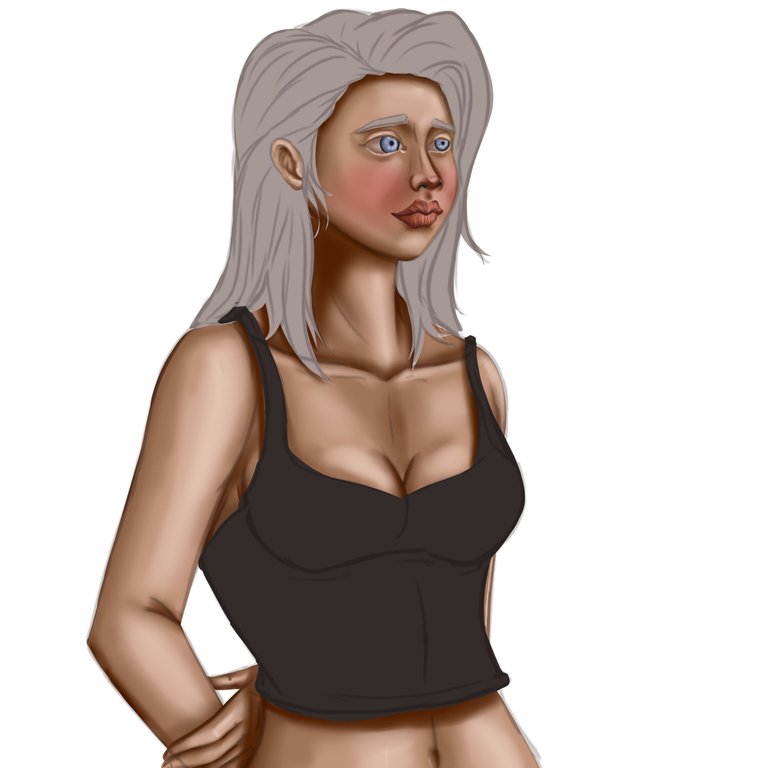 The silver hair is a very demarcated detail of Kara and I would dare to say that its best feature or at least the most outstanding, that's why this was the most fun and also the most delayed part of the coloring process of the character because I want it to be the best possible; on the gray base I began to shape strokes a little long with a round tip brush to give some relief to the hair, then with a very fine brush I was very patiently creating the strands of hair a little crazy and messy to simulate the most natural as possible. Finished with the basic shape of the hair, the last thing I did for this section was to add a lot of high shine in the form of loose lines in the most illuminated areas; for the clothes I didn't have so many problems since the drawing was half body, I only had to focus on giving a good appearance to the blouse and this I achieved with a rough brush and not so intense colors, since I wanted the blouse to have a vintage touch.
El cabello plateado es un detalle muy demarcado de Kara y me atrevería a decir que su mejor caracteriza o al menos la mas resaltante, es por ello que esta fue la parte mas divertida y también la más demorada del proceso de coloreado del personaje ya que quiera que quedara lo mejor posible; sobre la base de gris comencé a plasmar trazos un poco largo con un pincel punta redonda para darle algo de relieve al pelo, luego con un pincel muy fino fui con mucha paciencia creando los mechones de cabello de forma un poco alocada y desordenada para simular la mayor naturalidad posible. Terminado con la forma básica el pelo lo ultimo que hice para este apartado fue añadir muchos brillos altos en formas de líneas sueltas en las zonas más iluminadas; para la ropa no tuve tantos problemas ya que al ser el dibujo a medio cuerpo solo debía centrarme en darle buena apariencia a la blusa y esto lo logré con un pincel algo rugoso y colores no tan intensos, ya que quería que la blusa tuviera un toque medio vintage.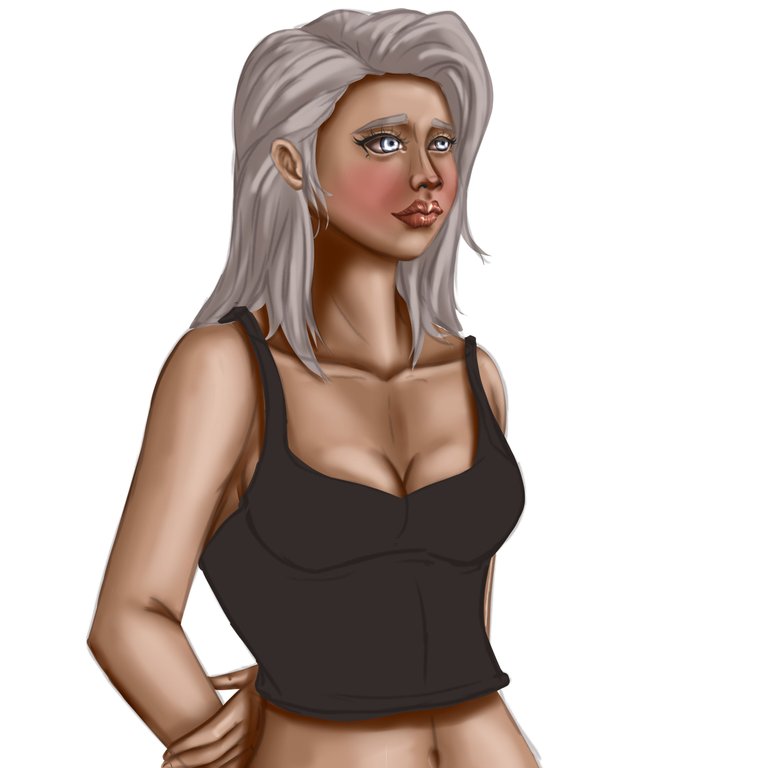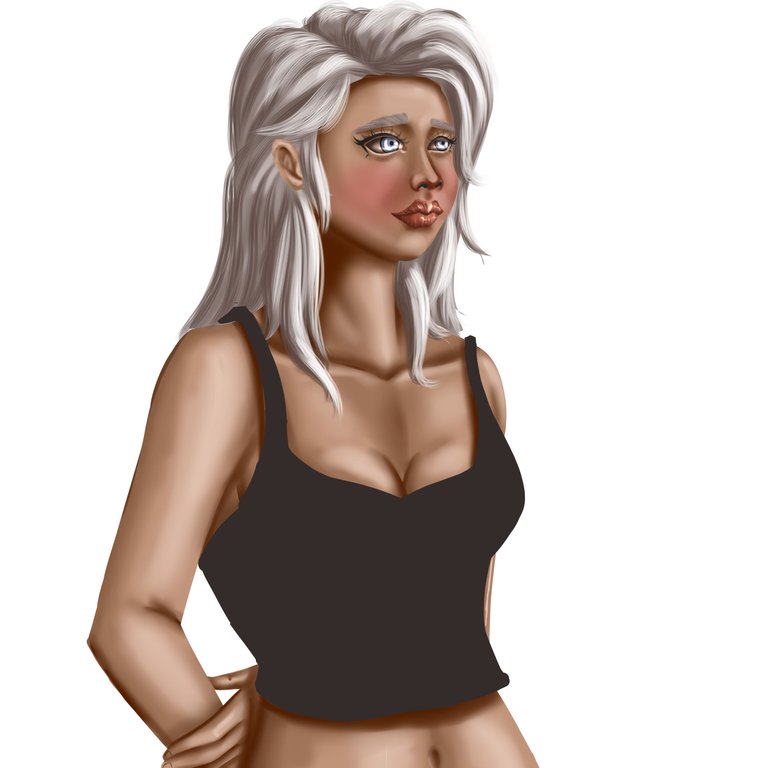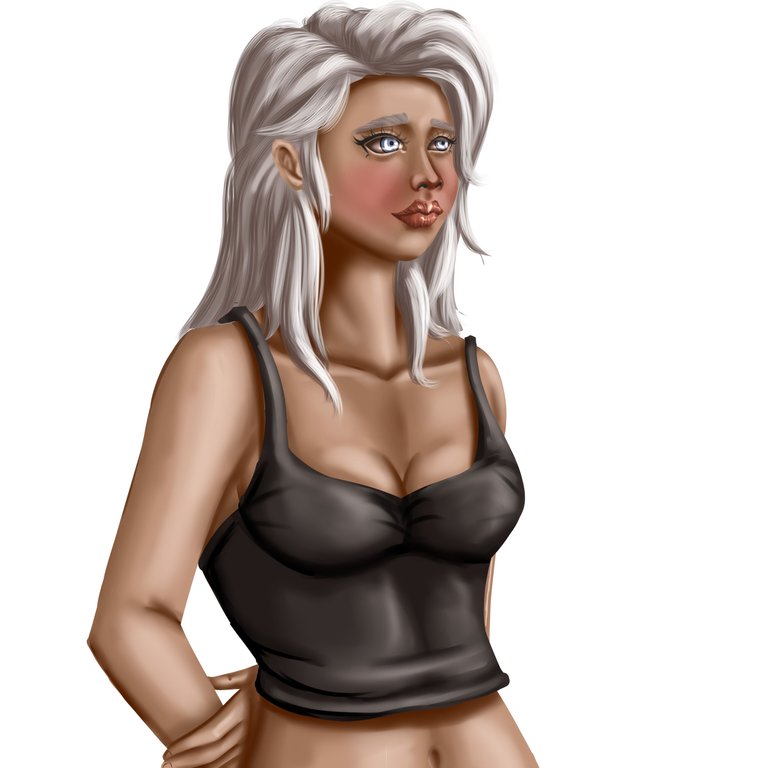 As I had mentioned before my main idea for this illustration is that the character of Kara was lying or leaning on a wall or a wall, and I spent a long time building walls and rough walls and none left me convinced; until I finally chose to paint a kind of brick wall like those seen in the alleys of American movies or something like that, with lots of orange color and giving its proper shape to the large bricks of the wall. When I had the wall well finished and started to give shape to the tattoo on Kara's arm I had a great idea, and that was to make some kind of graffiti on the wall to give a little more street or urban touch to my illustration; finally with some layer modes I was painting some shadows here and there giving more volume and better shape to everything.
Como les había comentado anteriormente mi idea principal para esta ilustración es que el personaje de Kara estuviera recostada o apoyada en un muro o una pared, y me dedique a un buen rato a construir muros y paredes rugosas y ninguna me dejaba nada convencido; hasta que finalmente opte por pintar una especie de pared de ladrillos como las que se ven en los callejones de películas estadounidenses o algo así, con mucho color naranja y dándole su forma adecuada a los grandes ladrillos de la pared. Cuando tuve la pared bien terminada y comencé a darle forma al tatuaje en el brazo de Kara se me vino una idea muy genial, y era la de hacer unas especies de grafitis en la pared para darle un toque un poco mas callejero o urbano a mi ilustración; finalmente con algunos modos de capa fui pintando algunas sombras por aquí y por allá dándole más volumen y mejor forma a todo.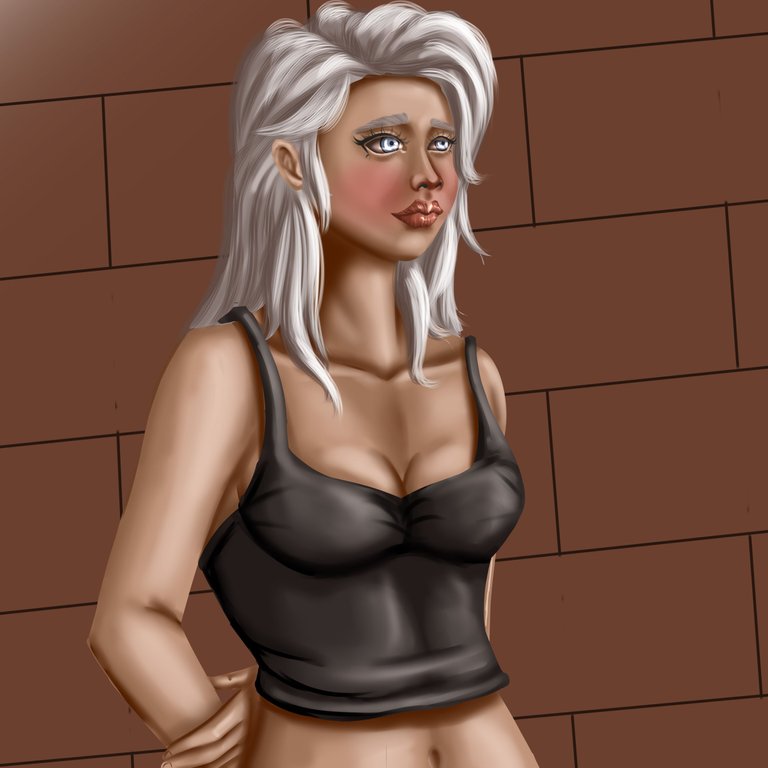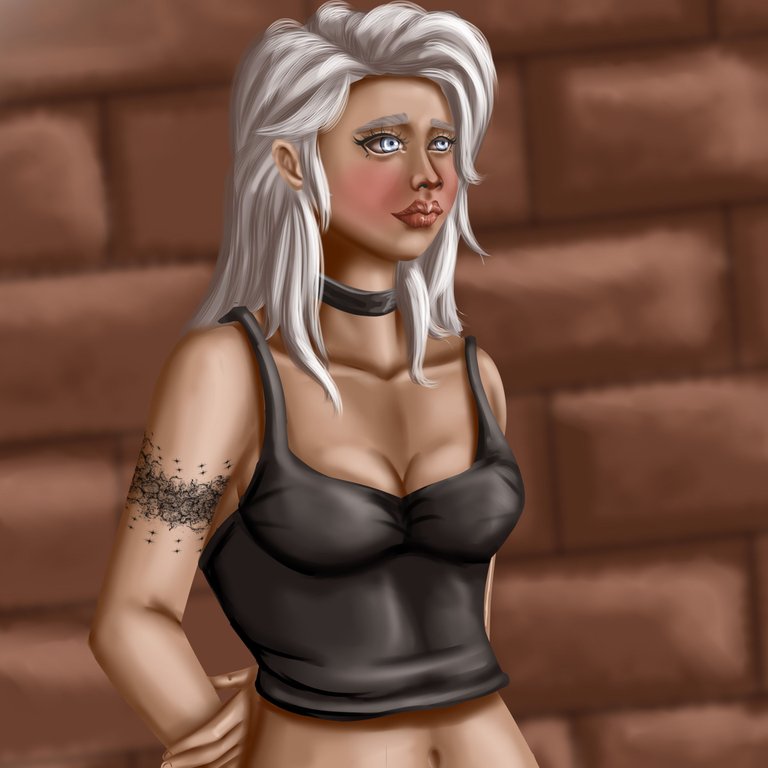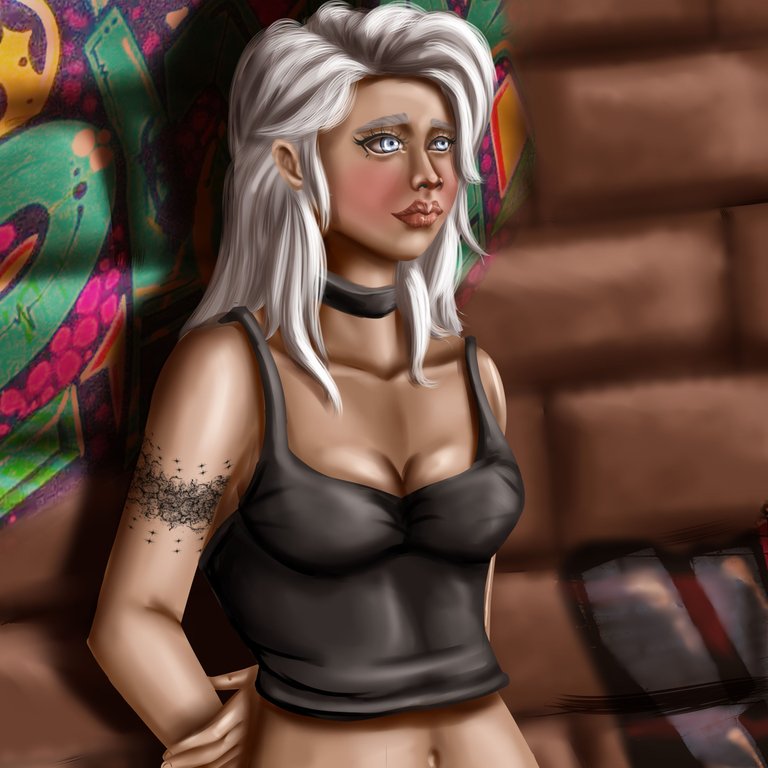 MATERIALS / MATERIALES
Sai Paint Tool Program
Huion inspiroy h610 v2 tablet
Programa Paint Tool Sai
Tableta Huion inspiroy h610 v2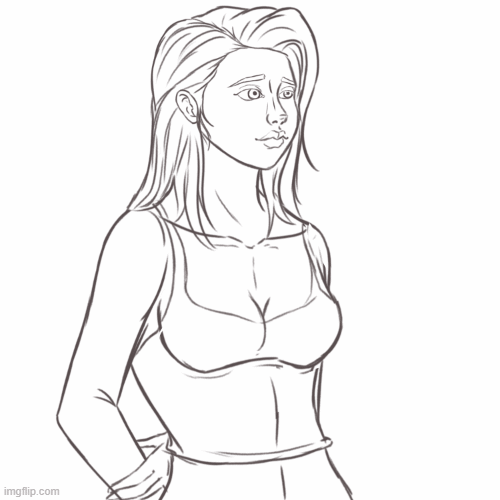 Well my dear people this has been all for this post and I hope you enjoyed a lot with my drawing, the truth was not very clear to participate in this dynamic for reasons of time and work as I mentioned before, but this is an artist that I follow for some time and also his characters are very cool; I leave here the link to his YouTube channel Samdoesarts for all those artists who want to take a look at his work because I'm sure you will find it very interesting. Well without anything else to add I say goodbye, I send you all a big hello and I'll see you in a next drawing my people; see you later.
Bueno mi querida gente esto ha sido todo por este post y espero que hayan disfrutado mucho con mi dibujo, la verdad no tenia muy claro de poder participar en esta dinámica por cuestiones de tiempo y trabajo como les mencione antes, pero este es un artista que sigo desde hace tiempo y además sus personajes son muy cool; les dejo por aquí el link de su canal de YouTube Samdoesarts para todos aquellos artistas que le quieran echar un ojo a su trabajo pues seguro lo encontraran muy interesante. Bueno sin nada mas que añadir me despido, les mando un fuerte saludo a todos y nos veremos en un próximo dibujo mi gente; hasta luego!.
---
---