Lightning Cutting Chain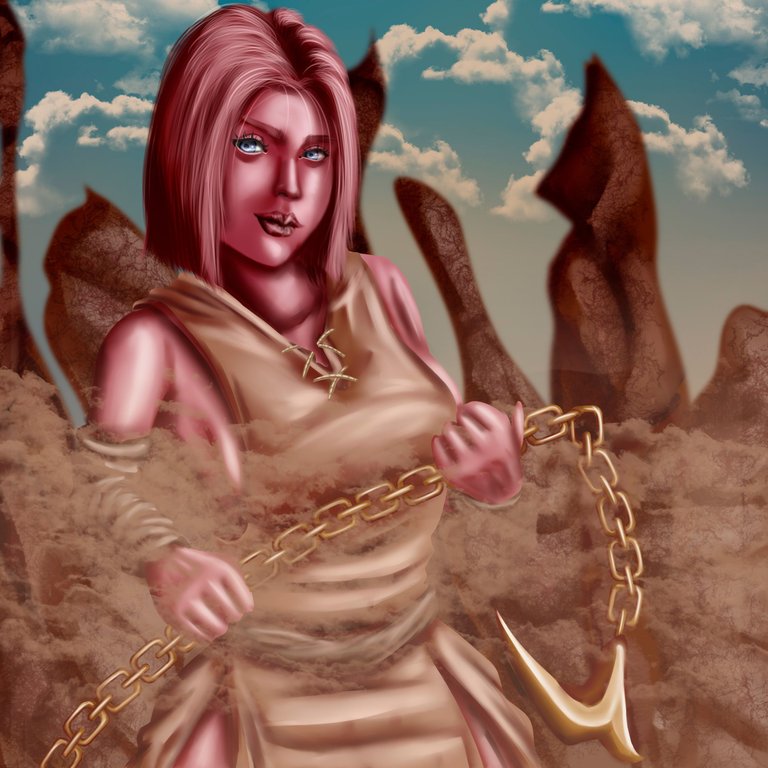 Very good evening to all my dear readers of #Hive and a special greeting to my dearest #Sketchbook community, I hope you are doing great and hopefully you are having a great week full of productivity; today I want to present one of my latest drawings in which I wanted to retake a little the theme of warriors but more focused on a female character and therefore I decided to create Candida. This character of today is a fearless and above all very brave warrior who has a very powerful and at the same time dangerous weapon as it is the (Lightning Cut Chain), a weapon of medium and long distance which so far only she has been able to master to perfection; with this weapon Candida has been able to eliminate in combat up to 15 opponents at once, despite the great weight of this weapon even so our brave warrior is able to wield it and control it as if it were an extension of her body:
Muy buenas noches a todos mis queridísimos lectores de #Hive y un especial saludo a mi queridísima comunidad de #Sketchbook, espero que estén super bien y ojala estén teniendo una magnifica semana llena de productividad; hoy les quiero presentar uno de mis últimos dibujos en el cual quise retomar un poco la temática de guerreros pero mas enfocada a un personaje femenino y por ello decidí crear a Cándida. Este personaje del día de hoy se trate de una intrépida y sobre todo muy valiente guerrera la cual posee un arma muy poderosa y a la vez peligrosa como lo es la (Cadena de Corte Relámpago), un arma de media y larga distancia la cual hasta ahora solo ella ha podido dominar a la perfección; con esta arma Cándida ha sido capas de eliminar en combata hasta a 15 adversarios a la vez, a pesar del gran peso de esta arma aun así nuestra valiente guerrera es capas de malearla y controlarla como si de una extensión de su cuerpo se tratase:
PROCESS / PROCESO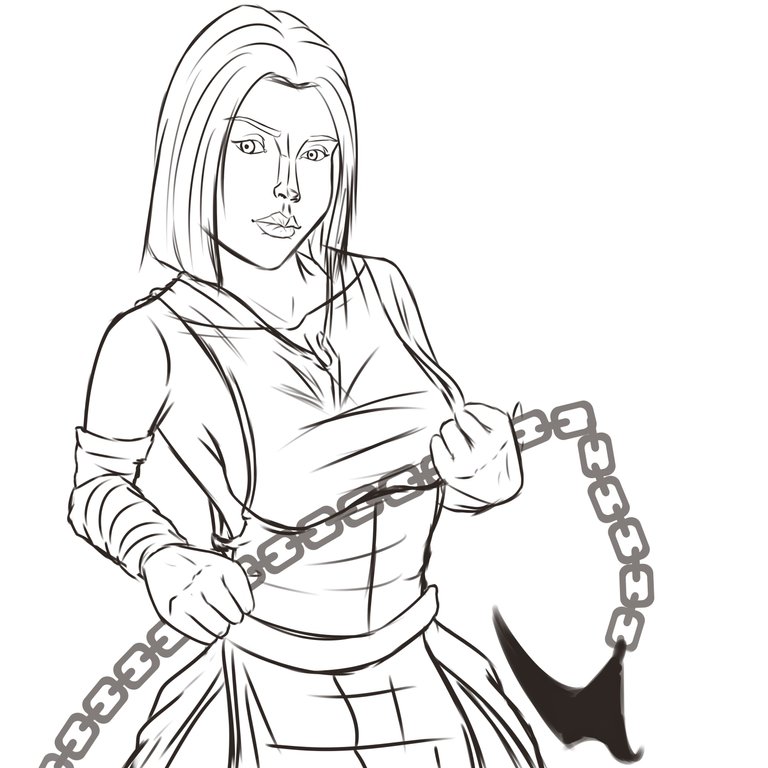 As this is a character of a warrior girl I focused on giving her a slight appearance and musculature according to what the character would be, but at the same time I tried to take care of the feminine aesthetic section so that there would be a very cool balance; I adapted for my canvas to a pose in which I could draw Candida in half body with a warrior pose with the (Lightning Cut Chain) in her hands as if she was getting ready to use it. For this particular character I wanted to vary a lot and that's why I decided to use quite uncommon tonalities, especially for the skin where I applied a quite intense and demarcated pink color; it was something I had been wanting to do for a long time and this character seemed to me the ideal one to do it.
Al tratarse este de un personaje de una chica guerrera me enfoque en darle una leve apariencia y musculatura acorde a lo que seria el personaje, pero a la vez trate de cuidar el apartado estético femenino para que hubiera un equilibrio muy genial; adapte para mi lienzo a una pose en la cual me permitiera dibujar a Cándida a Medio cuerpo con una pose de guerrera con la (Cadena de Corte Relámpago) en sus manos como si se preparara para utilizarla. Para este personaje en particular quise variar bastante y es por ello que decidí usar tonalidades bastante poco comunes, sobre todo para la piel donde aplique un color rosa bastante intenso y demarcado; era algo que tenía tiempo queriendo hacer y este personaje me pareció el idóneo para hacerlo.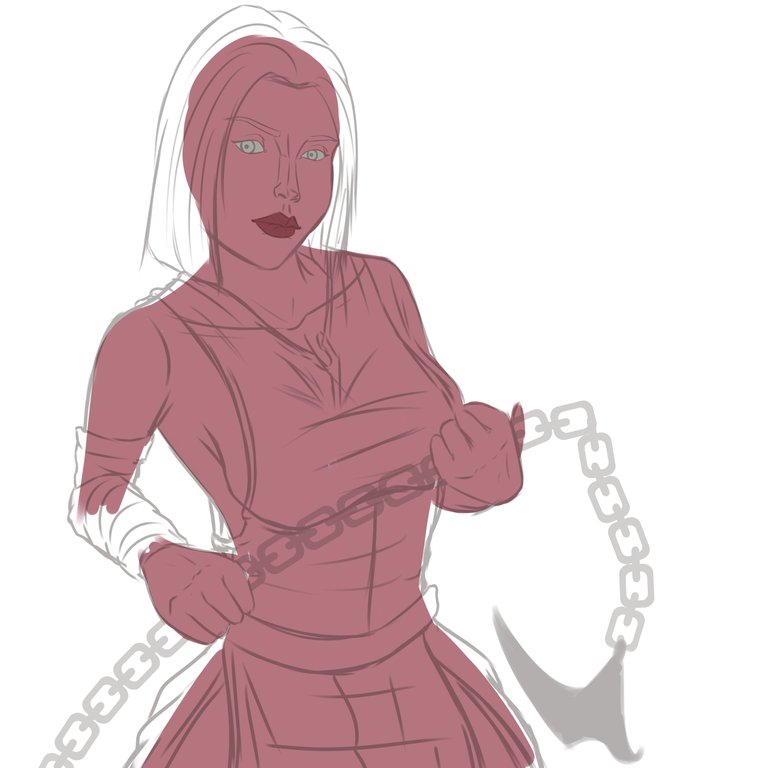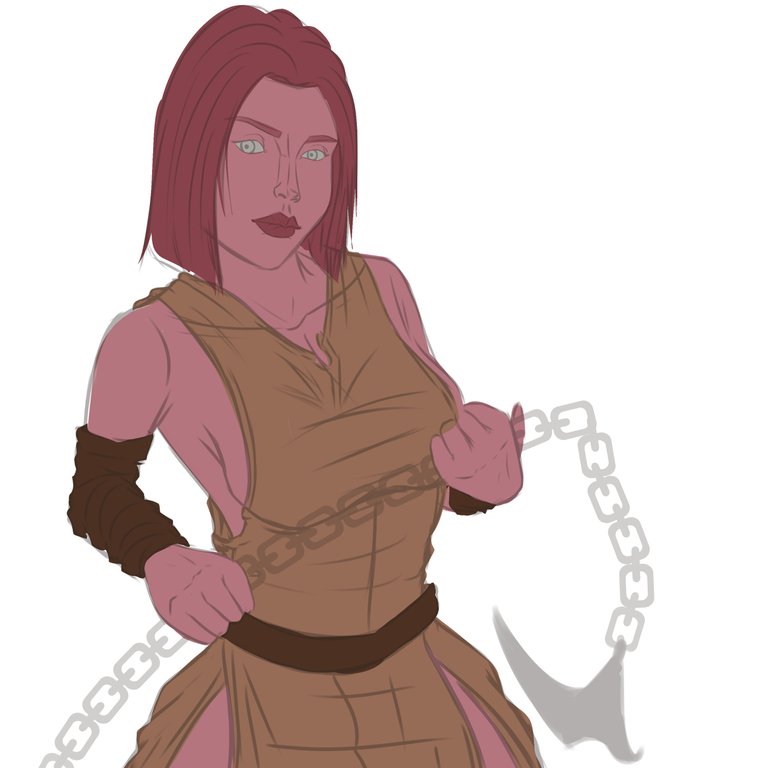 As I told you before the pink I chose was a quite intense tone and therefore I had to be very careful when shaping this section, especially the face; so I spent a long time testing shades with the airbrush which later makes it easier for me to correct in case of any mistake. Well while I was applying tones I was also blurring to get more softness in the skin, I established good volume in the arms, bust and especially the face which is what I put more eye; and with the skin almost ready I went for a moment to the section of the eyes, here I decided to use a very cool electric blue tone that I applied with the help of some rough brushes of (Krita).
Como les dije antes el rosado que elegí era un tono bastante intenso y por ende debía ser muy cuidadoso a la hora de darle forma a este apartado, sobre todo al rostro; por ello estuve un buen rato probando tonalidades con el pincel aerógrafo el cual más adelante me facilita corregir en caso de algún error. Bueno mientras iba aplicando tonos también iba difuminando para conseguir mayor suavidad en la piel, establecí buen volumen en los brazos, busto y sobre todo la cara que es a lo que más ojo le pongo; ya con la piel casi lista me pase por un momento al apartado de los ojos, aquí decidí usar un tono azul eléctrico muy cool que aplique con ayuda de algunos pinceles rugosos de (Krita).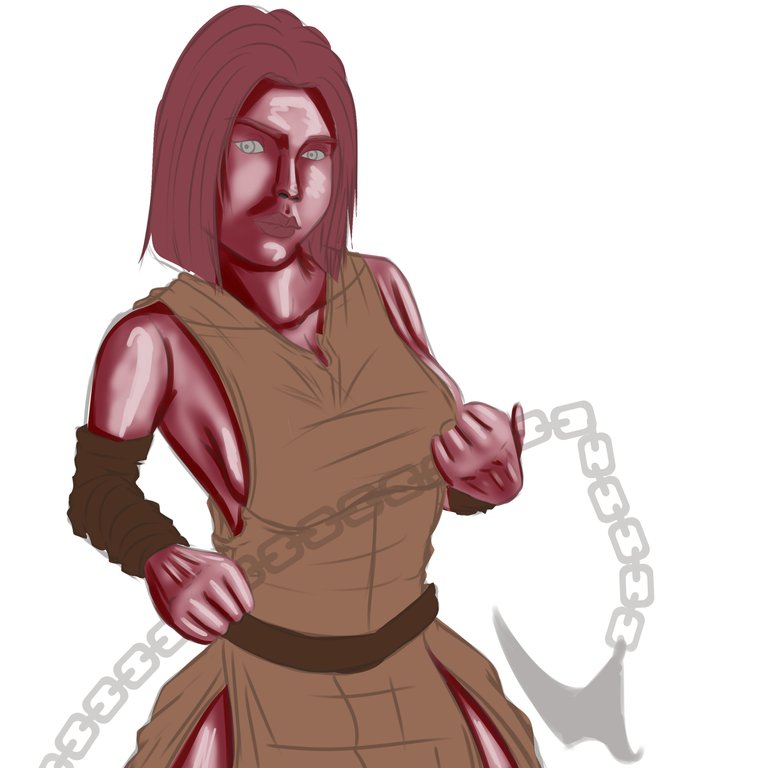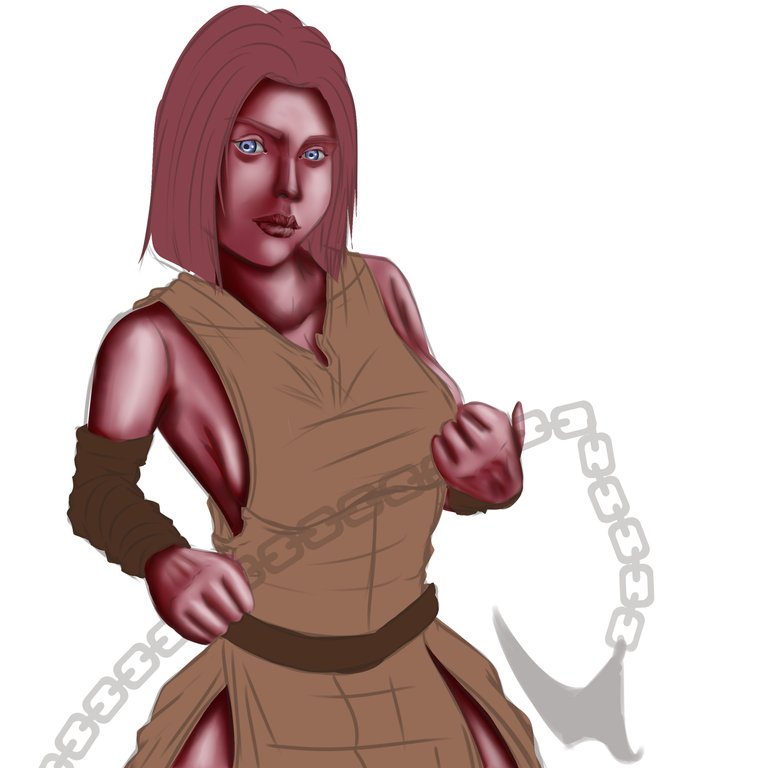 The clothing section was not as delayed as I thought at first, but I had to make use of several layers to create a good outfit; considering that my original idea was to create a very medieval style clothing with fabric like sheep wool, I created a suit that would cover much of his torso and that would be slightly open in the legs area for comfort. When experimenting with the skin I knew I would do the same with the hair and in this case I decided to paint all the hair with only dark pink colors, as I did a short hair I worked first a basic volume with certain irregular strokes in the part of the shadows or where the light does not reach; then with the help of a flat brush (Sai) I was creating lines of locks in a descending way, it took me a while but finally I gave the hair that relief that I was looking for from the beginning.
El apartado de la vestimenta no fue tan demorado como creí en un principio, pero si tuve que hacer uso de varias capas para crear un buen atuendo; considerando que mi ida original era la de crear una ropa como de estilo muy medieval con tela como de lana de oveja, cree un traje que cubriría gran parte de su torso y que iría ligeramente abierto en la zona de las piernas para mayor comodidad. Al experimentar con la piel ya sabía que haría lo mismo con el cabello y en este caso me decidí por pinte todo el pelo con solamente colores rosados oscuros, como hice un cabello corto fui trabajado primero un volumen básico con ciertos trazos irregulares en la parte de las sombras o donde no llega la luz; después con ayuda de un pincel plano de (Sai) fui creando líneas de mechones de manera descendente, me tomo un buen rato pero finalmente le di al pelo ese relieve que desde un inicio estaba buscando.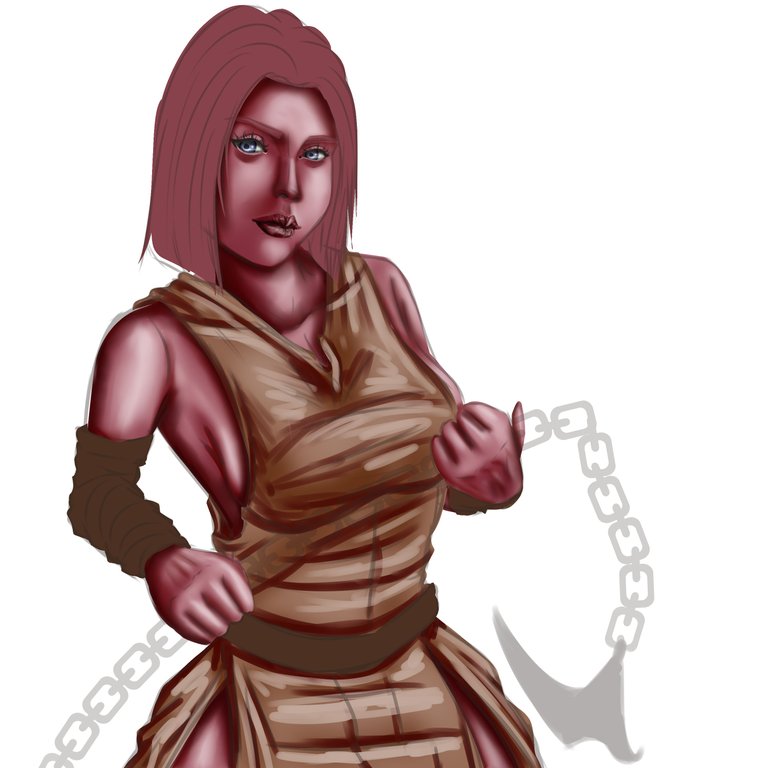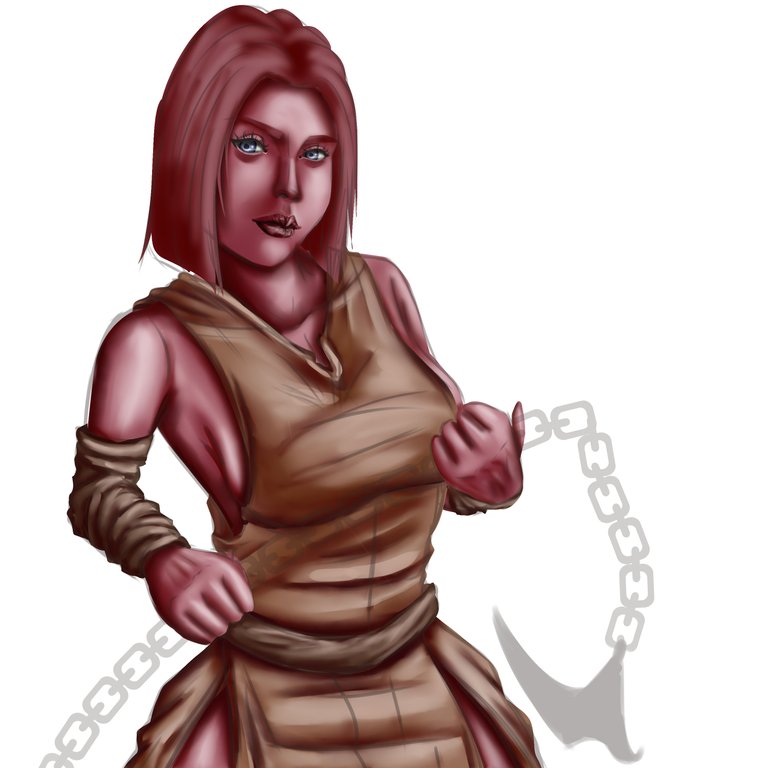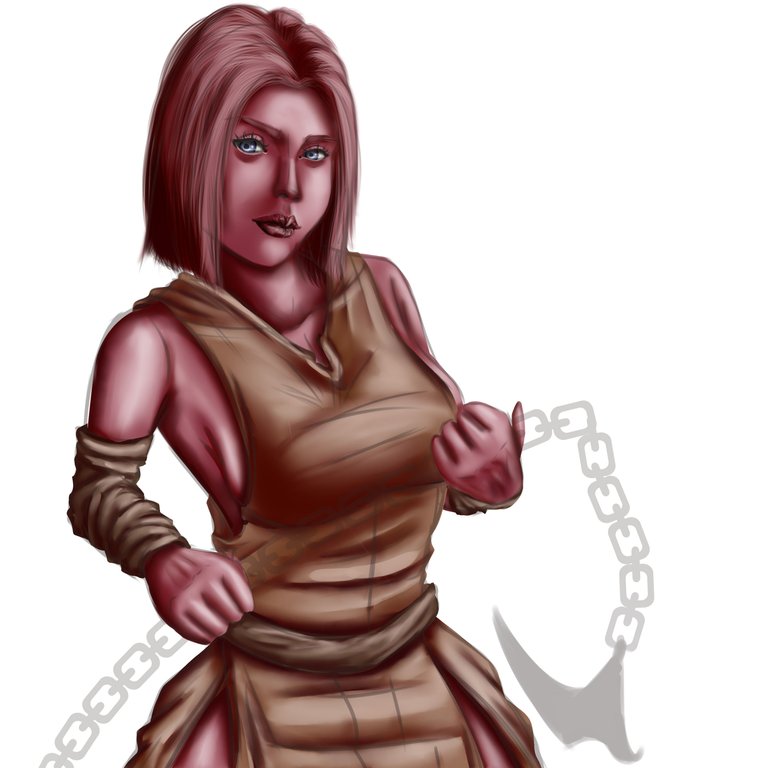 The last part of my illustration was basically where I dedicated myself to create the famous (Lightning Cut Chain), this step was the most delayed since my intention was to give the chains the right shapes and texture as if they were real gold chains; the texturing I did entirely with brushes with defined edges but with an opacity of 80% to be able to blur and mix the layers of gold, the brightness was achieved with the layer modes (Add and Bright) respectively.
La ultima parte de mi ilustración fue básicamente donde me dedique a crear la famosa (Cadena de Corte Relámpago), este paso fue el mas demorado ya que mi intención era la de darle a las cadenas la formas y la textura adecuada como si se tratasen de unas cadenas de oro reales; el texturizado lo hice enteramente con pinceles de bordes definidos pero con una opacidad del 80% para poder difuminar y mezclar las capas del oro, los brillos los logre con los modos de capa (Sumar y Bright) respectivamente.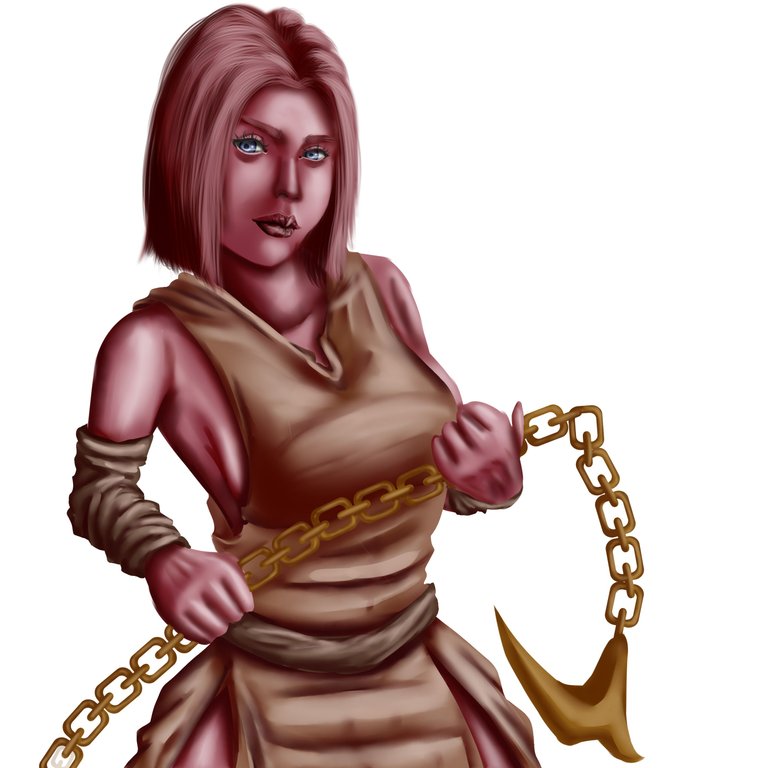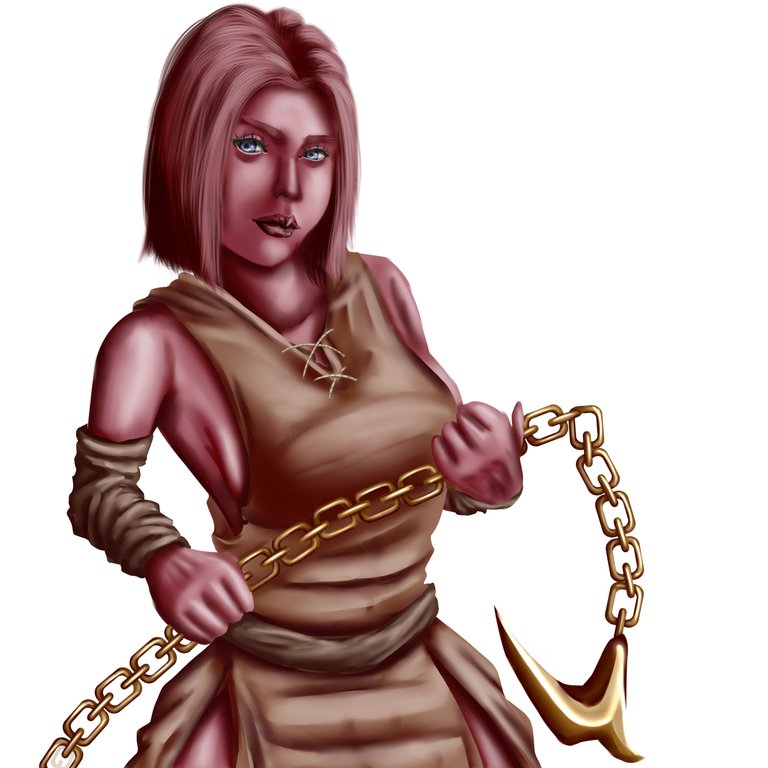 Finally, I just dedicated myself to create a good scenery for my illustration, first I had the idea of creating a lake in the back, but being a warrior character I chose to paint a kind of big canyon with craters and mountains in the distance as there are usually in the battlefields; I created the mountains in varying tones to be noticed a little more than others and also added a couple of clouds in the sky. As a complementary touch I painted a kind of curtain or storm of earth and dust floating through the air and over Candida.
Por último, solo me dedique a crear un buen escenario para mi ilustración, primero tuve la idea de crear un lago en la parte de atrás, pero al tratarse de un personaje guerrero mejor opte por pintar una especie de gran cañón con cráteres y montañas a la lejanía como normalmente hay en los campos de batalla; cree las montañas en variación de tonos para que se notara un poco unas mas que otras y también añadí par de nubes en el cielo. Como toque complementario pinte una especie de cortina o tormenta de tierra y polvo flotando por el aire y sobre Cándida.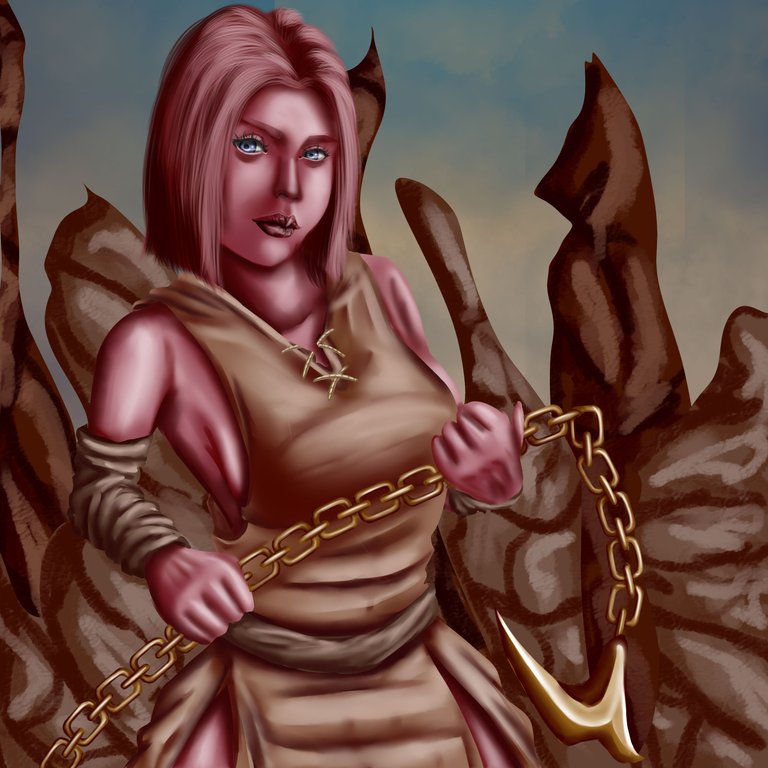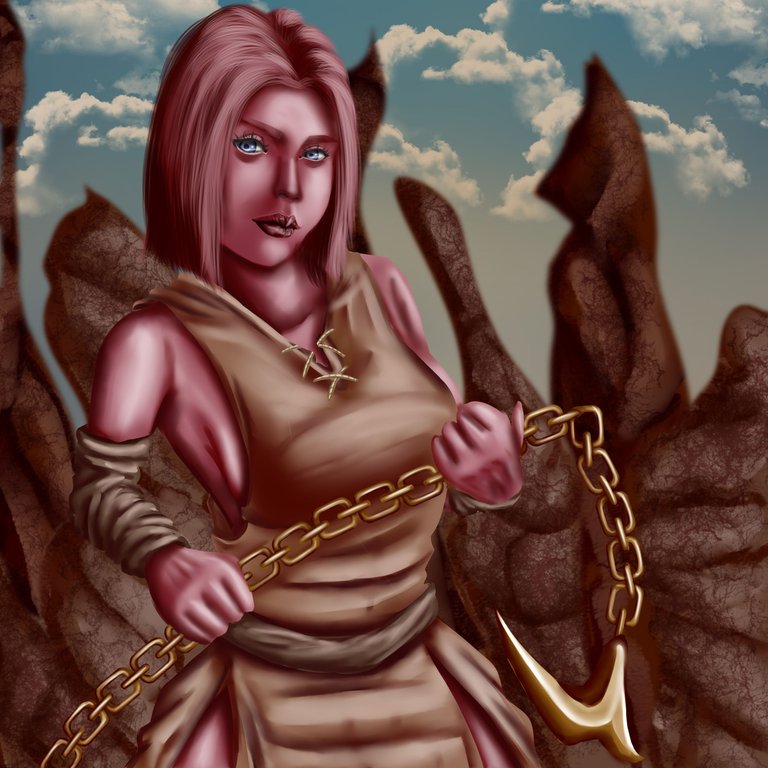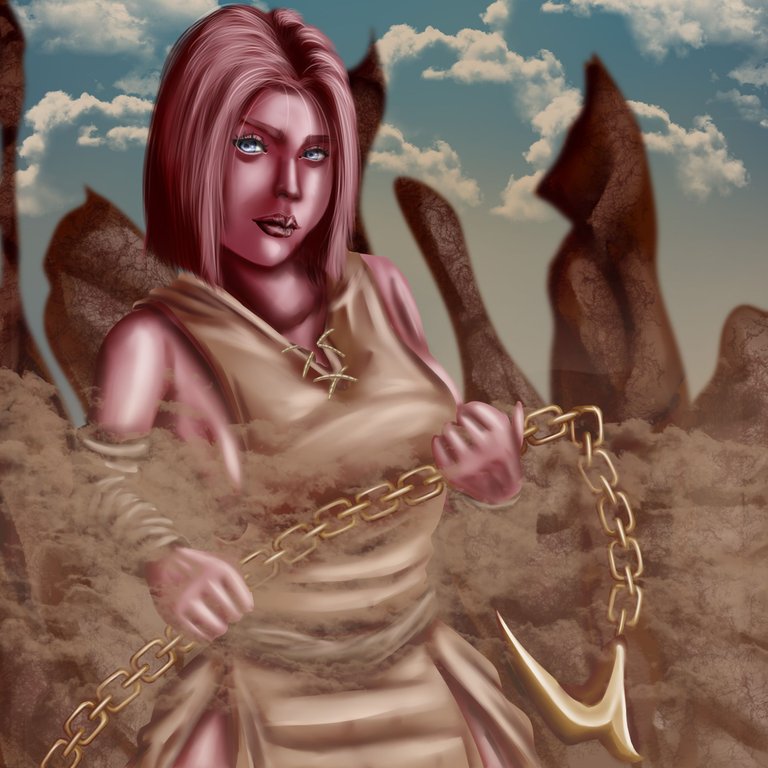 MATERIALS / MATERIALES
Sai Paint Tool Program
Huion inspiroy h610 v2 tablet
Programa Paint Tool Sai
Tableta Huion inspiroy h610 v2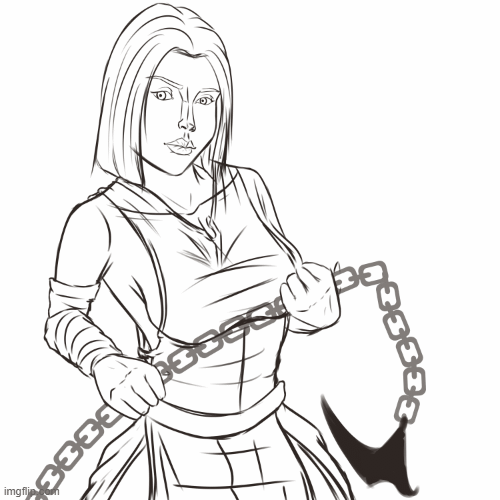 Well boys and girls this has been all for today's drawing, I hope you enjoyed the process and as always I invite you to the comments to stop by; I send you a very strong greeting and we will see you soon with more drawings.... Chao🙋🏽‍♂️✍🏽🤠
Bueno muchachones y muchachones esto ha sido todo por este dibujo del día de hoy, espero hayan disfrutado con el proceso y como siempre los invito a los comentarios a que se pasen por allí; les mando un fuertísimo saludo y nos volveremos a ver muy pronto con más dibujos…. Chao🙋🏽‍♂️✍🏽🤠
---
---