Maddyson, The Mettle of a Dark Queen.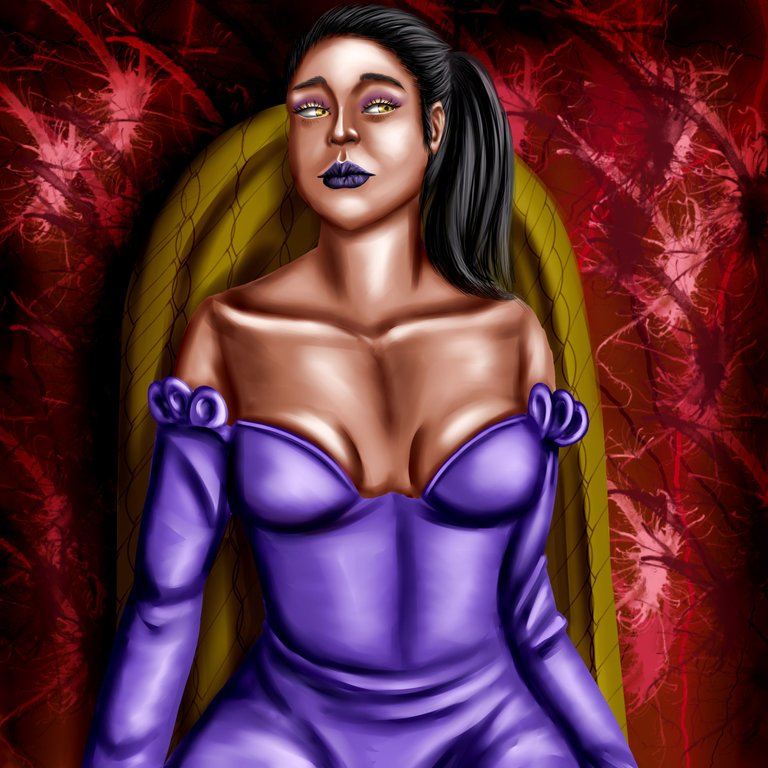 Hello my dear art lovers, welcome once again to my artistic blog, today I bring you a work a little bit in the style of an evil queen which I finished a couple of days ago and I couldn't wait to show it to you since I tried several new things in the painting of the skin, above all. This is a work which I decided to call Maddyson, The temper of a Dark Queen; the idea for this drawing was to create a woman who was a ruler with a hard and cold personality, which everyone would be afraid to even look at her badly; a queen with a lot of power and with a very delicate and explosive character:
Hola mis queridos amantes del arte, sean bienvenidos una vez mas a mi blog artístico, hoy les traigo una obra un poco a estilo reina malvada la cual finalice hace par de días y no podía esperar para mostrárselas ya que probe varias cosas nuevas en el pintado de la piel, sobre todo. Esta es una obra a la cual decidí titular Maddyson, El temple de una Reina Oscura; la idea de para este dibujo era el de crear una mujer la cual fuera una gobernante con una personalidad dura y fría, a la cual todo mundo tuviera temor de siquiera mirarla mal; una reina con mucho poder y con un carácter sumamente delicado y explosivo:
PROCESS / PROCESO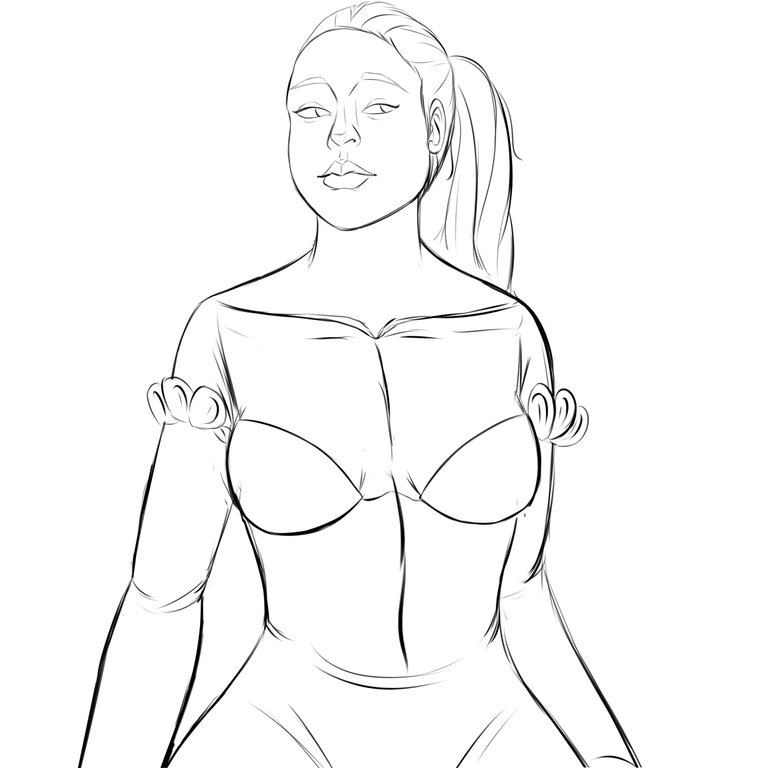 The basic creation of the character was somewhat simple since I only focused on creating a woman between young and middle age, maybe 27 years old with long hair tied in the back like a kind of ponytail; with a slightly closed and fixed gaze towards someone or something specific. After finishing the Line-art I decided to start looking for suitable colors in my color palette to give Maddyson a good look.
La creación base del personaje fue algo sencilla ya que solo me centre en crear una mujer de edad entre joven y media, quizás de unos 27 años con un cabello largo y recogido en la parte de atrás como una especie de coleta de cabello; con una mirada un poco cerrada y fija hacia alguien o algo en específico. Luego de terminar el Line-art decidí comenzar a buscar colores adecuados en mi paleta de colores para imprimir una buena apariencia a Maddyson.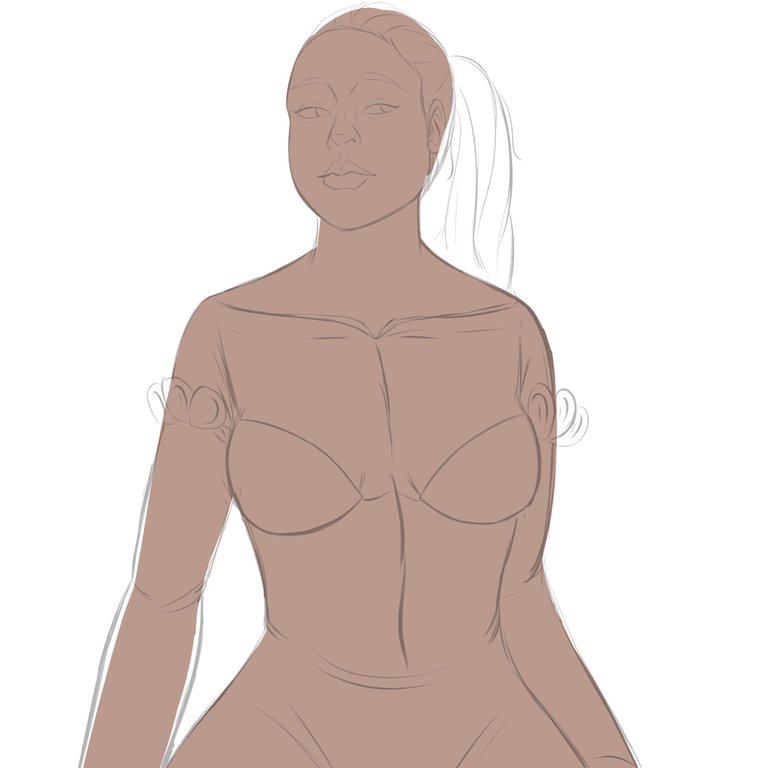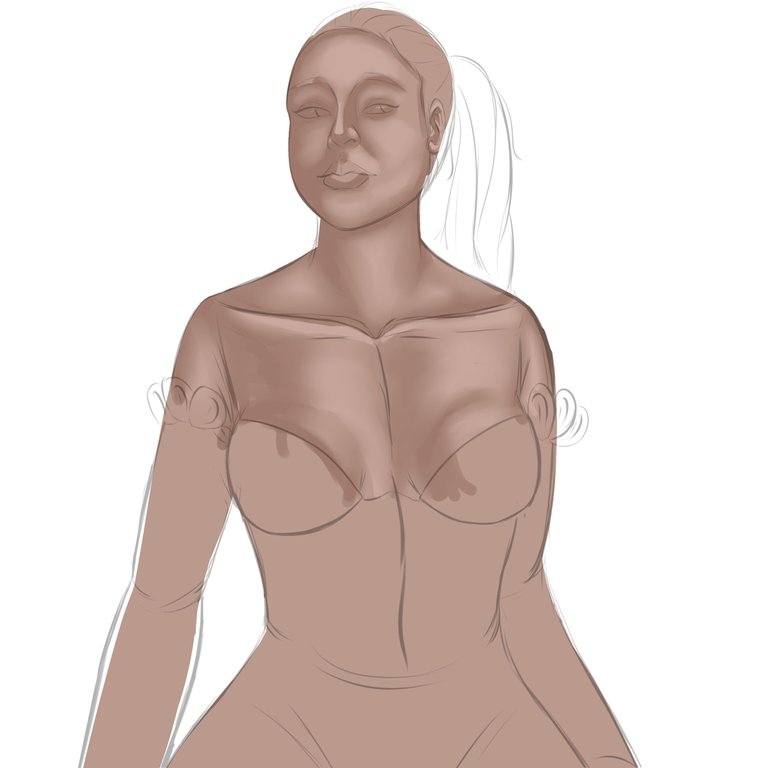 I created a good skin texture with many flat brushes, which I then slightly blurred in order to get a skin as feminine as possible; creating the skin was a step that I really enjoyed doing and that I had to repeat several times in order to get a painting that left me really satisfied with the result.
Fui creando una buena textura de piel con muchos pinceles planos, los cuales fui difuminando ligeramente luego para poder conseguir una piel lo mas femenina posible; crear la piel fue un paso que me gusto mucho realizar y que tuve que repetir varias veces para poder conseguir un pintado que me dejara realmente satisfecho con el resultado.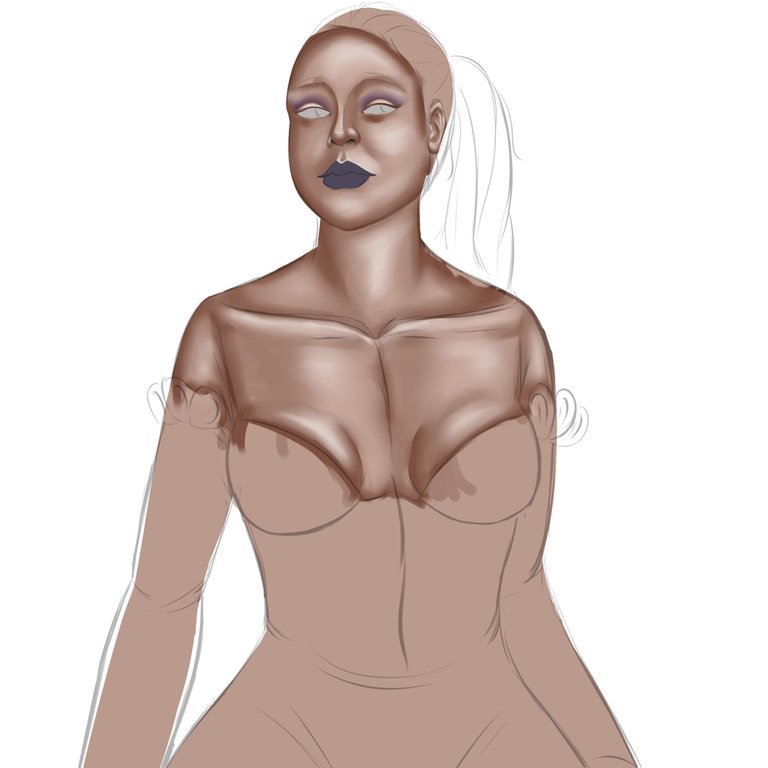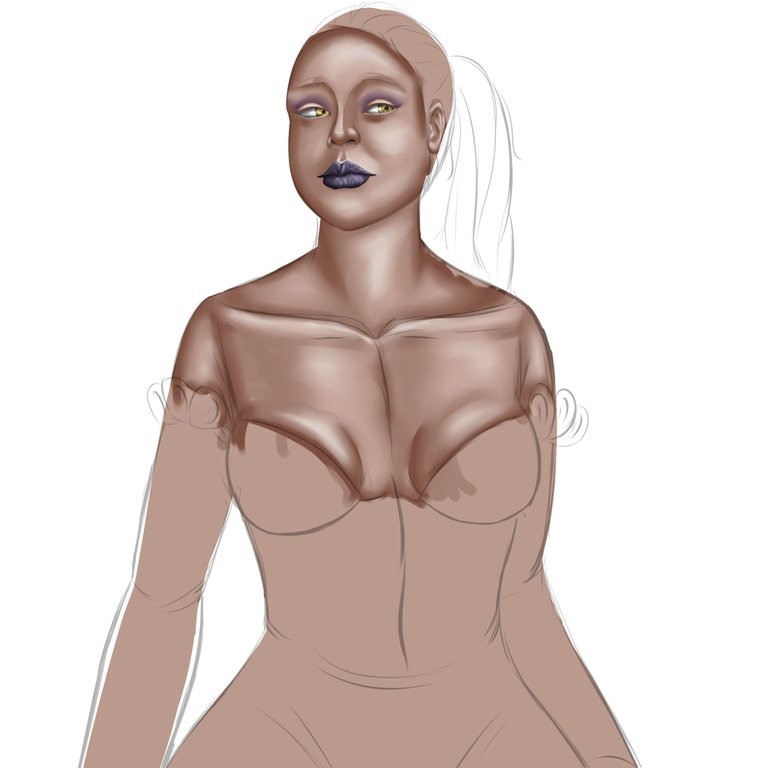 Having established some good details for the face with some intense violet tones for the lips and some warm yellows for the eyes; after finishing with Maddyson's expression I could continue with the rest of my drawing. The next step in the painting was the creation of the stick for which I decided to use watercolor brushes with medium sized tip to create some long and slightly wavy lines for the dark hair; this was a bit long because when I was finishing it the electricity went out in my house, and when I came back I realized that the layers of the hair had not been saved haha and I had to start it again XD.
Habiendo establecido unos buenos detalles para el rostro con unos tonos violetas intensos en los labios y unos amarillos cálidos para los ojos; luego de terminar con expresión de Maddyson ahí si pude proseguir con demás apartados en mi dibujo. El siguiente paso en el pintado fue el de la creación del palo para el cual decidí usar pinceles acuarela con punta de tamaño medio para ir creando algunas líneas largas y poco onduladas para el cabello oscuro; esto fue un poco extenso pues cuando lo estaba finalizando resulta que se fue la electricidad en mi casa, y para cuando regreso me di cuanta de que no se había guardado las capas del pelo jajaaj y tuve que empezarlo de nuevo XD.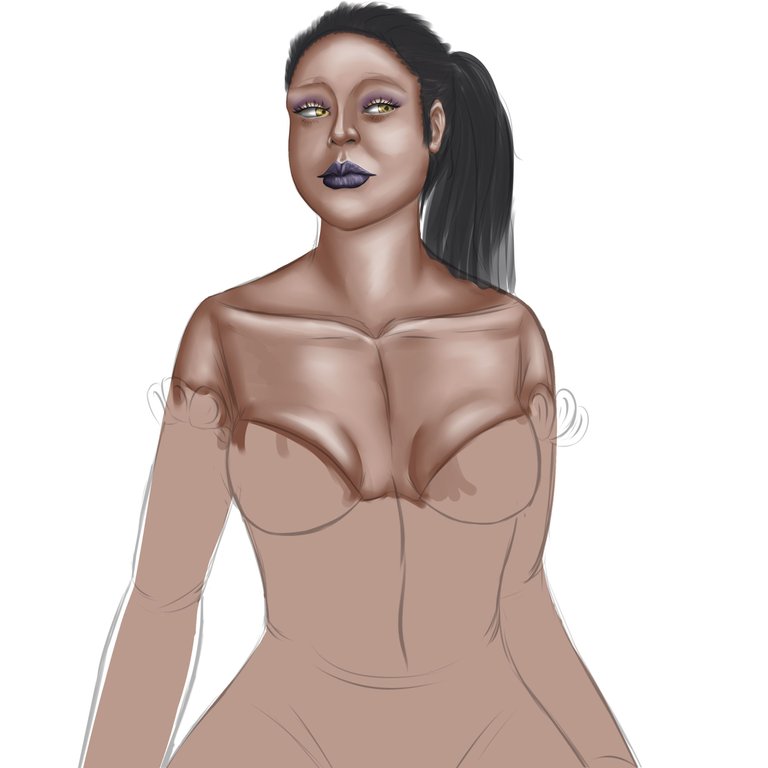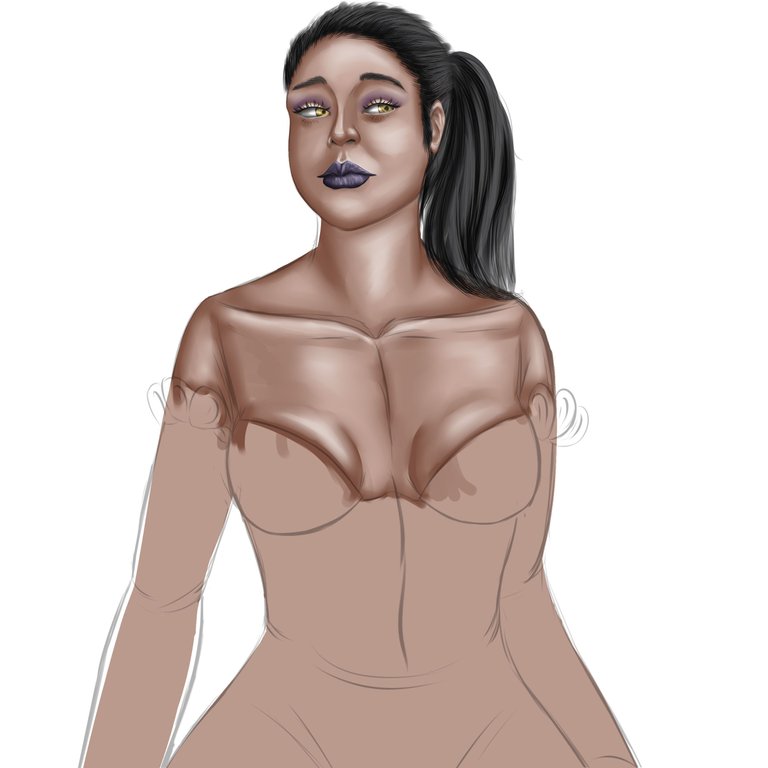 After finishing with the hair I continued in a new layer with the creation of the queen Maddyson's dress, for this I decided to use some violet tones that I have for a long time in my color palette and that I haven't used for a drawing for a long time. I used the watercolor brush at the beginning, but then I realized that it looked very opaque and a bit boring; that's why I decided to use another brush for the base of the dress, and at the end I did use the watercolor brush at a low opacity to create a special and unique texture.
Luego de finalizar con el pelo continue en una nueva capa con la creación del vestido de la reina Maddyson, para esto decidí usar algunos tonos violetas que tengo desde hace tiempo en mi paleta de colores y que hace mucho no usaba para un dibujo. Use el pincel acuarela de inicio, pero luego me di cuenta de que se viera muy opaco y algo aburrido; es por ello que decidí usar otro pincel para la base del vestido, y al final si emplee el pincel acuarela a una baja opacidad para crear una textura especial y única.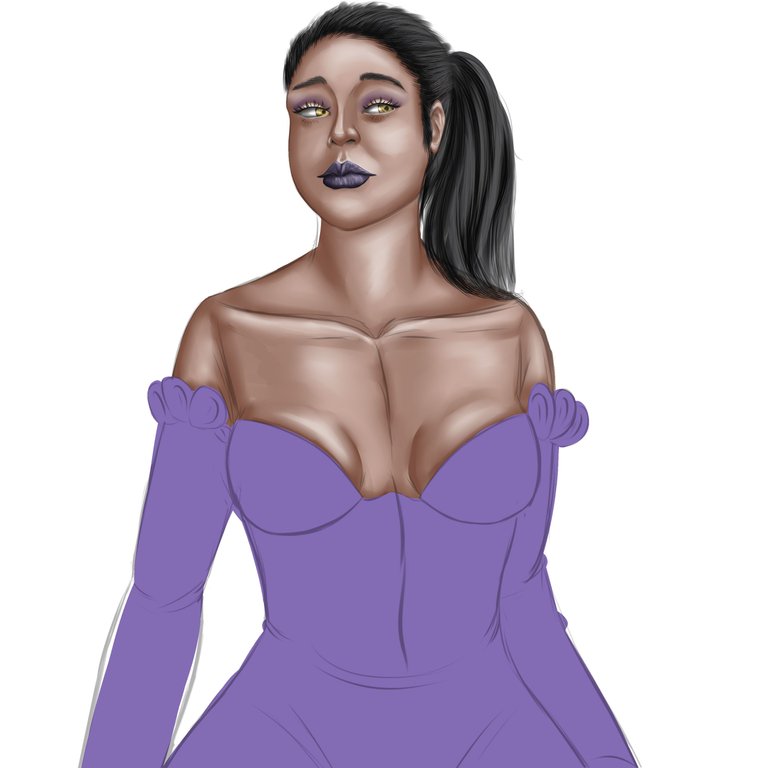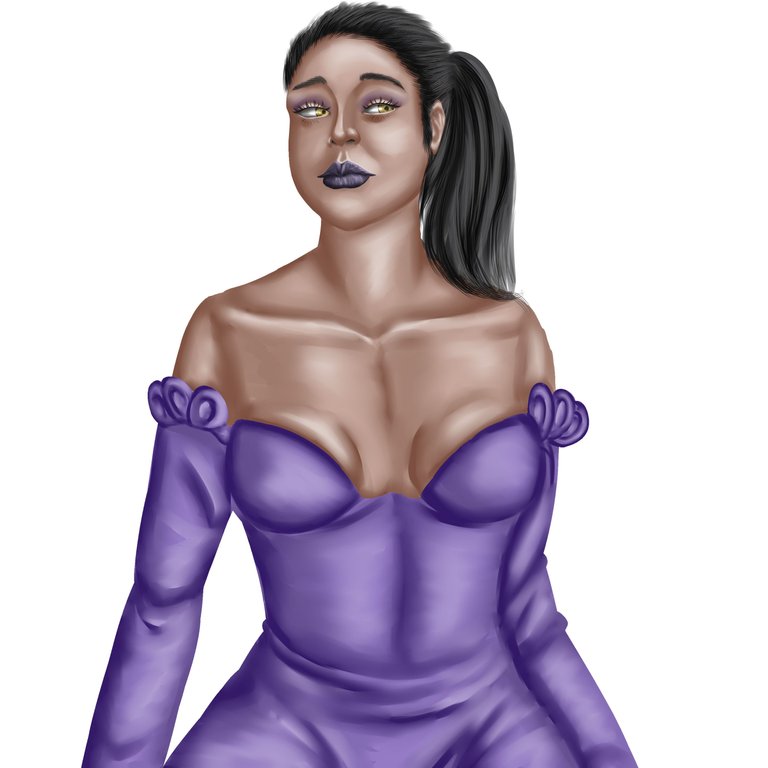 For the final part I only dedicated myself to create the scenery where Queen Maddyson would be, and in this case I proposed to create a kind of royal hall, where the Queen sits to receive her subjects and to give orders to her guards; here I insisted on using a little darker and more intense tones to achieve a look that complemented perfectly with the personality of Queen Maddyson. So I painted the parades with some shapes and textures interspersed with red and black colors to achieve something different; I used a couple of new brushes for the final part and I love what I got with this.
Ya para la parte final solo me dedique a crear el escenario donde se encontraría la Reina Maddyson, y en este caso me propuse crear una especie de salón real, donde la Reina se sienta a recibir súbditos y a darle ordenes a sus guardias; aquí si me empeñe en utilizar tonos un poco más oscuros e intensos para lograr una apariencia que se complementara a la perfección con la personalidad de la Reina Maddyson. Por ello pinte las parades con algunas formas y texturas entremezcladas con colores rojos y negros para lograr algo diferente; use par de pinceles nuevo para la parte final y me encanto lo que conseguí con esto.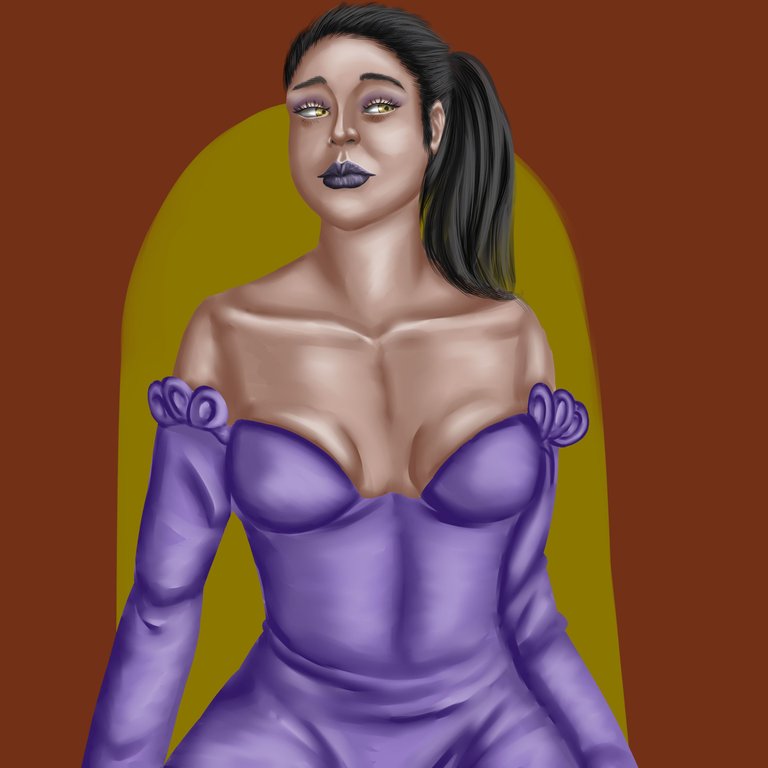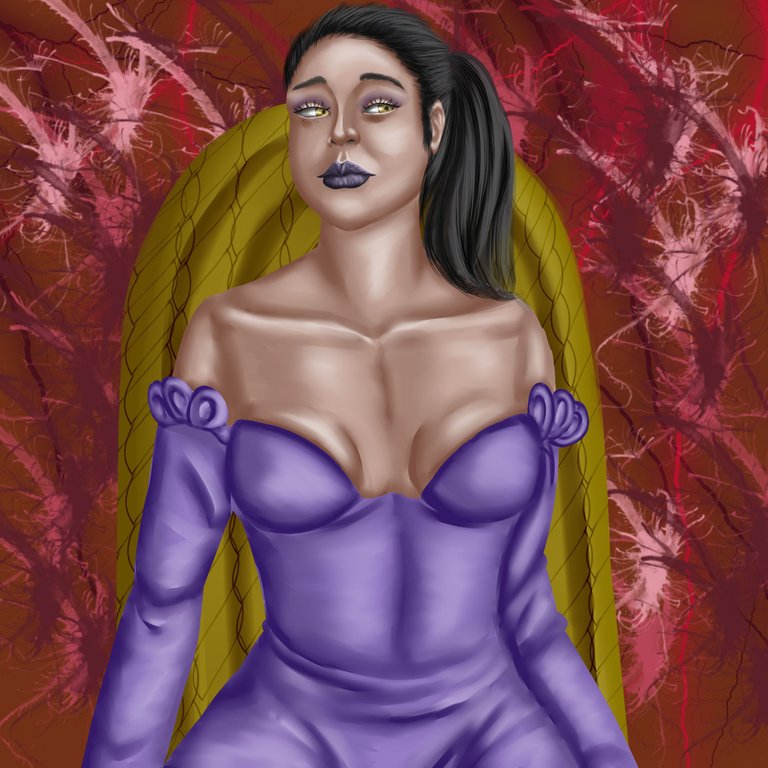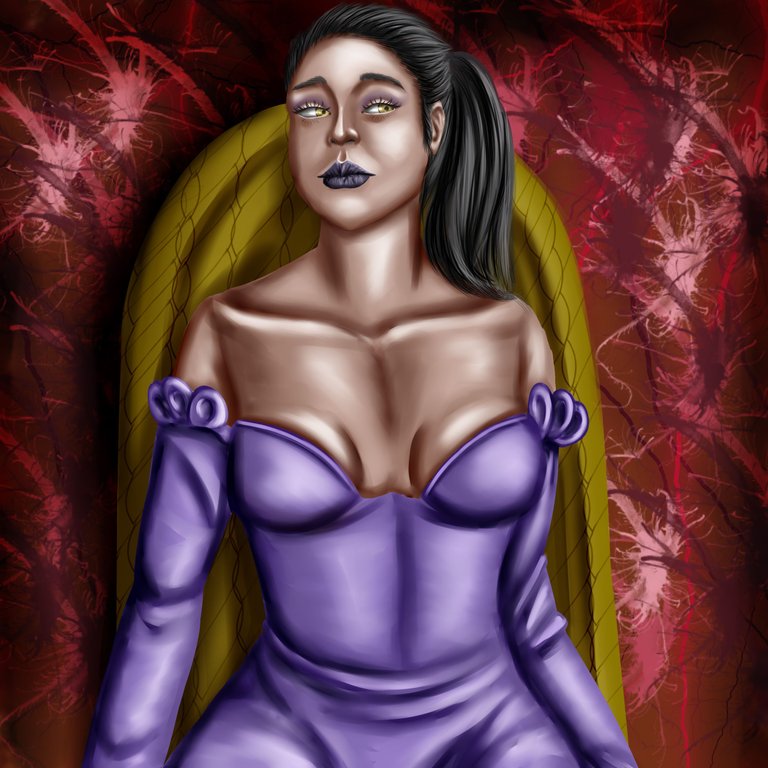 MATERIALS / MATERIALES
Sai Paint Tool Program
Huion inspiroy h610 v2 tablet
Programa Paint Tool Sai
Tableta Huion inspiroy h610 v2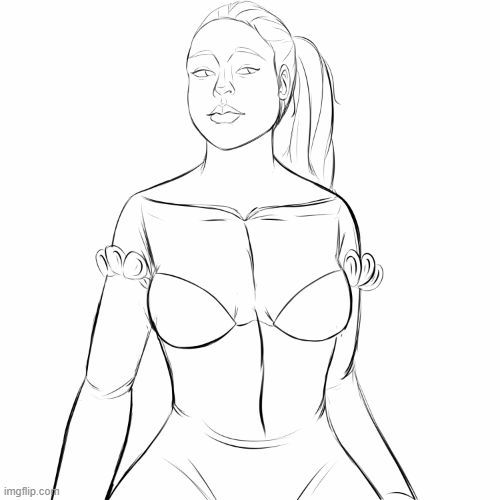 Well my dear community this was all for today, thank you very much for coming here and see the process of my drawing, I put a special effort to this work because I had days wanting to try some brushes that I use here, and I really liked the final result of some colors that I decided to mix. I send you all a big greeting and I will see you in a next drawing.
Bueno mi querida comunidad esto fue todo por el día de hoy, muchas gracias por haber llegado hasta aquí y ver el proceso de mi dibujo, le puse un empeño especial a esta obra ya que tenía días queriendo probar algunos pinceles que aquí use, y me gusto mucho el resultado final de algunos colores que decidí mezclar. Les mando un gran saludo a todos y nos veremos en un próximo dibujo.
---
---