Splinterlands Art Contest Week 205 -- Doctor Blight.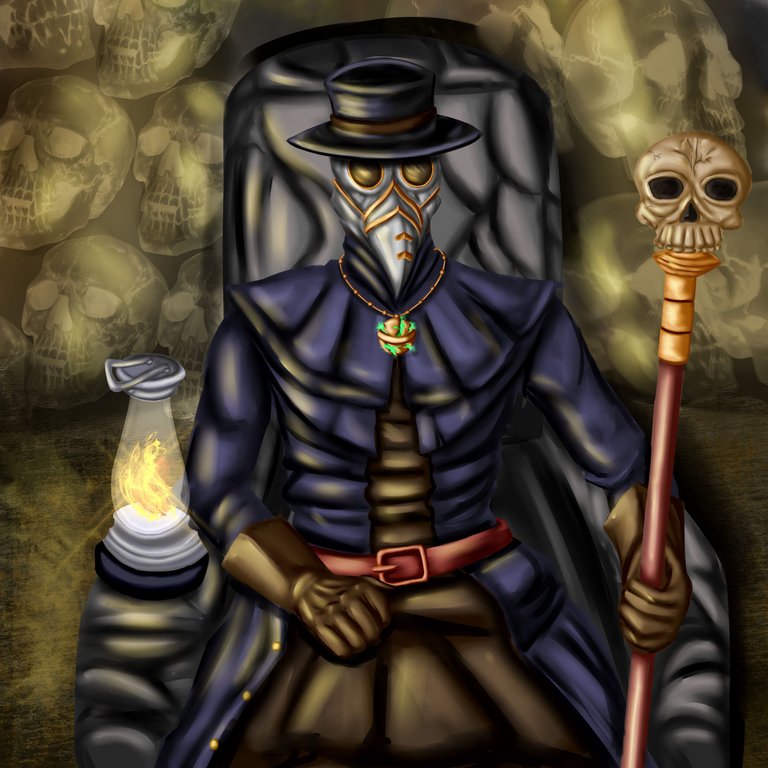 Hello my people, happy Friday to all of you who are here and I hope you have had an excellent and productive week, today I bring you a new entry in this new week for the #Splinterlands drawing contest; and it is one of the most difficult and detailed works that I have done for this dynamic. The card chosen for my participation was that of (Doctor Blight), this card caught my attention since I saw it a few weeks ago, and for this reason I took my time to create a drawing in my style in which the complete essence of the character (Doctor Blight):
Hola mi gente, feliz viernes para todos los que por aquí se encuentran y ojalá hayas pasado una excelente y productiva semana, el día de hoy les traigo una nueva entrada en esta nueva semana para el concurso de dibujo de #Splinterlands; y se trata de una de las obras más difíciles y con mayor nivel de detalle que he hecho para esta dinámica. La carta elegida para mi participación fue la de (Doctor Blight), esta carta me llamo poderosamente la atención desde que la vi hace algunas semanas, y por ello me tomé mi tiempo para lograr crear un dibujo a mi estilo en el que se apreciara la completa esencia del personaje (Doctor Blight):
Reference Image
PROCESS / PROCESO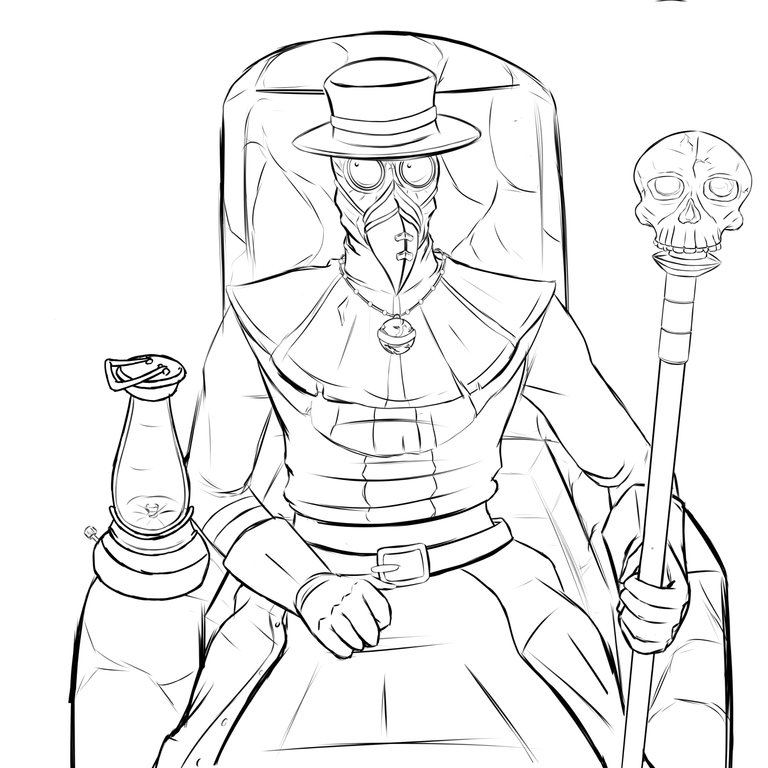 For this character I decided to create him with a quite specific pose, something calm and relaxed, while he is sitting on a kind of chair or armchair; first I had the idea of making an ordinary armchair, but then the idea came to my mind to make the chair with a kind of structure of old stones or rocks that would look cooler. After finishing with the sketch I did something a little different this time and decided to start painting the whole base of the dress first.
Para este personaje me decidí por crearlo con una pose bastante especifica, algo tranquila y relajada, mientras se encuentra sentado en una especie de silla o sillón; primero tuve la idea de hacer un sillón común y corriente, pero luego se me vino a la mente la idea de hacer la silla con una especie de estructura de piedras o rocas antiguas que se verían más cool. Luego de terminar con el boceto hice algo un poco diferente esta vez y decidí comenzar a pintar toda la base de la vestimenta en primer lugar.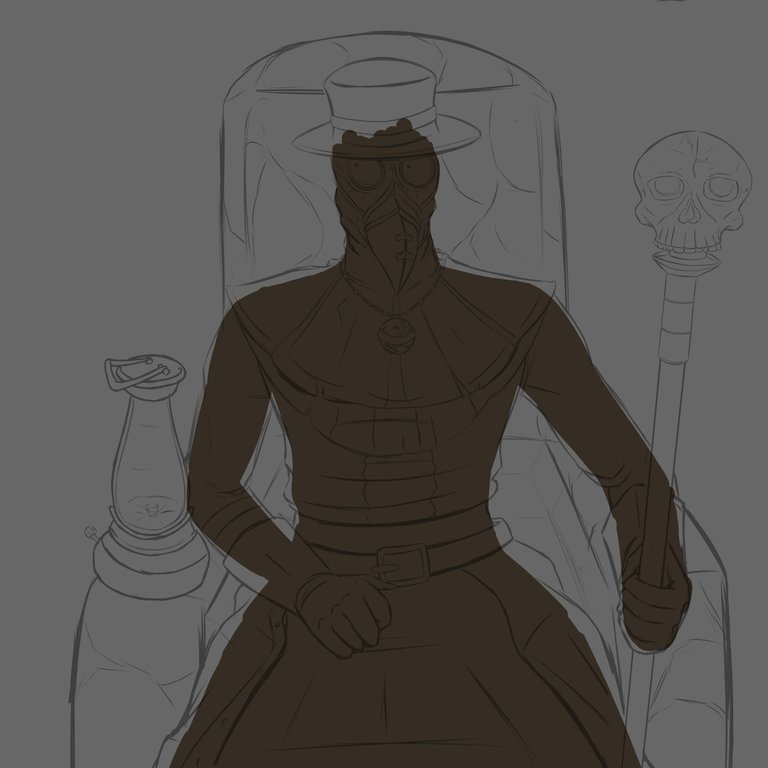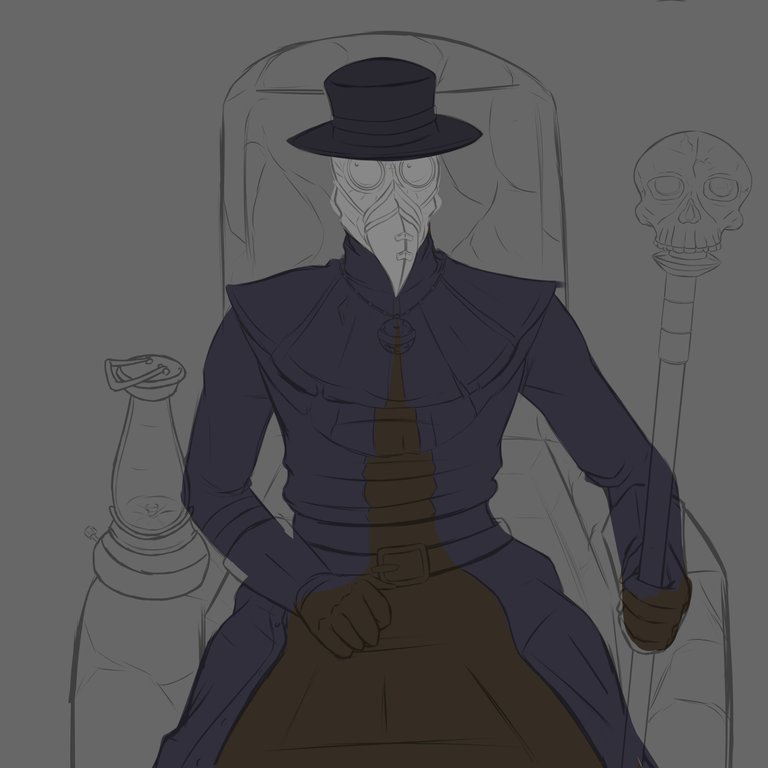 After establishing the first brown and navy blue colors for the (Doctor Blight) suit, I then went on to paint the sort of raven face mask with a medium gray color, so I could then apply tones over it more easily to improve the blurring. After leaving established most of the base of the (Doctor Blight) the following thing I did was to begin to apply textures to the suit with many brushes and colors much more defined, with a couple of layer effects to improve the realism of the suit; I also took the opportunity to apply a little texture to the mask with more white tones to give it a more striking volume.
Luego de establecer los primeros colores marrones y azul marino para el traje de (Doctor Blight), luego seguí con el pintado de la especie de mascara con apariencia de cara de cuervo con un color gris medio, para luego poder aplicar tonos sobre ella con mayor facilidad que mejorara el difuminado. Luego de dejar establecido la mayor parte de la base del (Doctor Blight) lo siguiente que hice fue comenzar a aplicar texturas al traje con muchos pinceles y colores bastante mas definidos, con un par de efectos de capa mejores el realismo del traje; también aproveché para aplicar un poco de textura a la mascara con tonos mas blancos para darle un volumen más llamativo.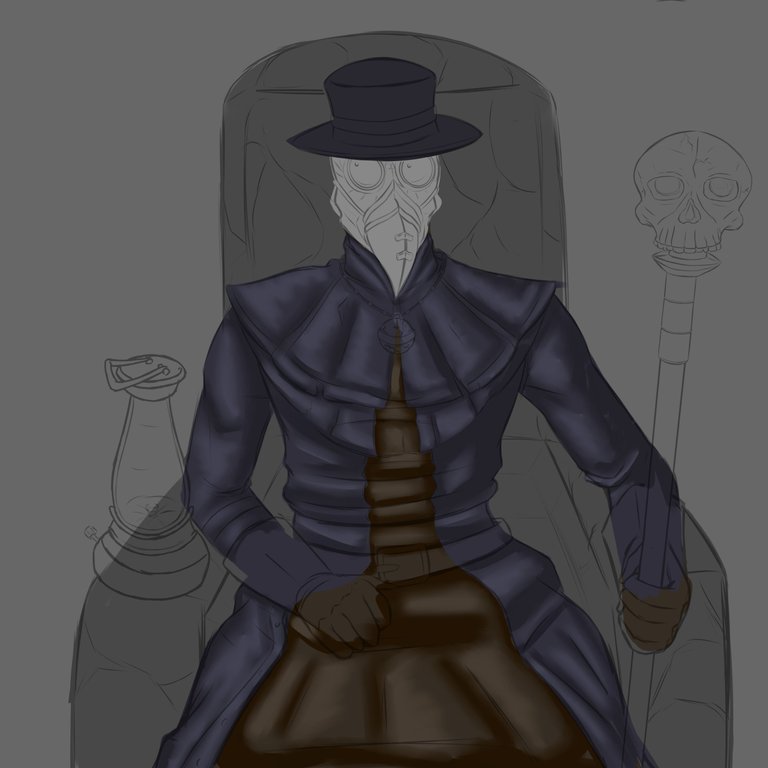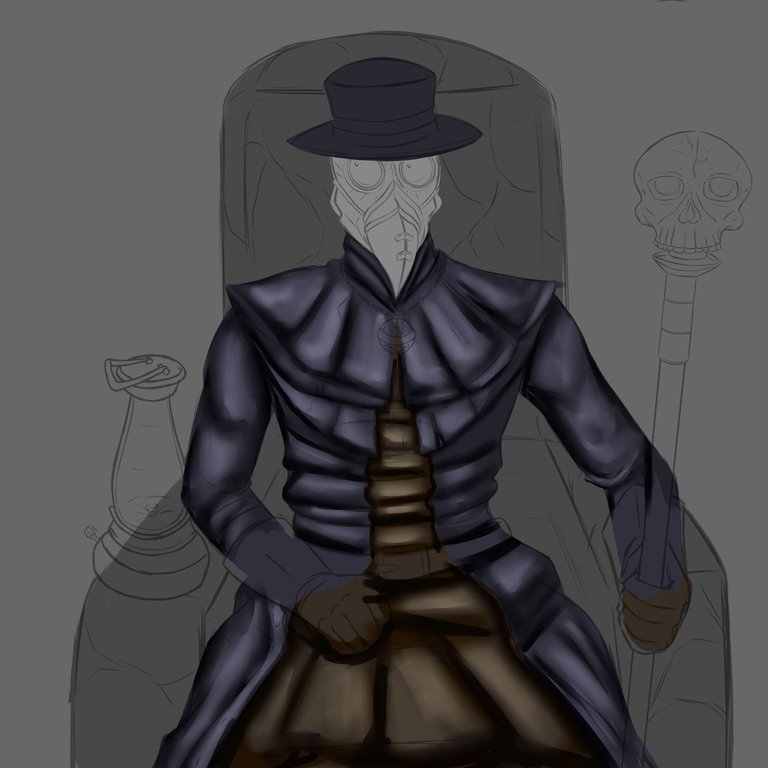 I continued with the detailing of the mask adding some touches of yellow and orange, this to create a golden look to some of the details of the mask on the beak and around the eye visors; a Shine coat mode gave that final shine to the golden details. After finishing with the mask I continued painting the gloves and giving a little texture to the hat, as I thought it looked too dark and flat.
Continúe con el detallado de la mascara agregando algunos toques en color amarillo y naranja, esto para crear una apariencia de oro en algunos detalles que lleva la marcara en el pico y alrededor de los visores de los ojos; un modo de capa Shine les dio ese brillo final a los detalles dorados. Luego de terminar con la mascara continúe pintando los guantes y dándole un poco de textura al sombrero, ya que me pareció que se veía muy oscuro y plano.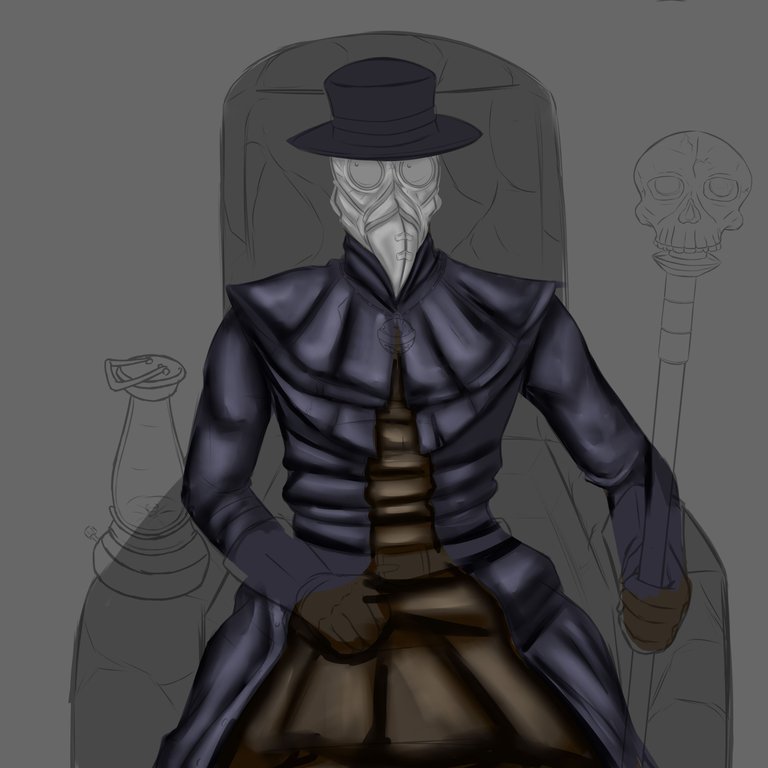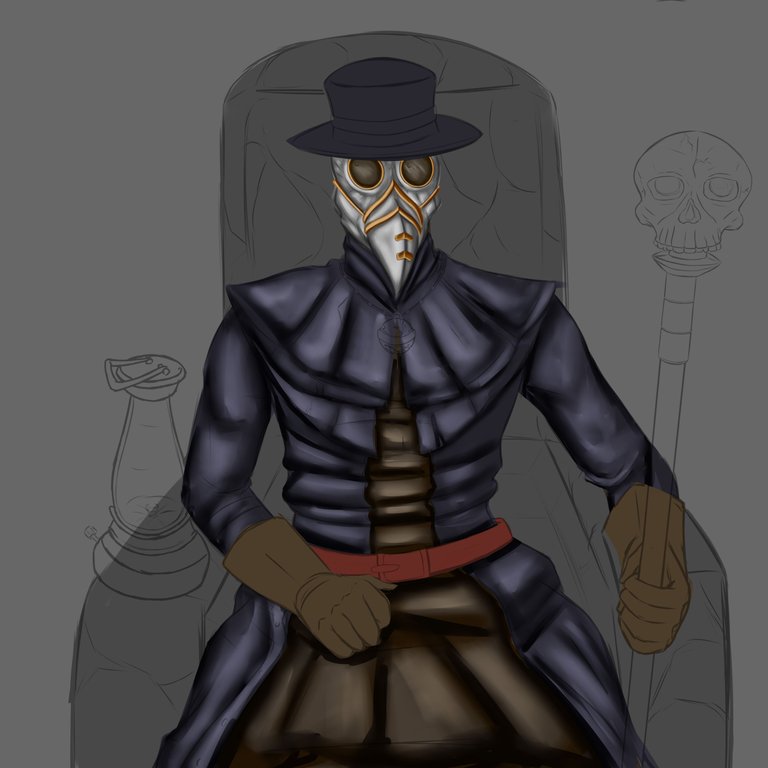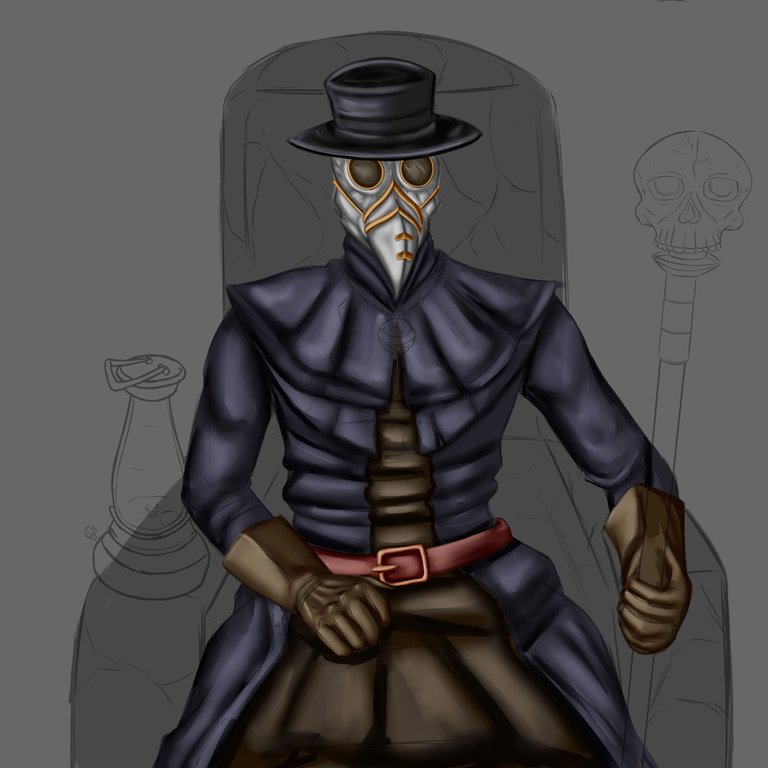 The next step in the painting of my work was the coloring of the special necklace of (Doctor Blight), for this I used yellow tones much more intense than those of the details of the mask, this to give a little difference with respect to one and the other; then I continued doing the same to achieve a golden appearance in some areas of the skull cane that carries the (Doctor Blight). For the skull I put special attention and care since I wanted to create a human skull as realistic as possible; with a very small brush I created some minimal cracks on the top to make it look even better.
El siguiente paso en el pintado de mi obra fue el del coloreado del collar especial del (Doctor Blight), para esto use tonos de amarillo mucho mas intensos a los de los detalles de la máscara, esto para darle un poco de diferencia con respecto a uno y otro; luego continue haciendo lo mismo para lograr una apariencia de oro en algunas zonas del bastón de calavera que lleva el (Doctor Blight). Para la calavera puse especial atención y cuidado ya que quería crear un cráneo humano lo mas realista posible; con un pincel muy pequeño cree algunas grietas mínimas en la parte de arriba para que se viera aún mejor.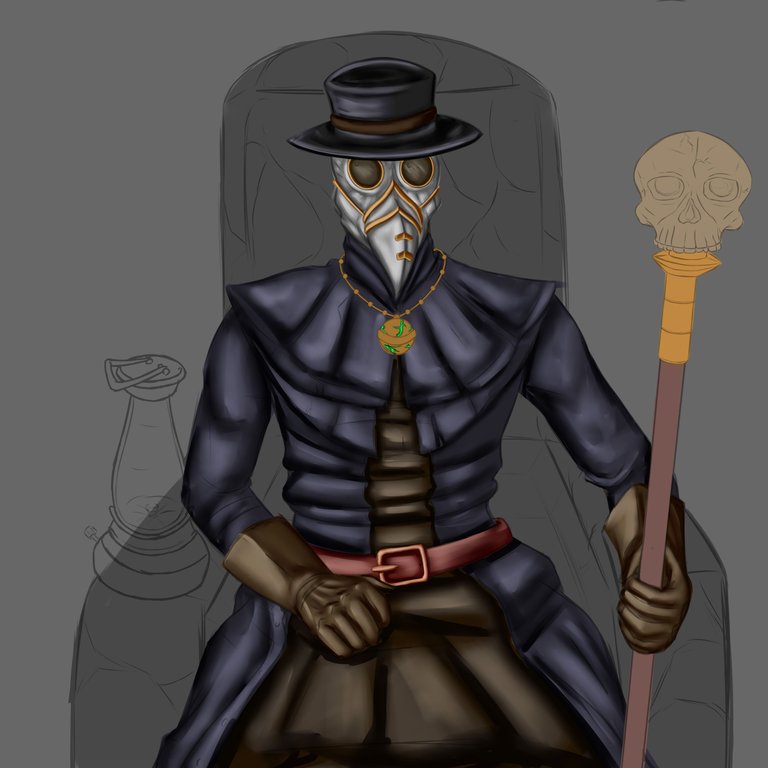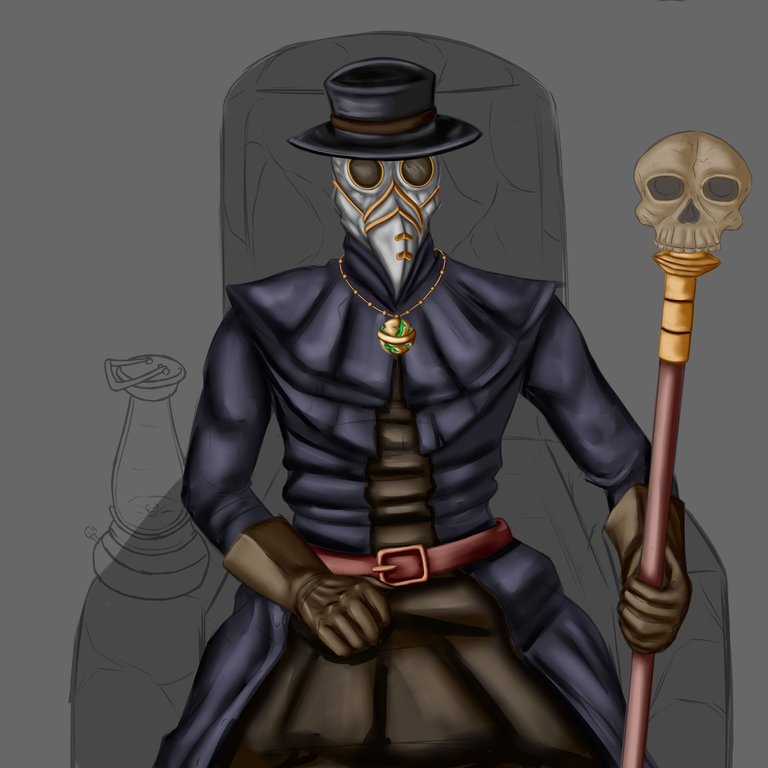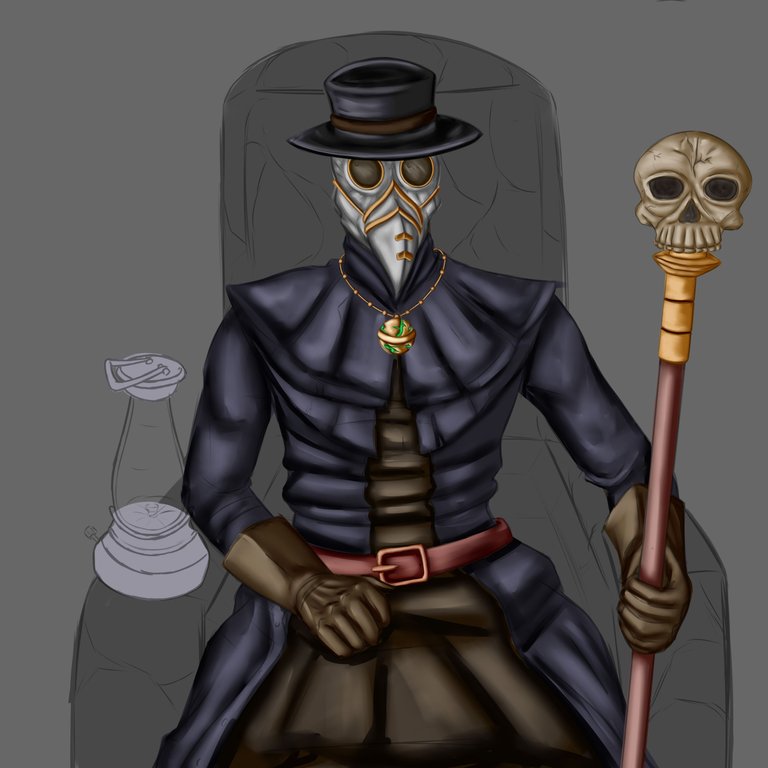 For the final part I focused a little on creating the lamp that accompanies the (Doctor Blight) in the letter, I was about to leave it out, but then I remembered that I had a special brush to create fire appearance and I decided better to paint it; I used a couple of layer effects to achieve a crystal appearance in the lamp and then under this layer of crystal I created the fire or flame that illuminates the lamp. Finally, I dedicated myself to create the rock chair with a very rudimentary and antique style, for this I had to use many shades of gray, white and black to achieve a texture and appearance of stone much more real; in addition I created some skulls in the back and on the wall to better accompany this illustration.
Ya para la parte final me centre un poco en crear la lampara que acompaña al (Doctor Blight) en la carta, estuve a punto de dejarla por fuera, pero luego recordé que tenia un pincel especial para crear apariencia de fuego y decidí mejor si pintarla; use un par de efectos de capa para logra una apariencia de cristal en la lampara y luego bajo esta capa de cristal cree el fuego o flama que ilumina la lampara. Por último, me dedique a crear la silla de rocas con un estilo bastante rudimentario y antiguo, para esto tuve que emplear muchos tonos de gris, blanco y negro para lograr una textura y apariencia de piedra mucho más real; además de ello cree algunas calaveras en la parte de atrás como en la pared para acompañar mejor a esta ilustración.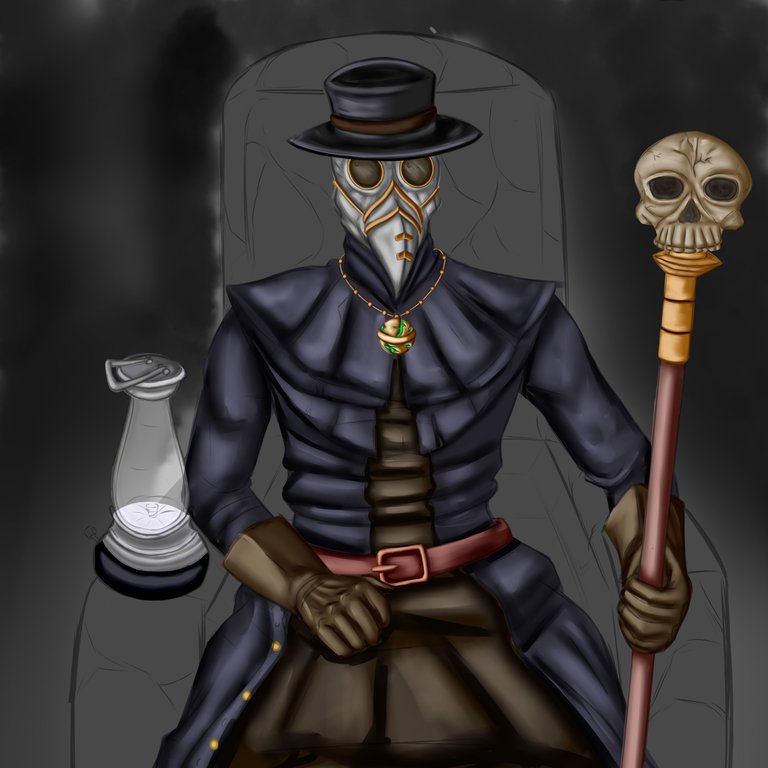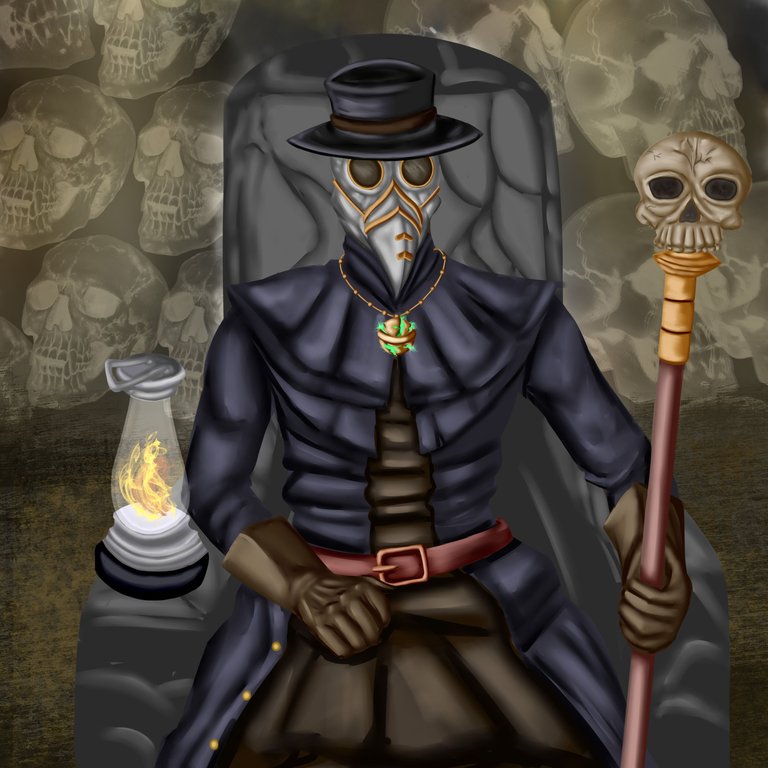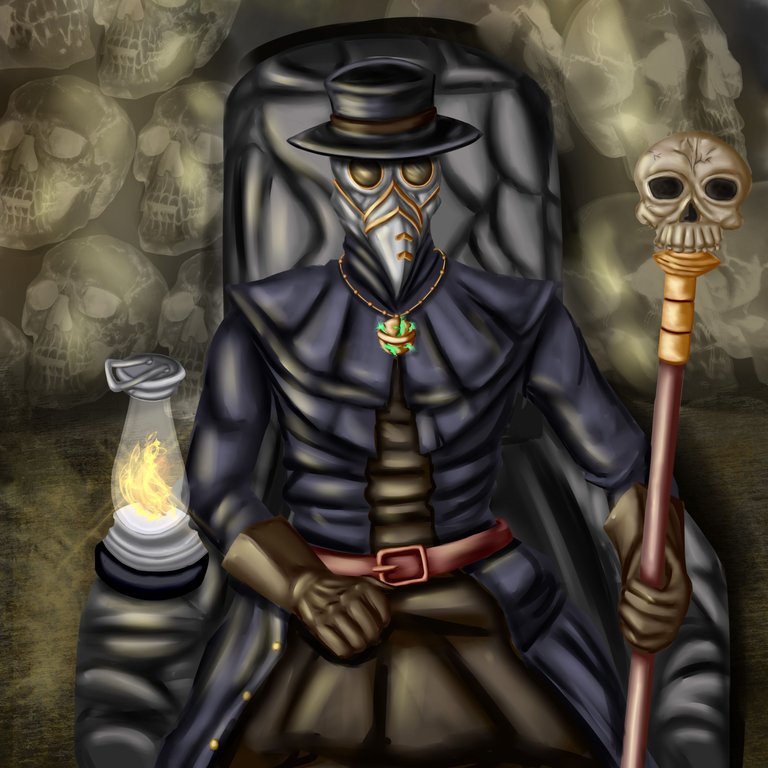 MATERIALS / MATERIALES
Sai Paint Tool Program
Huion inspiroy h610 v2 tablet
Programa Paint Tool Sai
Tableta Huion inspiroy h610 v2
This has been all for today my dear community of artists and card game lovers, thank you very much for coming here and for watching the process of my illustration; I confess that this is the work that took me the longest time to finish because I wanted to give a lot of care to all the details that compose it. I hope you loved my drawing and I'll see you next week in a new drawing my people...see you later.
Esto ha sido todo por el día de hoy mi querida comunidad de artistas y amantes del juego de cartas, muchas gracias por llegar hasta aquí y por ver el proceso de mi ilustración; les confieso que es la obra en la que mas tiempo me he demorado en culminar pues quise darle el mucho cuidado a todos los detalles que la componen. Espero que les haya encantado mi dibujo y nos veremos la próxima semana en un nuevo dibujo mi gente…hasta luego!.
---
---