Splinterlands Art Contest Week 208 - Ice Pixie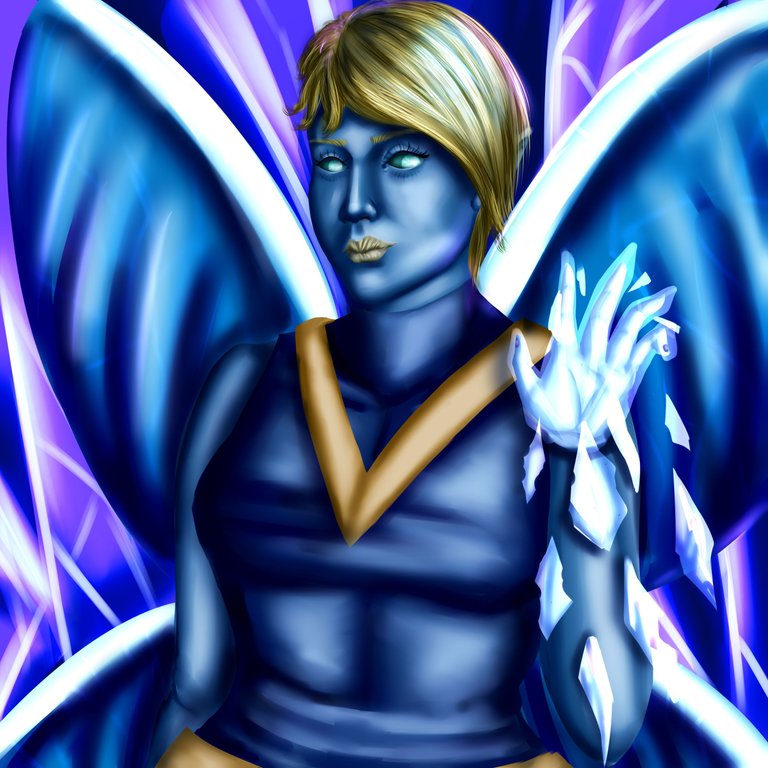 Hi guys and girls, I hope you are very well and welcome to my art blog, today I come to you with a new entry for the #Splinterlans weekly drawing contest; it's about the letter of (Ice Pixie) member of the sprites from the frozen hell.
Today's entry is a rather special one as I confess that it took 2 weeks and I had too many problems to finish it. I began with the drawing at the beginning of last week in a little free time I had, but then as I had to finish other works I forgot it a little, and I took it up again at the end of that same week; after that I had many problems with my pc, with electricity and until yesterday I could finish it in a good way and I hope you enjoy it a lot:
Hola chicos y chicas, espero que estén muy bien y sean bienvenidos a mi blog de arte, hoy les vengo con una nueva entrada para el concurso de dibujo semanal de #Splinterlans; se trata de la carta de (Ice Pixie) miembro de los duendecillos del infierno helado.
La de hoy es una obra bastante especial ya que les confieso que se demoró 2 semanas y tuve demasiados problemas para terminarla. Comencé con el dibujo a inicios de la semana pasada en un tiempillo libre que tuve, pero luego como tenia que terminar otros trabajos la olvidé un poco, y retomé a finales de esa misma semana; luego de ello tuve muchos problemas con mi pc, con la electricidad y hasta ayer pude culminarla de buena manera y espero la disfruten mucho: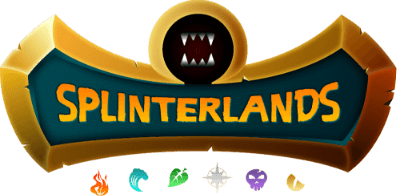 Source / Fuente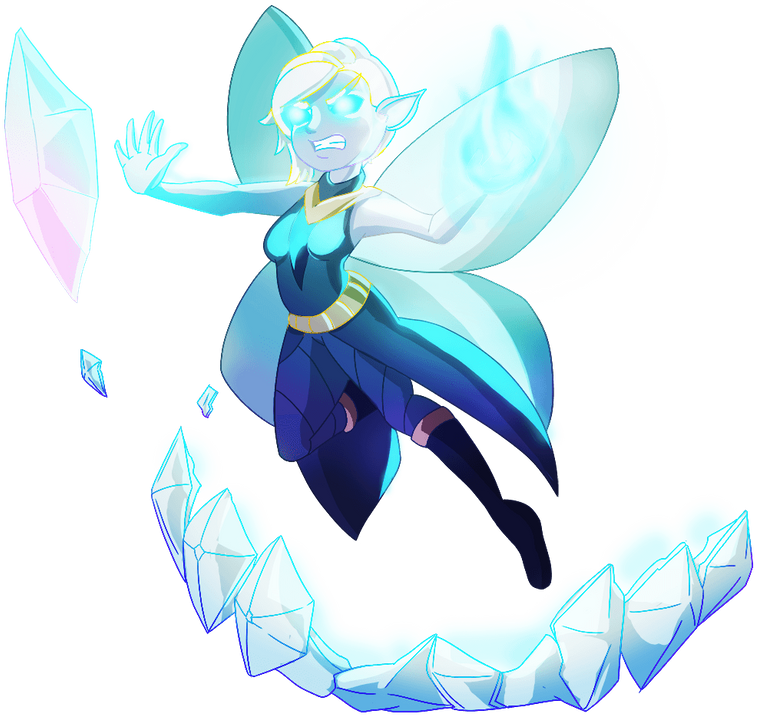 Source / Fuente
PROCESS / PROCESO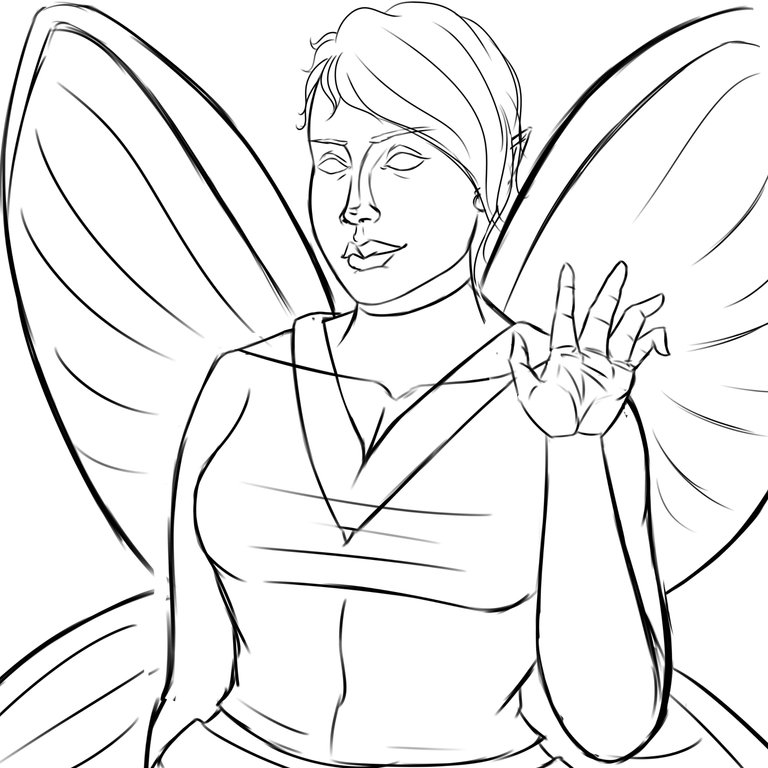 As I said before I started the work and specifically the sketch several days ago, I managed to create a good look for the character's body to the middle, where you can fully appreciate the torso of (Ice Pixie) and with a pose on his left arm as if he were about to make an attack with his ice powers. The painting of the skin was something to which I wanted to dedicate a lot of work to have a look more or less related to the cold and frozen theme, to start I used a medium soapy sky blue and over this blue I played with the textures.
Como les dije antes inicie la obra y concretamente el boceto desde hace varios días, logre crear una buena apariencia para el personaje de cuerpo hasta la mitad, donde se apreciará completamente la parte del torso de (Ice Pixie) y con una pose en su brazo izquierdo como si estuviera a punto de efectuar un ataque con sus poderes de hielo. El pintado de la piel fue algo a lo que quise dedicarle mucho trabajo para que tuviera una apariencia mas o menos relacionada con la temática fría y congelada, para iniciar use un azul cielo medio jabonoso y sobre este azul jugué con las texturas.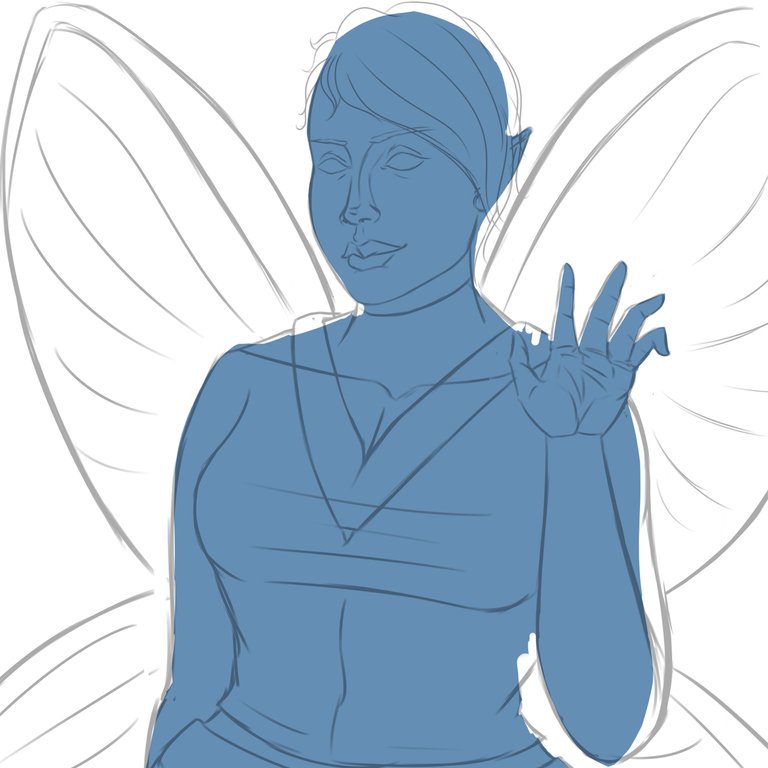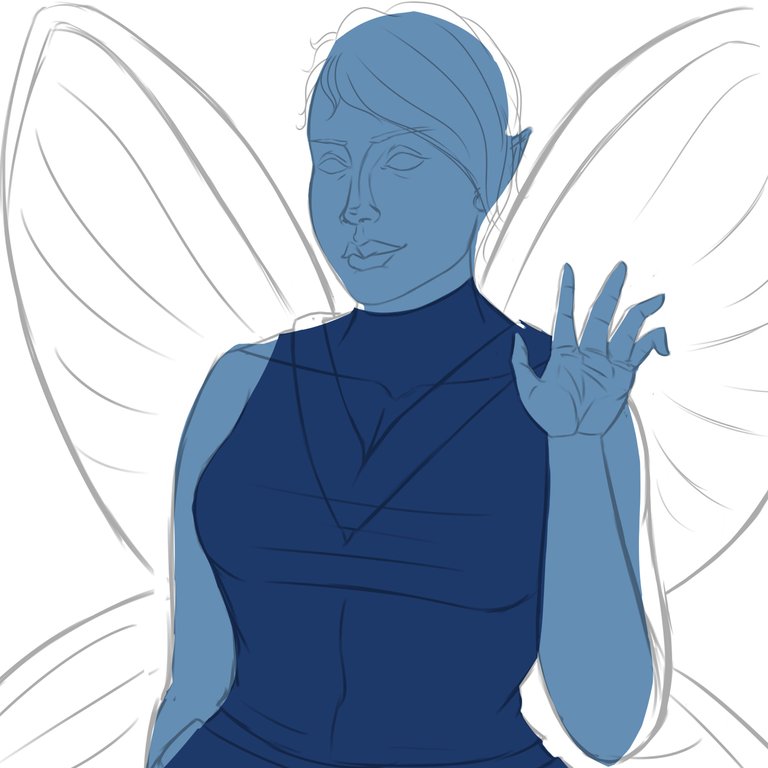 I was finishing the texturing of the skin with very cold and dark colors, then I used a sandy brush to give a special finish to the arms area; after finishing with the skin I immediately moved to the costume of (Ice Pixie). This costume of this character is a kind of superheroine-like costume in my opinion, like a kind of tights or latex costume with golden details; so I worked to build a very shiny look with several brushes.
Fui terminando de crear el texturizado de la piel con colores muy muy fríos y oscuros, luego use un pincel arenoso para darle un acabado especial a la zona de los brazos; luego de terminar con la piel inmediatamente me pase al apartado del traje de (Ice Pixie). Este traje de este personaje es una especie de traje como de superheroína a mi parecer, como una especie de traje de mallas o de látex con detalles en dorado; por ello trabaje para construir una apariencia muy brillante con varios pinceles.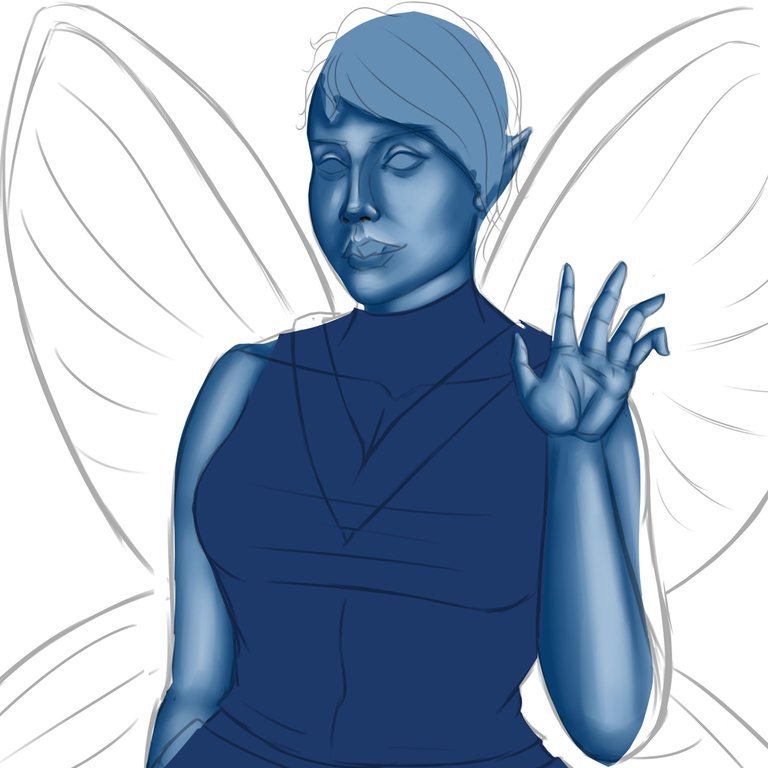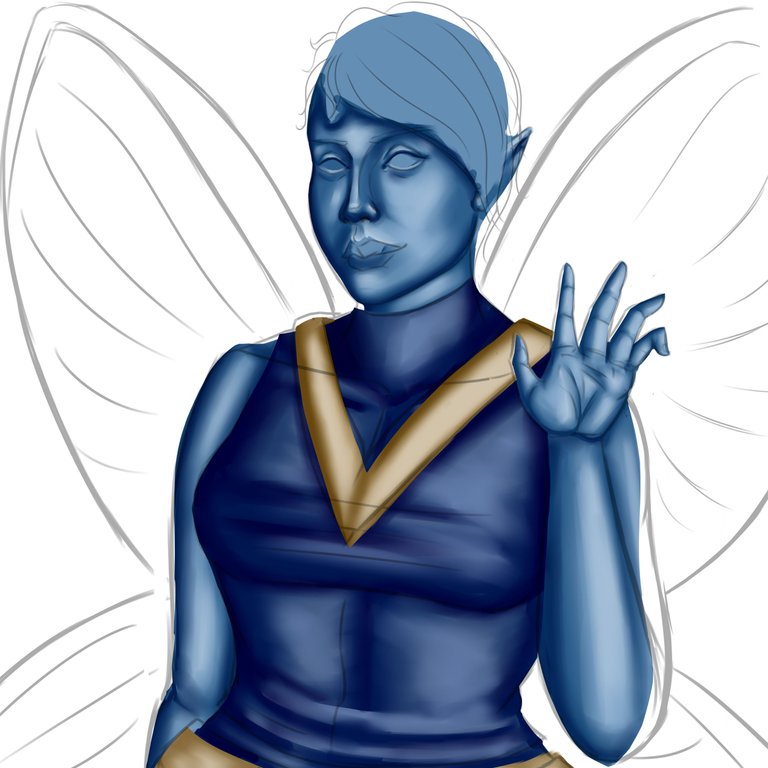 Finishing off the costume nicely I continued to create a couple of new layers for the eye-lip painting, and also for the hair painting; for the eyes I used some black tones with some layering effects (Brave) and (Burn) to create some slightly scary and intimidating eyes. Then to paint the hair I used a similar shade to the lips and built a blonde and shiny hair with some 3-tip brushes intermixed together for relief.
Terminando con el traje de buena manera continúe creando par de capas nuevas para el pintado de los ojos-labios, y también para el pintado del cabello; para los ojos use unos tonos negros con algunos efectos de capa (Brave) y (Burn) para crear unos ojos ligeramente tenebrosos e intimidantes. Luego para pintar el cabello usé un tono parecido al de los labios y construí un cabello rubio y brillante con algunos pinceles de 3 puntas entremezclados entre sí para el relieve.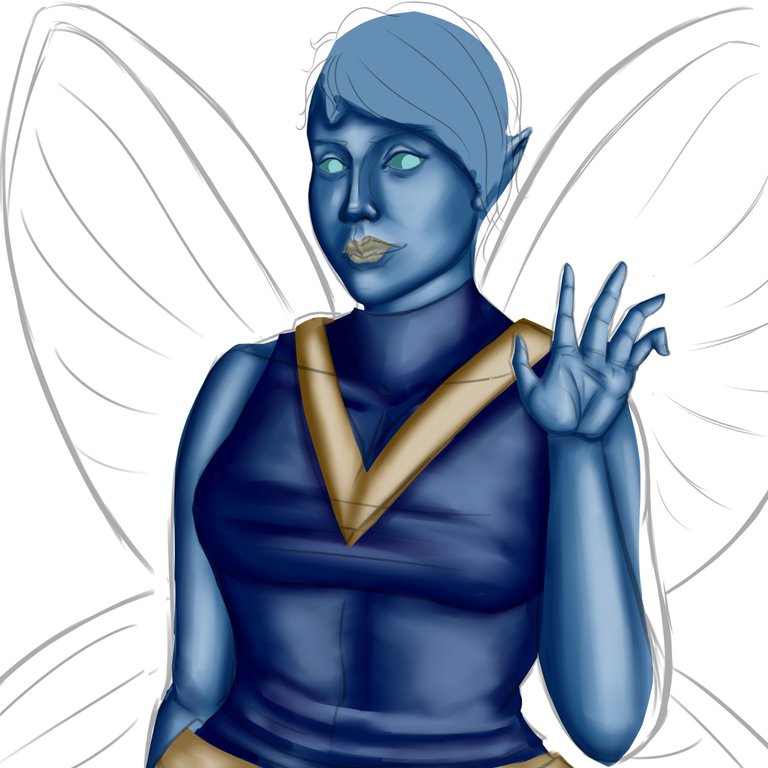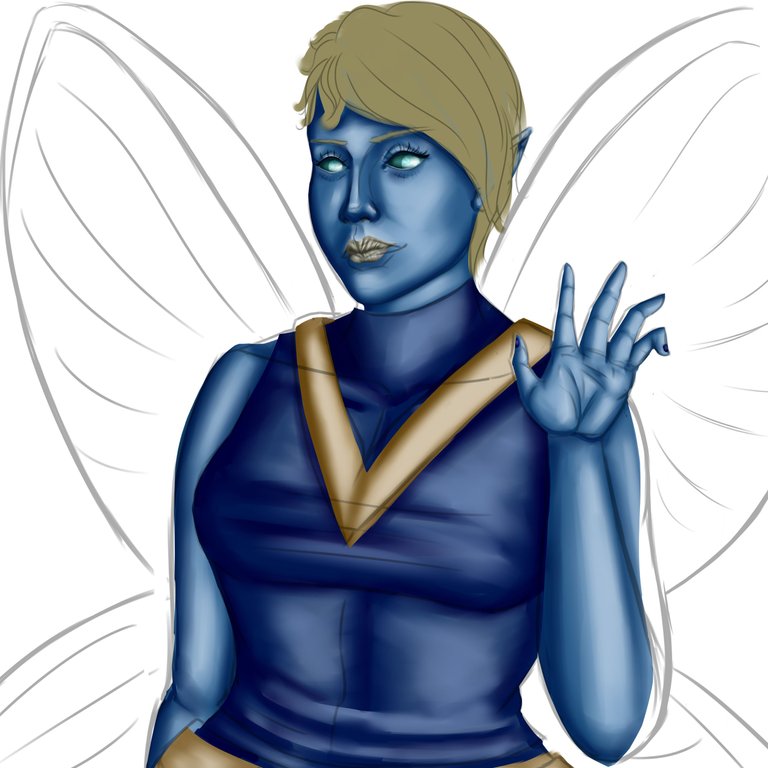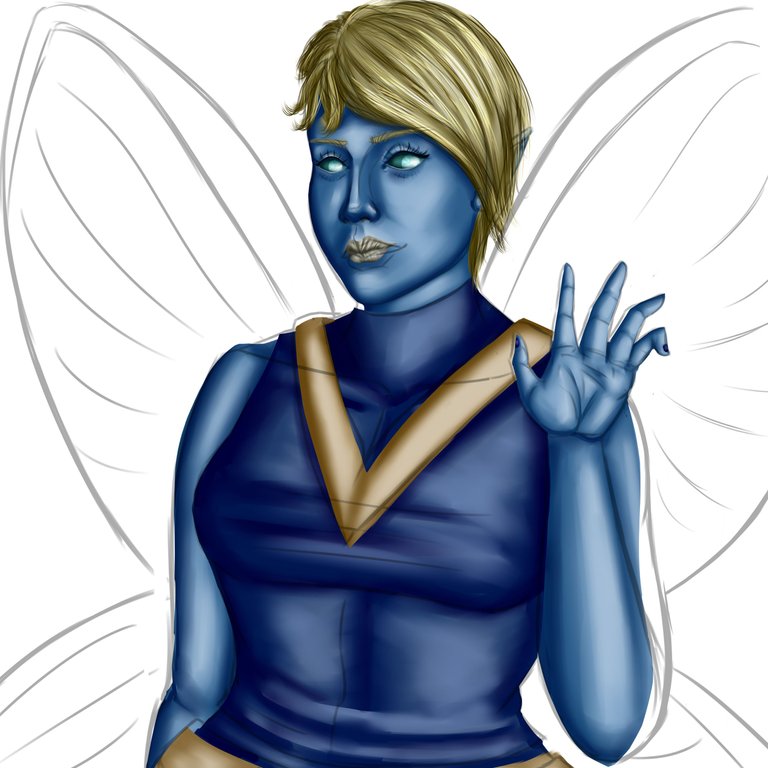 To try to finish with the character in the last part I focused on creating the wings of (Ice Pixie), the wings I wanted to make them quite special and for that reason I focused a lot on creating them very related to the ice block theme; I created them with a quite solid defined shape. As an additional touch I added some scattered lightning lines to assimilate the shape of ice floes in the wings.
Para tratar de finalizar con el personaje en la ultima parte me enfoque en crear las alas de (Ice Pixie), las alas quise hacerlas bastante especiales y por ello me enfoque mucho en crearla muy relacionadas con la temática de bloques de hielo; las cree con forma bastante solida definida. Como toque adicional agregue algunas líneas con estilo relámpago dispersos para asimilar mucho la forma de témpanos de hielo en las alas.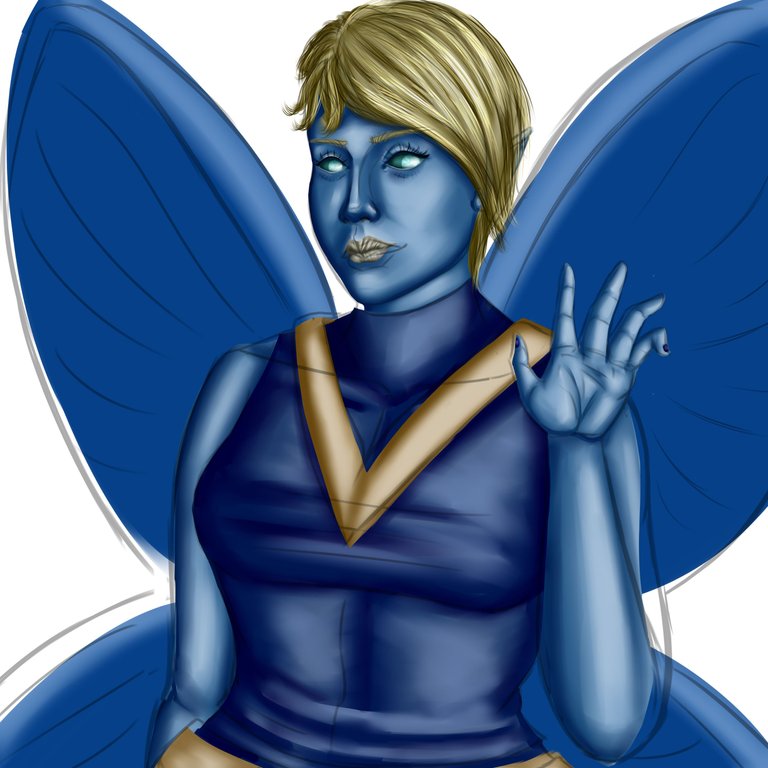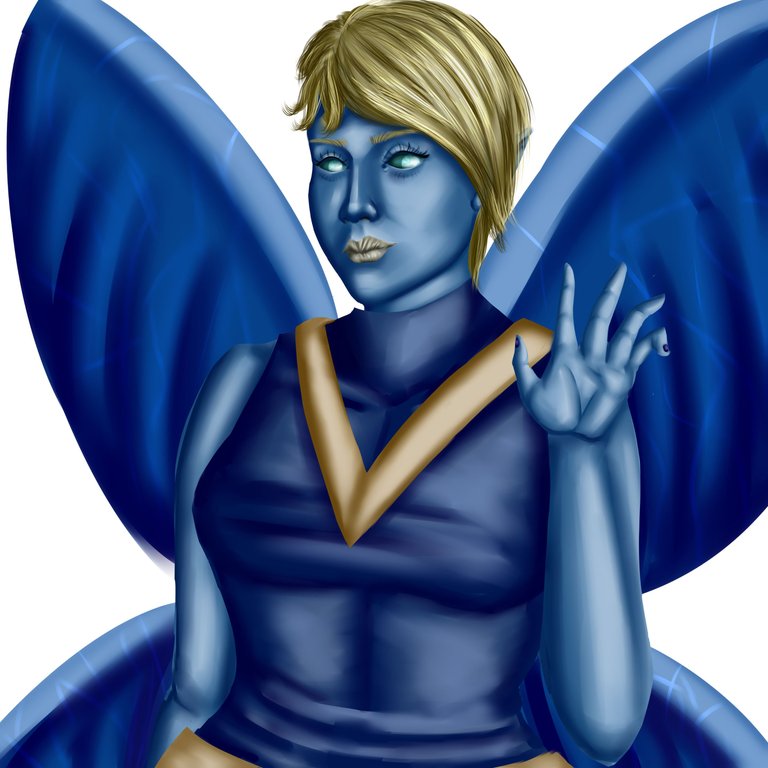 When I got to the final part of my drawing I decided to create some ice blocks, as if (Ice Pixie) was emerging from inside a big glacier; for this I used various shades of white with gray and soft blues with special effects and lowering opacity. With the background of the glacier completely ready the next thing I did was to paint some details in bright purple around the glaciers; and also on the palm of (Ice Pixie)'s hand, while she throws some ice projectiles.
Ya cuando llegue a la parte final de mi dibujo decidí crear algunos bloques de hielo, como si (Ice Pixie) estuviera emergiendo desde dentro de un gran glacial; para esto use varios tonos de blanco con gris y azules suaves con efectos especiales y bajando opacidad. Ya con el fondo del glacial totalmente listo atrás lo siguiente que hice fue pintar algunos detalles en purpura brillante alrededor de los glaciales; y también en la palma de la mano de (Ice Pixie), mientras ella arroja algunos proyectiles de hielo.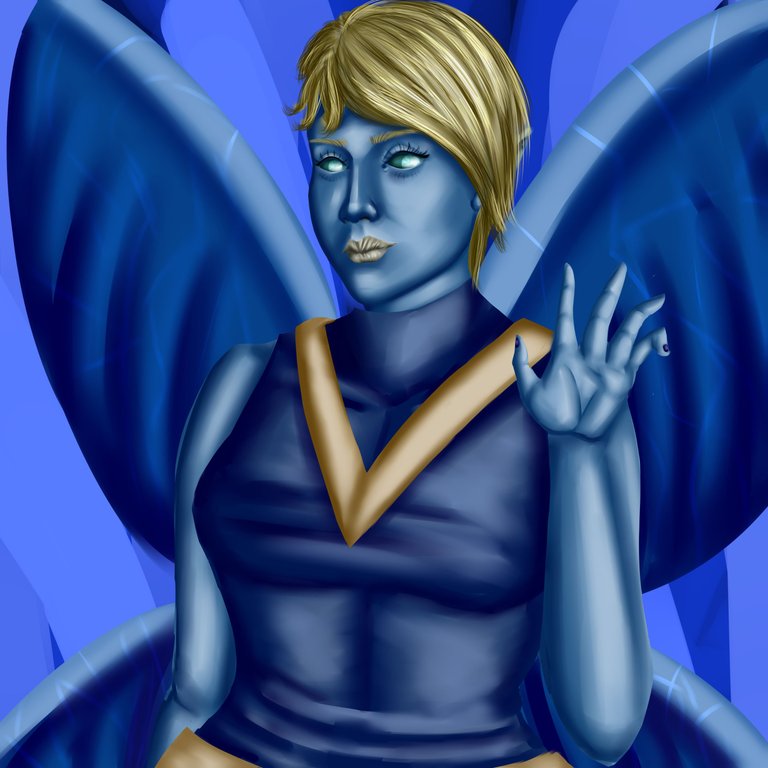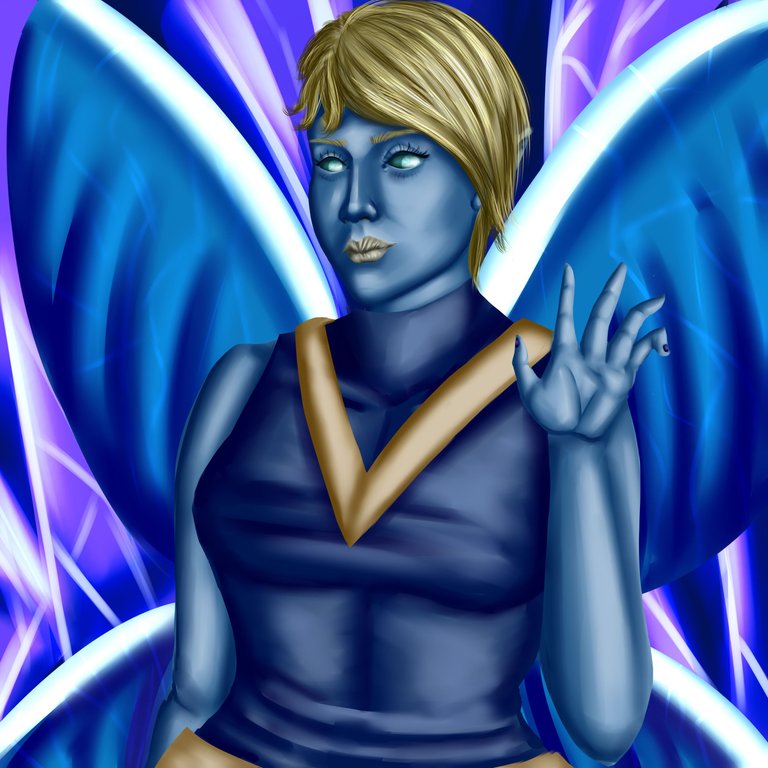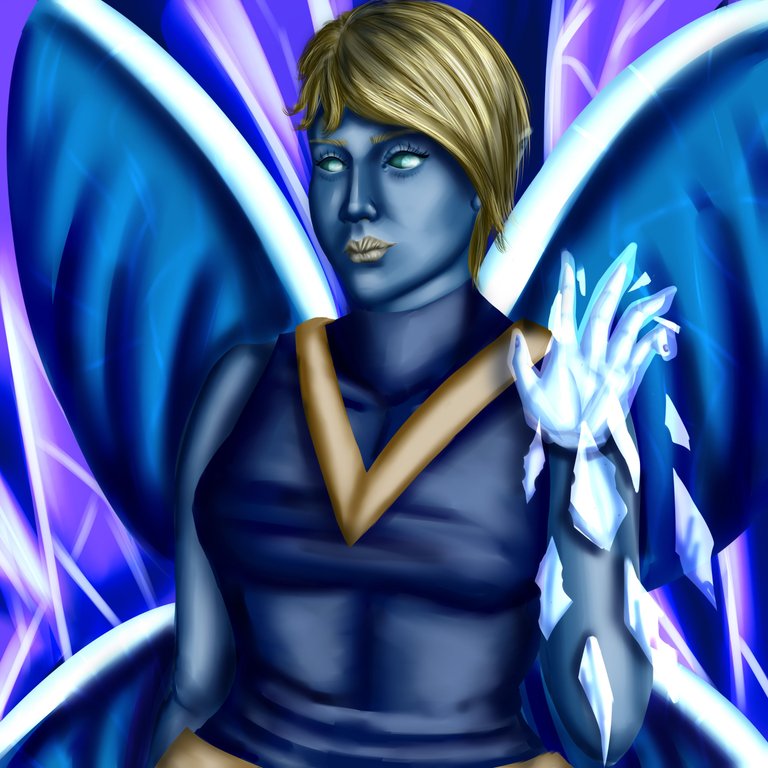 MATERIALS / MATERIALES
Sai Paint Tool Program
Huion inspiroy h610 v2 tablet
Programa Paint Tool Sai
Tableta Huion inspiroy h610 v2
Well my dearest community of artists and art lovers, this was all for my post this week, I really hope you enjoyed it too much and if so please let me know in the comments box; as always I thank you for the support you always give to my participations each week, which motivates me full to continue bringing many better works for my blog. I send you my best regards and I'll see you in the next drawing.
Bueno mi queridísima comunidad de artistas y amantes del arte, esto fue todo por mi post de esta semana, espero realmente que lo hayan disfrutado demasiado y si fue así por favor háganmelo saber en la caja de comentarios; como siempre les doy las gracias por el apoyo que siempre les dan a mis participaciones de cada semana, lo cual me motiva full a seguir trayendo muchas mejores obras para mi blog. Les mando un fuerte saludo y nos veremos en un próximo dibujo.
---
---