I wasn't wrong. Gunners came out on top while United cleans teary eyes.
s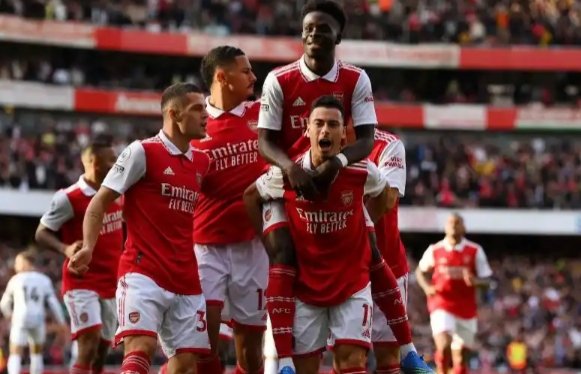 The match between the Gunners and Liverpool was much anticipated by a lot of fans, for many they wanted to see if Arsenal were good enough to defeat Liverpool, while many thought Arsenal won't be a big problem for Liverpool, but I undoubtedly knew that there was no way Liverpool will come out victorious against this present Arsenal side, and I boldly predicted it in @tfame3865 blog comments, which can be seen below: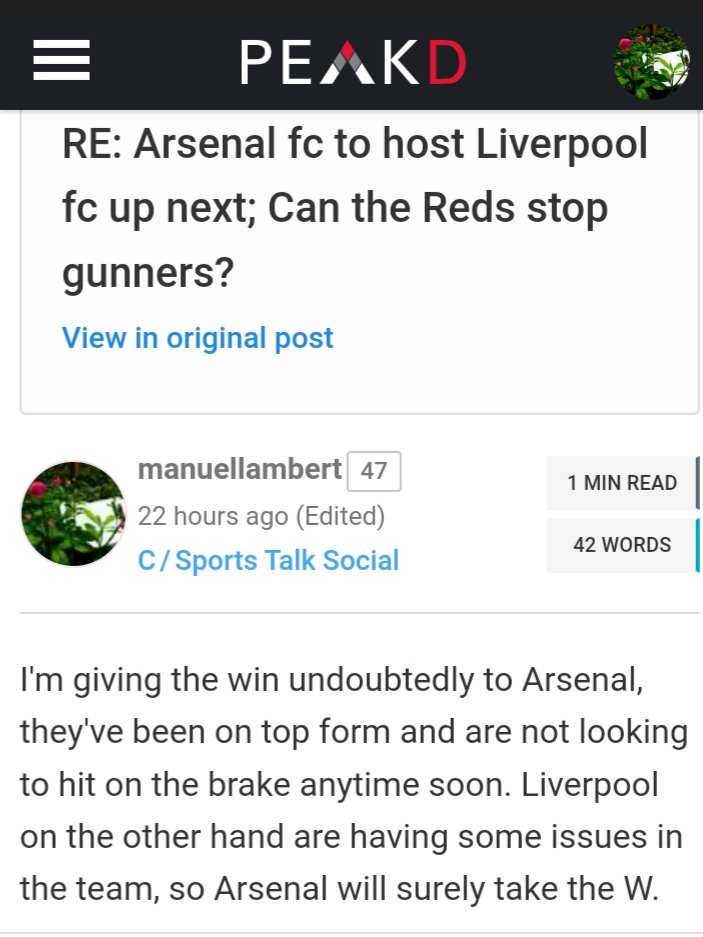 Arsenal continued their impressive form against Liverpool in a dominant fashion. They comfortably won both half of the game with a ruthless display. Immediately the whistle was blown for the game to start, it took only just 1minute for Gabriel Martinelli to strike in a goal for the Gunners which erupted the stadium.
Liverpool's new man Darwin Nunez soon replied the Gunners by getting one back for his side, but inform Arsenal youngster, Bukayo Saka, soon cut the celebration of Liverpool's fans short by banging in a beautiful goal, giving the Gunners the lead again which was taken into the second half of the game. Roberto Firmino continued his beautiful goal records against Arsenal by bringing the game to a 2:2 draw with a beautiful goal, but Saka soon ended Liverpool's hope of winning by converting a penalty kick which won them the game.
Arsenal showed a lot of class in the game against Liverpool. They controlled the game in the both half, their counter attacks were decent and their constant pressing really destabilize the Liverpool's defence.
Arsenal has shown tremendous growth in their performances across different competitions compared to previous seasons, with this kind of display, they might just secure a trophy this season and also a Champions League spot will definitely not be in doubt.
MANCHESTER UNITED VS EVERTON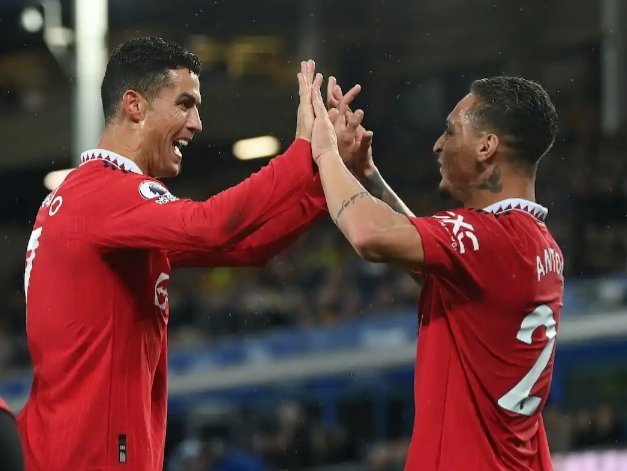 SOURCE
Manchester United have cleaned up their teary eyes from the event that unfolded last week and has now gone back to winning ways.
Everton presently has proved to be a very stubborn side to play, they are presently a in form side, which many had doubts of United actually beating them, and to be honest their doubts were to an extent justified, because Manchester United barely won the game.
Alex Iwobi is a player that is presently in very good form for Everton, and I knew he will cause some problems for Manchester United, and he didn't disappoint. Alex Iwobi recorded the first goal of the game with a ridiculous shot from outside the box which flew pass David de Gea straight into the top corner of United's goal post, it was by far the best goal of the game in my humble opinion. It seems Lampard has unleashed something inside of Iwobi which has made his performances outstanding, he has been by far the best player for Everton.
Anthony continued his impressive form for Manchester United, scoring yet another beautiful goal, recording his 3rd goal in his 3rd appearance. Anthony has been decent for Manchester United since his first appearance, scoring a beautiful goal in his first game for United. His a player that will surely go on to do a lot for Manchester United, you can see it in the way he plays and in the types of goals he scores. I think ETH made a good decision by signing Anthony for Manchester United.
Cristiano Ronaldo finally got his 700th club goals, striking in a low left footed shot into Everton's net, handing United the win the game. Cristiano is still showing great desire and effort to perform for United, hope his confidence increases but I'm not expecting much from him anymore for obvious reasons.
Manchester United won the game quite alright, but we can't deny that it was a narrow victory. Everton really pressured United which they were rewarded with a lot of chances but were not able to convert. United didn't really show anything special in the game, ETH still has work to do, but at least we got a win and that's all that actually really matters.
Posted on Sports Talk Social
@sportstalksocial
---
---