Manchester United Europa league narrow victory.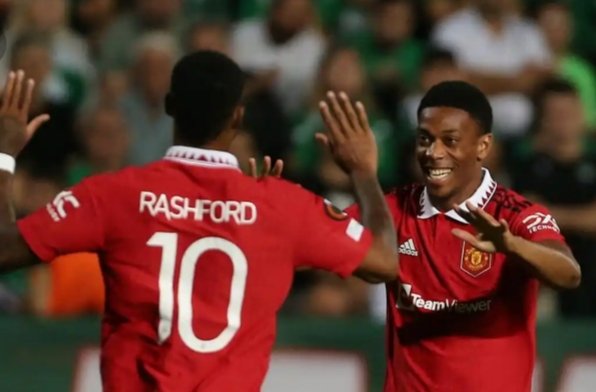 Man Utd players rating:
De Gea (6)
Dalot (6), Lindelof (6), Martinez (7), Malacia (5), Casemiro (6)
Eriksen (5), Antony (6)
Fernandes (7), Sancho (5), Ronaldo (6)
Substitutions: Rashford (9), Martial (7), Fred (6), McTominay (6)
Man of the match: Marcus Rashford☆
The players rating says it all, United were not impressive. The errors at the back were really alarming and we paid for it in that match. Malacia and Bruno's error brought about the first goal against Utd, Fernandez slipped the ball into Omonia Ansarifard who wasted no time in smashing the ball past David de Gea.
Omonia Nicosia, Manchester United opponent on Thursday night are currently fourth in the Cypriot league and are being managed by former Celtic manager, Neil Lennon. Omonia finished the first half with a 1: 0 lead, the goal came from Ansarifard.
United were really wasteful in front of goal in the early minutes of the game. Ronaldo was repeatedly denied by Fabiano from recording his 700th club career goals. He tried his best but it wasn't enough, and it looked like his confidence isn't as strong as it use to be, because those chances should have been converted by him.
Marcus Rashford who was the saviour of Manchester United in that game was introduced in the second half of the game, he didn't waste any time to make the game level, Bruno swept in a beautiful long pass for him and he calmly curled the ball pass Fabiano into the top corner. It didn't take the newly subbed in Rashford to find his fellow substitute Anthony Martial, who calmly brought Manchester United on top of the game for the first time that night.
Cristiano Ronaldo who was struggling and trying by all means to secure a goal soon became a selfless team player by playing in the ball for teammate Marcus Rashford to record a brace.
Marcus Rashford was really impressive in that game, he championed United comeback after just being introduced into the game, it took him less than 10mins to bring the game to a 1:1 draw. I'm really glad his back from injury and hope his performances will continue to be impressive, he has it all but lacks consistency but his plays and performance this season has been looking really good, ETH should try featuring him often.
Casemiro and Erickson whom I expected to perform very well, didn't even do much, they were sloppy in play. The substitute were the only players who came into the game giving their all.
Eric Ten Hang comments after the game:
"I think we started well, couple of chances and then an unnecessary mistake. It cannot happen - you have to take responsibility there. Then a really bad 10 minutes and we have to learn from that.
"We were too static and you have to make opposite movements to get behind. That's why we also made two subs and they had an impact.
"I think the subs really had an impact today and that is really good to make the team stronger.
On Martial: "We have already seen in pre-season. It was big disappointment for this team and for me when he got injured. We missed him and that also had an effect on our performance."
Marcus Rashford is showing that he deserves to be in the England squad for the world cup. He was the main reason United secured all three points against Omonia. He has shown his converting abilities and his explosiveness in tough games. We all know his skillfulness and ability to sprint really fast, but he's performance was disturbed by a shoulder injury last season, but he's back now, fit and strong. I think we are all going to see a new and improved Marcus Rashford this season, hopefully ETH doesn't leave him on the bench to grow cold.
Anthony Martial was another substitute who also impressed in the game, coming on and putting United on top for the first time that night. Martial appeared really promising during the pre season and also during the very early stages of the league but soon suffered an injury which kept him away for a while, but his back now and isn't showing any signs of slowing down, he has picked up from where he stopped and hopefully his fine form continues.
Omonia isn't really a strong side, they finished at 7th position in their league last season, barely managing to qualify for the Europa league, so the fact that they posed a problem for Manchester United, really shows that a lot needs to be done by ETH in that United squad. A positive that from the game is that a few players like Rashford, Shaw and Martial really impressed in just a few minutes they played, their introduction really changed the game in favour of United. I just hope ETH can see all of this and know exactly what to do to improve the team performance in future games.
---
---