The el Clasico of the German Bundesliga.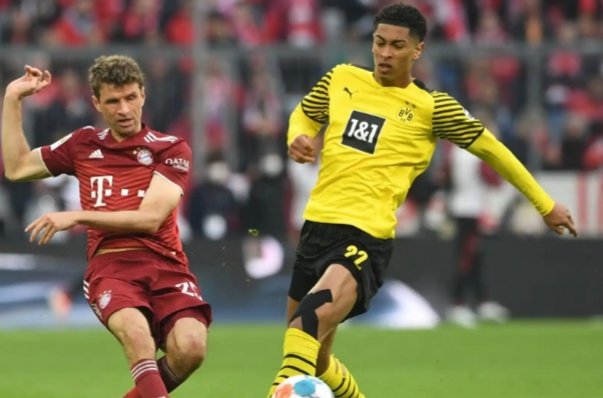 The el clasico of the German Bundesliga as many may call the clash between Bayern Munich and Borussia Dortmund, the two biggest clubs in the league, ended up with no side being victorious for the first time in a while, and this was the first time in 13yrs that both teams clashed with neither being on top of the league table.
The clash between Bayern and Dortmund was a match which was really anticipated by a lot of football fans. We all know how good both teams are, and how dominant they've always been, so a clash between both teams will surely be a banger. For me the game on Saturday truly didn't disappoint at all, maybe because I'm not actually a supporter of any of the team or, maybe because the match was actually a banger to watch. This time there was no Lewandowski for Bayern Munich and there was no Haaland to dominate that front for Dortmund, but still the match was still very much entertaining.
The clash between the two German giants, proved to live up to the hype and expectations performance wise.
The game was a true clash which saw a total of 9 cards shown to players, including a red card which was handed to Coman. The possessions wasn't to far of, Dortmund had a total of 44% in possession while Bayern had a total of 56%.
Bayern started the game with a display of dominance, controlling the game with a lot of confidence, which led to the first goal in the 33mins by Bayern's Leon Goretzka, they ended the first half with a 1:0 lead against their rivals. Bayern started the 2half on a high and soon got a 2nd goal which was scored by inform Leory Sane.
Dortmund soon responded by keeping the game alive with a goal from Youssoufa Moukoko which was well assisted by Anthony Modeste. The game continued with Bayern looking like they will finish as the victorious team, but their expectations was soon cut short by Dortmund who soon shockingly brought the game to a 2:2 draw from a late goal by Anthony Modeste in the 90+4mins, which sadly shared the point for both team.
Many may argue that the late goal by Dortmund was caused by the subing off of Matthijs De Ligt, or the sending off of Coman, but for me I think they had it coming because Dortmund pressing intensified in the late minutes of the game. All in all it was a very competitive and entertaining game for me, but I can't say the same for the fans and supporters of both teams.
---
---