The Gunners haven't run out of bullets, and Rome fell to Betis.

Arsenal is becoming very unrecognisable this season from previous season performances. The confidence and passion from the team is very visible. Arteta is clearly doing a fantastic job.
Arsenal continued their unbeaten run in the UEFA Europa league, Eddie Nketiah, Rob Holding and Fabio Vieira were all on the score sheet for Arsenal on Thursday night, the win elevated them to the top spot of UEFA Europa League Group A after a comfortable 3: nil victory at home.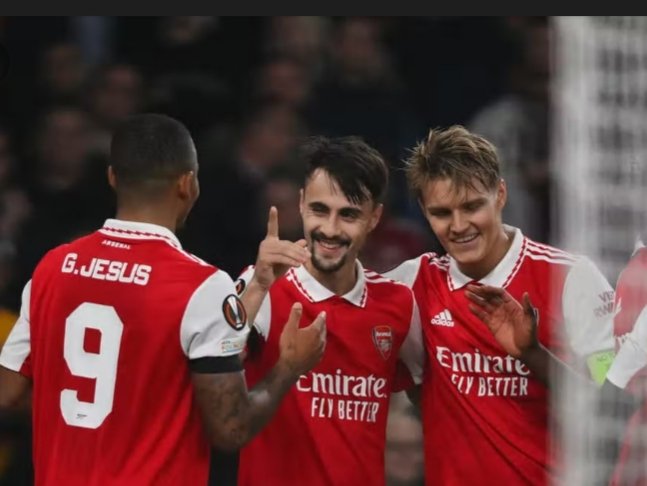 SOURCE
Gabriel Jesus was very impressive for his side, coming in from the bench replacing fellow Brazilian, Martinelli in the 58th minute of the game, his performance was vital to the 3 nil win over Bodo/Glimt. In the 84th minute he dismantled the Bodo/Glimt defence to set up teammate Fabio Vieira who slotted the ball home.
Arteta's comments on Arsenal's performance after the game:
"In general, well we lacked a little bit of connection between the players, too many simple things, too many giveaways and we weren't that consistent and dominant throughout the game.
"Of course, there are eight changes there, there's a lot of players there that haven't had a lot of minutes and you can feel that in the understanding of what to do and when to do it. That timing sometimes is missing and you can notice that.
"But attitude-wise and everything else, no issues."
Arteta comments on Gabriel Jesus performance after the game (Sky sports):
"I love his mentality, it doesn't matter how long he plays, where he plays, or in which position he plays, he always gives absolutely everything".
"You see it when he goes on the pitch, he makes the team different, even with his energy. Today, he put in an outstanding action to create the third goal.
"The fact that he's won everything (with Manchester City) in the last five years, makes you imagine what the rest of the team has to do.
"Follow him (talking to Gabriel Jesus Arsenal teammates), because he is always in the right spot".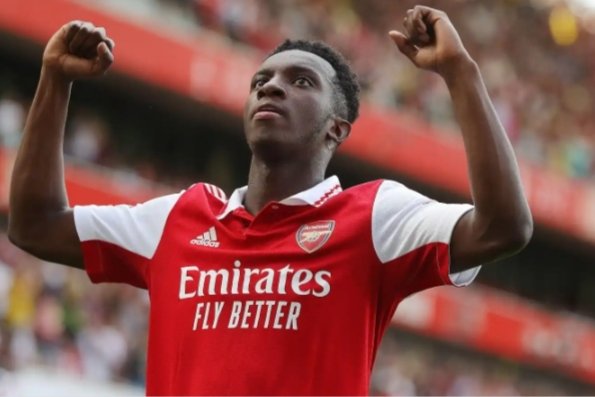 SOURCE
Eddie Nketiah continued his beautiful form for Arsenal, he was on target for his side as they beat Bodo/Glimt 3:0 on Thursday night continuing his fine form in the UEFA Europa League. Nketiah was the first to put the ball into the net of Bodo/Glimt goal keeper in the 23rd minute. He has now scored 12 goals in his 15 starts for Arsenal in all competitions this season.
Arsenal Centre back, Rob Holding secured a second goal for Arsenal on Thursday night, putting in the ball into the net with a fine header giving the Gunners 2 goals advantage. Gabriel Jesus soon finished a impressive game night by setting up Fabio Vieira for the third goal of the night, securing a 3 : 0 win and taking all 3 points to sit on top of group A of the Europa League.
This is the third time in the history of Arsenal for them to win as many as nine of their opening 10 games in a season in all competitions. This just shows how much they've improved this season and also, it shows the fantastic work Arteta is currently doing in the team.
Arsenal will now be turning all attention to the premier league where they have Liverpool to play in their upcoming game. Liverpool seems to be struggling a bit currently, but we all know how good they are, the qualities of players they have and the tactical sense of their coach, Jurgen klopp. It will be a very competitive and entertaining match, but I think Arsenal might just come out on top of Liverpool, they've shown their class, and they seem to be tactically sound currently and also well put together than the Liverpool, if Liverpool some how manage to win, it will be a very narrow victory.
AS ROMA VS REAL BETIS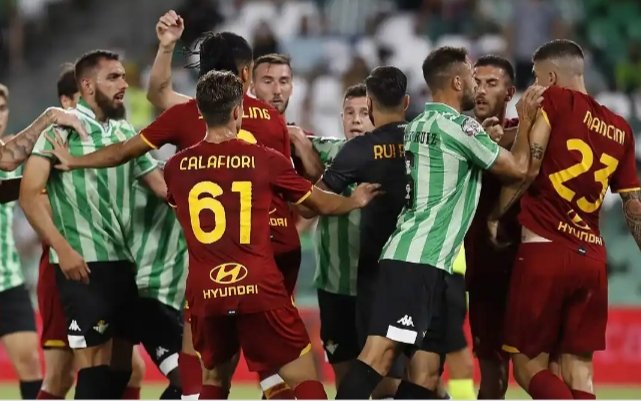 SOURCE
Jose Mourinho Italian side, AS Roma, suffered a bitter defeat to Spanish side Real Betis.
Mourinho's comments to Sky sports after the game:
"They played much better than us in the first half".
"When in possession, they found ways to make life much more difficult for us. In the first half we came close to scoring with Zaniolo's crossbar hit and the save on Dybala, in the second half we had a chance with Cristante."
"The correct result would have been a draw".
"We're talking about a team that tried to win the game despite being visibly tired. You can't analyze our fatigue any other way. It's a bitter result, because despite not playing well, the team did not deserve to lose."
Jose Mourinho has done a lot of work and is currently still doing a lot of work on the Italian side. He helped them secure the UEFA Europa Conference League cup last season, this was the first time AS Roma has ever won the trophy and the first trophy they've won in a long time.
Mourinho helped shaped the team to a competitive side, the bringing in of Chelsea's Tammy Abraham by Mourinho also contributed to the success of the team in the UEFA Conference cup, Tammy had a very impressive season, he went on to score the winning and only goal in the finals of the cup, and has since continued his impressive form this season. The bringing in of Juventus star man, Paulo Dybala, is another nice signing for Mourinho. He has quickly adapted to the team, scoring and performing really well this season, he might just become a very important player for AS Roma if he continues with his fine form.
The game against Real Betis was a very competitive and difficult game for Jose's side, a match which saw 6 bookings including a red card to Roma's Zaniolo.
Roma started the game in decent form, pressing till they got a penalty against Betis, the penalty kick was comfortably saluted in by new signing, Paulo Dybala. But Betis soon turned the game around by constantly pressing Roma which led to Guido Rodriguez leveling the game to a 1 all draw for Betis in the 40th min.
Betis continued their strong pressing and constantly controlling the game which led to a late minute winning goal from Liuz Henrique, bringing Jose Mourinho's side to a bitter defeat.
Betis came out to be the better team over the special one's side. Betis had an overall possession of 61% while Roma had 39% of the possession. This clearly shows how Mourinho's side was outclassed by Real Betis.
Mourinho will surely be going back to the drawing board to figure out what went wrong for his side on Thursday night against Betis, so as to be well prepared for their in coming game in the Italian league and other future games.
---
---