The only Golden Premier League trophy (ridiculous football facts you probably don't know 2)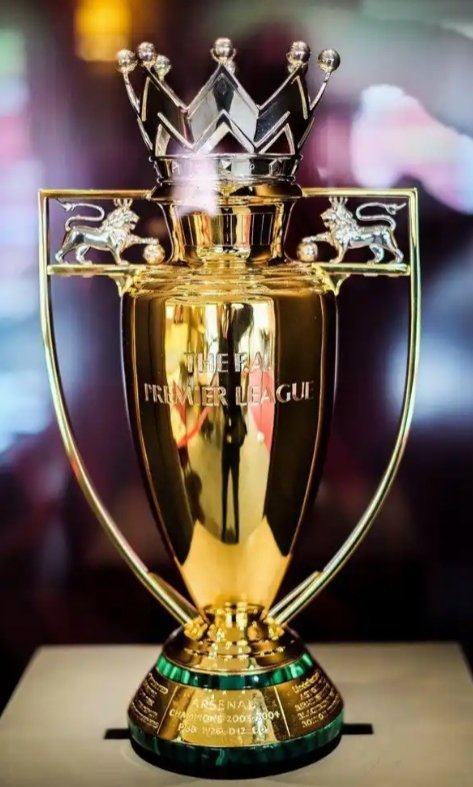 SOURCE
As we all know and have seen, the Premier League trophy is silver, it is the traditional look of the trophy, but there is only one team in the history of the Premier League to ever win a Golden Premier League trophy.
The 2003/2004 invincible gunners (Arsenal FC) won the Premier League without losing a single game that season, something no Premier League team has ever done till date. They were presented with a Golden Premier League trophy instead of the traditional Silver one.
The talented players who made it possible where:
1 Lehmann
12 Lauren
23 Campbell
28 Touré
3 Cole
8 Ljungberg
4 Vieira
19 Gilberto
7 Pires
10 Bergkamp
14 Henry.
The king of football, as many calls him, Pele, banged 92 hat-trick, he scored 5 goals in 6 different matches, eight goals in a single game and 4 goals each in 31 different games, he is referred to as the king of football for a reason.
Pele is the only football player to have won the most World Cup, he secured 3 World Cup trophies during his football career.
Juan Mata is the first and only player in football history to join Manchester United from the London blues, Chelsea. Is that considered rivalry? Well there are some players who just take rivalry way too seriously. Liverpool's legend Gerrard, has exchanged his Jersey over a hundred times with hundreds of different football players, but has never exchanged his Jersey with any Manchester United player 😳.
Cristiano Ronaldo and Lionel Messi shares a lot together, they are the only two players with the most Ballon d'or and have dominated the football world stage for years without interference from any other player. Apart from football there is another ridiculous fact that they share in their personal life. Ronaldo is older than Messi with the age gap of 869 days, Ronaldo's first son is also older than Messi's first son with 869 days age gap.
If I ask you how long was the fastest send off in football history, you might say 2min,5min and more, but what if I told you that the fastest ever send off in football history was 0 sec. Keith Gillespie was a Sheffield United player, 2007 in a match against Reading he was sent off in 0 sec.
Manchester United legendary left footed player, Ryan Giggs is the only Premier League player to score 100 goals without recording a single hat-trick.
Thanks for stopping by, this is the end of the series. I hope I've been able to tell you some facts you haven't heard before.
Cheers.
---
---