Venere rice, with shrimps, courgette flowers and truffles

Hello to all lovers of good food.
Today I wanted to debut in this community publishing one of the many dishes that I love to cook, and of course eat!
An Italian dish, a risotto with prawns and truffles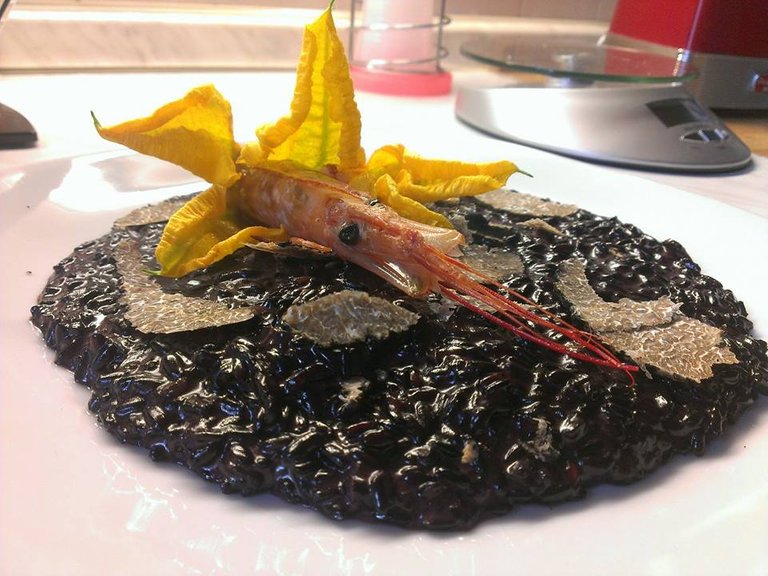 Ingredients for two people:
-200 g black rice
-8 shrimp
-courgette flowers
-fresh cream
-butter
-truffle
-fish soup
-salt and pepper
Let's start:
After having washed the Venere rice under running water, to eliminate the excess starch, we let it drain.

We shell the prawns, and remove their intestines. We put the heads as pate, we will need them to give flavor to the dish.

Gently clean the courgette flowers and cut them into strips.

In a non-stick pan, toast the black rice for a few minutes, after which we add the broth and the heads of our prawns and let them go for about ten minutes ... as the water is absorbed by the rice , we continue to add broth. The rice has to cook and slowly release starch ... This will allow us to have more creaminess at the end.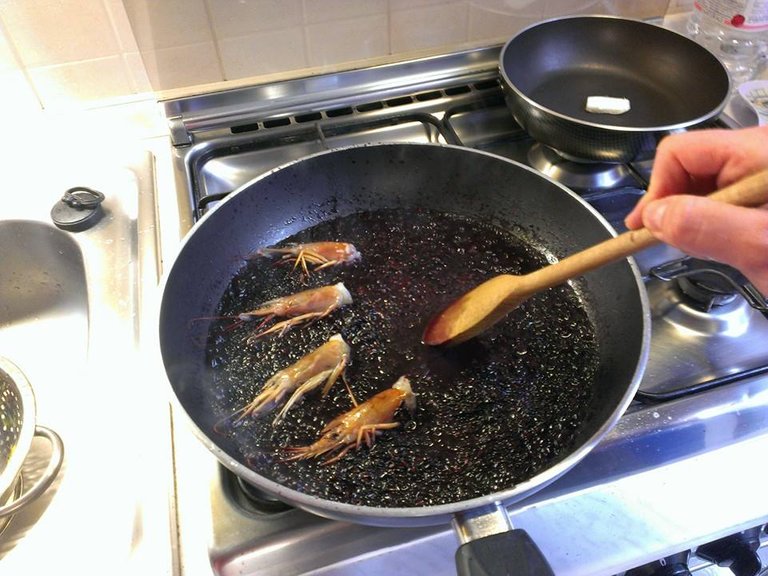 After about 15 minutes, remove the shrimp heads and add the cut courgette flowers. and sauté everything in the pan.

Towards the end of cooking, add our prawns, a quart of fresh cream and a knob of butter. We lower the heat to the minimum, and stir the rice, stirring with a wooden spoon, and skipping everything. Then add a grated truffle with the flame out. this will allow you to infuse the scent of truffles into the whole risotto.

Now we are ready to serve. Raw, we cut another truffle with the mandolin to decorate the dish, a prawn and a courgette flower. Just to evoke the ingredients in the dish ...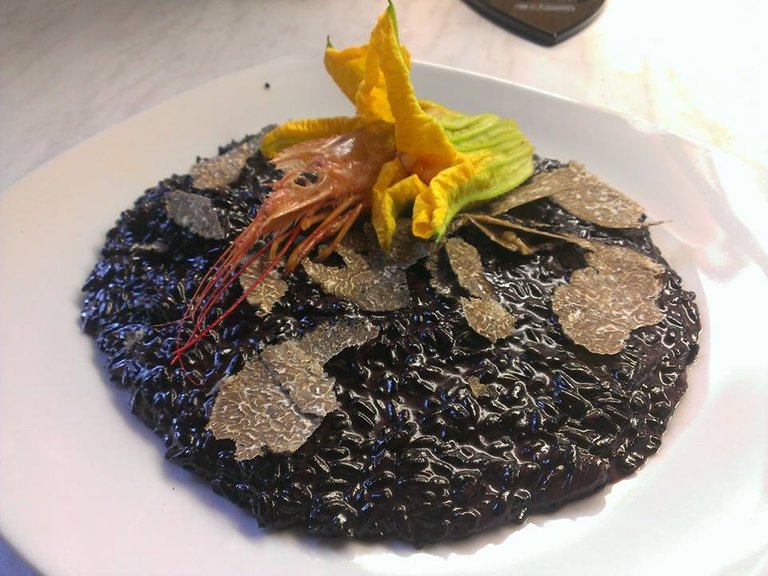 Do you smell good?
Enjoy your meal
photos taken with a smartphone, by @manufix
Traduzione in italiano:
Ciao a tutti amanti del buon cibo.
Oggi volevo esordire in questa community, pubblicando uno dei tanti piatti che amo cucinare, e ovviamente mangiare!
Un piatto italiano , un risotto con gamberi e tartufo
Ingredienti per due persone:
-200 g riso venere
-8 gamberi
-fiori di zucca
-panna fresca
-burro
-tartufo
-brodo di pesce
-sale e pepe
Cominciamo:
1. Dopo aver lavato sotto acqua corrente il riso venere, per eliminare l'eccesso di amido, lo lasciamo scolare.
2. Sgusciamo i gamberi, e leviamo il loro intestino. Le teste le mettiamo da pate, ci serviranno per dare sapore al piatto.
3. Puliamo delicatamente i fiori di zucca e li tagliamo a strisce.
4. in una padella antiaderente, facciamo tostare per qualche minuto il riso venere, dopo di che aggiungiamo il brodo e le teste dei nostri gamberi e li facciamo andare per una decina di minuti... man mano che l'acqua viene assorbita dal riso, continuiamo ad aggiungere brodo. Il riso deve cucinare e lentamente rilasciare amido... Questo ci consentirà di avere piu cremosità alla fine.
5. dopo circa 15 minuti togliamo le teste dei gamberi e aggiungiamo i fiori di zucca tagliati. e facciamo saltare il tutto in padella.
6. Verso la fine della cottura aggiungiamo i nostri gamberi, un quartino di panna fresca e una noce di burro. Abbassiamo la fiamma al minimo, e mantechiamo il riso girando con mestolo di legno, e saltando il tutto. Aggiungiamo quindi una grattuggiata di tartufo a fiamma spenta. quest consentiraà di infondere il profumo del tartufo a tutto il risotto.
7. Adesso siamo pronti per impiattare. A crudo, tagliamo con la mandolina altro tartufo per decorare il piatto, un gamberone e un fiore di zucca. Giusto per rievocare gli ingredienti nel piatto...
Lo sentite il buon odore??
Buon appetito
Foto scattate con uno smartphone, foto di @manufix
---
---