Sunset Run
I just finished a 13.357km running that lasted about 1hh:05mm:30ss !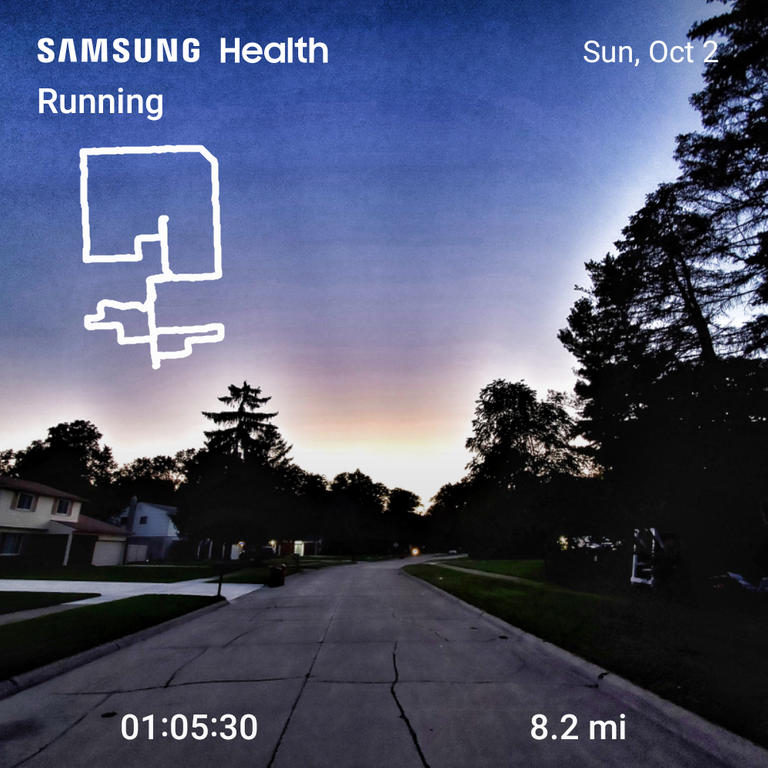 Even with the Detroit half marathon getting dangerously close, I am still failing to run as much as I want to, and I let a few more days slip by. But on Sunday afternoon, I really couldn't skip it anymore. I wanted to start much earlier in the afternoon and once again it didn't happen. So I decided to sacrifice the sunset dog walk, and started my run late afternoon with enough daylight for a pretty good distance. Actually, I had the sunset in front of me for a good portion of the run and that was pretty nice.
It's very counter intuitive for me, but I am now pretty sure the fact that at first I felt very low on energy and as though it was going to be a tough run, helped me. Indeed it forced me to start slower than usual, and it was then a very consistent pace throughout the entire run, except a slight slow down at mile 7, and the final sprint. The main objective I had set for myself was to run the first 5 miles under 8 min/mile, and then just add distance at whatever pace I could depending on visibility and of course fuel left in the tank. In the end, the overall pace was 7:53 min/mile, and that confirms my hope from last run.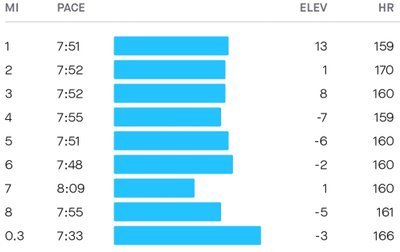 Realistically, I only have one more week to rack up some miles, followed by a much lighter week, and finally the half marathon on Sunday. So, let's see how it goes. I'm hoping to start with a semi-recovery run this Monday night, maybe around 5 miles with a pace between 8 and 8:30 min/mile would be ideal. But we'll see...
New mileage table for October:
| Sports | Total (miles) | Total (km) |
| --- | --- | --- |
| Running | 8.30 | 13.36 |
| Cycling | 0 | 0 |
For reference, these were the final totals for September, significantly lower than I hoped for:
| Sports | Total (miles) | Total (km) |
| --- | --- | --- |
| Running | 35.09 | 56.47 |
| Cycling | 21.35 | 34.37 |
---
---