251 день мужності та стійкості/251 days of courage and resilience

Усім друзям привіт з Одеси.
Вірю, що усі ви живі і здорові. Сподіваюся що 251 день війни не зламав силу вашого духу і не ослабив вашу віру в перемогу над агресором і окупантом.
251 день український народ протистоїть агресії, стримує орду що йде зі сходу. Борються усі і солдати ЗСУ, і тероборона, і волонтери і тисячі простих українців, що перераховують гроші на потреби ЗСУ і допомогу потерпілим. Війна об'єднала усіх.
І тоді як весь світ допомагає чим може нашій країні, є країни які допомагають агресорові. Ось сьогодні стало відомо, що Іран продасть россии 1000 балистических ракет. Також стало відомо, що дальність польоту цих ракет складає від 300 км до 700 км.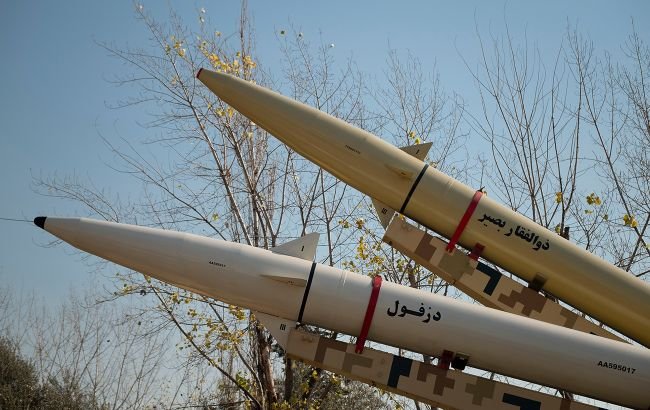 Джерело фотографії https://www.rbc.ua/ukr/news/nas-nema-zahistu-ekspert-rozpoviv-shcho-dopomozhe-1667315922.html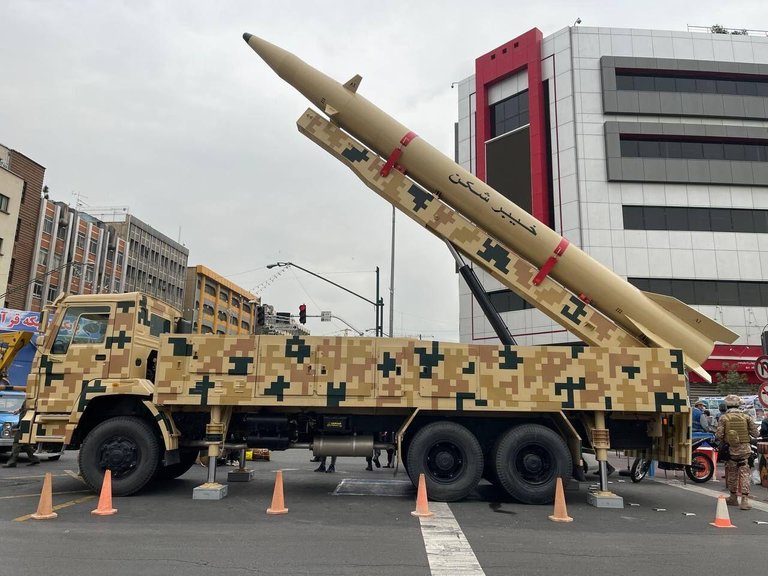 Джерело фотографії https://forbes.net.ua/obshchestvo/2022/11/01/v-gur-uznali-o-novoi-ugroze-dlya-ukrainy-nazvany-mesta-budushchikh-vzryvov-iranskikh-raket/
Чому ця новина насторожує? Справа в тому що у нас немає протиракетної оборони, у нас протиповітряна. Зараз поясню суть.
Ракети типу Калібр, які россия використовує при руйнуванні наших міст, це крилаті ракети, вони летять практично як літак і їх траєкторію легко відстежити, що дозволяє знищувати їх засобами звичайного ППО. А ось іранські ракети - балистические, вони злітають високо вгору, після чого з величезної висоти на величезній швидкості пікірують вниз в мету. Таку траєкторію польоту практично неможливо відстежити, а значить і збити таку ракету.
Друзі, я не лякаю, я попереджаю, не варто ігнорувати повітряні тривоги, треба думати про свою безпеку. Дізнайтеся де найближче укриття, пам'ятайте про правило двох стін, бережіть себе.
Сьогодні 1 листопада вночі, підло обстріляний Миколаїв. Зруйнована школа, пошкоджені житлові будинки, загинула одна жінка. Ось так воює друга армія світу, доводить свою силу не на боле бою, а вбиваючи мирних громадян, руйнуючи цивільні об'єкти.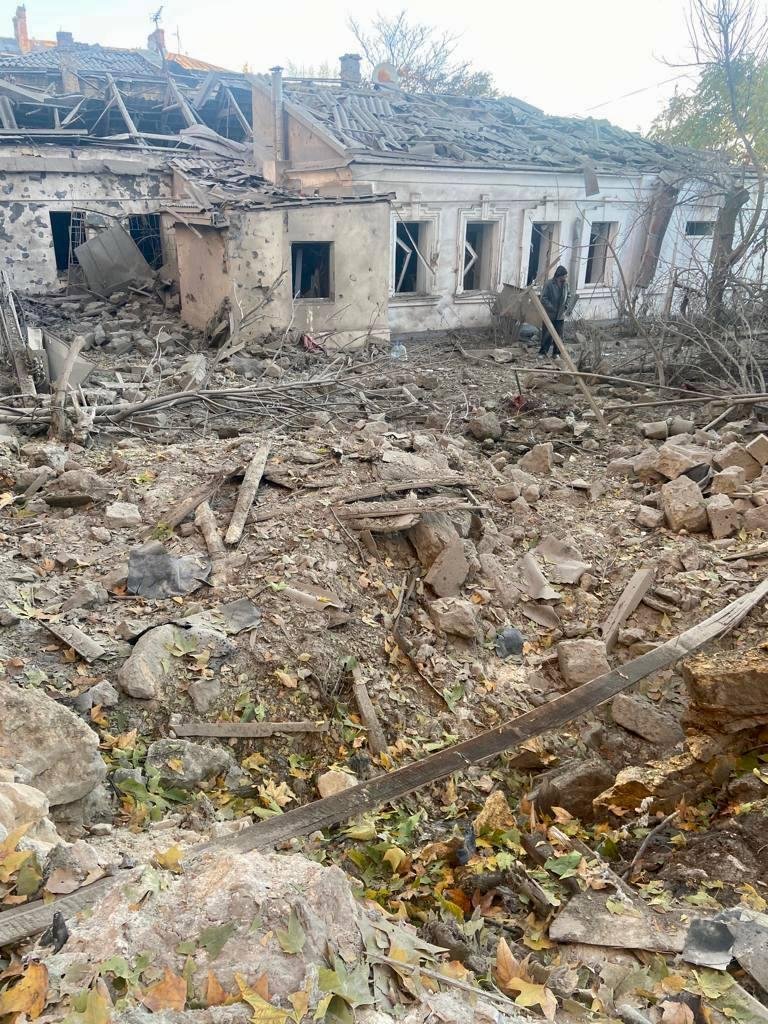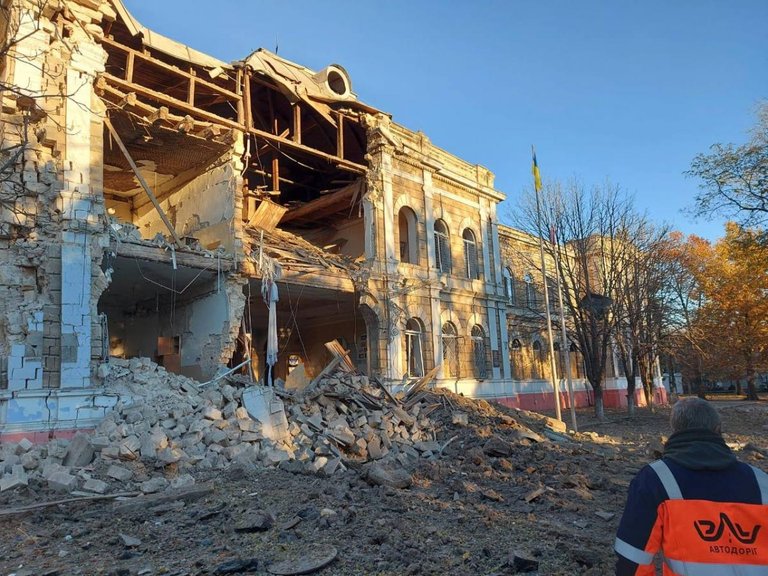 Джерело фотографії https://www.unian.net/war/obstrel-nikolaeva-segodnya-rossiyane-popali-v-gorod-raketami-s-300-pogibla-zhenshchina-foto-12030531.html
І усе це прикривається гучними словами про порятунок України від фашизму. Хоча вже всім ясно хто фашист і від кого Україну треба рятувати.
251 день терору. 251 день руйнувань, та вбивств мирного населення. Сьогодні президент України Зеленский заявив, що россия знищила 40 відсотків енергетичної інфраструктури нашої країни. Цивільної інфраструктури, усе це не інакше як геноцид українського народу.
Але ми вистоїмо і витримаємо усі випробування. Заради майбутнього своїх дітей.
І найголовніше сьогодні ми стали на один день ближче до нашої перемоги.
---
Hello to all friends from Odessa.
I believe that you are all alive and well. I hope that the 251 days of the war did not break the strength of your spirit and weaken your faith in victory over the aggressor and occupier.
For 251 days, the Ukrainian people have been resisting aggression, holding back the horde coming from the East. Everyone is fighting: the soldiers of the Armed Forces of Ukraine, and the defense, and volunteers and thousands of ordinary Ukrainians, transferring money for the needs of the Armed Forces of Ukraine and assistance to the victims. The war united everyone.
And while the whole world helps our country as much as it can, there are countries that help the aggressor. Today it became known that Iran will sell 1,000 ballistic missiles to Russia. It also became known that the flight range of these missiles is from 300 km to 700 km. Why is this news disturbing? The fact is that we do not have missile defense, we have air defense. Now I will explain the point.
The Kalibr-type missiles that Russia uses to destroy our cities are cruise missiles, they fly almost like airplanes and their trajectory is easy to track, which makes it possible to destroy them with conventional air defenses. But Iranian missiles are ballistic, they take off high up, after which they dive down at the target with a high altitude at high speed. Such a flight path is almost impossible to track, which means shooting down such a missile.
Friends, I do not scare, but I warn you, you should not ignore the air raid warning, you need to think about your safety. Find out where the nearest shelter is, remember the rule of two walls, take care of yourself.
Today, November 1 at night, Nikolaev was vilely shelled. A school was destroyed, residential buildings were damaged, and one woman died. This is how the second army of the world fights, proving its strength not in more battles, but by killing civilians, disarming civilian objects.
And all this is covered with loud words about saving Ukraine from fascism. Although it is already clear to everyone who is a fascist and from whom Ukraine needs to be saved.
251 days of terror. 251 destruction, killings of civilians. Today, the President of Ukraine Zelensky said that Russia has destroyed 40% of the energy infrastructure of our country. Civil infrastructure, all this is nothing but the genocide of the Ukrainian people.
But we will persevere and endure all trials. For the future of your children.
And most importantly, today we are one day closer to our victory.
---
---