Noches de Insomnio: Micro TDH, juventud venezolana.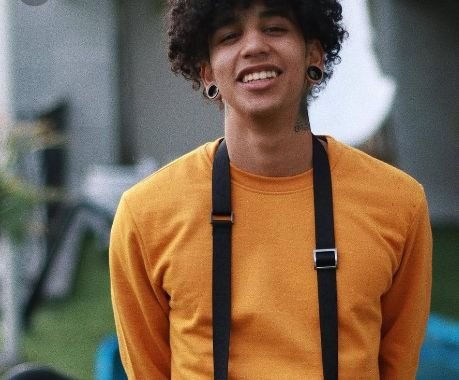 Fuente
Hola hivers, espero hayan tenido un muy bien día. Esta noche vuelvo con otra entrega de lo que he llamado "Noches de Insomnio" para hablar de temas en general de cultura, aunque por lo general sean de artistas musicales, pues es a lo que más me inclino. En noches como esta, que el sueño parece haberse ido a dar una vuelta.
No sé si ya habrán escuchado de él antes, aunque es reciente su éxito a mayor escala.
Hello hivers, I hope you had a very good day. Tonight I return with another installment of what I have called "Insomnia Nights" to talk about issues in general of culture, although usually they are about musical artists, as that is what I am most inclined to. On nights like this, that sleep seems to have gone for a spin. I do not know if you have heard of him before, although his success on a larger scale is recent.
---
Fernando Morillo, mejor conocido como Micro TDH, es un cantante de... A ver, aunque su género de inicio y el mismo que prefiere interpretar es el rap, hoy en día ha hecho variadas composiciones de distintos géneros, en los que ha incluído el trap, Reguetón, balada y R&B. Es un chico que aunque la vida le ha tocado duro, ha sabido salir adelante y expresarlo de forma hermosa en sus letras. Tiene 22 años y casualmente, cumplimos años casi el mismo día. En una de sus canciones que se llama "Agradecer x3" nos cuenta cómo su padre los abandonó a él y su hermano cuando solo eran unos niños y su madre y abuela, son las personas que luchan para sacarlos adelante. Luego, a sus 12 años su abuela fallece, dejándolo a él destrozado. Que acá se las dejo para que la disfruten:
Fernando Morillo, better known as Micro TDH, is a singer from ... Let's see, although his initial genre and the one he prefers to interpret is rap, nowadays he has made various compositions of different genres, in which he has included the trap, reggaeton, ballad and R&B. He is a boy who, although life has touched him hard, has managed to get ahead and express it beautifully in his lyrics. She is 22 years old and coincidentally, we have our birthday on almost the same day. In one of his songs called "Thank You x3" he tells us how his father abandoned him and his brother when they were just children and his mother and grandmother, they are the people who fight to get ahead. Then, at the age of 12, his grandmother passed away, leaving him devastated. Here I leave them for you to enjoy:
---
---
Inició su carrera cantando en las calles y en guerras de rap, hasta que su primera compañía a la que perteneció "The Dog House" lo ayuda a darse un poco a conocer. Luego, fue descubierto por el cantante de trap Neutro Shorty y es quien lo impulsa más fuertemente en su carrera.
He began his career singing in the streets and in rap wars, until his first company to which he belonged "The Dog House" helps him to become a little known. Later, he was discovered by the trap singer Neutro Shorty and is the one who drives him most strongly in his career.
En el 2017 tuve la oportunidad de conocerlo en uno de sus conciertos en Cumaná, aunque para ese tiempo no era muy conocido ni siquiera en nuestro país, yo ya conocía y seguía muy de cerca todo su trabajo. Así que ese día, después de cantar a todo pulmón todas sus canciones, esperé en la entrada del hotel donde fue el concierto, pues sabía que él seguía ahí y así fue, aproximadamente a las 5 de la mañana que hablamos y confirmó todo lo que pensaba de él, un chico humilde y talentoso tratando de hacerse ver en un mundo tan complicado como la música y más cuando no posees los recursos monetarios.
In 2017 I had the opportunity to meet him at one of historias concerts in Cumaná, although at that time he was not well known even in our country, I already knew and closely followed all his work. So that day, after singing all his songs at the top of my lungs, I waited at the entrance of the hotel where the concert was, because I knew that he was still there and that's how it was, at approximately 5 in the morning that we spoke and he confirmed everything. I thought of him, a humble and talented boy trying to make himself seen in a world as complicated as music and even more so when you don't have the monetary resources.
Fuente
---
Hoy en día tiene un contrato con "Big Ligas", misma compañía en la que también está el artista Paulo Londra.
Hasta la fecha, ha tenido colaboraciones con muchos artistas conocidos como Lasso, Pablo Alborán, Piso 21, Justin Quiles, Mike Towers, entre otros.
El éxito de este chico ha sido sorprendente en estos últimos años y no saben cuánto me alegra verlo triunfar.
En la actualidad reside en Estados Unidos y hace unos pocos días recibió a su madre y hermano así que ya se encuentran todos juntos.
Acá les dejo una canción de él titulada "Querer volar", en la que también sale su madre siendo parte del guión.
Today he has a contract with "Big Ligas", the same company that also includes the artist Paulo Londra. To date, he has had collaborations with many well-known artists such as Lasso, Pablo Alborán, Piso 21, Justin Quiles, Mike Towers, among others. The success of this boy has been amazing in recent years and you do not know how happy I am to see him succeed. He currently resides in the United States and a few days ago he received his mother and brother, so they are all together. Here I leave you a song by him titled "Wanting to fly", in which his mother also appears as part of the script.
Espero que disfruten de esta presentación y así como yo, despierten un amor por este artista que se ha ganado mi corazón. Talento venezolano tenemos de sobra, jóvenes que desbordan talento y ante todas las adversidades deciden apostar por su país y por lo que les gusta. Digno de admirar.
I hope you enjoy this presentation and, like me, awaken a love for this artist that has won my heart. We have plenty of Venezuelan talent, young people who are overflowing with talent and in the face of all adversity they decide to bet on their country and what they like. Worthy of admiration.
---
Dulces sueños | Sweet Dreams
🎶🎶☺️
---
---