Splinterlands Amazing Battles – Ambushing Battle
Welcome, Splinter people! I am pleased to present yet another fiery battle!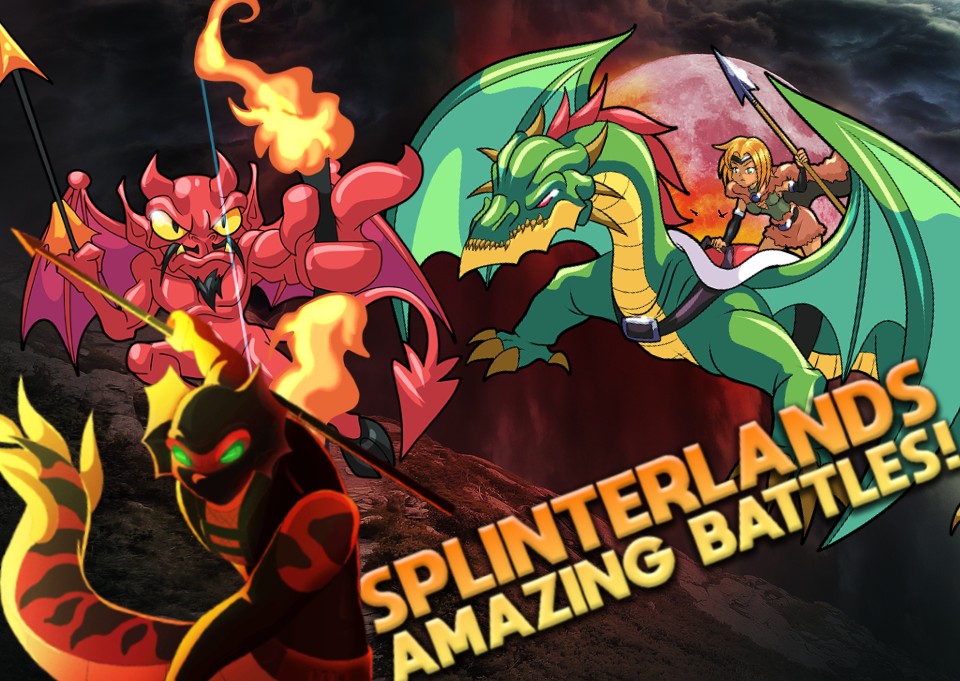 This episode's battle was ambushing

Click on the image below to watch the fight: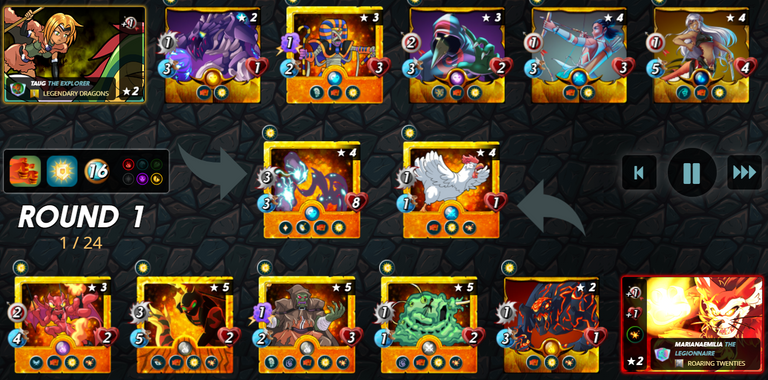 Teams
My team
Fire Splinter
Summoner: Yodin Zaku
Furious Chicken
Scorch Fiend
Creeping Ooze
Goblin Shaman
Serpentine Spy
Imp Bowman
Their team
Dragon Splinter with Death Element
Haunted Spirit
Corpse Fiend
Undead Priest
Weirding Warrior
Xenith Archer
Naga Assassin
---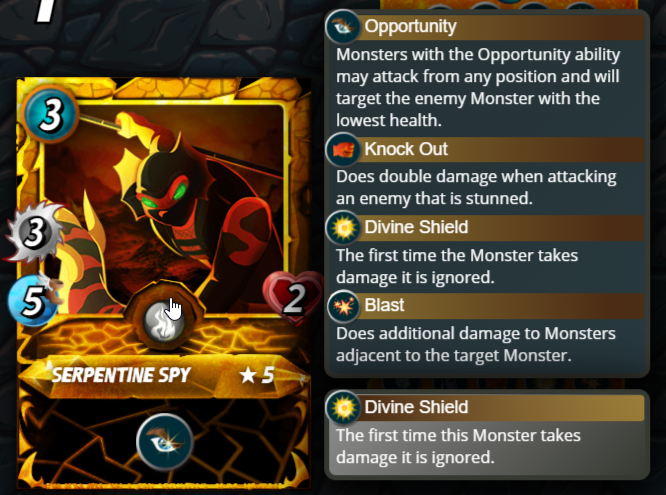 Battle outcome
Today's match caps at 16 Mana. The only splinters available are the Fire, Death and Dragon splinters.

Extra rules were Heavy Hitters and Holy Protection. In Heavy Hitters, All Monsters have the Knock Out ability. In Holy Protection, All Monsters have the Divine Shield ability.
My defense was made of Furious Chicken, Scorch Fiend, Creeping Ooze and Goblin Shaman.
In a match with available Mana as low as this one, I chose to use fake targets as my frontline, so my offensive monsters had time to deal damage.
Furious Chicken certainly never attacked, but you'd be surprised to know Scorch Fiend actually stayed alive until the end.
Thanks to my Goblin Shaman and Creeping Ooze combination, I slowed the enemy team down enough to dodge several attacks.
Sure, I was a little lucky, but even if no attacks were missed, I'd still end up winning.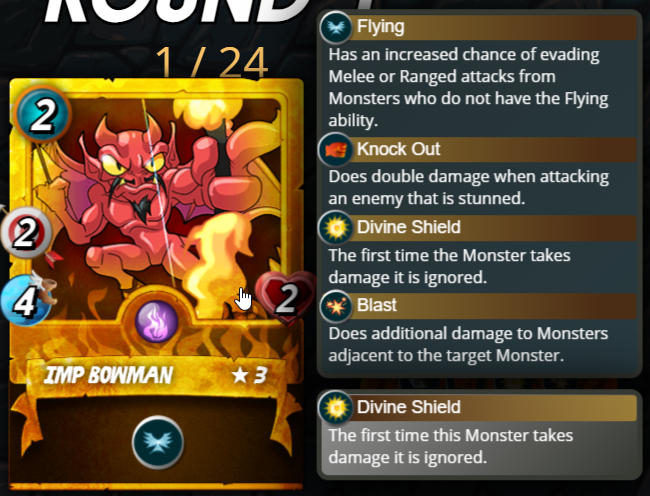 Using a higher level Creeping Ooze instead of its level one version would have made a lot of difference if incoming attacks connected, because a level one version would have died from blast damage alone. Having as high as three health prevents this from happening.
I consider Goblin Shaman a part of my defense because he's very unprotected. His job, besides his usual stuff, is tanking hits in case all of Chicken, Scorch Fiend and Creeping Ooze end up dying.
After all, Serpentine Spy might have ended up taking blast damage instead earlier (in case my opponent got that far) if I had positioned him further in the back.
My offense consisted of Serpentine Spy, Imp Bowman and Goblin Shaman.
Using Yodin Zaku as my Summoner, of course low Mana, high damage, high-speed Monsters sum up my offensive choices.
Serpentine Spy really dives into the enemy team, killing something off and splashing damage everywhere. Imp Bowman stomps down the front door, and it takes two to stop him.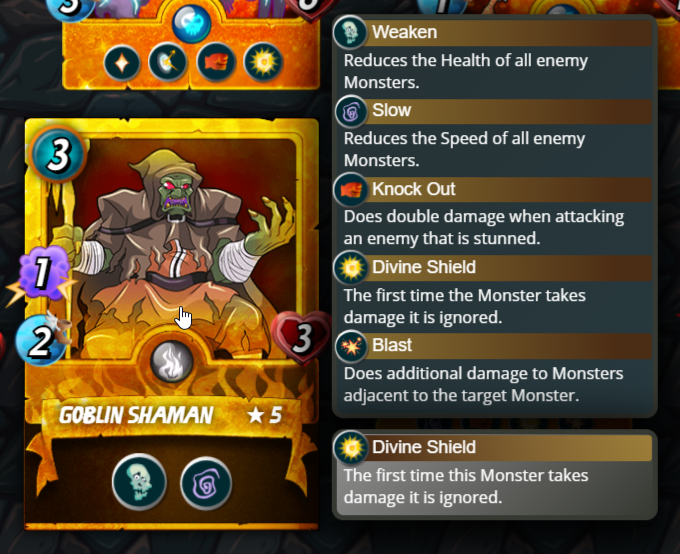 High speed is very important here, because I want to attack before their entire team does. Otherwise, their monsters get an extra chance to hit my own - I don't want that. I strike first, and I strike hard, so they end up on the floor before having the chance to hit me back.
Goblin Shaman is also a part of the offensive, though. If the enemy had armor, Goblin Shaman would pierce through it.
That's not as important when dealing with the enemy tank, but whoever's behind him would have to take up to two additional slaps of Blast damage before they're dead. Since I'm also using magic, I don't have to worry about that.
My support monster were Goblin Shaman and Creeping Ooze. They had so much impact on this battle without even touching the enemy team!
Of course, Goblin Shaman attacked twice, but even if he hadn't, his Weaken ability helps get more enemy Monsters slayed from Blast damage alone.
Slowing them down with the Slow ability from both of them was also super important.
---
See this amazing battle again: @marianaemilia versus @taug
---
Follow me on Twitter
Join the fun now: Sign up here
---
Images: @splinterlands
---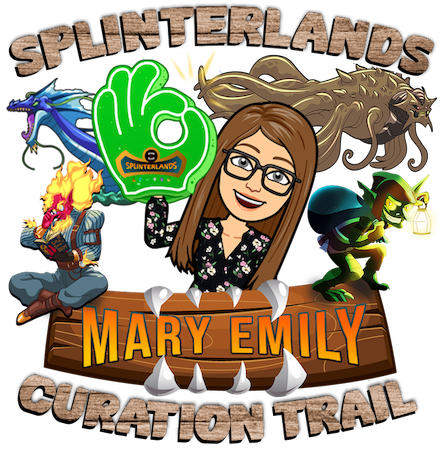 Follow my Curation Trail on HiveVote; Join the widest and most profitable trail about Splinterlands and help reward the best content creators. Learn more here.
You can also delegate Hive Power and/or SPT to me; Learn how
Thank you very much!
---
---
---