Splinterlands Amazing Battles – Wild Silver Crushing Battle

Welcome, Splinter people! I am pleased to present yet another fiery battle you should study so you can get better at playing to earn!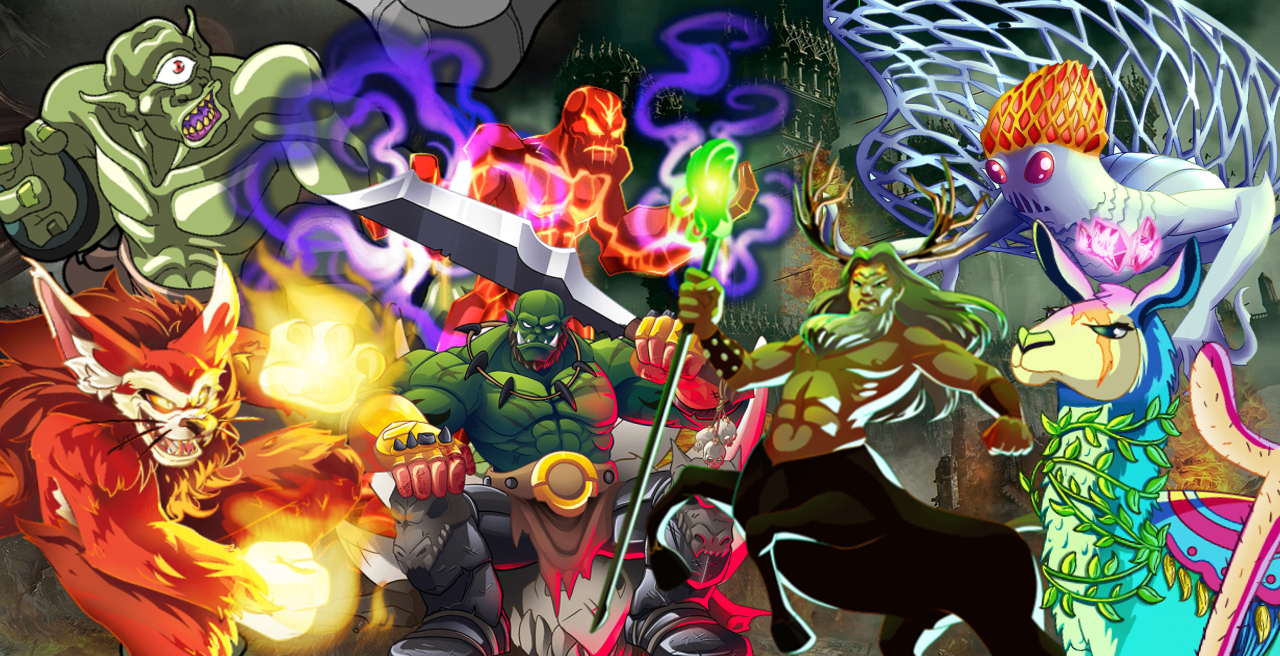 This episode's battle was crushing

Click on the image below to watch the fight: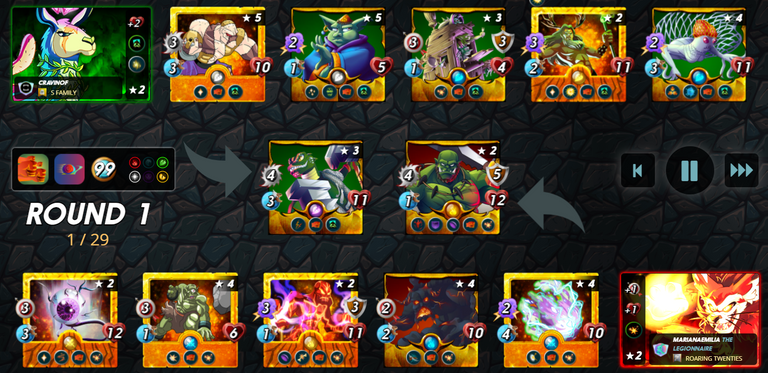 Teams
My team
Fire Splinter
Summoner: Yodin Zaku
Grum Flameblade
Prismatic Energy
Molten Ashe Golem
Caladuum
Cyclops
Cornealus
Their team
Earth Splinter
Summoner: Scarred Llama Mage
Grund
Flesh Golem
Goblin Psychic
Goblin Tower
Kron the Undying
Mycelic Slipspawn
---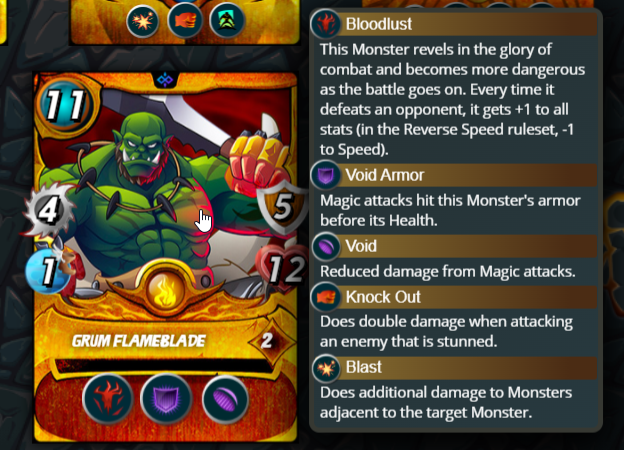 Battle outcome
Today's match caps at 99 mana. The only splinters available are the Fire, Earth, Life and Dragon splinters.

Extra rules were Heavy Hitters and Reverse Speed. In Heavy Hitters, all Monsters have the Knock Out ability. In Reverse Speed, Monsters with the lowest Speed attack first and have the highest chance of evading attacks.
My defense was made of Grum Flameblade, Prismatic Energy, Molten Ash Golem and Cornealus.
If the enemy tank isn't shielded and ends up dying to Grum's blade, it's pretty much GG as Grum gets an armor point back up from Bloodlust. His extra stats stack up really nicely in the long run.
That extra point in armor turns him into an incredible defense mechanism because of Void upgrading it to resist attacks. It's like a mini-Invulnerability ability!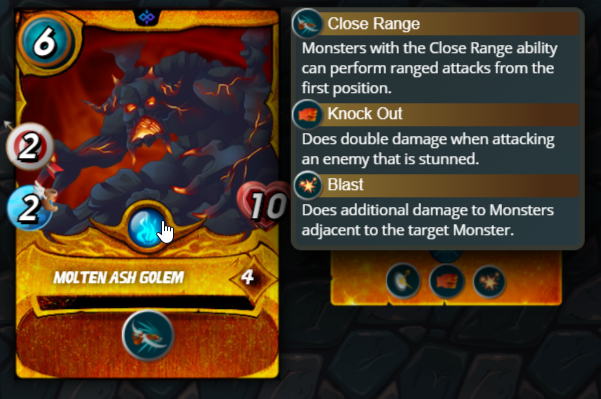 My ever-present Prismatic Energy's here too, just in case my opponent tries to splash Magic attacks.
Prismatic isn't as strong in Silver League due to not yet having its Void ability, but it still stands ground for a long time thanks to its beefy health bar.
Molten Ash Golem, a staple for Yodin Zaku, enhances my defenses in case Prismatic Energy ever dies. Eventually, Molten Ash Golem had to take Position 1, so I'm glad that was my choice.
I could say Caladuum was a defensive Monster, but he was of little importance on defense while doing so much on offense.
My offense consisted of Grum Flameblade, Molten Ashe Golem, Caladuum, Cyclops, Cornealus.
In a 99 mana match where I can select Yodin Zaku as my Summoner, the crowd yells for Grum Flameblade!
A prime choice for offense in a Reverse Speed battle, standing ground against both physical and magical attacks alike.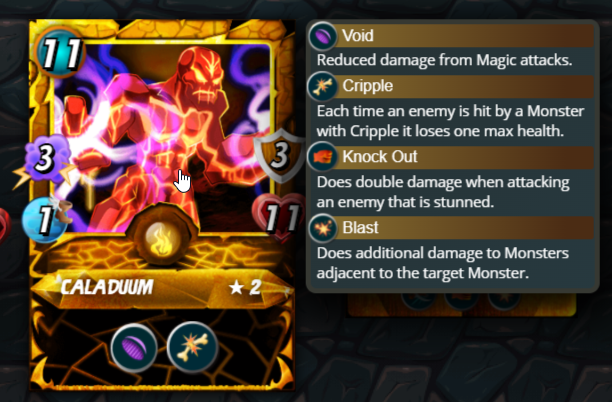 That's where I explain Caladuum. Let's say my opponent had a better defense than they did in this battle:
Kron the Undying would still sit there, healing itself. However, Caladuum hits with Cripple, which reduces its target's maximum health, cutting Kron's heals down until it loses a prolonged battle.
Cyclops chopped heads off from afar with devastating 4 damage blows with 2 splash damage. The same thing with Cornealus, which didn't have to endure the test of time against Kron, but surely would have won if Caladuum lowered Kron's health down hard enough, winning through fatigue.
My support monster was Cyclops. Because it stuns. Great card for Reverse Speed!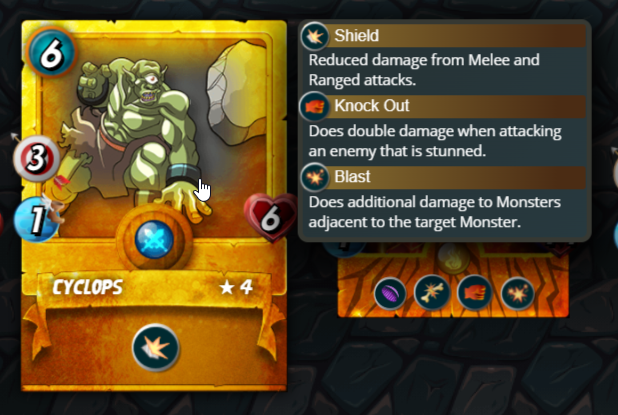 ---
See this amazing battle again: @marianaemilia versus @cravinof
---

---
Follow me on Twitter
Join the fun now: Sign up here
---
Images: @splinterlands
---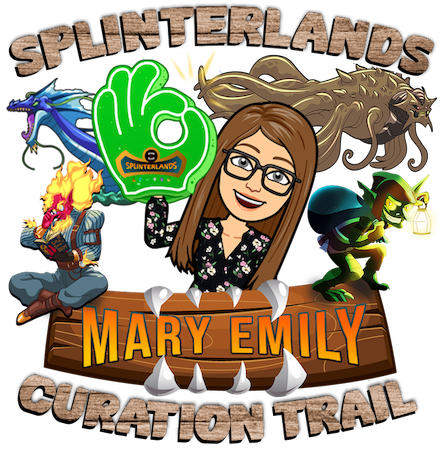 Follow my Curation Trail on HiveVote; Join the widest and most profitable trail about Splinterlands and help reward the best content creators. Learn more here.
You can also delegate Hive Power and/or SPT to me; Learn how
Thank you very much!
---
---
---