DIY Hermoso centro de mesa inspirado en las rosas y la naturaleza hecho con materiales reciclables. 🌹♻️// DIY Beautiful centerpiece inspired by roses and nature made with recyclable materials. 🌹♻️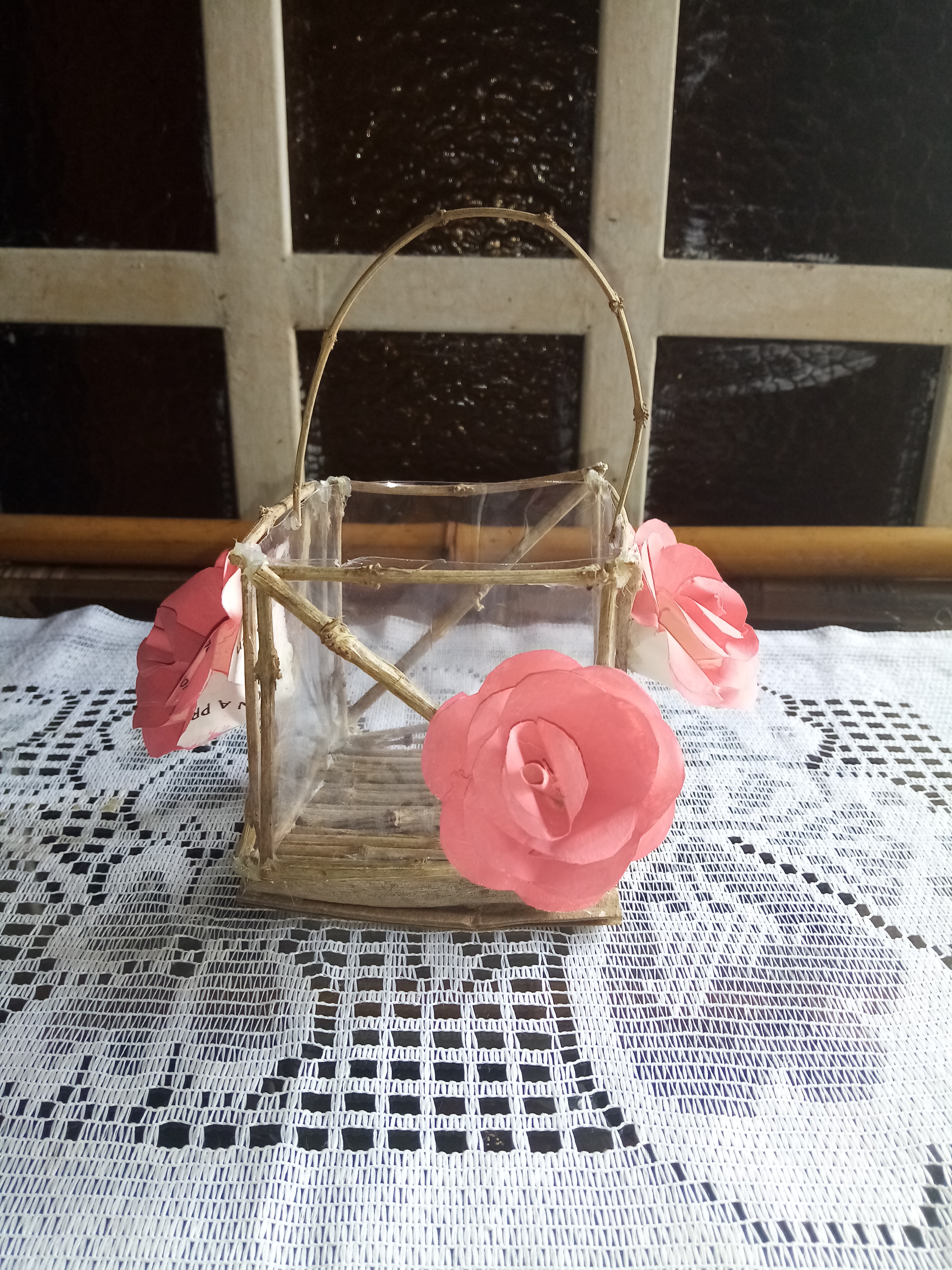 ¡¡HOLAA!! Amigos de HIVE espero tengan un maravilloso día.
¡¡HELLO!! Friends of HIVE I hope you have a wonderful day.
Hoy quiero compartir con ustedes mi más reciente tarea creativa un hermoso centro de mesa hecho con materiales reciclables inspirado en las rosas y la naturaleza en general el cual tuve la idea de elaborar el día de ayer cuando me hallaba ayudando a mi mamá a limpiar el jardín de nuestra casa y sacamos varias ramas que recortamos de algunos arbustos.
Today I want to share with you my most recent creative task, a beautiful centerpiece made with recyclable materials inspired by roses and nature in general, which I had the idea of ​​making yesterday when I was helping my mom clean the garden of our house and we took out several branches that we trimmed from some bushes.
Y pensé en porqué no hacer algo creativo y hermoso con ellas y fue donde pensé en hacer un centro de mesa utilizando una botella y las ramas al principio aunque tenía los elementos y una vaga idea de lo que haría no se me ocurría un diseño en concreto como tal por lo que después de pensar en varias cosas elegí uno bohemio y femenino a la vez casi de fantasía tomando como tema principal mis flores favoritas las rosas que junto con las ramas crearían el efecto de un rosal muy artístico y diferente.
And I thought why not do something creative and beautiful with them, and that's where I thought of making a centerpiece using a bottle and the branches at first, although I had the elements and a vague idea of ​​what I would do, I not I had's of a design specifically as such, so after thinking about several things I chose a bohemian and feminine one at the same time, almost fantasy taking as the main theme my favorite flowers the roses that together with the branches would create the effect of a very artistic and different rosebush .
A continuación les mostrare los materiales que emplee y los pasos a seguir para su elaboración.
Next I will show you the materials I use and the steps to follow for its elaboration.
Materiales
Una botella de refresco.
Tijeras
Un lápiz
Pinturas
Una hoja de papel
Un cuchillo
Ramas.
Silicona.
Materials
A bottle of soft drink.
Scissors
A pencil
Paintings
A sheet of paper
A knife
Branch.
Silicone.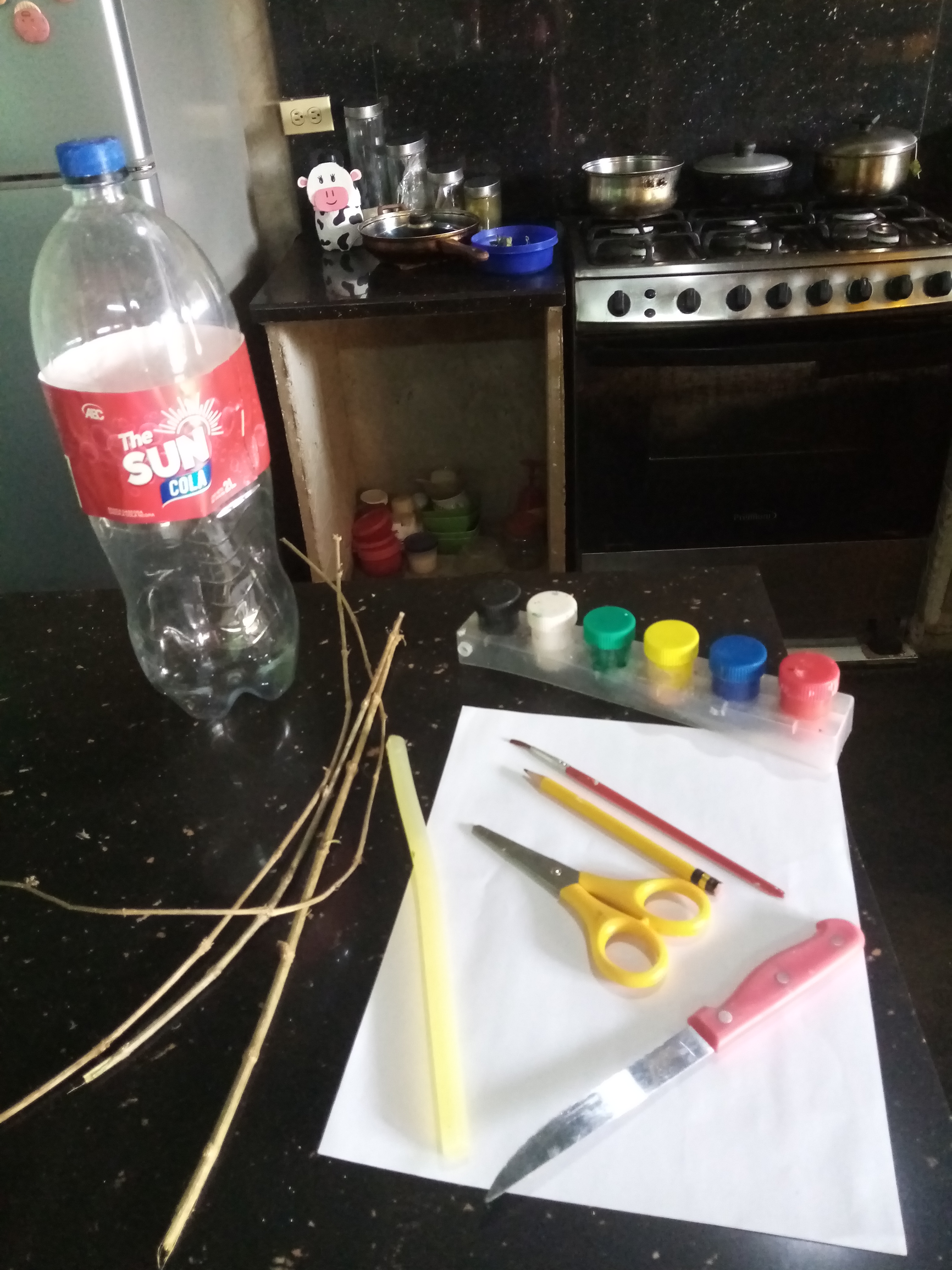 Elaboración.
Elaboration.
Paso 1
Tome la botella de plástico y le retire con cuidado la etiqueta.
Take the plastic bottle and carefully remove the label.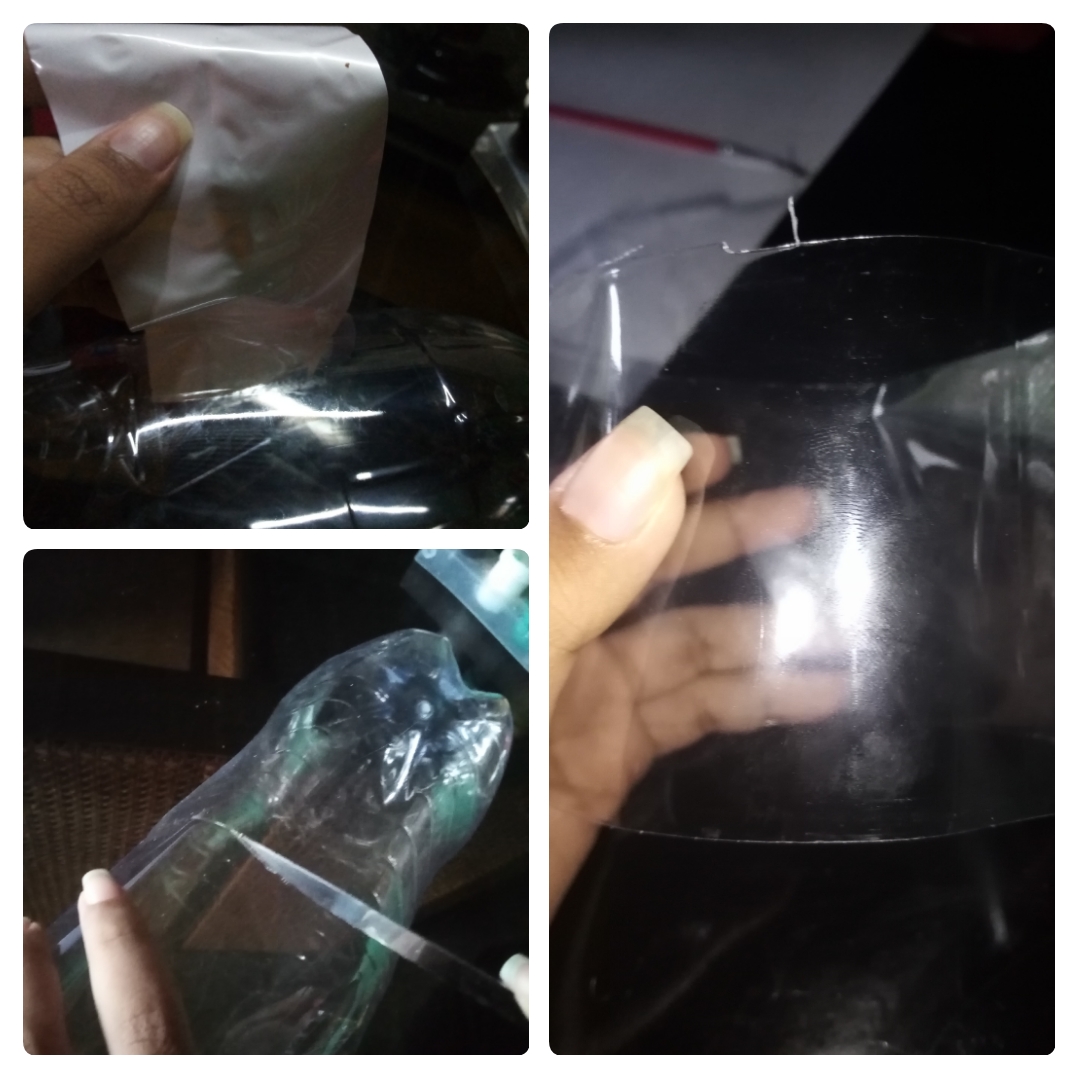 Para después con ayuda del cuchillo (calentado en la estufa) cortar el centro.
For later with the help of the knife (heated on the stove) cut the center.
Paso 2
Luego con el mango de la tijera procedo a doblar la parte que corte de la botella y con mis manos le doy forma de un cubo.
Then with the handle of the scissors I proceed to bend the part that I cut from the bottle and with my hands I shape it into a cube.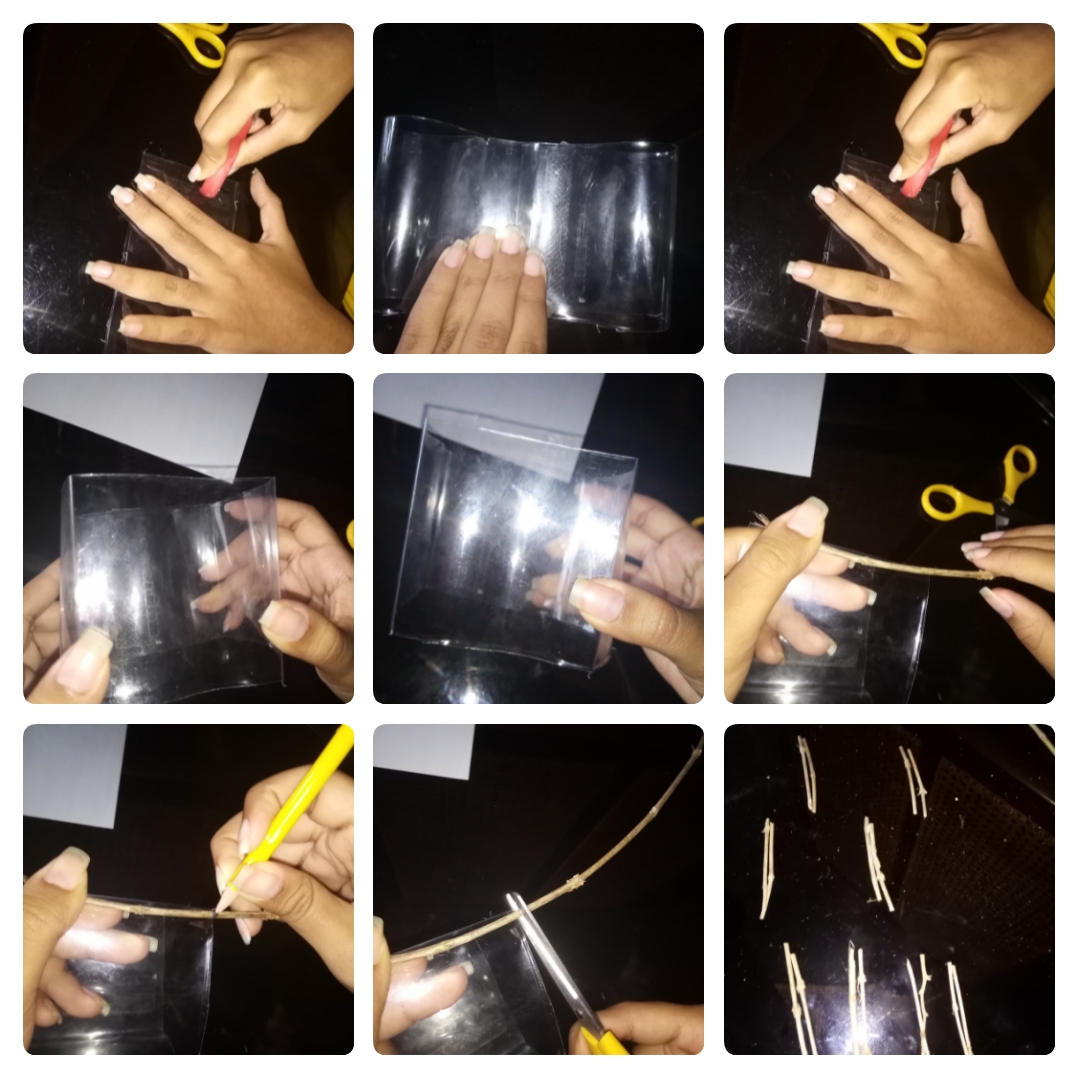 Después procedí a tomar las ramas medir y luego marcar con el lápiz el tamaño deseado y cortar varios pedazos.
Then I proceeded to take the branches, measure them and then mark the desired size with a pencil and cut several pieces.
Paso 3
Ya hecho esto procedí a pegar las ramas a el cubo en los bordes y luego corte y pegue otra en cada cara justo de forma horizontal.
Once this was done, I proceeded to glue the branches to the cube at the edges, and then cut and paste another one on each side just horizontally.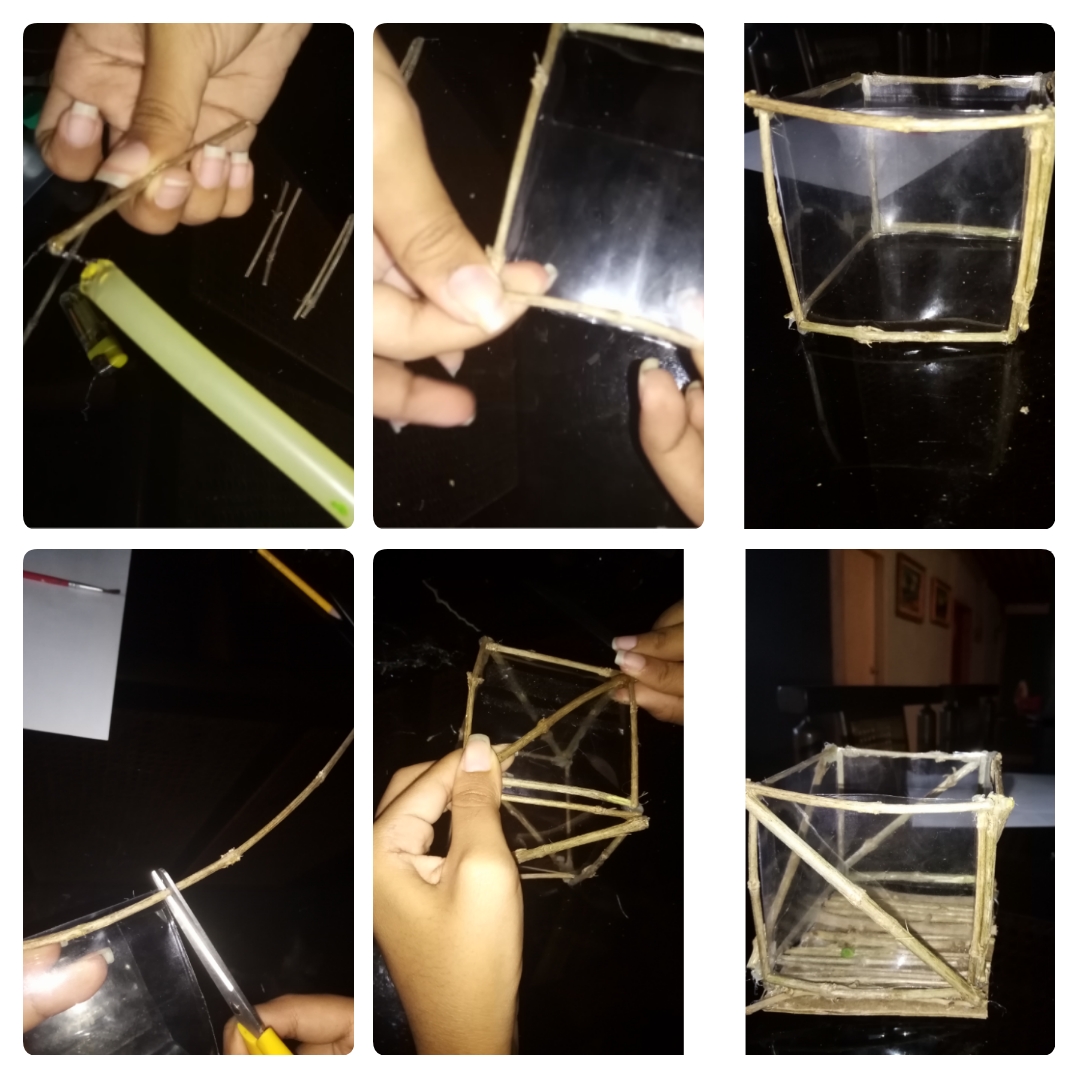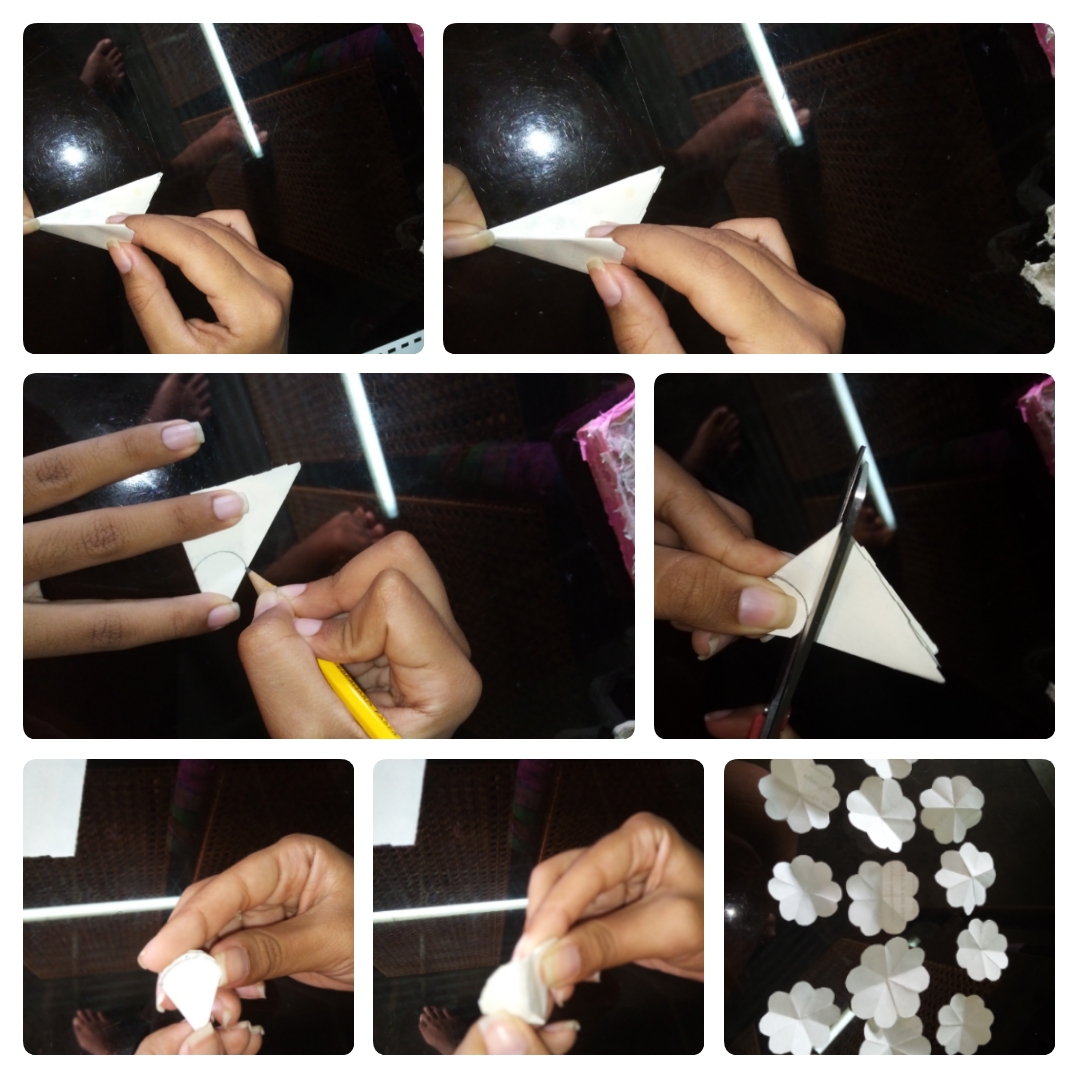 Una vez hecho esto tome la hoja de papel la doble en forma de triángulo tres veces recorte un cono lo abrí obteniendo así una flor repetí varias veces el mismo proceso.
Once this is done, take the sheet of paper, fold it in the form of a triangle three times, cut out a cone, open it, thus obtaining a flower, and repeat the same process several times.
Paso 4
Hasta obtener la cantidad que necesitaba procedí a cortarles un pétalo a cada una y luego pegarlas y armar las rosas. Luego hice el fondo del adorno cortando varios pedazos de ramas sobrantes pegandolos entre si y pegandolos al cubo.
Until I got the amount I needed, I proceeded to cut a petal from each one and then glue them together and assemble the roses. Then I made the bottom of the ornament by cutting several pieces of leftover branches, gluing them together and sticking them to the cube .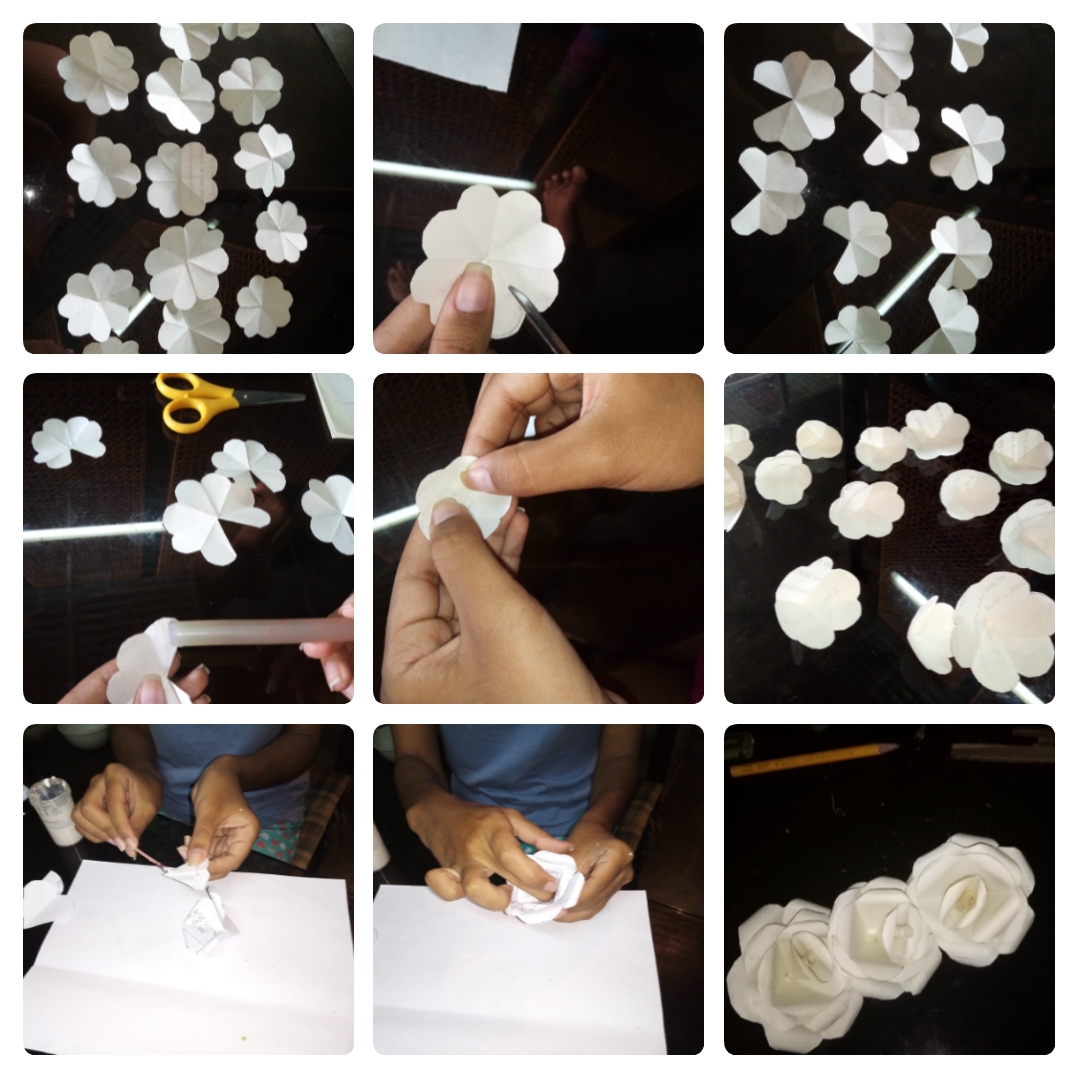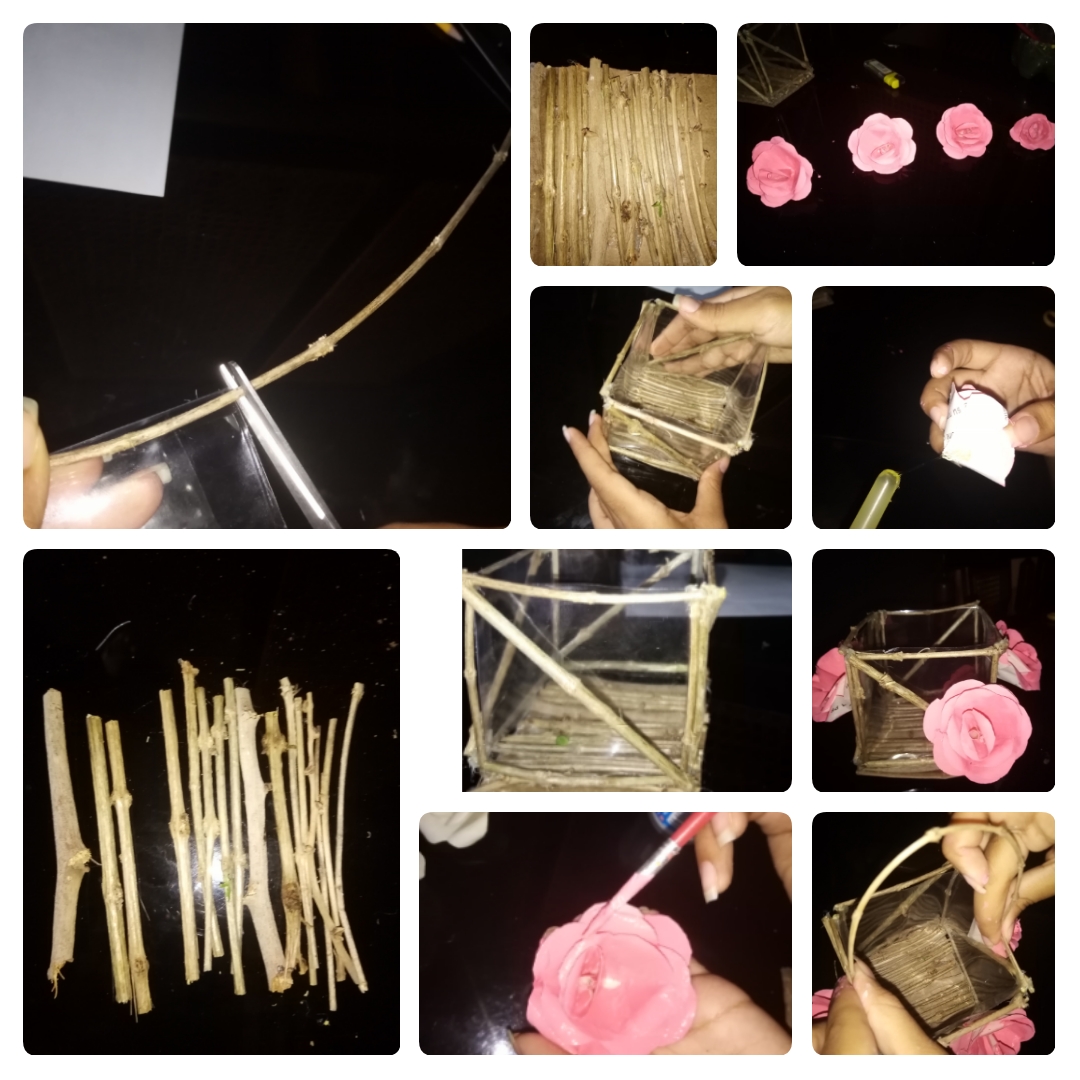 Para finalmente pintarlas y pegarlas al adorno y con una rama que sobró muy fina la doble con cuidado y la pegue en la parte superior como toque final.
To finally paint them and glue them to the ornament, and carefull fold a very thin branch that was left over and glue it to the top as a final touch.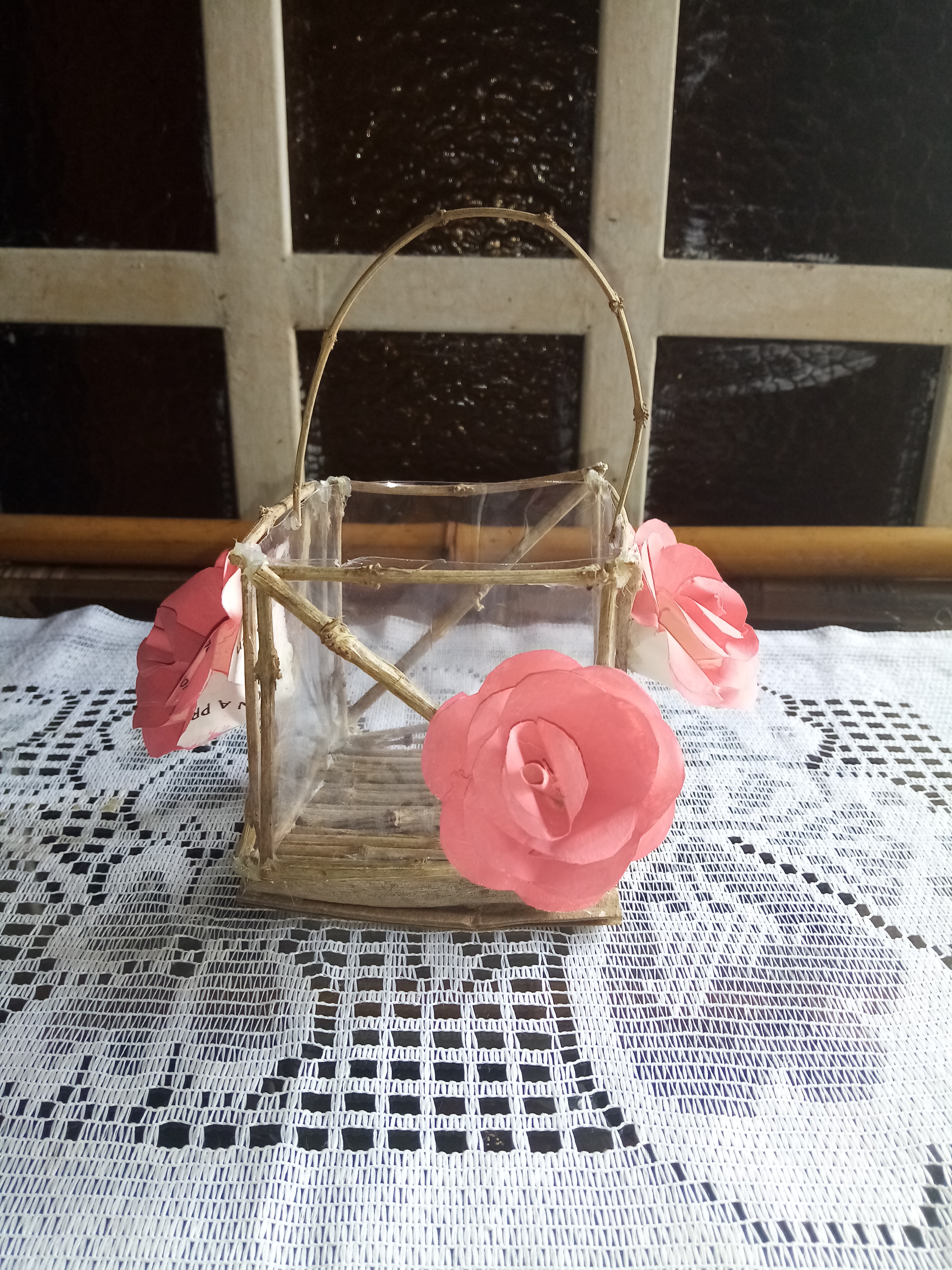 ¡¡Y LISTOOO!! Tenemos un Hermoso centro de mesa hecho completamente con materiales reciclados que no solo es Hermoso sino también muy fácil y divertido de hacer cuyos materiales pueden encontrarse en casa y no requiere demasiado tiempo o esfuerzo sin duda es un elemento decorativo único ecléctico y etéreo que le dará un toque de elegancia y delicadeza a su vez a tu hogar espero les haya gustado esta sencilla pero hermosa artesanía.
¡¡AND READY!! We have a beautiful centerpiece made entirely with recycled materials that is not only beautiful but also very easy and fun to make, whose materials can be found at home and does not require too much time or effort, it is certainly a unique, eclectic and ethereal decorative defnely is element that will give a touch of elegance and delicacy to your home, I hope you liked this simple but beautiful craft.
¡¡MUCHASS GRACIASSS!! por visitar mi blog hasta la próxima publicación….
¡¡THANK YOU SO MUCH!! for visiting my blog until the next publication….
---
---