Deadvlei and Dune 45 - Namib Naukluft National Park - a trip around Africa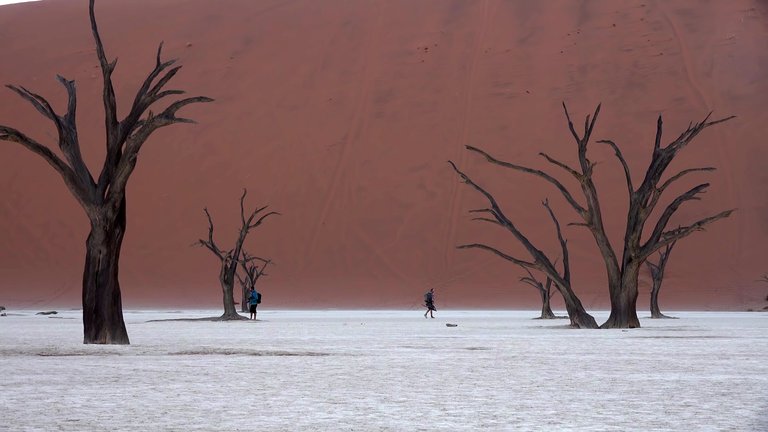 Deadvlei - meaning a dead swamp
Deadvlei - czyli martwe bagno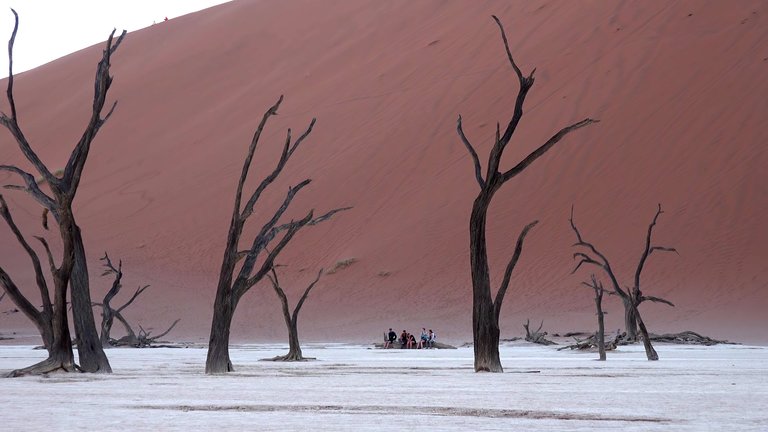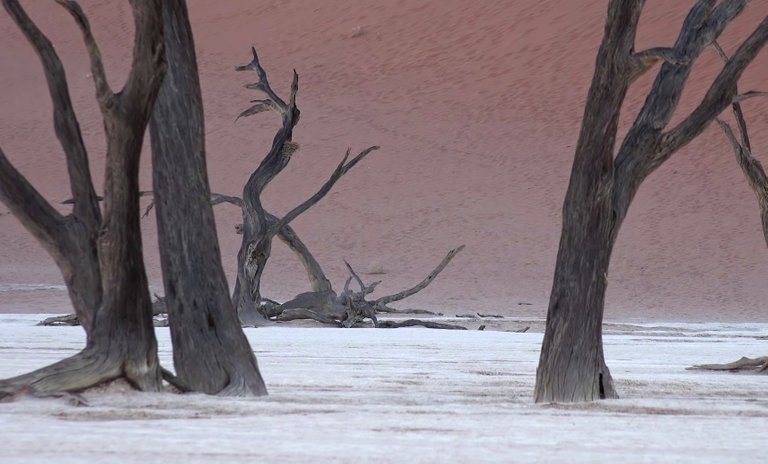 The greatest impression in the Namib Naukluft desert, apart from the dunes, is made by Dadvlei, that is, a dead marsh, a dead lake. It is a trough between red dunes covered with white clay, located near the famous Sossusvlei brine, in the Namib-Naukluft Park.
Największe wrażenie na pustyni Namib Naukluft poza wydmami, wywiera Dadvlei, czyli martwe bagno, martwe jezioro. To niecka pomiędzy czerwonymi wydmami pokryta białą gliną, położona w pobliżu znanej solanki Sossusvlei, w parku Namib-Naukluft.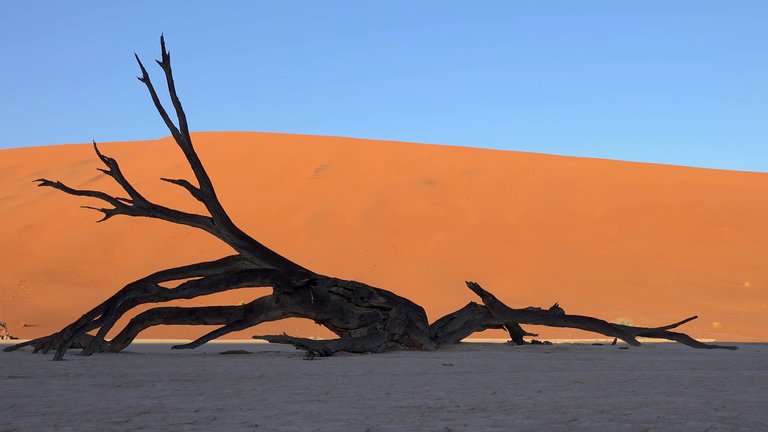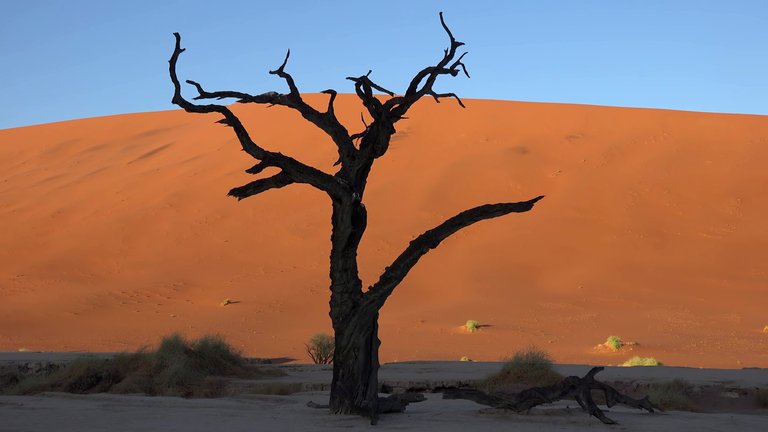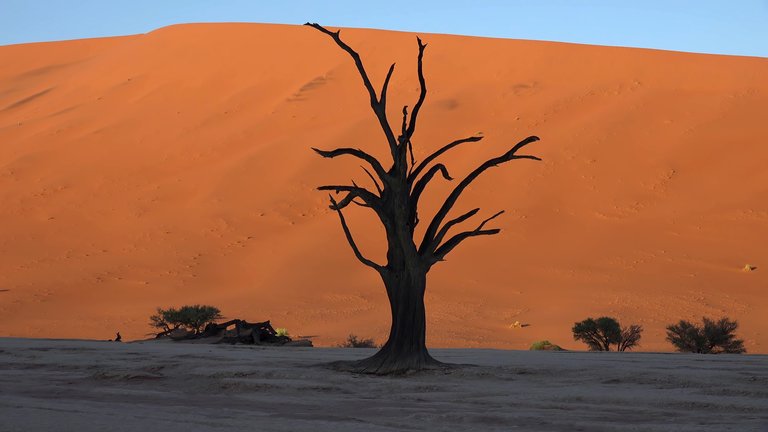 It is believed that the earthen marsh was formed more than a thousand years ago when the Tsauchab River poured out after heavy rains. At that time, shallow but large puddles of water formed. Thorn trees began to grow in these puddles.
Uważa się, że gliniane bagno powstało ponad tysiąc lat temu, kiedy po ulewnych deszczach wylała rzeka Tsauchab. Powstały wtedy płytkie ale duże kałuże wody. W tych kałużach zaczęły rosnąć drzewa cierniowe.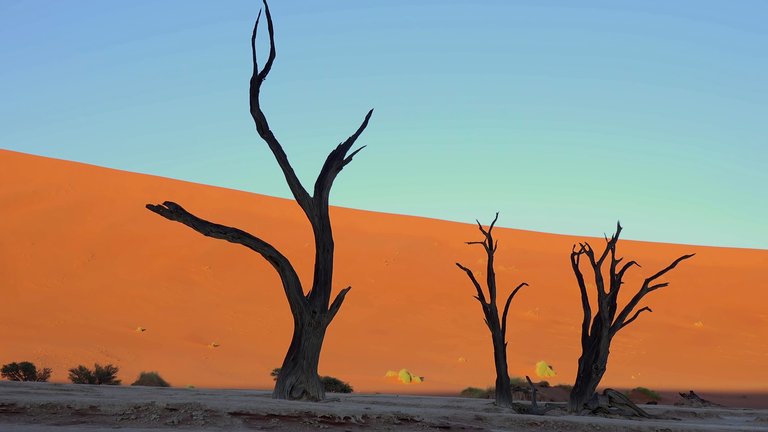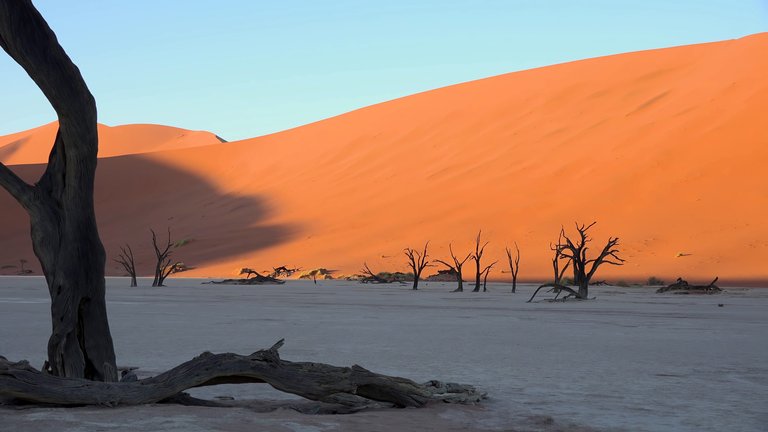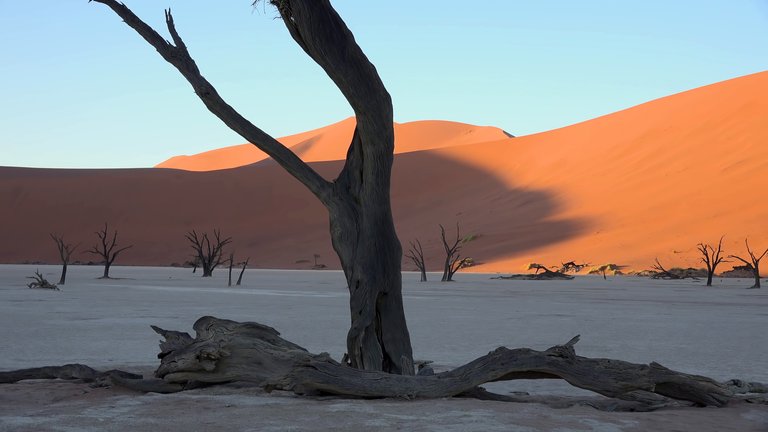 After about 200 years, the climate changed, and the swamps once full of water began to dry up. Dunes have entered this area, blocking the flow of water from the Tsaucheb River.
Po około 200 latach zmienił się klimat, i pełne niegdyś wody bagna zaczęły wysychać. Wdarły się na ten obszar wydmy, które zablokowały dopływ wody z rzeki Tsaucheb.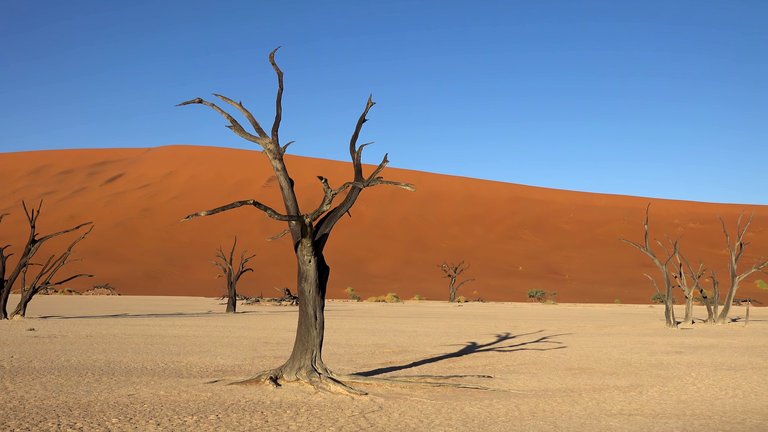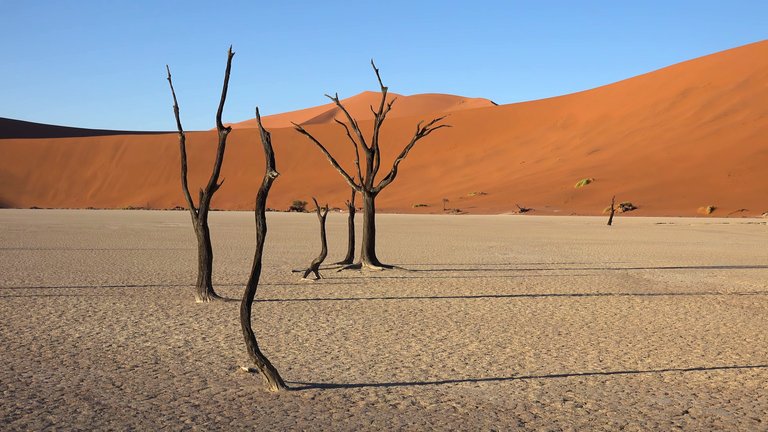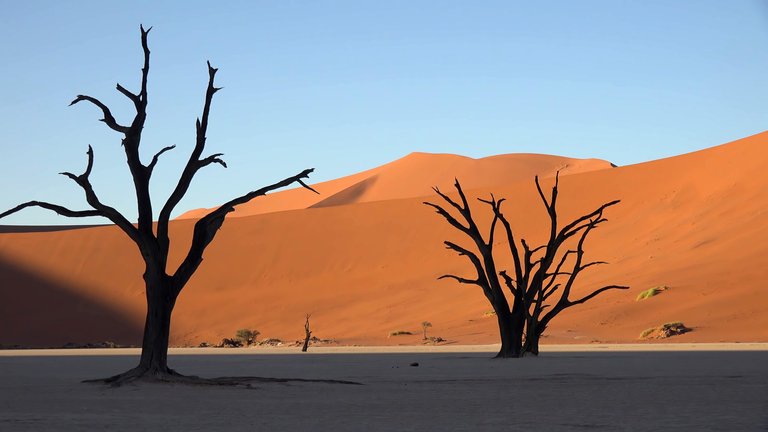 The trees started to wither, but due to the specific microclimate they did not start to decompose, but were burnt by the desert sun, they lasted and are still standing today.
Drzewa zaczęły usychać, ale ze względu na specyficzny mikroklimat nie zaczęły się rozkładać, tylko przypalane pustynnym słońcem trwały i stoją do dziś.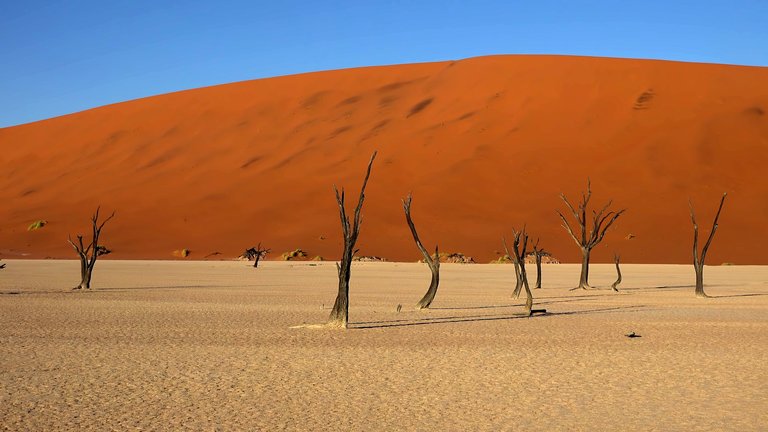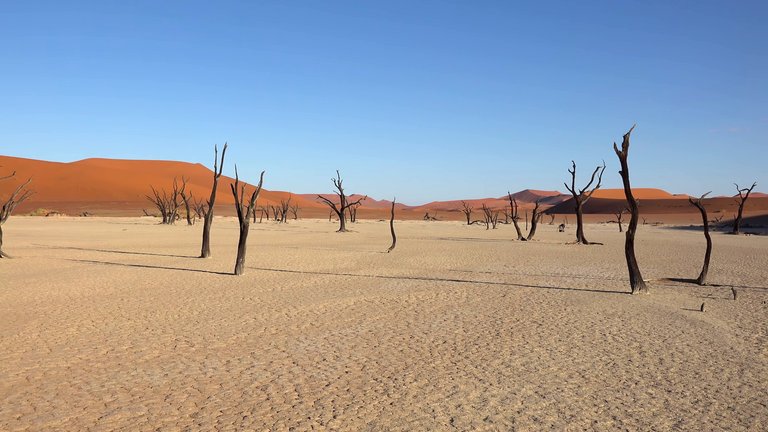 A forest trapped in time
Las uwieziony w czasie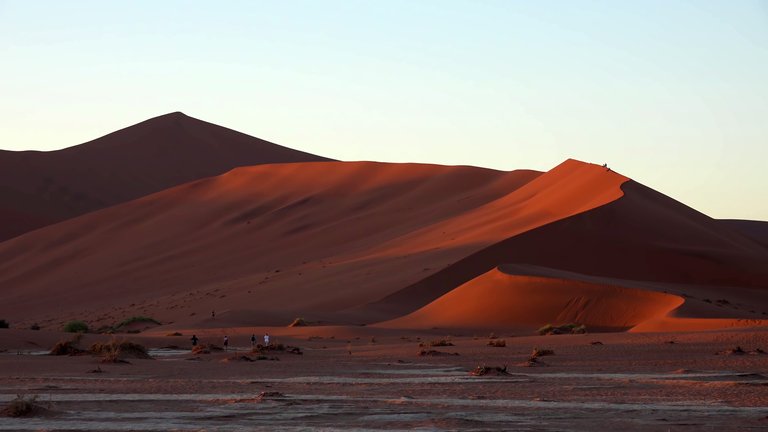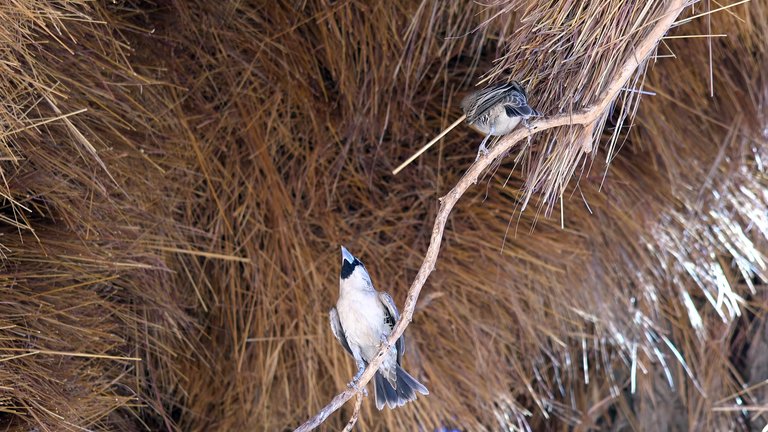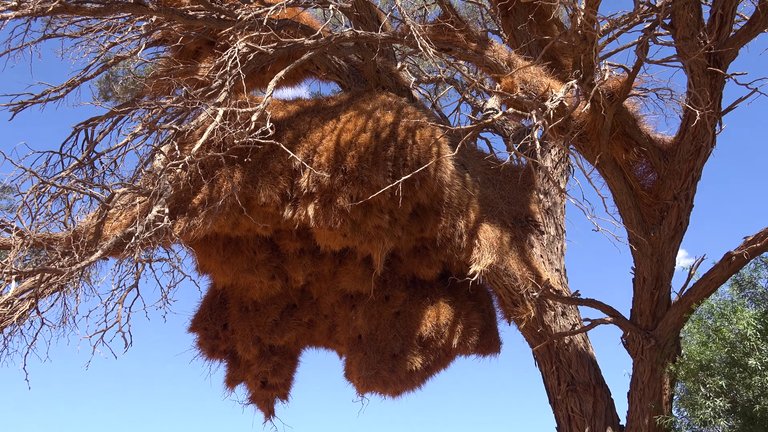 At the moment, it is a real tourist attraction to see 900 years old trees, trapped among great rusty dunes, on a white, clay and dried puddle residue, with a blue sky on the horizon.
W tej chwili jest to nie lada atrakcja turystyczna, aby zobaczyć 900 letnie drzewa, uwiezione wśród wielkich rdzawych wydm, na białej, glinianej i wysuszonej pozostałości po kałużach, z błękitnym niebem na horyzoncie.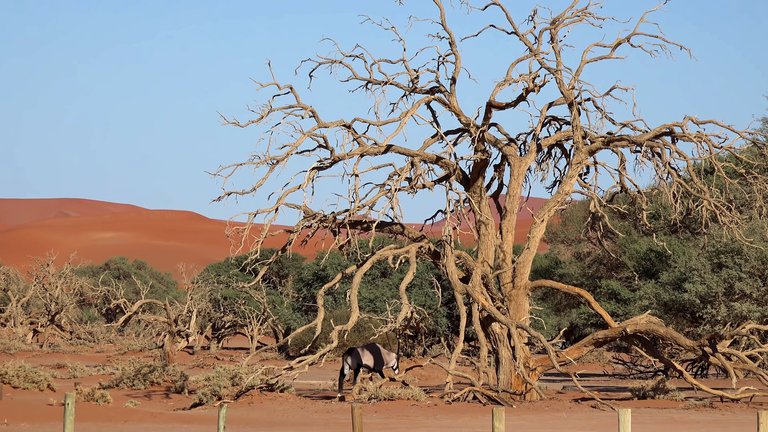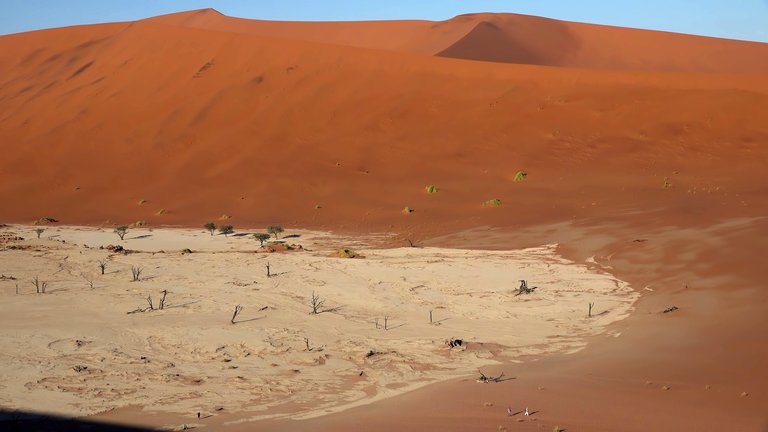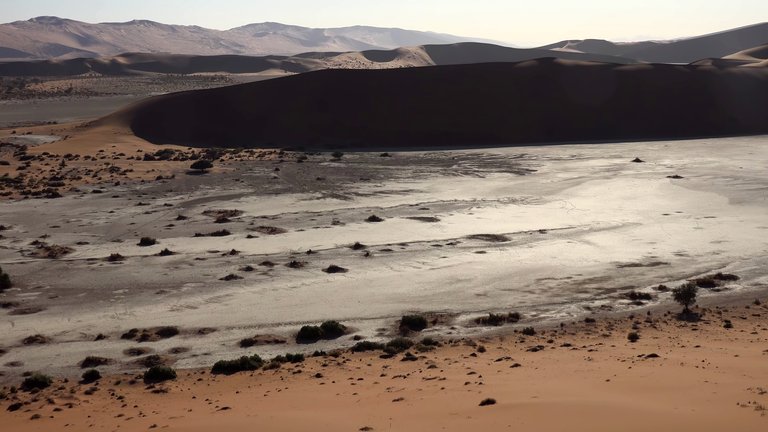 Dune 45
Wydma 45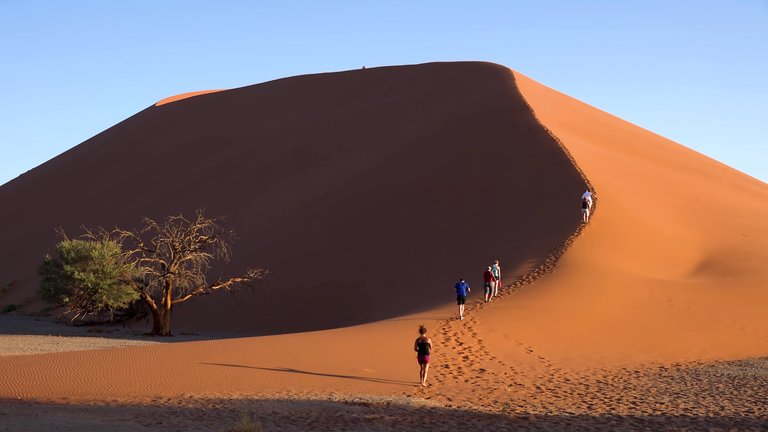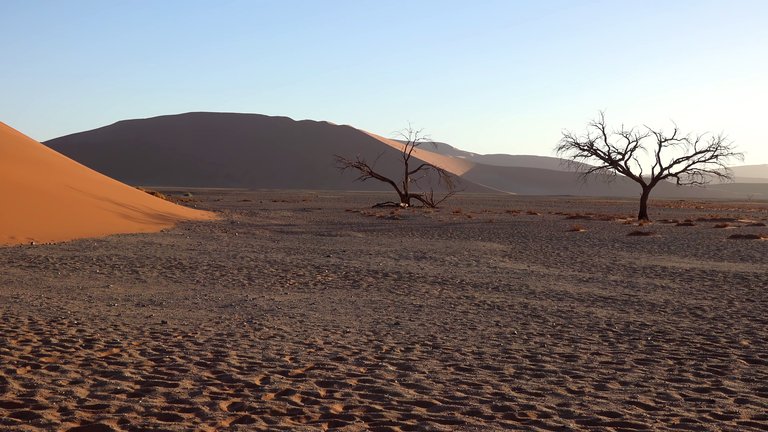 If someone was in the movie Dune directed by David Lynch from 2021, the first association that comes to mind when looking at the pictures from the Namib Naukluft desert - this is the movie Dune.
Jeśli ktoś był na filmie Diuna w reżyserii Davida Lyncha z roku 2021, to pierwsze skojarzenie jakie się nasuwa patrząc na zdjęcia z pustyni Namib Naukluft - to właśnie film Diuna.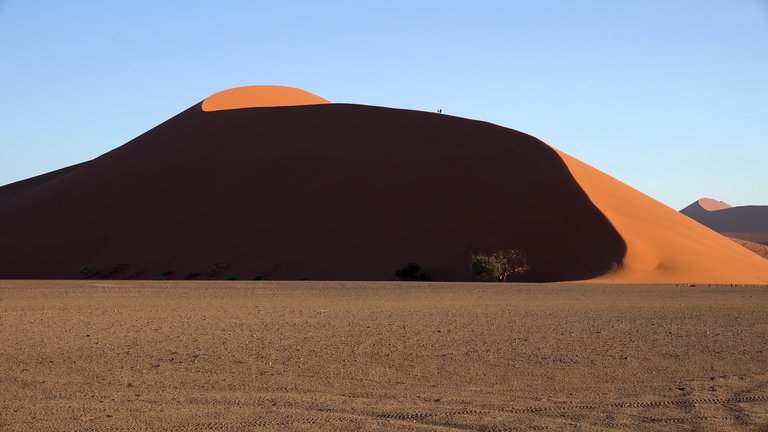 Great red and orange dunes, where you can expect deposits of the most valuable unique substance in the universe, which prolongs life, influences the expansion of consciousness and enables the brief clairvoyance necessary for space travel - the melange known as "spice". Well, maybe I'll come back to reality after all.
Wielkie czerwone i pomarańczowe wydmy, gdzie spodziewać się można złóż najcenniejszej unikalnej substancji we wszechświecie, która przedłuża życie, wpływa na rozszerzenie świadomości oraz umożliwia krótkie jasnowidzenie niezbędne do podróży kosmicznych – melanżu znanego pod nazwą "przyprawa". No tak, może wrócę jednak do rzeczywistości.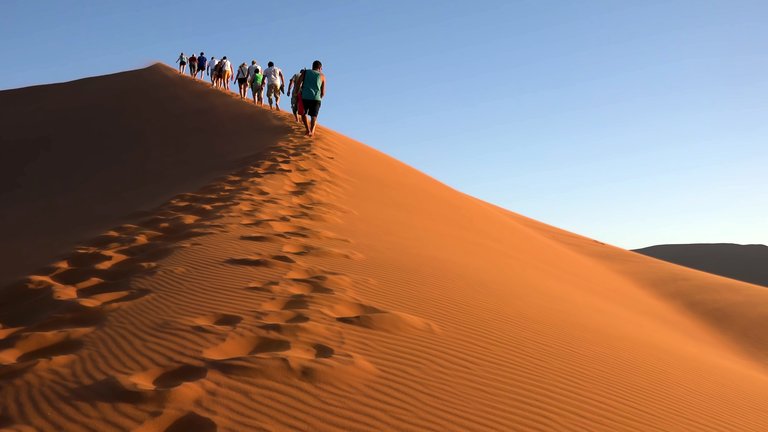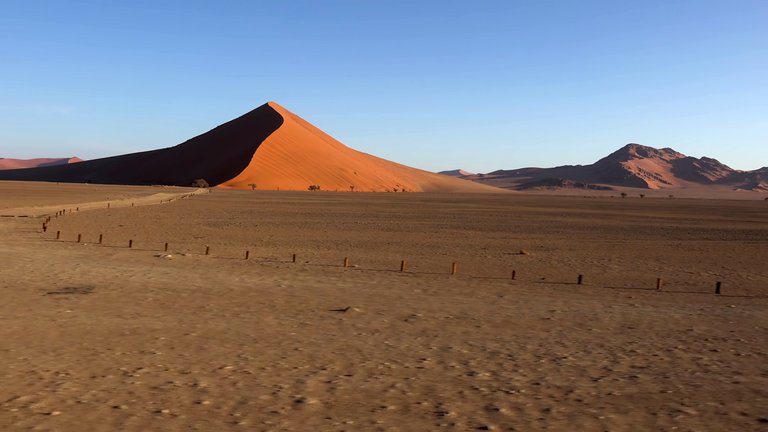 Unfortunately, although the landscapes are confusingly similar to the movie scenes, the film was shot in completely different places.
Niestety choć krajobrazy do złudzenia podobne do filmowych scen, to film był jednak kręcony w zupełnie innych miejscach.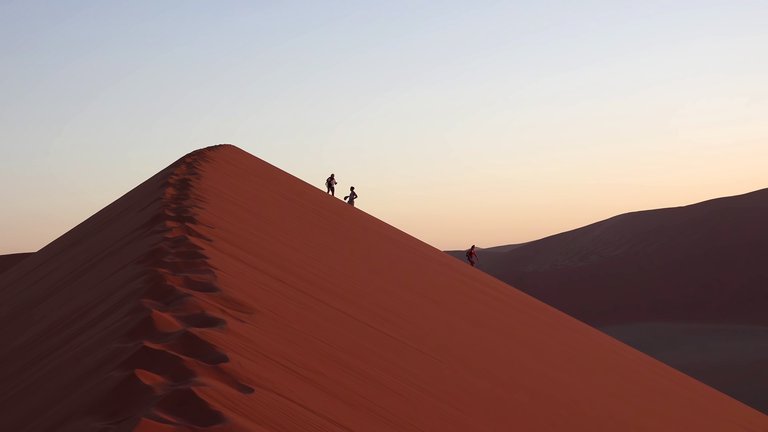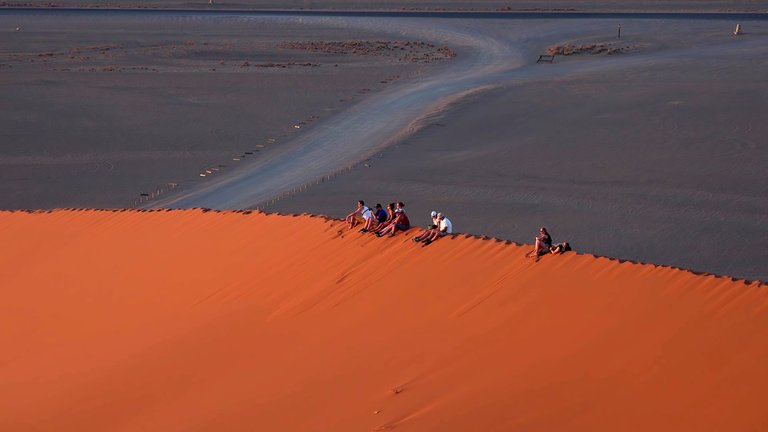 It uses landscapes from the Wadi Rum valley in Jordan and Abu Dhabi in the United Arab Emirates.
Wykorzystano w nim krajobrazy z doliny Wadi Rum z Jordanii, oraz Abu Zabi w Zjednoczonych Emiratach Arabskich.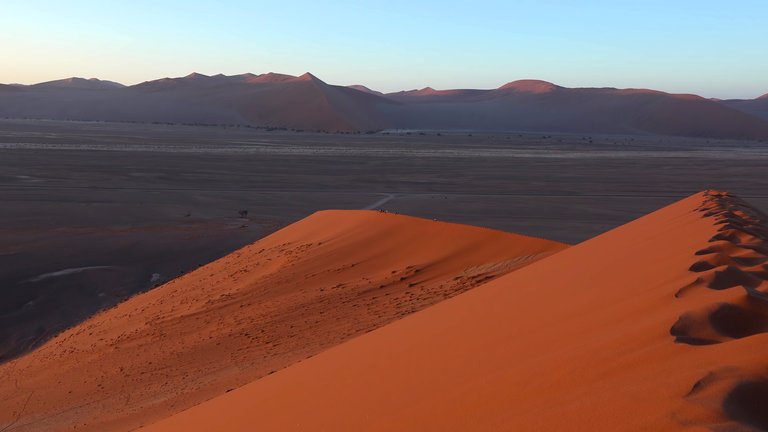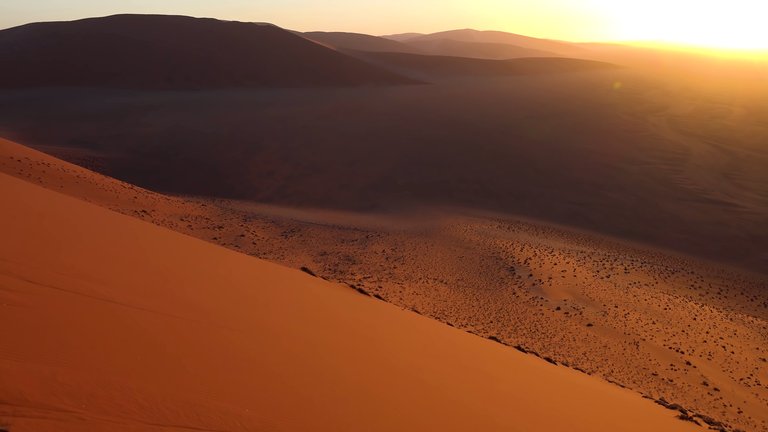 It's understandable, but the scenes from Budapest, Hungary and Norway were also used - which I can't see for the hell in the film.
To jakby zrozumiałe, ale wykorzystano również scenerie z Budapesztu na Węgrzech i z Norwegii - których za cholerę w filmie nie mogę dostrzec.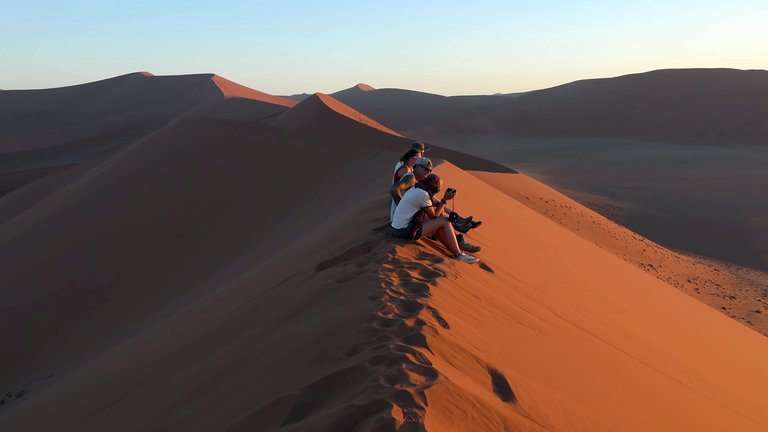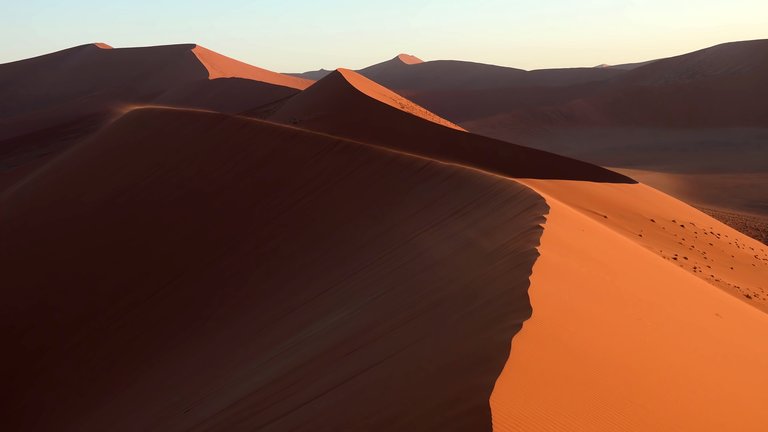 Dune 45 is the easiest point to explore. You can drive your car right up to the dune, and there is a parking lot nearby. But it is a great vantage point on all the dunes nearby.
Wydma 45 to najłatwiejszy punkt do zwiedzania. Można podjechać samochodem pod samą wydmę, nieopodal zresztą mieści się parking. Ale jest to świetny punkt widokowy na wszystkie pobliskie wydmy.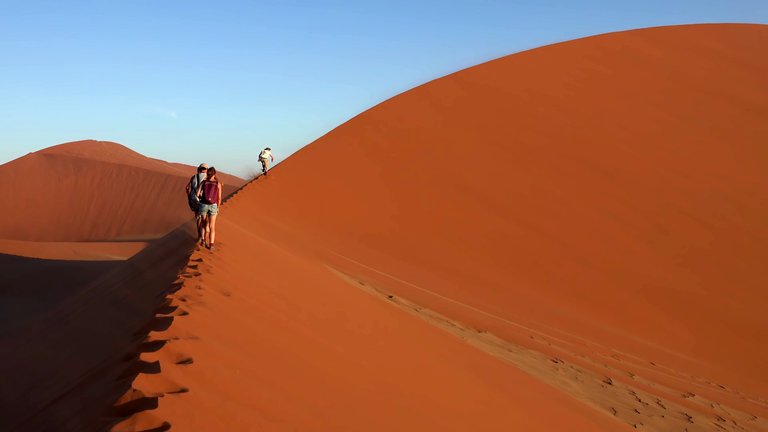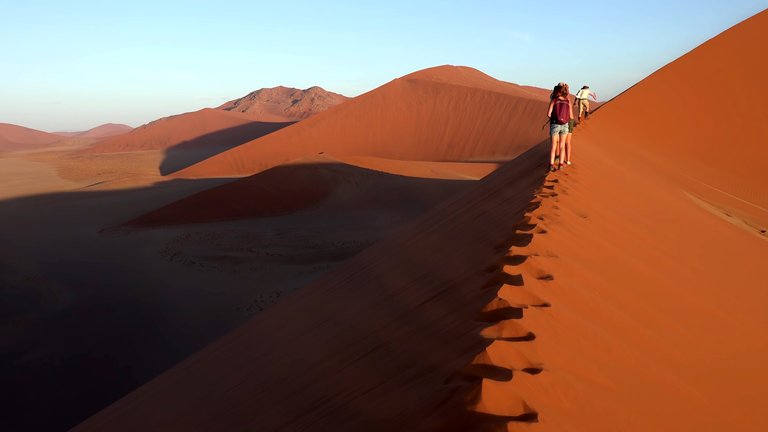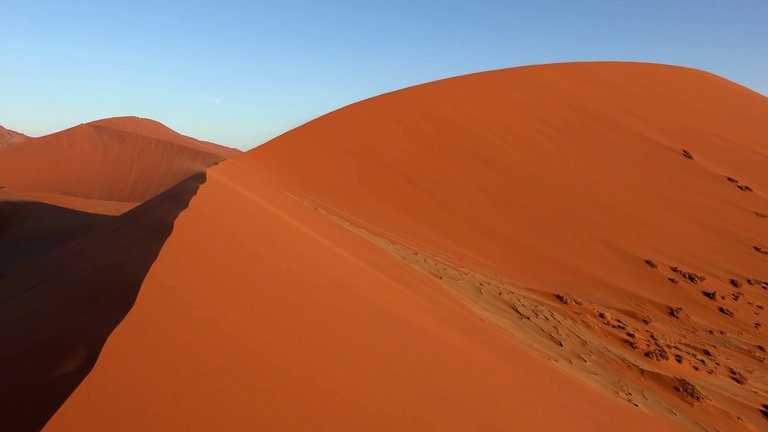 Enjoy 😉

---
---