Concurso de minicuentos en homenaje a Cortázar de Literatos | El trance
Eran cerca de las ocho. La fría y oscura noche permanecía en silencio mientras avanzaba, casi a tientas, por el camino rodeado de espesa vegetación. Lo que rompía el silencio era el crujir de las hojas que marcaba el compás de mis pasos. Llegaba a la encrucijada para empezar a ascender camino a casa. Giré a la derecha y seguí avanzando cuando, de pronto, me sentí extraña. Aquel lugar por el que durante años transité ahora era desconocido para mí.
Mi cuerpo helado por el ambiente de la noche empezaba a sudar. Experimentaba una sensación realmente extraña. Las gotas de sudor corrían por mi rostro y, sin poder evitarlo, sentía temor de algo. De pronto, mi cuerpo empezó a hacerse pequeño. No sabía por qué. La vegetación se había convertido en árboles y ramas gigantescas, lo cual me hacía sentir como del tamaño de una diminuta hormiga. Las piedras del camino eran inmensas rocas que, muchas veces, me tocaba rodear, para poder continuar. Así estuve durante un largo rato, unas dos horas diría yo.
Estaba exhausta. Para ese momento ya debería estar en casa preparando un chocolate caliente para calmar el frío penetrante en mis manos y pies. Pero no, continuaba en ese trance.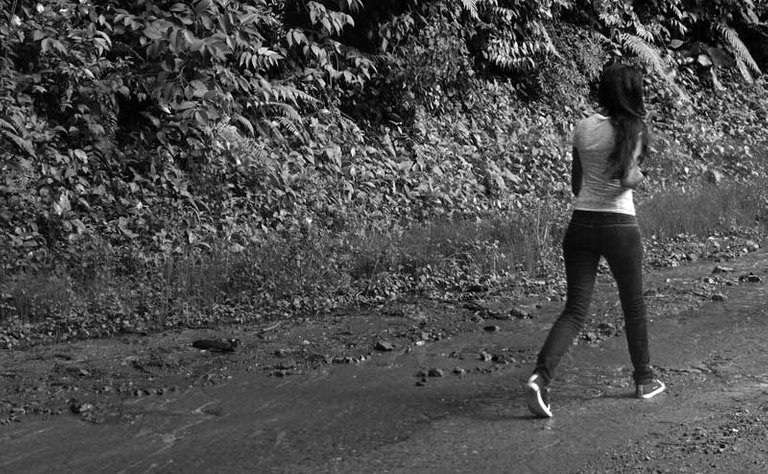 Fuente: propia
De repente, un grito desgarrador me hizo volver en sí. Estaba a mitad de cuesta, de bruces y sin ánimos de continuar. Intenté abrir mis ojos, sabía que faltaba poco. Pero, no podía más. En cuanto pude, miré a mi alrededor y entre las sombras descubrí a un par de metros la presencia de un cuerpo que yacía tendido en el suelo. Estaba de vuelta. Los aullidos de los perros se oían a lo lejos y los gallos del vecindario empezaban a cantar. La pesadilla apenas empezaba.
English
It was close to eight o'clock. The cold, dark night remained silent as I advanced, almost gropingly, along the path surrounded by thick vegetation. What broke the silence was the rustling of the leaves that marked the rhythm of my steps. I reached the crossroads to start ascending on my way home. I turned right and kept going when, suddenly, I felt strange. That place where I had walked for years was now unknown to me.
My body, frozen by the night's atmosphere, began to sweat. I was experiencing a really strange sensation. Beads of sweat were running down my face and, without being able to help it, I was afraid of something. Suddenly, my body started to become small. I didn't know why. The vegetation had turned into gigantic trees and branches, which made me feel like the size of a tiny ant. The stones on the path were huge boulders that I often had to walk around in order to continue. I was like that for a long time, about two hours I would say.
I was exhausted. By that time I should have been at home preparing a hot chocolate to soothe the penetrating cold in my hands and feet. But no, I was still in that trance.
Suddenly, a piercing scream brought me back to my senses. I was halfway up the slope, flat on my face and in no mood to continue. I tried to open my eyes, I knew I was almost there. But I couldn't go any further. As soon as I could, I looked around me and in the shadows I discovered, a couple of meters away, the presence of a body lying on the ground. I was back. The howling of dogs could be heard in the distance and the neighborhood roosters were beginning to crow. The nightmare was just beginning.
---
---