Entrada para el concurso Telas de Araña de Amazing Nature: Una araña en el jardín (ES/EN)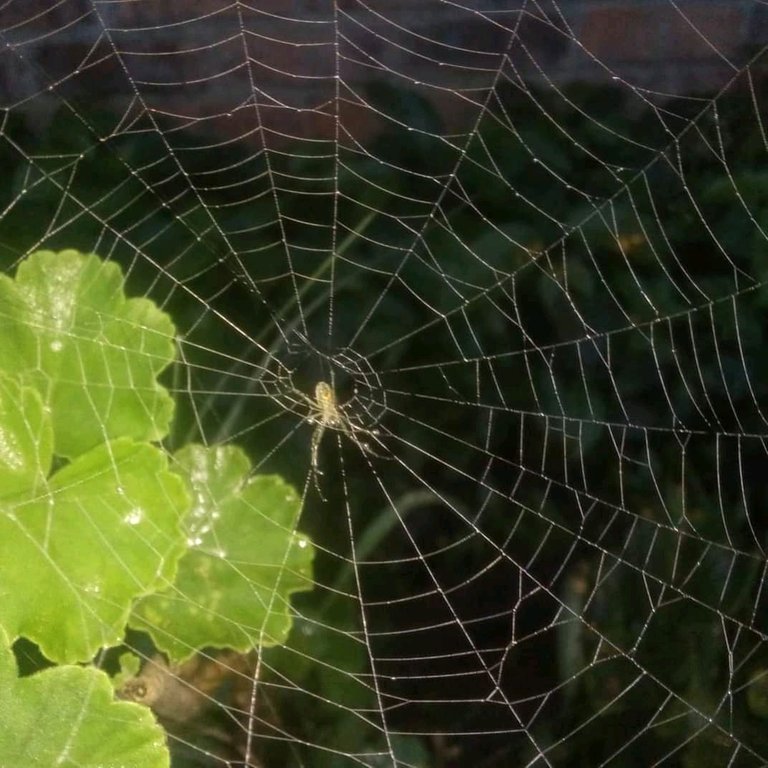 He decidido elaborar este escrito como propósito de participación en el concurso de Amazing Nature Community acerca de las redes de araña, telarañas como comúnmente se les conoce en Venezuela.
I have decided to write this article to participate in the Amazing Nature Community contest about spider webs, spider webs as they are commonly known in Venezuela.



Pues bien, les pasó a narrar mi breve aventura en un ambiente alejado de la ciudad, un ambiente rural. Se trata del lugar que albergó mi niñez y que tan gratos recuerdos me trae acerca de mi crianza.
Well, I am going to tell you about my brief adventure in an environment far away from the city, a rural environment. It is the place that was home to my childhood and that brings back such fond memories of my upbringing.



El año pasado, ya en medio de la pandemia, justamente por estas fechas me fui a pasar unos días con mis padres. Era, sin duda, más que necesario.
Last year, in the midst of the pandemic, precisely at this time I went to spend a few days with my parents. It was, without a doubt, more than necessary.



Allá, la naturaleza, el aire fresco, la neblina y también la resolana, son característicos del lugar. Un jardín ubicado frente a la casa adorna el entorno, donde prevalecen hermosas flores en medio del follaje brillante y verde que las protege. Sin embargo, en ese ecosistema, ese no es el único atractivo. Es posible observar con mayor detenimiento gusanos, hormigas y mariposas que también conviven en armonía.
There, nature, fresh air, the mist and also the fog, are characteristic of the place. A garden located in front of the house adorns the environment, where beautiful flowers prevail amidst the bright green foliage that protects them. However, in this ecosystem, this is not the only attraction. It is possible to take a closer look at worms, ants and butterflies that also coexist in harmony.



Pues bien, uno de esos días, ya casi oscureciendo salí a ver unas "buenas tardes", plantas que son llamadas así porque sus hermosas flores de vistosos y variados colores se abren tras la puesta del sol, en el atardecer.
Well, one of those days, when it was almost dark, I went out to see some "buenas tardes", plants that are so called because their beautiful flowers of colorful and varied colors open after sunset, at dusk.



El día era fresco, frío, mejor dicho, y había caído una suave llovizna. Como pensé que las gotas de rocío jugarían a favor de las fotografías que tomaría con el celular, me dispuse a salir por ello, sin pensarlo dos veces.
The day was cool, or rather cold, and a light drizzle had fallen. As I thought that the dew drops would play in favor of the pictures I would take with the cell phone, I decided to go out for it, without thinking twice.



Una, dos, tres fotos... Así estuve por varios minutos hasta lograr una fotografía bonita de cada una de las flores que veía. Aunque el frío era fuerte, yo seguía explorando.
One, two, three photos... I stayed like that for several minutes until I got a nice picture of each of the flowers I saw. Although the cold was strong, I kept exploring.



De repente, vi algo que me llamó la atención y que no es muy común de encontrar. Una pequeña araña, de esas que yo llamo "araña de jardín", estaba tejiendo su trama entre las ramas de un "novio" desprovisto de floración.
Suddenly, I saw something that caught my attention and that is not very common to find. A spider was weaving its web among the branches of a "groom" devoid of bloom.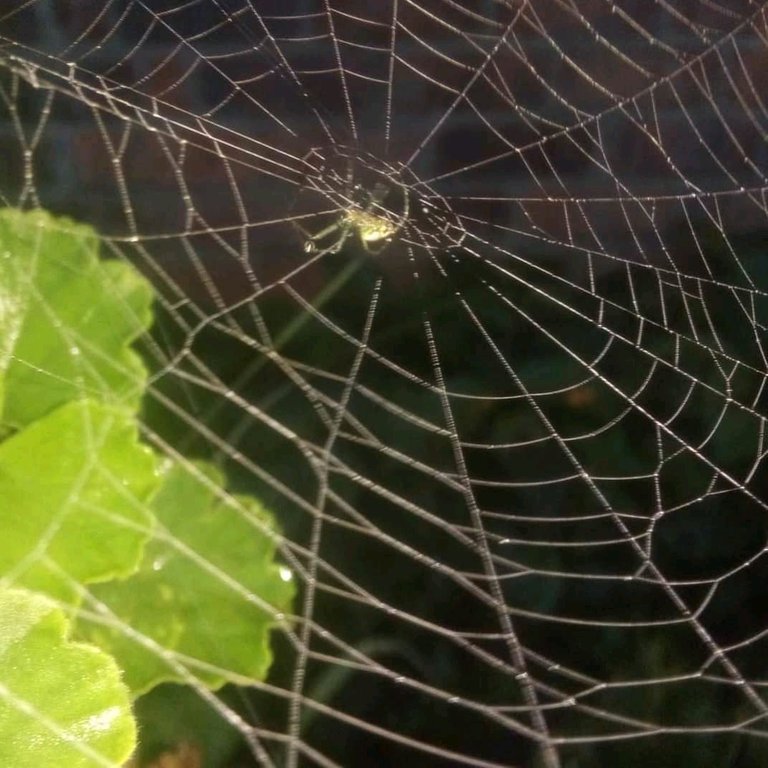 Mientras el arácnido continuaba su obra de arte, entre los hilos de la telaraña se iban formando pequeñas gotitas de rocío que sumaban un extra a aquella maravillosa creación de la naturaleza.
As the arachnid continued its work of art, small dewdrops were forming between the threads of the web, adding an extra touch to that marvelous creation of nature.



Mi tarea allí era, pues, fotografiar. Así que, eso hice. No lo niego, me costó un poco. La ausencia de luz y la resolución de la cámara no me ayudaban mucho. Esta vez tuve que, además de buscar el mejor ángulo, tocar el obturador una y otra vez, mientras trataba de enfocar a la diminuta araña.
My task there was, therefore, to photograph. So, that's what I did. I don't deny it, it was a bit difficult. The lack of light and the resolution of the camera did not help me much. This time I had to not only look for the best angle, but also tap the shutter again and again, while trying to focus on the tiny spider.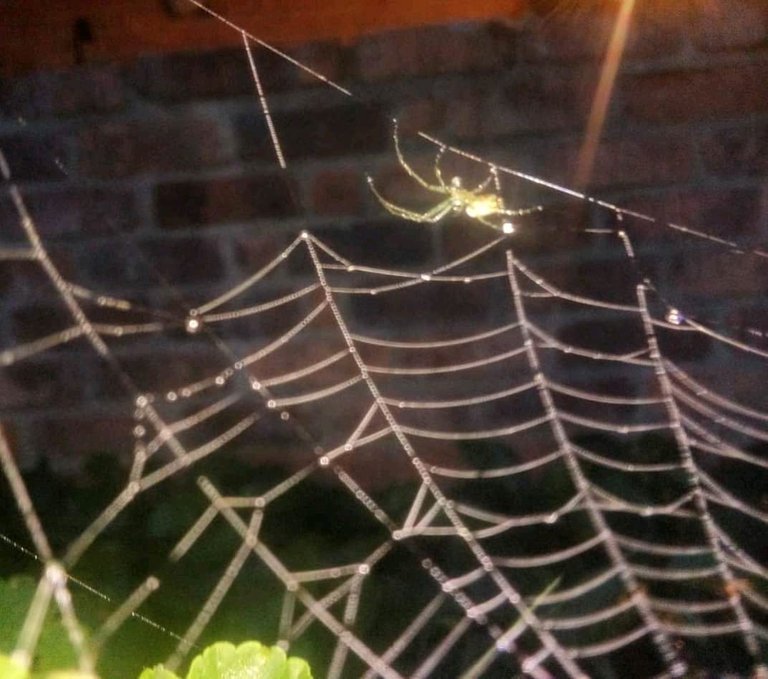 Enfocar el objetivo fue todo un reto. Tocaba en la pantalla la araña, se veía bien. Tomaba la fotografía y el resultado no era el esperado. Pero continué.
Bringing the lens into focus was a challenge. I would touch the spider on the screen, it looked good. I took the picture and the result was not what I expected. But I kept going.



Finalmente decidí quedarme con un par de estas fotografías, que apenas retratan un poco la extraordinaria belleza que vieron mis ojos. Como les expliqué anteriormente, por ser una hora nocturna, no logré la mejor fotografía.
Finally I decided to keep a couple of these photographs, which just portray a little of the extraordinary beauty that my eyes saw. As I explained before, because it was a night time, I did not get the best picture.



La pequeña araña medía entre uno y dos centímetros de longitud. De cuerpo abultado y color claro se confundía con el reflejo de la humedad que daba destellos ante la luz de la lámpara. Al fondo el verde de la naturaleza y detrás del escenario, una pared de ladrillos, característica de las viejas y amplias casas de hace más de medio siglo.
The small spider measured between one and two centimeters in length. With its bulky body and light color, it was confused with the reflection of the humidity that glittered in the light of the lamp. In the background the green of nature and behind the stage, a brick wall, characteristic of the old and spacious houses of more than half a century ago.



Espero les haya gustado mi post y les invito a participar en el concurso de @AmazingNature
I hope you liked my post and I invite you to participate in the @AmazingNature contest.
---
---