Diadema con Flor de Cinta 🎀🎀 Headband with Ribbon Flower
🌸Hola Comunidad HIVE🌸
Hello HIVE Community
---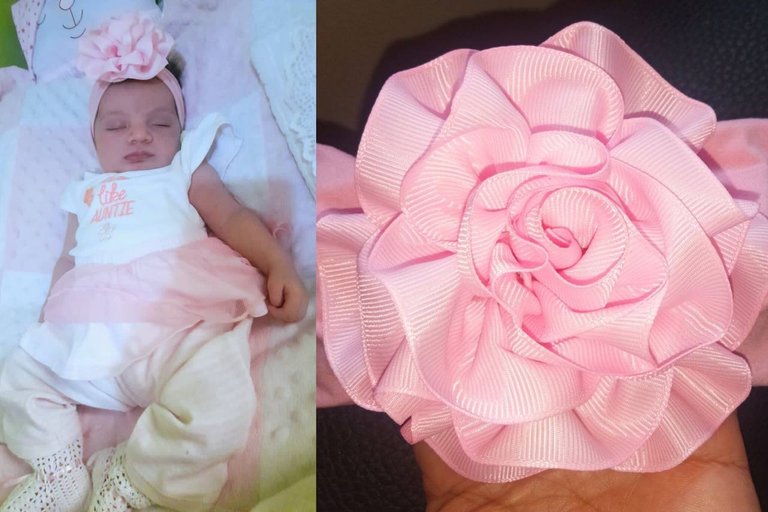 ---
Hola amigos de @needleworkmonday feliz inicio de semana, espero hayan disfrutando de su fin y nos iniciemos con mucho optimismo en este nueve mes que comienza. Como ya les he dicho estoy muy contenta porque no he dejado de hacer trabajos de costura, generalmente para compañeras de trabajo y amigas, aunque mi hija estuvo de cumple y también le hice algo lindo que luego les mostraré.
Hoy les traigo algo muy tierno que nos puede servir como emprendimiento o para obsequiar a una bebe recién nacida ya que están muy de moda, esta diadema me gustó mucho y la obsequié a la sobrina de una gran amiga.
Hello friends of @needleworkmonday happy beginning of the week, I hope you have enjoyed your weekend and we start with a lot of optimism in this new month that begins. As I have already told you I am very happy because I have not stopped doing sewing work, usually for coworkers and friends, although my daughter had her birthday and I also made her something nice that I will show you later.

Today I bring you something very cute that can be useful as an undertaking or as a gift to a newborn baby since they are very fashionable, I really liked this headband and I gave it as a gift to the niece of a great friend.
---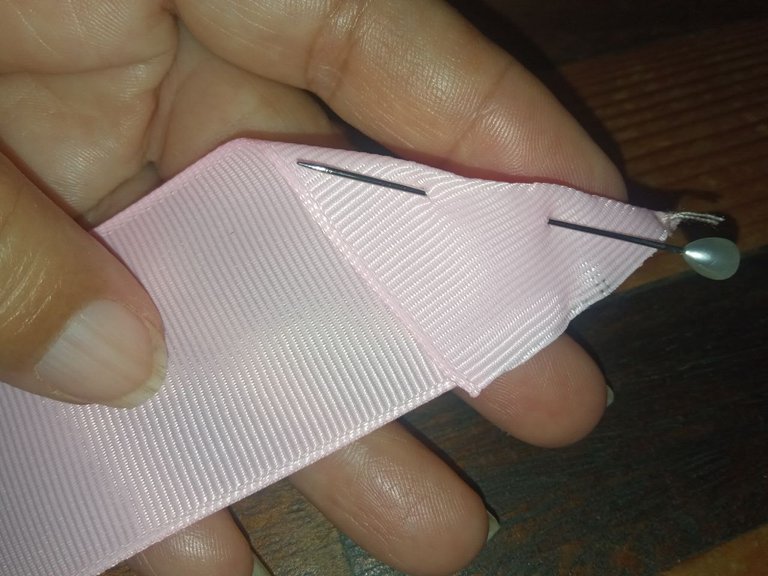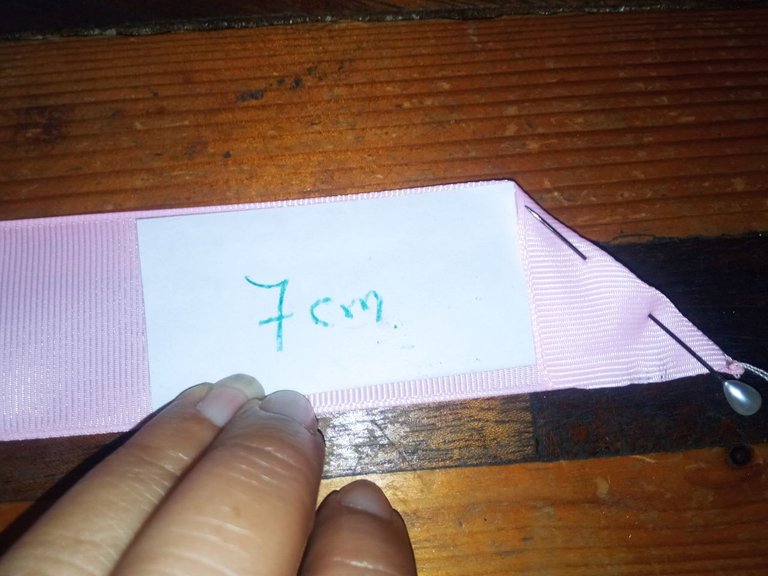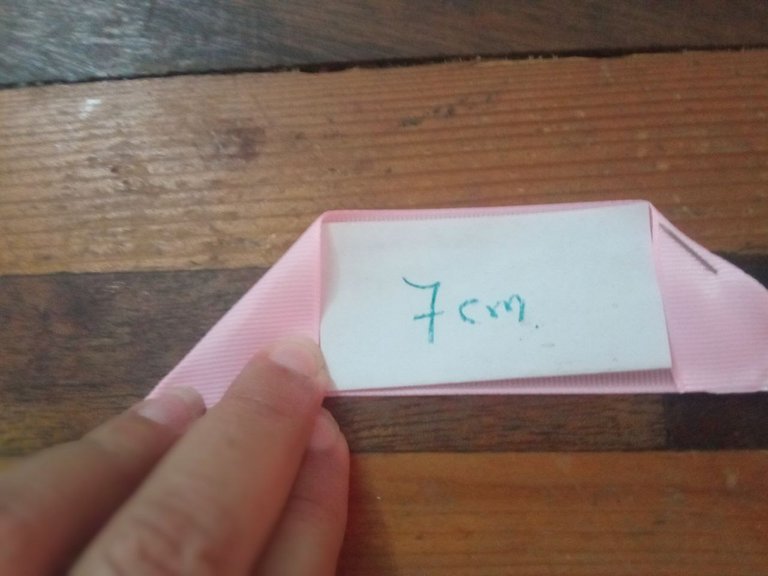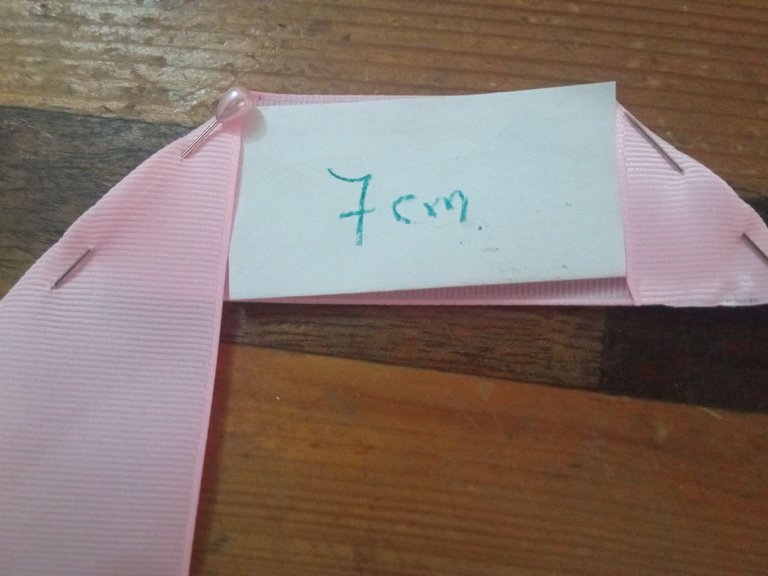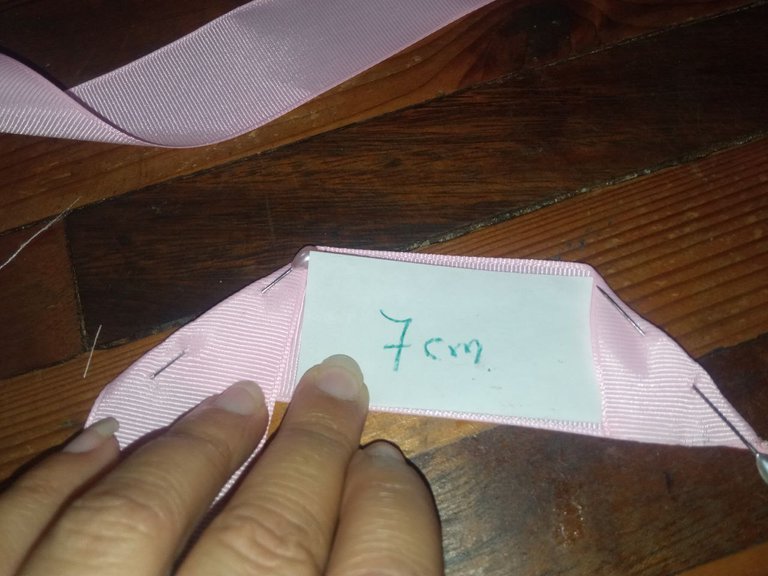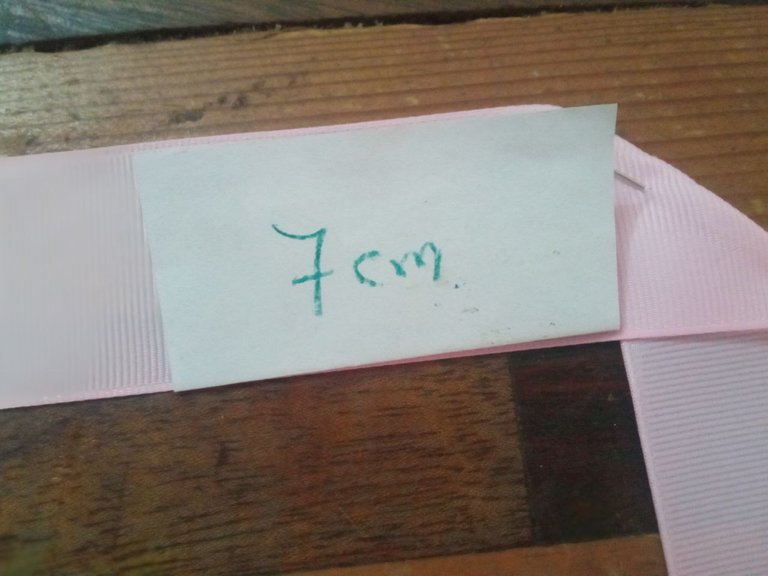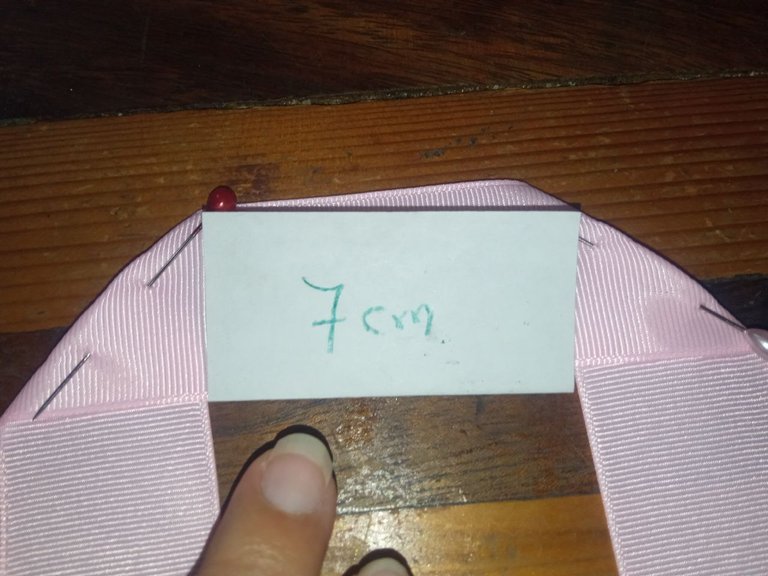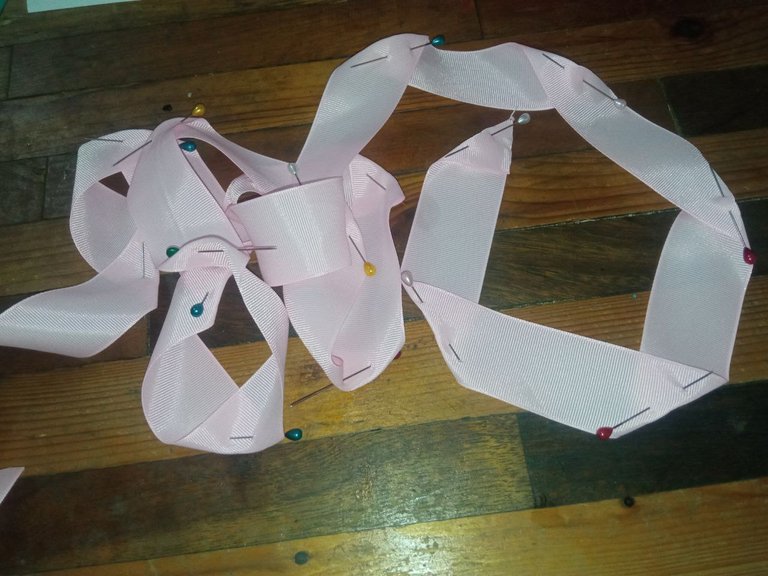 ---
Necesitamos cinta de 2.8 cm y la cantidad serán 2 mts, a esta cinta le vamos a ir haciendo doblez hacia adelante y hacia atrás dejando un espacio entre cada dobles de unos 7 cm. Nos podemos ayudar con un cartón o papel, para que sean iguales la separaciones y nos quede bien, cada vez que hacemos un doblez lo marcamos con ayuda de un alfiler.
We need 2.8 cm ribbon and the amount will be 2 mts, we are going to fold this ribbon forward and backward leaving a space between each fold of about 7 cm. We can help us with a cardboard or paper, so that the separations are equal and we are well, every time we make a fold we mark it with the help of a pin.
---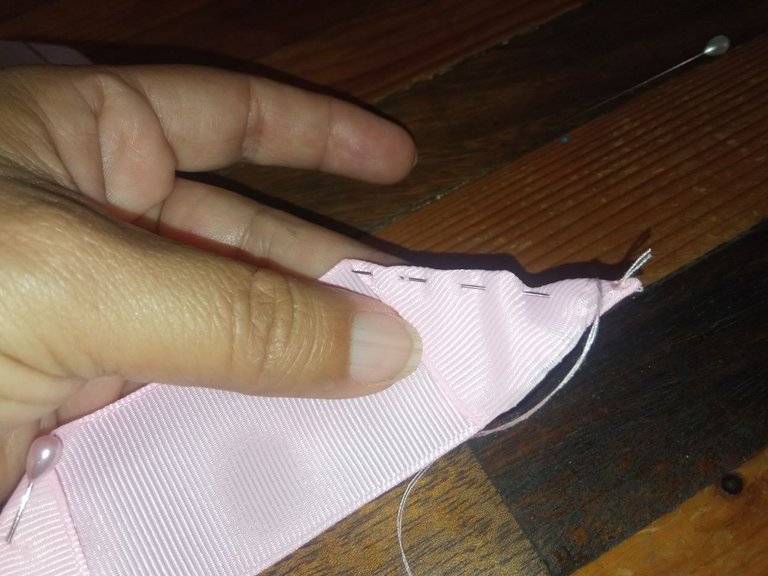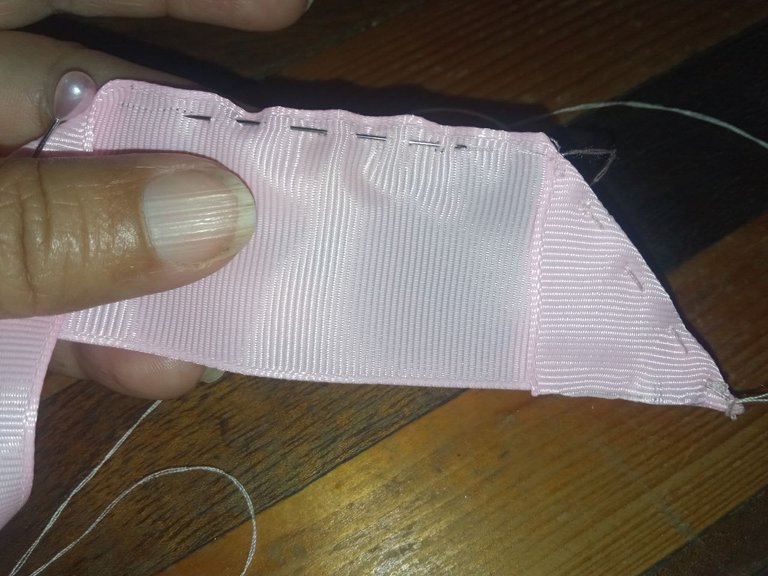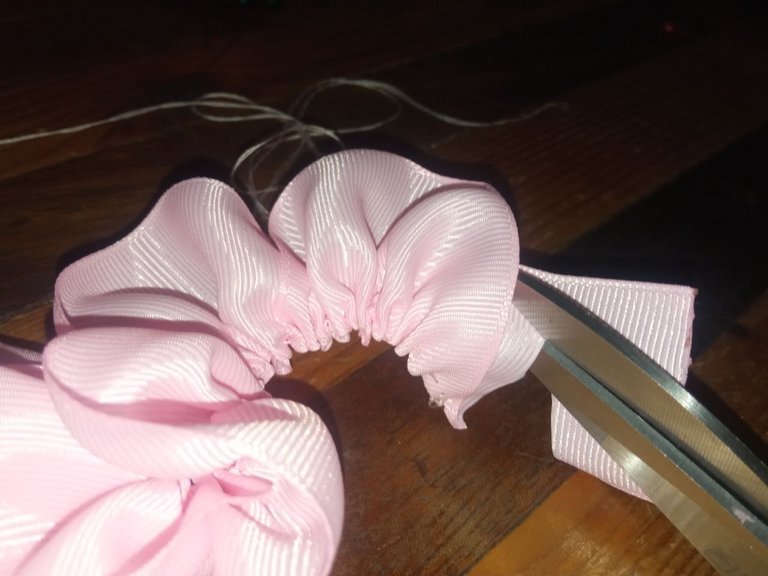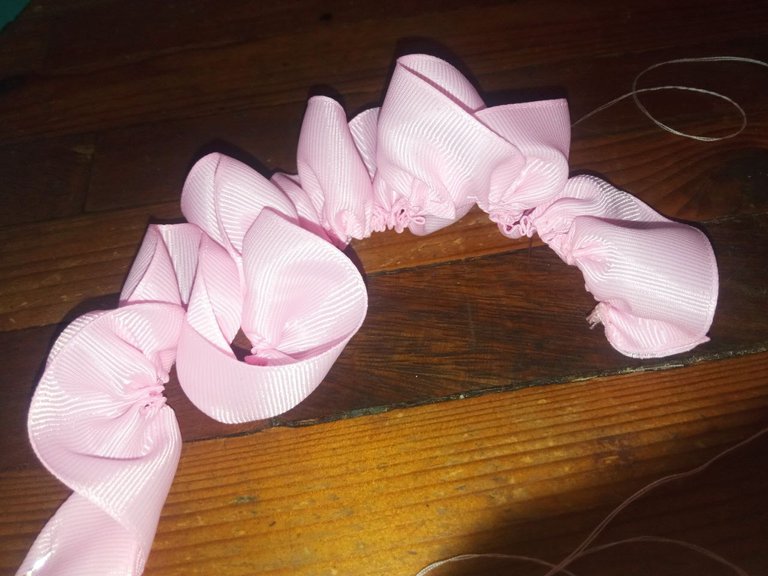 ---
Al terminar todos los doblez, con una aguja vamos a ir pasando una costura por toda las marcas hechas con los alfileres, por toda la totalidad de la cinta y al final vamos a halar el hilo para arrucharla tratando que nos quede una tira arruchada de unos 75 cm aproximadamente, allí fijamos con un nudo para asegurar la costura y el ruche.
When finishing all the folds, with a needle we are going to go passing a seam through all the marks made with the pins, for the whole of the tape and at the end we are going to pull the thread to wrinkle it trying to leave us a wrinkled strip of about 75 cm approximately, there we fix it with a knot to secure the seam and the ruching.
---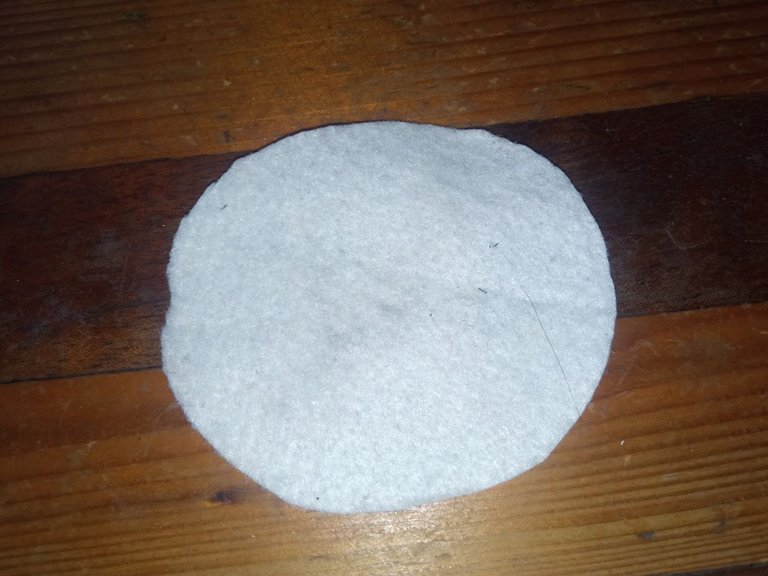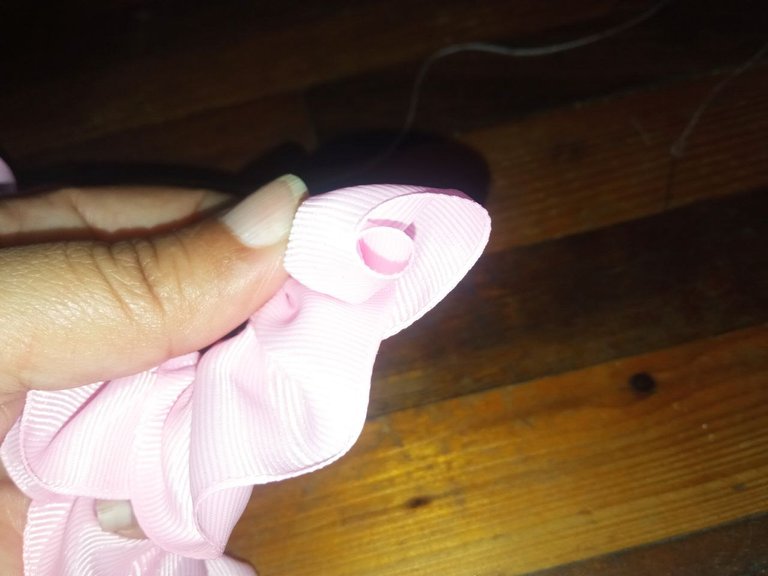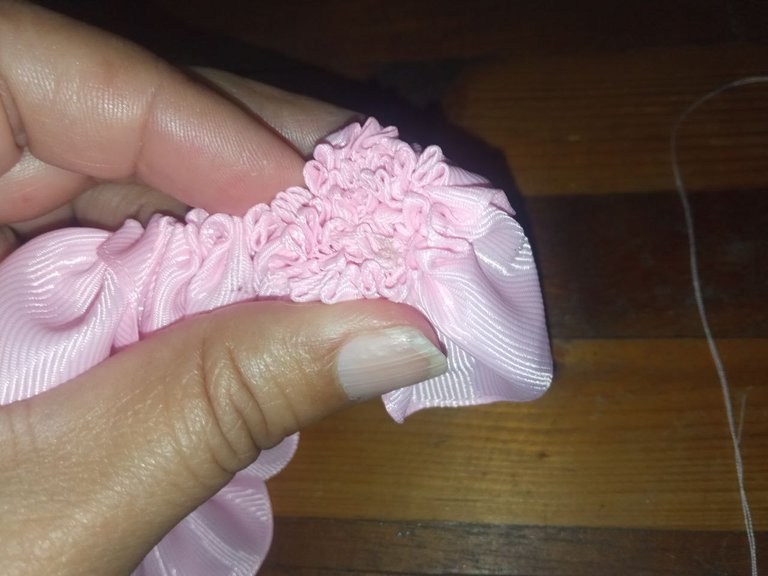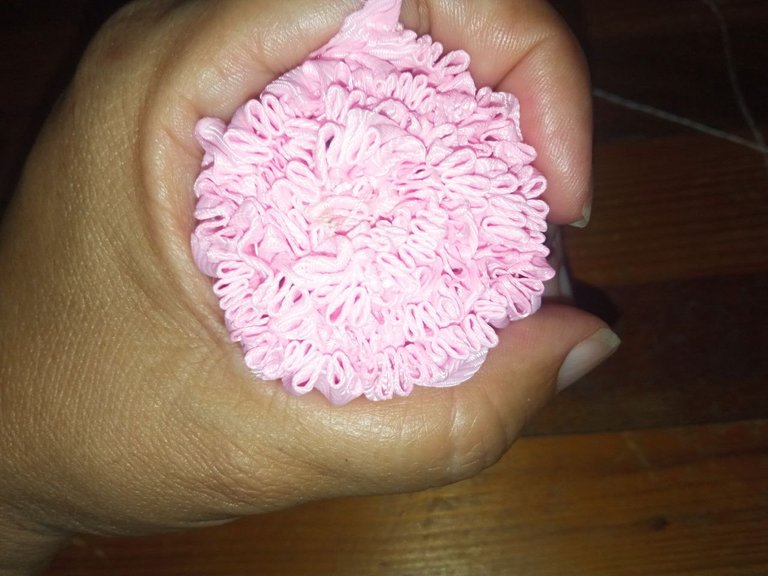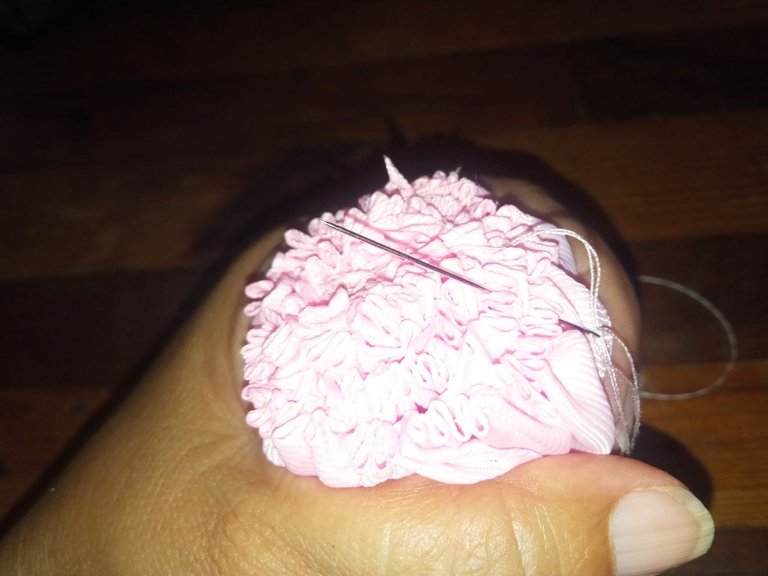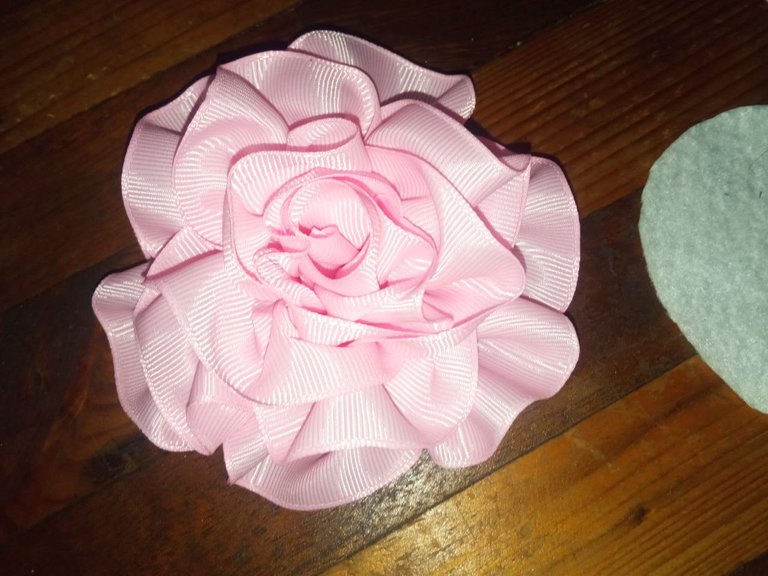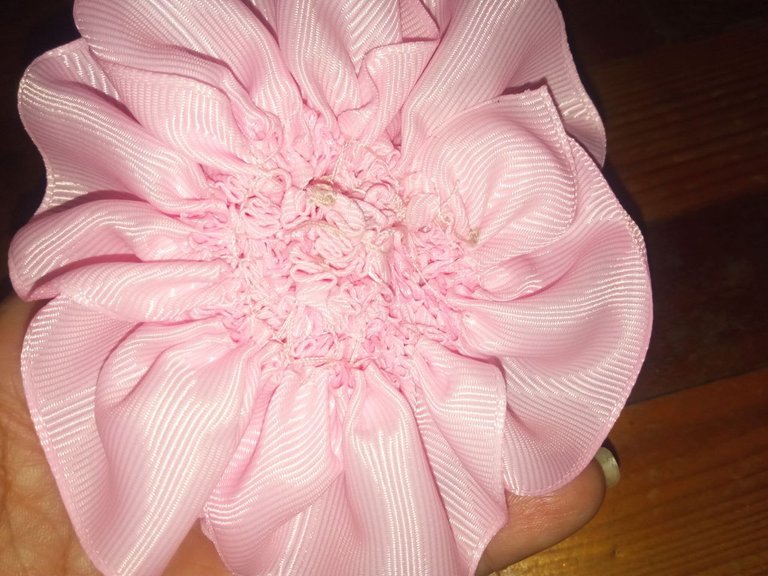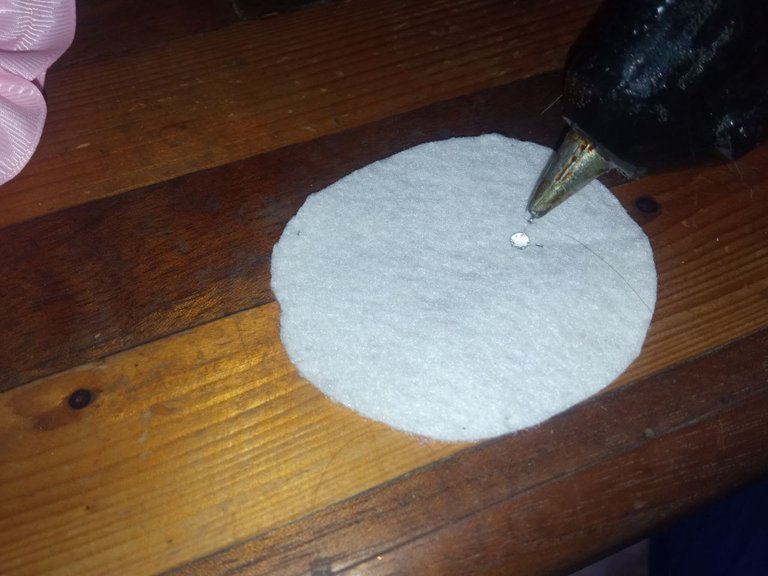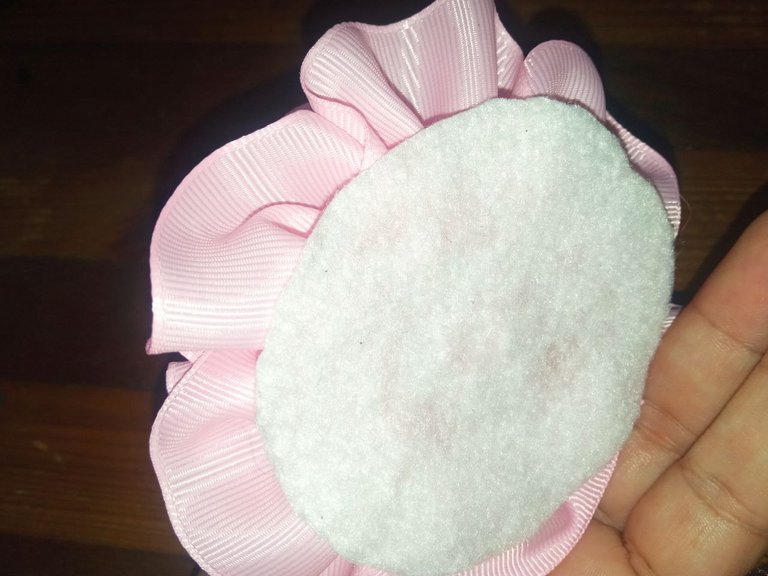 ---
Cortamos un círculo que puede ser de fieltro o una tela dura y vamos a tomar la cinta arruchada y vamos a ir enrollando hasta formar nuestra flor. Al arruchar toda la cinta hacemos puntadas con hilo y aguja para que el enrollado no se nos salga y nuestra flor quede armada. Luego con un poco de silicón la pegamos en el círculo de fieltro.
We cut a circle that can be made of felt or a hard fabric and we are going to take the crumpled ribbon and we are going to roll it up until we form our flower. When the ribbon is crumpled we make stitches with thread and needle so that the rolled up ribbon does not come off and our flower is assembled. Then with a little silicone we glue it to the felt circle.
---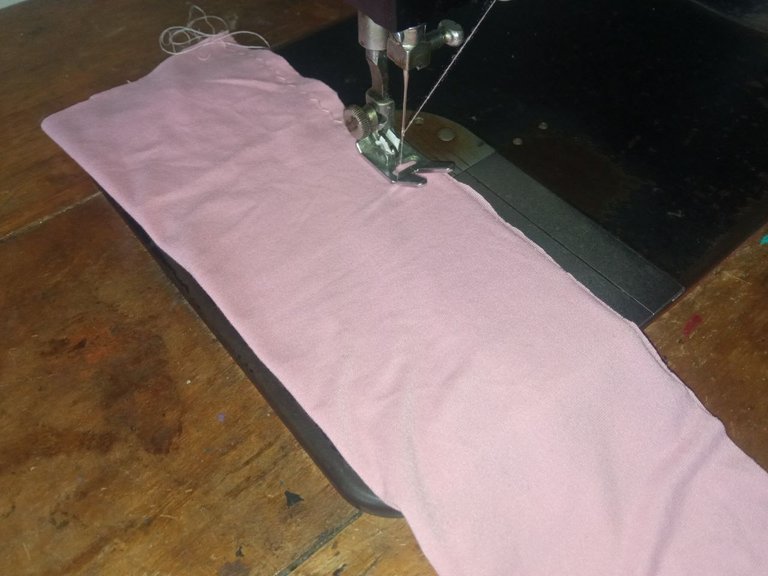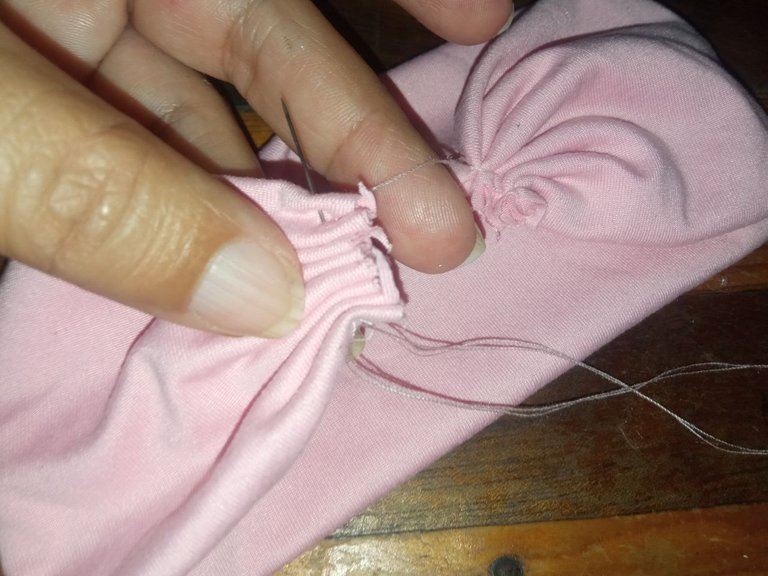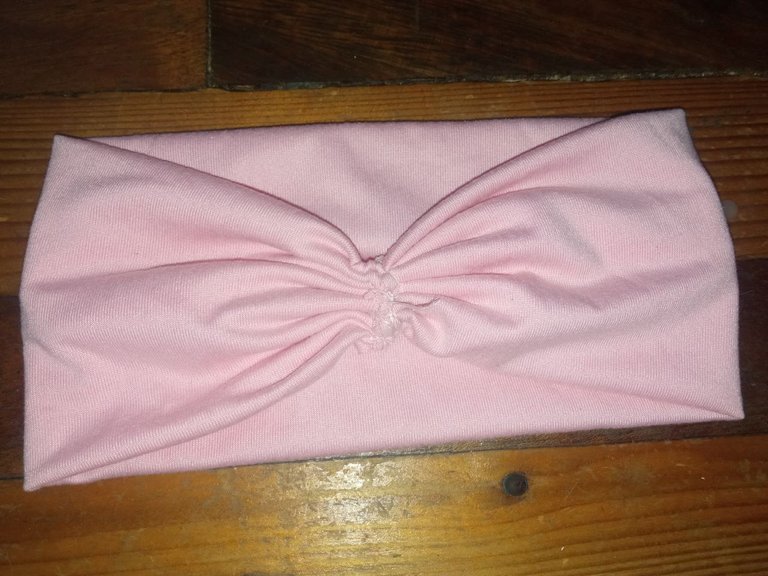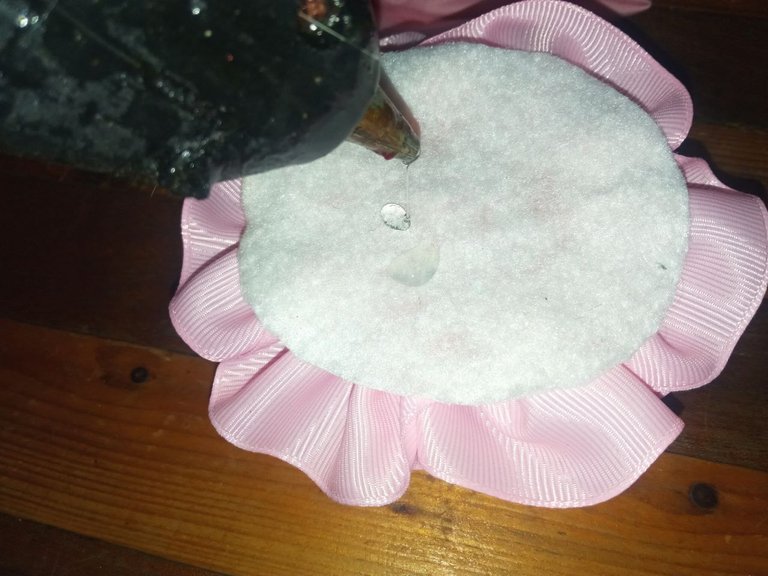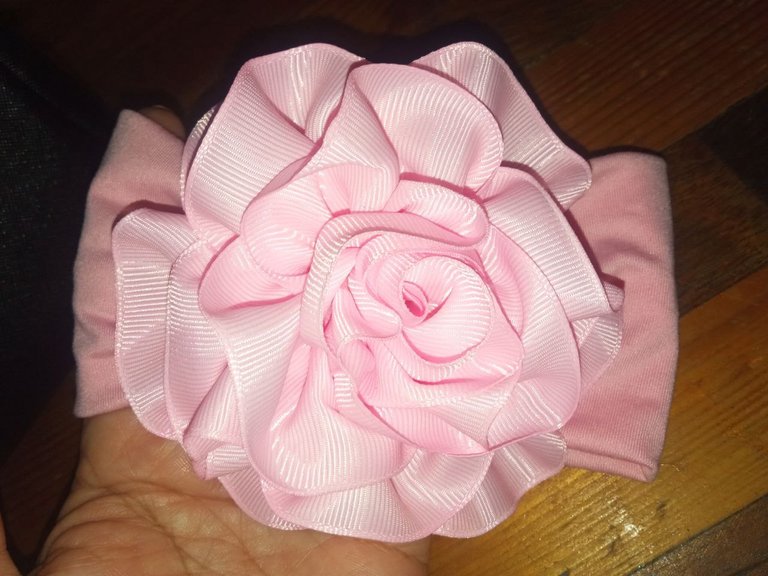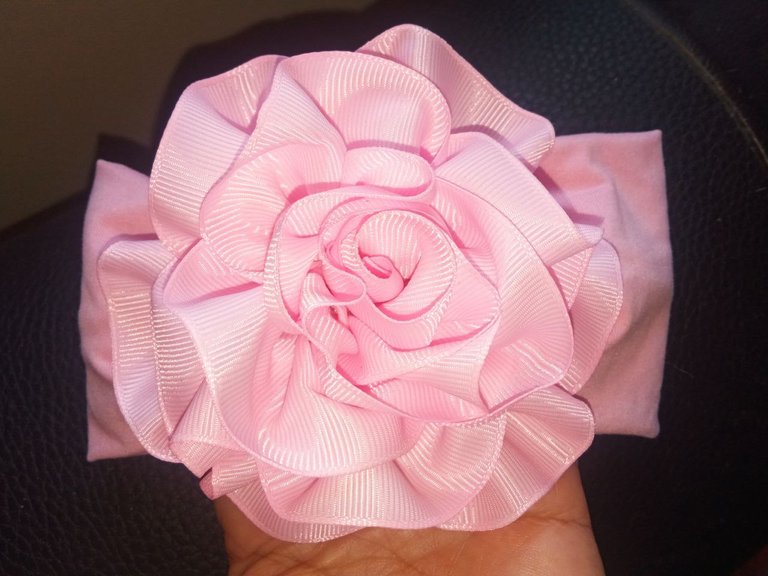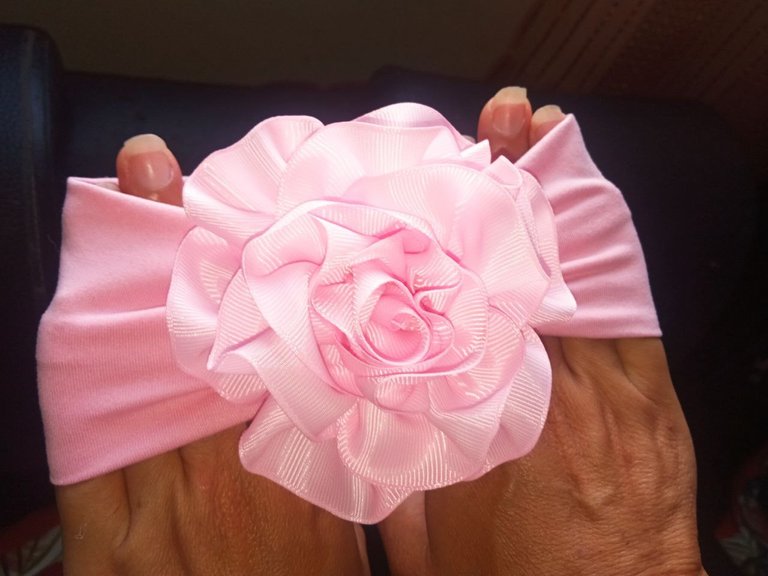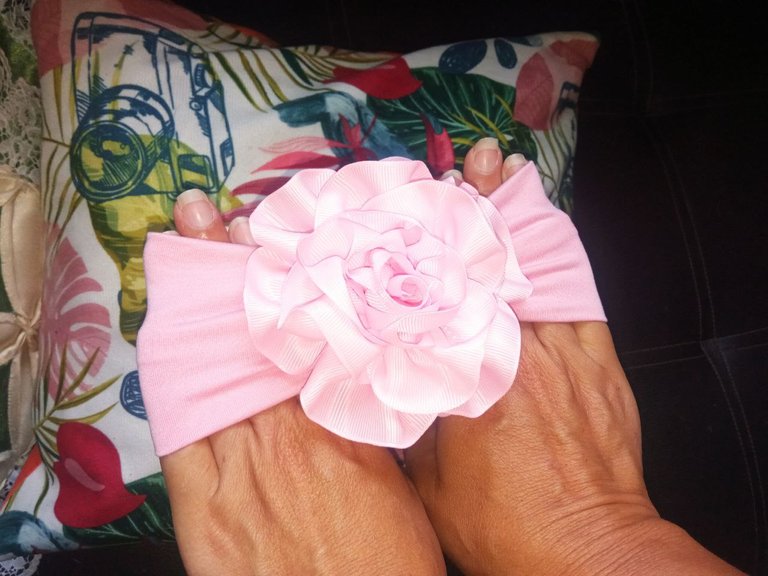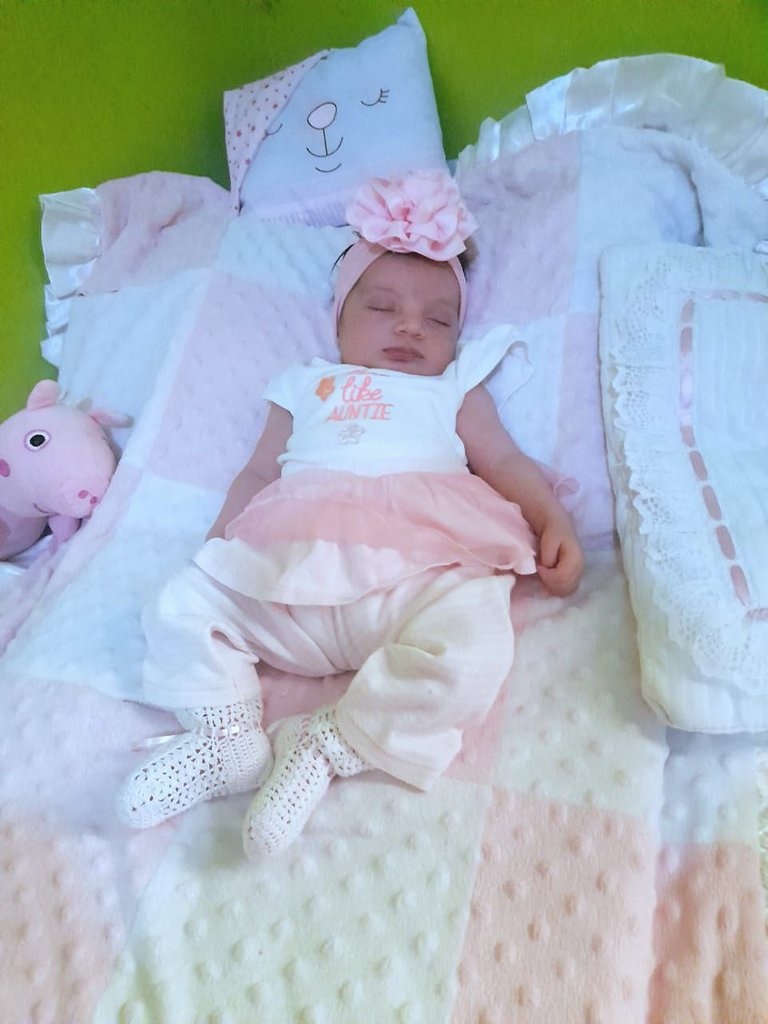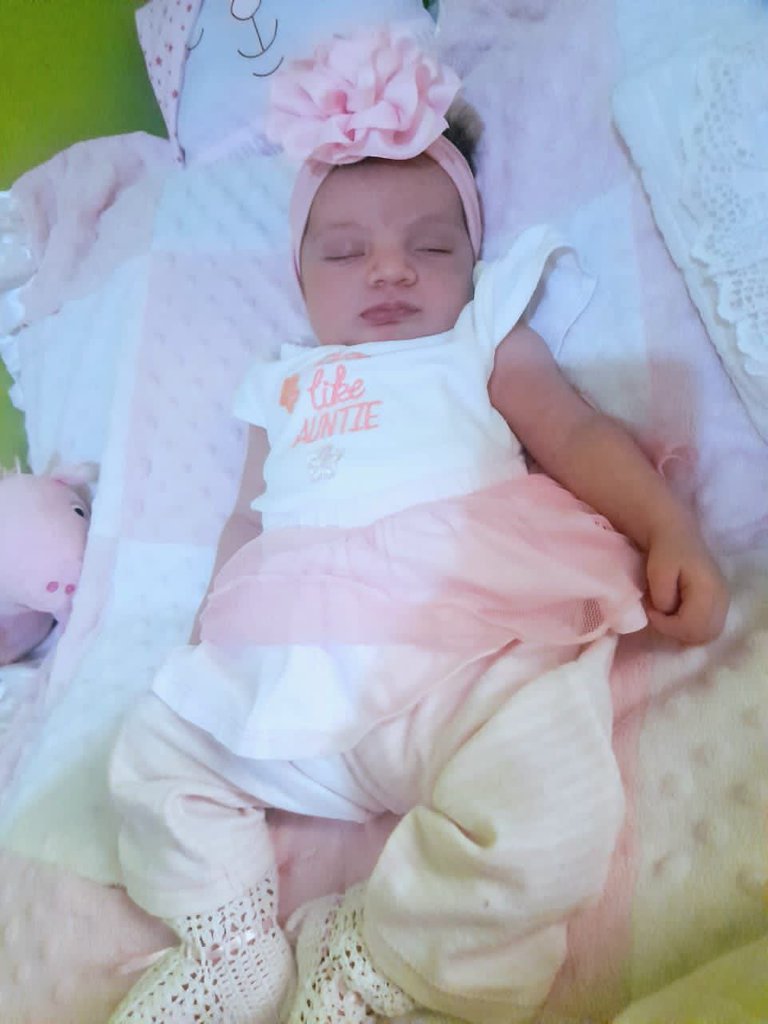 ---
Ahora tomamos un poco de tela elástica, yo utilicé microdurazno y realice en la máquina una banda que será la base de la diadema. Hice costura por el revés luego voltie y al final con hilo y aguja le hice ruches en los extremos y los uní un extremo al otro y luego con silicón fijé la flor a la bandita.
Toda una belleza de diadema para bebitas que las hagan lucir aún más hermosas.
Now we take some elastic fabric, I used microdurazno and made in the machine a band that will be the base of the headband. I sewed on the back side, then I turned it over and at the end with thread and needle I made ruches at the ends and joined one end to the other and then with silicone I fixed the flower to the band.

A beautiful headband for baby girls to make them look even more beautiful.
---

La bandita hecha con tela es muy cómoda, no aprieta la cabecita, más es necesario espera un tiempo para colocarles este tipo de accesorios, ya que los primeros días aún no ha endurecido del todo.

Espero les haya gustado este lindo proyecto, les sea de utilidad y puedan realizarlo en casa. Saludos y nos seguimos leyendo.
The headband made with fabric is very comfortable, it does not squeeze the little head, but it is necessary to wait a while to place this type of accessories, since the first days it has not yet hardened completely.

I hope you liked this nice project, it will be useful and you can make it at home. Greetings and we will keep reading.
---

🌸🌸🌸🌸Fotos de mi Propiedad, tomadas con un Redmi 9🌸🌸🌸🌸

Photos of my Property, taken with a Redmi 9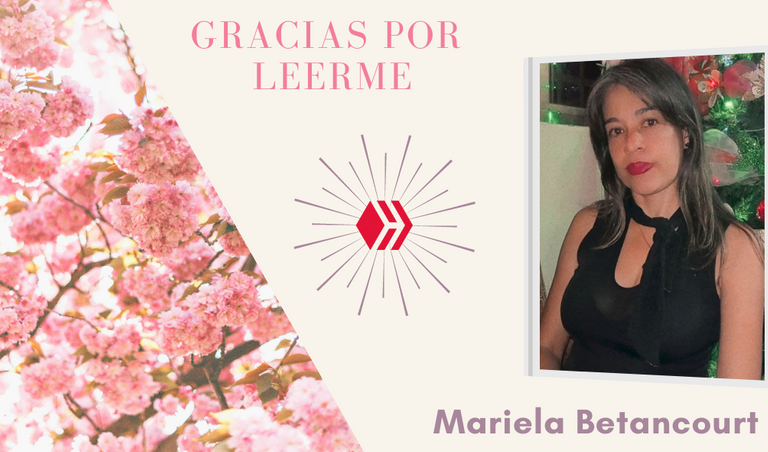 ---
---