Nutritious Pumpkin Arepas/Nutritivas Arepas de Calabaza
🌸Hola Comunidad HIVE🌸
Hello HIVE Community
---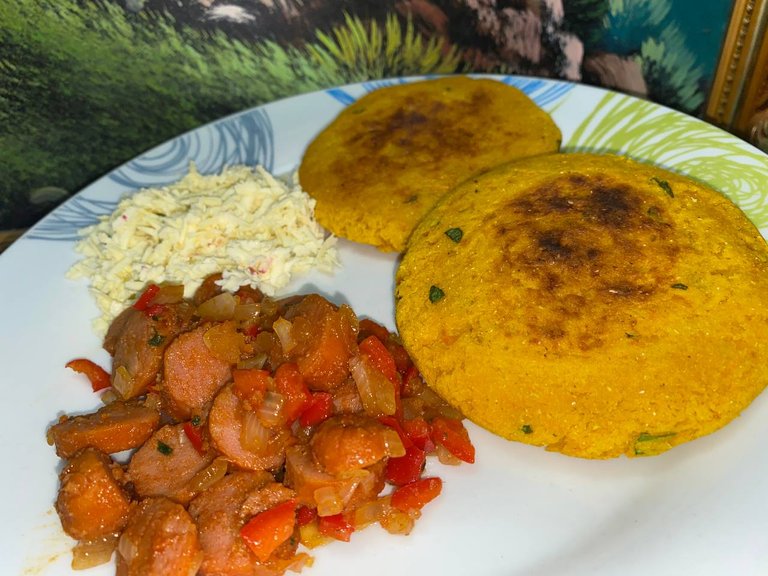 ---
Variar la presentación de las comidas para cambiar la rutina y además cuidar nuestro organismo consumiendo alimentos sanos es muy fácil e importante.
En casa consumimos mucho la arepa de harina de maíz, pero la ingesta de harina procesada no es muy recomendable cuando estamos subiendo de peso mas de lo normal, además de la importancia de mantener bajo control nuestros valores de química sanguínea.
Es por ello que hemos decidido en ocasiones consumir la arepa de harina de maíz pero mezclándola con vegetales u hortalizas que nos ayudaran a mantener los niveles de peso y químicas bajo control, además de los nutrientes y vitaminas que nos ofrecen.
Las arepas de hoy las preparamos con auyama o calabaza, la cual es muy manejable, con rico sabor y el color que le aporta es muy agradable, sus propiedades son muy variadas como el hecho de que regular la presión arterial alta, es fuente de potasio y magnesio.
Varying the presentation of meals to change the routine and also take care of our body by consuming healthy food is very easy and important.
At home we consume a lot of corn flour arepa, but the intake of processed flour is not very advisable when we are gaining weight more than normal, in addition to the importance of keeping under control our blood chemistry values.
That is why we have decided on occasions to consume corn flour arepas but mixing them with vegetables that will help us keep our weight and chemistry levels under control, in addition to the nutrients and vitamins they offer us.
Today's arepas are prepared with pumpkin or squash, which is very manageable, with rich flavor and color that gives it is very nice, its properties are varied as the fact that regulate high blood pressure, is a source of potassium and magnesium.
---
INGREDIENTES

Ingredients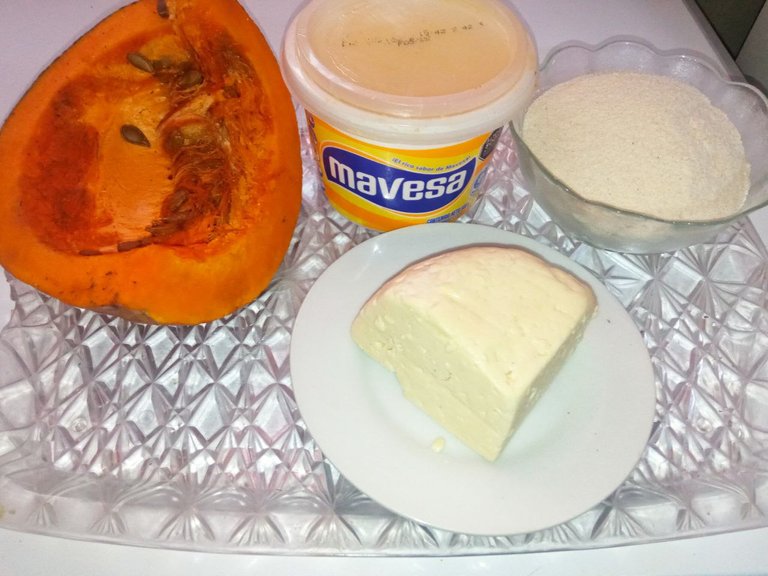 ---
1 kilo de Auyama o calabaza.
1 Taza de Harina de Maíz.
Margarina.
Sal.
1 cucharada de perejil.
1 kilo of Auyama or pumpkin.
1 cup of corn flour.
Margarine.
Salt.
1 tablespoon of parsley.
---
Preparación//Preparation
---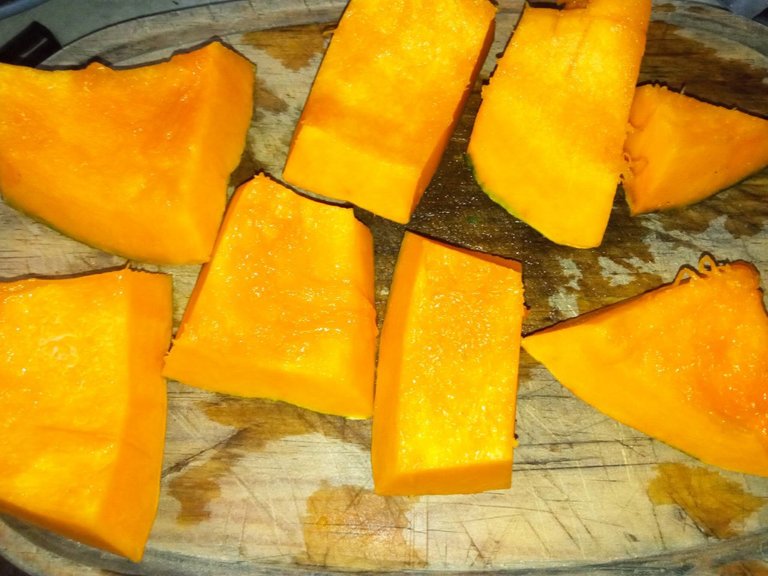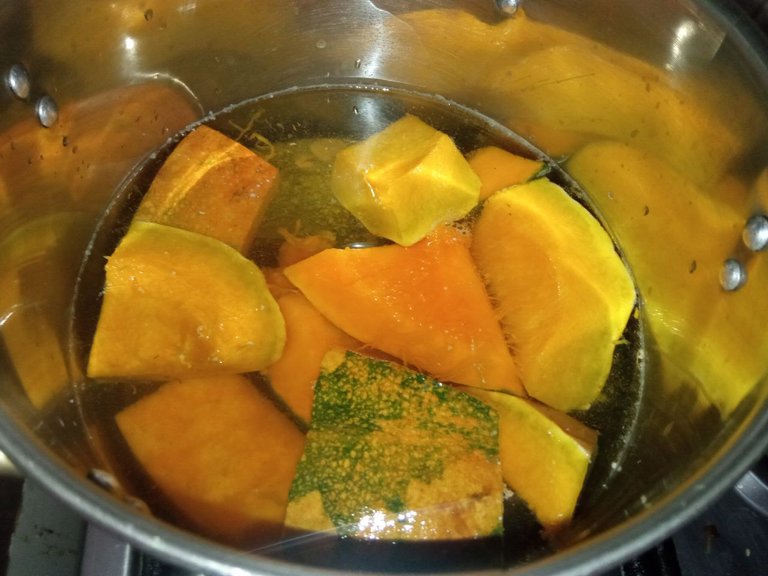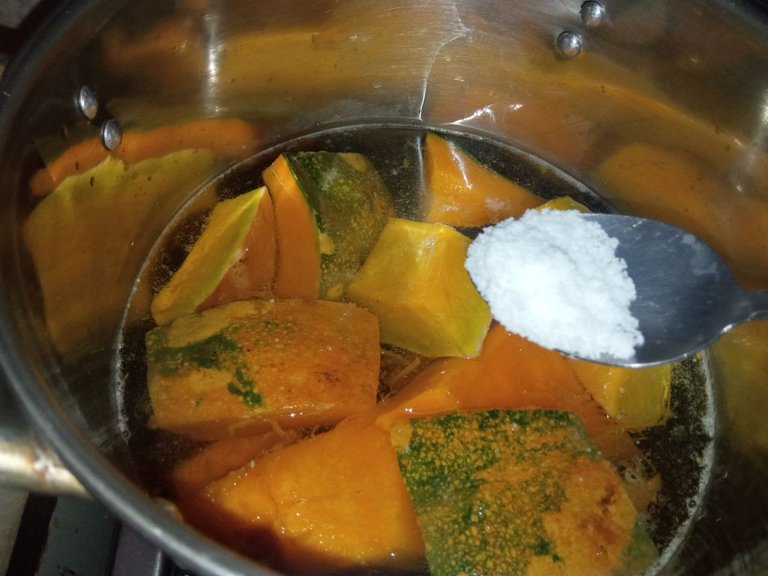 ---
Lavamos, cortamos y colocamos a sancochar la calabaza para que ablande.
Wash, cut and boil the pumpkin to soften it.
---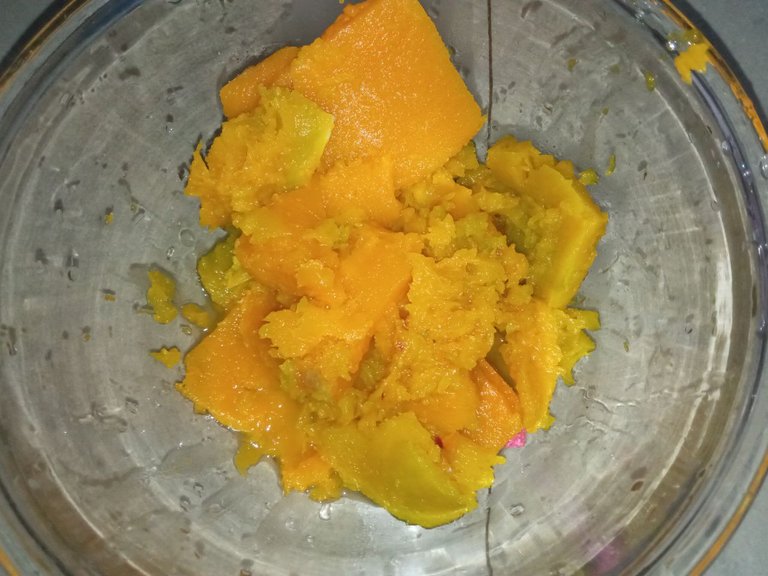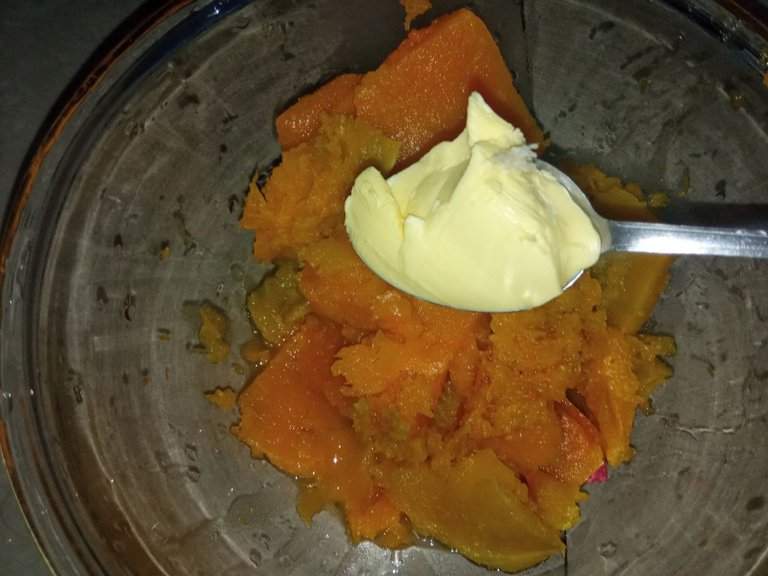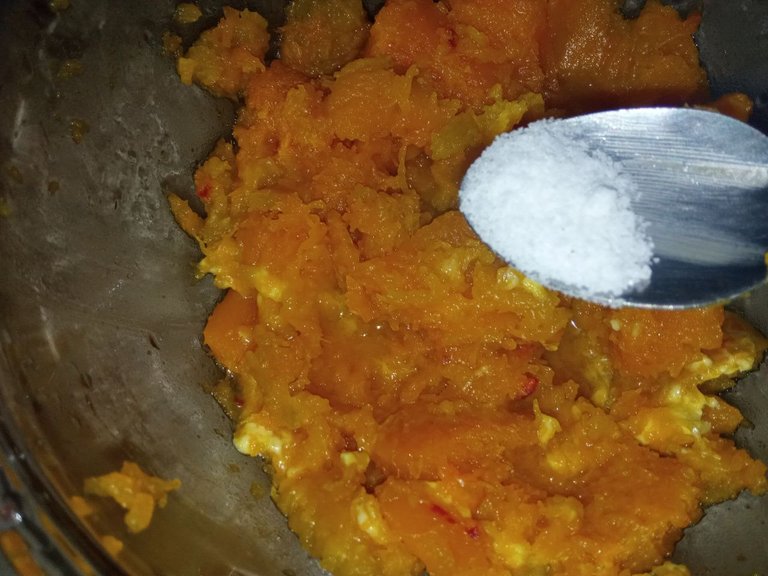 ---
Retiramos la corteza de la calabaza y trituramos con ayuda de una cuchara o un tenedor, agregamos 1/2 cucharada de sal, una cucharada de margarina y mezclamos bien.
Remove the rind from the pumpkin and mash it with a spoon or fork, add 1/2 tablespoon of salt, a tablespoon of margarine and mix well.
---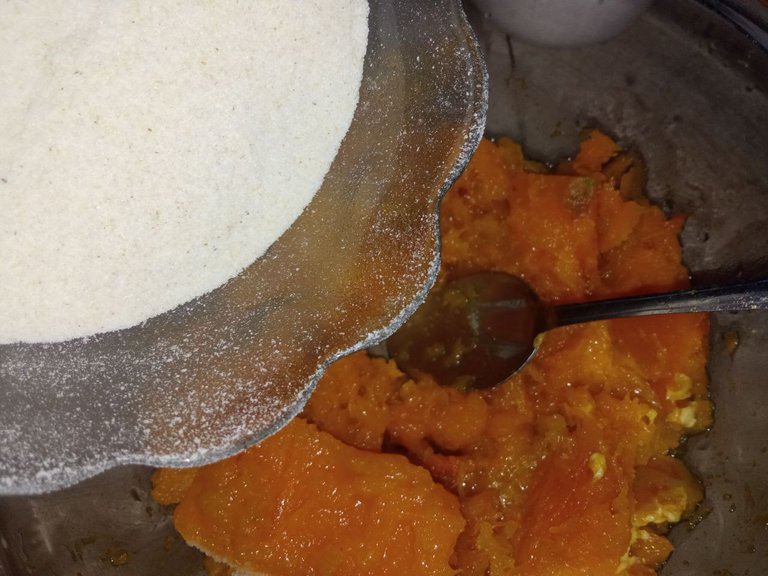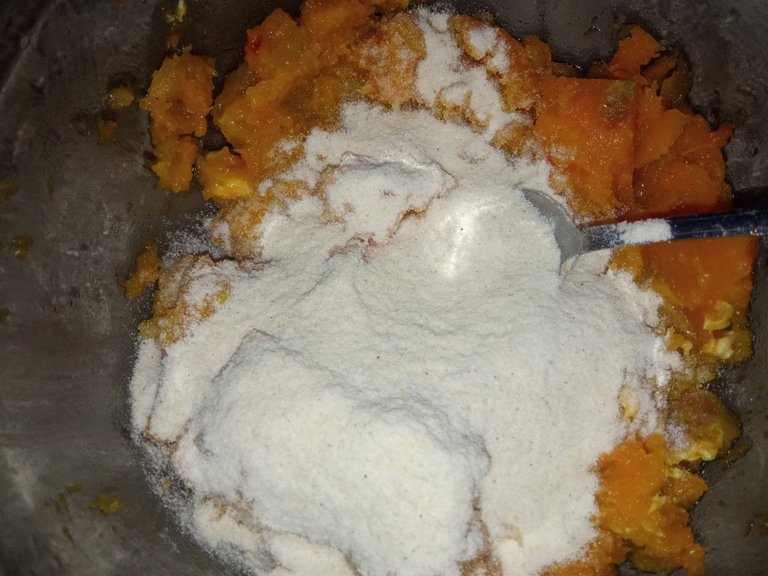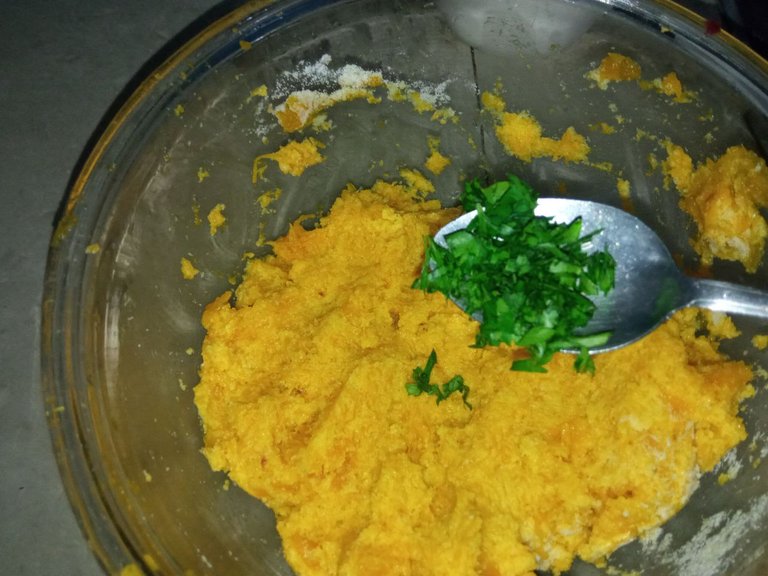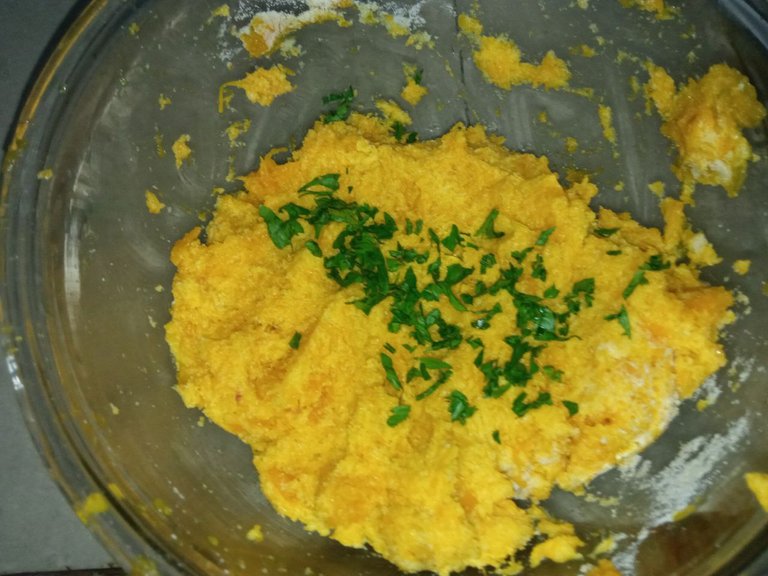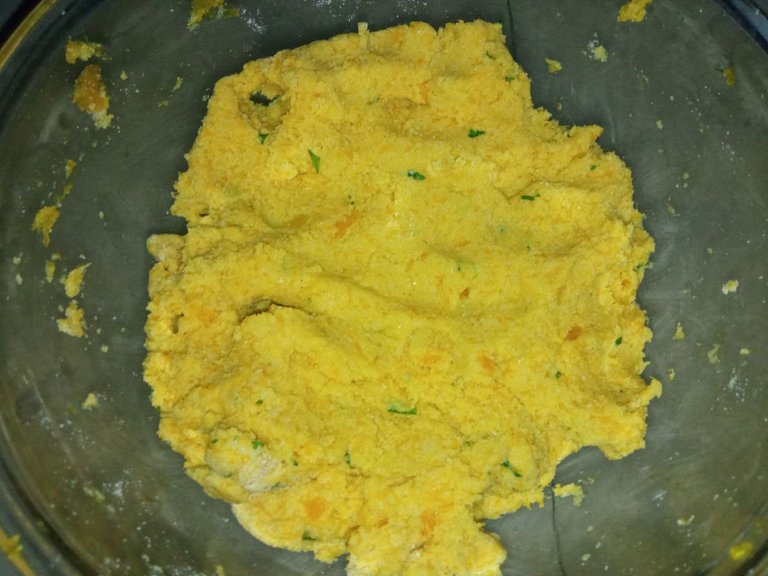 ---
Luego agregamos la harina de maíz y un poco de agua, mezclamos bien y para darle un toque extra a la receta, agregamos una cucharada de perejil que es excelente para fortalecer el sistema inmune, muy útil en estos días de nubosidad y lluvia en nuestra ciudad.
Then add the corn flour and a little water, mix well and to give an extra touch to the recipe, add a tablespoon of parsley which is excellent for strengthening the immune system, very useful in these days of cloudiness and rain in our city.
---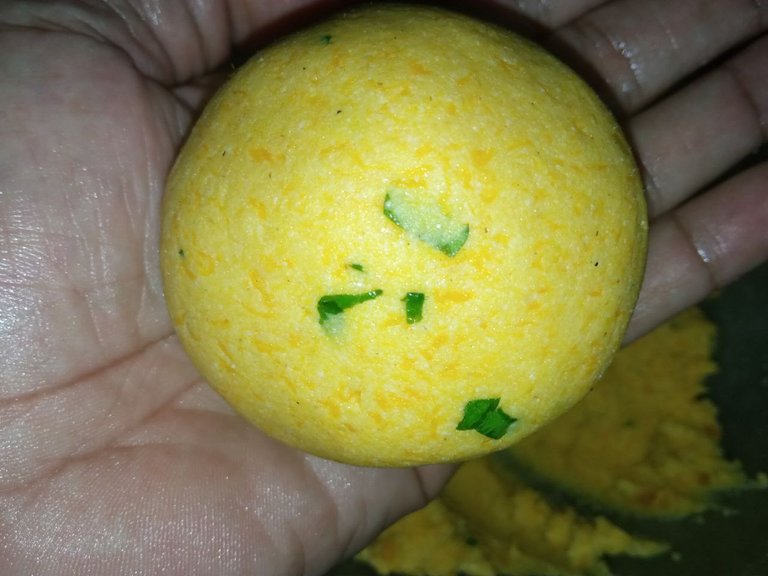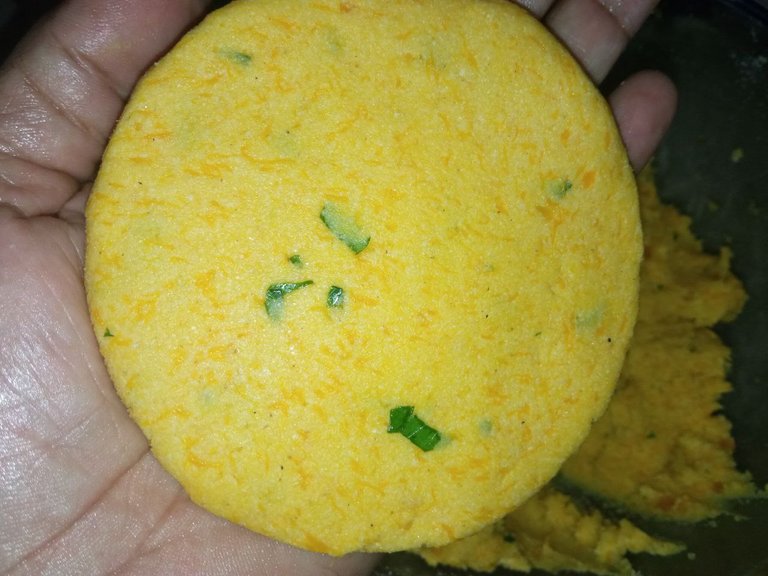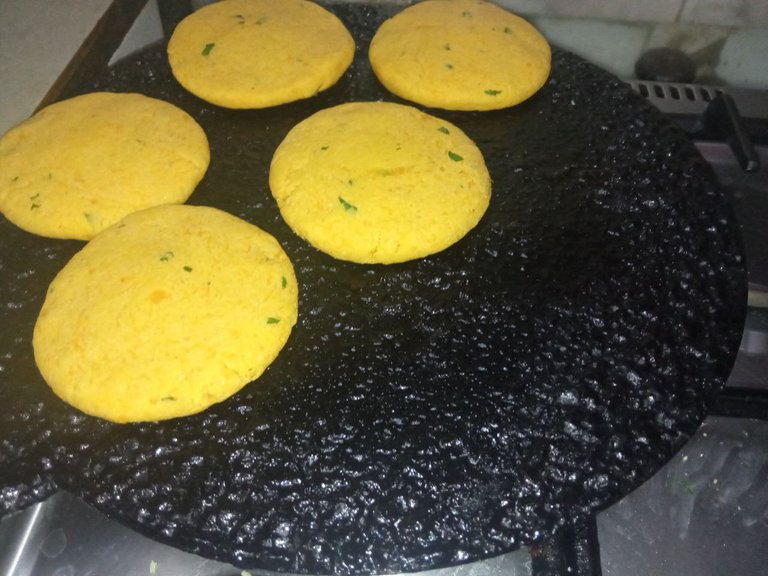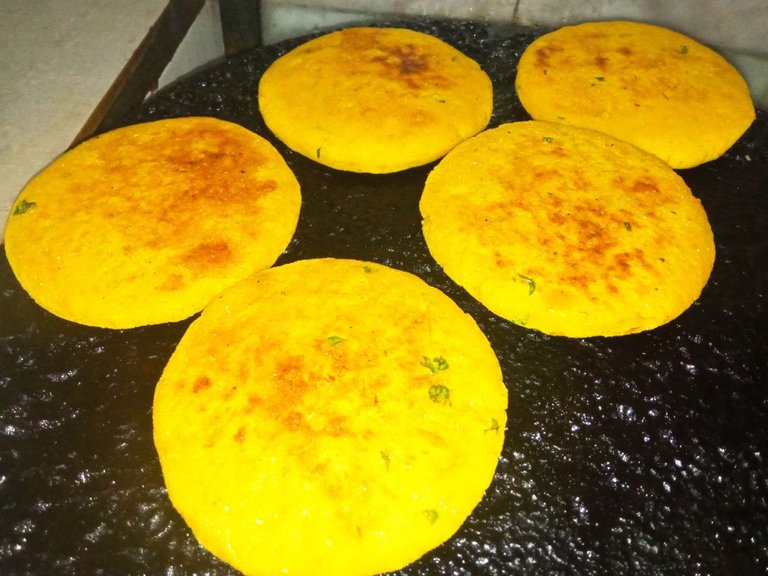 ---
Amasada bien la masa, formamos unas pelotitas según el tamaño que deseamos la arepa y vamos dando forma hasta formar un círculo con ella. Llevamos al aripo bien caliente y dejamos cocinar por ambos lados hasta que estén listas.
Once the dough is well kneaded, we form small balls according to the size we want the arepa and we shape it into a circle. We take them to the hot grill and let them cook on both sides until they are ready.
---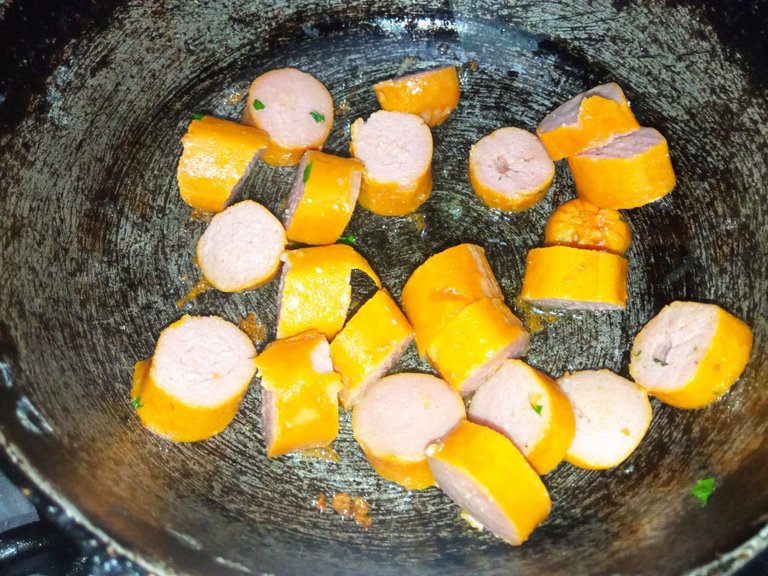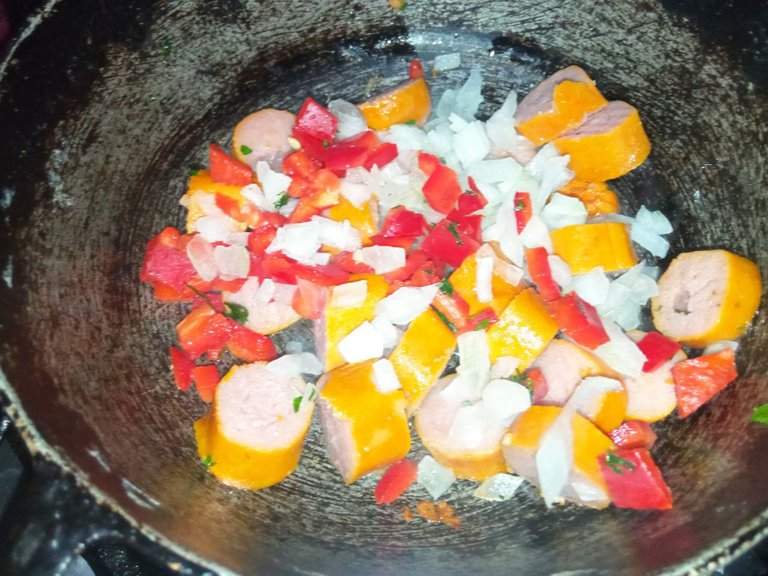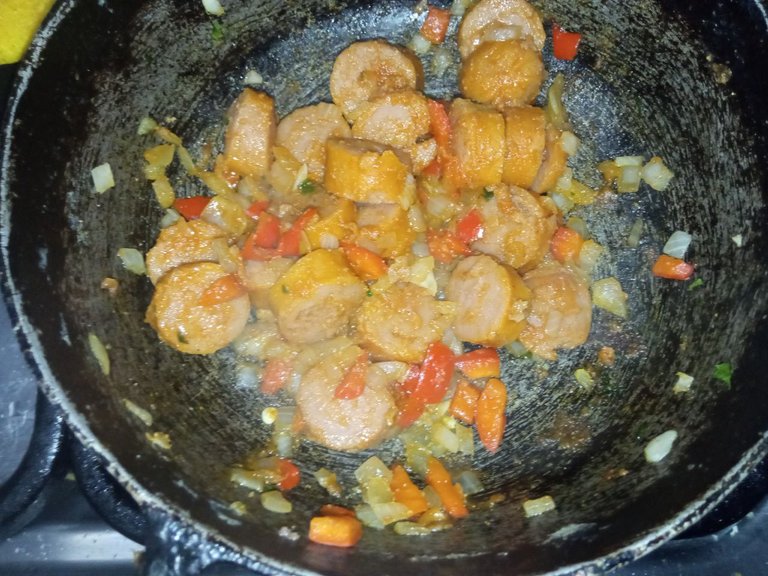 ---
Para acompañar nuestras arepas cortamos unas salchichas en trozos pequeños, llevamos al sartén, agregamos un poco de cebolla y pimentón picadito, agregamos un poco de aceite, sofreímos por 5 minutos a fuego bajo.
To accompany our arepas we cut some sausages in small pieces, we take them to the frying pan, add some onion and chopped paprika, add a little oil, fry for 5 minutes at low heat.
---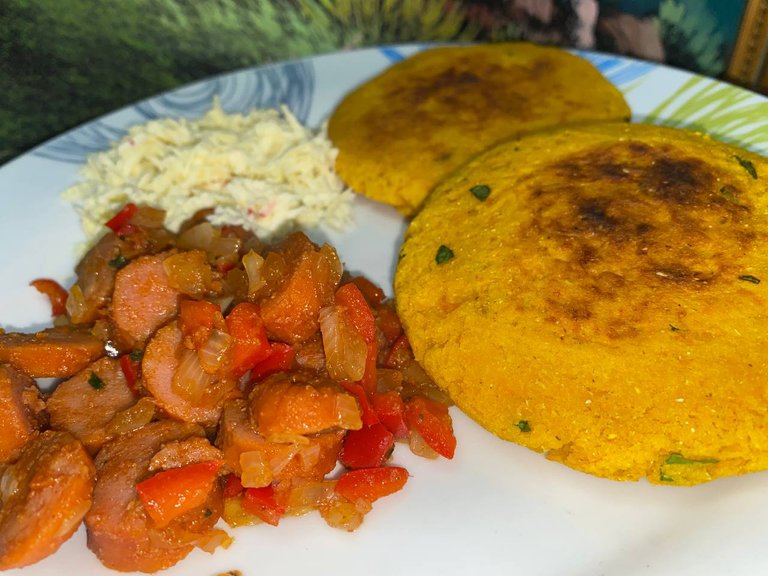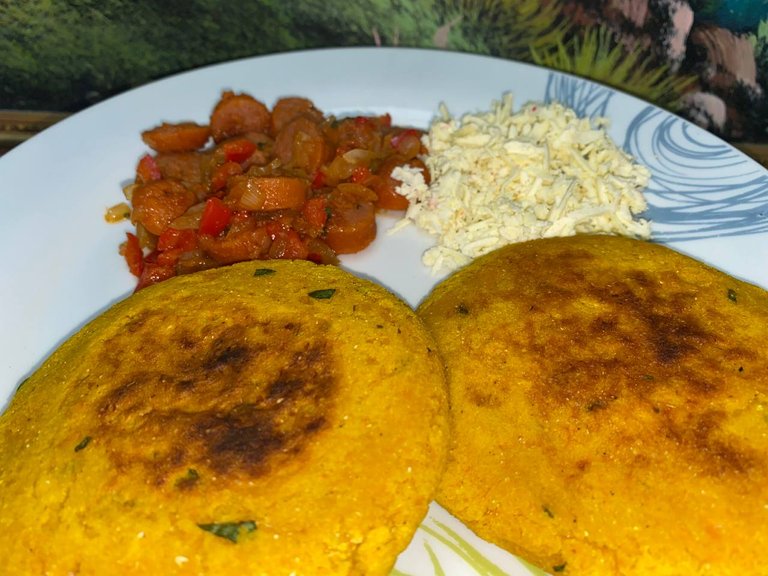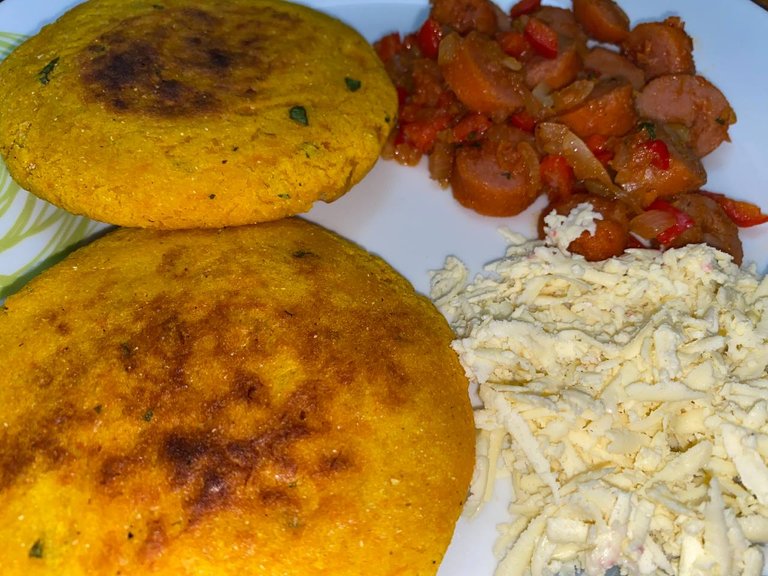 ---
Servimos y disfrutamos de unas ricas y sanas arepas de auyama acompañadas de unas salchichas guisadas y un poco de queso rallado.
Serve and enjoy some delicious and healthy arepas de auyama accompanied by some sausages and a little grated cheese.
---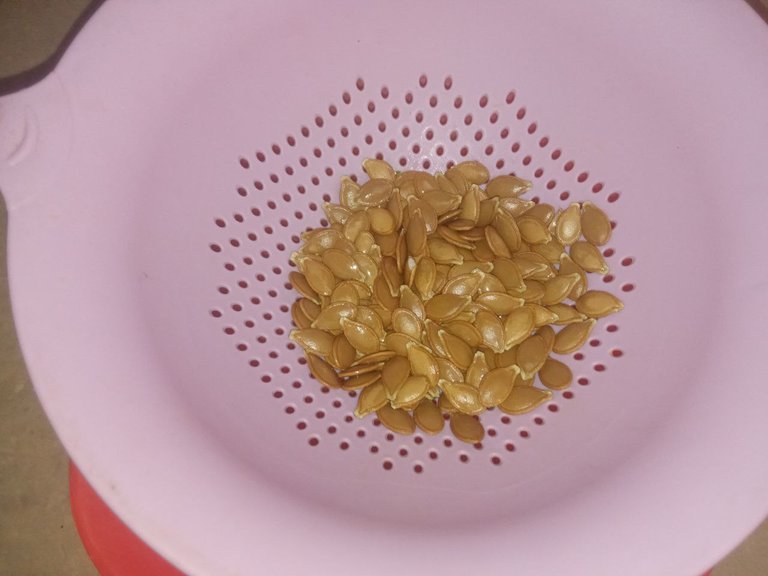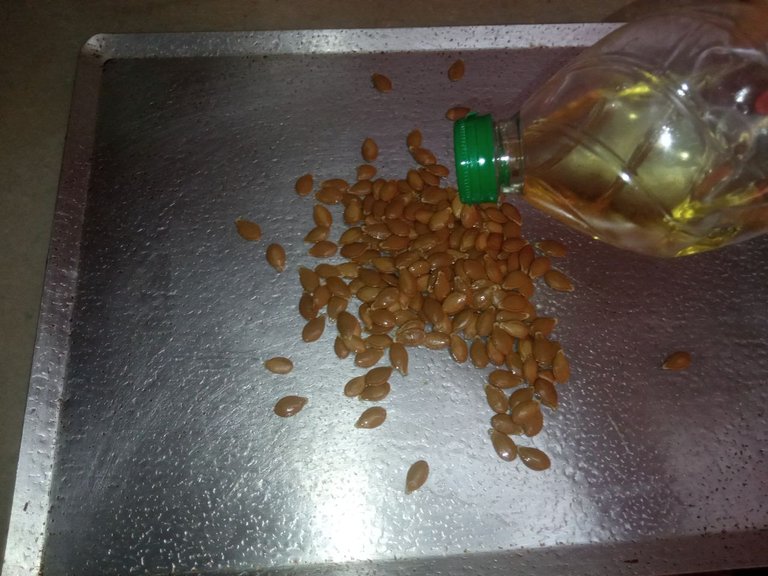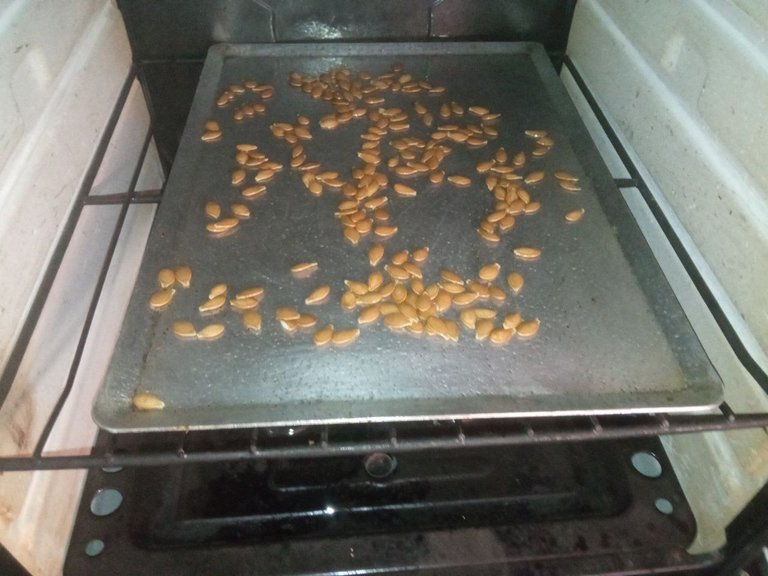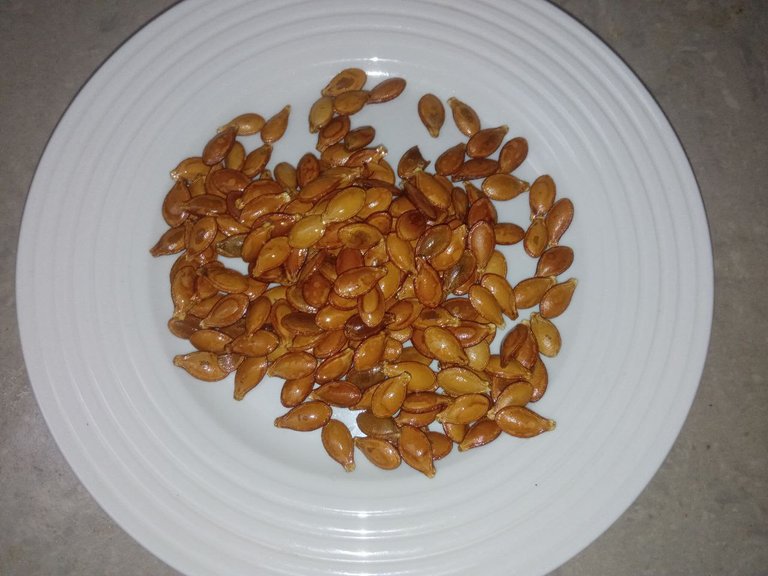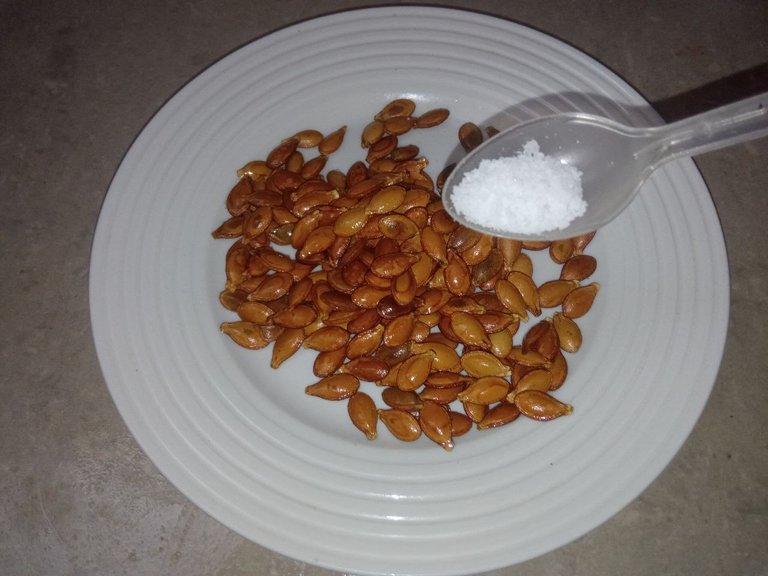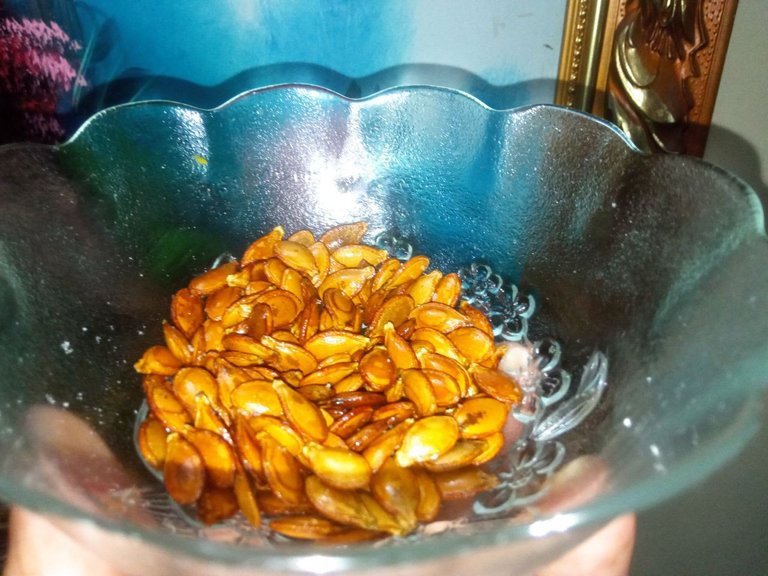 ---
Como dato: Mientras esperábamos que las arepas se cocinaran, tomamos también las semillas de la calabaza y las lavamos muy bien dejamos escurrir y colocamos en una bandeja de galletas y llevamos al horno hasta que doren. Retiramos, les agregamos sal al gusto y consumimos. Son antioxidantes, anticancerígenas y como desparasitante natural son excelentes, además de que su sabor es muy agradable. Como ven no desechamos casi nada de la calabaza.
As a tip: While we were waiting for the arepas to cook, we also took the pumpkin seeds and washed them very well, let them drain and place them on a cookie sheet and bake them in the oven until golden brown. Remove, add salt to taste and consume. They are antioxidants, anticarcinogenic and are excellent as a natural deworming agent, besides their flavor is very pleasant. As you can see, we discard almost nothing from the pumpkin.
---

Esta ha sido la receta de hoy para ustedes, espero la preparen porque quedan muy deliciosas estas arepas y así nos cuidamos un poco más nuestro organismo.
This has been today's recipe for you, I hope you prepare it because these arepas are very delicious and we take care of our body a little more.
---
🌸🌸🌸🌸Fotos de mi Propiedad, tomadas con un Redmi 9🌸🌸🌸🌸
Photos of my Property, taken with a Redmi 9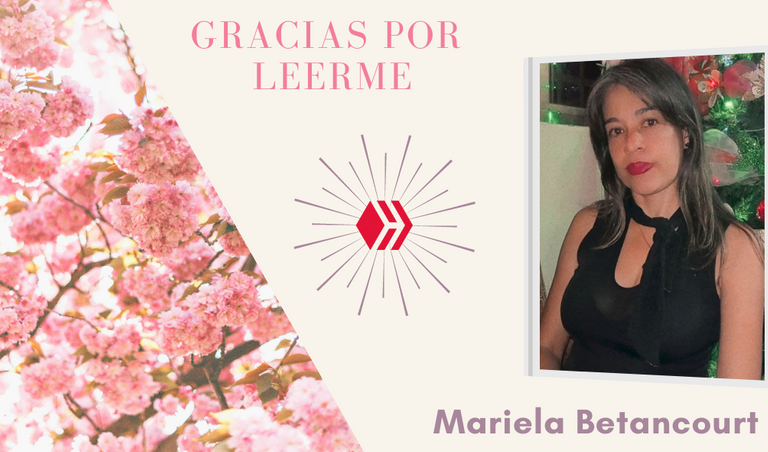 ---
---