Potatoes in Style, Mixed Potatoes/Papas al Estilo, Papas Mixtas
🌸Hola Comunidad HIVE🌸
Hello HIVE Community
---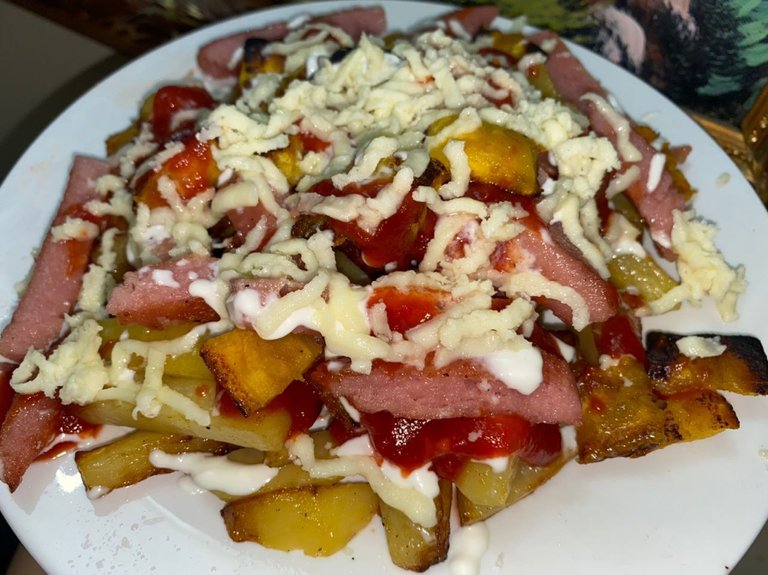 ---
La comida chatarra es de comerla poco debido al alto contenido de calorías y grasas perjudiciales para nuestro organismo, dejando de lado las proteínas y nutrientes que en realidad es lo que necesitamos.
De vez en cuando podemos consumir un poco de ella y si las preparamos en casa mucho mejor, ya que garantizamos por lo menos los niveles de salubridad que también es un aspecto importantes.
Hoy domingo decidimos hacer en casa unas papas al estilo papas mixtas, ya que teníamos suficientes papas y queríamos variar un poco las arepas o el pan.
Junk food is to eat it little due to the high content of calories and harmful fats for our organism, leaving aside the proteins and nutrients that in reality is what we need.
From time to time we can consume a little of it and if we prepare them at home much better, since we guarantee at least the levels of healthiness which is also an important aspect.
Today Sunday we decided to make at home some potatoes in the style of mixed potatoes, since we had enough potatoes and we wanted to vary a little the arepas or bread.
---
INGREDIENTES

Ingredients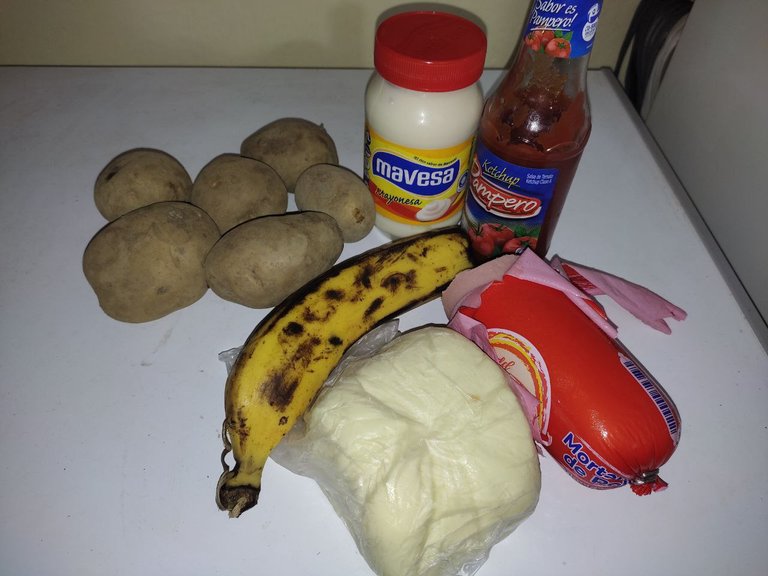 ---
6 Papas.
200 gr de Queso Mozarela.
200 gr. de Jamón Arepero.
1 Plátano.
Mayonesa.
Salsa de tomate.
6 potatoes.
200 gr of Mozarella Cheese.
200 gr. of Arepero Ham.
1 plantain.
Mayonnaise.
Tomato sauce.
---
Preparación//preparation
---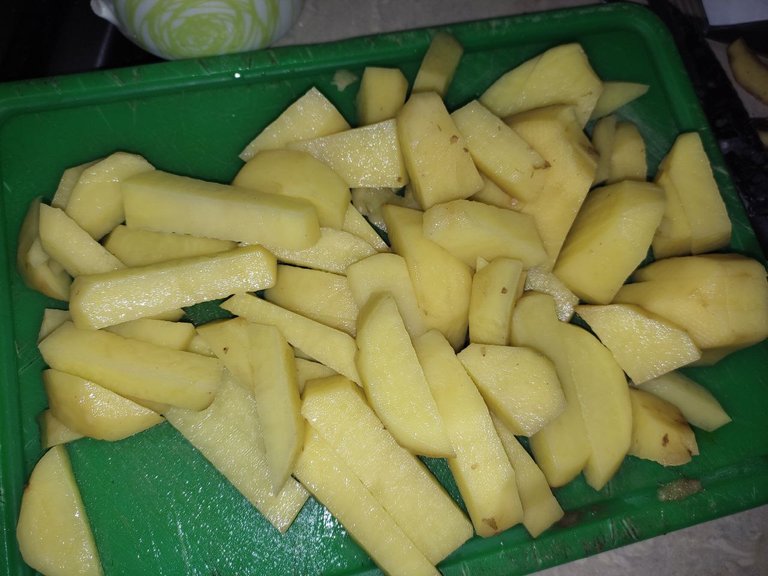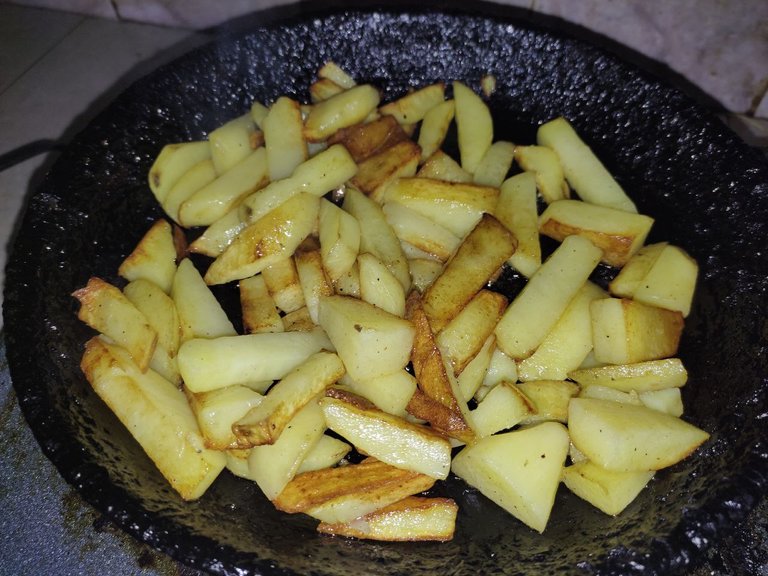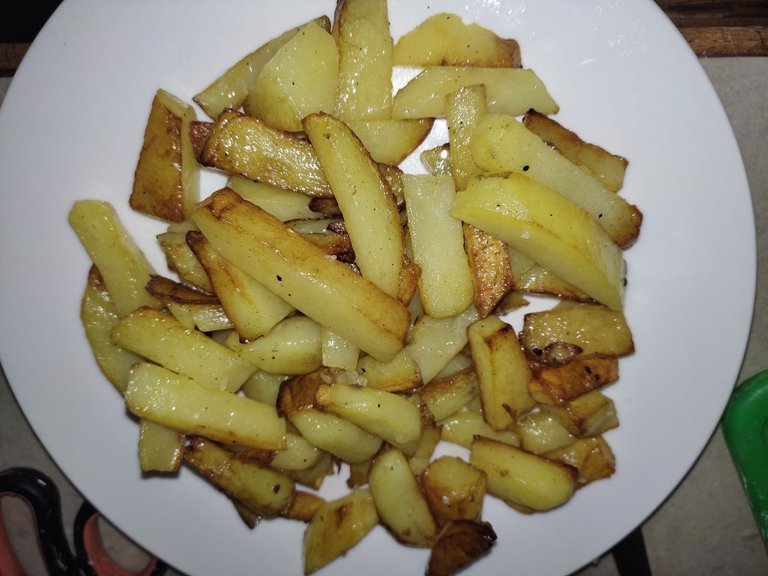 ---
Cortamos en bastones gruesos y lavamos las papas, para luego llevarlas a freír.
Cut the potatoes into thick sticks and wash them, and then fry them.
---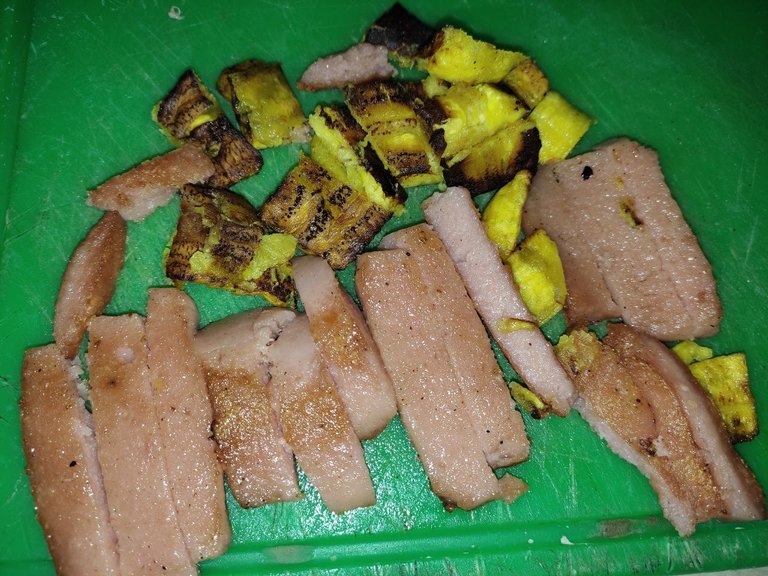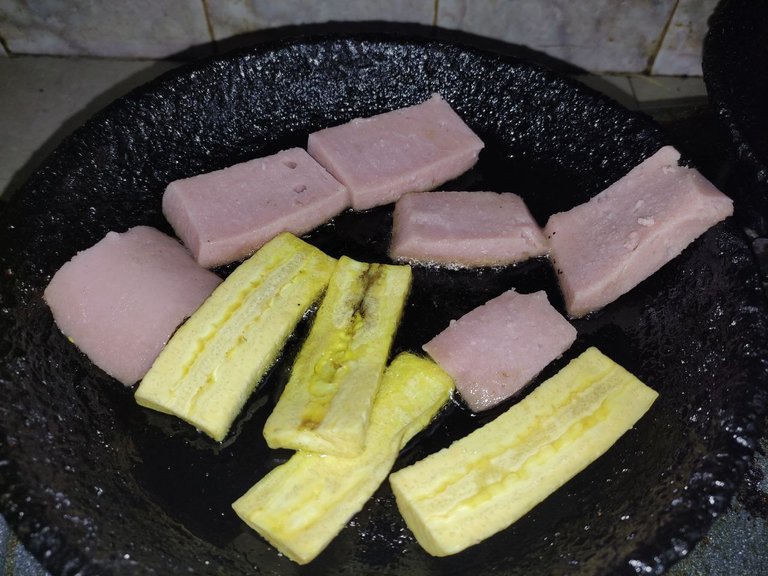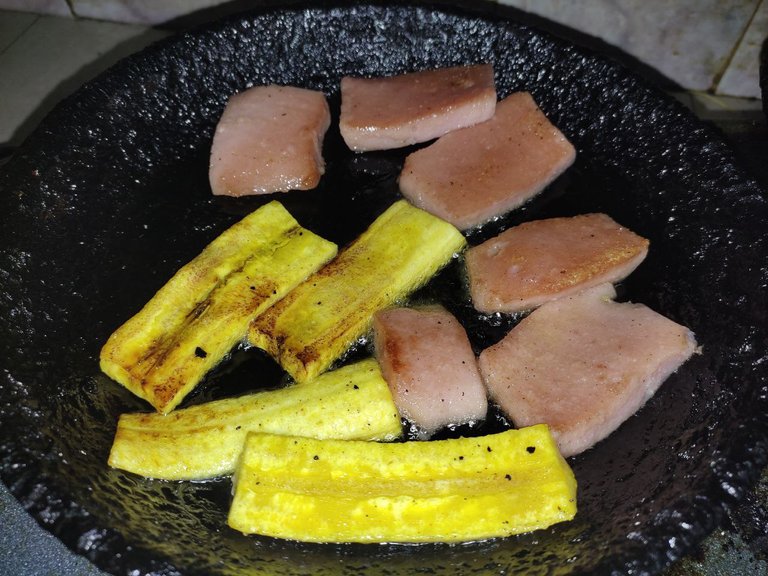 ---
Cortamos en lonjas los plátanos y el Jamón Arepero y llevamos a freír para luego cortar los plátanos en trozos más pequeños.
Cut the plantains and the Arepero Ham in slices and fry them and then cut the plantains in smaller pieces.
---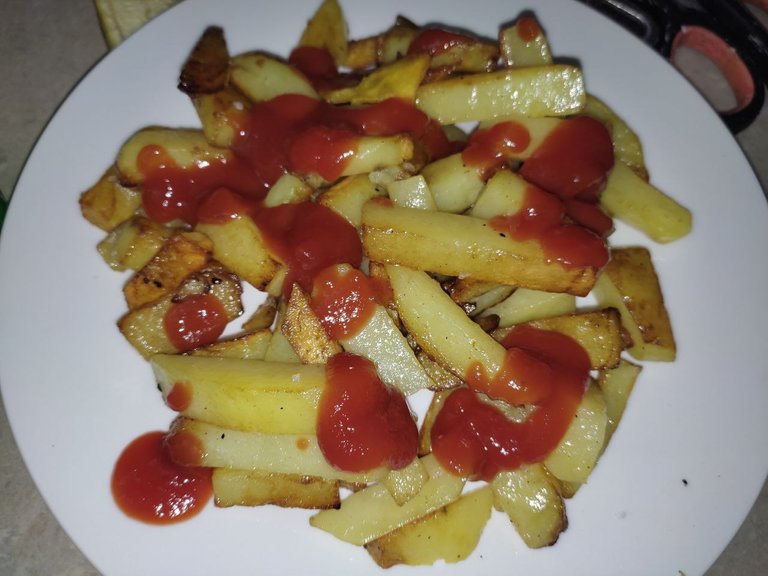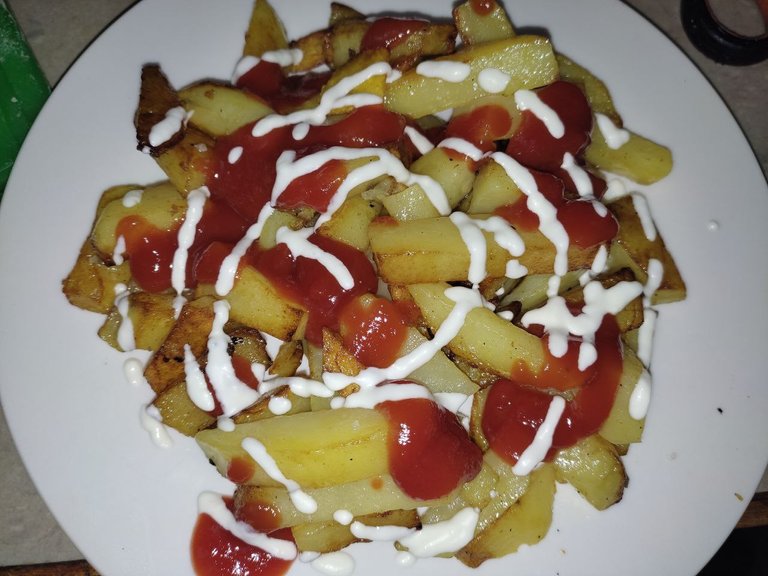 ---
En el plato donde serviremos colocamos papas y plátanos, agregamos salsa de tomate, luego mayonesa.
In the serving dish, place potatoes and plantains, add tomato sauce, then mayonnaise.
---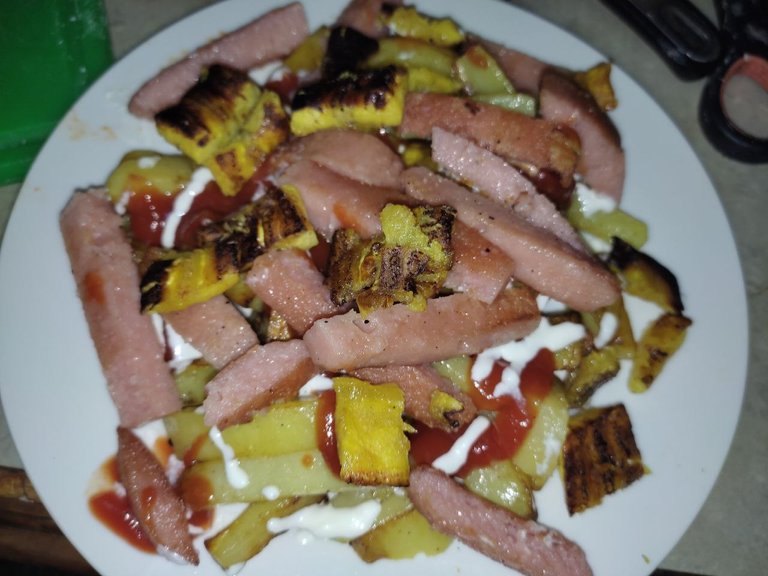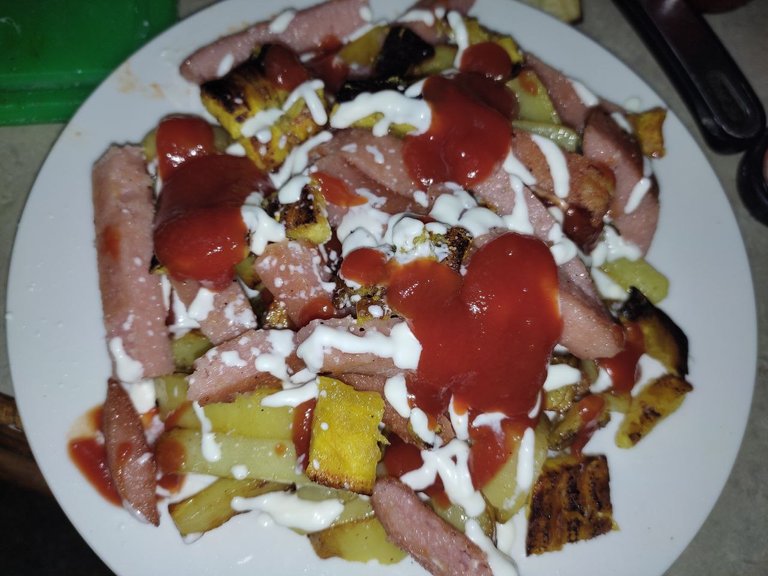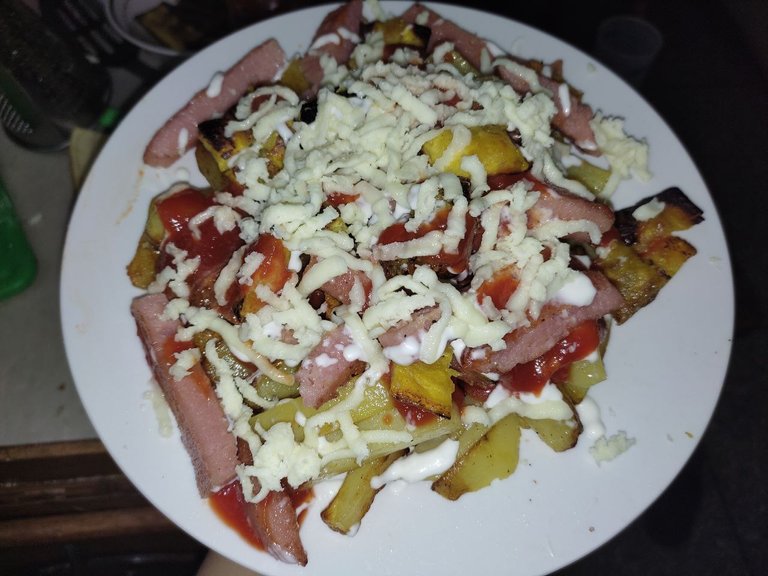 ---
Pasamos agregar jamón frito, plátanos, nuevamente colocamos las salsas y terminamos con suficiente queso encima.
Then add fried ham, add the sauces again and finish with enough cheese on top.
---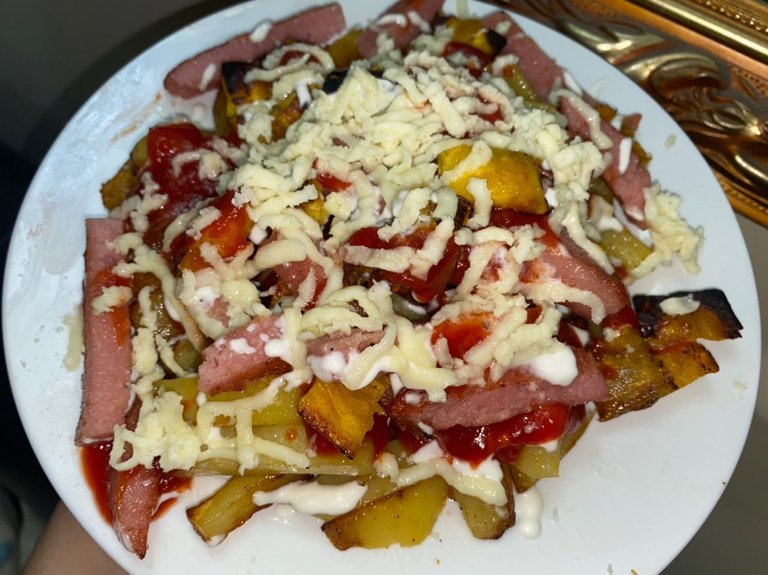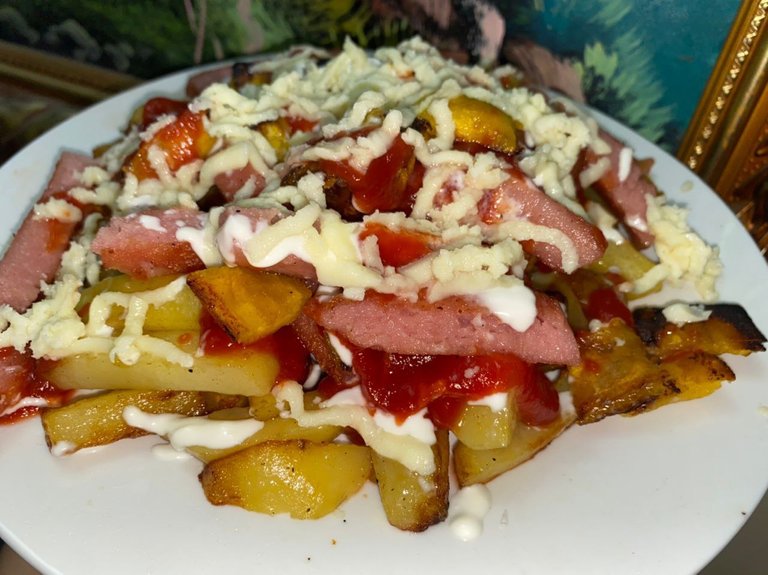 ---
Nos disponemos ahora a disfrutar de estas ricas papas mixtas hechas en casa y que nos sacan un poco de la rutina degustativa.
Now we are ready to enjoy these delicious homemade mixed potatoes that take us out of the tasting routine.
---

Confieso que no pude comerlas todas ya que me sentí satisfecha con tan solo un poco aunque estaban deliciosas, por lo que mi hijo salió a ganar consumiendo además el resto de las mías.

Esta ha sido mi receta de hoy espero les haya gustado amigos.
I confess that I could not eat them all because I was satisfied with just a little bit even though they were delicious, so my son came out to win by consuming the rest of mine.

This has been my recipe for today I hope you liked it friends.
---
🌸🌸🌸🌸Fotos de mi Propiedad, tomadas con un Redmi 9🌸🌸🌸🌸
Photos of my Property, taken with a Redmi 9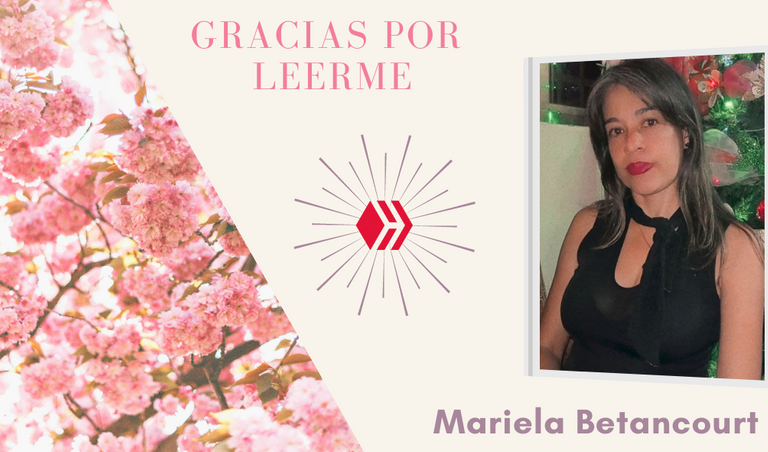 ---
---